Nach Genf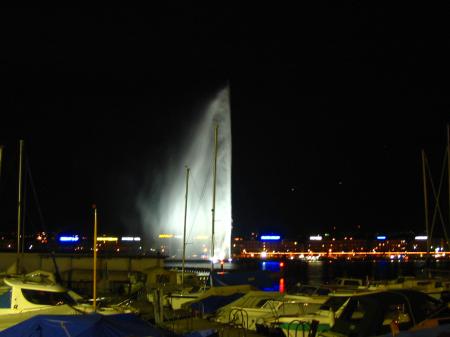 Nachdem mein Studium abgeschlossen ist, habe ich nun wieder das Privileg eines Auslandsaufenthaltes. Allerdings in einem Land, das etwas weniger fremd und abenteuerlich ist als Kambodscha: die Schweiz. Für sechs Monate werde ich als Praktikant für die Internationale Arbeitsorganisation (ILO) arbeiten, im 'Project to Promote ILO Policy on Indigenous and Tribal Peoples'. Aus diesem Anlass habe ich mir vorgenommen, gelegentlich wieder Einträge in meinem blog zu veröffentlichen.

Der erste wird wahrscheinlich ziemlich kurz. Die 12 stündige Fahrt von Berlin nach Genf verläuft erwartungsgemäß geschmeidig und eher ereignislos. Zunächst fahre ich nach Basel und teile mir das Abteil mit einer freundlichen Familie. Es handelt sich um nette, in die Jahre gekommene Hippies mit einem dicken Kind. Zwanzig Minuten Aufenthalt in Basel geben mir Gelegenheit für einen kleinen Snack, bevor ich mit einer Regionalbahn nach Genf weiterfahre.
Online hatte ich schon ein Zimmer im City Hostel Geneva reserviert und mit Hilfe einer Stadtplanskizze finde ich das Hostel schon nach zehn Minuten. Das ist auch gut so, denn laenger moechte ich meine vier Gepaeckstuecke nur ungern schleppen. Im Vergleich zu Berlin sind die Temperaturen sehr mild. Als ich ankomme, ist es schon halb zehn. Das Zimmer ist klein, aber sauber (wie alles, was ich bisher von diesem Land gesehen habe).
Grad angekommen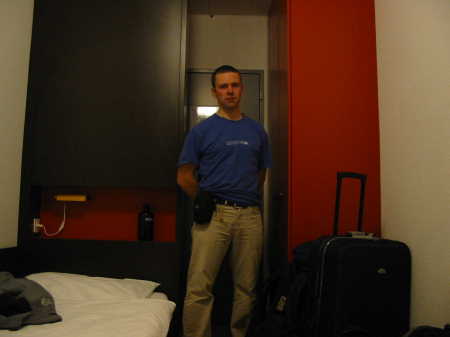 Zum Schlafen ist es noch zu früh und ich entschließe mich, noch eine kleine Tour durch die Innenstadt zu machen. Zunächst laufe ich die 500 Meter zum Genfer See, wo ich zahllose Luxushotels finde und auch die große Fontäne, offenbar das Wahrzeichen der Stadt, zum ersten Mal sehe. Für eine Weile laufe ich die Strandpromenade entlang. Alles wirkt sehr wohlhabend und behaglich, für meinen Geschmack ein wenig zu sehr. Dafür bin ich überrascht, wie kulturell vielfältig die Bevölkerung dieser Stadt zu sein scheint. Mindestens die Hälfte der Leute die ich sehe scheinen außereuropäischer Herkunft zu sein.
Mond über dem Genfer See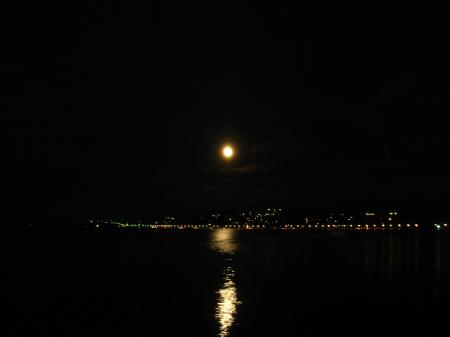 Die große Fontäne, mit einigen Luxusyachten im Vordergrund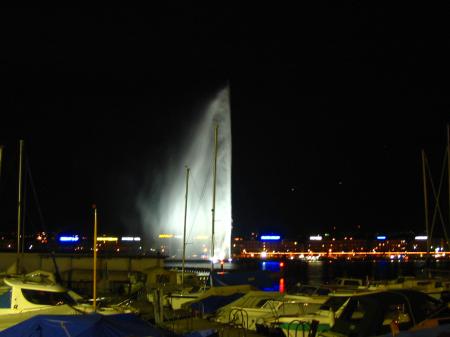 Ich leiste mir noch einen überteuerten Snack in der lokalen Filiale einer bekannten Fastfoodkette und gehe wieder zum Hostel, wo ich gegen 23 Uhr ankomme. Nach einer Dusche in den bemerkenswert sauberen, gemeinschaftlich genutzten Sanitärräumen schreibe ich noch diese Zeilen und gehe dann ins Bett.