Today is Saturday and decided to spend a touristy day. First of all, I slept until 10 am. Then, I went to a small restaurant in my street and had an extensive breakfast, while reading the newspaper.
Later, I went to the Tuol-Sleng-Museum. This really is a monument of Cambodia's traumatic past.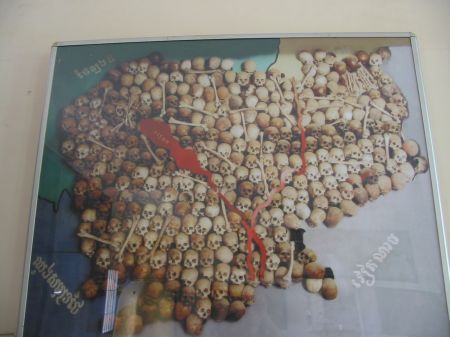 Under Pol Pot, a former school was turned into a concentration camp in which 20.000 children, women and man were imprisoned, tortured and executed dreadfully here between 1975 and 1979. There are about four buildings on the compound, each with numerous and unbelievably small cells.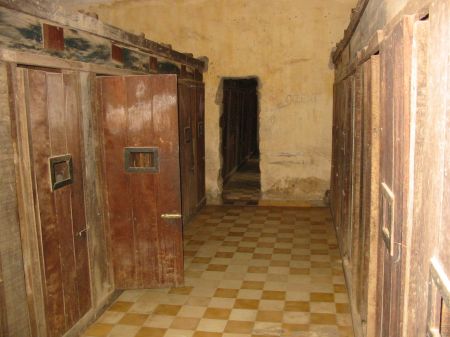 Prisoners were precisely registered and today one can look at countless photos of prisoners with the expression of horror in their eyes. Many of them children and women. The exhibition includes many of the original torture instruments and furnishings.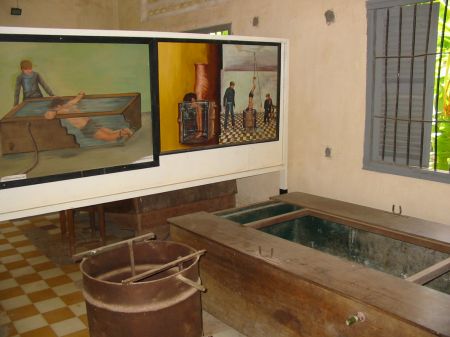 For me, this place was particularly touching because it seems to parallel German history.
I went back to my hotel and decided to visit the national museum, too. This time, I did not take the 'moto', but a 'cyclo'. This is a really cool means of transportation. Provided one has enough time. Like a bicycle taxi. It is slow, but a good way of cruising the city, observing social interaction in the street and taking pictures.
A very attractive traditional building provides the space for the national museum. The base of the museum is quadrangular and encloses a beautiful inner courtyard. Exhibits are presented inside and outside the venerable high halls of the museum.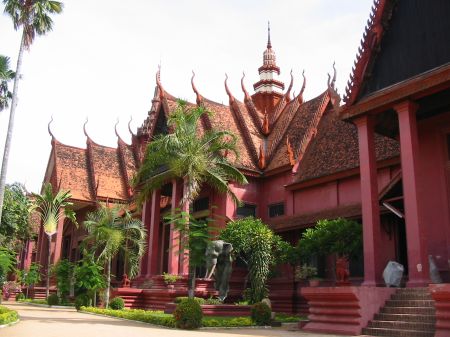 Many of the pieces date back to 400 BC and indicate extremely high levels of technical and craftsmanly sophistication. However, the number of motives is sort of limited. Every other exhibit is some kind of Buddha. After having seen the Tuol-Sleng-Museum before, I found it particularly strange how a people able of such high and complex civilization could fall into the kind of barbarism reflected in the exhibits of the Tuol-Sleng-Museum. Again, German history came to my mind. Although to my knowledge there was not much complexity or sophistication around 400 BC in Germany.
I met a young monk in the museum and we had a short conversation. His English was broken, but he kept smiling and I found him very sympathetic. Later, I sat down in the inner courtyard and had a cigarette. A guy from Japan was sitting there as well and we started a conversation. He was here to volunteer in an organization devoted to feed and teach children of poor families in Siam Reap. Later, the monk came to sit down as well and we managed to get a really cool multicultural dialogue (trialogue?) going. Also the Japanese guy's English was kind of poor, but surprisingly (in the case of the monk, not the Japanese) both of them spoke Japanese. And the Japanese guy spoke some Khmer. Whenever we were not able to understand each other in English they were able to solve the problem in Japanese or Khmer. I found this to be a really interesting encounter and I am sure I will keep that in my mind for quite some time. And I am really thankful that I managed to take the following picture.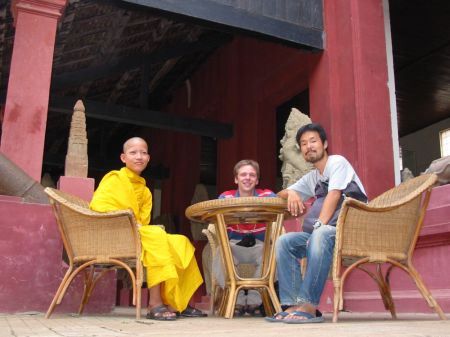 I went back to my guesthouse and had some rest. Later, I went with one of the employees to a cell phone shop to buy a … yes, a cell phone. Shelley advised me to do so because I won't be accessible without it. Since there is no phone in the guesthouse and because I can access my email only on occasion. Cell phones are really popular around here and together with watches and motos the most important status symbols. Incidentally I hope this acquisition will enhance my social prestige significantly. Despite the fact that it is a second hand one.