Today is Sunday. I read that a local tourist company offers flights with hangliders or something like an ultra light airplane. I though this would be a nice way of exploring the city with a bird's eye and so I initially planned to do so today. However, I called these folks and they told me it would not be possible today. But next weekend. So I decided to see the notorious 'killing fields', which are located about 15 kilometers outside Phnom Penh.
I decided to take the moto. After only about 2 kilometers the very urban surrounding of the center (where I life) faded. The rather small urban area appears to be surrounded be a (slim) belt of industrial plants and a likewise slim belt of urban slums. The landscape outside this very restricted urban (metropolitan?) region has a very rural touch to it and appears to be dominated by rice fields. I saw a few people, particularly women, laboring hard in the heat of the noon with very simple tools and instruments. Some children follow their cows along the street. Many children where playing under the roofs of simple shacks. Others where lying sluggishly in hammocks. Much of what happens in the private sphere back home happens here on the street and it is fascinating to observe the rather laid back activity of these rural folks.
The quality of the road and the bad shape of the shock absorbers made me feel the difference between urban and rural very direct. Whereas the urban area has a number of modern streets (used in a rather chaotic and seemingly inefficient way, I may be wrong), the part of the countryside I was passing does not. It is a very dusty type of an unpaved road with deep holes in it. It has not been raining the last three days and I wonder how this 'road' looks like after a heavy shiver of monsoon-like rain.
Despite their name, the killing fields appear to be a very peace- and beautiful place not only at the first glance.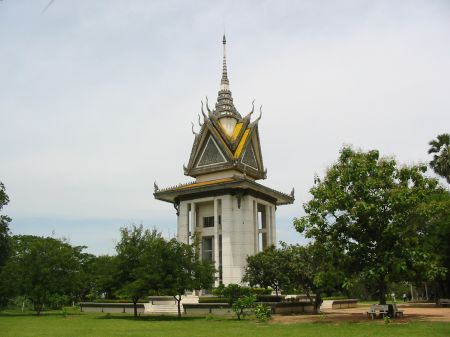 A tall tower with a colorful roof is located in the middle of a generous area covered with fertile vegetation and surrounded by rice fields. Some dogs sleep in the shadow of some bushes and some chickens scrape in the ground and cows graze close by. There are some holes in the grounds and signs tell that this hole and that hole is a mass grave. However, it is covered with grass and does not look too horrible.
There are many kids around who ask for money in a rather aggressive way. I gave some of them a reasonable amount, but constantly new kids emerged on the scene. Some of them, not older than 8, told me they would go only after I gave them 2 dollar. I felt very blackmailed and refused.
The group of children on the following photo was less militant. Maybe because the girls dominated this group. They asked for 100 Riel and I gave them 500, because they were five. However, they tried to persuade me that they are eight. But I insisted that they are five. I did not manage to convince the girl to the right, who is still doing calculations.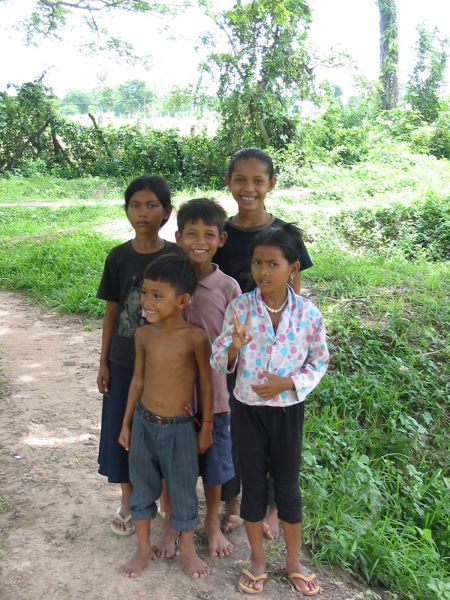 The content of this aesthetic tower offers a strong contrast to the surrounding peaceful scenery: carefully sorted along the age of the victims, thousands of sculls are presented in a monstrous cupboard which rises up to the roof of the building.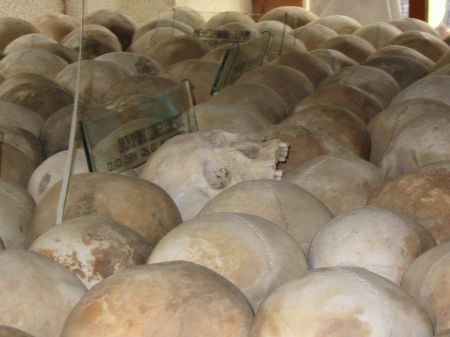 Tour guides stressed that these people where killed mostly with axes, sticks and swords, because the murders did not want to waste bullets.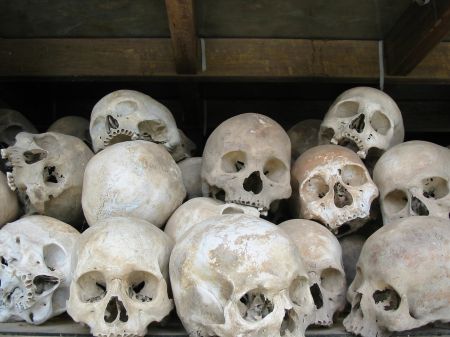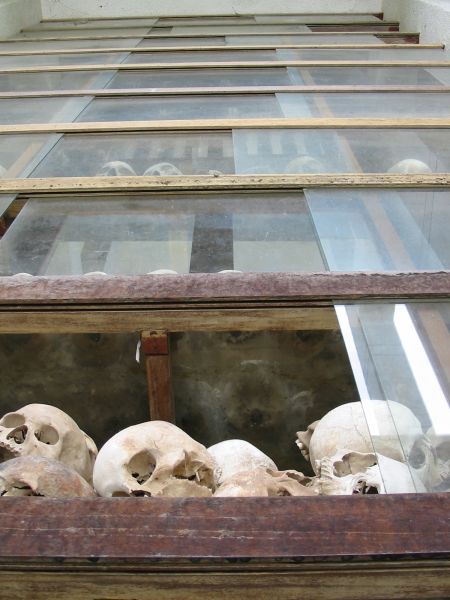 Although it was Sunday, the place really was not very busy. I thought this is really horrible and it would be a good act to bury this stuff to symbol some reconciliation with this bloody past.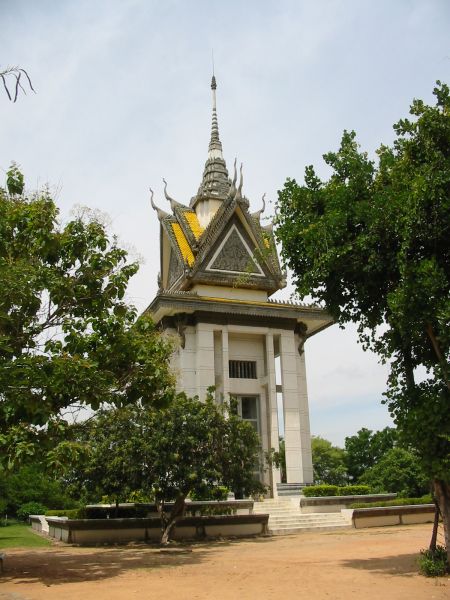 I spent about two hours and left again with the moto. I wanted to the Olympic Stadium, but surprisingly it was closed. So I went home and had some lunch at a restaurant in my street, which is run by Tamils from Sri Lanka. We engaged in a interesting discussion. One of them was has a French citizenship and his family lives in Germany. He was the first guy I met in this country who spoke fluently German. A Tamil from Sri Lanka who lives in Paris.
It was five when I left and I decided to read some literature, write some emails and these lines.
Continue reading The Killing Fields