This web log is dedicated to my stay in Cambodia. I am going to spend 3 month in this fascinating country. However, this is not vacation. What I am going to do is working as an intern for GTZ, which is a German governmental development organization. The project is called 'Administration Reform and Decentralization Project'. My task is to assess the current decentralization process with regard to the following question: Does it facilitate the accommodation of Cambodia's cultural diversity and the needs and fair demands of ethnocultural minorities?
To make this web log more user friendly, I intend to create the following three categories: cultural diversity, traveling in Cambodia and private reflections. This way, it should be possible for interested people to find the kind of information interesting or helpful for them.
It should be mentioned in the beginning that this web log would not have been possible without the support of my buddy Thomas Mellenthin. In fact, a couple of days ago I did not even know what a web log is. However, now I am writing in it.
Right now, I am sitting in my room in the guest house Amok. I arrived only a couple of hours ago and do not feel like I am already here yet. The trip was sort of stressful, since I had to take the train from Berlin to Frankfurt. Particularly burdensome was to carry my fifty kilo or so of baggage, predominantly books. From Frankfurt, I flew to Bangkok (my first flight with a Jumbo) and from there to Phnom Penh. Both flights went smoothly and from time to time I was able to sleep. However, I do not want to bore the reader with too much uninteresting details.
This is the airplane I was flying with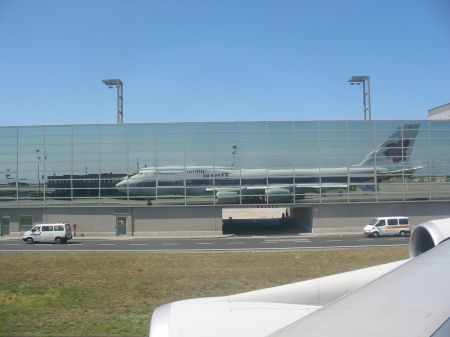 A driver of the project, Pat, gave me a ride from the airport to the Amok. Phnom Penh is not a big city. From the airplane, Bangkok looks like an immensely big urban place. In stark contrast, until we almost touched the ground, I could not see anything except for jungle and water in Phnom Penh. Only in the airport area I saw the first settlements. Furthermore, I did not see houses higher than four stories yet. The city appears cleaner than I expected.
prior to landing in Bangkok


in contrast: prior to landing in Phnom Penh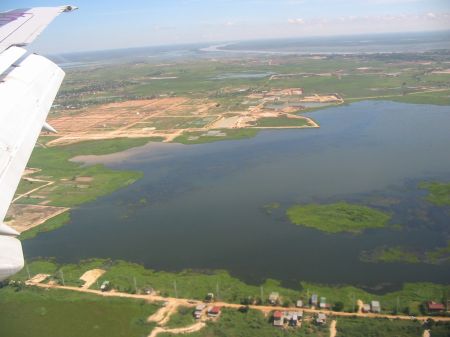 The guesthouse is really charming. Although it is in the center of the city, it is surrounded by palms and various plants. Everything is green and there are many airy terraces in the shadow. My room is lovely, too. There is a huge bet, a desk and a cabinet. There are two big windows, although the only thing I see in both directions is the wall of the neighboring house. However, together with the van, these windows seem to make it easier to cope with the heat. Finally, there is a Western-style bathroom. Taken together, this seems to be a really attractive accommodation. And it is only 8US$. Or 10$, in case I use air-conditioning.
After I checked in, I took a moto (motorbikes that are everywhere and serve as taxi) to a bank to change some money. Traffic is very chaotic. Although there are lines on the streets, nobody cares and people appear to drive on both side of the street in both directions. Although relatively slow. I called my reference person Shelley and we decided to meet in the Amok in the afternoon. That gave me time to get a shower and a short nap. I felt much better after that. When Shelley arrived, we sat down at a table on the terrace. These tables are very low and people sit on pillows on the ground. Very comfortable. And I did not see other guests yet. The climate is very hot and humid right now. However, only minutes after we sat down it started raining violently, including thunder and lightening. That was really nice, because it cooled down the air considerably. Now temperatures are bearable.
Shelley is very nice, too. And knowledgeable. Since this is in the beginning of my fieldwork, I might tell some more. In her view, the national election on July 27 poses a severe security concern. Elections are always surrounded by violence and political assassinations. However, foreigners are usually not subject to political violence. However, the country is politicized to a very high extend. Everybody knows who is in which party. If you happen to be a supporter of a party other than your, lets say, village chief, it is likely that you lead a miserable life. This causes a problem for my research as well. It is very likely that people, particularly political leaders, will act very carefully and most probably won't tell me much. However, she would advice me to start my fieldwork as soon as possible, to get some things done in the field soon. She advised me to be back in Phnom Penh a couple of days prior to the election. Than I should wait another couple before I get back into the field, provided that there is not too much turmoil.
Shelley told my about a couple of organization which might facilitate my research activity, among them UNDP and the Asian Development Bank. She presumes that the situation of cultural minorities has almost entirely been neglected, at least in the framework of the decentralization project. Our preliminary agreement was to focus on the following groups: Vietnamese, Chinese, Cham, Christians, Montagnards, and one insular indigenous group. However, particularly with regard to the hill tribes in the north and northeast, it might be very difficult to access them, since they live very isolated and are difficult to find. The Chinese are considered the most integrated group. Its members do not, unlike Vietnamese and Cham, live territorially concentrated.