Yesterday in the late afternoon I decided to go on a moto ride through the city and take some pictures of what is going on. I had just taken off with the moto driver when it started raining badly.
This is the polling station closest to where I live.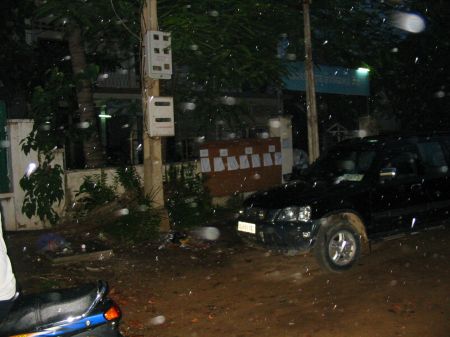 A number of big cars was parked in front of it.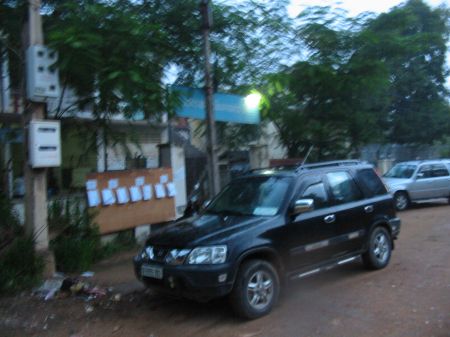 Initially I wanted to take pictures in various locations in the city in order to catch the mood one day prior to Election Day. It did not stop raining and we found shelter under the roof of a house close by. There was not much to do and I started a discussion with the moto driver.
This guy is 35 years old and ensured me he is really poor. We spend about one hour here I believe and I listened most of the time to his urgent report. His parents where killed under the Pol Pot regime when he was seven years old. They were forced out of their home province and had to work hard in the rice fields. They had to eat only what they found in the forest and sometimes rice with just uncultivated grass. He has two brothers and two sisters. He would like to marry but is too poor. Moreover he would like to marry his sisters to somebody but he is too poor. "Poor people don't get married happy" he told me. He has been saving money for about seven years to become independent and marry. During these seven years he has accumulated 600 dollars. He tries to save one dollar every day and plans to marry once he reaches 1500 dollars. During the conversation he lowered this number to 1000 dollars.
He realized my interest in the election and told me extensively what he thinks about it. The richer get richer and the poor remain poor at best. The government only talks but does not do anything. He does not like the government. The main problem is corruption. Hun Sen is a bad man. Hun Sen is Khmer Rouge. Poor people do not like government. Government does nothing for them, only cheap talk. He wants a new government and will cast his vote for Sam Rainsy Party. Sam Rainsy will stop corruption. Sam Rainsy studied economics while Hun Sen did not.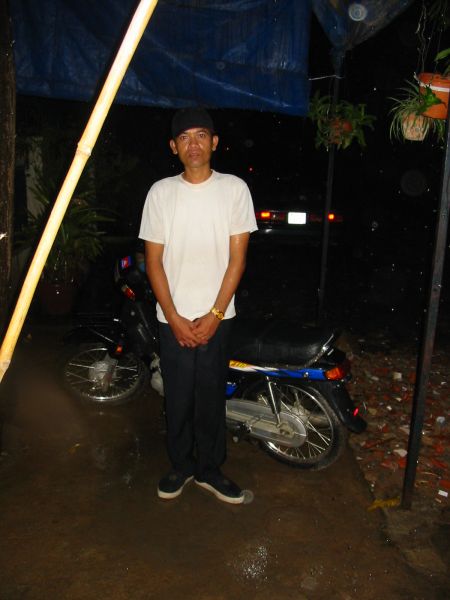 He is afraid that there will be violence after election. In urgent gestures he explains how police and military shoot at angry protestors. He is very concerned this might be what happened once the election result is announced.
It did not stop raining but became dark. So I could not hope to take any more pictures and we went back to the guesthouse.
This encounter was maybe more informative than what I wanted to do initially to catch the spirit in the city. I felt very touched by this guys report about his life. It is hard to understand how people are able to stand the horrors he has seen. And I have no doubt that he is traumatized to a significant extent.