The following article is what I read in today's newspaper. I found this to be very serious. The article indicates that CPP officials are recruiting activists ("strongly built bodies") in Kandal province (which is what surrounds the capital), offering them almost 9 dollars (which is a fortune for villagers in Cambodia) to come to Phnom Penh and demonstrate in support of Hun Sen. Similar demonstrations after previous elections clashed with opposition protests, involved grenades and left many people death. Those guys came with bamboo sticks furnished with nails to make sure the message is understood. The message is that Hun Sen remains Prime Minister and any attempt to protest against him will be violently suppressed.
This is scary enough. However, the article indicates that demonstrators will gather at the Monument of Independence and at the Ministry of Interior. This would be sort of uncomfortable for me, since the Monument of Independence is close to where I live and the Ministry of Interior is actually where I work. And what is in between is my way to work.
At the Ministry of Interior it is very obvious since the election that security measures have been tightened. In addition to the usual (low wage) police members of the so-called Flying Tigers unit of the military police patrol on and around the compound and guard the gates. They are equipped with strong motor bikes (Honda Nighthawk). Two officers are sitting on one bike, both have sticks and the backseat guy got an AK 47.
I took the following picture shortly after the election almost two weeks ago. This is on the compound of the Ministry of Interior and I was kind of skeptical whether or not I should put this online. On the parking spot are some motor bikes of the "Flying Tigers". Today there are six police trucks with officers waiting on standby.
I actually went with our project driver to those officers at the gate to ask whether I could take a picture of them on their motorbike. Of course I was ready to give them money. However, they were not very friendly and refused.
In addition I cannot but mention that what I keep hearing and reading regularly is the opposite of what constitutes "free and fair" elections. At the same time particularly international observers have announced preliminary results indicating that the election was more or less exactly that: free and fair. I want to stress that anybody I meet, both Cambodians and expatriates, appears to believe that the election was in fact quite the opposite of any meaningful standard of "free and fair". However, I hope those election observers stay a bit longer to observe how the election result gets implemented.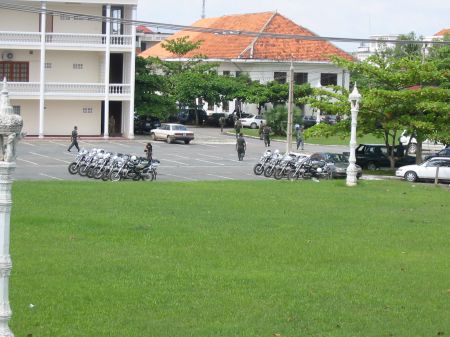 Uneasy Workers Demand To Be Paid Early
BY YUN SAMEAN AND KATE WOODSOME
THE CAMBODIA DAILY
Garment workers troubled by rumors of imminent political unrest and street fighting demanded an early pay day this week, while teacher and worker unions reported that CPP officials have demanded their signatures on petitions endorsing the preliminary election results.
Cambodian Labor Union Federation President Som Aum on Wednesday said his members want early salary disbursements to ensure financial security over the weekend because workers are uneasy that politically stoked fighting could erupt. He said workers will strike at two factories on Friday if managers do not pay their wages.
Coalition of Cambodian Apparel Workers Democratic Union President Chhorn Sokha said Wednesday she would consider striking, as union affiliates from 22 factories have demanded salaries but have not been paid.
The Labor Ministry advised factories to pay workers earlier than planned to ease tension stemming from rumored fighting, said Labor Ministry spokesman Ker Soksidney. But Garment Manufacturers Association in Cambodia Deputy Secretary General David Van said factories may not meet the demand due to complicated overseas money wiring services.
CPP activists armed with slingshots are prepared to enter Phnom Penh today or Friday to support Prime Minister Hun Sen's leadership in the next government, said Kandal province's Koh Thom district Deputy Governor Keo Vibol.
Keo Vibol, a Funcinpec member, and local Sam Rainsy Party official Hay Lork said CPP district Governor Mao So ordered CPP commune chiefs to recruit 10 "strongly built bodies" from each village. Activists were offered 35.000 riel (about $ 8.75) to gather at the Interior Ministry and Independence Monument, Keo Vibol said.
Mao So would not confirm whether trucks were ready to enter the city. "I don't have any plan yet, but if the two political party activists hold a demonstration to oust Prime Minister Hun Sen, I will gather my forces against them," he said.
To garner workers' support for the CPP, Labor Ministry Department Secretary General Oum Mean allegedly asked union leaders to sign a petition endorsing the election last week.
Som Aum, Chhorn Sokha and National Independent Federation Textile Union of Cambodia President Morm Nhim said they were called to Oum Mean's department July 28 to sign a petition supporting the election results. All three said they refused to sign. "What ever political party will win the election, if the local and international election observers announce it is acceptable, I will support the results. But I won't sign the petition," Chhron Sakha said.
Oum Mean said he did not know about the petition.
Rong Chhun, Cambodian Independent Teachers Association president, said last week principals in nine schools in Phnom Penh pressured teachers to attend political meetings, where they were forced to fingerprint petitions endorsing the CPP's election victory.
CPP Education Ministry Secretary of State Im Sethy said school principals may be pressuring teachers to join the CPP, but dismissed Ron Chhun's claims of forced party endorsements.