Today is Sunday. I rented the motor bike for the entire weekend and wanted to go to Phnom Chisor (Phnom Chissor, Phnom Chi Sou )today, after I failed to find it yesterday. And I managed to persuade the tourist student to give me company. We decided to go with two motos, both the big one and the smaller one he uses for moto services.
We started after breakfast at about ten am. He told me that he never rode a big moto before. I showed him on the way how to drive the big moto but he preferred to first go to Phnom Chiso and than practice riding it.
This is a medium sized temple which we reached after we went about 40 km south on the national road number two. I though this is a beautiful temple. I spend some time taking pictures but I did not see anybody. Only two dogs.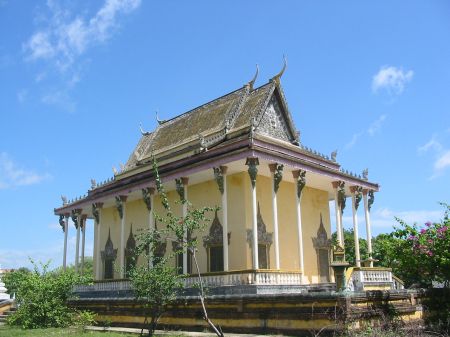 This is what is behind the pagoda. People are working in the rice field.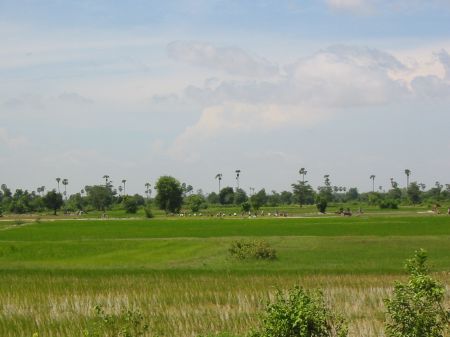 We spend some time in the shadow to rest. Then I saw the monks coming and figured that they had been out to collect food. However, it was only four or five of them. This is a frog on the rim of my moto's wheel.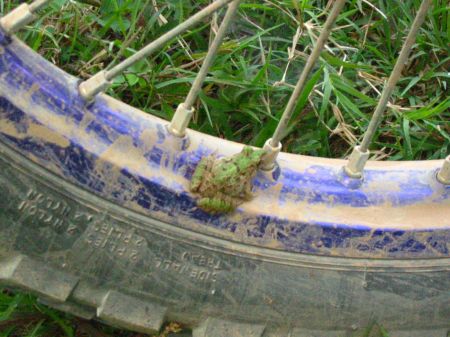 We kept driving for some time. This road is in a much better condition than the one I have been traveling yesterday. However, I realized how much faster I actually travel with the big bike compared to what is possible with the smaller moto.
This is a modern style pagoda which we saw after we had been traveling for more than two hours. I have been traveling on this road before but only down to Tonle Bati and Phnom Tamao. This is already beyond those places. Again, the road was pretty good and there was not even so much traffic. So it was easy traveling.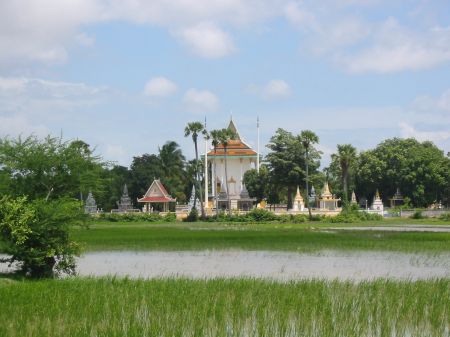 At some point I stopped to suggest that we look for a place where my fellow traveler could learn to ride the moto. It was lunchtime and quite hot. Since Phnom Chiso is a mountain I though it is better to wait some time and climb up later, when it is not as hot. We hit some sort of restaurant where we learnt that we had already passed the junction where one has to leave the national road in order to get to the mountain. So we had some rest and went back. After about five km we reached the place. This is a gate on the way to Phnom Chiso. Gates appear to be very important in Cambodian architecture and there are all sorts of gates all over the public space.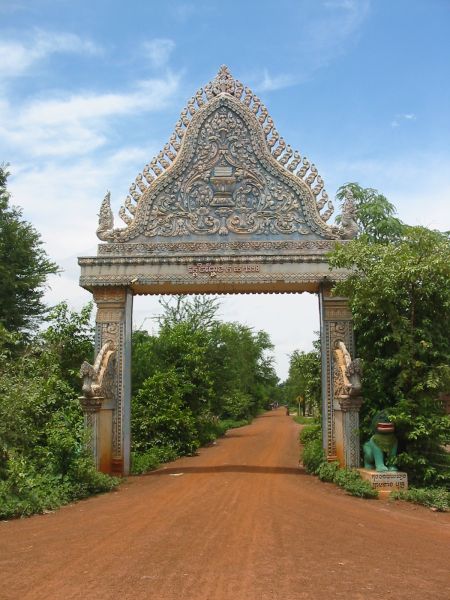 This road made for a good moto training ground and I taught my co-traveler how to go about riding the big bike. Actually there is not much I know about it and so the instructions were rather short. However, he learnt very quickly and started driving immediately while I was following on his moto.
Finally we got close to the mountain. It was still hot but remote thunder raised our hope for some rain. I spend some time waiting in the shadow while my co-traveler kept practicing with the bike.
Of course I did not have to wait long until I got company. Those guys where taking care of their cows and stopped to hang out for some time. Some people told me that the guy in the middle is sort of retarded and sometimes does not know himself. However, he turned out to be quite peaceful. The school in the background is named 'Hun Sen School' after Prime Minister Hun Sen. There seems to be a considerable number of schools with this name, as well as parks and pagodas.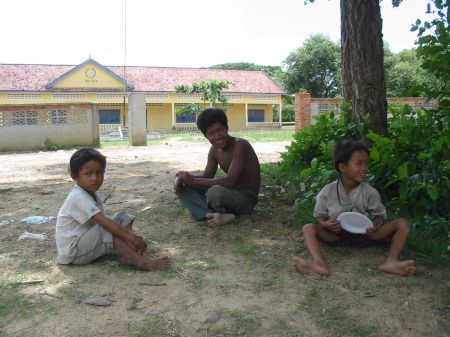 We kept getting more and more company.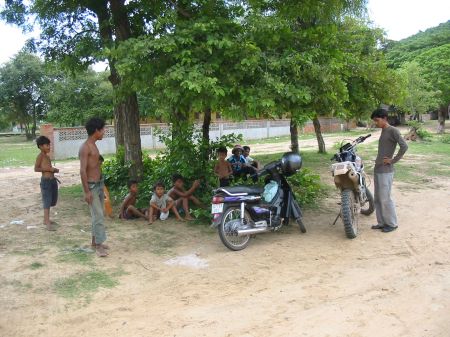 Then we went to some tents at the bottom of the mountain, where we parked the motos. There were a number of hammocks in those tents and people invited us to hang out for a bit. We had some tea. Those women had a number of fresh chicken and we asked them to grill one for us while we are climbing the hill.
Again a number of kids gave us company. They were not as intrusive as other kids I have met at touristy spots before. They told us that we have to climb about 400 steps. That does not sound too bad. However, those are huge steps. Those children kept updating us how many steps we still have to climb.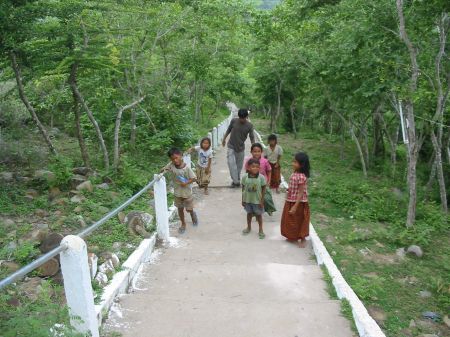 I was carrying my bag and was sweating badly.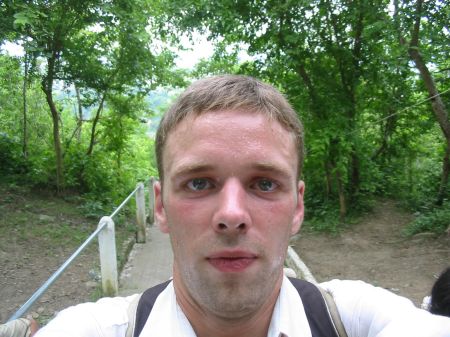 When we arrived at the top I had to pay $2 while my co-traveler did not have to pay anything. We saw a number of religious construction like this Buddha or those statues. However, this is artwork of rather low sophistication.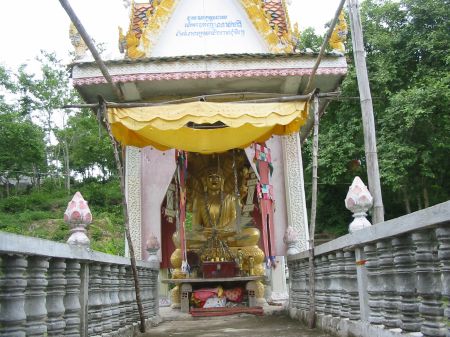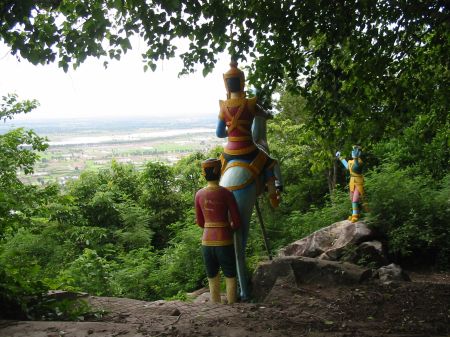 Or this rather recent construction.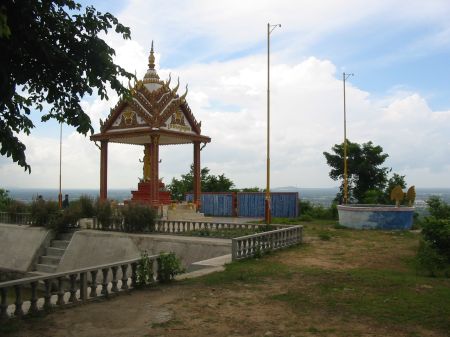 Strong rain was coming down over there.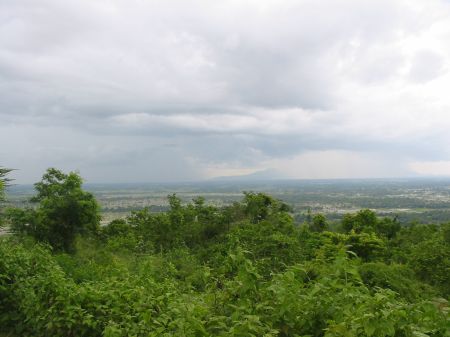 This is me on the very top of the mountain.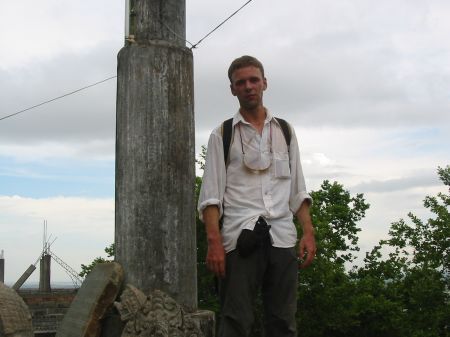 This is when we finally reach the Temple Suryagiri, which was build by Suryavarman I. in the 11th century. This is in Angkor times. I read in my tourist guide that this mountain was a strategic position for the Khmer Rouge when they were surrounding Phnom Penh. This is why Lon Nol bombed the mountain with helicopters.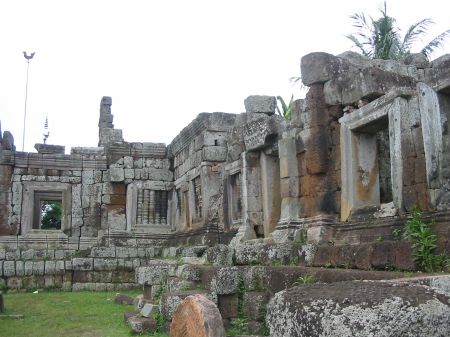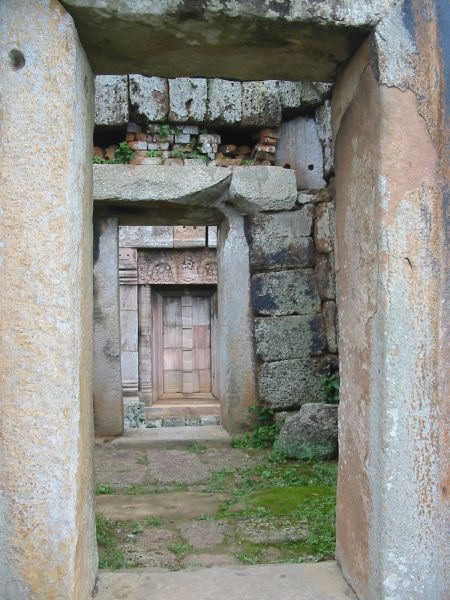 There are at least five of those towers made of bricks which house altars. Old people are waiting inside to tell (mostly local) tourists about their future but I could resist the temptation.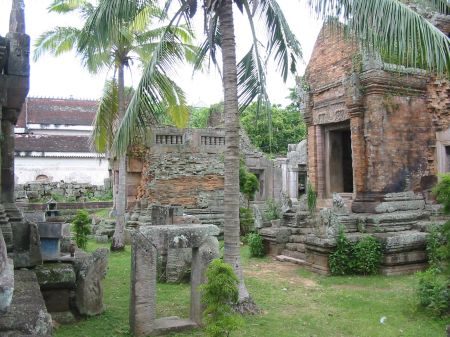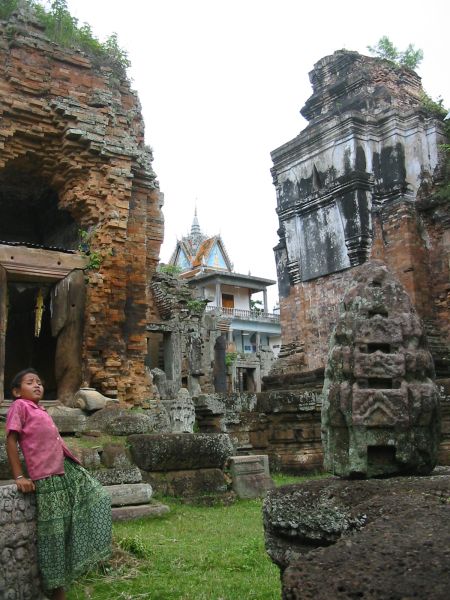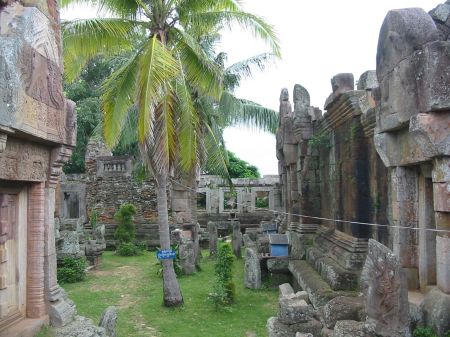 At the bottom of the mountain are the ruins of another temple, the so-called Sen Thmul. This is connected with the central sanctum via many steps, supposedly another 400. Not only those temples but the part of the mountain under the main temple appears to be man-made.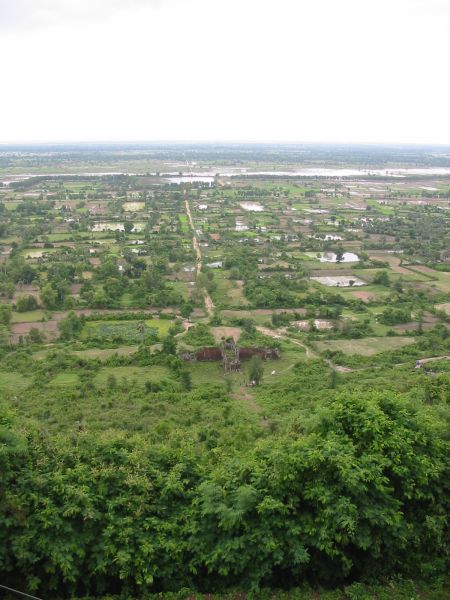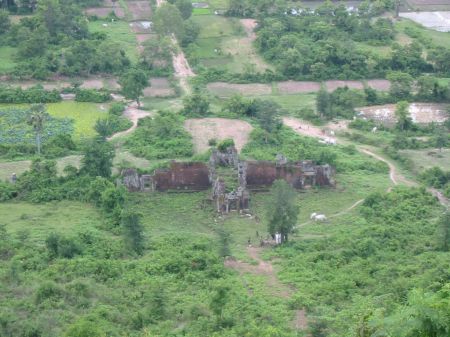 It started to rain quite heavily for some time and we went to the tents of some people who sell drinks. This temple was close by and I though it is nice, too.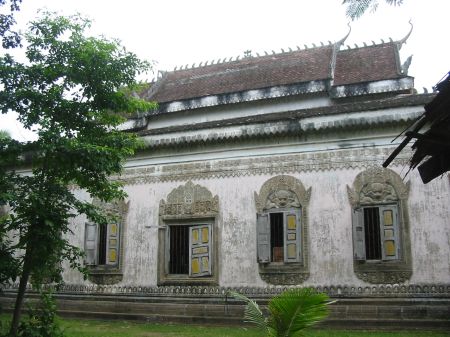 While it was still raining a bit we went all the way back to the bottom of the mountain. The chicken was already grilled and we had food in one of those tents. Afterwards we hang out in those hammocks for a bit. Then it was already past 4 pm. I had to give back the moto at about six and so we decided to go back without many breaks. Since there was not much traffic on the road I went with my co-travelers moto and led him practice with the big one. After it had been raining the air was somewhat cooler and it was delightful to travel with motos.
When it was still about 20 km to Phnom Penh it was already twenty minutes to six. Since it was me who had to give back the bike we decided that I would go with the big moto trying to make it in time.
I feel much more familiar with the bike now which makes me also more comfortable in the traffic of Phnom Penh. When I reached the major junction in the south of the city (where Norodom Boulevard meets Monivong Boulevard) I realized that my preferred route via Monivong was very crowded. So I decided to travel north on Norodom. This is the part of the Norodom in the south where the Ministry of Interior is located. The road is very wide here which usually gives me the chance to speed up a bit. I admit that I enjoy doing it here because this is both the Ministry of Interior and where I work. It satisfies my sense of subversion, I guess. However, there was a major accumulation of cars and motos directly in front of the ministry. I saw an ambulance, too. After I read in the newspaper that this Ministry might be the place were pro Hun Sen people might start demonstrations I though this might be it. Or just an accident involving somebody else who was satisfying his sense of subversion. Cars and motos around me started to turn around their vehicles nervously involving the entire road. Not surprisingly this created quite some chaos. I thought there is not much time left for me to give back the moto. So I decided to do the same.
I found that Monivong was not as crowded as I expected and I made it in time to 'lucky! lucky!'. Already with some routine I parked the moto and handed in the key. Then I went back to the Amok with a moto taxi, thankful that I did not have to drive myself.
I learned later in the evening that it was just an accident what had happened in front of the Ministry. I went on a short ride with a moto driver and we kept cruising riverside for some time. I was surprised to find that there were many people, including countless families engaged in picnic on every piece of green available. This was the first time I have seen those places as busy. My moto driver indicated that this is how it usually looks like. Only in previous weeks fewer people came because many were afraid of fighting after the election. However, people feel safe now and families come out again. I thought this is a good thing and enjoyed observing all those people enjoying themselves in the mild evening.