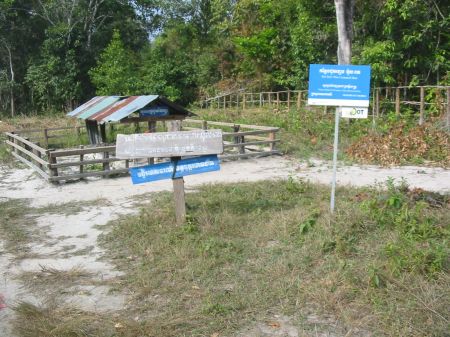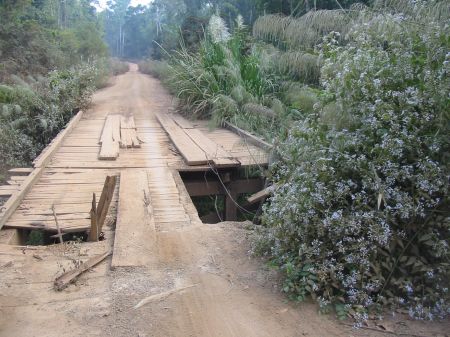 Next day I get up at seven and go to the restaurant again to have breakfast. The plan is to spend some hours around Anlong Veng, to visit the relevant Khmer Rouge places. In the afternoon I want to leave Anlong Veng and ride to Siem Reap provincial capital, which is about 200 km from here.
After breakfast I kick of with the owner of the restaurant. We go with my bike. By now I don't mind taking people on my bike. Everybody does. First we visit the local tourism office. The door is open but nobody is here. We find a name card and I call the guy. I learn that he is in the mountains right now, taking pictures for the provincial department of tourism's homepage. He suggests we ride up the mountain and meet him there.
And this is what we do. Maybe for about 10 km we follow the main road to the north, which is broad and easy to ride. This changes when we reach the bottom of the mountain. Some distances are pretty steep. Others are covered with rocks or sand. However, it is not too steep and I even enjoy the rough road.

On the way we pass the statues of some soldiers, carved out of a single rock by Khmer Rouge members. Government soldiers have decapitated those statues.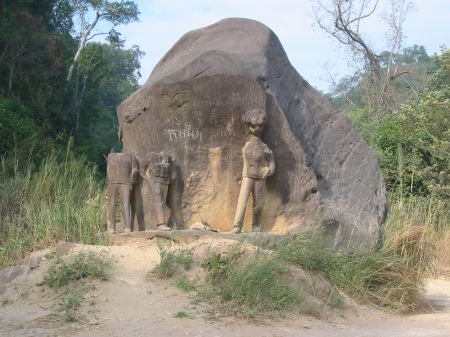 After another 20 minutes we reach the top of the mountain range, which marks the border to Thailand. There is an accumulation of stalls which serves as local market. We park the bike and follow a guy from the tourist police about hundred meters, before we reach the place where Pol Pot was cremated and buried. Those spots would be difficult to find if there where not signs telling the visitor what he sees. Apparently not much attention is paid to those sites and they are covered with rubbish.
The sign to the right says this is the place where Pol Pot was cremated. Under the roof in the background is his grave. This is how it ends.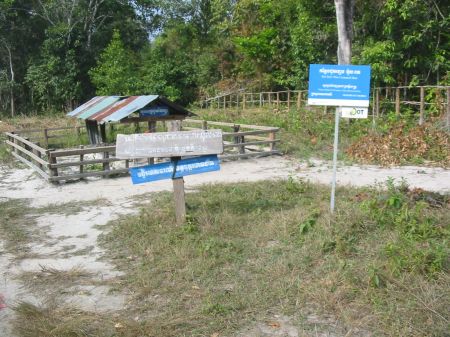 By accident, we meet the French guys who I was talking to yesterday before they left. They actually found a guesthouse up here and told me about the beautiful view they have had from their balcony. And we meet Un Khemara, who works in the local tourist office and is the guy I was talking to on the phone. We arrange to meet later in town to visit Ta Mok's house close to the town.
In order to visit Pol Pots residence in the mountains we have still about 15 km to go. We pass the market and continue on a narrow road, which however is an easy ride. We ride mostly through forest. Sometimes we come across people, mostly in uniforms. Other than that the places we pass are not without beauty. Sometimes we see small lakes.
We pass a guard and pay some money for the priviledge of visiting Pol Pots house. After a few minutes we reach the remains of a concrete structure. There is a basement from concrete, which looks like it served as a bunker. Unfortunately my guide does not seem to know much more about the place than I do. There is nobody and nothing here to educate us about the historical significance of the place. We come across some sort of basin but do not know whether it served as swimming pool or for irrigation. We assume the surroundings are mined and leave the place after few minutes. I do not feel like I want to visit more places like that without understanding what I see. So we ride all the way back, passing the market and the statues and speeding a bit on the rest of the road back to Anlong Veng.
I presume those are the remains of Pol Pot's last residence.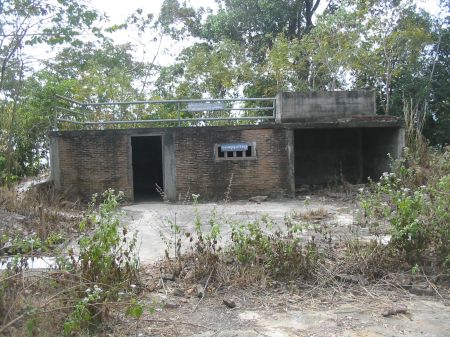 The place is not without beauty.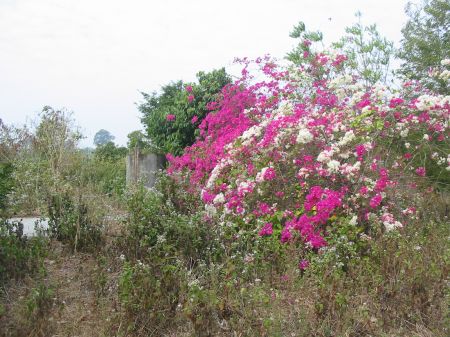 This looks like some sort of swimming pool. We don't manage to find out what its purpose is or was.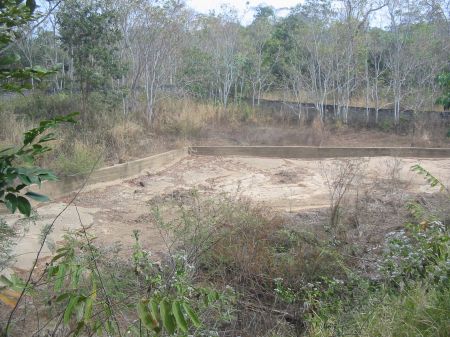 I bring the restaurant owner to his restaurant and tell him I will be back for lunch after one hour or so. Than I ride back to the tourist office, but Un Khemara is not here again. Instead I talk to his colleague. I call Khemara again and learn he is at Ta Mok's residence, which is just around the corner. Un Khemara picks me up at the office and we ride to the place. This is located at an artificial lake. This lake caused those trees to die and shaped the bizarre sight of the surroundings.
This house was set up first by Ta Mok and he lived in it for some time. The radio for leading the battle with government forces was close by. Un Khemara is about 30 years old and claims he was adopted by Ta Mok when he was a child. He also goes by the name So Phorn but I do not know why it is that he has so many names. Ta Mok had three daughters but no boys and took care of him.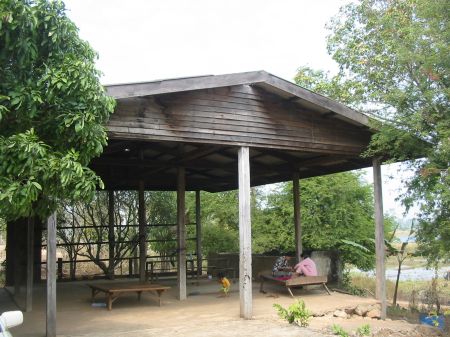 Later a more solid house with a concrete structure was constructed. We enter and find the walls of the basement covered with paintings of Angkor Wat and Preah Vihear Temple. This is where meetings of the highest ranking Khmer Rouge took place.
Painting of Angkor Wat.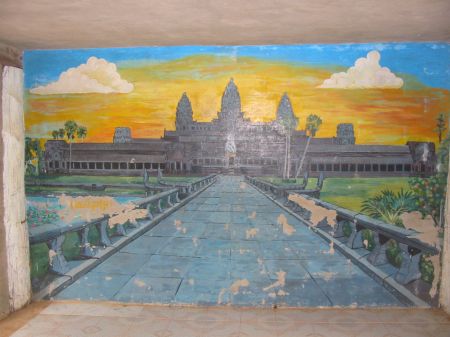 Painting of Preah Vihear.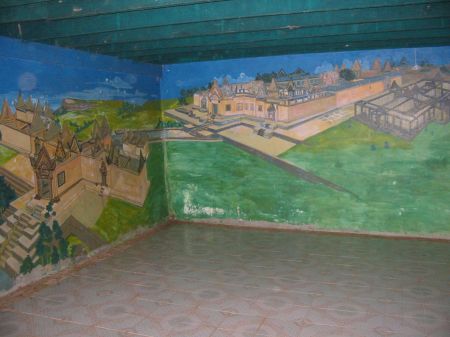 This is the view from the window, at the artificial lake next to the house.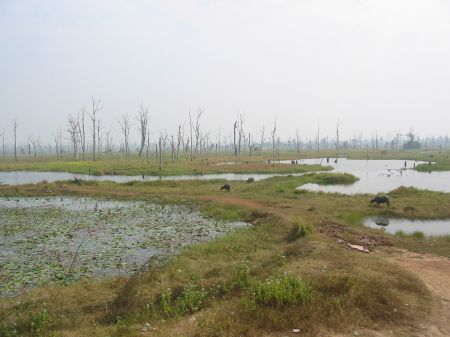 To the left, straight behind the buffalo is what remains from one of Pol Pot's residences. Actually there was a house but it burnt down and only the toilet is still here.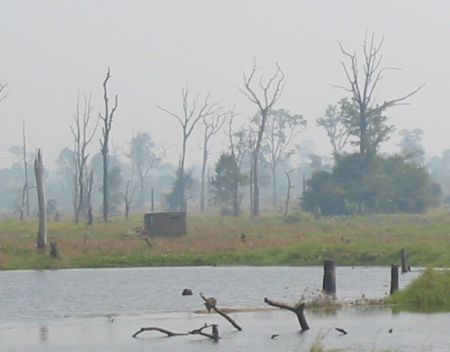 We climb up to the second floor. The walls here are painted again, with a waterfall scene, a map of Cambodia and temples again.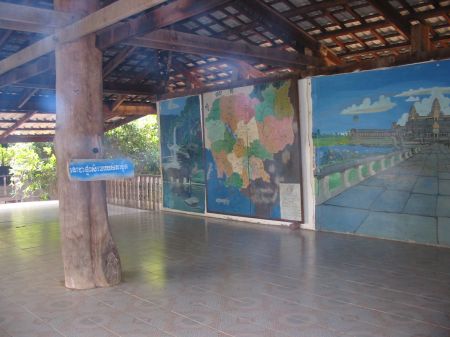 This is Ta Mok's bedroom.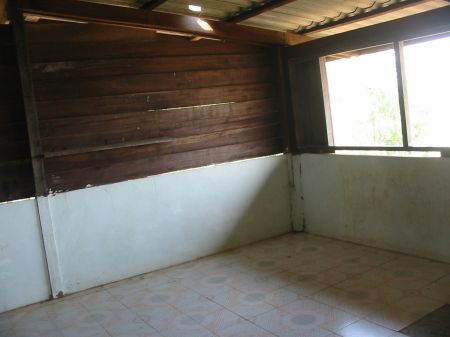 We spend some time talking. Un Khemara tells me on various occasions about the dam which is the cause of the artificial lake outside. Ta Mok wanted to create this lake to provide water for humans and animals and for irrigation. However, Pol Pot was opposed to the idea.
Furthermore I am told the Thai government provided support in exchange for timber and ancient remains from the temples. At some point supposedly the Thai government demanded Prey Vihear in exchange for such services, but Ta Mok rejected this idea.
Later we go the basement, where we find Ta Mok's bathroom. There are actually bunker under two of those buildings, which were used when the houses came under fire.
This is Un Khemara in Ta Mok's bathroom.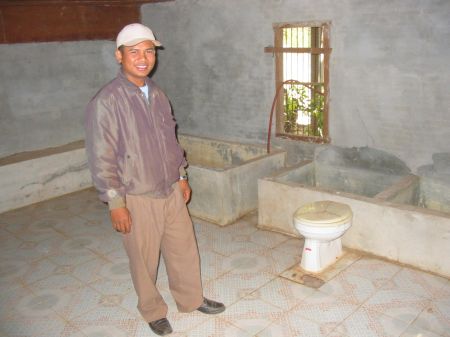 After some time we leave. Something at the stand of my bike is broken, but it is a minor problem and I bring the bike to one of the local mechanics. Un Khemara insists that we ride to his house first so that he can give me his name card. He serves as teacher, too and what I find is a small school with this tiny classroom and many students.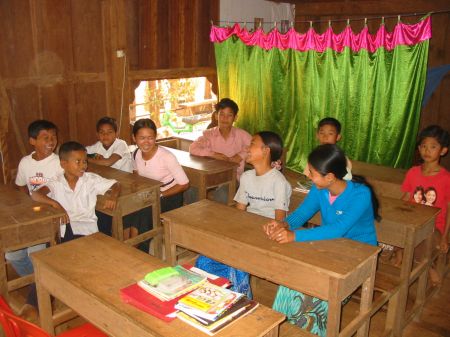 After some time we ride back to the restaurant to have late lunch. Afterwards we hang out and talk, which is interesting.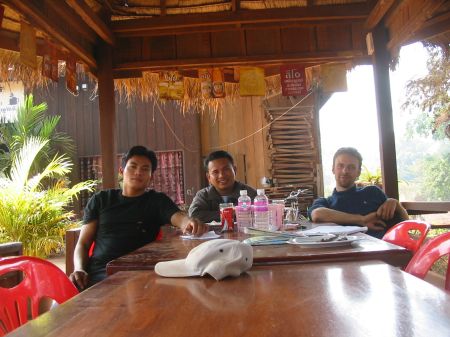 I learn that the owner moved actually only recently to Anlong Veng and lived in Kampong Cham before. It is getting later and later. Finally I say bye, pick up my bike at the mechanic and ride back to the guesthouse. I pack my stuff and attached it to the bike. Then I head to Siem Reap.
After some kilometers I enter dense jungle. The road is alright but not very even. After some time the potholes get deeper and deeper. However, the fine sand makes that it is a smooth ride. It is at least three hours from here to Siem Reap and I hurry, because I don't want to ride at night.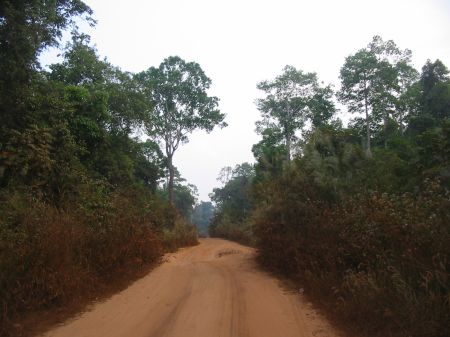 I rarely come across people or vehicles. Paul had warned me earlier that the roads in Siem Reap are ok but the bridges are in a bad shape. So whenever I see a bridge I reduce the speed significantly. Some bridges are in fact in bad shape and this one is a good example, although certainly not the worst one. In many cases there is an alternative way through the jungle for cars.
Bridges around here are in a bad shape.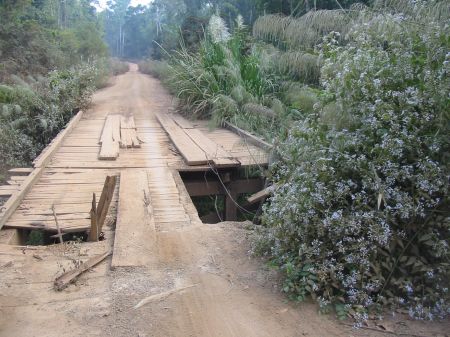 Later on there is not much forest anymore, and trees are only thinly spread. Those are the first trucks I see on this road.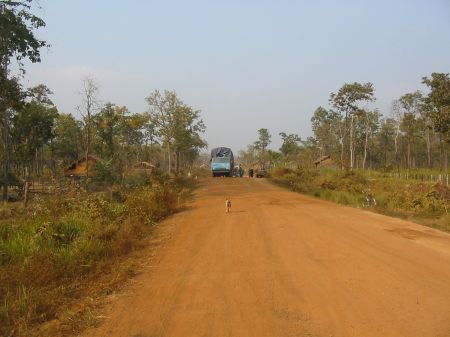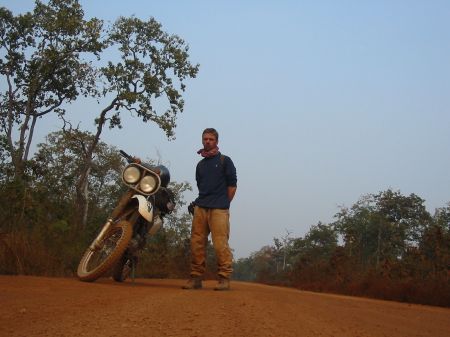 After maybe about two hours I reach Banteay Srei temple. Unfortunately I would be allowed to enter only with the Angkor Wat ticket for $20 a day. So I order food at one of the numerous empty stalls along the road. Then I go to take at least a picture of the gate.
This is the gate of Banteay Srei Temple.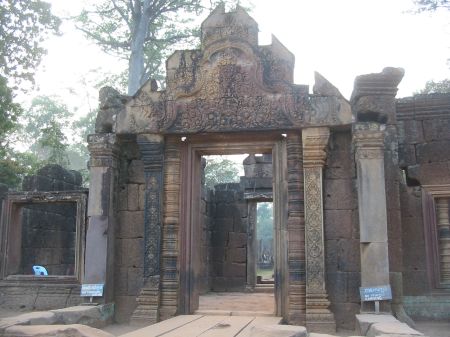 This is inside.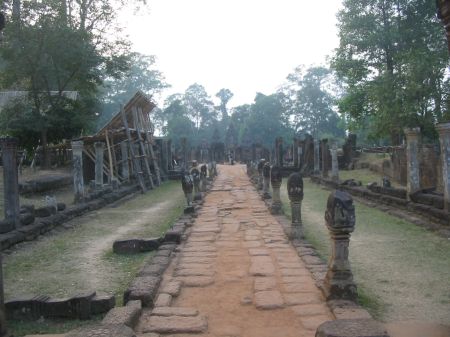 I enjoy my food very much. I learn that it is only about 30 km from here to Siem Reap. When I kick off again it starts getting dark. However, the road is paved nicely from here. I have not seen a paved road for a long time. Moreover, there is not too much travel. So I speed up the bike and enjoy it.
Those 30 km are longer than I have thought. I expect to reach the center of the city every few minutes. However, I keep going. Only slowly the road is getting busier. And finally, when it is dark, I find myself in the dense traffic of Siem Reap city. This town seems to be much busier now compared to the rainy season, when I came here last time. I head to the popular guesthouse again, where I spend the night on my last trip here.
I manage to get a room and have a shower. Later I get a moto and ride to the local Seeing Hands massage place. Although I have gotten this massage many times I enjoy it particularly after I rode the bike for many hours. After the massage I go to the local happy herbs pizza restaurant to have diner. I talk to a couple for some time, he from California, she from Malaysia, living together in Hong Kong and traveling Asia. She works for a Swiss Investment bank and he for the Times magazine. This makes for an interesting conversation. Later I leave to the guesthouse and go to bed.