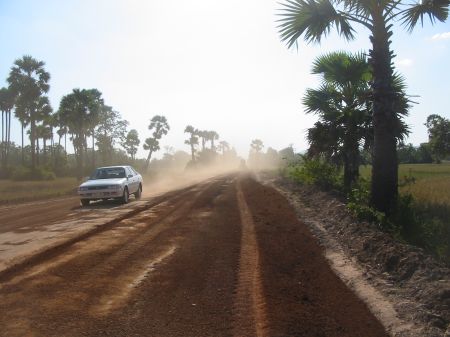 Some weeks ago Dara and Vuth had told me there would be a massive yew year party at the casino on top of Bokor Mountain in Kampot province. They told me they would go and asked whether I would join. I agreed and reserved a bike at Phnom Penh Bike Shop for December 29. I just gave back the (pretty used up) Honda Baja yesterday to lucky! lucky! Today I find at the Phnom Penh Shop that only one bike is left, which is a Honda Degree. Those bikes are the most common, cheapest and in many cases oldest dirt bikes available in Phnom Penh. Yet at this point it is not likely that I get a better bike anywhere else and I take it.
Furthermore I learn that Dara, Vuth and the owner of this shop have left already to hit Kirirom National Park on the way to Bokor. I have been to Kampot but never saw Bokor before. And I do not mind having a special New Year party. After I get the bike I decide to leave the next day, to go the 150 km to Kampot. This gives me more time to spend in Kampot and I assume there are fewer crazy people on the road heading to this party. Kampot is a three hour trip from Phnom Penh, mostly on National Road 3. The plan is to go some time the next day the remaining way to the top of Bokor Mountain. The road up to the summit of the mountain is said to be difficult.

It is only by 2:30 pm when I leave at home in Phnom Penh, after I packed my stuff and tied it to the bike. After not even 500 m I ran into a police check point on Norodom Boulevard and of course the police men pull me over vigorously. One of the officers points at the place on my bike where the plate belongs. The plate is missing. I did not see that before and feel a bit guilty. However, a strong majority of vehicles in Cambodia does not have a plate. I tell the officers this is a rented bike and the plate is not my business. They insist that I pay and so I pay the modest 8000 Riel. Than I leave to Kampot south on national road 3.
As usual, after I pass the outskirts of Phnom Penh I can increase the speed and travel pretty fast. I come across many road construction sites all the way along the way to Kampot provincial capital. Where the road is not paved this involves a lot of dust.
This is still close to Phnom Penh.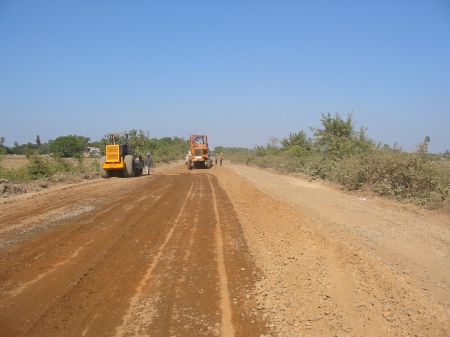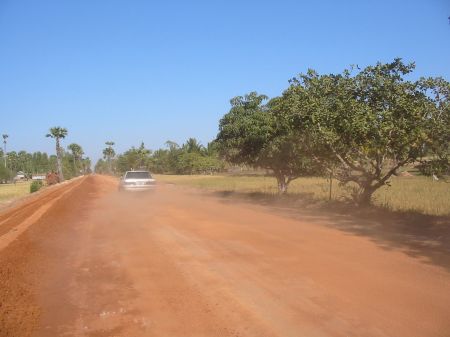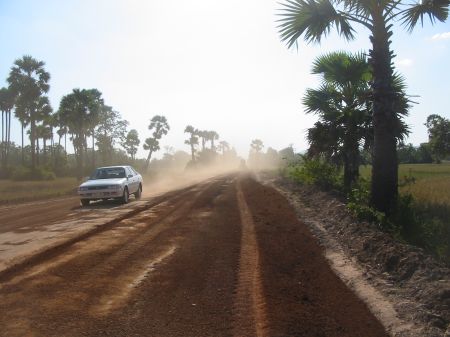 This is after I passed Tram Kak and before I reach Chhuk.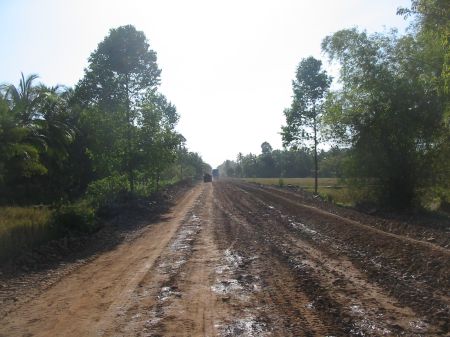 To make sure I reach Kampot before it is dark I keep riding more than half the way without a break. Only about 50 km before Kampot I stop in a village to have some rest. I order coffee and get some food in the market. Then I site down at this stall at the roadside and eat. The owner and her daughter do not speak English and I practices my few Khmer words.
Later a lady comes along and starts talking to me in Khmer. I feel she behaves quite offensively. She inspects my nose and arms and keeps talking to me in Khmer. The owner of the place and her daughter seem to feel embarrassed by this lady's behavior but don't intervene. The lady does not go away and keeps talking to me. This goes on for some time. I feel uncomfortable but try to enjoy my coffee and a cigarette. At some point I take a picture of her, to do something. She does not stop bothering me. Only after about 20 min. she leaves, after I tried to consistently ignore her. I want to point out that the way this lady related to me is quite opposite to the way I usually encounter Khmer women and in fact Khmer people, who tend to be rather shy and soft spoken. Later the owner's son arrives. He is 16 and studies English. He translates for his mother that the lady is crazy. Later I leave, too.
Crazy lady.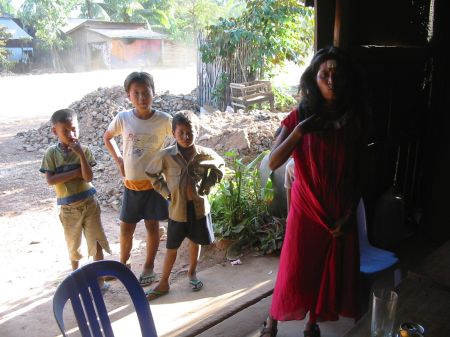 I have been riding this road just about four month ago. But it looks quite different. This road is being overhauled and broadened all over the place. There are stretches with many potholes but most of the time it's a decent ride.
The landscape changes gradually with more small mountains and mountain ranges the closer one comes to Kampot.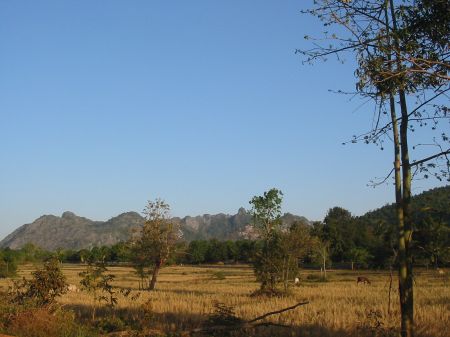 Once in a while one comes along a Mosque.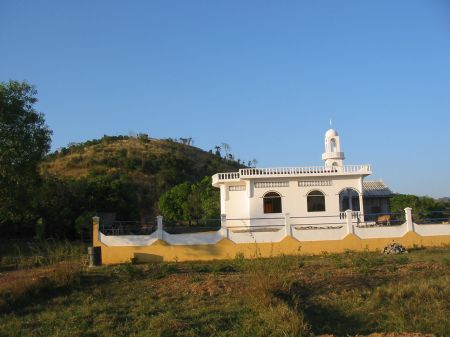 It is already late afternoon and I am still riding. Shadows are getting longer. On one occasion I ran into a very deep pothole which I did not recognize before it is almost to late.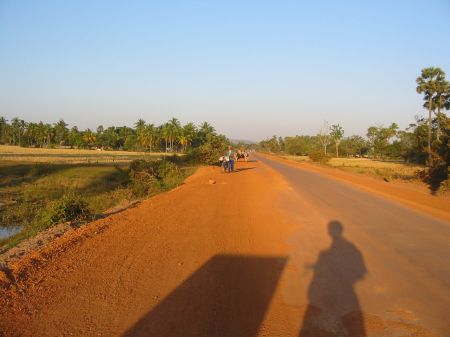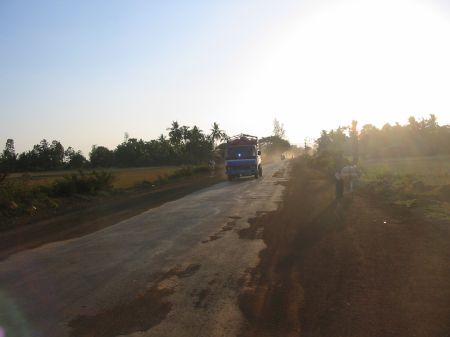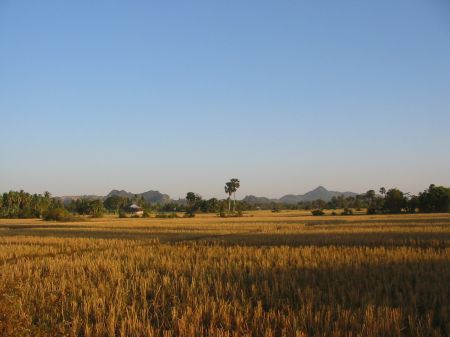 When I arrive in Kampot provincial capital the sun is about to set. This is close to the market.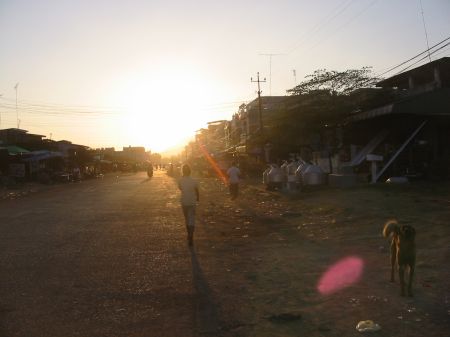 The Mealy Chenda Guesthouse seems to be all right according to the guide books. I quickly find it and get a decent room with bath room and van for $4. I hurry up to the terrace to take a few pictures while the sun is setting down behind the mountains.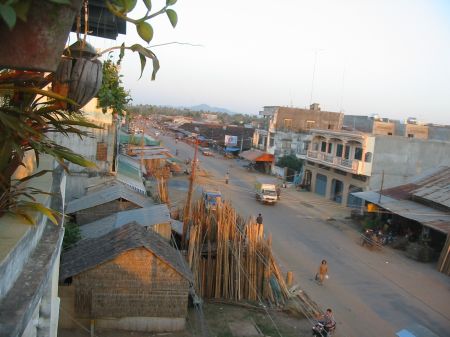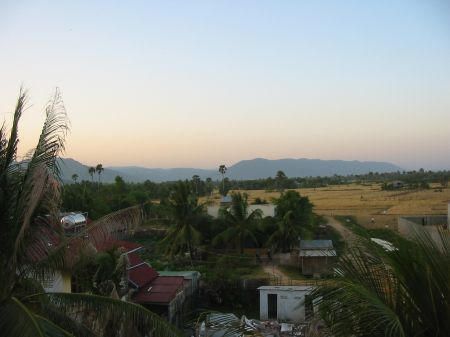 I have some rest and later go to the terrace again to hit the restaurant. Before I reach there I get to talk to Klang, works as guard and taxi driver. For tomorrow he offers a ride with the truck from the guesthouse to Bokor Mountain for $12. While we discuss I recognize Phillip on the next table, a traveler from Germany who I met in Kampong Thom some weeks ago. He is talking to a guy from Canada and I join them. We have food and talk for some time. None of those guys intend to go the Bokor Mountain the next day.
So I end up spending the evening with those guys on the terrace. We talk a lot and when we decide to go to bed I still don't know how to go about tomorrow.