The following post describes a trip which took place already some month ago. More precisely, it was on the first and second of January, if I am not mistaken. It took place after I spend New Year on Bokor Mountain. It reports a tour that covers various caves in Kampot, the town of Kep and a visit to Toek Chhou, a place close to Kampot town which is popular with the locals for picnic.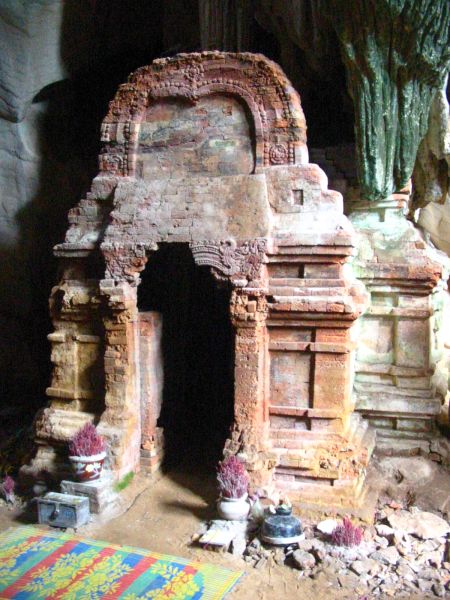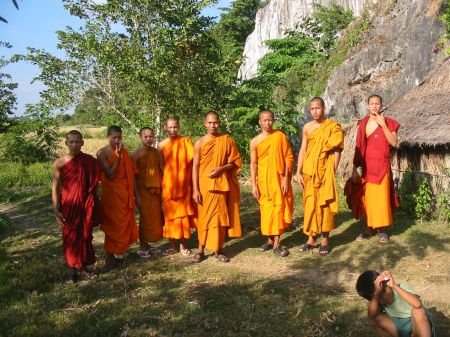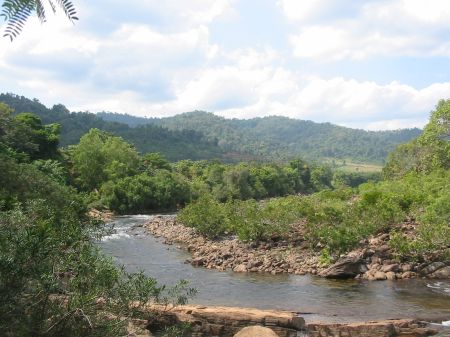 After we return to Kampot I hang out with Gabe on the terrace of the guesthouse again. He is determined to meet Tamey and Jamey in Sihanoukville and leaves the guesthouse after a few hours. After I did not sleep all night I do not feel like traveling to Phnom Penh today. So I talk to Klang, the guide and driver at the guesthouse, and we agree to meet in the afternoon to see some of the caves in Kampot. And to visit Kep to see the sun setting there.
Klang and the owner of the guesthouse give this dog a wash, which the dog enjoys very much.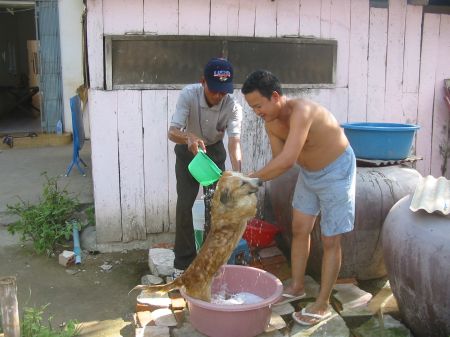 So in the afternoon I take Klang on the back of my moto and we ride on the road to Kep. After some kilometers we turn left and find Phnom Chhngauk.
Getting some petrol in Kampot before we leave.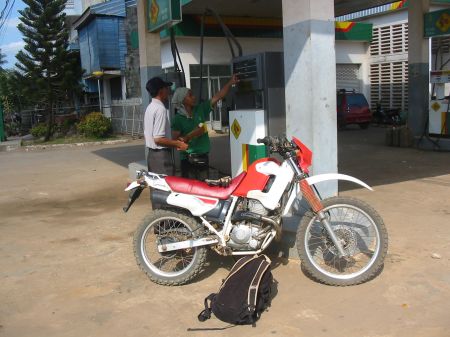 This is the first cave we visit. The temple inside was initially devoted to Shiva and is about 1400 years old. We spend some time exploring the main hall. There are other tunnels at the back of this cave but right now both of us do not fee like getting into caving. A number of monks enter the cave and I talk to them for a while. Their pagoda is only about 6 km away but it is the first time they come here.
Main hall with the temple to the left.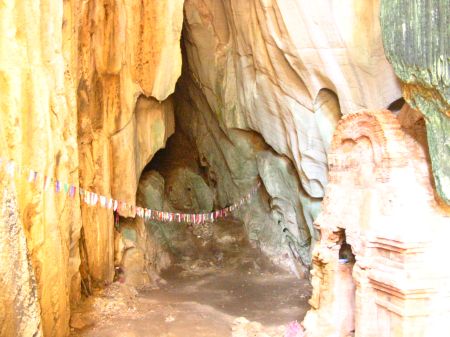 Temple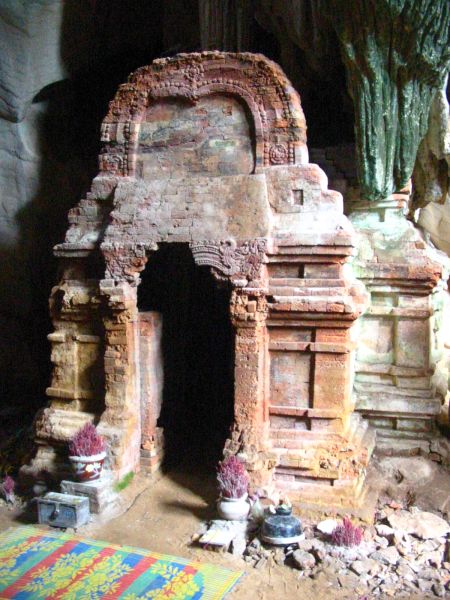 This hall is very high and the impression one gets while looking up to its roof is not unlike the feel of a gothic cathedral.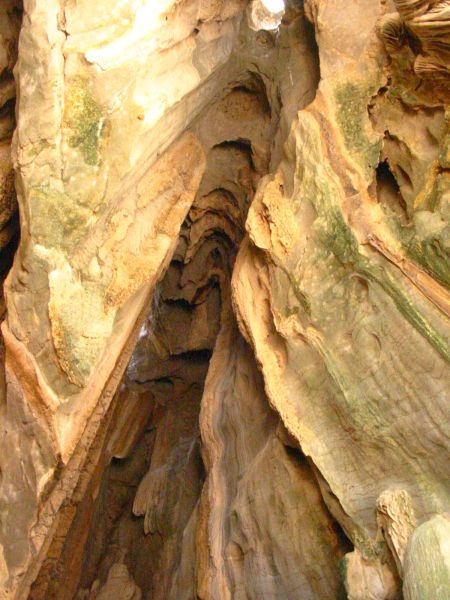 This is when the monks arrive.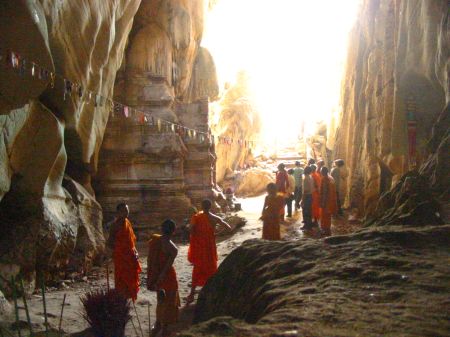 This is the view from the gate of the cave.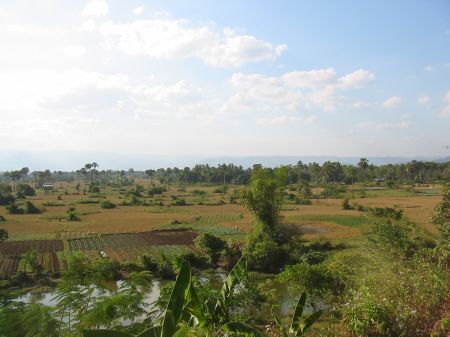 The monks pass when we start the moto. Usually it is considered insensitive to take pictures of monks. However, this time I ask whether I can take a photo and they agree. For the picture to be decent they have to adapt their clothing which takes some time.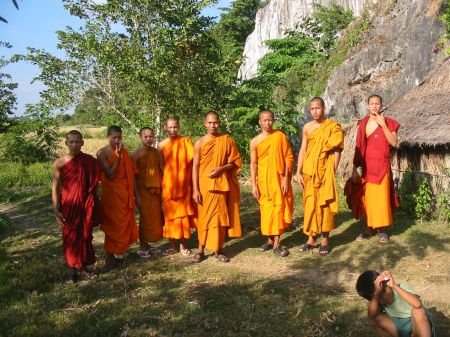 The next two caves are in this mountain.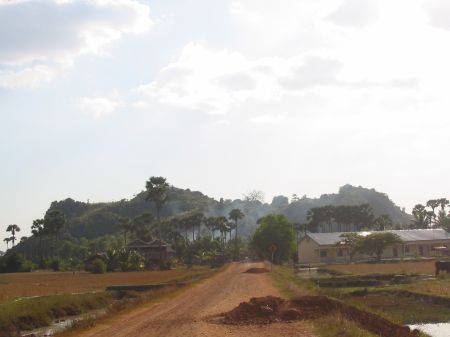 Those caves are dark and there are a number of bats. I brought my flashlight and we spend some time in the cool cave before we leave the place and travel to Kep. There is not much to see inside and there is not much light which makes taking pictures difficult.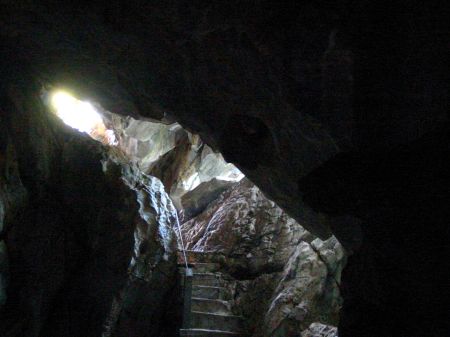 This cave is called elephant cave, because this rocks inside has the shape of an elephant's head.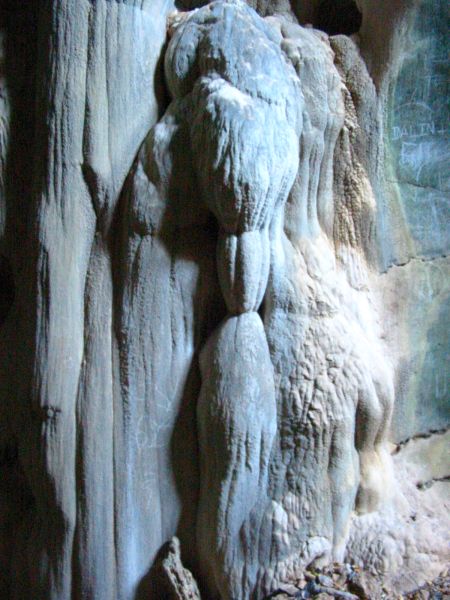 This is another cave of which I do not know the name anymore. It is only a few minutes away from the elephant cave. Inside there are a number of religious objects, like the Buddha in the center of this picture.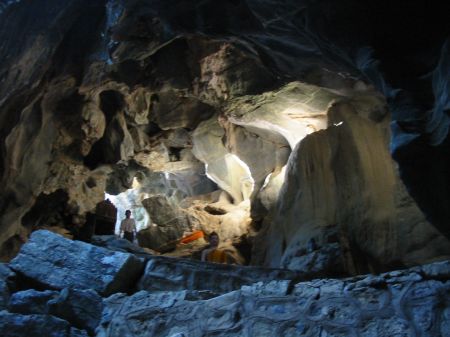 The landscape along the coastline in Kampot is somewhat different in that there are mountains. Kep is a town built by the French to provide space for their holiday residences. Today, many of those houses are seriously damaged and empty. Still, the place has its appeal. Moreover, the only beaches I have seen so far in Cambodia are in Kep, since I never went to Sihanoukville or Koh Kong. Klang wants to ride the moto and I get the backseat and try to take some pictures.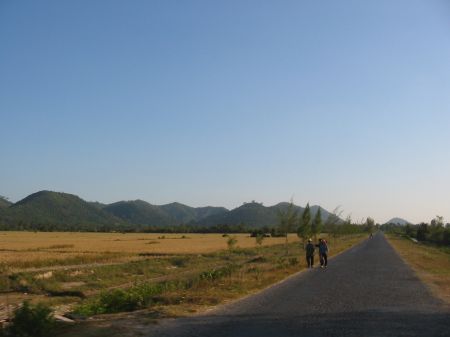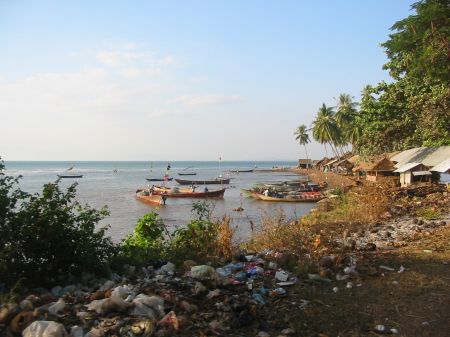 This building used to be the King's holiday residence. However, he did not come here for many years and the house looks rather abandoned.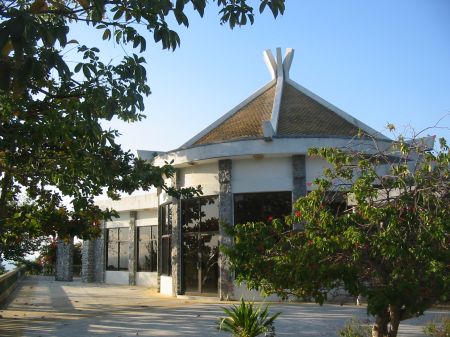 The view from up here is remarkable: one can see the sea with fishermen's' boats, the beach, and many small islands.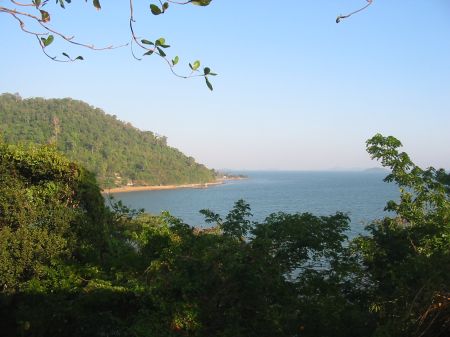 It is not yet time for the sunset and we decide to go on a ride through the town before returning here. This is the road along the coastline, with the characteristic statue of a naked woman in the center of the picture.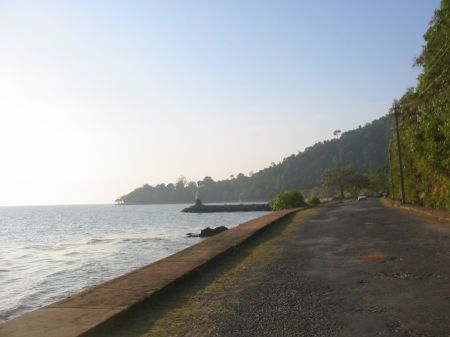 We have a drink at a food stall close to the beach, before we return to Sihanouk's residence. This is Klang on the moto.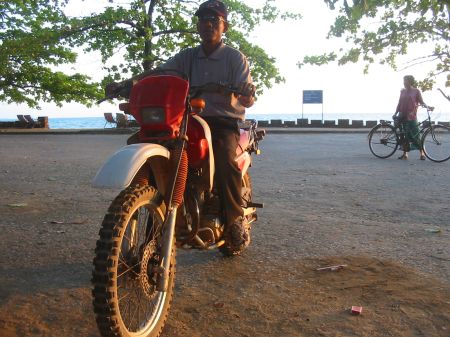 Sunset viewed from Sihanouk's residence.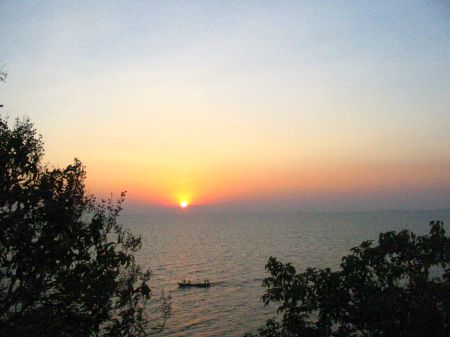 After the sunset is over we get on the bike and ride back to Kampot. It is getting dark rapidly. Once in a while we pass places where the grass is burning.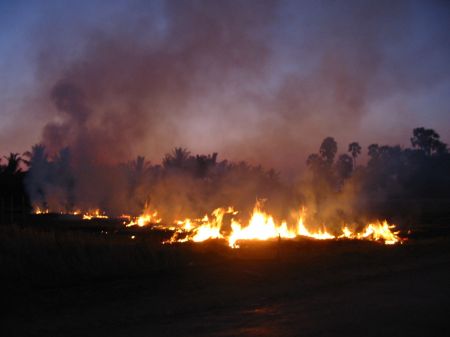 We ride back to the guesthouse. The owner has grilled two ducks and invites me to join for diner. We drink some whiskey and later I decide to go out for a bit with Klang and Khey, another guide. The three of us ride together on the dirt bike. I leave driving to Khey, who knows well how to do it.
It is after 12 am when we arrive back at the guesthouse.
Initially I wanted to ride back in the morning to be in Phnom Penh by lunchtime. Yet Klang and Khey persuade me to spend the noon in Kampot and leave to Phnom Penh after lunch. They want to go to Toek Chhou, a place at the river with some rapids where one can go for a swim. I have extensive breakfast and later we leave.
We come across hundreds of students who either go home for lunch break or return to school. This is a common view all over Cambodia. And a very characteristic one, because student are dressed similarly. The three of us are traveling on one moto again and Khey is driving.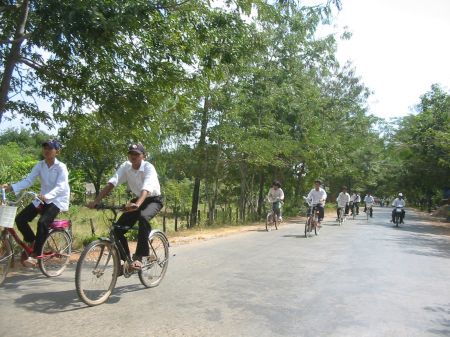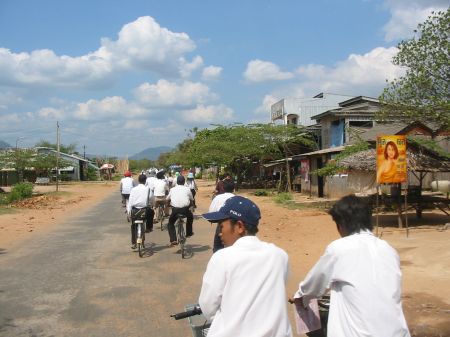 The landscape is not without its appeal.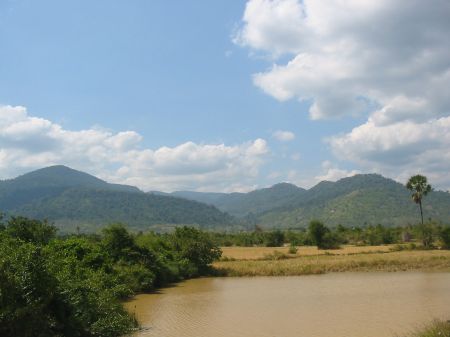 Klang and Khey on the moto. Again, the three of us are traveling on just one moto.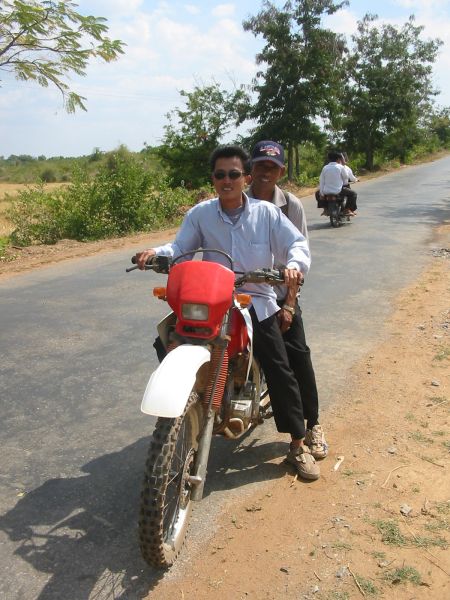 We reach the place where two other tourists are already having a swim. We order food for later and find a place in the shadow to hang out. Klang and Khey start doing their laundry while I go for a swim and hang out with those tourists. It is a young couple, he from the US and she from England. Both work as English teacher in Phnom Penh.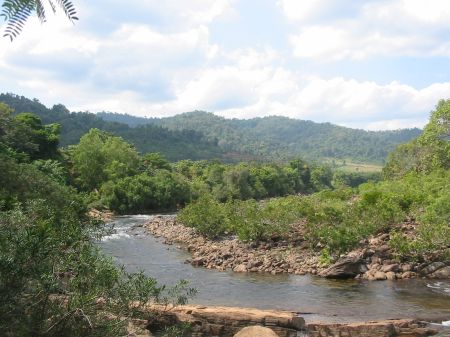 Later two boys appear with self made harpoons. We spend some time trying to talk to them and to understand how they construct those harpoons. Later they go fishing and catch a number of small fishes within very few minutes. This is surprising because those fishes are really small and difficult to hit with this self made weapon.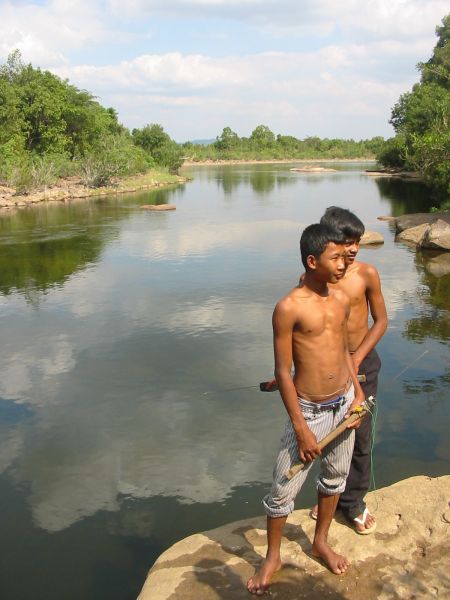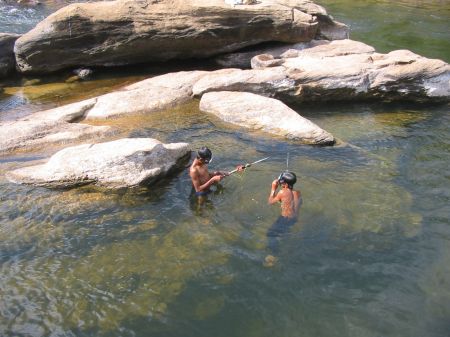 Later our food arrives. We have company from a mid aged lady from French. She is traveling alone and came with a local guide. She had spent much time in India and Cambodia teaching blind people massage so that they can make a living.
We have food and talk for some time and than ride back to the guesthouse. I pack my stuff, get ready and leave. Again there are only about three hours left before it is getting dark.
I keep riding without having a break. I am surprised to reach Phnom Penh after not much more than 2 hours. And it is the first time nothing on the moto broke during the entire trip. Phnom Penh Bike Shop is still open and I bring back the bike and ride home with a moto taxi.