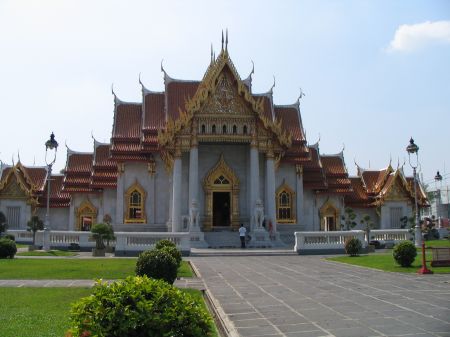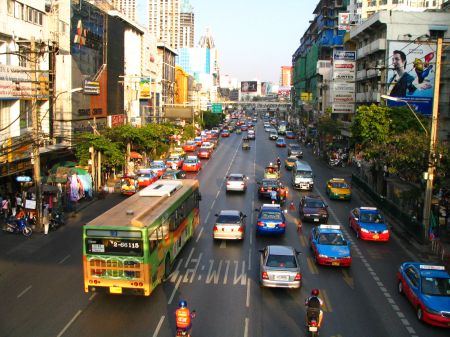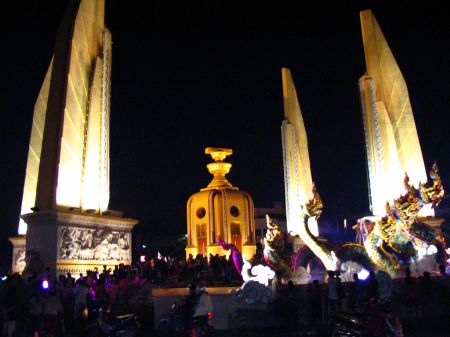 As agreed upon with the travel agency I meet the guide and the driver in the hotel lobby at 2 pm. The guide is about 30 years old and tells me that he is deputizing for his colleague who has fallen sick. I learn that he has studied design in Bangkok and works in his family's company which produces clothes.
The guide suggests visiting Wat Benchamabophit, a temple which he considers the most beautiful in Bangkok and I agree. We reach the temple after about 30 minutes, during which he tells me all about his job but nothing about Bangkok and its sights. In addition, he suggests that I should buy a suit and some shirts in his shop which I kindly decline.
Wat Benchamabophit is made of marvel which the king brought from a visit to Italy some hundred years ago.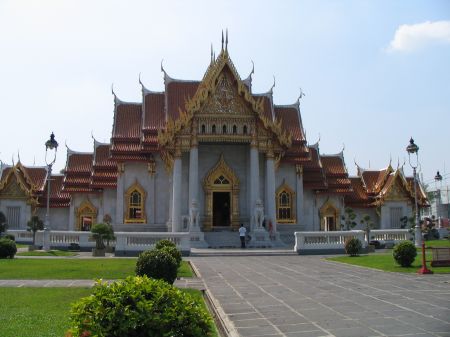 An initiation ceremony for young monks is going on inside and I do not enter in order not to disturb. I read in the guide book that there is a unique collection of Buddha statues in the yard. The guide is constantly talking to somebody on his cell phone while I see the statues.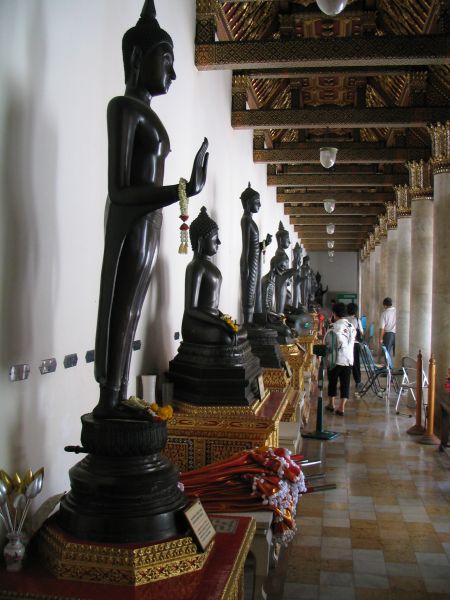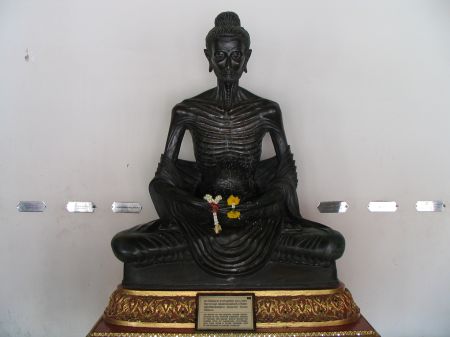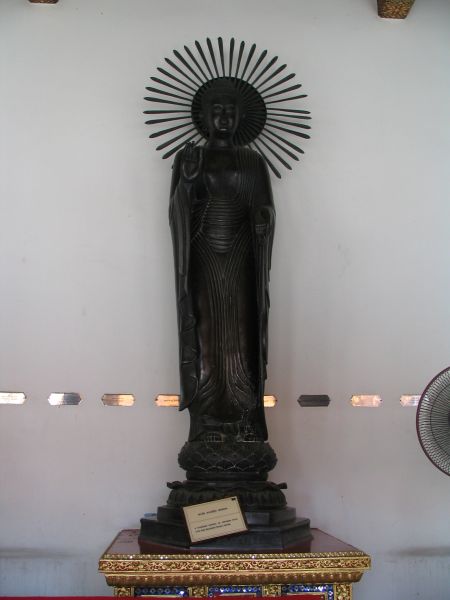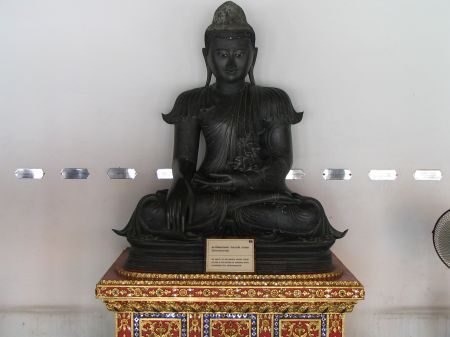 Backside of Wat Benchamabophit.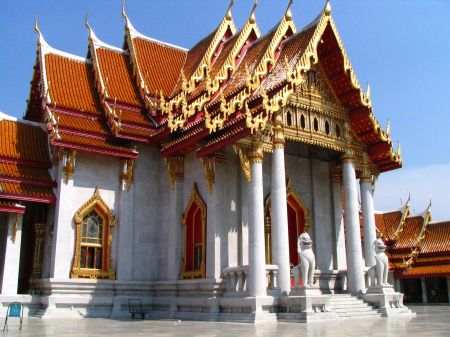 The guide keeps complaining about the heat and suggests that he will wait in the shadow while I see the compound around the temple. I agree since he does not do any guiding anyway. I find the garden and other buildings quite beautiful.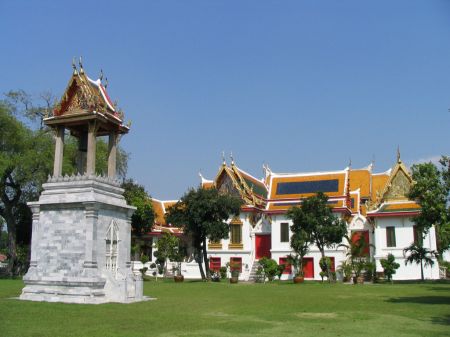 This is where the monks live.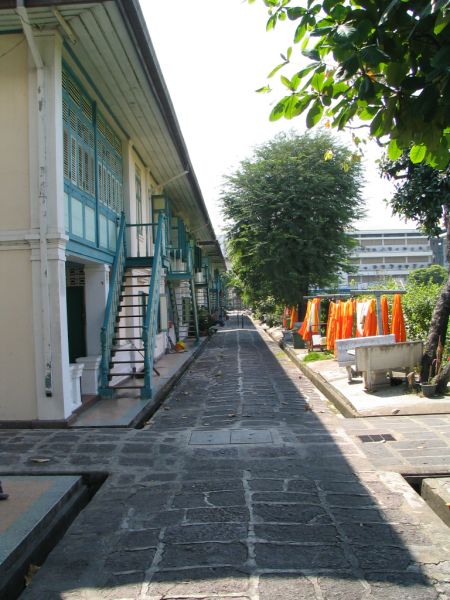 Some monks return from their initiation. It seems they have gotten some gifts.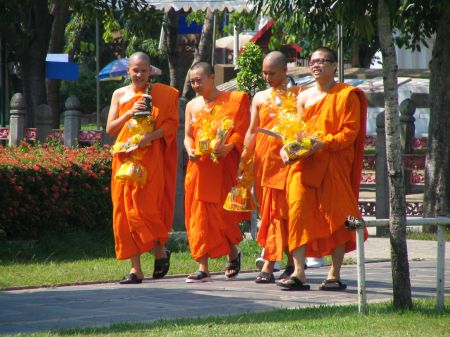 This canal separates the Temple from the monk's accommodations.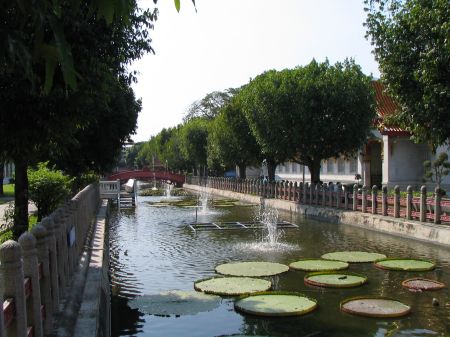 There are many fishes in the canal, some of them quite big.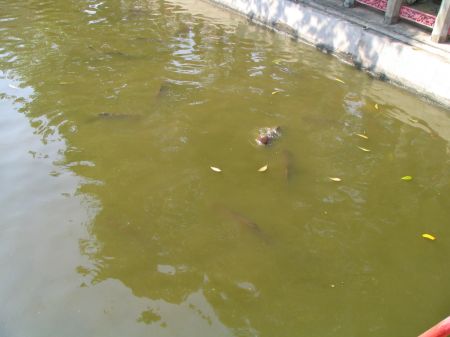 The guide seems to have run out of ideas when I return to him. He says there is no point in visiting more temples as they all look the same (which I doubt). He ensures me that any other interesting sight would be closed today, as it is Sunday. For me it is hard to believe that there is nothing else to see on a Sunday in Bangkok. The only thing the guide can think of is a boat trip on the river which I find very appealing but at 40 US$ unacceptably overpriced. The guide appears to find it ridiculous that I do not want to afford the boat trip. Increasingly he seems to be unwilling to pursue this tour, after only about one hour. At this point I consider bringing this tour to an end, too, and exploring Bangkok on my own, since the guide is not very helpful. We agree to visit another temple where there is a 22 meter high Buddha statue before we finish.
On our way we pass this building, which houses the Thai parliament, according to the guide.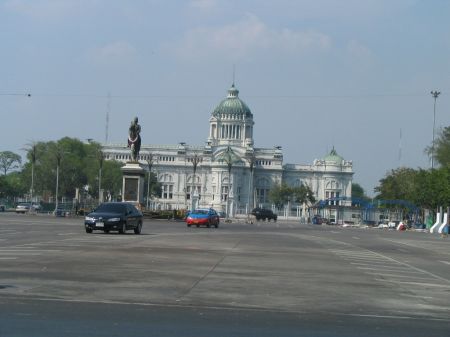 This is the statue.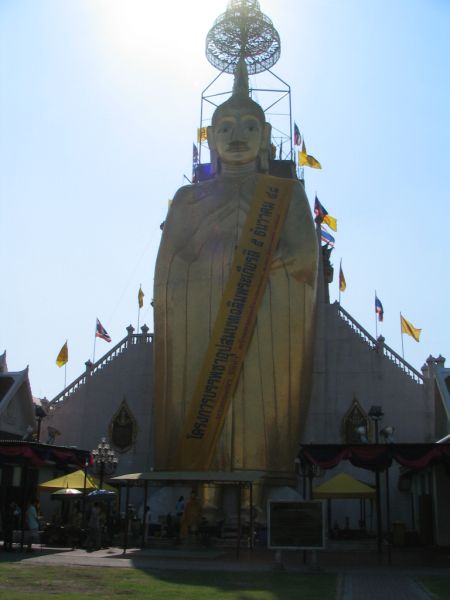 This is inside the temple. There are many beauty- and colorful paintings on the walls.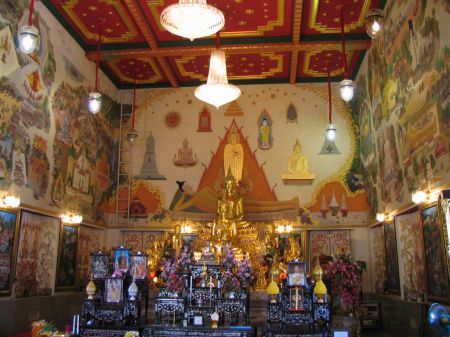 The guide tries to hook me up with a prostitute on the way back to the hotel.
After I have some rest in the hotel I leave again. I walk down Phetchaburi Road towards Chalermlok Market in the east where I turn to the south and head to the Central World Plaza and the Siam Center. There is massive traffic on the road and the narrow pavements are crowded with people, a good share of them obviously foreigners.
Phetchaburi Road.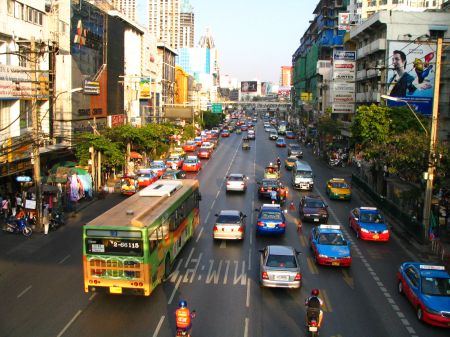 In front of the Central World Plaza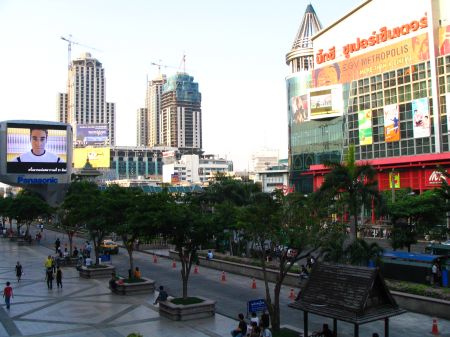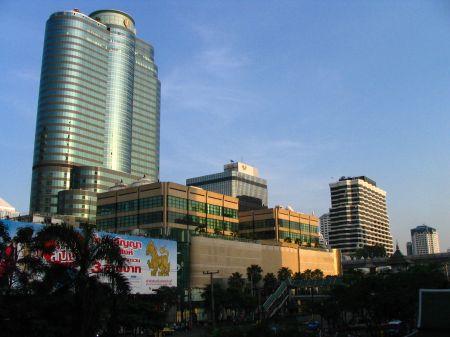 There is some sort of promotion event in front of one of the huge office buildings. A Thai rock band is playing but it sounds fairly Western to me.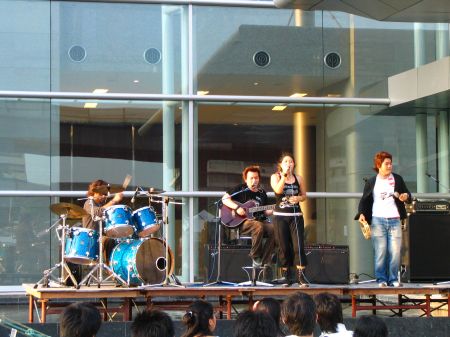 Ratchadamri is a multiple road construction that carries a 'sky route' and what appears to be a highway, all above the main road.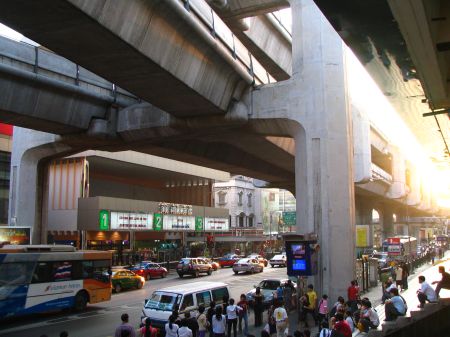 I enter the Siam Center. This is a very modern building that houses countless rather expensive shops and a huge cinema on the upper floors. I walk around for some time and have some food.
Inside the Siam Center.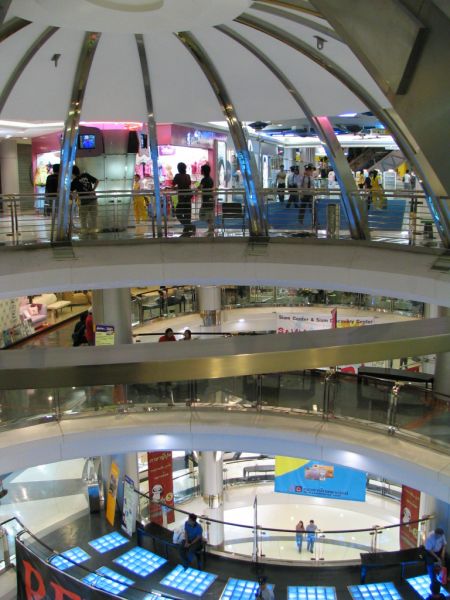 At some point a young man ask me whether I need a moto taxi. I knew that there are taxis and tuk tuks but did not know there are moto taxis. Given the traffic jam on the road I ask the guy to give me a ride to the area around Khao San Road. Khao San is located in the west, near the river and it takes some time to get there. Most of the backpackers stay here and it is supposed to be a vibrant and fascinating place. Thanks to the motorbike we snake through the dense traffic fairly quick.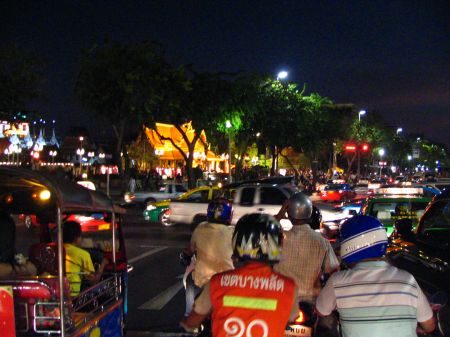 Songkhran, the Thai New Year, is coming up next week. What is popular during these days is to splash water at each other. This holiday is particularly excessively celebrated in Chiang Mai. As it happens, I will travel to Chiang Mai tomorrow afternoon.
All along the way are many people and there are many lavishly decorated trucks along the road that leads to the Democracy Monument.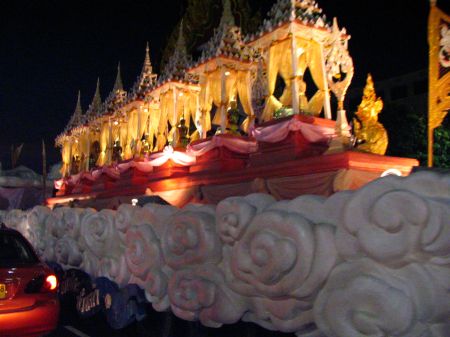 Democracy Monument. Tons of people all over the place.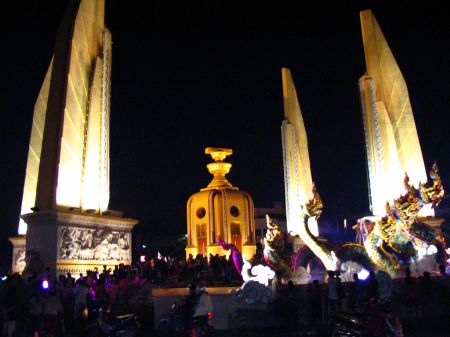 Shortly after we arrive at Khao San Road. The road is extremely crowded with foreigners and at least as many Thais. There are all kinds of shops, restaurants, guesthouses, tattoo shops, barbers and so on which seem to cater mainly to tourists and at very reasonable prices.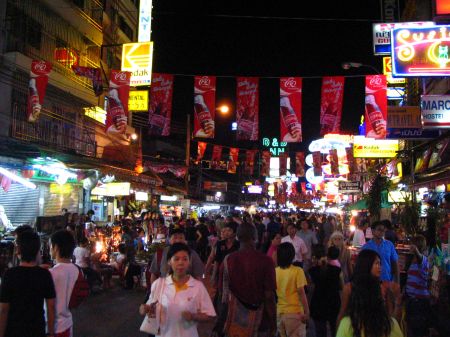 I walk around for quite some time and get myself a hair cut and a cocktail. Later I check my email, before I head back to the hotel with a tuk tuk.