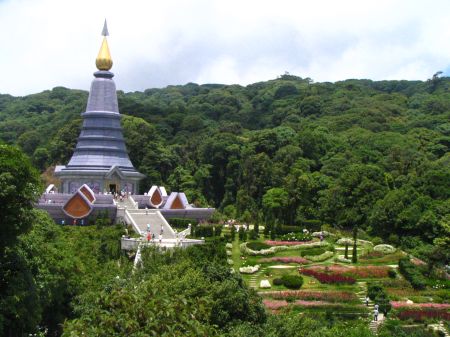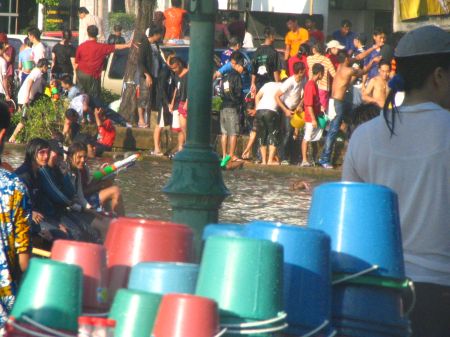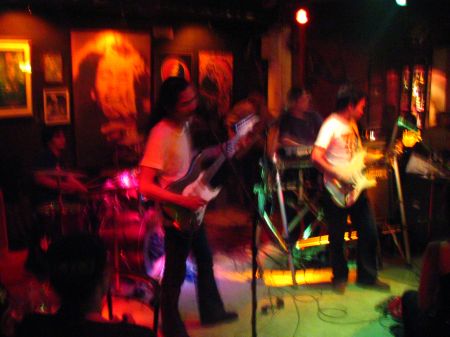 Today is holiday and since nobody is in the office, I decide to spend a day more like the many people who come here as tourists. The guesthouse offers a number of day trips and following the recommendation of the receptionist, I booked one of them the other day, which involves visiting Doi Inthanon, the highest mountain in Thailand (2595m), as well as a close by waterfall and hill tribe village, among others. The price is about 20US$.
We start at 8 am in the morning with a mini bus. We pick up a number of other guests before we leave the town, an elderly Thai couple, a middle aged British couple who lives in Bangkok, and two Germans in the company of a young Thai lady. Then we leave Chiang Mai to the south. It takes about 2 hours from the town to the gate of the national park in which the mountain is located. The ride is comfortable, the road is pretty good and the bus is air conditioned.
There is not much to take pictures of during the first hour of the trip. When we enter the national park, I get out my camera. However, I note that it is occasionally malfunctioning, and the frequency of these occasions increase. I attribute this behavior of my camera to the fact that it got very wet yesterday. At some point, the camera makes only nasty noises when I start it but refuses to focus or take pictures. I find this very frustrating, having the chance to be a tourist for one day and a broken camera at the same time.
This is the last picture I am able to take.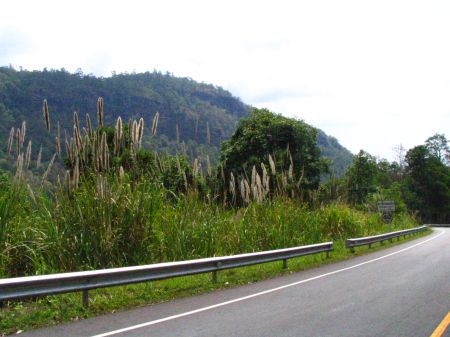 We travel through mountainous and fairly green scenery, slowly but continuously climbing up the mountain. Then we reach a huge parking lot, get out of the bus and walk the few hundred meters to the highest point in Thailand. Although this appears less impressive in practice than it sounds, I find it annoying not being able to take a picture where everybody else does.
After less than twenty minutes we get on the bus again to ride a few hundred meters to another huge parking lot. It is located next to two religious buildings (temples? Stupas?, I really don't know)which were built recently in honor of the Queen and King respectively. Still struggling with my camera I note that it seems to come to live again. In fact I am able to take a number of shots and after some minor errors it seems to operate properly again. I am very glad and take many pictures.
This is the building dedicated to the Queen, if I am not mistaken. Both buildings are located in a huge and colorful garden which however looks a bit artificial to me.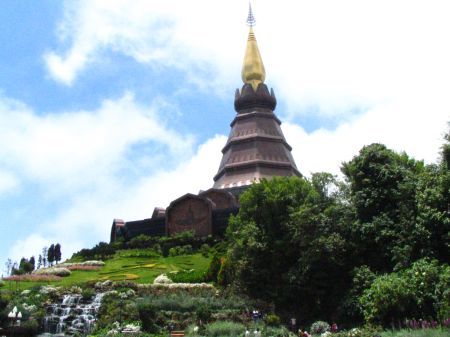 The guide takes a picture of me.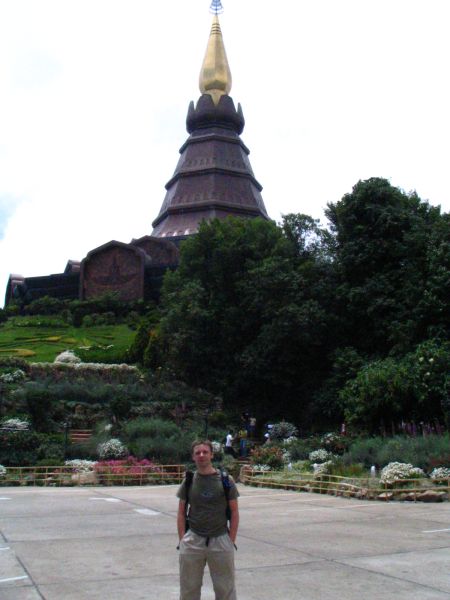 The place is pretty crowded, partly due to the holiday, I guess.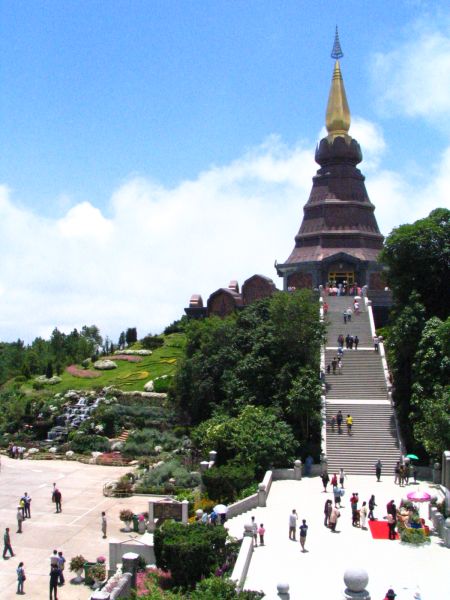 This building is dedicated to the King. I climb up the stairs.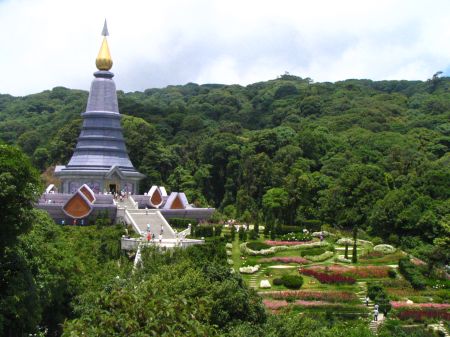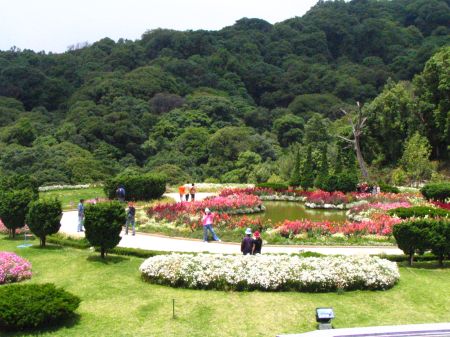 This is inside.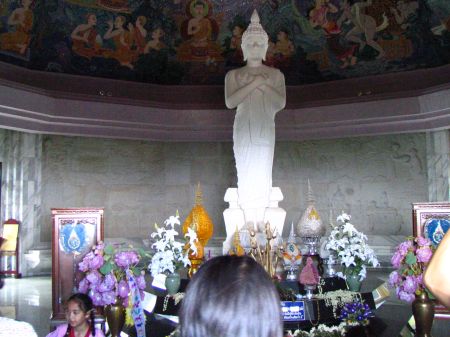 Then I walk over to the other building. I am on a tight schedule here, because the bus will be leaving after only a 30 min break.
At most of the places one does not really get the impression that this is about 2600m above sea level, maybe because the sky is overcast.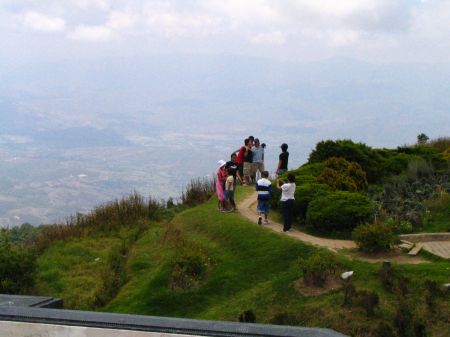 One of the artworks at the building. The scenes which are depicted here are partly pretty bloody.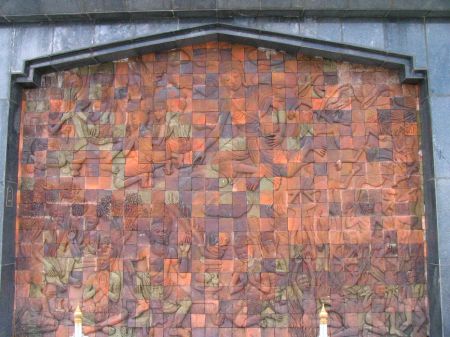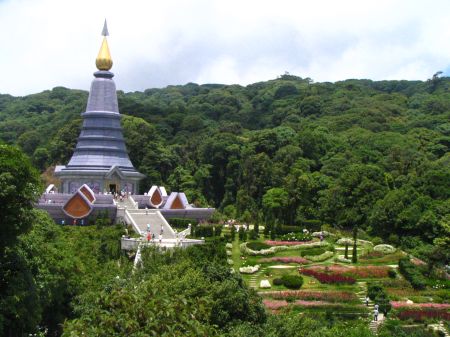 This is inside the other building.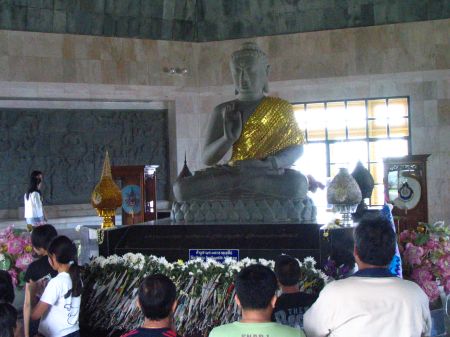 People pour water over Buddha statues and pray.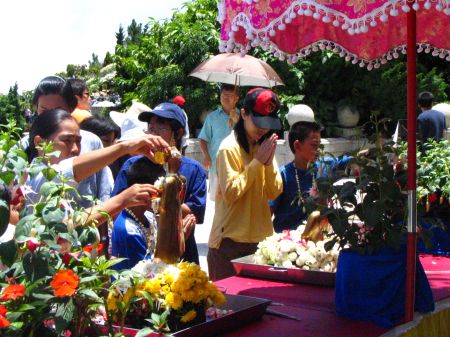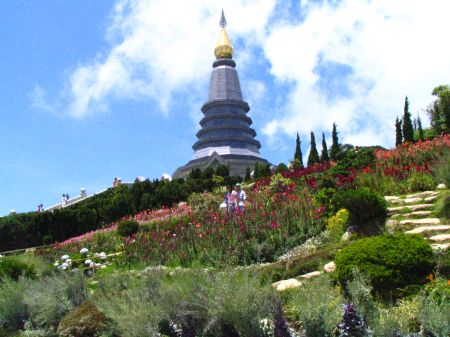 Children are performing dances when I reach the parking lot.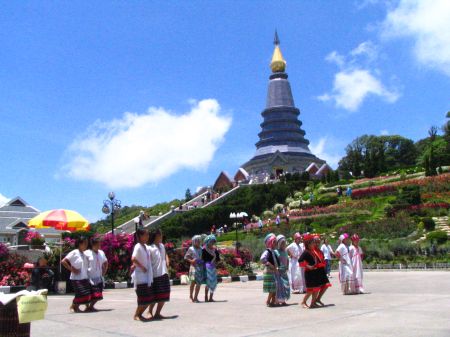 Then we continue the trip.
In his short statements, the guide mentions a number of times that what we see are achievements of the 'Royal Project'. During the bus ride I ask him what this project is all about. He tells me that it aims to prevent the local indigenous groups from 'burning down the forest', and instead assisting in creating occupations other than traditional ones. I ask him whether he thinks that hill tribe members are happier now and he say yes. My limited experience with indigenous peoples in other countries makes me skeptical if such a project really correlates to those peoples' aspirations.
On the way to the next sight we stop at a local market, for about 10 minutes. The whole trip is carefully scheduled. The market is an accumulation of small shacks in which members of hill tribe communities sell fruits and mostly generic artwork at low prices.
At the market.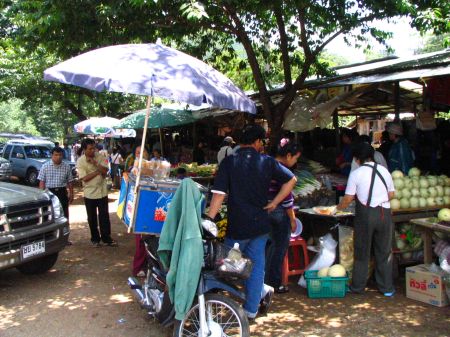 Then we continue the trip. The next stop is a hill tribe village. The village is close to the main road.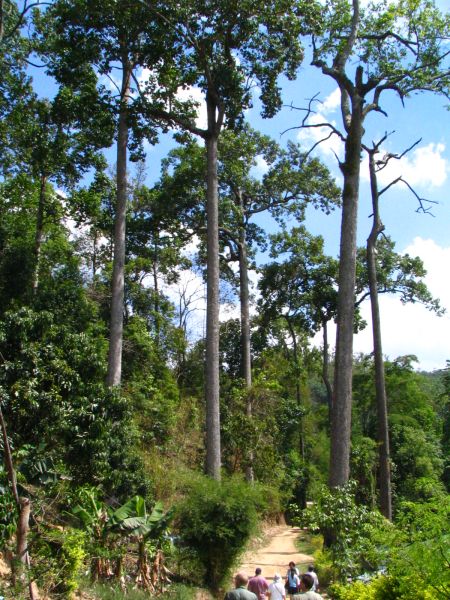 This is in the village.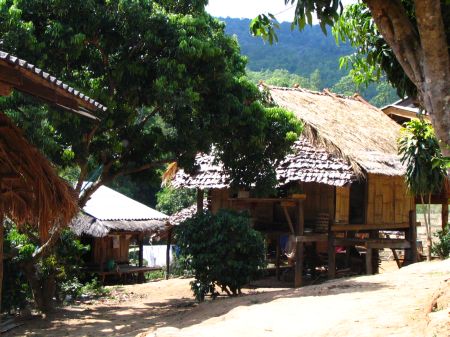 We go to one house where a group of women weaves textiles, mostly scarves, which are sold to visitors. Another group of tourists has already entered but I do not see anybody buying anything. The women do not seem very enthusiastic about their work.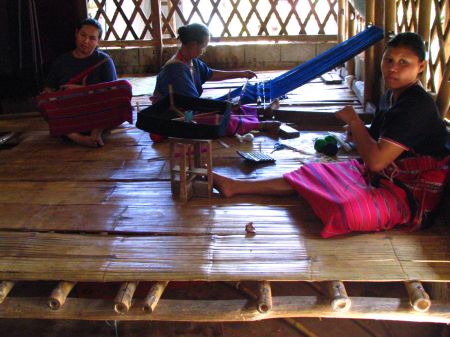 The next stop is a simple, open air restaurant at the roadside, where we have lunch, which is decent.
Then we head to the next attraction. It is a waterfall. The final kilometers are pretty bumpy, but the huge parking lot is crowded with people and cars.
This is the waterfall. It is pretty high and there are substantial amounts of water involved, despite the fact that it is dry season.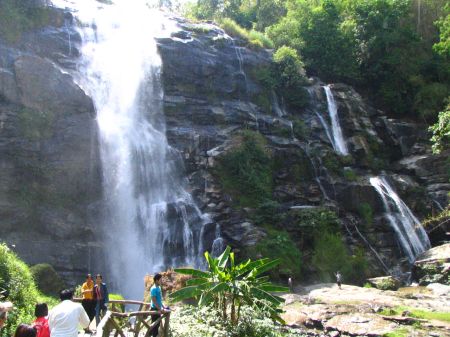 We have about 30 minutes time which I use to walk around, hang out and take some pictures. Most visitors appear to be Thai and I see very few foreigners.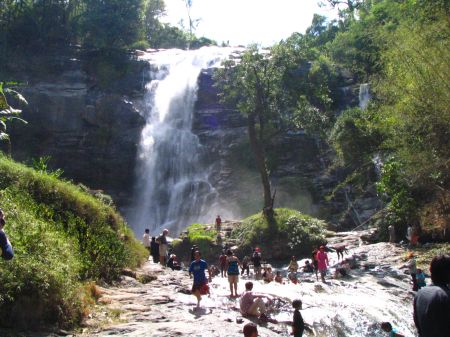 It is very hot, even in the shadow. Many people picknick or go for a swim.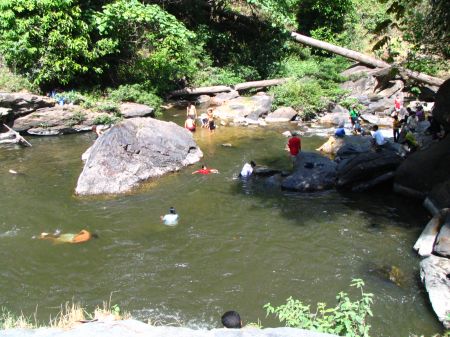 Then we leave and head back to Chiang Mai.
On the way, we see many people with barrels of water, water pipes and water cannons, either at the road side or on the back of pick up trucks and both involved in water battles. Occasionally we come across farmers standing with massive water tubes and a water pump with a power generator – equipment that I guess on other days is used for irrigation purposes – pouring huge amounts of water over everything that travels on the road. However, the speed of the bus does not allow taking pictures.
At one point we are going slower and I can take this pictures. These guys are listening to heavy metal music, appear drunk, dance on the road and pour water over some females on a motor bike, actually close to harassment.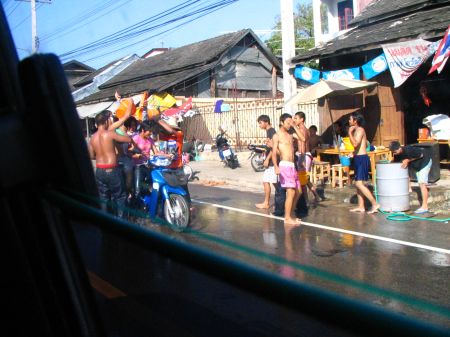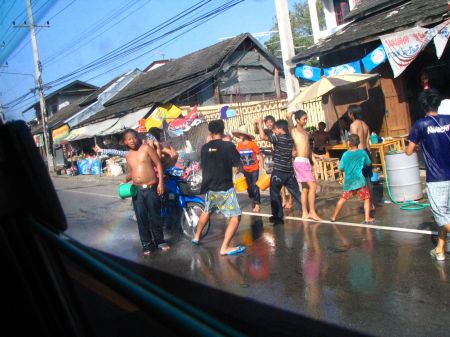 The closer we come to Chiang Mai, the more water battles we get to see at the road side. Everybody starts carefully wrapping belongings into plastic bags. The guide informs us that it would not be possible to enter the center of the town due the crowds of cars and people. On the final stretch we go only very slowly. People line up the road and target everything with water.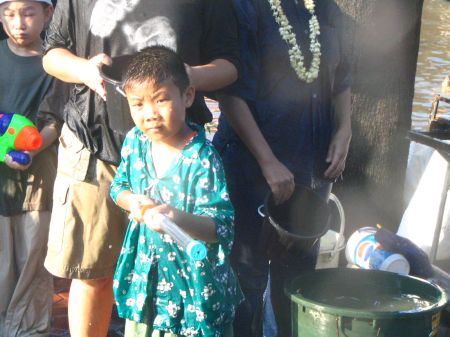 Massive amounts of buckets are sold along the road. People built chains to efficiently transport water the few meters from the moat to recipients.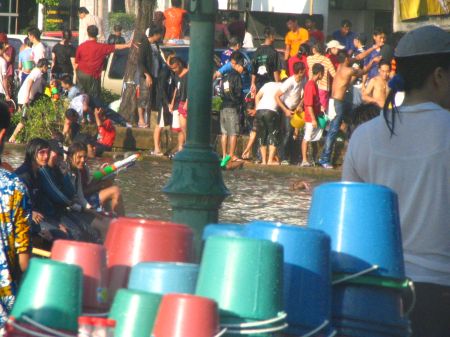 This fellow tries to open my window. He fails.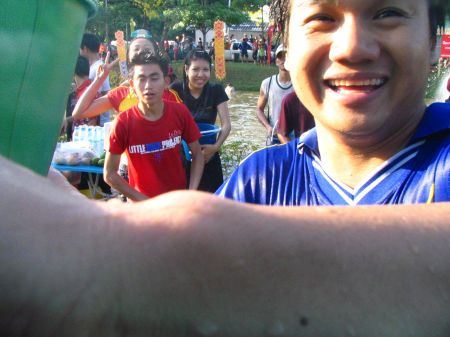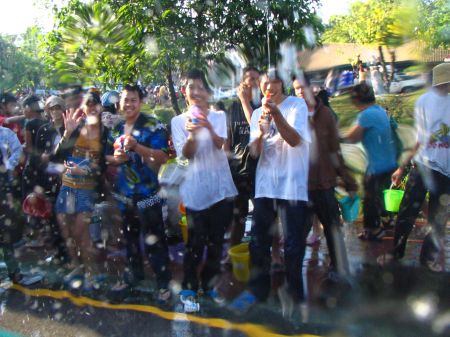 Some people swim in the moat.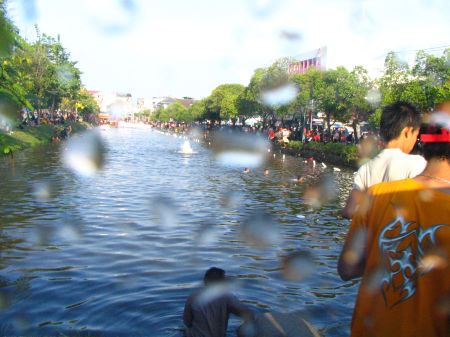 We are moving very slowly. At some point we stop only about 300m away from my guesthouse. I put on my rain jacket and all my stuff in the bag. I get only modestly wet on my way home.
It is still daylight, I change and leave again, with my camera wrapped in two plastic bags, looking for a dry spot from which I can take some shots of the crowd.
The inner city used to be enclosed by a wall made of brick. Some gates are still standing and so are other parts of the wall. I finally find a suitable spot on one of those parts of the wall. Two roads are following the moat in different directions, it is along those roads where most of the action takes place and this piece of wall is right in between them.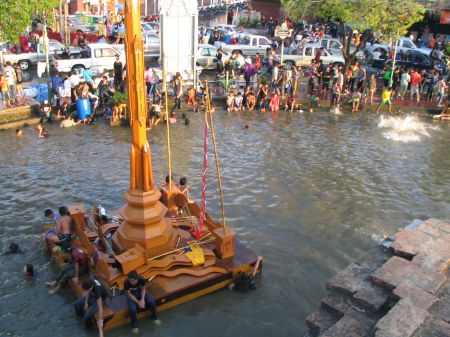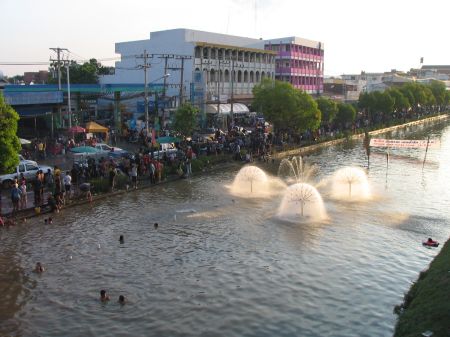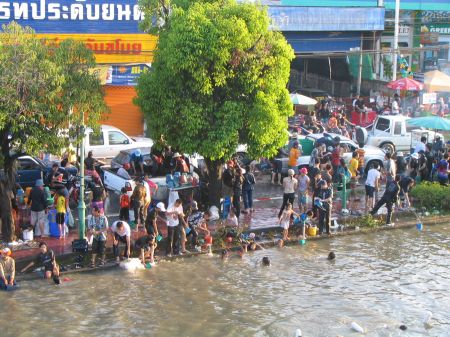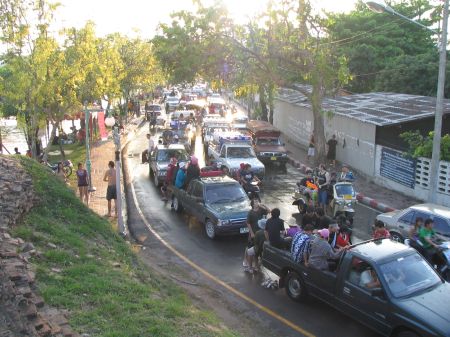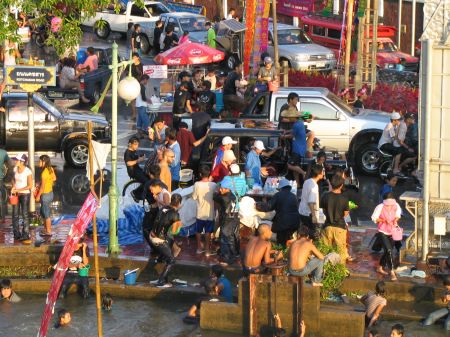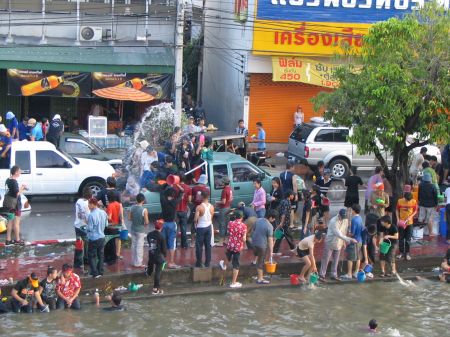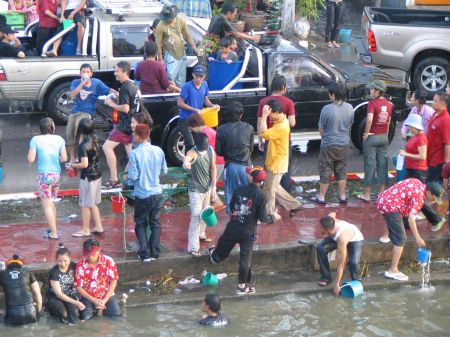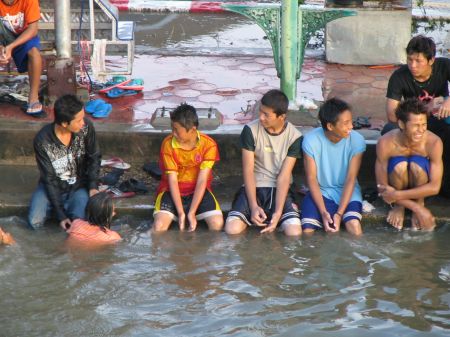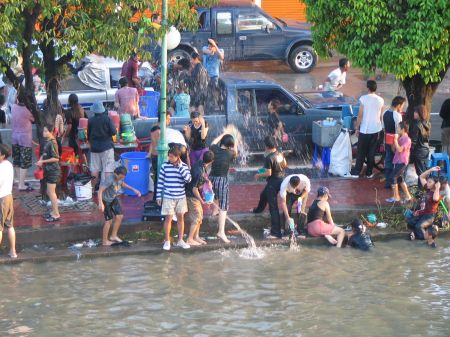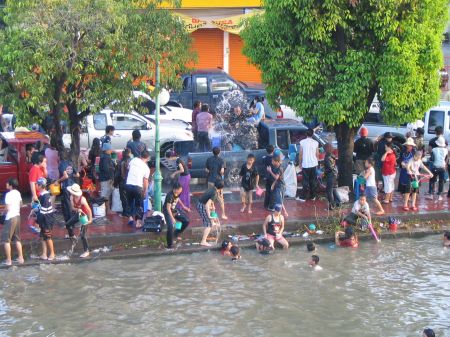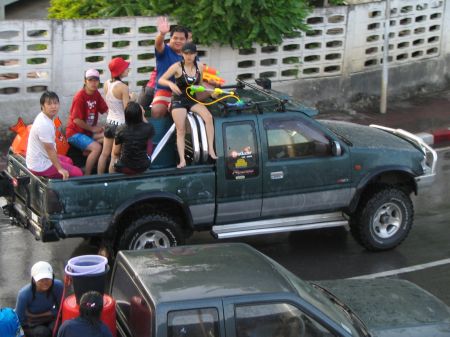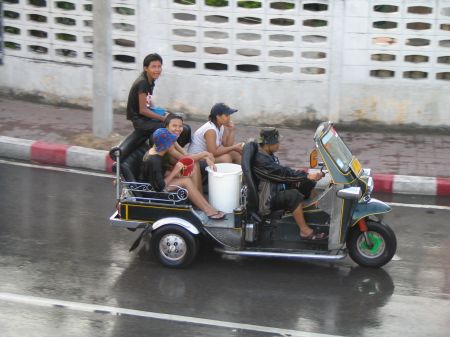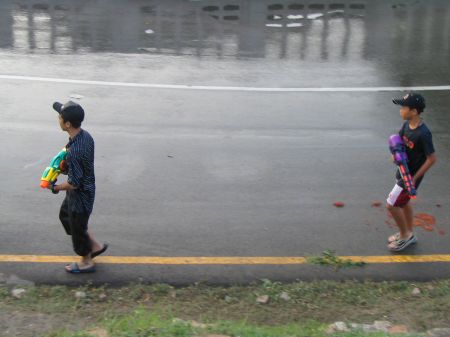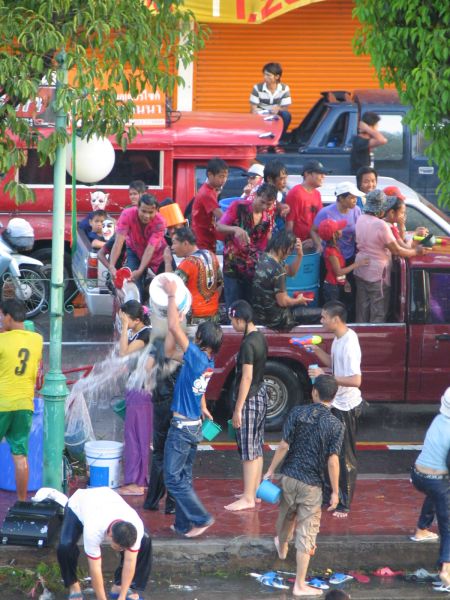 Some kids are jumping from the wall into the moat, which I find quite brave.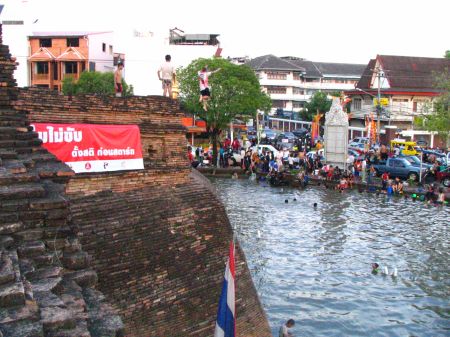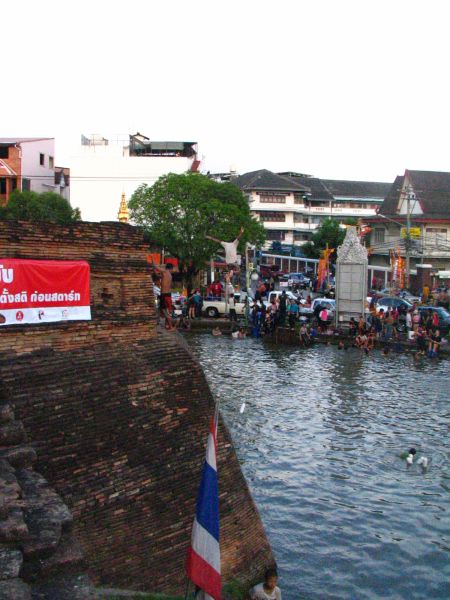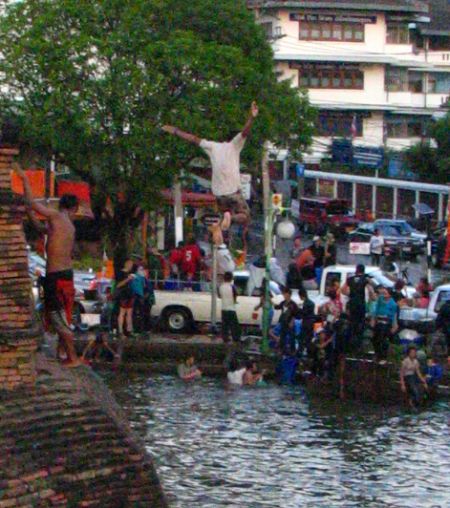 Then something else happens at the road side. Two motor bikes have an accident which I do not actually see. When I take notice, somebody is lying on the road without movement. I then see that a group of people is punching and kicking the person which is down already and find it quite nasty. A few meters away from me is a man with a walkie talkie who first talks to his counterpart and then walks towards the scene of the accident so I assume somebody will take appropriate action.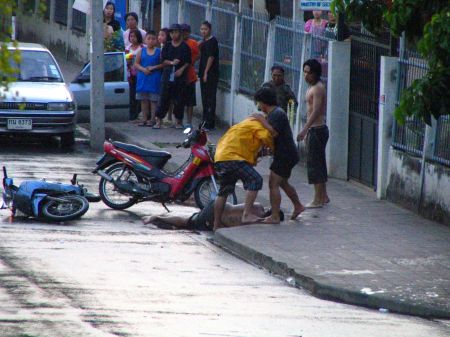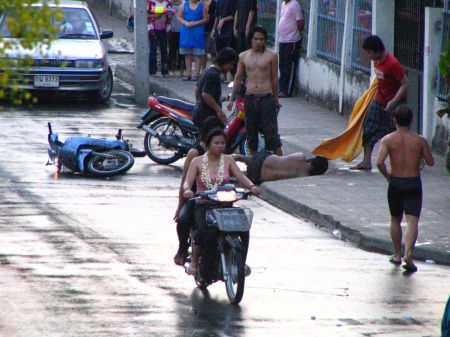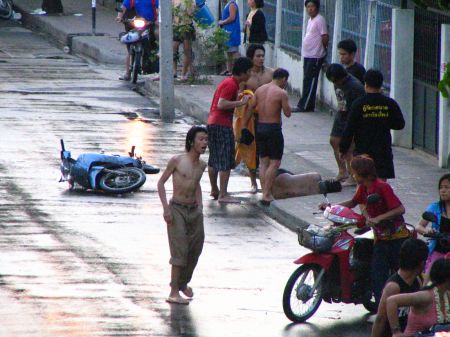 However, nobody seems to intervene and the mistreatment keeps going on. This incident happens actually quite at a distance and I take pictures with 10x zoom. I know somebody should intervene but feel very reluctant to do so, because what is going on is quite violent.
At some point the guy on the ground gets up, much to my surprise. It even seems to me that he tries to apologize but these fellows keep kicking and boxing him. At this point I actually record a short film which I would present here but I don't know yet how to integrate it into this text. At any rate, finally some people appear who look like police in civilian clothes and they prevent further abuse quite effectively.
It is almost dark and I go home. Later I call Chingya. He picks me up with the motor bike in the evening. We ride around for some time and then head towards some bars that are located along the river.
There is live music in quite a number of these bars. A band is playing in the first bar we enter and I am very delighted that they play very well and very sophisticated music, too. We order drinks and listen and talk for some time and have another drink.
Later some good looking girls go on stage and dance. At this point, the band has changed, not to the better. They play mostly Thai pop with the characteristic keyboard sounds that I do not particularly like.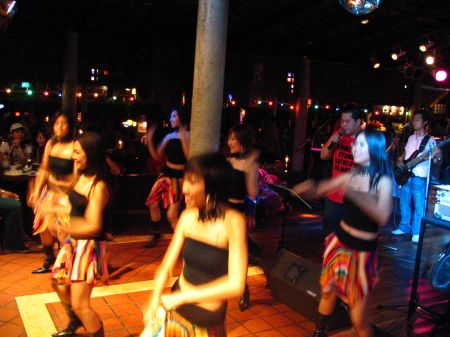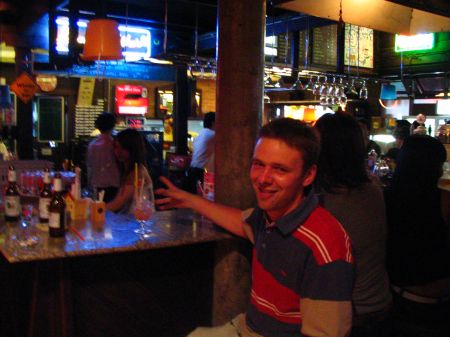 Later we move to another bar where we order more drinks. Chingya recommends the place because a locally famous blues guitarist plays here regularly. A band is indeed playing bluesy music, not bad but not particularly good either. It is already about 11 when the guy finally appears. He plays in fact very good and very fast but always solo and most of the time loud. Anyway, the band is pretty good for the most part and we have a great time.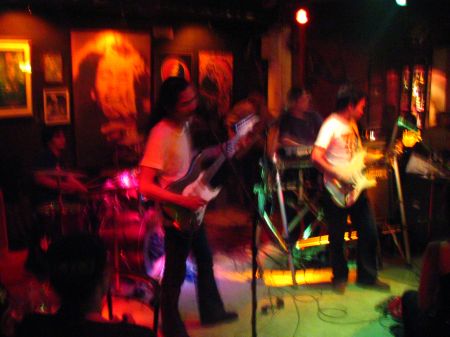 It is late when we leave.