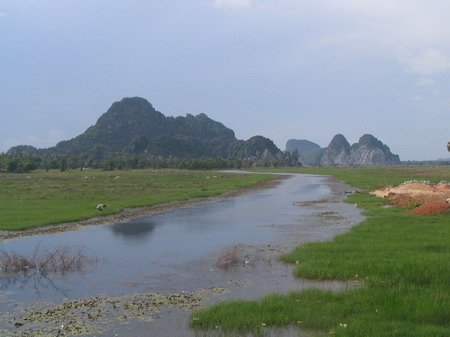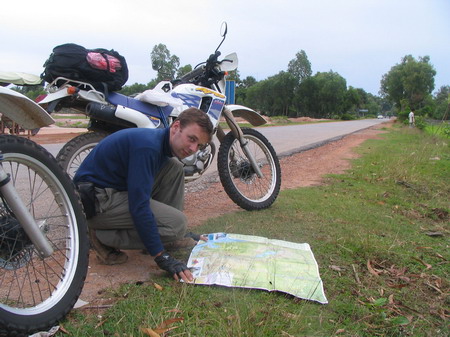 My buddy Uwe has just arrived in Phnom Penh for a joint 4 weeks Southeast Asia trip. Our somewhat ambitious plan is to start with a three day motorbike trip to Kep and Kampot in Cambodia, while our visas for Laos, Burma, Vietnam and are being processed in Phnom Penh, and later to visit all these countries in that order.
I have been to Kampot and Kep (Kaeb) a number of times (Kampot and Kep – Ein Tag am Meer, Phnom Penh to Kampot, New Year at Bokor, Caves in Kampot, Sunset in Kep, Swimming at Toek Chhou, By Motorbike from Sihanoukville to Phnom Penh via Kampot), but always went on National Road 3. According to the map, National Road 31, which departs from Road 3 about half way from Phnom Penh to Kampot and leads more directly to Kep, is under construction. Contrary to the map, a number of people told us that the road has long been finished and now makes for a comfortable ride.
We leave in the early afternoon with two motorbikes. There are few clouds by the time we leave and it is fairly hot. We follow National Road 3 to the south. More clouds appear and after some time there is a bit of rain here and there but luckily, it does not start raining strongly.
This is when we stop for the first time to buy some petrol.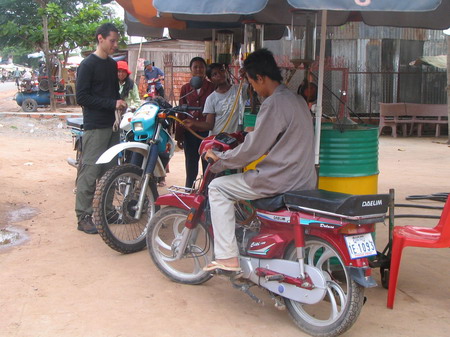 We keep following National Road 3 until we reach the fork where National Road 31 departs to the right. We stop and have a snack.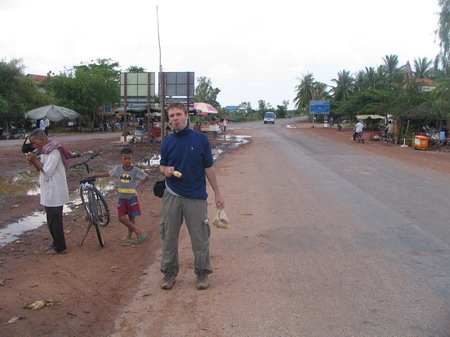 We find out very soon that Road 31 is in very good condition, in fact in much better condition than Road 3, since it is wider, very even and has no potholes. Besides, there is much less traffic. And finally, the landscape along the road is more appealing, with a number of mountains, some covered with forest and some rock formations with bizarre shapes.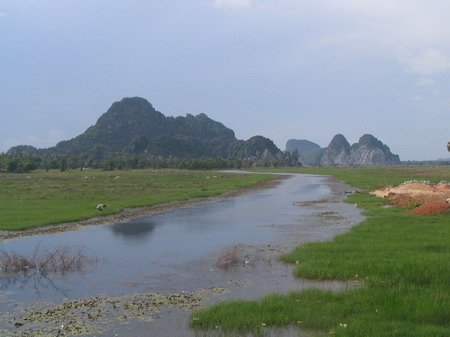 We pass the railroad a number of times and come across a number of villages and one or two towns.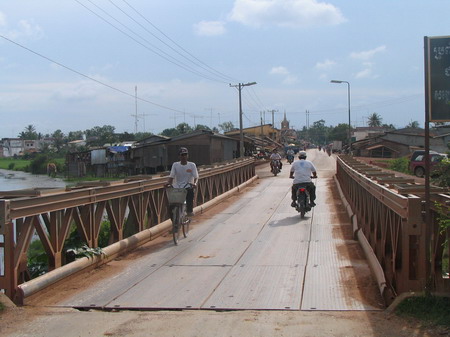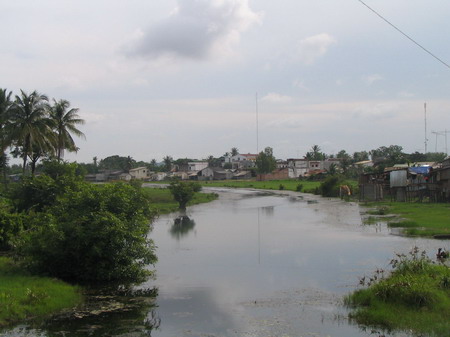 Uwe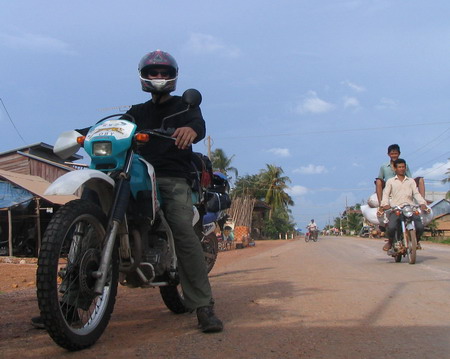 After some time, we assume that we are already close to Kep, we arrive at another junction. After we talk to some locals we learn that we have to turn left sharply. According to the map, we leave road 33 here and proceed for the last few kilometers to Kep on Road 33A.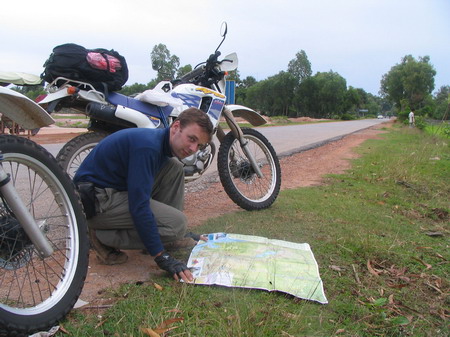 We have checked the guide books and decided to spend the night in the "Le Bout du Monde" guesthouse. However, when we arrive there we learn that it is temporarily closed, because the French owner went to Phnom Penh. Therefore, we go to a small hotel next to the beach where I have spent the night on a previous trip to Kampot. We get a clean double room with balcony and sea view at modest $7 for one night.
After a short break we take the bikes and cruise the road along the beach to the east.
We visit the Royal Residence on the way back. The building looks largely abandoned, no idea when any King was here for the last time. We find a family whose members are having diner and appear to live here. Maybe the husband serves as guard. At any rate, we donate a dollar and are allowed to walk around and enjoy the nice view from a number of terraces overseeing the sea.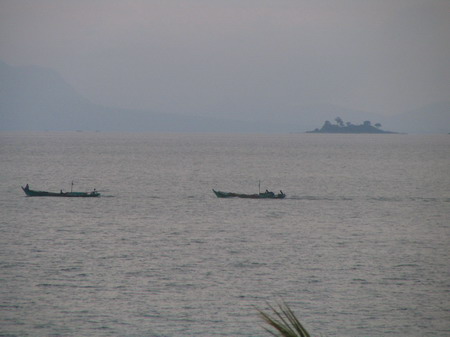 It is now almost dark and after some time we ride back to the hotel. We have diner, including some drinks, in the restaurant that is attached to the hotel, while listening to Khmer pop music. The food is very good and the service friendly.