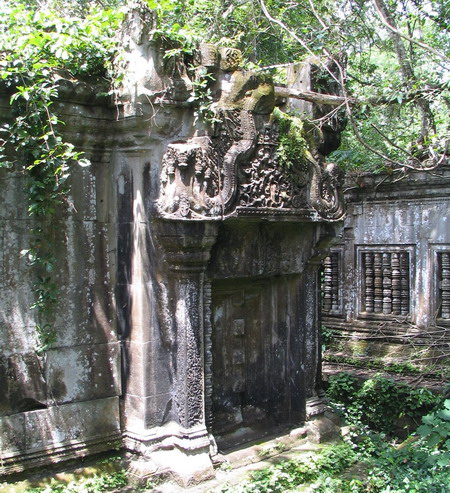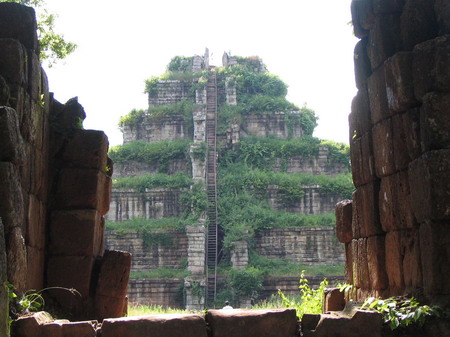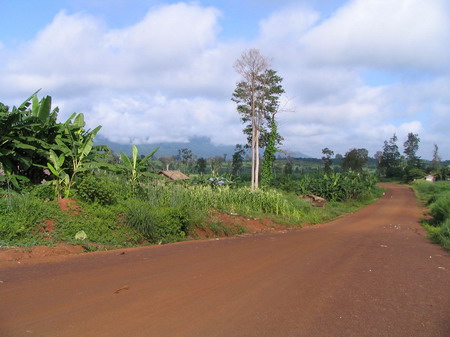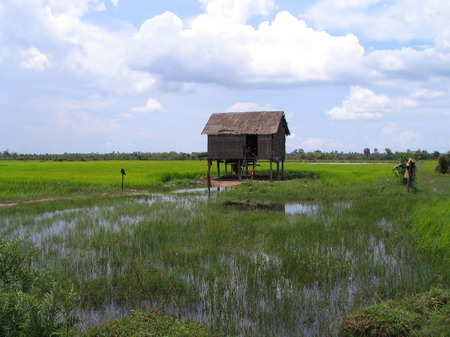 It is time for an extended weekend trip again. The plan is to ride from Phnom Penh to Kampong Thom today and meet up with Vothear and Sokhom, two friends of mine who are excellent guides for exploring the temples in Kampong Thom, Preah Vihear and Siem Reap.
The plan for tomorrow is to follow National Road 6 towards Siem Reap town for another 100 km or so, passing Stoung and Kouk Thlok Kraom on the way until we reach Dam Daek. From here, we follow the newly upgraded Road 66 to the north for about 30 km, until we reach Prasat Trapeang Noem, close to Beng Mealea (Boeng Mealea), an ancient temple. After visiting the temple we plan to proceed on what is a new road towards the northeast until via Svay Leu to Prasat Kor Ker (Kaoh Kerr, Chok Gargyar, Phnum Dai), another ancient temple, or rather, a complex of dozens of them. From here we continue on a more modest road and via an extensive detour through Trayang to Kulen (Koulen) and finally to Tbaeng Mean Chey (T'beng Meanchey), the provincial capital of Preah Vihear province, where we spend the night. The next day we return to Kampong Thom on Road 64 and from there I continue home to Phnom Penh.
02.10.2005
Unfortunately there will not be enough time to visit Preah Vihear temple (I, II) or Anlong Veng near the Dangkrek Mountains at the Thai border, two of my favorites in this part of the country.
There is not much to report from the ride on National Road 6 to Kampong Thom, it is one of the best in the country, at least along this stretch. The process of upgrading road 66 to Beng Mealea is obviously very close to completion and we enjoy a smooth ride on a very even dirt road after filling up the bikes in Dam Daek.
With that road, the ruins of Beng Mealea are very accessible even to big groups of tourists in buses from Siam Reap or Phnom Penh. However, I don't see buses and during our visit only 2-3 foreigners and some local visitors. At some point we reach a ticket booth and pay a considerable amount to enter the complex. Also the ruins themselves have been made more accessible, with the construction of wooden bridges and stairs across the area. We go with one of the guides who provides us with more information.
This temple was built under Suryavarman II in the 12th century. The temple is at the centre of an ancient Angkorian road which connects Angkor Thom and Preah Khan. More than 10 bridges can still be found in the jungle along the way. I have come across one of them on a previous visit.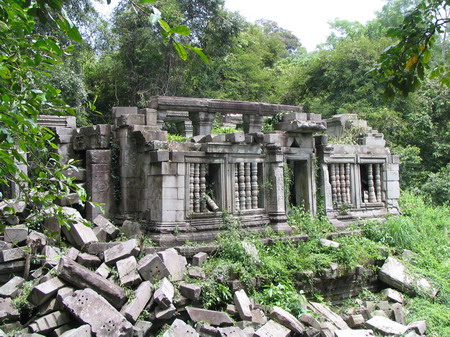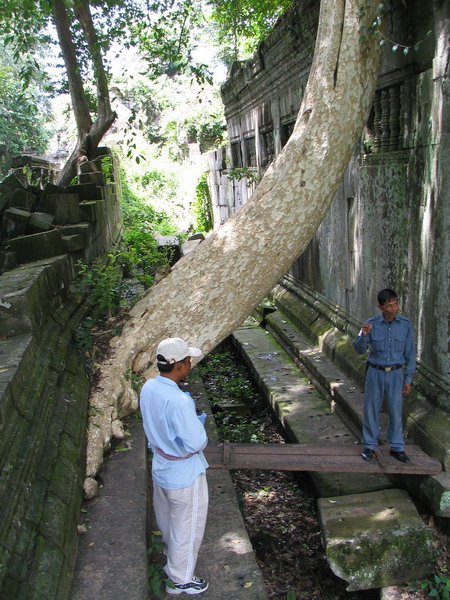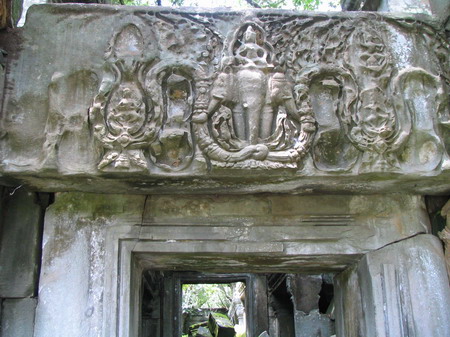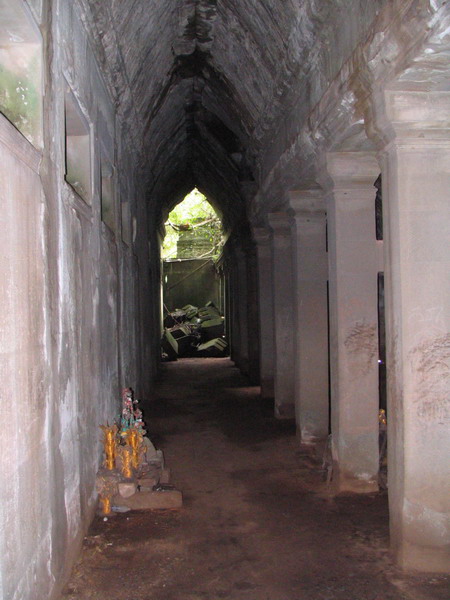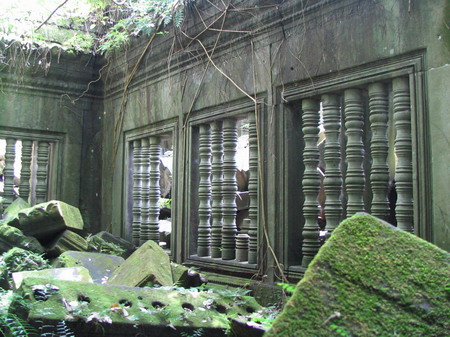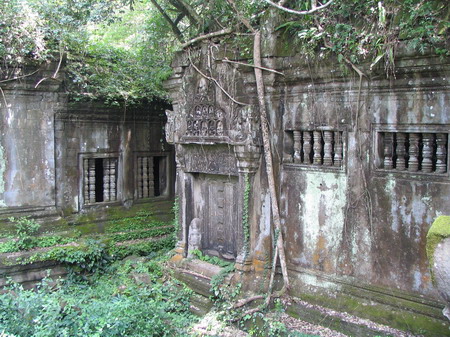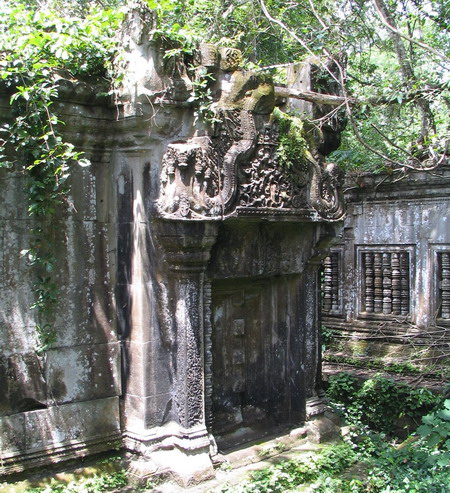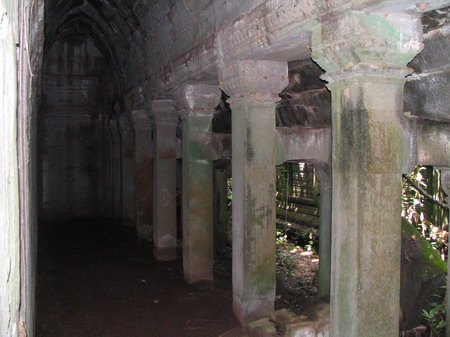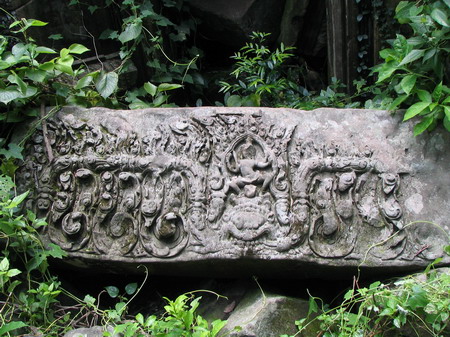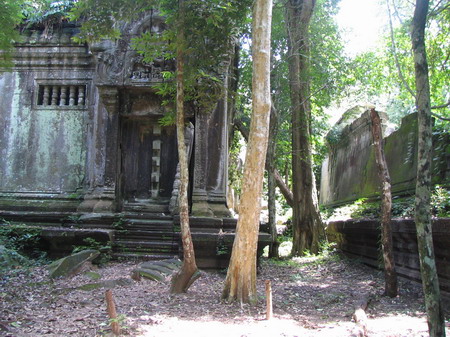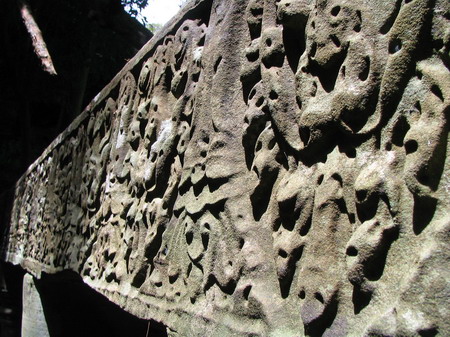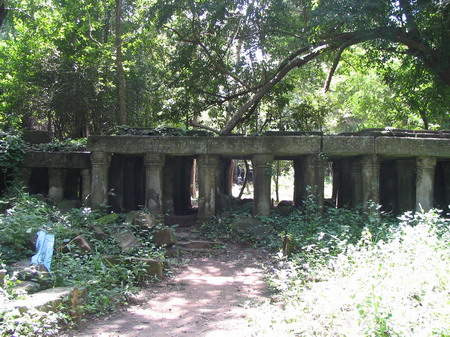 Vothear and the guard.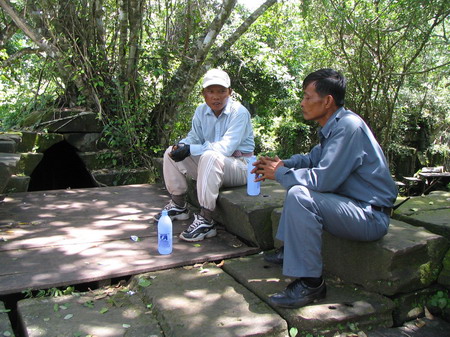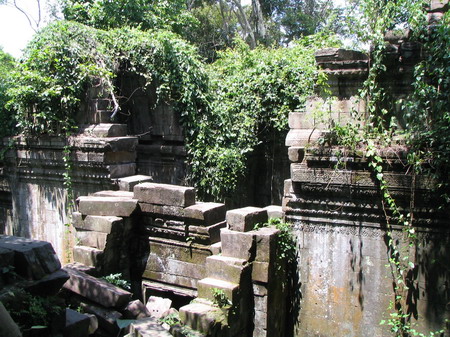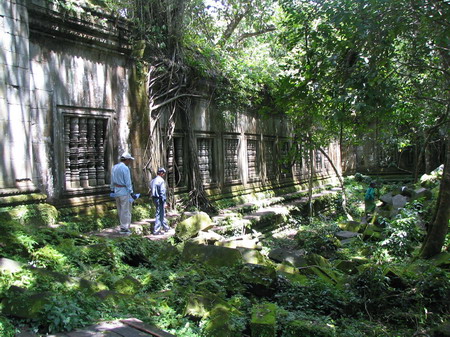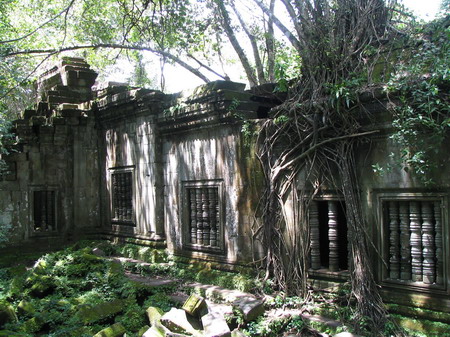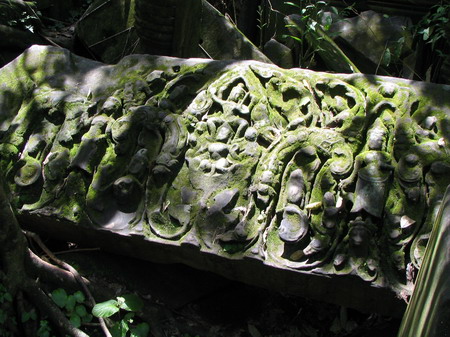 It is apparent that the much of the area and the interior of the few buildings still standing have been cleared to make it easy and comfortable for tourists to visit. It is also good to see in principle that guards have been employed to protect the site and prevent further looting, destruction and theft. I hope this is what they do. Besides, nothing indicates efforts to conserve functioning structures, leave alone reconstructing those that are collapsed.
For the most part, this place has been taken over by the forest, and there are stacks of stones from collapsed structures all over the place.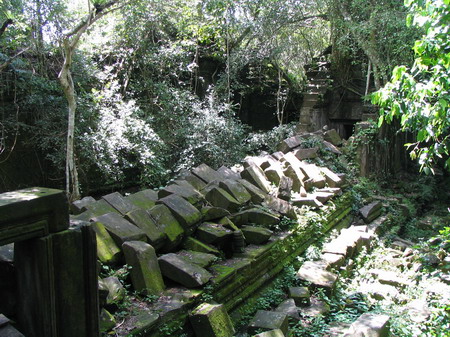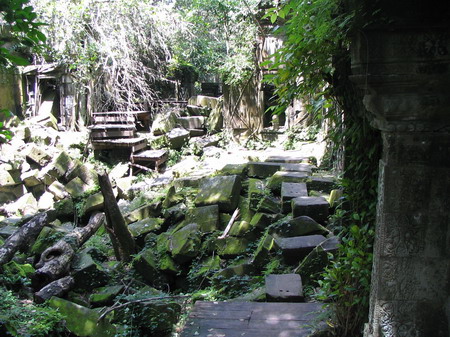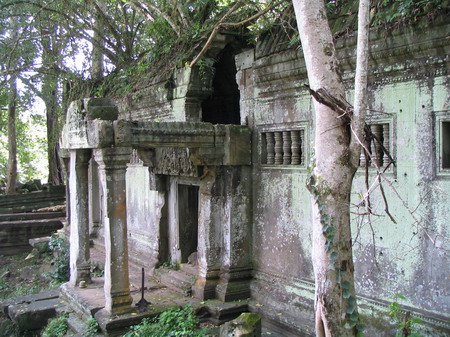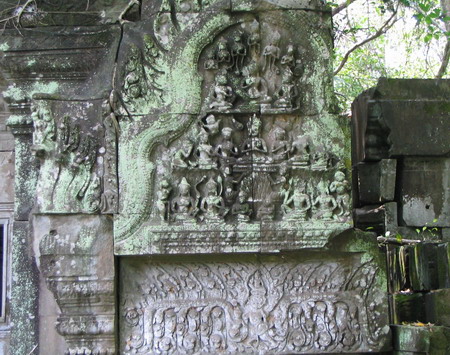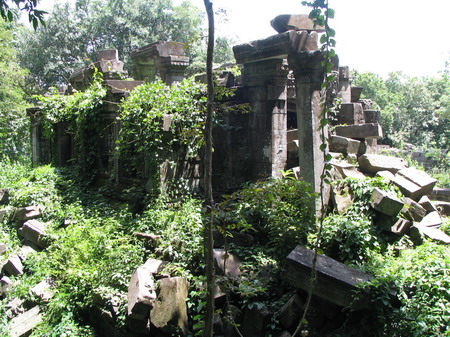 This is when we leave the temple compound, which is surrounded by a moat which measures 1200m by 900m.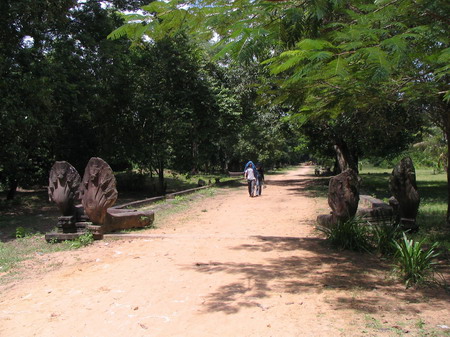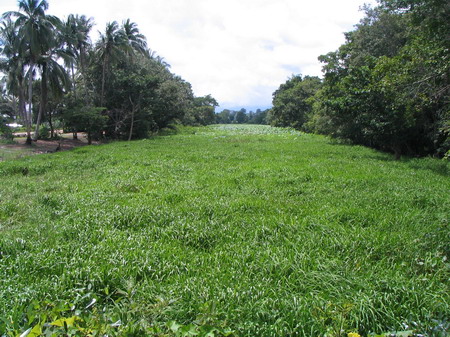 The bridge over the moat is still intact, although it appears very worn. A crude wooden structure supports the Naga monument that marks the entrance to the temple compound.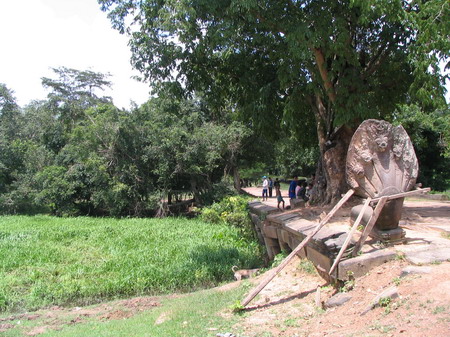 From here we follow various simple but smooth dirt roads via Svay Leu to Koh Ker Temple.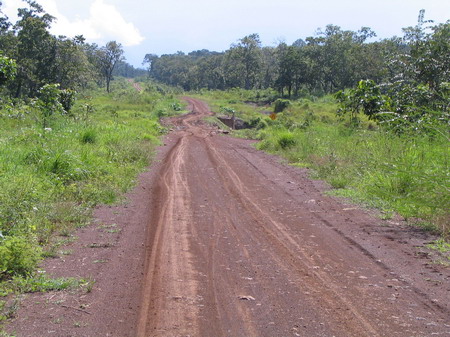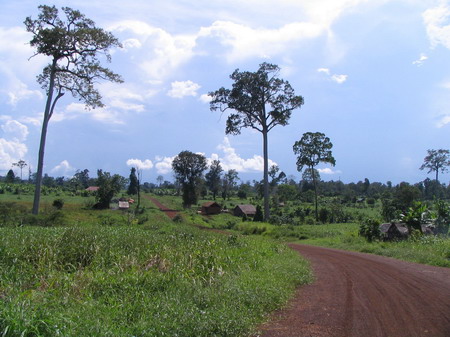 There is a small group of people around when we reach the outer gate of Koh Ker temple, among them the district governor. We talk to them for some time and learn that we got lucky, today there are no personnel to collect entrance fee so we will get to see the place for free. Funny to be told this by the governor in charge of the district.
This is what the Lonely Planet writes about Koh Ker:
"Koh Ker, a former 10th-century capital of the Angkorian empire, is one of the most remote and inaccessible temple sites in Cambodia, long abandoned to the forests of northern Cambodia. Also known as Chok Gargyar, it served as the capital of Jayavarman IV who, having seized the throne from a rival, left Angkor and transferred his capital here, where it remained throughout this reign. His son and successor Harshavarman I moved the capital back to Angkor in 944.
There are a remarkable number of religious buildings in the Koh Ker region, considering the short space of time that it was the capital of the empire. There are more than 30 major structures and experts believe there may have been as many as 100 minor sacred buildings in the region. It was also a prolific period for gigantic sculpture and several of the most impressive pieces in the National Museum in Phnom Penh come from Koh Ker…".
Well, the road is not too bad now, Koh Ker is fairly accessible and does not seem very remote. It still did when I came here a few years ago. Back then, the temple and indeed its inaccessibility left I lasting impression on me. On top, it was the first pyramid temple I saw in Cambodia and because back then I went here – with Sothear – straight from Kampong Thom town and much of the time through the jungle without any recognizable road. However, despite improved accessibility I don't see any tourists, neither foreigners nor Khmers. Only a number of local people are around.
The actual pyramid is surrounded by at least two balustrades through which one follows a way through a number of smaller structures, most of them more or less intact.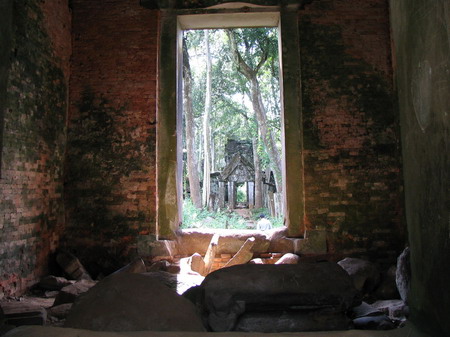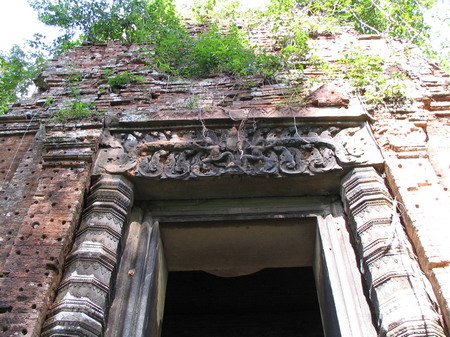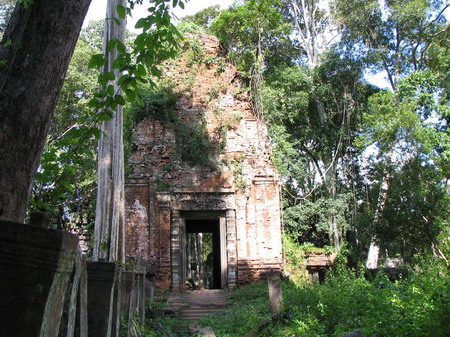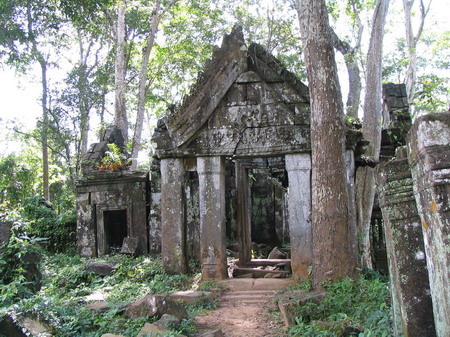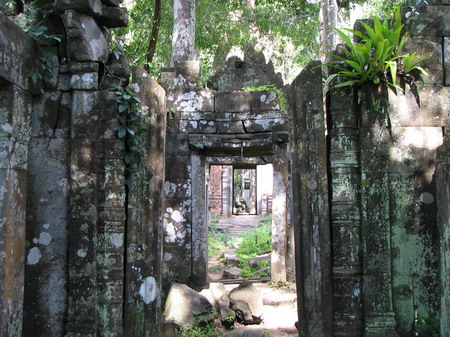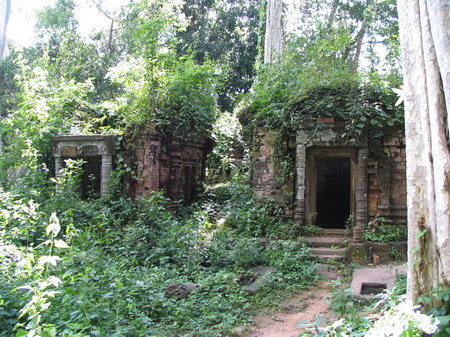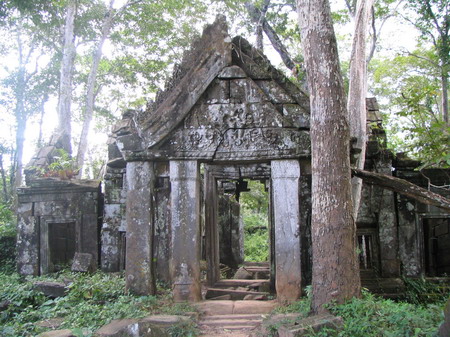 The temple is actually higher than it appears in these pictures, and so are the wooden stairs that have been constructed for people to climb it. Yet climbing them is very rewarding as the top of this pyramid offers fantastic views of the surrounding area.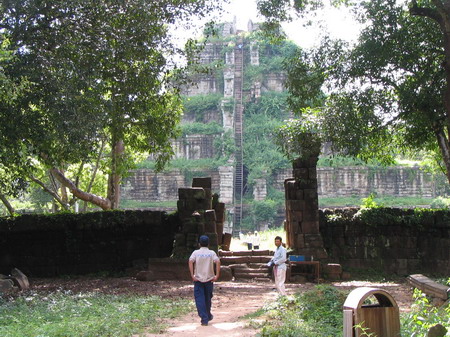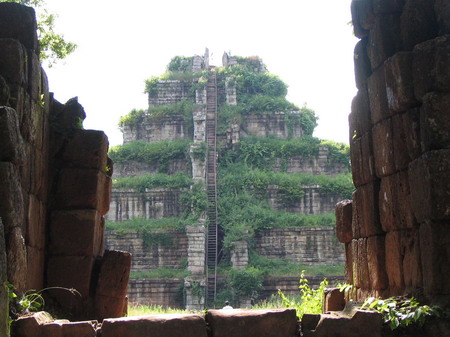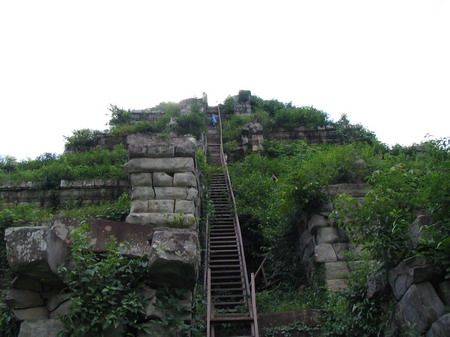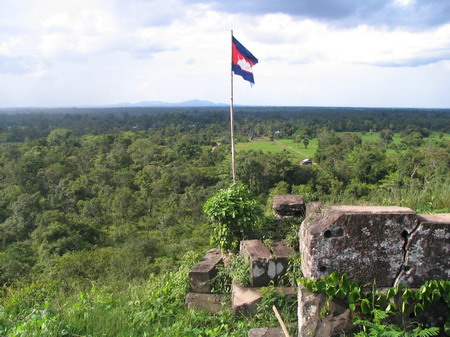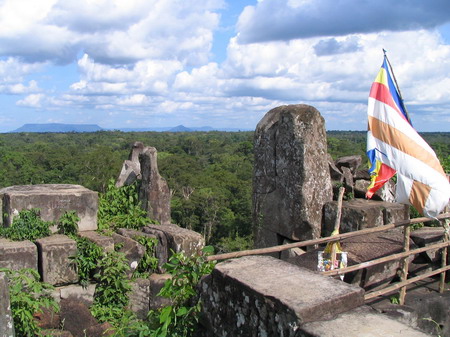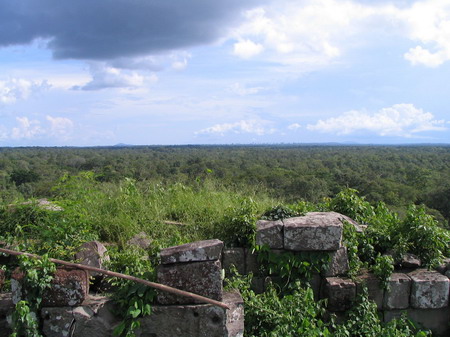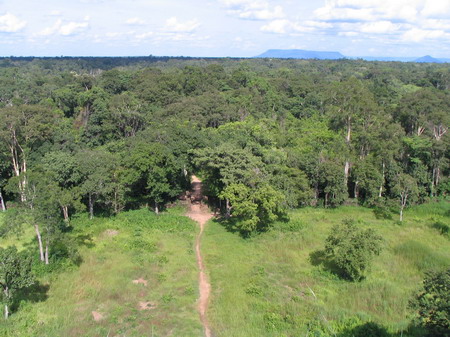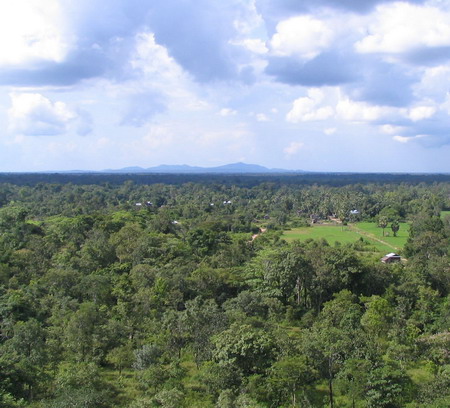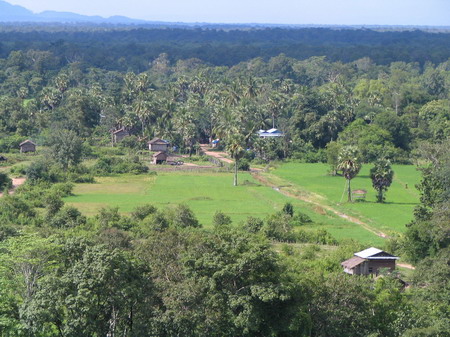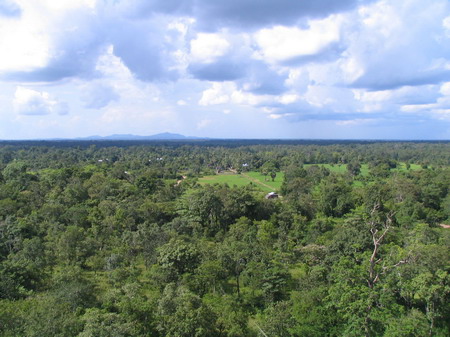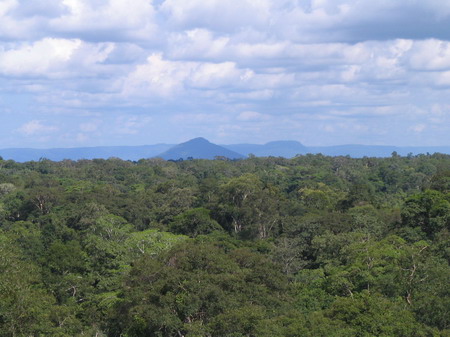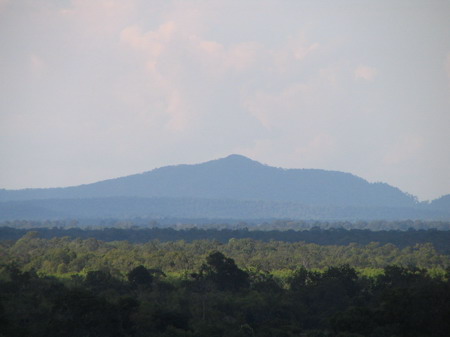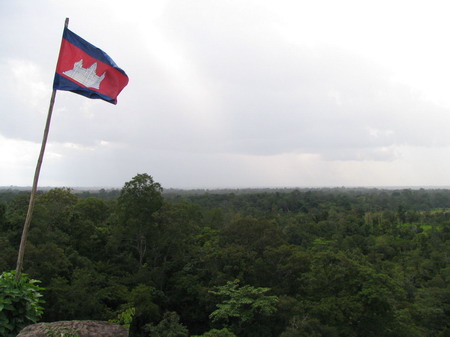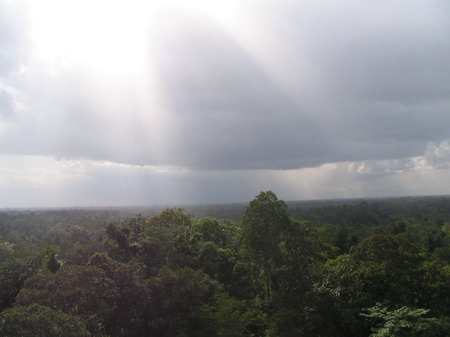 After some times we can see clouds accumulating and it starts raining in some places. Vothear tells me that it regularly rains at this time in the afternoon but that we will make it to Tbang Mean Chey without getting wet, because the rain is coming from the West and we stay ahead of it.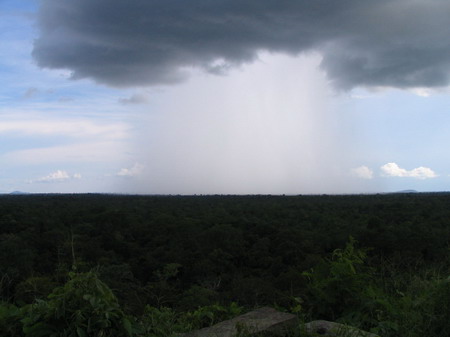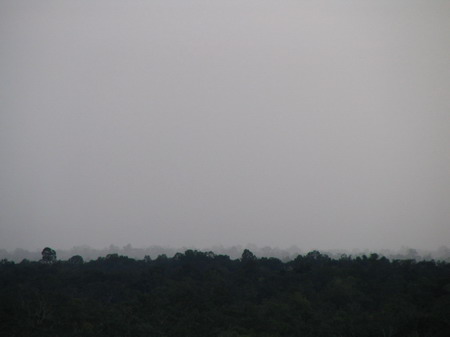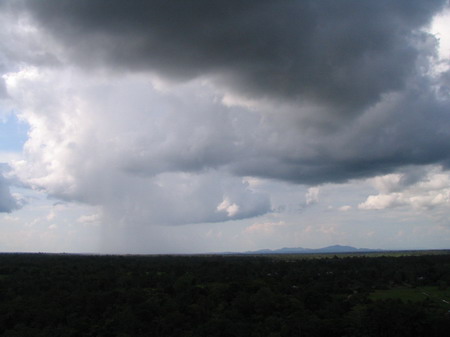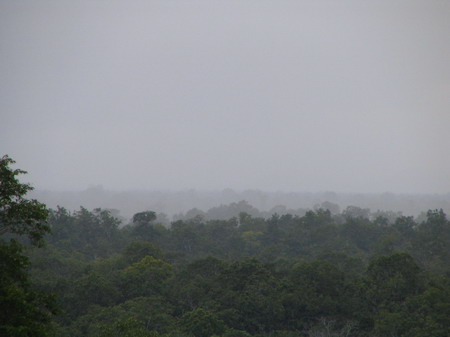 We climb down the temple and walk back to the motos. I see two armed man, not a totally uncommon sight in Cambodia yet I wonder who or what they are protecting against who around here.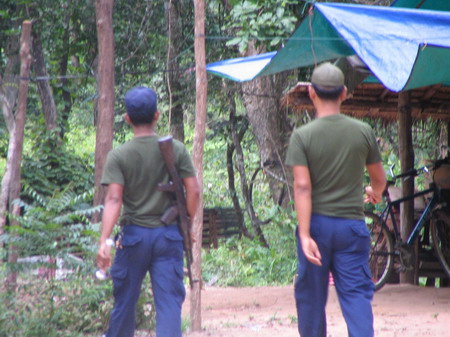 From there we follow a narrow but new and perfectly even dirt road through the forest. This road provides access to a number of smaller temples around here. Some of them I have visited before. Others are 'new' as Vothear tells me, cleared of mines and made accessible through the road only in recent months. There are quite a number of temples in relative close proximity and we visit some of them before we head to Kulen in order to make it to Tbang Mean Chey before dark.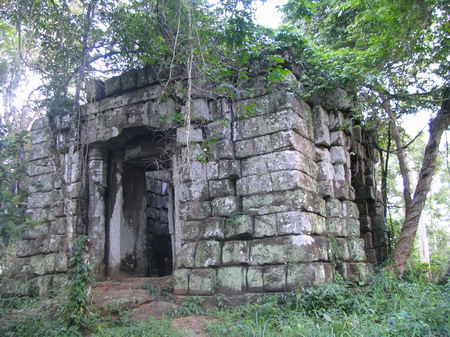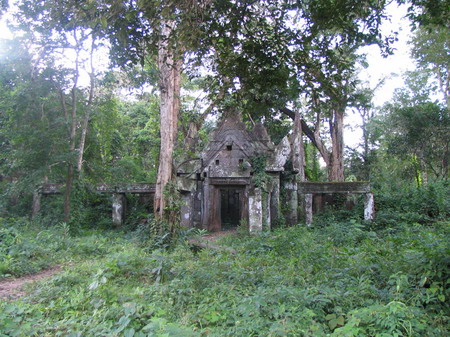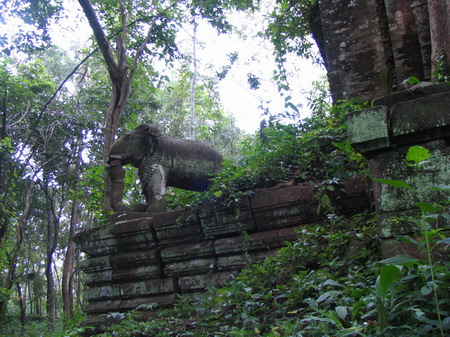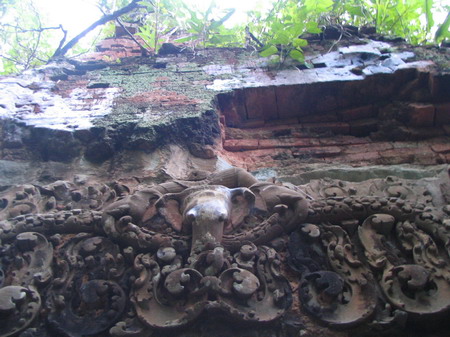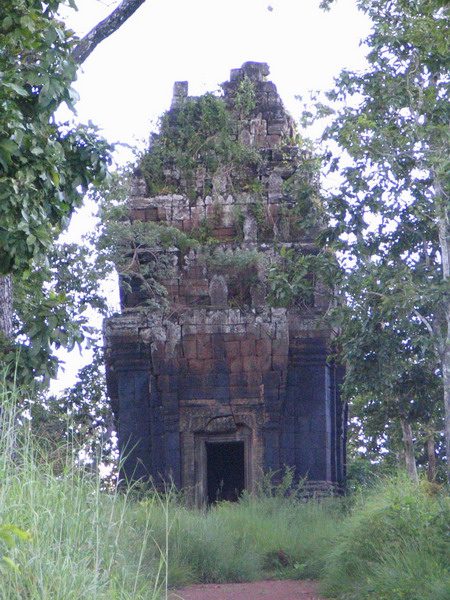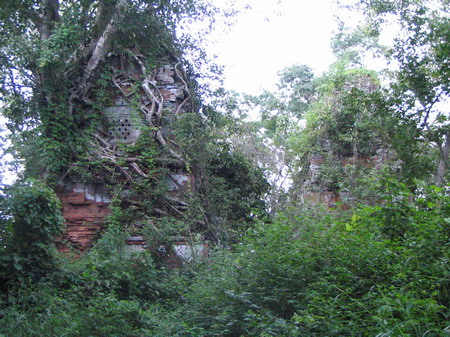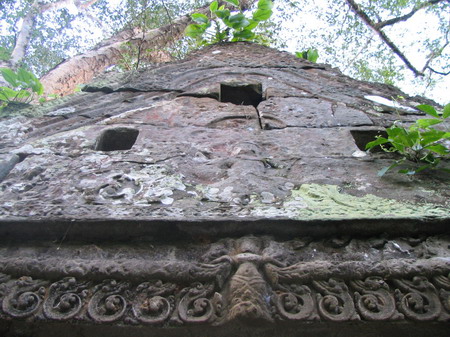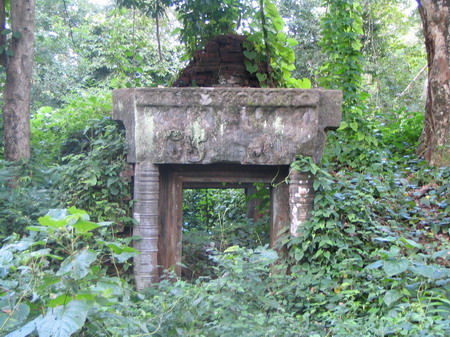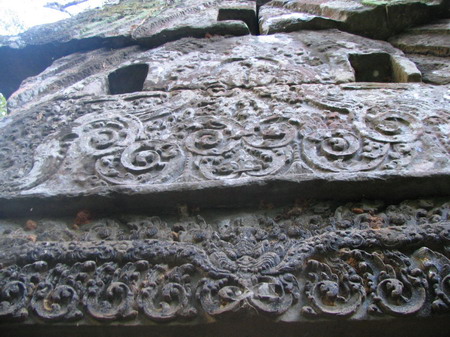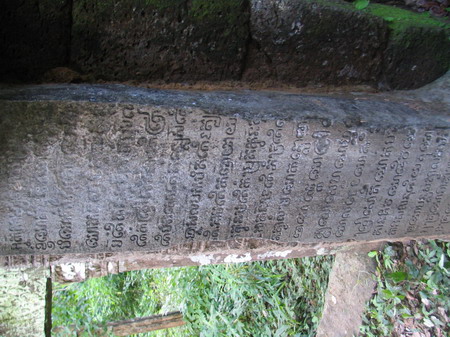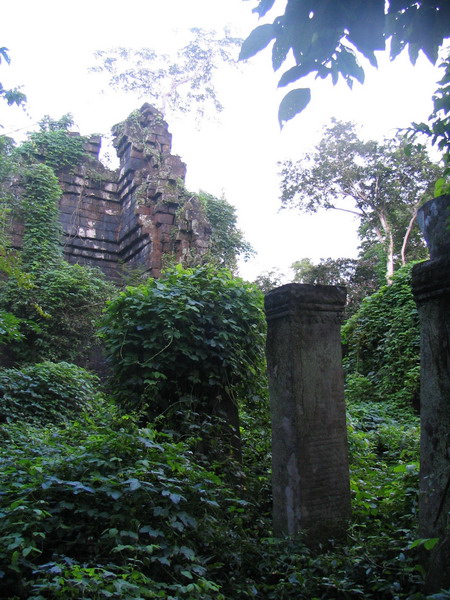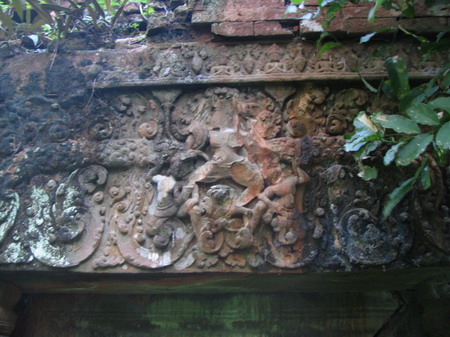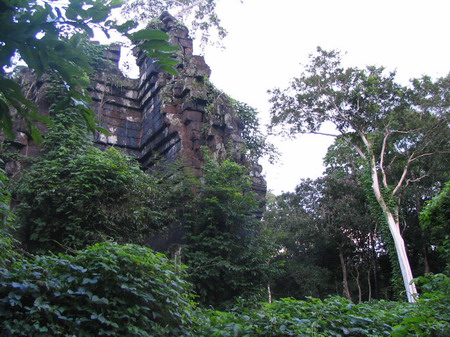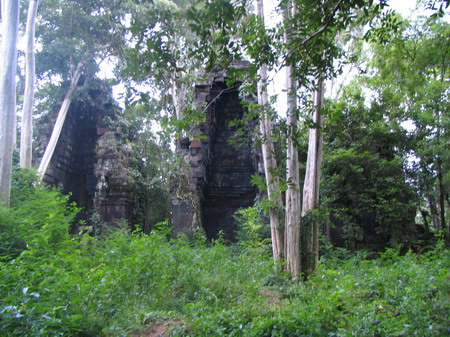 From here the condition of the roads varies greatly, but it is easily doable for motorbikes all along the way.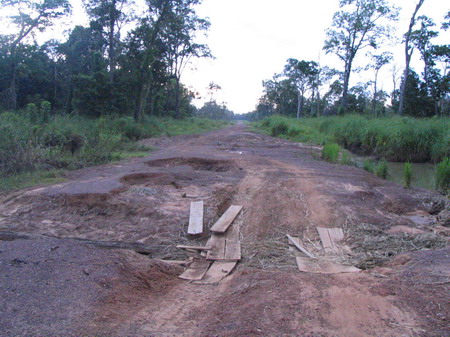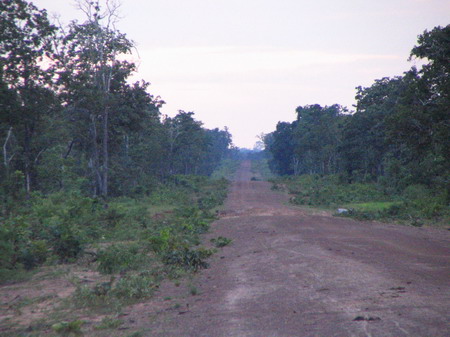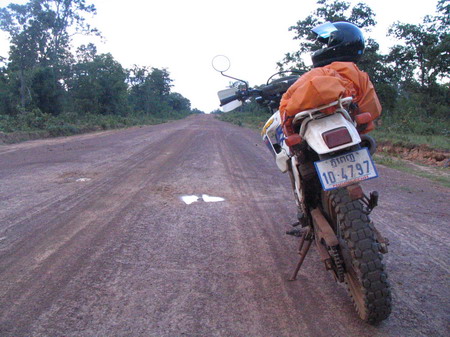 I was here before, and back then the road is very bad in some places.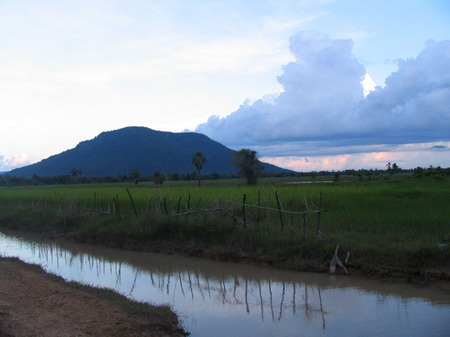 This is around Phnom Kulen, a place that I would like to explore on another trip.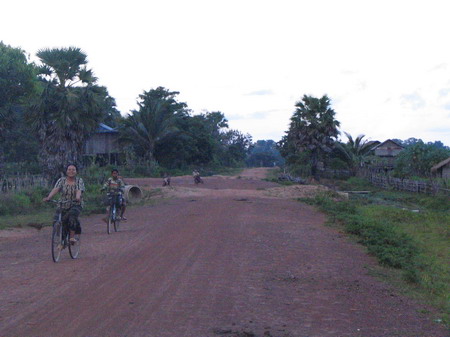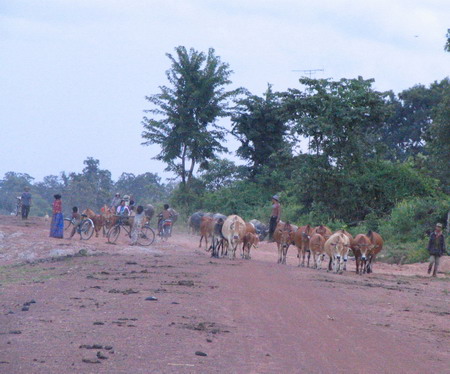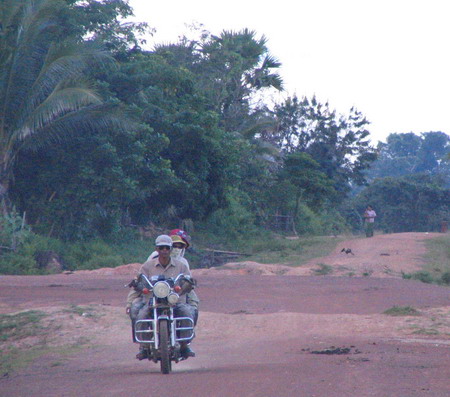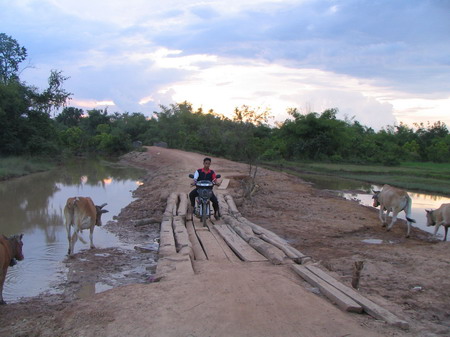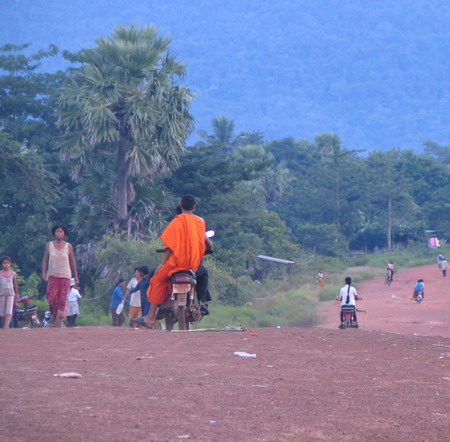 This is where we fill up the tanks and meet some locals.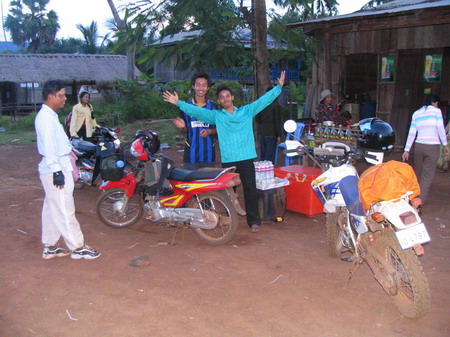 It starts getting dark when we leave this place, which forces us to slow down. We are both tired when we reach Tbaeng Mean Chey. We check rooms in three accommodations and opt for the Prum Tep guesthouse, where we have a break and shower before we go to have tasty diner in a simple restaurant, after which we go to bed early.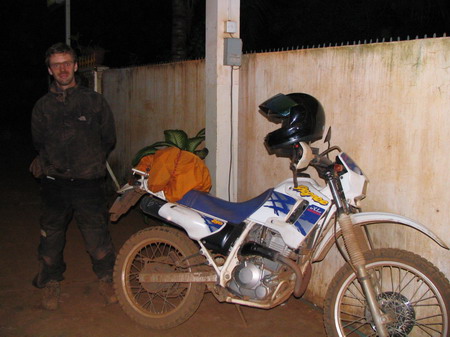 There is dense fog all over the place when I wake up in the morning. The plan for today is to ride all the way back to Phnom Penh via Kampong Thom. I hope to see one or the other temple along the road, and that it will not be raining too much.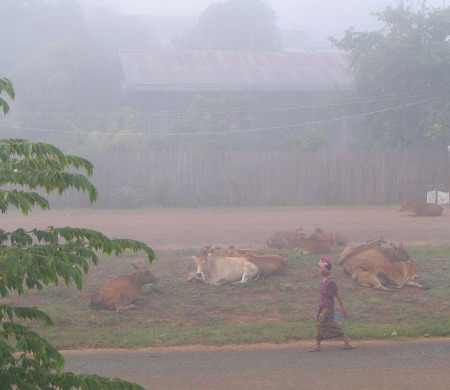 There are plenty of places that serve breakfast and we sit down to eat.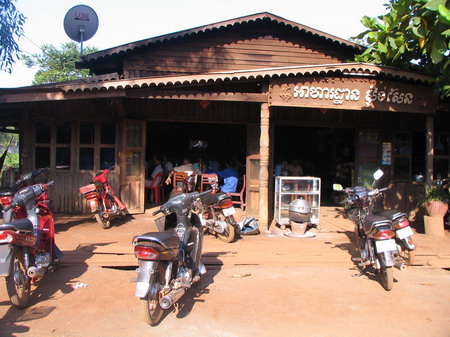 An old monk is begging for food.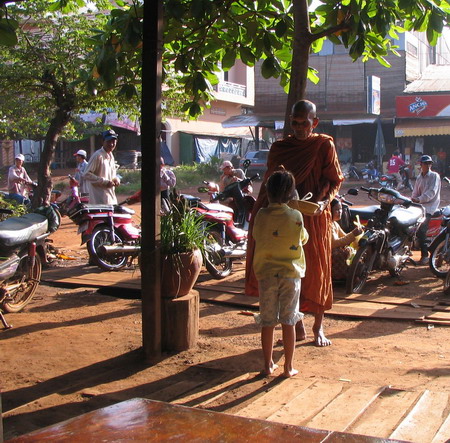 After breakfast Vothear takes me to the place from where it is possible now to travel to Stung Treng. This is where you need to cross the river.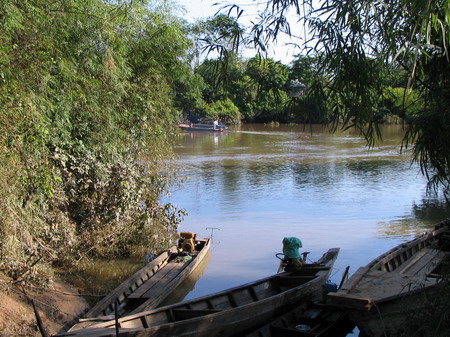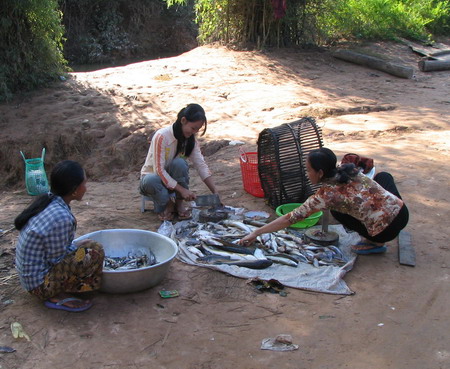 After a few minutes we leave Tbaeng Mean Chey on Road 64 to Kampong Thom. This road has very recently been upgraded. I have never traveled it before but right now it is a nice and safe ride, little traffic, few potholes, and more importantly, beautiful landscape all along the way.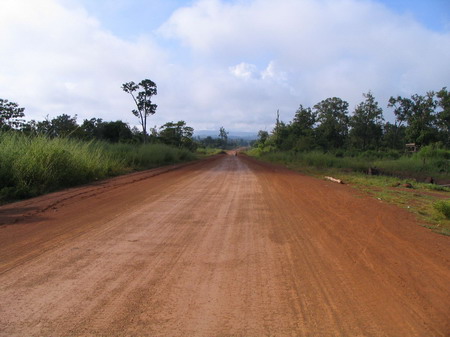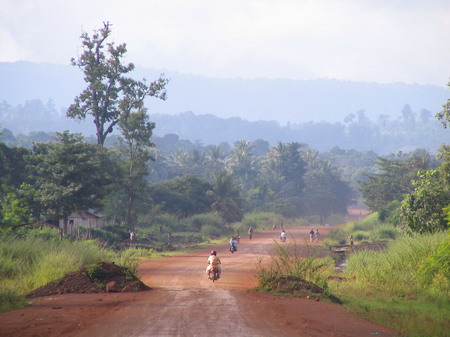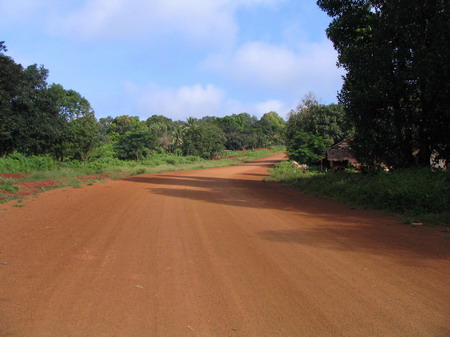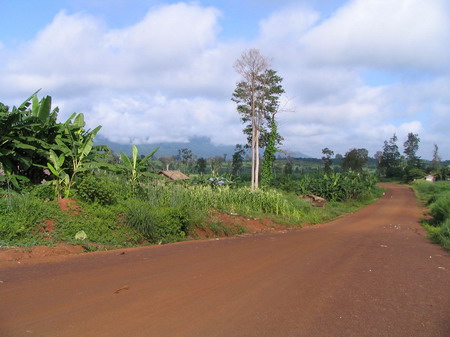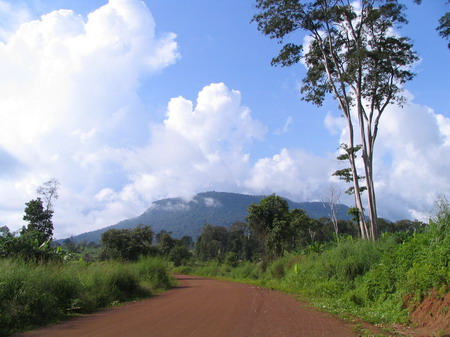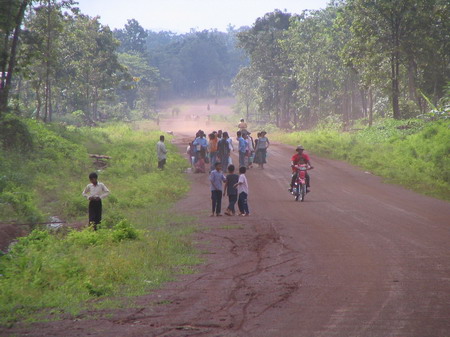 This is when it is becoming obvious that it is raining just a few hundred meters in front of us.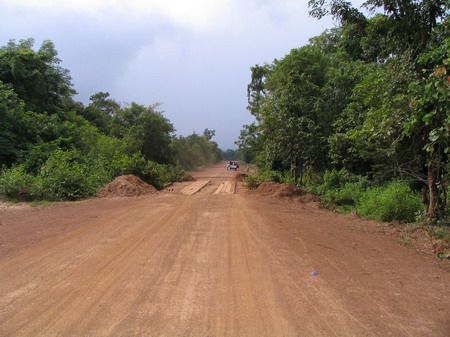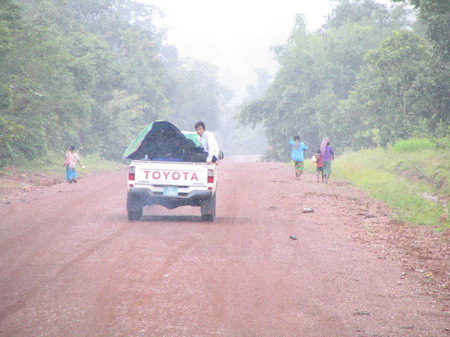 We make it to this temple and find cover inside.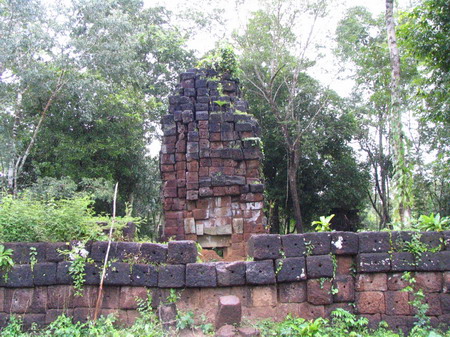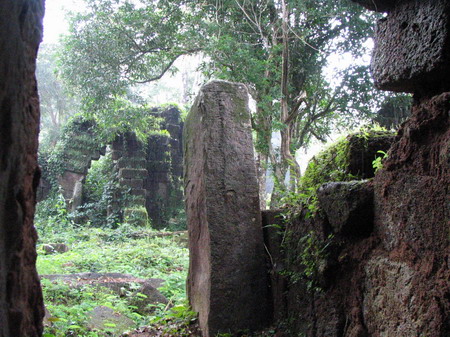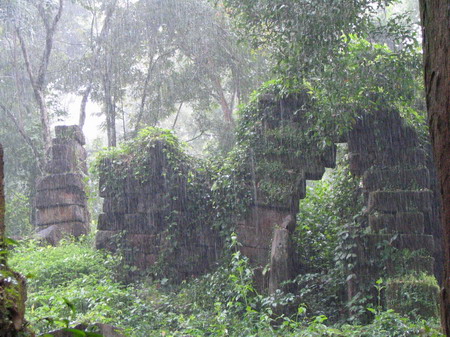 It does not seem as if the rain will stop anytime soon.
This is inside the temple.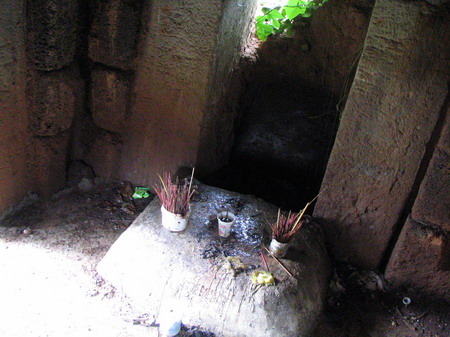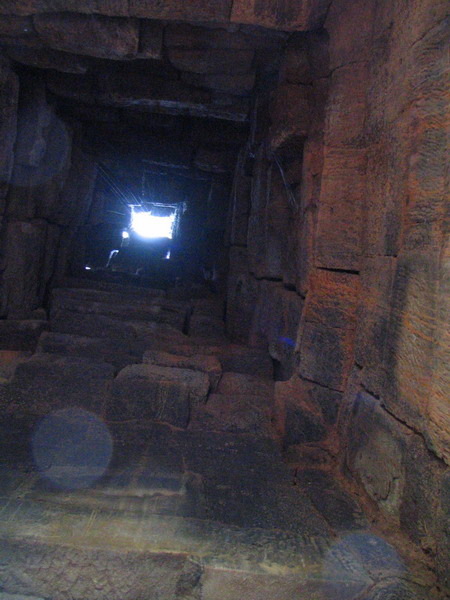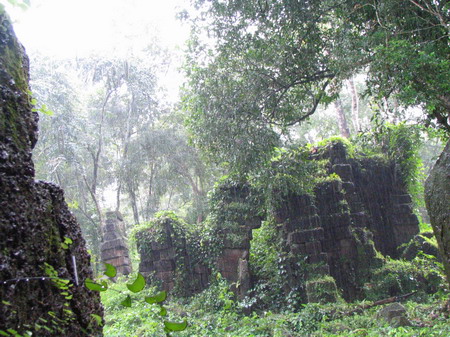 After about one hour the rains starts getting weaker and we leave. Over there are some signs warning of land mines, so I assume this area has been demined only recently.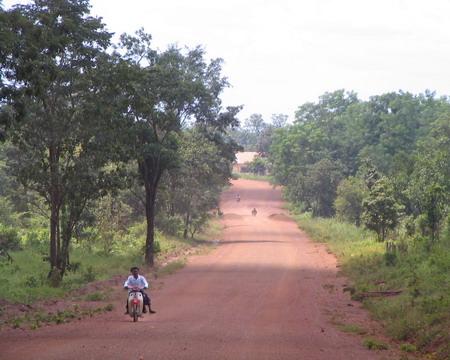 This town is called Phnom Dek and unfortunately is not in the map. It is about 60 km north of Kampong Thom. It was from here that we went through the jungle to Prasat Bakan last time I came here. This for is you face when coming from the south to north. Follow the road to your left to get to Tbaeng Mean Chey. Follow the road to the right and you get to Stung Treng.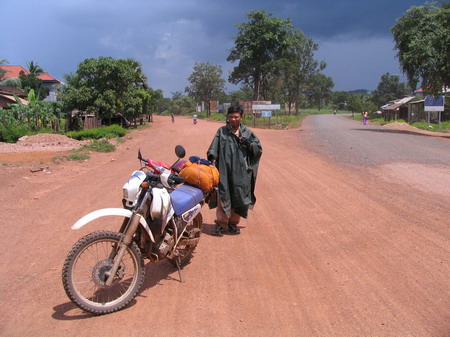 From here we continue along road 64 towards Kampong Thom. The landscape along the way is scenic and the road has recently been upgraded.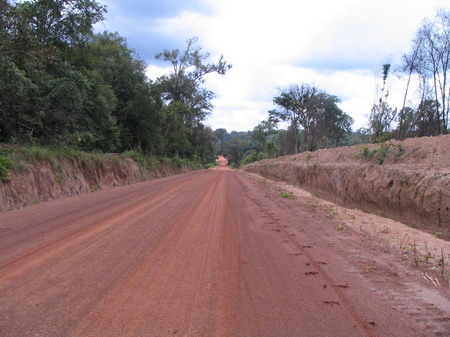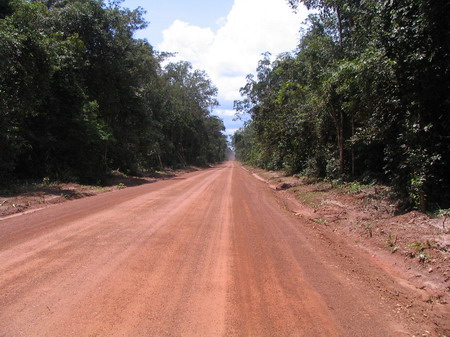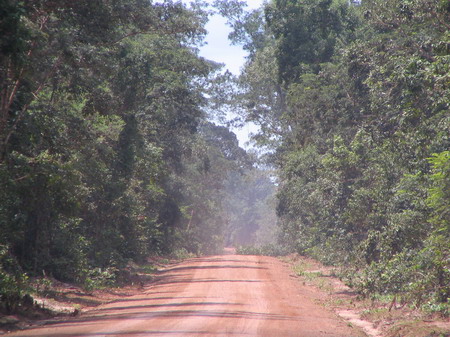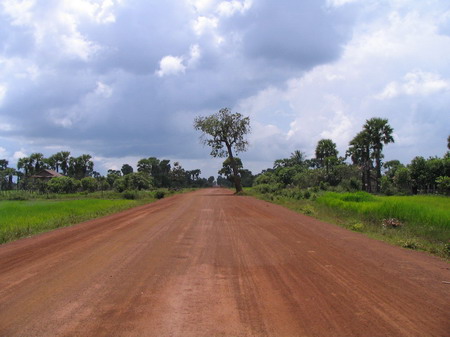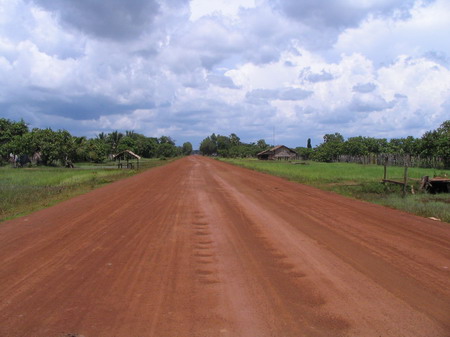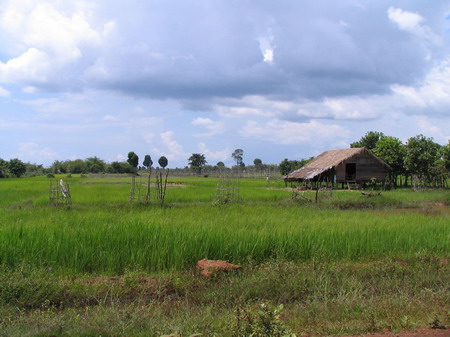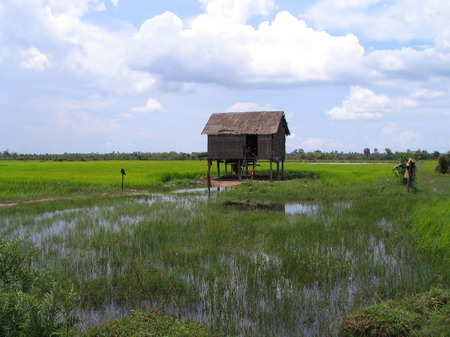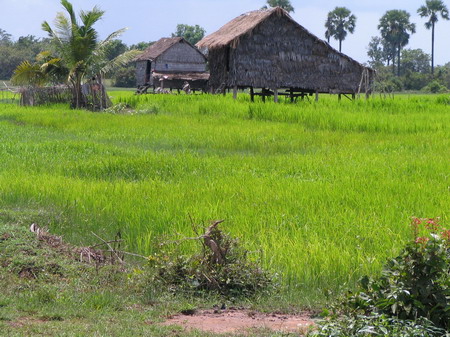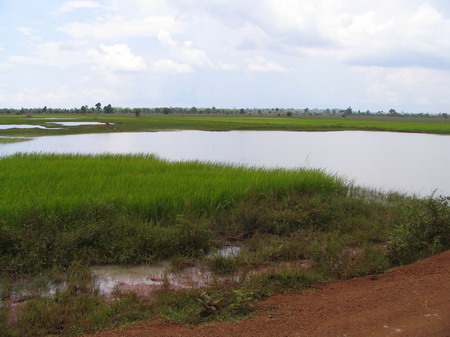 It starts raining again but not for very long.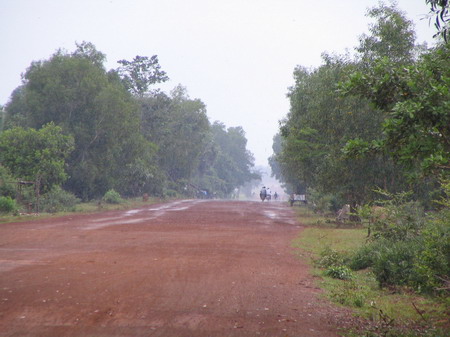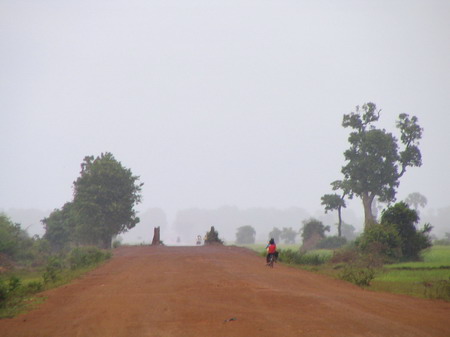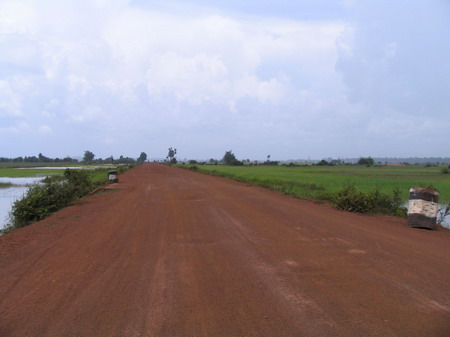 Then we reach the National Road 6 and Kampong Thom shortly after. We have lunch at a roadside restaurant. Later I say good bye to Vothear and head to Phnom Penh.
Only very few days are left before Water Festival. I come across a number of boat races and other events involving boats along the way.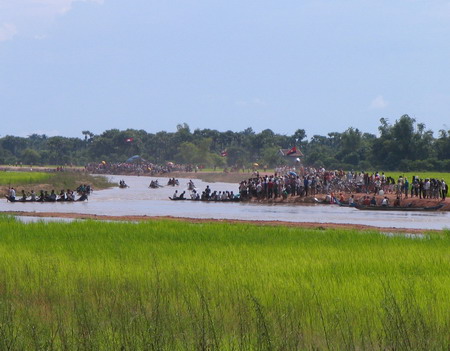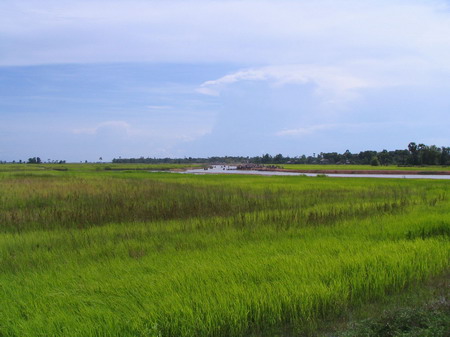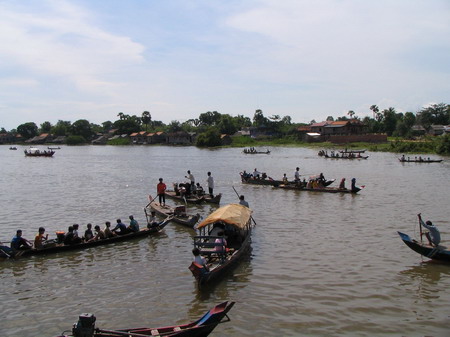 Today the traffic is quite distinct from other days in the following way. The entire population including myself seems on the way to Phnom Penh, to attend the water festival, while virtually nobody is traveling the opposite direction. The traffic to Phnom Penh has taken over both of the road's lanes in many places.