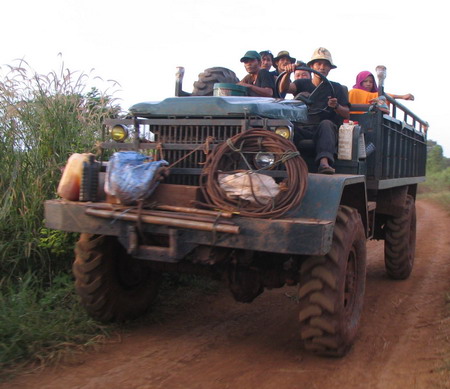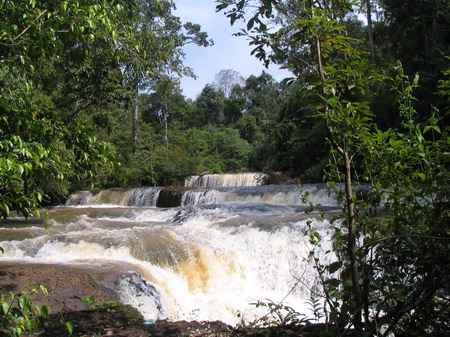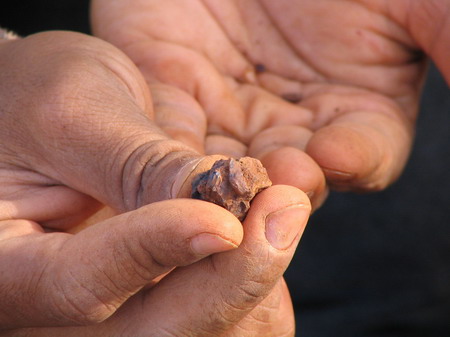 The plan for today is to again go on a trip with great guides Lim and Lot, this time on a loop from Banlung to the east and south. We travel by motorbike and visit Ou'Sean Lair Waterfall and the Bokeo mines in the Ou Ya Dav area (hope I got it right).
If you require a guide in Rattanakiri just call Lim: 012517418.
30.10.2005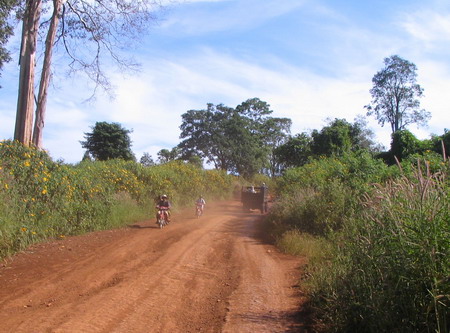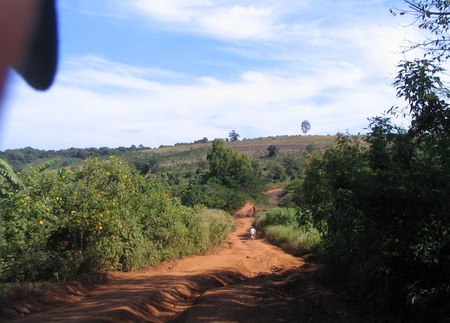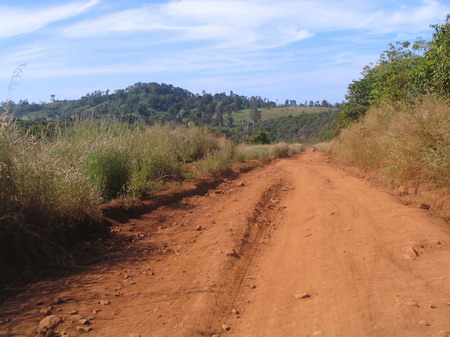 These are rubber tree plantations.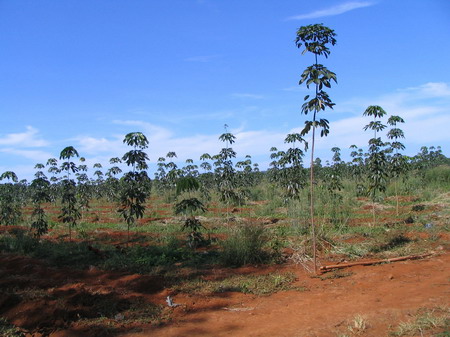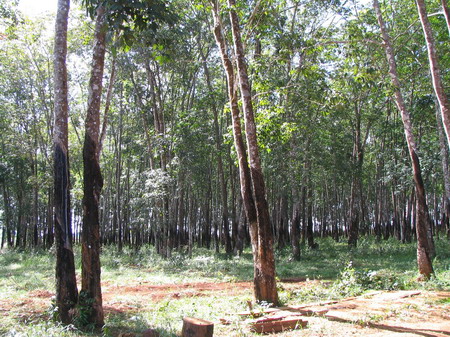 We stop briefly to fix the bike. This is Lim.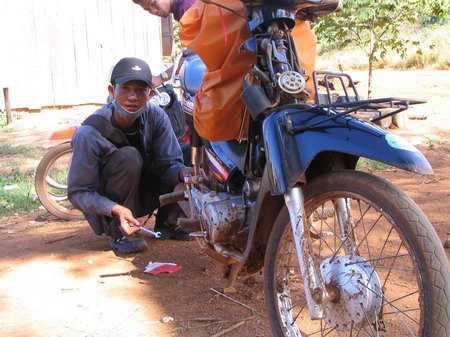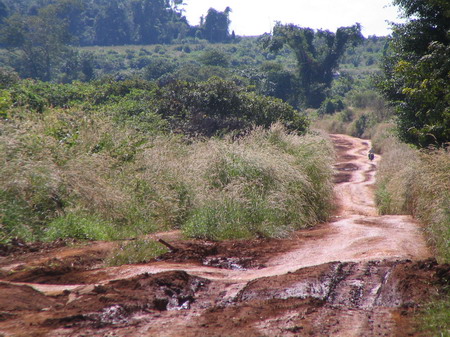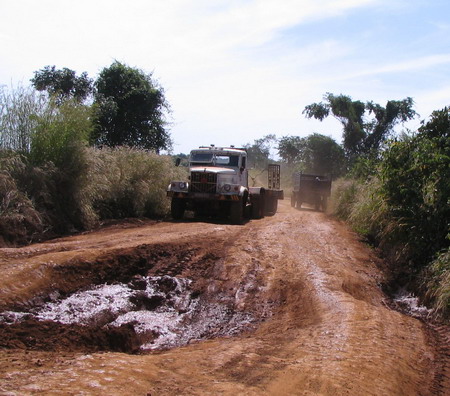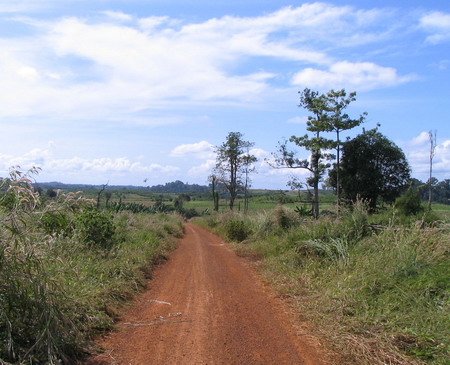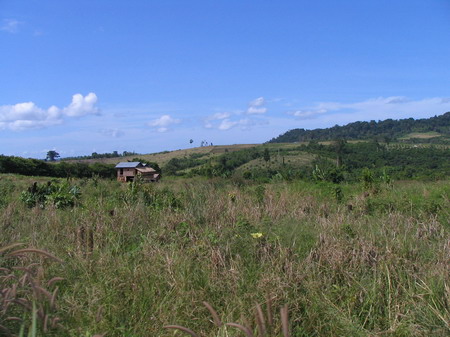 Longhouse in a one of the villages. We walk through the village. Few people are at home and we spend some time talking with children.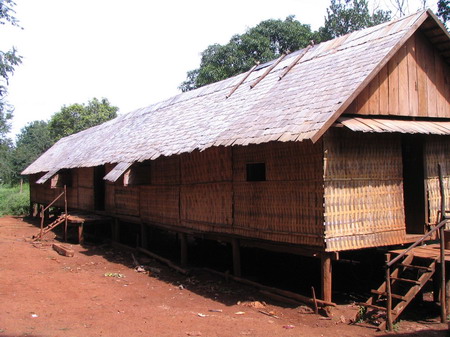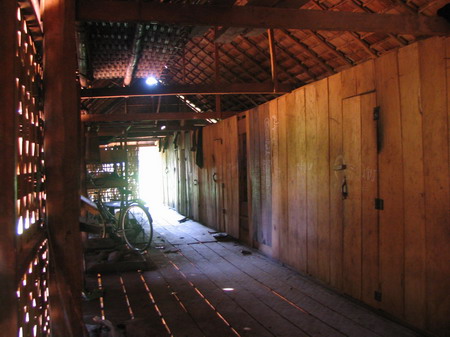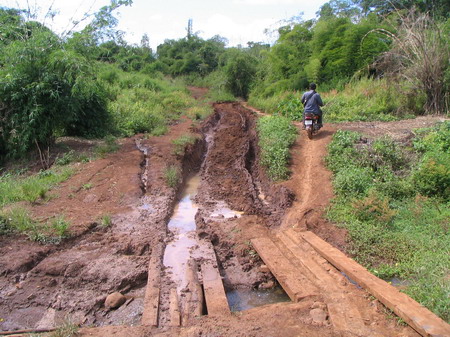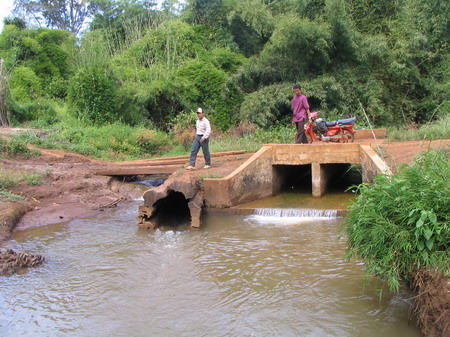 People have gotten stuck with this vehicle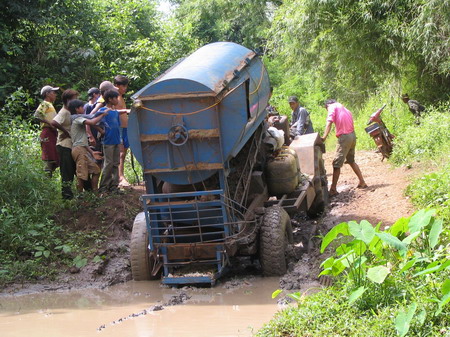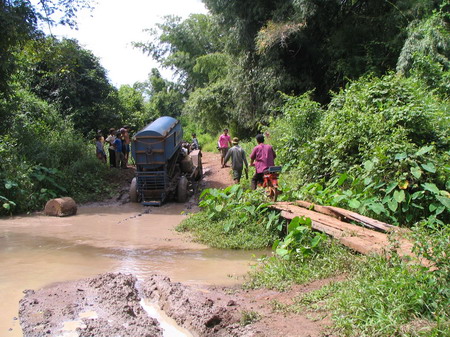 Along the way we see a variety of butterflies.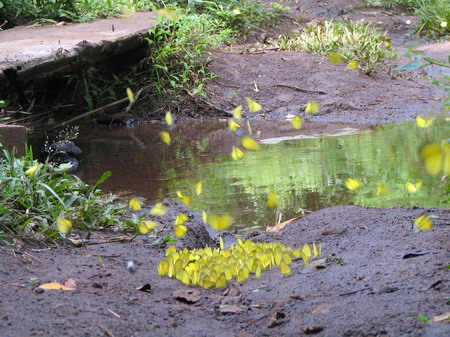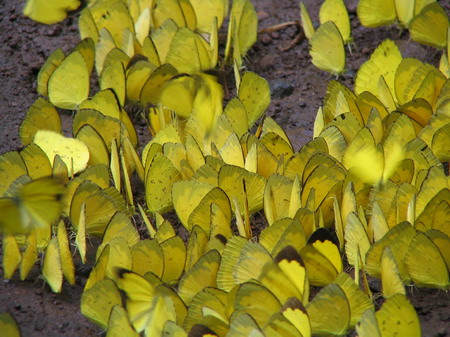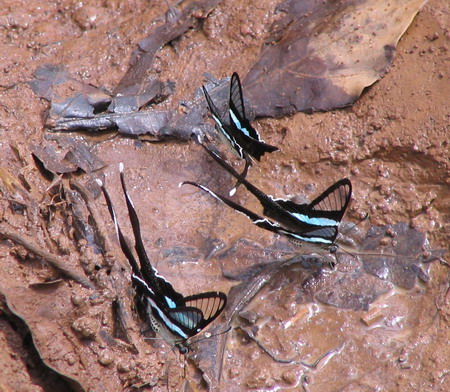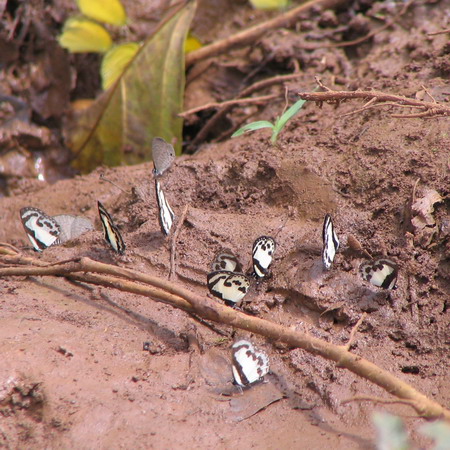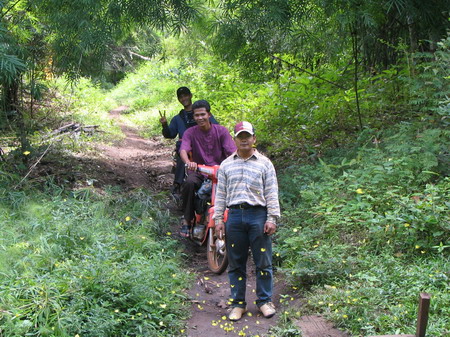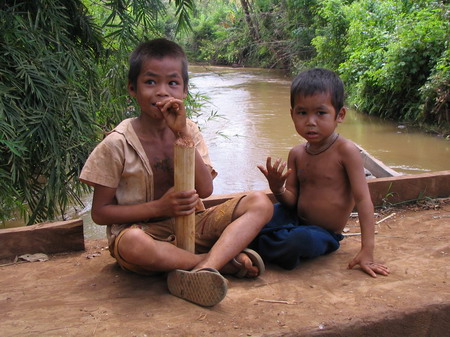 From the right: Lot, Lim and me.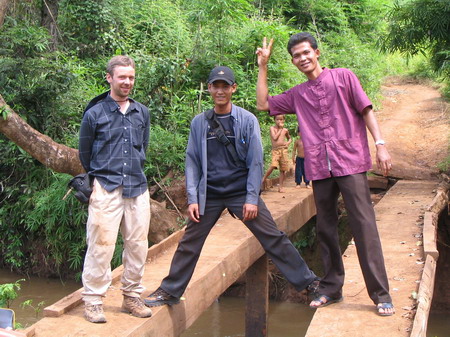 Then we reach this town the name of which I forgot. From here it is not far to the border with Vietnam.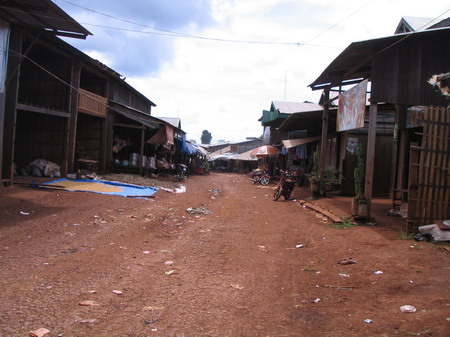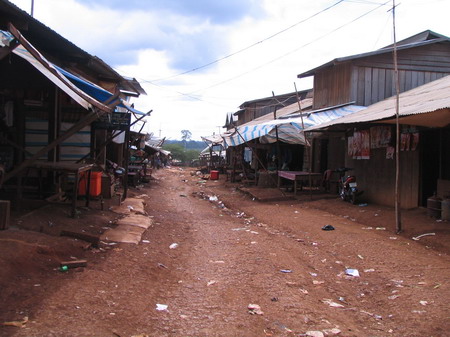 We pass the village on the way to the Ou'Sean Lair Waterfall a few kilometers from here. The 'road' is getting more challenging while we come closer.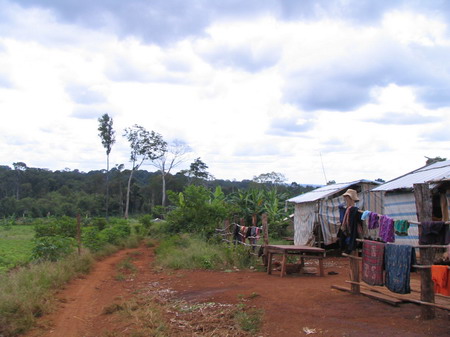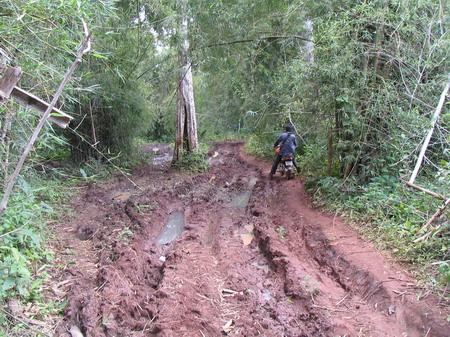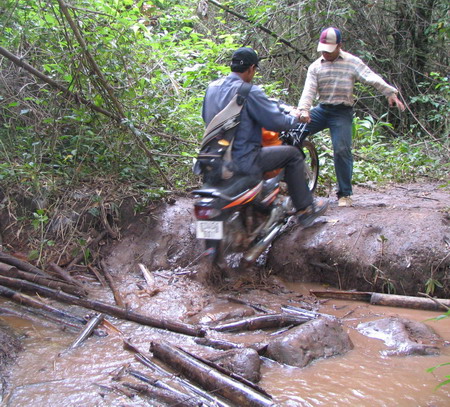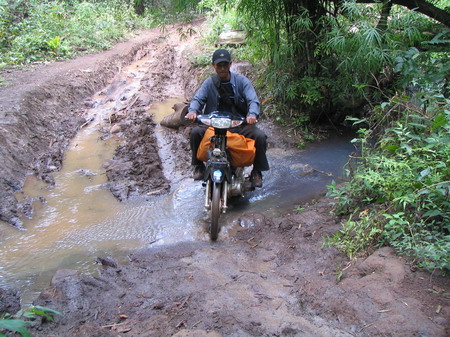 We reach the water falls and have a break. The same river falls over a succession of four or more waterfalls only a few dozen meters from one another. The falls and forest make for a very charming place. We go for a swim and eat some of the fruits we bought in the market in the morning.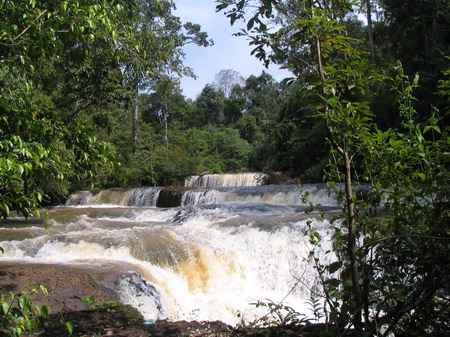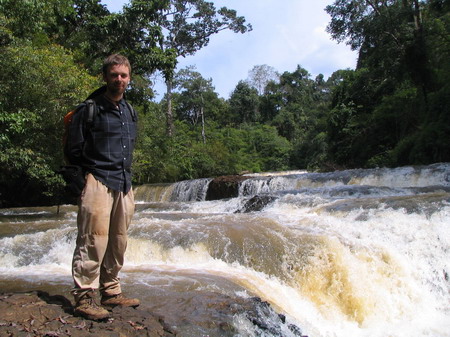 Then we head back to the village.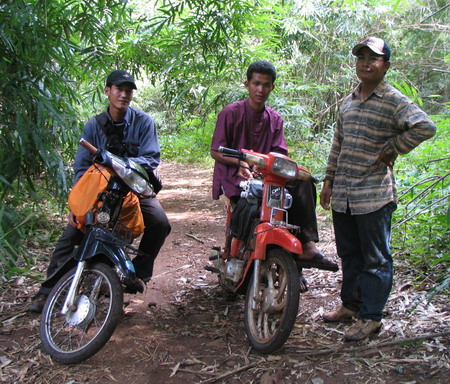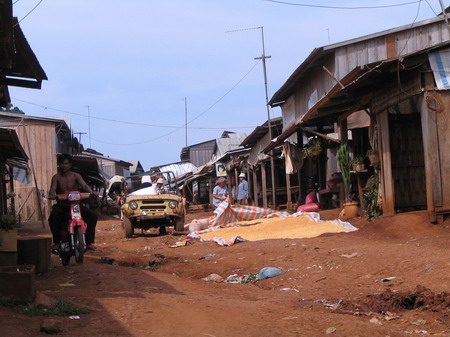 I learn that cockfighting is popular around here.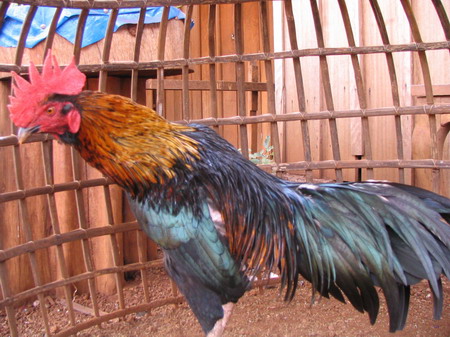 This is a Russian made vehicle that seems to be particularly popular in the northeast. Presumably they were important from Vietnam at some point. These vehicles were a common sight during my childhood in Eastern Germany with loads of Soviet forces around. However, back then I never saw one that seemed anywhere close to that state of disrepair, although the one here appears to be still in heavy use.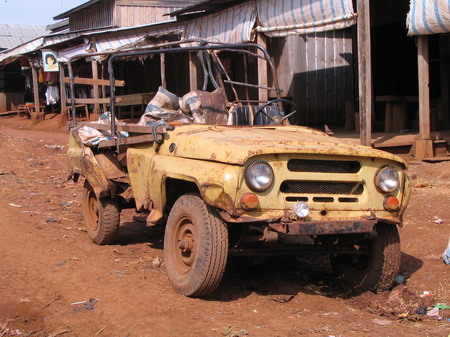 We have a seat in a restaurant and order coffee. The place is crowded with mostly male customers watching boxing on TV. Multiple TV sets show Thai and Khmer boxing respectively and observation indicates that a lot of betting is going on. Other patrons play pool in the shadow on the backside of the house.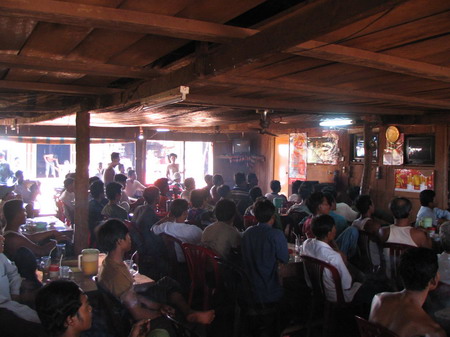 After a break we leave to visit the Bokeo mines area which is just a few minutes away from here. I learn that until recently this business was conducted by mostly poor and self-employed laborers, many of them ethnic Vietnamese. Few got lucky enough to make it worthwhile. With simple tools, deep holes are dug in the ground, oftentimes with only a small entry on top but chambers of considerable proportion underneath. These people work with little protection and take a marked risk as some of these chambers have collapsed and killed workers.
More recently the situation has changed with companies moving in and starting mining operations on a bigger scale, hardly to the benefit of local communities.
Along the road are bigger and smaller holes in the ground with heaps of red soil around from small scale mining.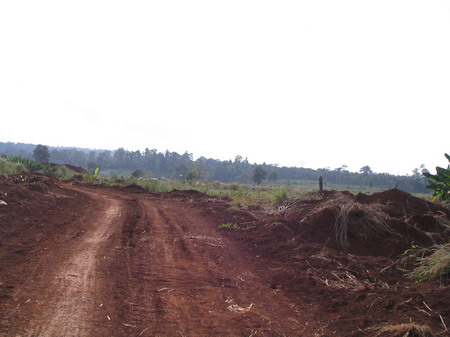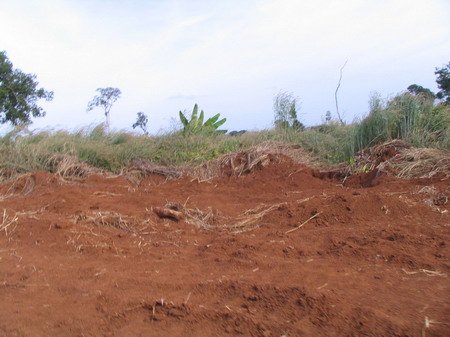 Bigger holes from bigger scale extraction.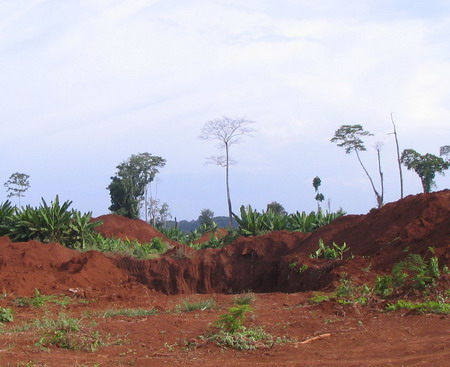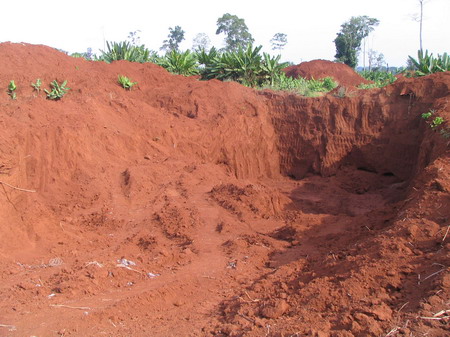 We stop and spend some time going through the soil, searching for gems but don't get very lucky.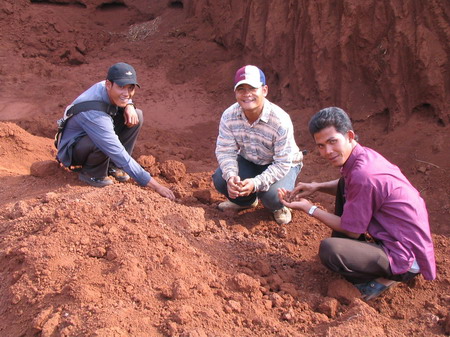 Lim and Lot.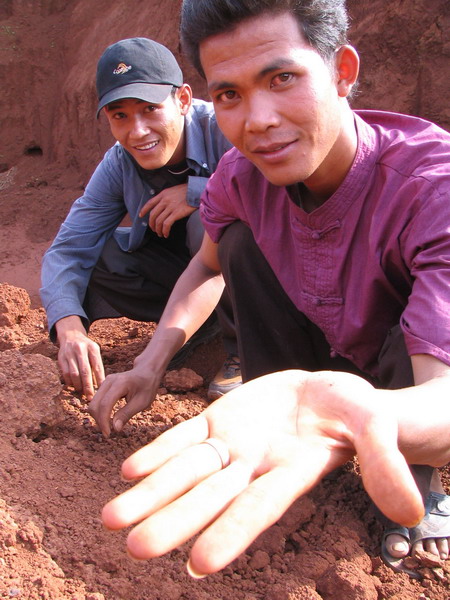 Phal got slightly luckier.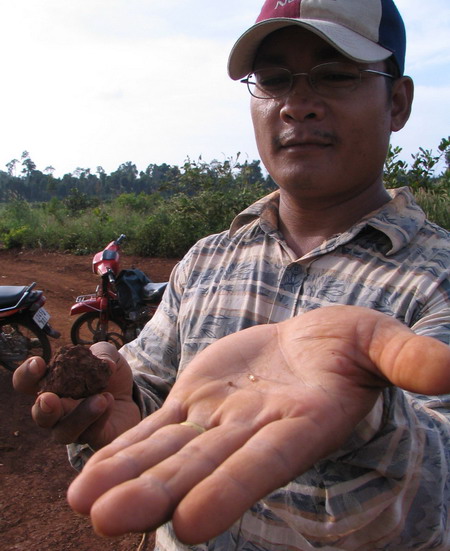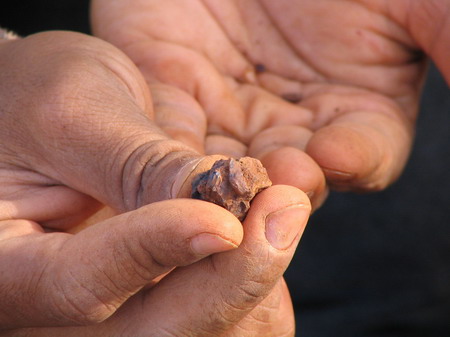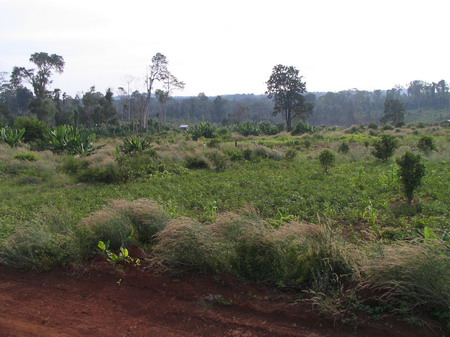 Mining equipment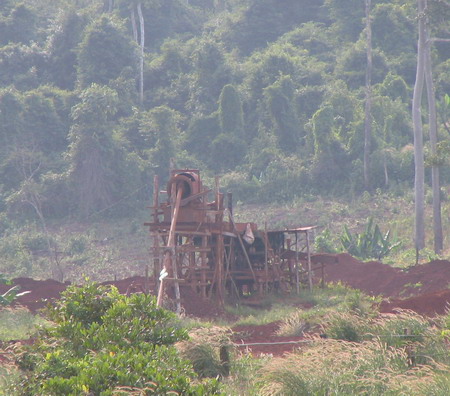 From here we follow a road to the west of the one on which we came, back to Banlung.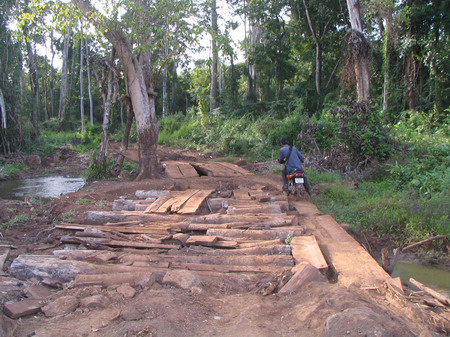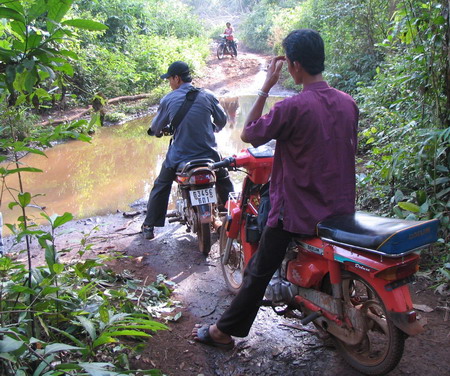 Locals manage a range of obstacles in the road with great ease and skill.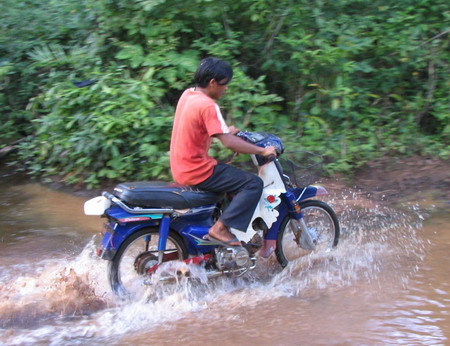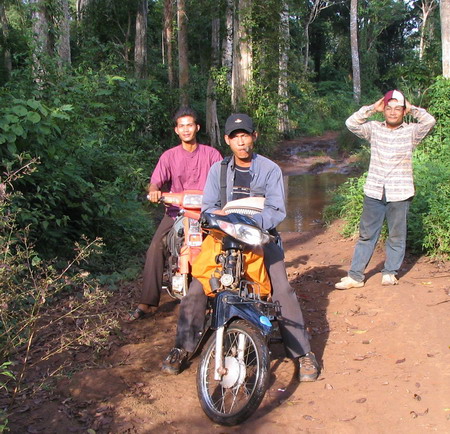 Occasionally we see uniformed and armed people.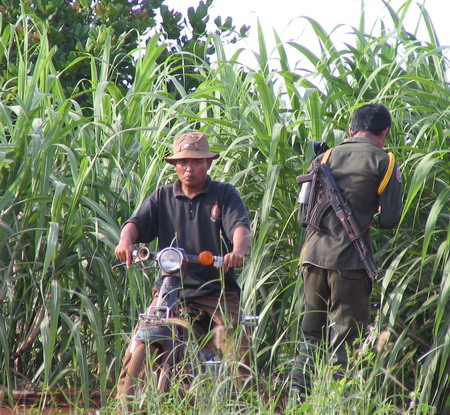 This is a cashew nut plantation, I believe.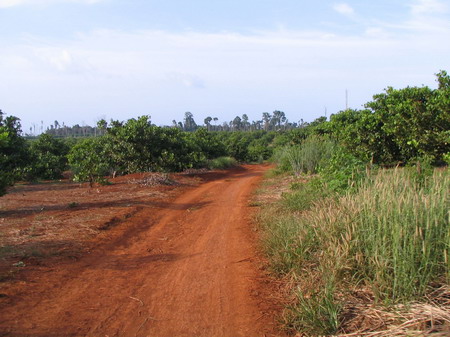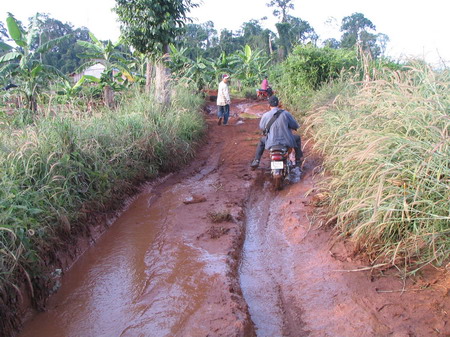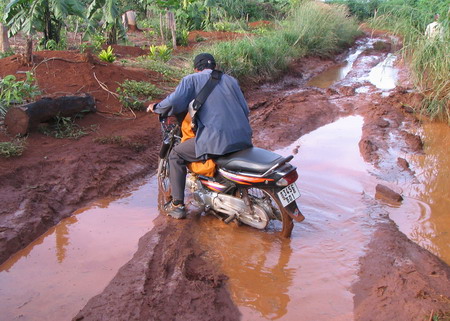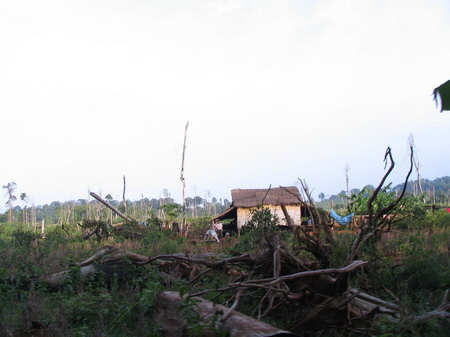 Great skill is also required to keep these vehicles running.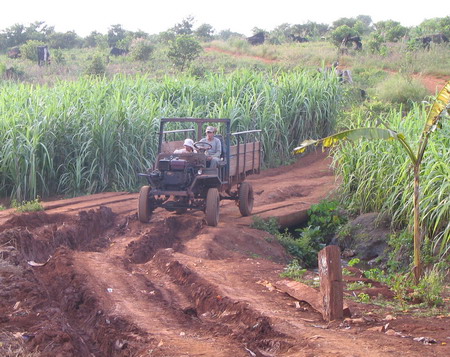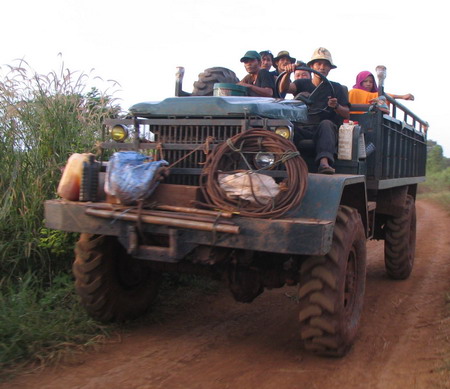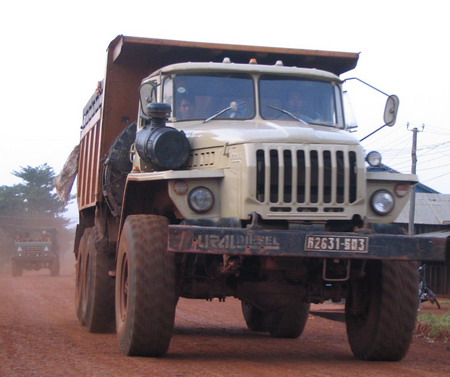 In the rubber plantation.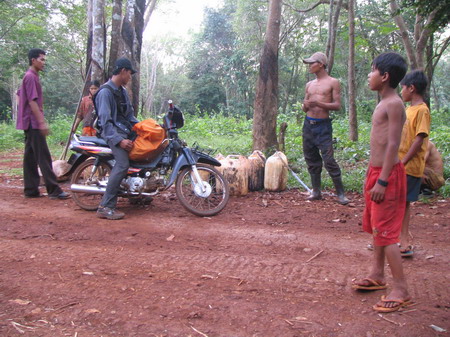 We learn how trees are cut and rubber is collected.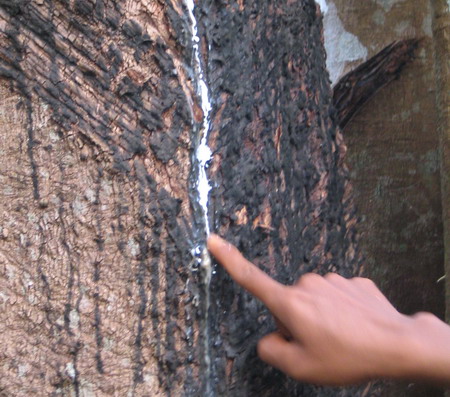 From here it is not far to Banlung. We reach when it is almost dark. Later we go to have diner and visit various places to taste rice wine and other local specialties before we go to bed.
In the morning, we meet Lim and Lot again and have breakfast together. Our flight is later in the morning and we spend the time until then purchasing traditional rice wine in jars and some stronger varieties in plastic bottles.
Lot and Phal with rice wine jar.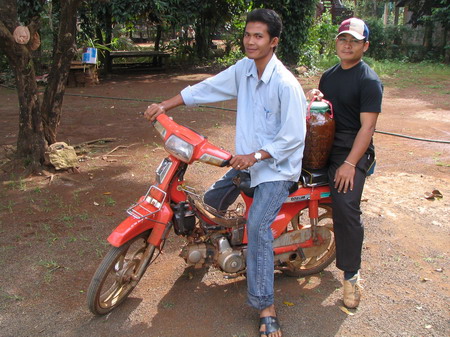 Banlung airport is a rather basic aviation facility. This is the check in and gate, the latter quite literally.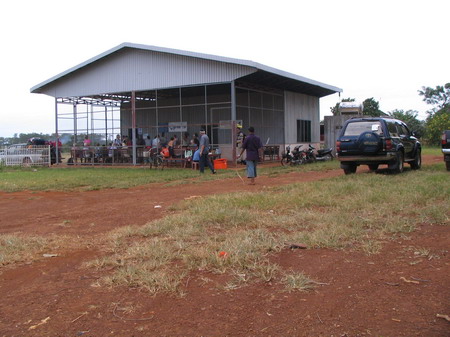 This is the aircraft.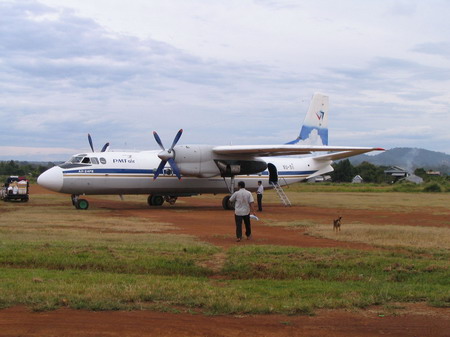 On numerous occasions during the few days in Rattanakiri I have observed new 4WD vehicles with the logo of the UN refuge agency UNHCR. The Cambodia observer will know that during recent years, many ethnic minority refugees from Vietnam have crossed the border to escape from discrimination and government crackdowns Vietnam's central highlands. The fait of these people has become an issue of some discomfort in the relationship between UN and the Cambodian government which does not wish to displease its patron's across the border. Most of the refugees who made it to Phnom Penh have been resettled in third, Western countries. More recently, groups of refugees under UNHCR protection have been resettled to Vietnam, partly against there will with ugly scenes in Phnom Penh involving refugees being beaten by police and soldiers and forcefully loaded on buses to Vietnam. This, obviously, has let also to argument between human rights organizations and the UNHCR.
The point of bringing this up here is that after most passengers have boarded the plane, two UNHCR vehicles arrive at the airstrip and about 15 people including children are rushed from the cars onto the aircraft. I assume these are refugees from Vietnam who have suffered persecution and whose destiny is uncertain.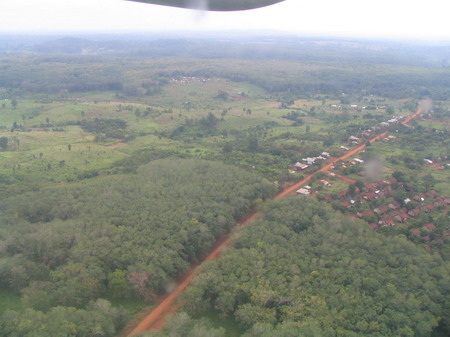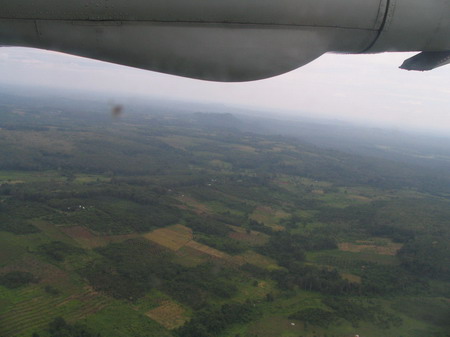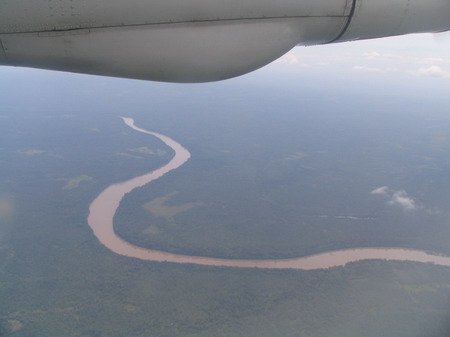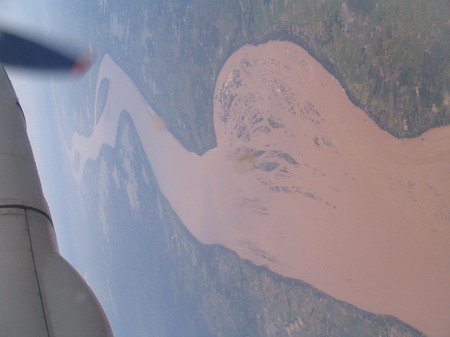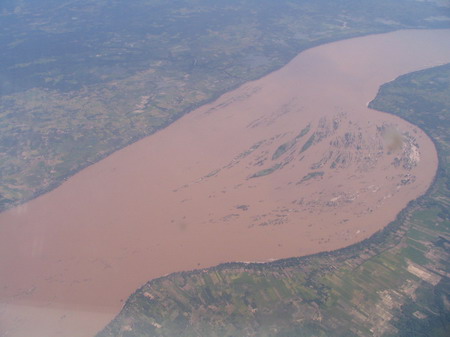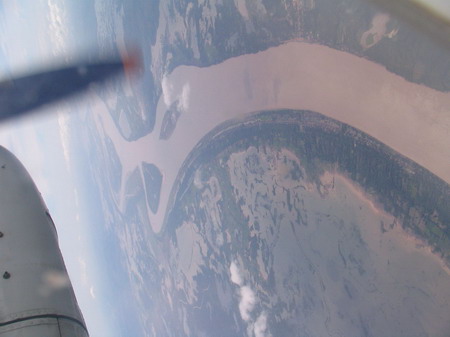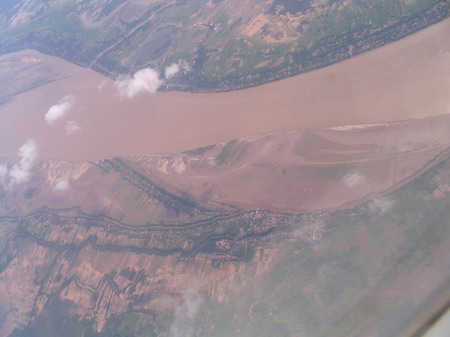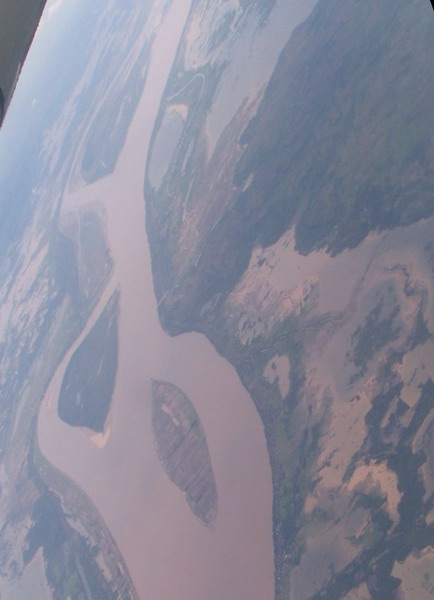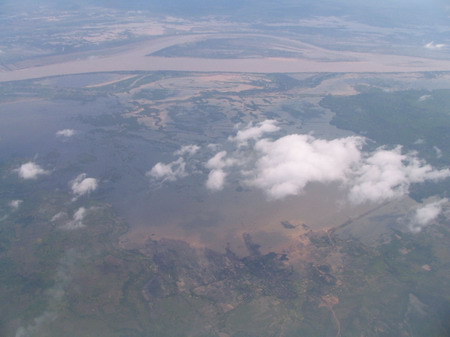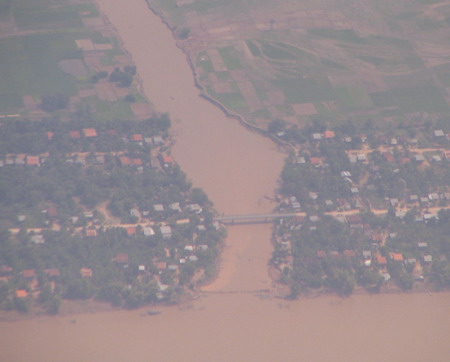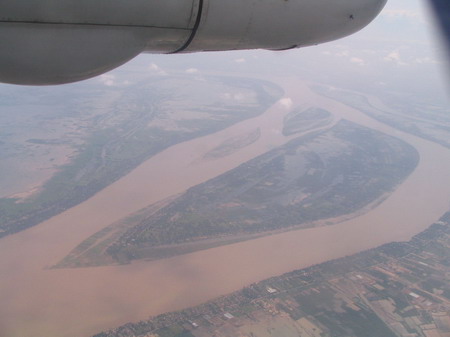 Go-Cart track just outside Phnom Penh.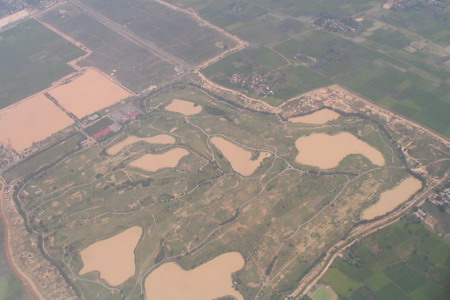 Rice fields.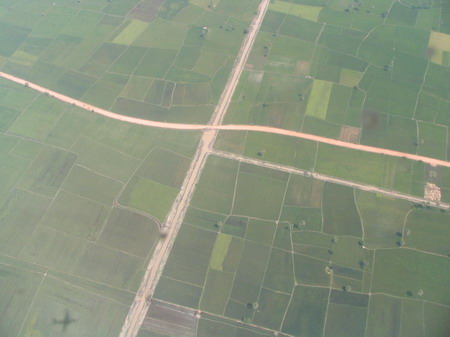 A Buddhist Wat and a school next to it, close to Phnom Penh.