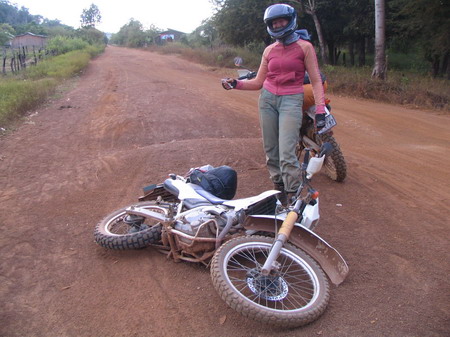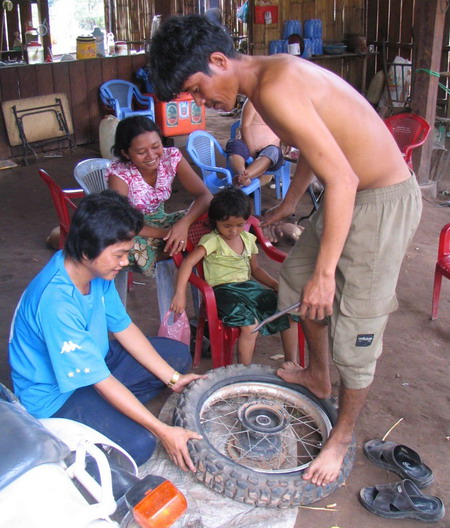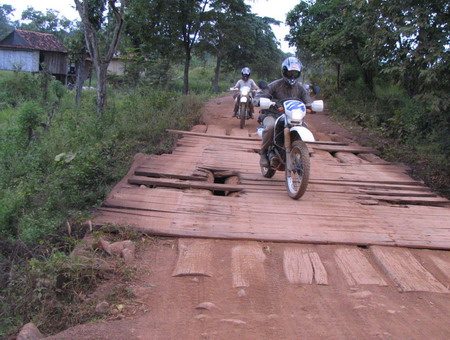 The plan for today is to ride from Kratie (Kracheh) to Banlung (Ban Lung) in Rattanakiri (Ratanakiri). This is not a big deal in terms of distance but we anticipate the road to be in poor shape, particularly between Stung Treng (Stoeng Treng) and Banlung. We start the day with a generous breakfast at the Red Sun Falling Restaurant, a great place for Western food in Kratie and the only one as far as I know, run by a guy named Joe from Chicago. They even serve delicious brownies but unfortunately not this morning.
17.11.2005
Mekong River in the morning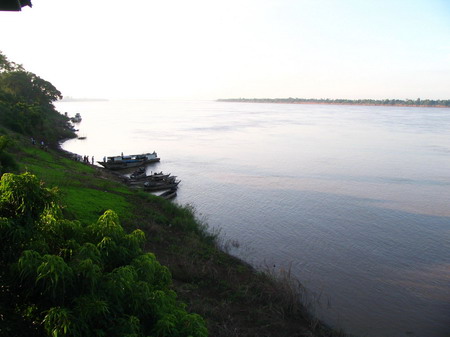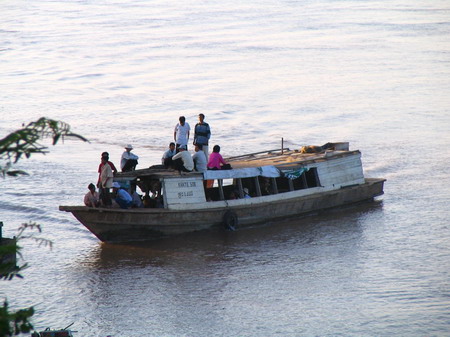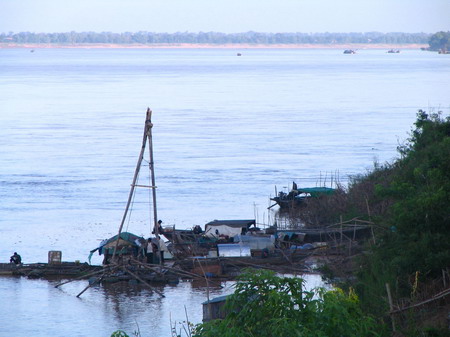 Breakfast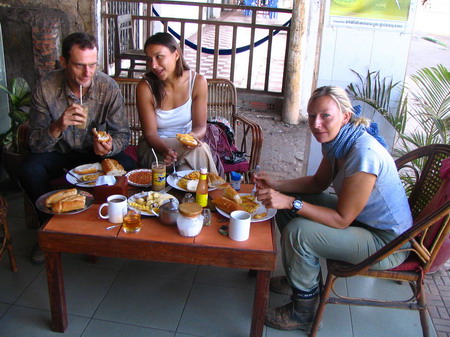 Getting started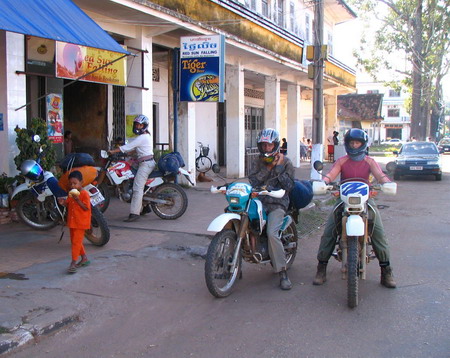 We follow the paved but bumpy and narrow road to the north until we reach a fork after about 20km. The road to the left leads to Sambor and while the one to the right is National Road 7 leading to Stung Treng.
We turn right and after a few more kilometers of bumps and potholes arrive on the wide road that we are very pleased to find perfectly even with virtually no potholes and only little traffic. This latter road is currently undergoing comprehensive upgrading with substantial support by the Chinese government. It looks like it will be paved very soon. Accordingly, we enjoy a smooth ride at fairly high speed.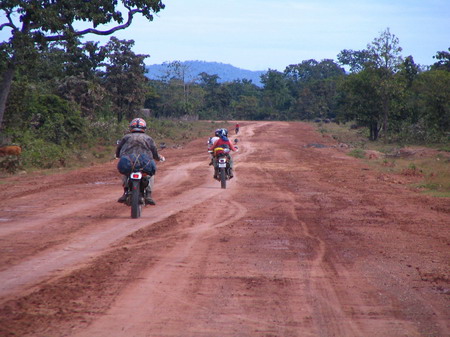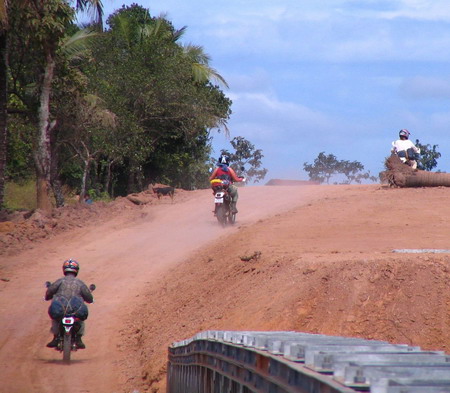 The upgrading of this road is a major effort and involves the construction of a number of new bridges, here right next to an old bridge which seems to have collapsed long time ago.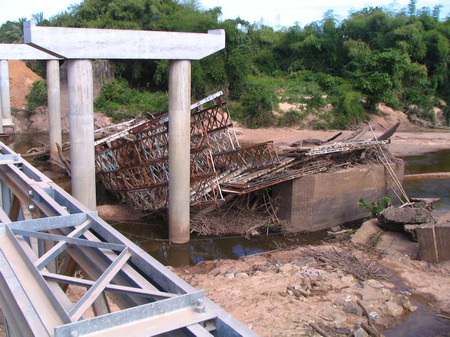 We reach another major fork after about 150km and within less than 2 hours, much to our surprise. From here, National Road 7 leads to Stung Treng town to the left (just 23km from here) while Provincial Road 78 to the left leads to Banlung.
We have a break and some food at the restaurant right at the fork before we continue. Recent and not so recent experience suggests that the 200km of dirt road between here and Banlung is in exceptionally bad condition. Therefore, we decide not to visit Stung Treng and to ride directly to Banlung instead to make sure we reach it before dark. However, much to our surprise we find that this notoriously bad road was recently repaired and now is a state-of-the-art dirt road that allows for smooth and fast traveling all the way to Banlung (with the exception of some of the numerous bridges, which you want to keep in mind).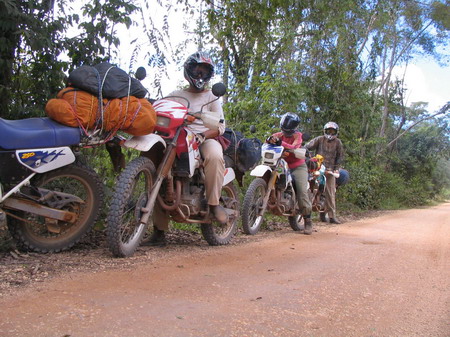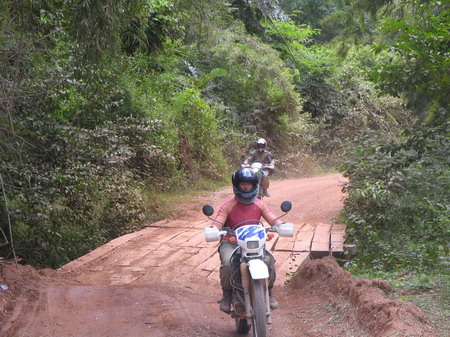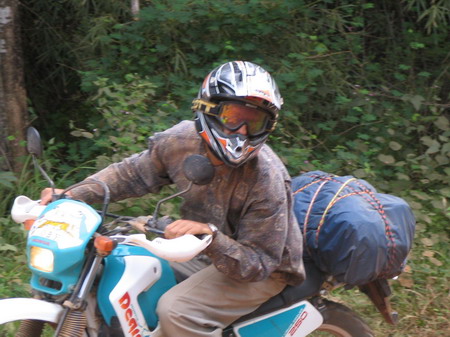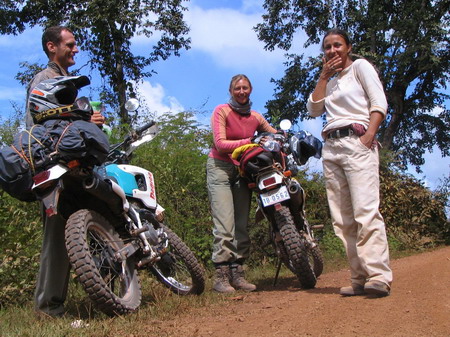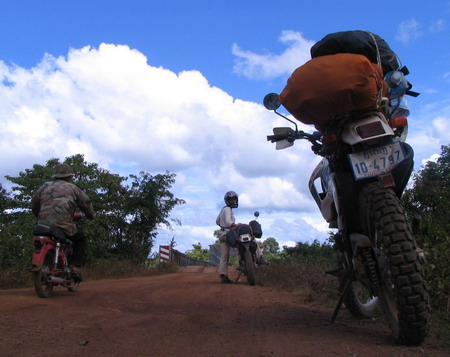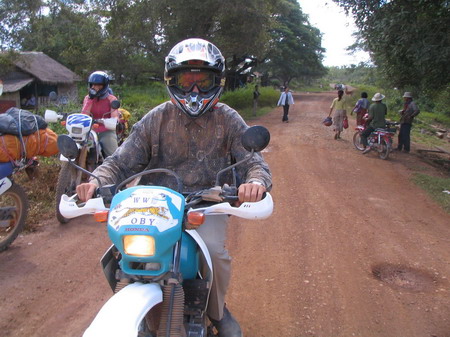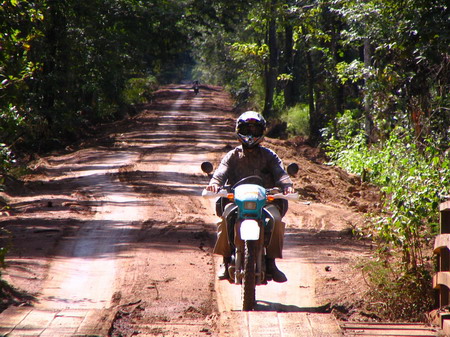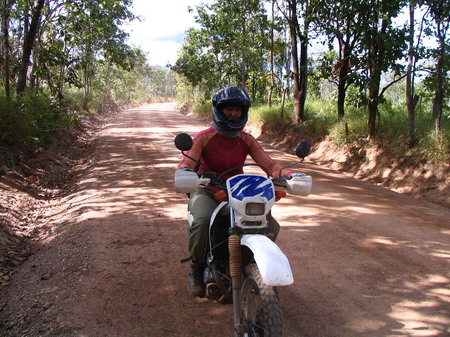 We keep riding for some time until we find that Katrin's bike has a flat tyre. Fortunately, even in this sparsely populated area it is only a few hundred meters to the next repair place. This garage is easily recognizable since the owners have attached an old tube to a tree next to the road.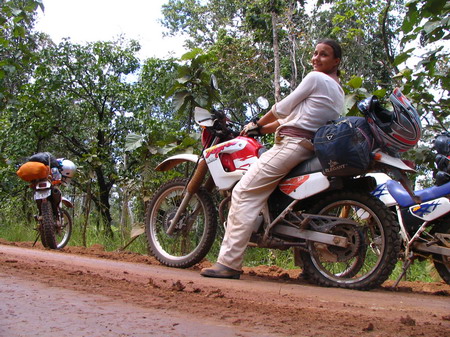 We find that the punch is fairly big and decide to invest the only front spare tube we have, rather than fixing the broken one. It seems those mechanics have not a whole lot of experience with fixing this kind of tyre and they apply some fairly unorthodox (and time consuming) methods.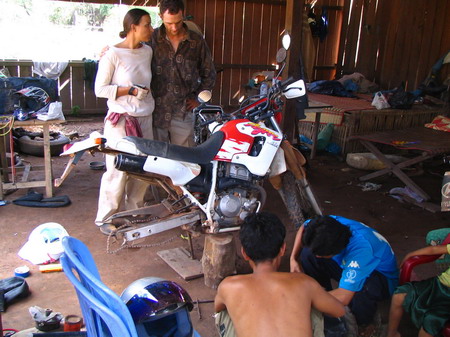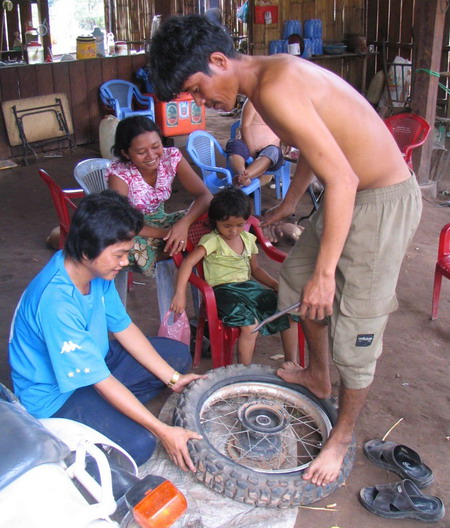 To my greatest delight, Toby reveals that he is in possession of some of these delicious brownies from the Red Sun Falling in Kratie. How he managed to get hold of it is still a mystery to me. These are the best brownies I ever had. Toby is such a cool guy.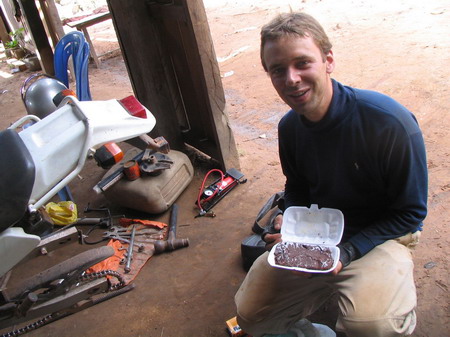 Becky and Katrin having fun with our bungees.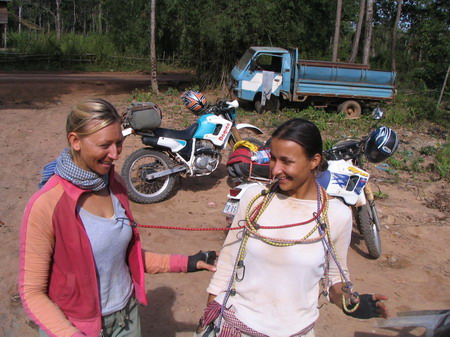 Meanwhile the mechanics inserted the new tube into the casing and put the wheel back on the bike. However, when they try to inflate it they realize it has a punch, too. It does not matter at this point whether the spare tube was broken all along or in the process of inserting it with sharp devices. The process starts anew and this time around involves fixing the tube with cool but time consuming hot patches.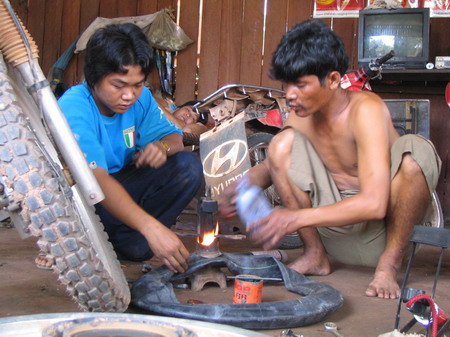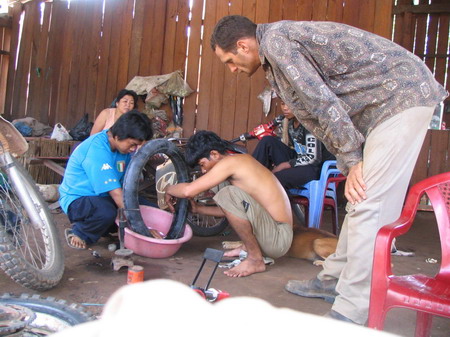 After a total of about 2 hours the tube is fixed and the bike ready to go. We consider ourselves lucky. All roads from Kratie to here have been in exceptionally good condition and allowed us to arrive here early enough to still have enough time to make it to Banlung comfortably.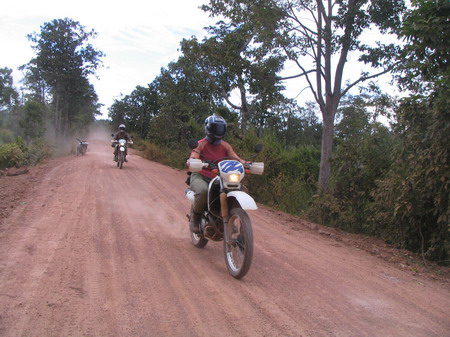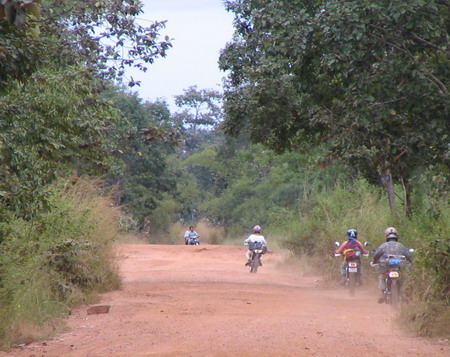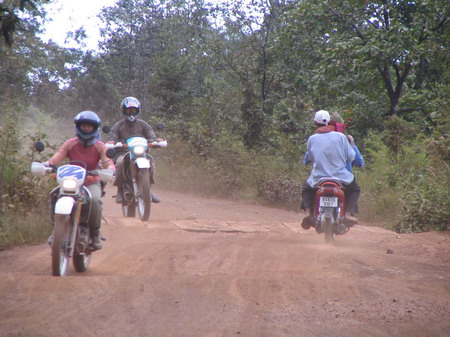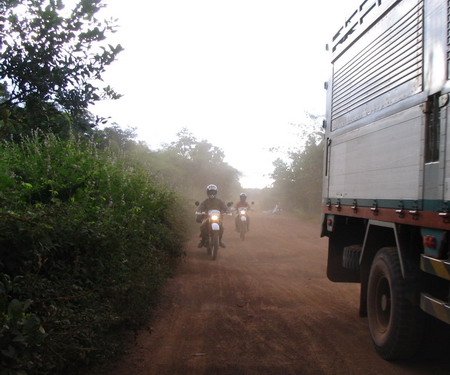 We have been riding for another half an hour or so when Becky rides at significant speed into a fairly deep pothole which causes her and the bike to fall spectacularly. Luckily she does not get hurt. However, the clutch lever is broken.
Becky with broken clutch lever and downed bike. It strikes me how weak and vulnerable these bikes looks when they are down.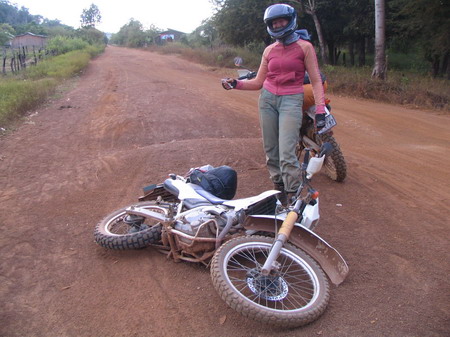 We do have one spare clutch lever but prefer to change after we reach Banlung. Toby manages to ride the bike without clutch.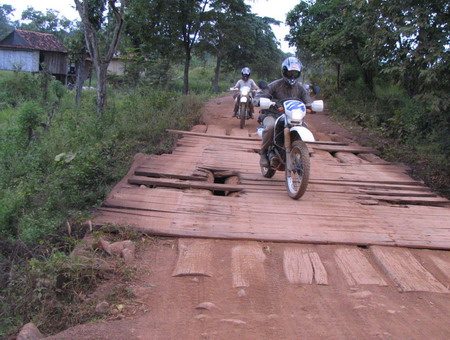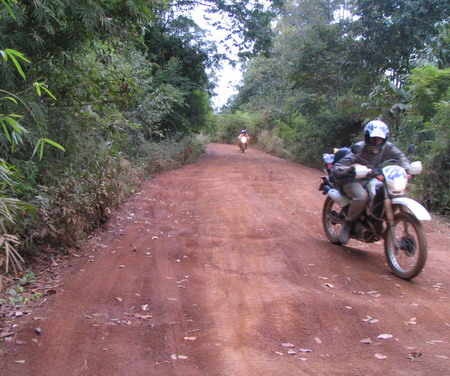 We reach Banlung before dark and ride straight to a mechanic where we have Becky's clutch lever changed and the chains lubed. Then we ride to the Hotel (I forgot the name which is unfortunate; it is nice and clean, with capable staff and beautifully located next to the lake) and check in, tired and dusty but very satisfied with how the day went. Later we have diner in the attached restaurant and meet up with Lim to make plans for tomorrows ride through forest and wilderness towards Mondulkiri.