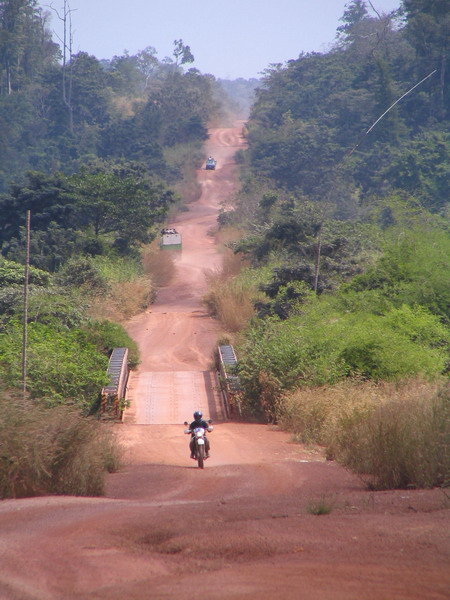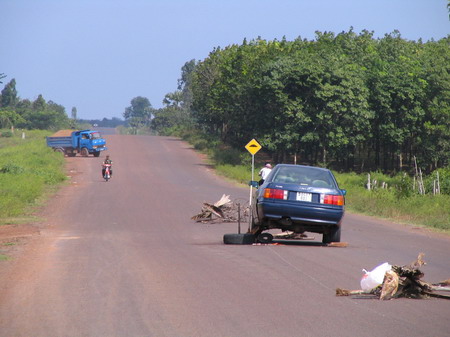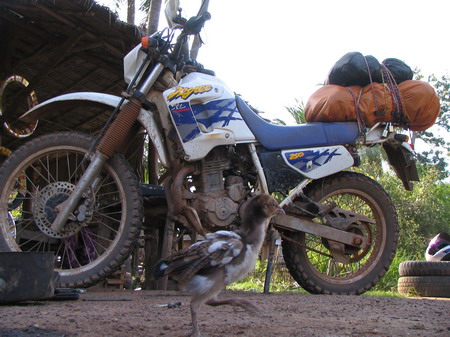 The plan for today is to ride from Sen Monorom in Mondulkiri all the way back to Phnom Penh. This is quite a ride in terms of distance but fortunately the road is in good condition. Most of it is paved, much of it recently. We plan on first traveling to Snuol on Provincial Road 76, a distance of 135km on decent dirt road. From Snuol we follow the recently upgraded National Road 7 through Memot towards Kampong Cham.
About 12km before reaching Kampong Cham we turn south right after we pass Chob and follow Provincial Road 11 through Prey Veng to Neak Luong (Neak Loeang, Neak Loeung), a distance of almost 100km on paved road with little traffic through rubber plantations. The route through Prey Veng is a moderate detour but due to little traffic and the bending road a much nicer ride than the alternative National Roads 6 and 7. Moreover, these roads tend to be terribly jammed in the evenings, particularly during holidays such as today. We cross the Mekong River in Neak Luong and head back to Phnom Penh on National Road 1.
20.11.2005
We have breakfast at the Long Vibol Guesthouse and stop at a gas station in Sen Monorom to fill up and clean the bikes before hitting the road.
Sen Monorom in the morning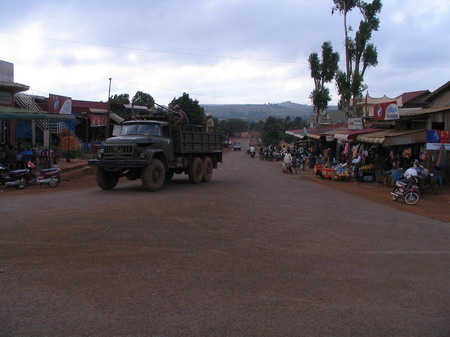 Cleaning and filling up the bike, checking tires.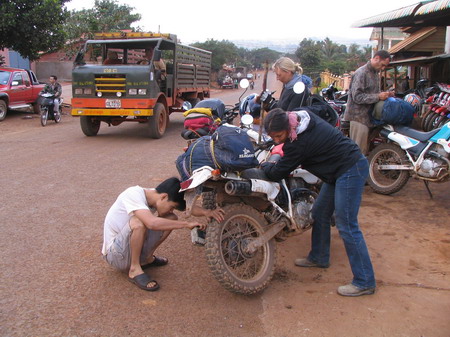 Break along the dirt road to Snuol.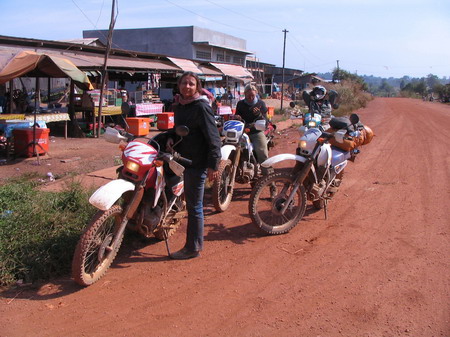 Toby stretching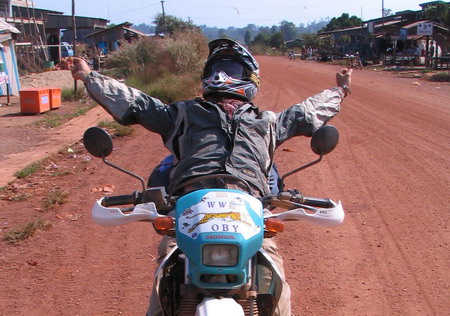 The road is in good condition most of the time, though the ride is a fairly dusty one.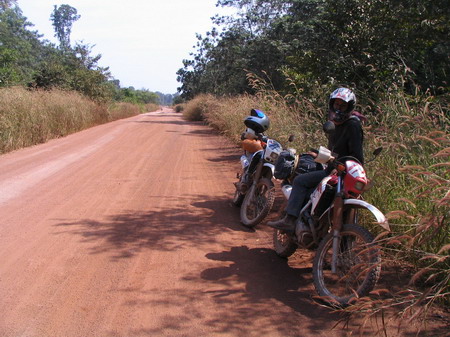 Myself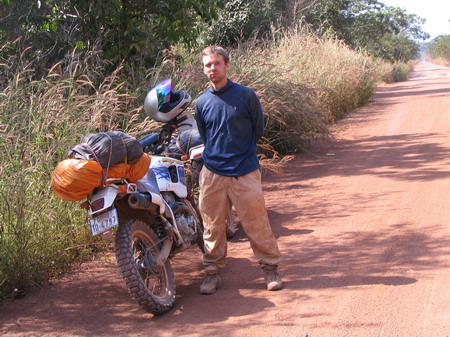 Becky and Toby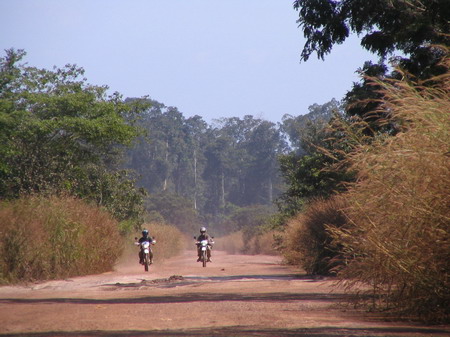 This is a few kilometers before we reach Snuol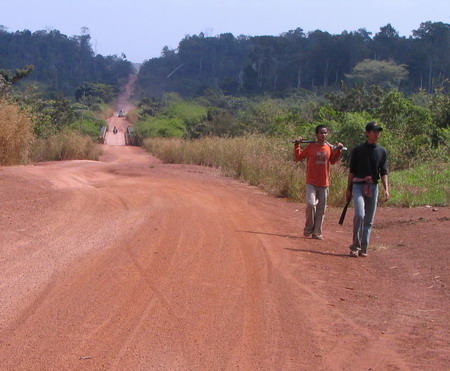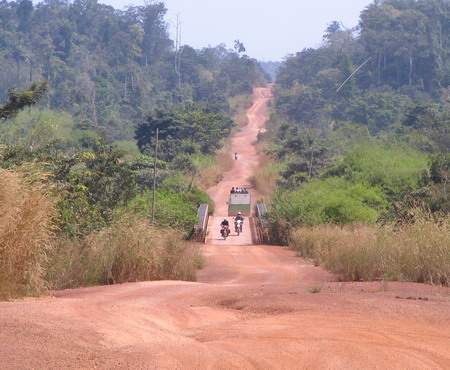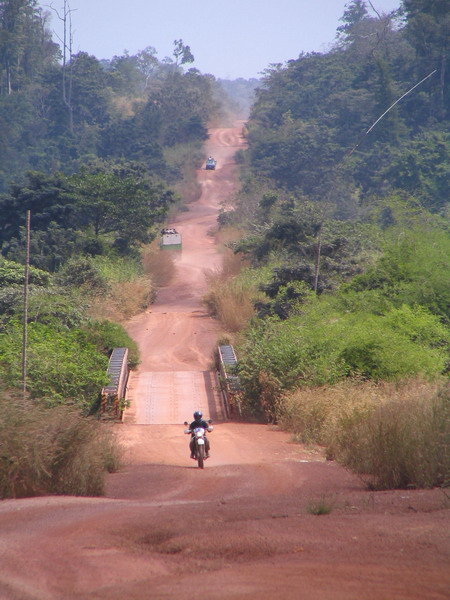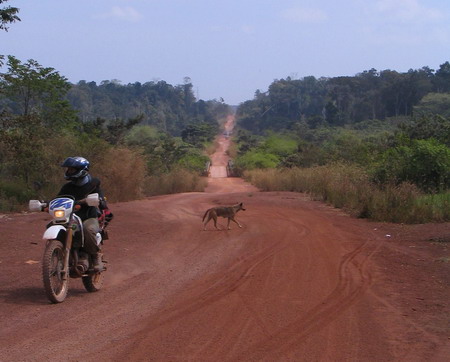 Shortly after we reach Snuol where we get on National Road 7. This road is in mint condition and has little traffic, allowing for traveling at top speed most of the time and this is what we do.
Break to fill up the tanks of the bikes.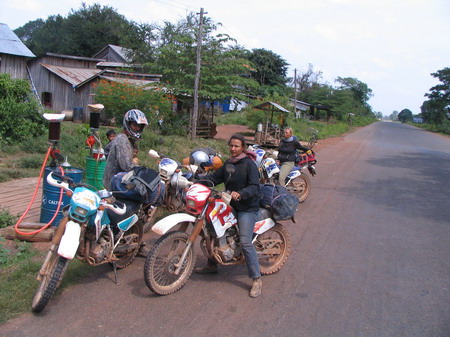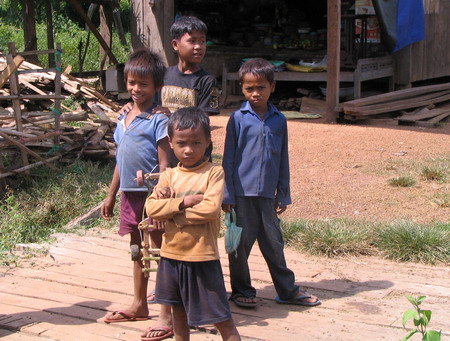 From here we ride to Memot, were we have a break and some lunch. A wedding is taking place and people have beautified the road side with colorful fabric.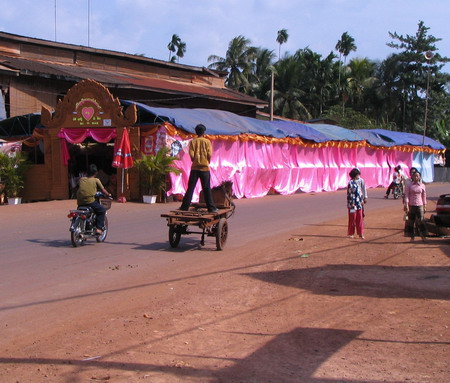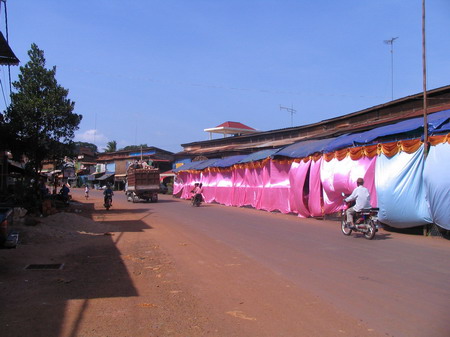 Children are flying kites in a neighboring street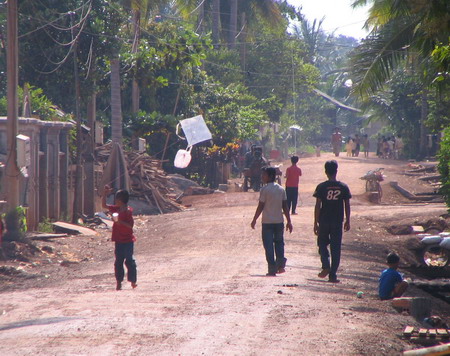 We keep riding towards Kampong Cham. At one point we come across this car which apparently has broken down. The driver has marked the spot with some wood only a few meters before and behind the car, and is in the process of repairing his vehicle right in the middle of the road.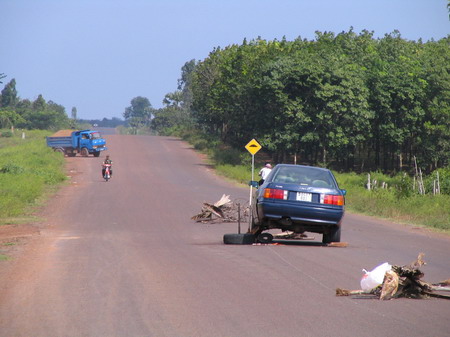 I am having some problems with my bike. The engine starts stammering and after a few hundred meters, turns off. After some minutes I manage to start again but a few kilometers later the same happens again. This keeps happening a number of times. Its not the petrol since the other bikes are ok. I figure that the pipe between tank and engine is clogged. At some point we find a mechanic and stop to have it fixed. We use the chance to also clean the air filters of all bikes which are very dirty.
Roadside repair shop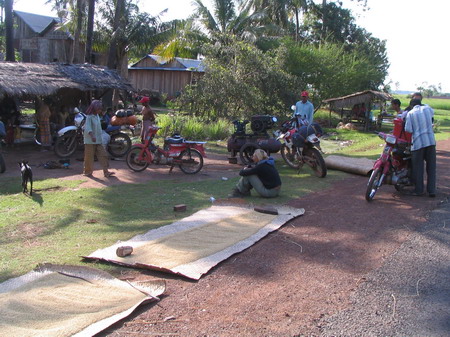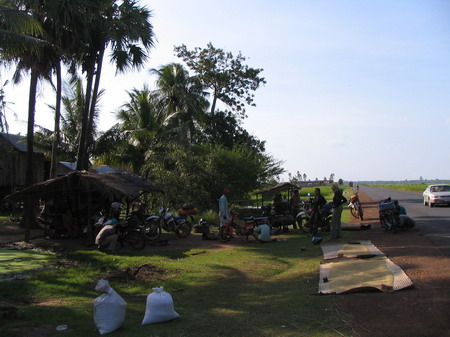 My bike and young chicken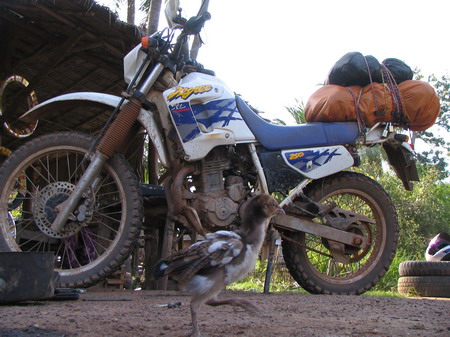 From here it is only a few kilometers before we reach Kampong Cham. We turn left (south) a few kilometers before Kampong Cham and follow Provincial Road 11 through Prey Veng. This road makes for a very nice ride, certainly compared to alternative National Roads 6 and 7. It is narrow but paved and leads through rubber plantations. We reach Prey Veng town, fill up the bikes again and continue, passing by the Ba Phnom area, follow the road along the Mekong River until we reach Neak Luong.
We realize that we are on a tight schedule if we want to make it to Phnom Penh before dark. We are lucky and manage to get onto the ferry right away.
However, National Road 1 between Neak Luong and Phnom Penh is in regrettable conditions, very narrow and bumpy and on top quite crowded. Accordingly we are traveling significantly slower. Inevitably, the sun is setting down and we are riding the last few kilometers to Phnom Penh in the dark.
We ride straight to the posh Foreign Correspondents Club at Phnom Penh's riverside, were we have food and drinks and celebrate the exciting trip and the fact that we made it without getting hurt or lost.