During the last days I went by moto a few times through the streets to take some pictures. This happened during my lunch break or in the evening. There is, however not much apparent change on the street. The picture remains the same. People appear to be doing what they usually do. Maybe a bit more silent or carefully than on other days. There is still significant police presence which has rather increased during the previous days. People appear to ignore police, however, most people seem to be very aware of that there is police. And many of them seem to question the legitimacy of those measures to discourage demonstrations and protest.
It is getting boring and after this I stop presenting pictures of police cars and motor bikes.
Maybe I give a few comments on how the situation develops. Preliminary election results by the official body NEC indicates 73 seats for CPP, 26 seats for Funcinpec and 24 seats for Sam Rainsy Party. CPP released very similar results. However, those results are contested by both Sam Rainsy and Funcinpec and they condemn the NEC for issuing these numbers. The official result is due only on 8th of August. Funcinpec and Sam Rainsy appeared to be
The dilemma is the following: the CPP did not get enough votes to form a government on their own. That is, they need a coalition partner to form a government according to the constitution. At the same time both parties Funcinpec and Sam Rainsy made clear that they would be willing to form a coalition but not if Hun Sen becomes prime minister. Sam Rainsy even came up with a plan for a three party coalition government, in which the current president of CPP would become prime minister and Sam Rainsy his deputy. Since the CPP president is an old man, Sam Rainsy would likely be the one who controls the government. Funcinpec and Sam Rainsy appeared to be quite united shortly after the election but this seems to change already. According to today's news, all Funcinpec ministers of the current government already signed resignation from the government. Hun Sen made clear in this case all of them would immediately loose all their salaries and privileges. This is a sensitive point at Funcinpec, because they spend quite a lot of money but do not have much. So they rely on CPP money. Hun Sen made also clear that he would see any attempt by Sam Rainsy and Funcinpec to form an interim government would as attempted coup and use violence to prevent it from happening.
Most mainstream election observers indicate that they take the election to be some sort of free and fair. This is important because without them confirming the election results the outcome of the election would not have much credibility. However, there really is ample room to question whether this election has been free and fair, even in the absurd Cambodia context.
However, Hun Sen made very clear that he does not intend to step down. He even claimed in a rather feudal manner" I am the government". So if he does not have enough seats to govern with only his party he needs Sam Rainsy or Funcinpec to join the government.
There are not many options to overcome the deadlock. In a very similar situation after the 98 election the king stepped in and made both Hun Sen and Prince Ranariddh his prime ministers. This happened only after long weeks of political stalemate and massive violent demonstration in Phnom Penh. However, Ranariddh won the popular vote and Hun Sen just did not want to give up power. More grotesque, he executed a coup with which he (the prime minister without the popular vote) ousted Ranariddh (the prime minister with the popular vote. Later on Ranariddh joint the government again for various reasons.
This time, the king had strongly indicated that he would not step in. So I am not sure what the remaining options are to form a decent government. I think either Funcinpec or Sam Rainsy change their mind or there might be a constitutional amendment enabling Hun Sen to govern without the two thirds of the vote. For the time being Hun Sen expressed that he would continue business as usual, with or without Funcinpec.
I found the following web page to be a helpful resource for relevant and up to date articles on Cambodia from various sources: http://www.thecambodianews.net/.
This is Tuesday at lunch time. Sam Rainsy headquarters seems to be doing fine.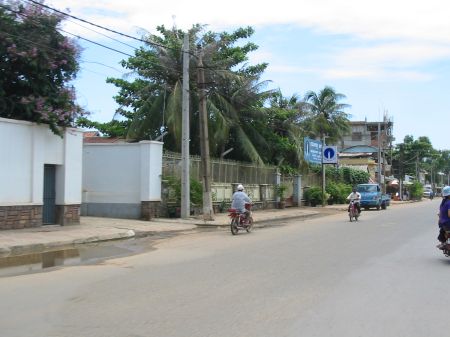 Still, there is quite some police around at Hun Sen park. Hun Sen park is sponsored by prime minister Hun Sen and located along Sihanouk Boulevard between Norodom boulevard and Sothearos Boulevard.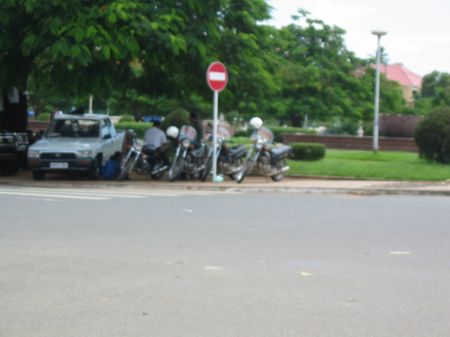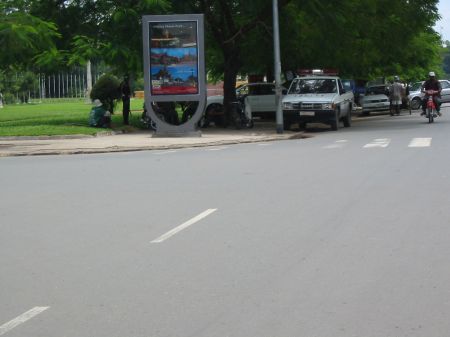 This is police at the Royal Palace close to the National Assembly.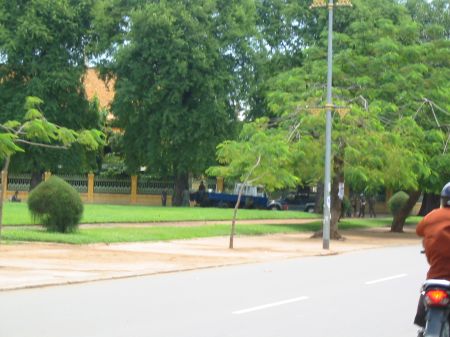 This is opposite from the Royal Palace at the Mekong River.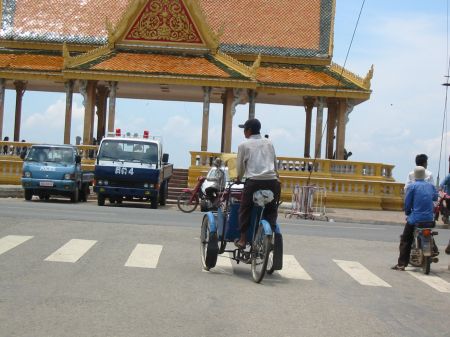 Between Royal Palace and National Museum.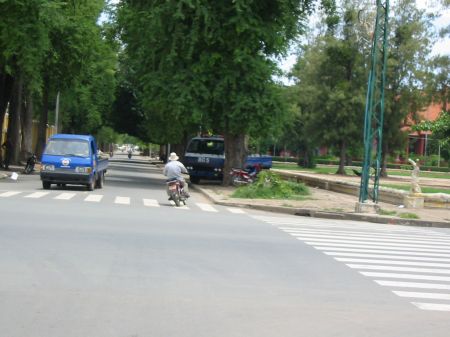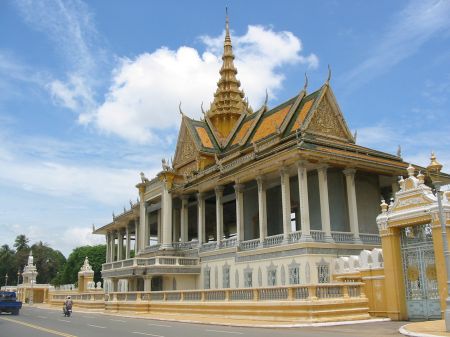 Police at the south side of Royal Palace.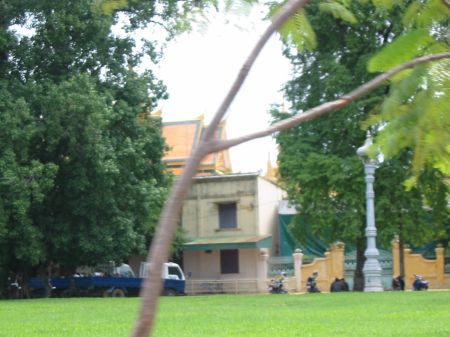 And at Sihanouk Boulevard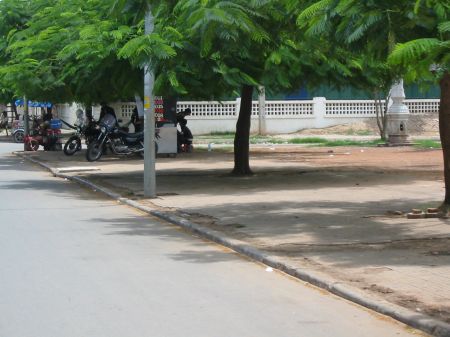 The following is Wednesday at about the same time. I save my comments since there is not much change and the places are basically the same.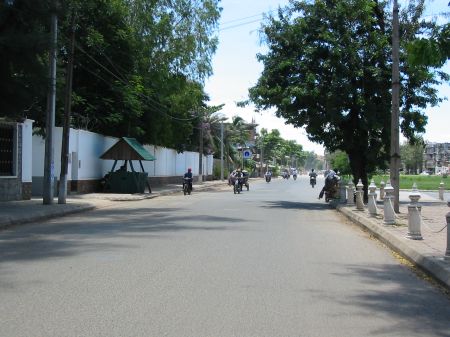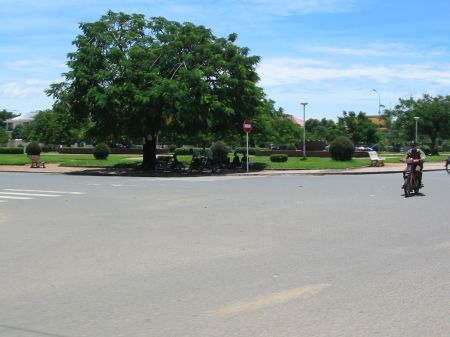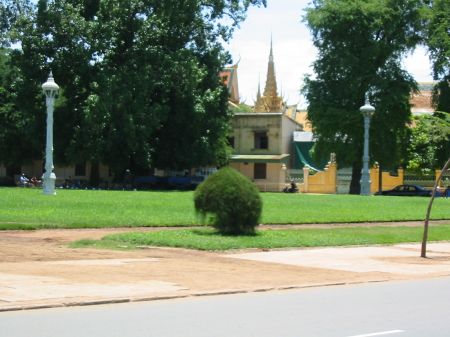 The Ministry of Justice is located almost in the middle between Royal Palace and National Assembly.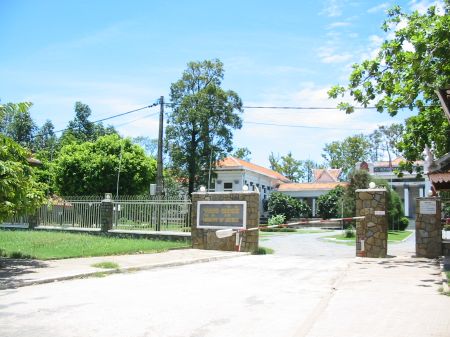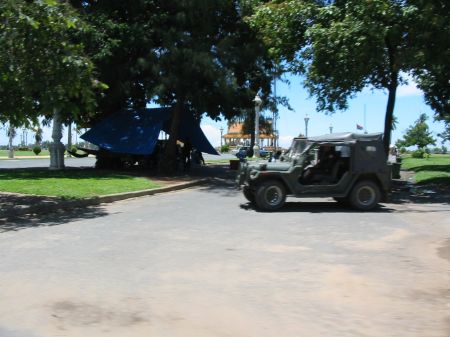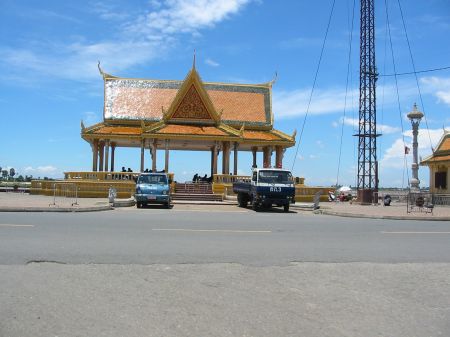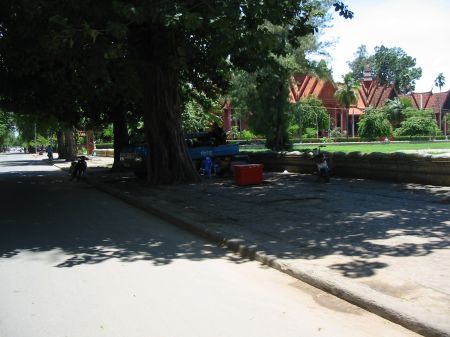 In the evening I went with one of the moto drivers through the city. I have not been doing that for some time and was surprised to find that many people are out to enjoy themselfes one way or the other. Phnom Penh people seem to enjoy their motos very much and in the evening many people go on a cruise with their friends. Traffic is not very hectic in the evening but rather slow. Again, this traffic seems to consist not so much of people traveling from A to B but of citizens just cruising the city. Particularly young people. We spend quite some just floating around with all the other peoples on their motos. We passed through all areas of the city and finally ended up in this Khmer restaurant close to the riverfront, where we had some food.
This guy came from the country side to Phnom Penh after he finished high school. Since his family does not have much money this was possible only because he could live at the Pagoda. He has been living there for about 8 years, 6 of those years as a monk and according to strict rules. He quitted when he started to study Tourism about two years ago. After his study he wants to go back to Siem Riep to start a business. He likes to live in Phnom Penh but does not have 'relationships' (family) here.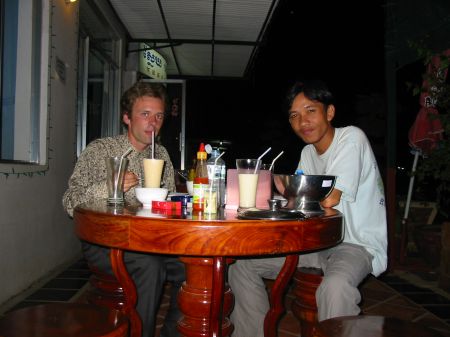 The following picture are taken only a few hours ago (Thursday evening) from the Monument of Independence.
The temple in the background is Wat Lanka, close to where I live.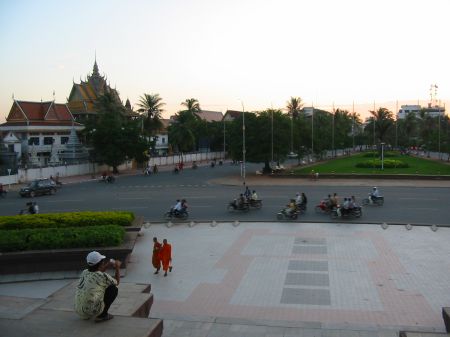 This is to the south.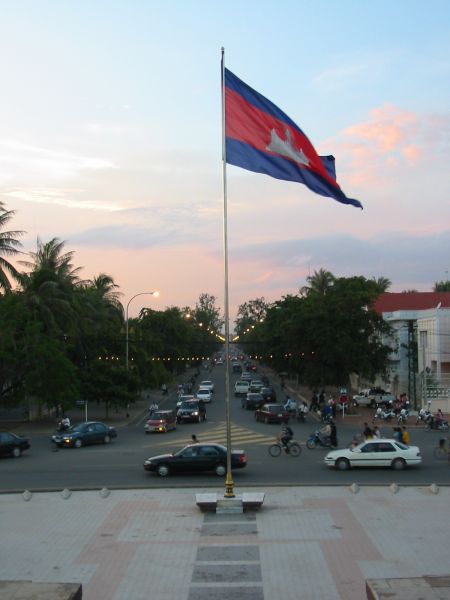 This is Hun Sen part to the east. Behind the park is the Mekong River.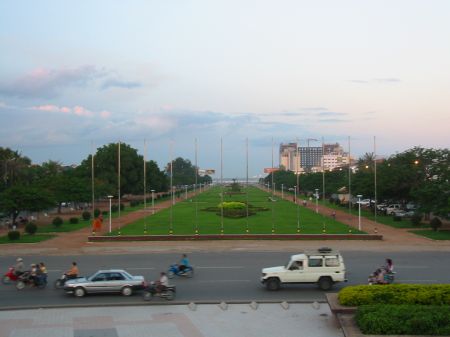 This is one of Hun Sen's residences.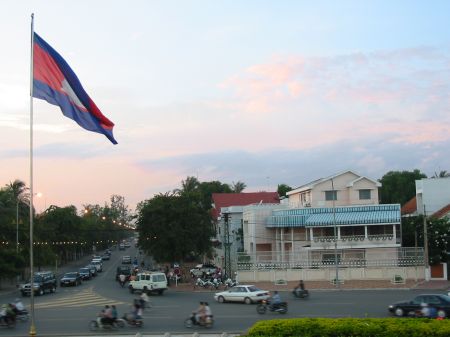 Those are mostly Phnom Penh people enjoying their motos.