This is the report of my second trip to Rattanakiri. Unfortunately I did not even complete the article about the first one. Due to the fact that I am leaving tomorrow again I try to make this short and get it done quickly. It is not likely that I will find time after this field trip, since I will be busy analyzing the collected data and writing my final report. This leads to another consideration: I think it would be interesting to include reflections about my work in this article here. However, I will have to write my final report with exactly those reflections. Therefore, I do not want to double my work and make this a article primarily about traveling with more general information. I am more than happy to provide the countless minutes I take or my reports once they are finalized. For better readability I will divide this journey into a number of smaller reports.

Just like last time we left early in the morning with the mini bus from the port. This is where both boats and taxis usually leave to the northeastern provinces.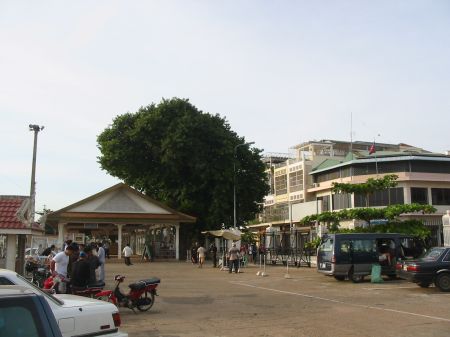 This is on the road to Kompong Cham in the morning. The pick up truck with all those people on it is a fairly common sight. It looks very dangerous to me and I think it is quite risky. However, I did not witness any accidents so far which involved such a vehicle.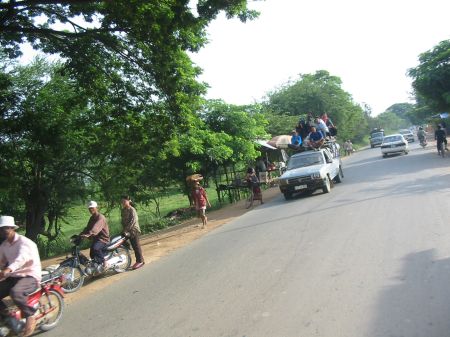 This was a very strange sight to me: A number of monks in front of a new pagoda under construction working hard and burning stuff but I do not know what.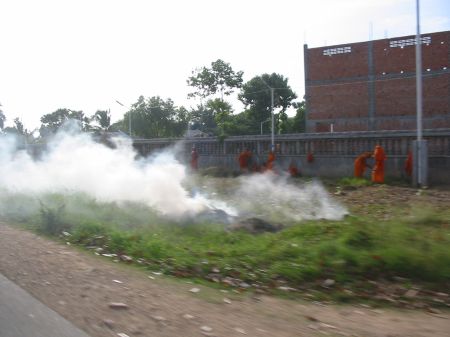 Another strange sight: I never saw such a car on any road in Cambodia. It is hard to image a car more ill suited for the traffic conditions in this country.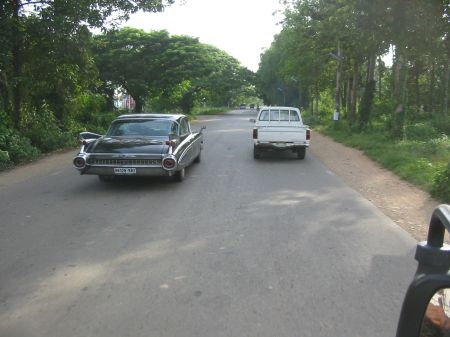 This is the center of a district town somewhere between Phnom Penh and Kompong Cham town. Those vehicles are among the most common means of transportation for common people. This is used not only to move people but all sorts of goods in a frequently very risky manner. Given the high speed and the chaotic driving behavior on the road an accident involving one of those vehicles cannot but cause dramatic situations.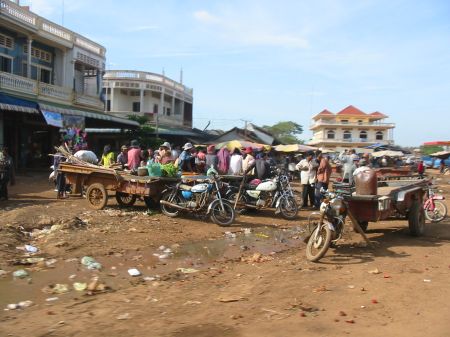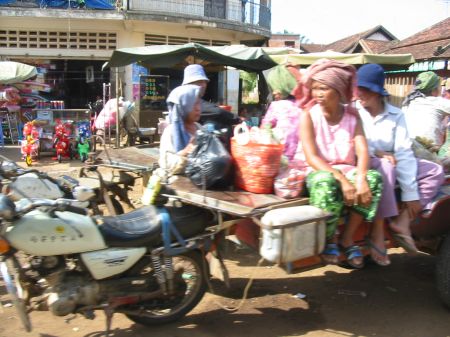 This is taken from the Japanese Bridge in Kompong Cham. To the right at the banks is where boats arrive coming mostly downstream the Mekong from the northeastern provinces, Laos or Vietnam. There is a considerable number of fishing boats.
To my knowledge there are only two modern bridges like this in Cambodia: this one and a very similar one which is located in Phnom Penh. Interestingly, both are called Japanese Bridge and both are constructed and financed with massive Japanese support. I wonder on occasion how much influence Japan actually exercises in Cambodia and it seems to be quite significant. And sort of partisan. The Japanese election observer team was the first to announce that the election was free and fair. (Until recently I thought it was the European observer team, which was the biggest and I was wondering whether all these observers are actually from Italy. Was that the impact of the Italian presidency over the European Union?). However, there where many accusations in the newspaper calling the Japanese position biased. Moreover, the Japanese ambassador and the leader of the Liberal Party in Japan (which is heading the government) have made very clear on occasion that they would like to see Funcinpec party changing their mind and agree to form a government with Hun Sen.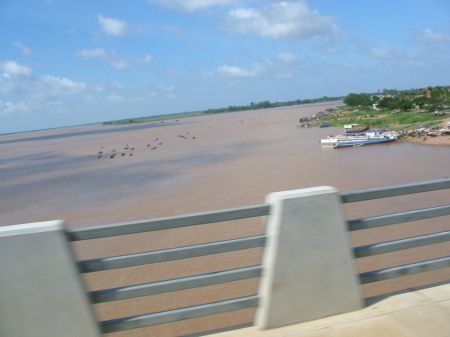 This is the national road in one of the urban centers of Kompong Cham province. Kompong Cham is the province with the biggest population. It appears to be more urban and wealthier compared to most other provinces. Kompong Cham has 18 seats in the National Assembly. It used to be a Funcinpec stronghold but during the last election there was a dramatic fluctuation from Funcinpec to Sam Rainsy party. CPP has actually increased their share but not significantly so. Kompong Cham is not so far from Phnom Penh and the road is in an excellent shape.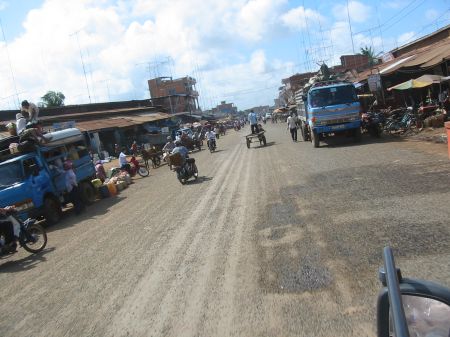 This is the short cut from Kompong Cham to Kratie. This is road is what is people call red soil road or dusk road. It is good quality as long as it does not rain.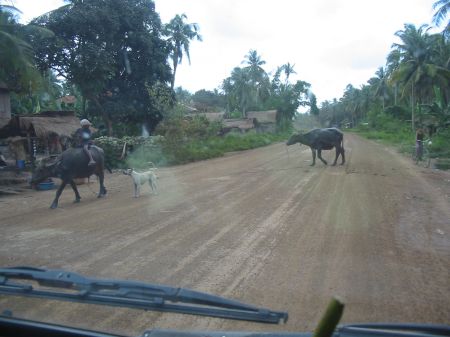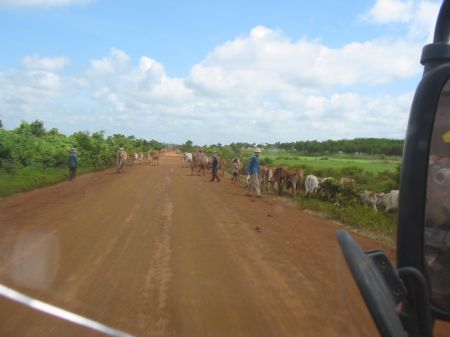 Those are buffalos, a highly valuable possession in Cambodia. They provide powerful labor in the field allowing higher productivity.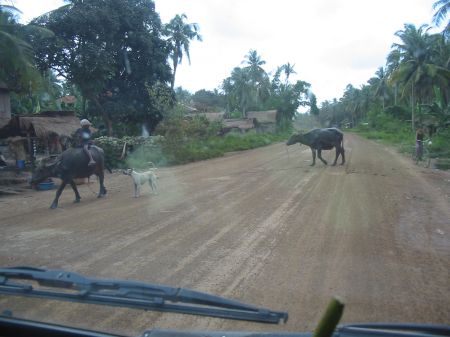 We arrive at the port in Kratie early enough to catch the speed boat to Stung Treng. Those stairs lead down to the place where boats approach the port and passengers enter and leave the boat. People are doing there laundry and having a bath. Bathing is taken very serious by most Cambodians. The general rule is that man bath in public while women do not.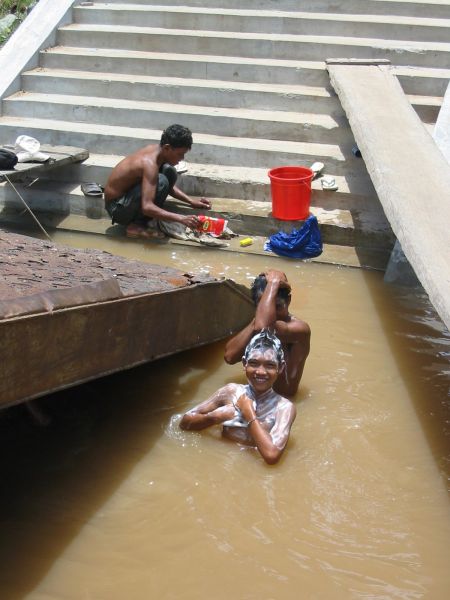 This is at the banks of the Mekong River not far away to the north from Kratie. Many people here make a living with fishing. Fishing is a common occupation among Muslim Cham and Vietnamese. Due to the location close to Vietnam it is mostly Vietnamese people who fish here. However, there citizenship status is highly uncertain. They live on boats and do not settle permanently. That leaves them with the option to escape to Vietnam in case they are subject to prosecution, which has happened several times in recent history.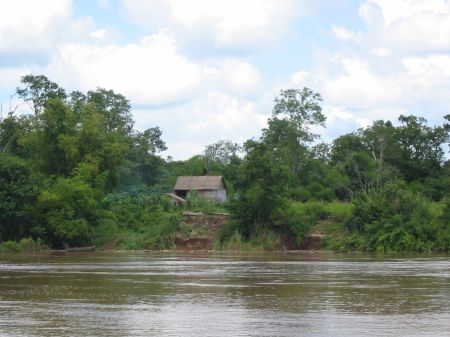 Most Cambodians like to travel inside the boat. However, I prefer to sit on the ceiling. I share this preference with most Western tourists and there are always a few of them on the boat.
My co-traveler, who spend his time inside told me later that there was massive smell of petrol inside and that some people started panicking because they where afraid the boat might explode and the boat sink. This by the way has happened between Phnom Penh and Siem Reap some time ago.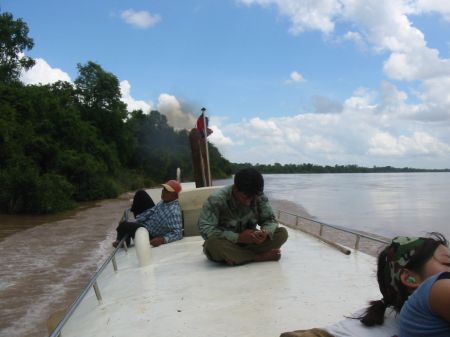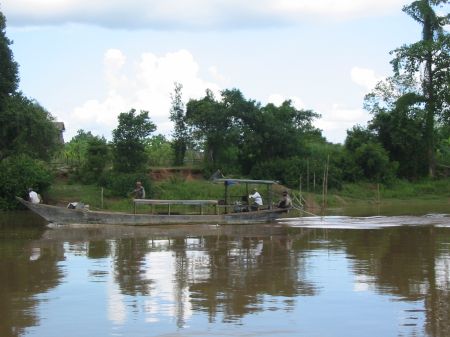 Even out here in the wilderness the next pagoda along the river is never more than a few kilometers away.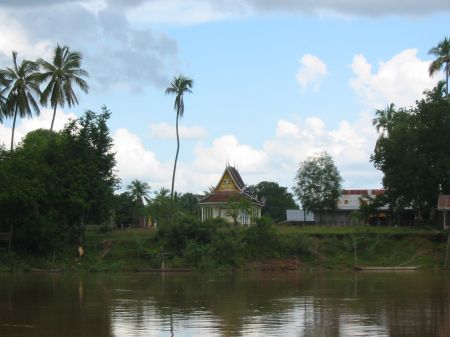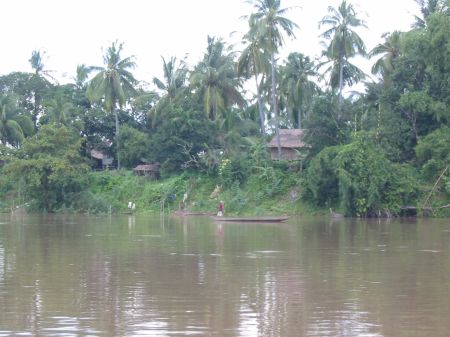 Those are bigger boats at the banks shortly before we arrive in Stung Treng town, which is the provincial capital of Stung Treng province. I saw on occasion that timber is moved from big trucks and loaded on those boats.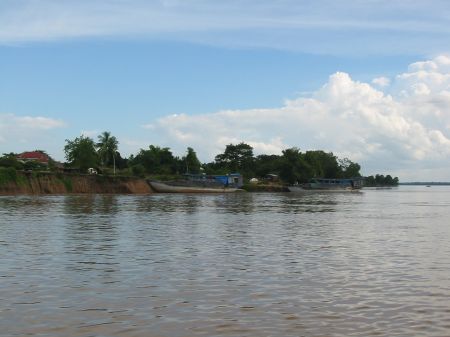 This is the crowd on the roof of the boat. Last time it was fewer people sitting outside and I figured this might be due to what was going on inside the boat.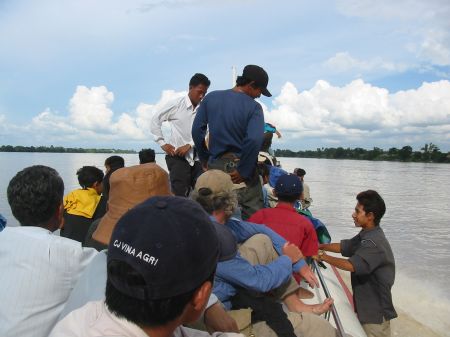 This is the port in Stung Treng. I like this huge tree. At the bank covered with blue tarps are what is called fast boats. Those are used to cross the border to Laos and really they are fast. And loud.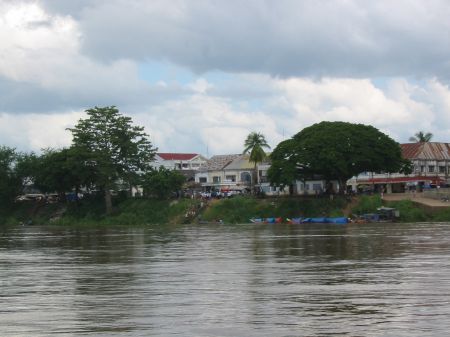 A crowd of people is waiting to offer all kinds of services, food and refreshment. And transportation to Banlung, which is the provincial capital of Rattanakiri. And this is where we are going.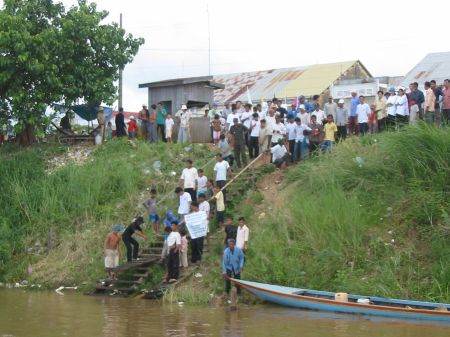 We hop on the truck. The translator prefers to travel inside, while I go for the back. This truck is packed with people and baggage.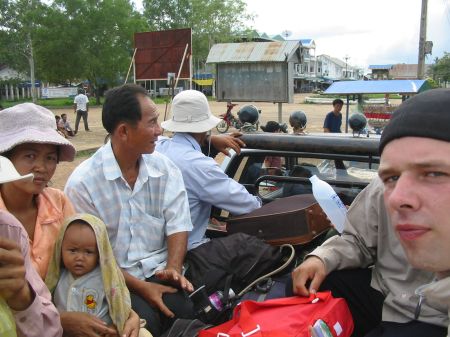 The spare tire is flat and we stop at the mechanic to take care of it.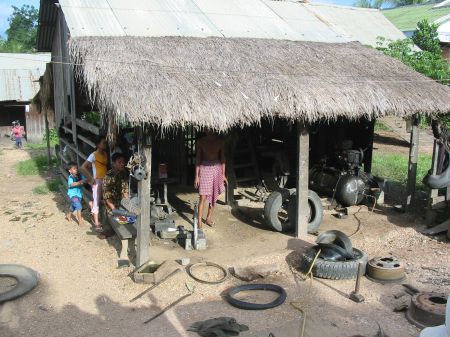 This is the spare tire.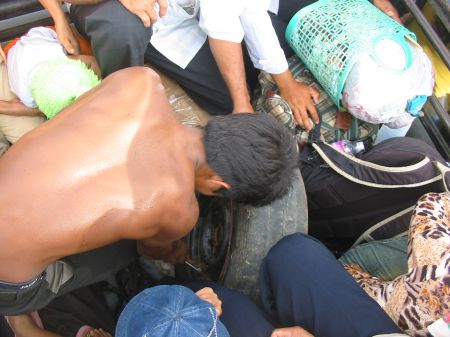 This garage is a petrol station at the same time, just like almost any small business at the road catering to passing travelers.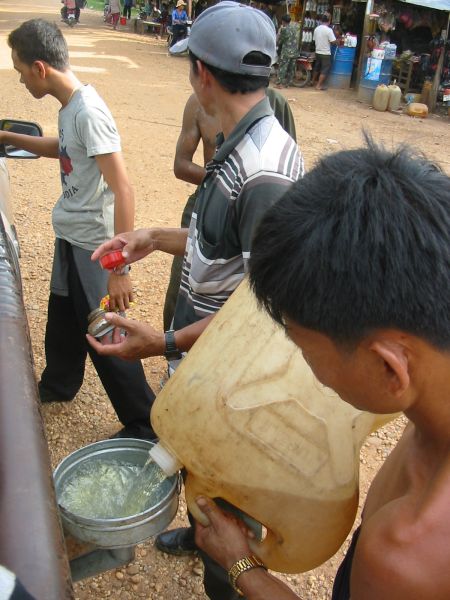 Those are some of the other people traveling to Banlung.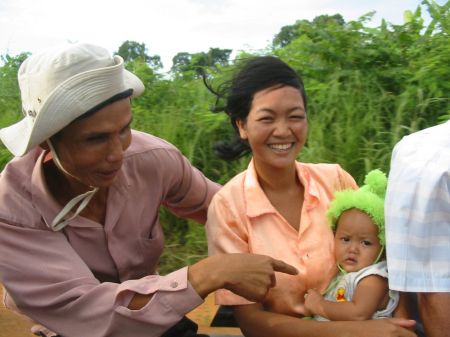 This is how it looks like most of the time. The forest gets cleared to allow for agriculture. This 'slash and burn' method is highly controversial.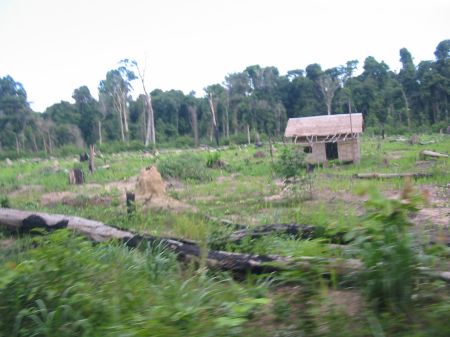 Once in a while we pass one of those huge trucks, which are made in Russia, I believe. I recall having seen many of those when I grew up in the Eastern part of Germany. Those heavy trucks do not do any good to the road.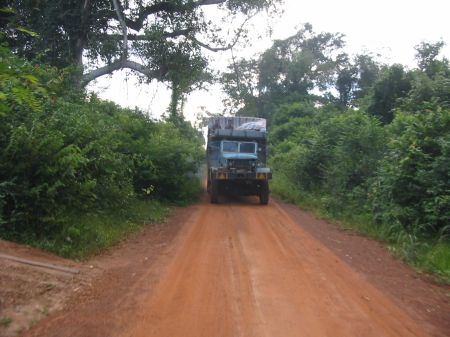 I manage to entertain the other people for quite some time with my camera.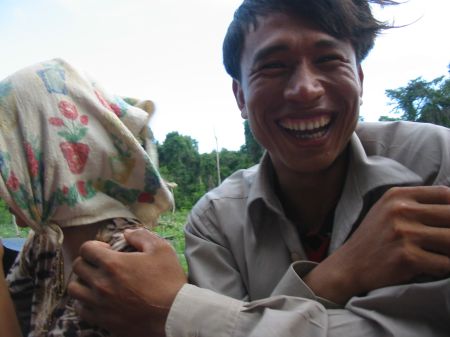 The road is in a pretty bad shape.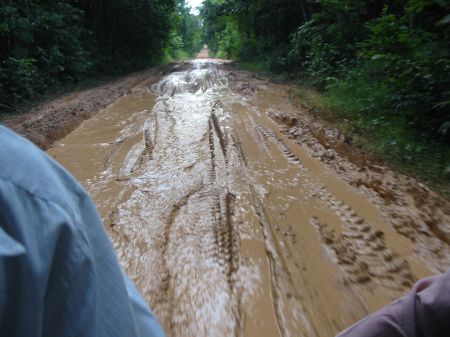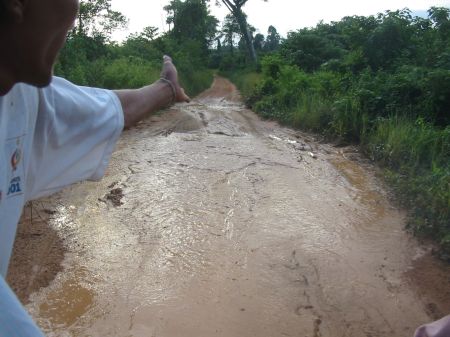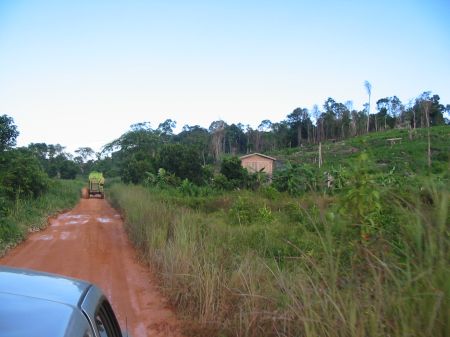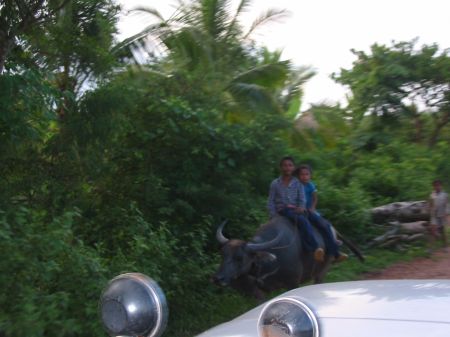 Once in a while we stop for a short break.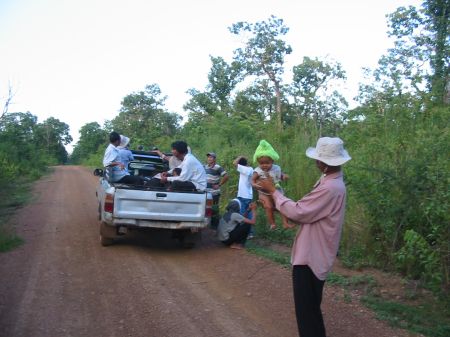 This is on the back of the truck, which is sort of crowded.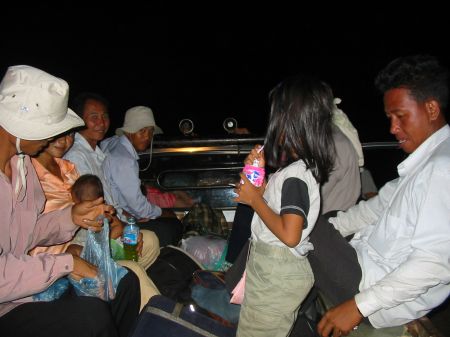 We arrive late at night in Banlung. We follow the recommendation of one of those people and choose the Mountain Guesthouse two in Banlung.