There are not many options for us to go to Stung Treng, particularly when considering our tight schedule. So we decide to rent a pick up and start very early in the morning, which costs us about $40 for the four hour ride. However, we thought this way we can meet the government representative there before the extensive lunch break and start conducting interviews as early as the afternoon of the same day.
We start at about 5 am, which really is very early for me. I do not get much sleep anymore anyway. So as soon as we sit in the car I try to go back to sleep again. Surprisingly the car is the same with which I made the trip from Strung Treng to Banlung when I came here the first time.
After we have been driving for some time we have some minor problems with the car.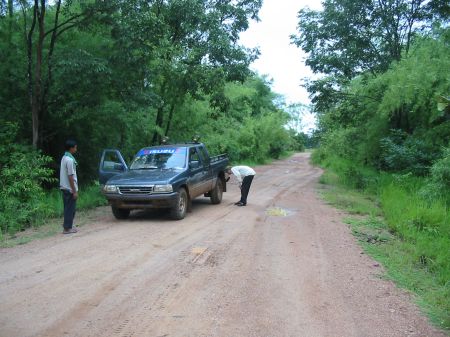 We arrive in Stung Treng at about ten a clock. Last time I slept in the Riverside guesthouse ($3 per night), but I did not particularly like it. Particularly because it is not very clean. So this time we settle for the Sekong Hotel ($4), which appears to be much more inviting.
Then we call the guys in the provincial government and go there to meet them. First we meet with a guy from the Provincial Department of Local Administration (PoLA) who introduces us to a member of the major UNDP project PLG which is working to support the government's decentralization program (Seila). This makes for some interesting discussion. However, the PoLA guy tells us that we will have to meet the governor of the province. This happened to me before in Rattanakiri. I have mixed feelings meeting such powerful people. Although it kind of pleases me to interact with the big shots I find it very stressful and do not enjoy it so much. Moreover, it tends to involve waiting, since those guys are usually very busy.
So we learn that the governor wants to meet us but do not have time right now and we have to wait. We are told that we can talk to him in the afternoon. This gives us some spare time, which I use to get another hour of sleep and to check my email.
Later I meet with the governor to go to the Governor's office. Before we have a short break at this riverside place.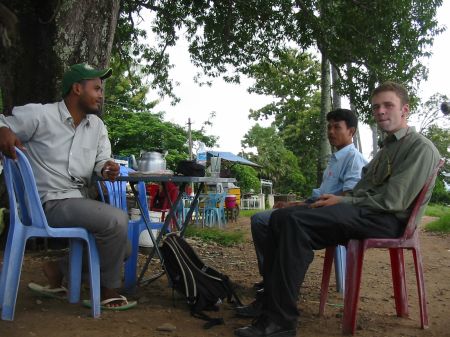 Our appointment with the governor is at 4 pm. When we arrive at his office we learn that he is still in the meeting and are ask to be patient. So we keep waiting. After we have been waiting for some time the meeting is over. Many tough looking people come out of the office, many of them in uniform. Than we can enter to talk to His Excellency. I am surprised to find that not just the governor is present but all of his four deputies as well. And they seem to be quite interesting in what we are doing in their province and we have a chance to explain. We are told that they support our project and encourage the PoLA guy we met earlier to give us company. I am kind of ambivalent towards having government officials present during my interviews. On the one hand it is very difficult to set up appointment and organize meetings without the local authorities. On the other hand most indigenous people are rather shy and governments have done terrible things to them. So it is not possible to get them to complain or even to make suggestions when the government is present. Moreover, it takes away credibility from my research. However, I am afraid to ask those guys not to give us company or not to attend my interviews.
I found it odd that the governor pointed out on various occasion that I do not need to be concerned for my security and he will make sure that we are safe. In fact I did not think what I am doing here is not secure but his persistent comments on my security make me more skeptical.
This meeting takes about 1 hour which is much longer than I expected. So afterwards there is no way we can start any kind of work. So what we do is to arrange the transportation for the next day. Furthermore, I realized that we ran out of money and we call our office to send some money to a local business, which works out nicely. Still later I check my email and walk around in town.