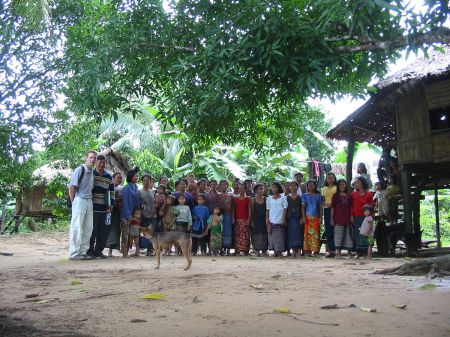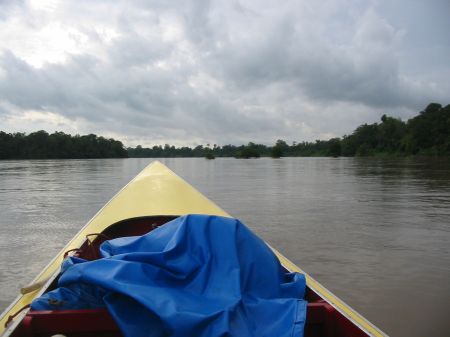 We spend the night in the house of a family. This is rather simple but lovely and it is nice to keep in touch with the local population. After we got up and have a Khmer style shower in the garden we have some breakfast. This is the kind of breakfast place frequented by Khmer people. Those places can be found all over the country and Phnom Penh is no exception. They offer good and very cheap food and this is the way most Cambodians have breakfast.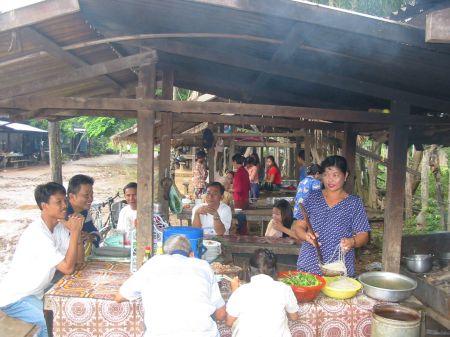 Then we take the boat again to visit one village inhabited by members of the Jarai group.
The discussion we have here is among the best I have had so far. And one of the longest. It lasts for about four hours and takes place in one of those huts. People here are very poor. Under the bamboo bottom of the hut I can see and hear all sorts of animals. Indigenous people in Cambodia enjoy smoking very much, particularly women and even children. This village here is no exception and I am amazed by how much they smoke and how strong their stuff is. I know it is cheap but of course I join and smoke quite a bit of cigarettes, too. I should not be doing that because smoking is not very healthy. Moreover, I share my cigarettes with all of them and sort of encouraging them to smoke even more. However, this gets my some sympathy and makes it easier for me to get a good and open discussion.
This is after our meeting. Really, all of those peoples participated and I still find it stressful to manage big groups of people like this. However, they were extremely warm and friendly. I got to shake so many hands and they where very thankful that I came to their village. From what they tell me there has not been a foreigner before. However, I do not want to raise their hopes since there is not much I can do for them at this point. So I systematically discourage them to think I might have money or influence or that I am here to save them.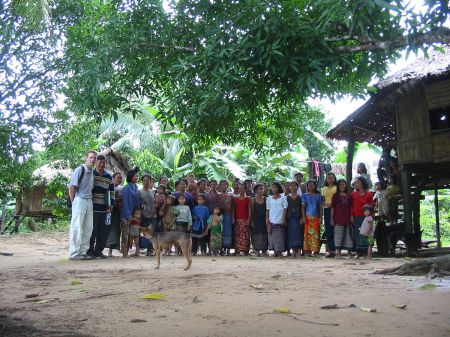 This is one of the more traditional huts.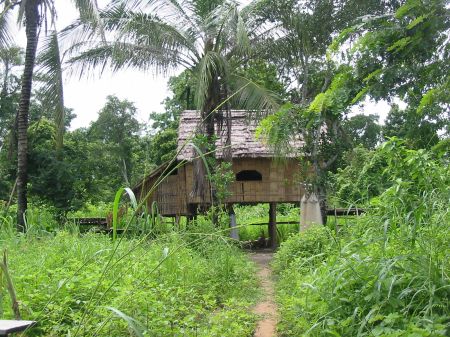 Another hut with Jarai family.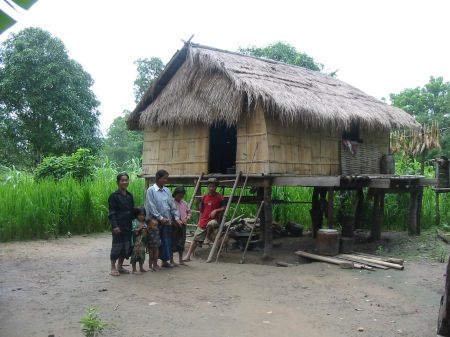 We go directly to the building used by the commune council were we conduct the next interview with the councilors. This is far less interesting and very slow. Those people seem to be very depressed. Although I do not want to go into the details I found the following remarkable. All the councilors are Jarai and their first language is not Khmer. However, every council has a clerk, which is appointed by the Ministry of Interior. Of course there is no requirement that those clerks know the local language. So what happens is that all the deliberations and discussion in the Commune Council take place in Khmer, which is not the first language of the entire constituency. I want to point out how much power this arrangement gives to this Clerk. He has no idea about the local situation, culture or language. And apparently he feels that those indigenous people are very primitive and the best thing that can happen to them is to become Khmer. Talking in their language is what he is likely to consider both backwards and suspect, since he cannot understand it. He is the only person here literate in Khmer so whatever is decided in the Commune has to pass him to make it up in the system. He has a strange understanding what in their culture is meaningful to preserve and with his position he can enforce it in a very subtle way. I found this particular clerk extraordinarily unsympathetic with his arrogant attitude toward the Councilors, which are actually democratically elected (well, more or less) whereas he is just appointed. However, this guy appears to be the gate keeper or bottle neck in the system to both participation of people bottom up as well as dissemination of information top down. I felt sorry for those people that they happened to get this guy in charge of them.
After we finished this interview we go back to the district town, where we have some lunch and later some rest. This is at the restaurant.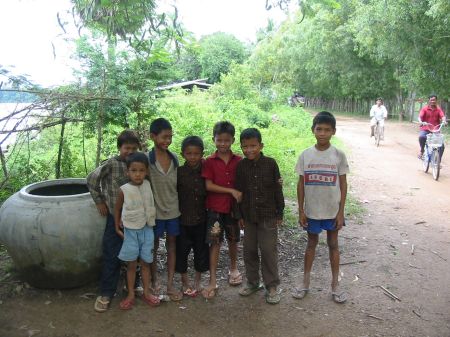 This is the house where we spend the night.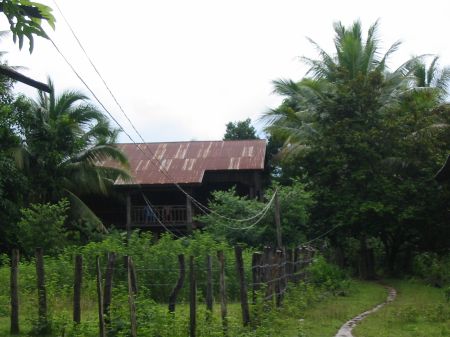 After a short break we start again to go by boat to the next council with indigenous people in its constituency. The distance is not very long but it is raining very bad and we are very wet by the time we arrive.
We find the commune council and learn that most of its members could not make it due to the rain. Moreover, they were not able to inform the only indigenous village in the commune (inhabited by people of a group called Lun). So we can only take what we get and have a discussion with the people who are present. This includes about three councilors and a number of local people, about four of them Lun. Given the persistence of this government guy to attend all our interviews this is a very unfortunate setting to conduct meaningful interviews. However, we try our best and after all it is not too bad what I got out of this meeting.
Afterwards we walk around in the village. There is nothing like a road here and buildings appear to be in a bad shape.
This, for example, is the local school building.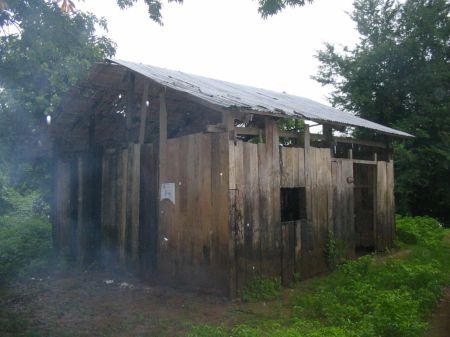 And this is the commune council building.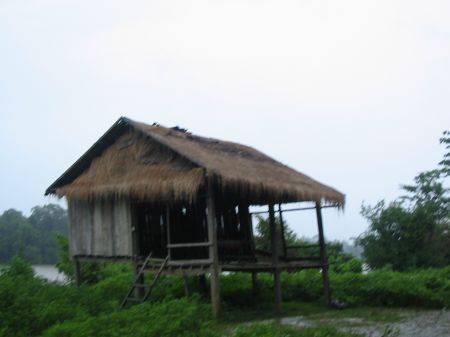 It is still raining. However, we decide to try to make it back to Stung Treng in order not to loose another day.
Sometimes it is raining very badly. Given the speed of the boat it very painful even to expose small parts of the skin to the water the keeps flying through the air. I am happy enough to have my rain jacket with me, so that the remaining rain coats in the boat are enough for all of us. And I got my sunglasses, which allow me to open my eyes a bit. However, it is impossible to take pictures. Only shortly before we arrive in Stung Treng the rain is getting weaker and finally stops.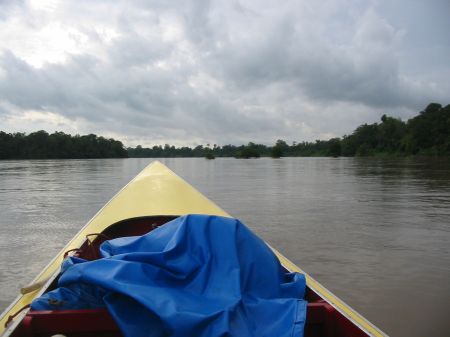 Some monks are having a bath in the Mekong.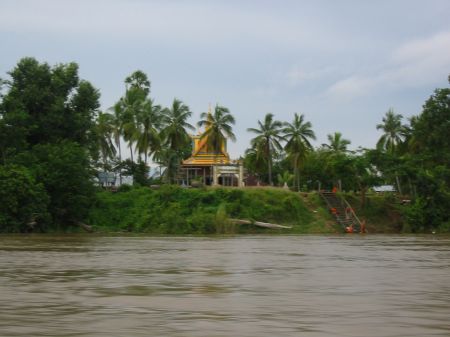 After I have gotten myself some rest I go out to walk a bit through the town. This is in the evening. Over there is the place where the Mekong meets the Tonle San.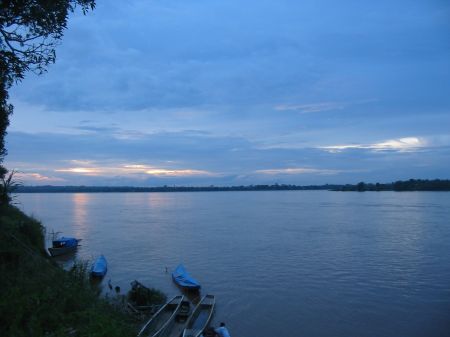 This is at the riverside where some moto driver have diner together.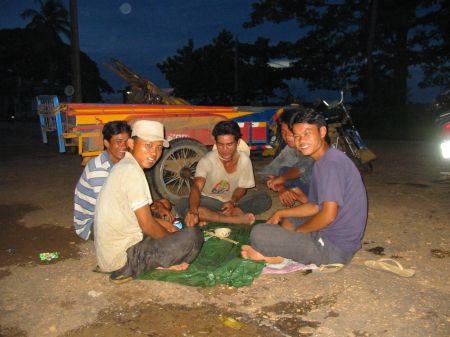 This is one of many local schools, with bicycles in front and many students learning English enthusiastically. This is what youngsters do all over the place. There are not many good English teachers available. The way it works here is that the teacher says slowly and loudly one phrase and the entire class repeat it. However, his English knowledge is rather limited. This is the case almost everywhere and Phnom Penh is no exception. People keep approaching me asking whether they can speak to me to practice their English. This makes for interesting encounters. Most young people I meet claim they study English. The lack of teachers leads to absurd situations. For example, it is enough to have a white skin to be accepted as teacher, even if the person in question is not a native speaker and even lousy in English. Many freak among the expat community can survive here just because of that. They easily get a job as teacher and survive without caring much for their student or the quality of what they teach. Many of those individuals really can survive only in an environment as dysfunctional as in Cambodia. Who looses out systematically are those students.