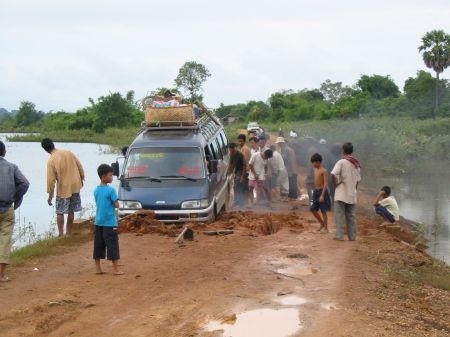 Today is Monday and the plan for today is to travel back to Phnom Penh. We bought the tickets the other day for about $15 for both of us. At about 7 am we get picked up at the hotel. However, a number of seats in the bus are still not occupied and we go to the bus station close to the market to wait for more customers.
Moreover, Reaksa forgot a pair of shoes at his friend's house and we need to wait anyway for somebody to pick them up. So we keep waiting at the station. Children and women try to sell all sorts of snacks and soft drinks.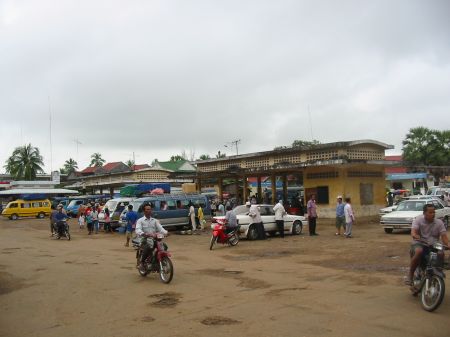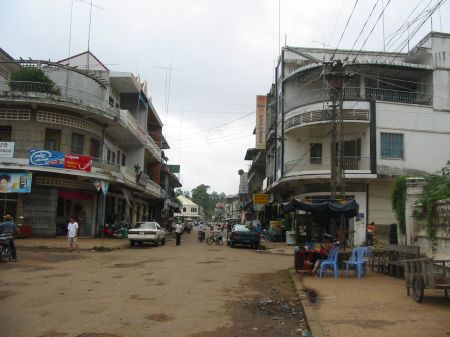 After about 45 minutes we are ready to go.
This is still in Kratie.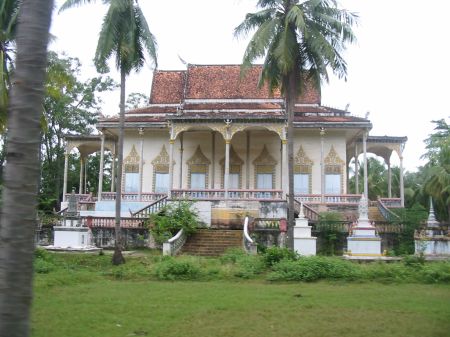 This is how it looks like when a new and modern pagoda is constructed. It is entirely made from concrete.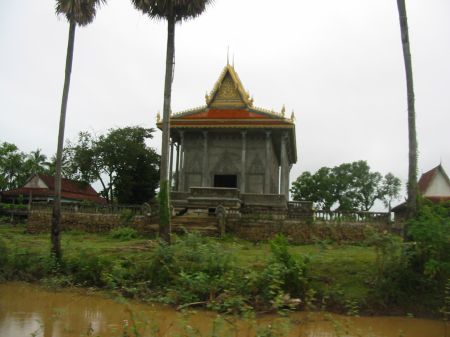 Earlier we where told that we will use the shorter route, which was partly flooded when we came to Kratie a few days ago.
This is about ten km south of Kratie. This stretch of the road is still flooded and we use this alternative route in order to pass it.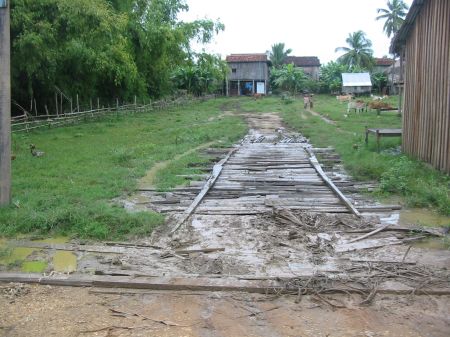 Before we reach the alternative road we get stuck on this private ground. Most people get out of the car to pull it.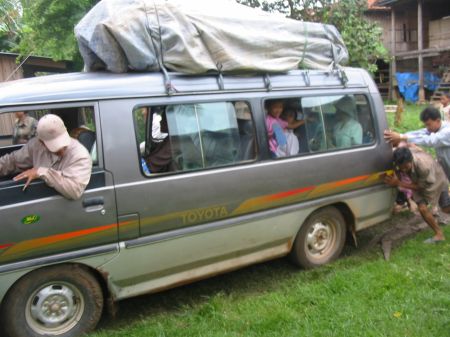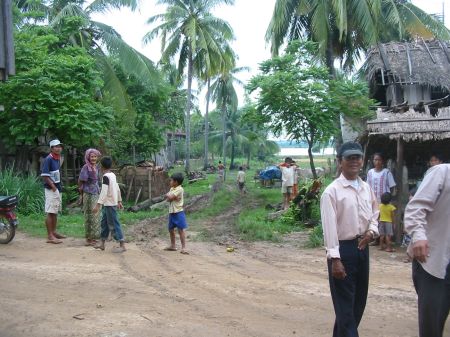 We drive through densely settled land along the river. This is when we pass thought the market.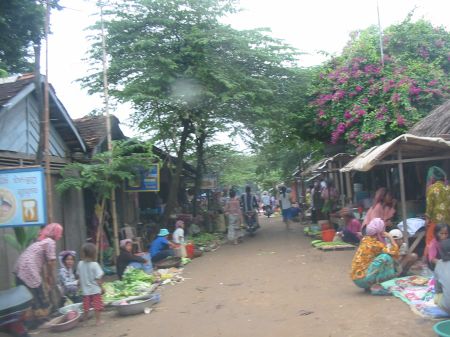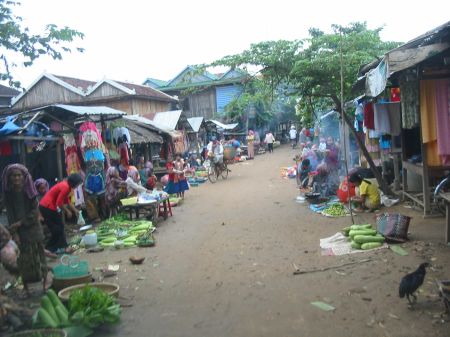 On a number of occasions we are close to get stuck again.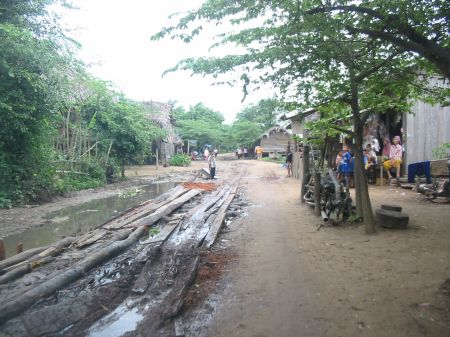 After some kilometer we pass private ground again to get to the major road, which supposedly is not flooded from here.
However, we reach a point where the road is on some sort of dam, which is quite muddy. A mini bus from the other direction got stuck here and a number of cars and busses are waiting to pass.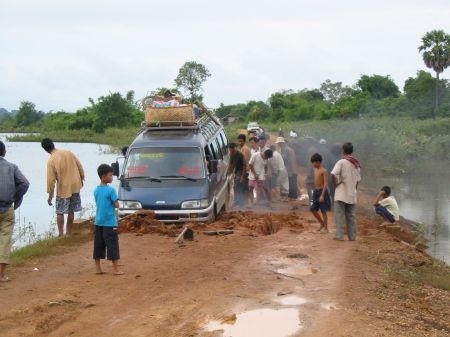 The driver of another mini bus had tried to pass this part of the road on the alternative road along the river. However, the car gets stuck at pretty much the same point.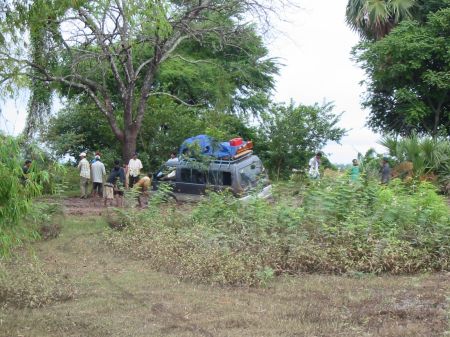 After some time people manage to pull out the mini bus.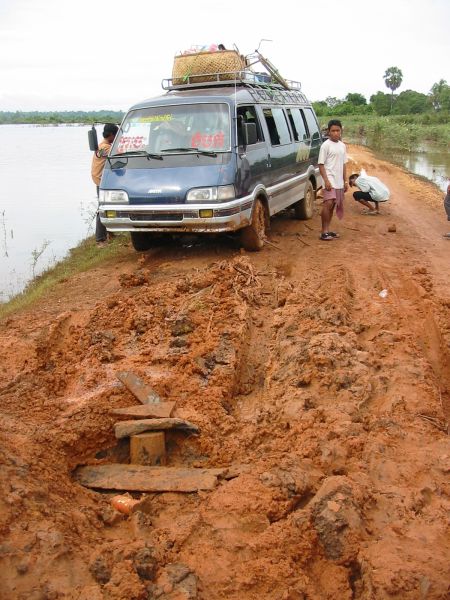 People in the other mini bus are not as fortunate.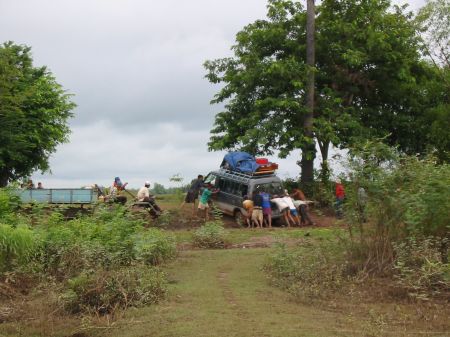 The road has gotten pretty crowded at this point.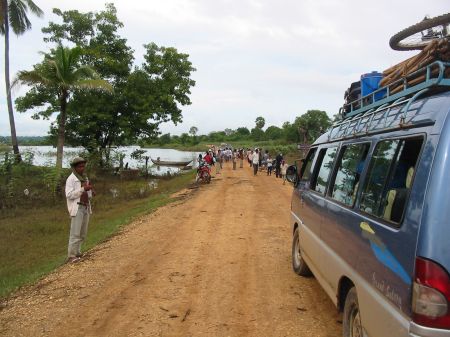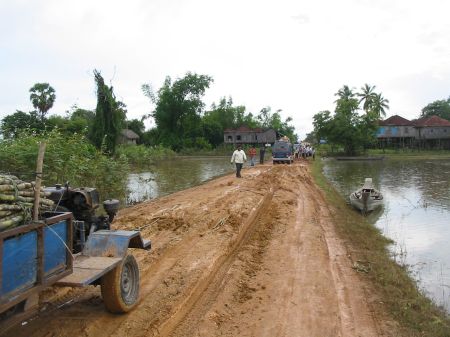 One of the driver uses the time to change a wheel on his vehicle.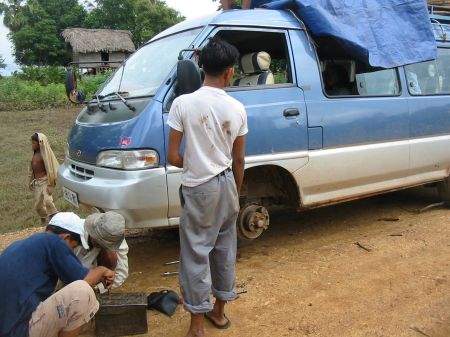 Some time later a cow cart arrives, with wood to bridge the worst part of the road.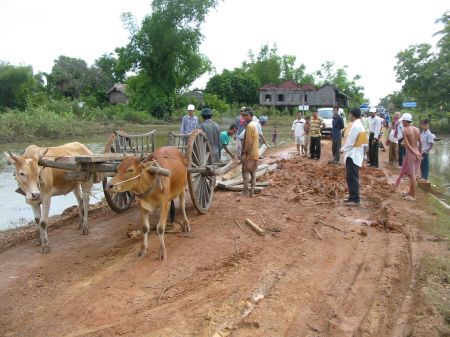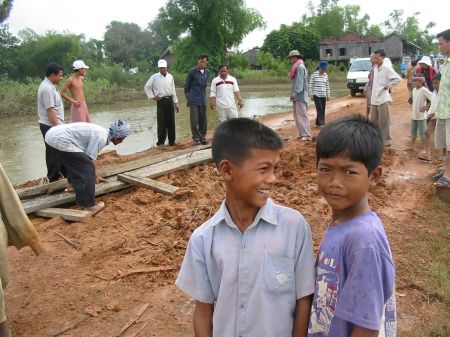 The driver of this jeep is confident enough to test the new construction.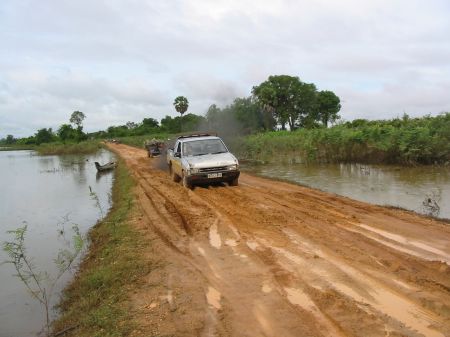 Unfortunately he fails to pass it.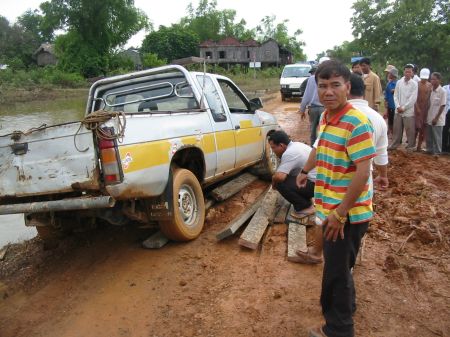 The position in which the car got stuck is not particularly helpful, since it is close to the water and next to the concrete construction.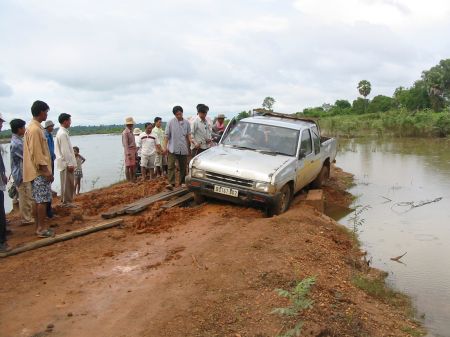 A good number of vehicles are still waiting.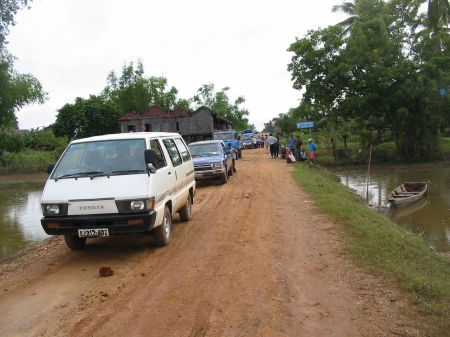 After people manage to pull out this jeep the construction work starts again.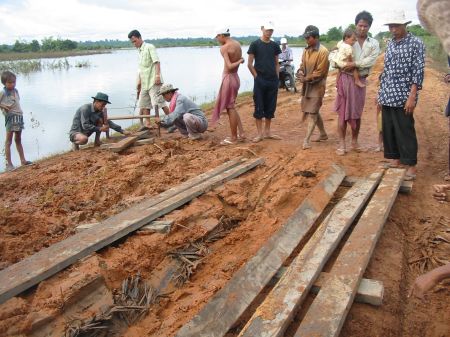 Many people are observing what is going on.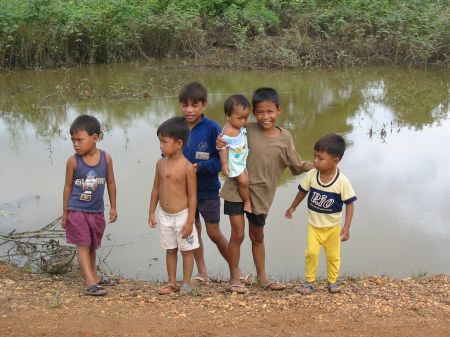 This time it works out and one after the other the waiting vehicles pass the construction. Local men who build the construction charge about 2000 Riel (50 Cent) per car for using it.
We pass many of those vehicles, which use what was a generator before as an engine. I heard people call it Hun Sen truck.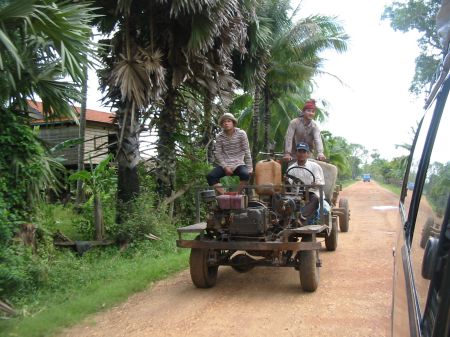 We do not get stuck again on the way from Kratie to Kompong Cham. However, roads are most of the time unpaved and in bad conditions.
This is when we are still in Kratie province. People are digging all over the place and a number of trucks remove the soil. I presume they dig for gems, which can be found in a number of areas in Cambodia.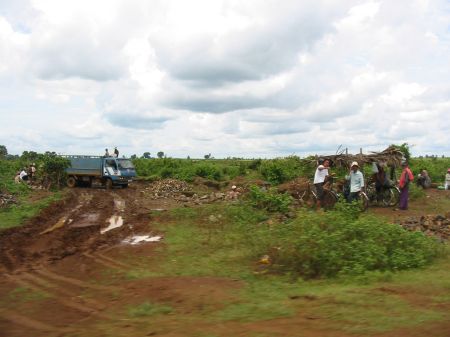 This is a temple located at the secondary road we are using and which is said to be the shortest distance between Kratie and Kompong Cham. At this point it is only few hundred meters before we reach the national road. This is already in Kompong Cham, shortly before we arrive in Kompong Cham town. Roads in Kompong Cham are generally excellent and allow for fast and comfortable traveling.
We stop for a short lunch in Kompong Cham town and then make it with only few breaks all the way back to Phnom Penh, where we reach in the afternoon. The bus stops somewhere close to the Central Market and I hop on a moto to get home. I arrive at about 4 pm.