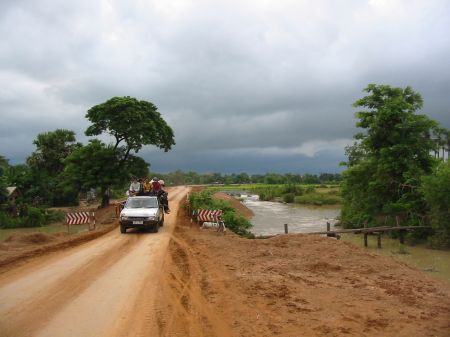 This is the last weekend before I go back to Germany. I did not have much vacation so far and manage to get a day off on Monday. I always wanted to travel to Siem Reap and to see Angkor Wat but unfortunately I did not yet get the chance to go. So I thought better one day in Siem Reap than not at all.
I have planned to go to Siem Reap by moto for quite some time. And I have tried to find somebody to give me company. However, I did not find anybody who had both time and interest to go. After all, it is a distance of about 350 km one way.
So I decide to go on my own. The plan is to leave Saturday early in Phnom Penh in order to arrive in Siem Reap early enough to buy the ticket and see the sunset. The next day would be dedicated to visit the temples. And on Monday I would have to travel back early enough to go to work on Tuesday again.
Saturday I get of at about 8 am and go to riverside to have breakfast. This picture is taken from the restaurant at the Mekong River, which is in the background.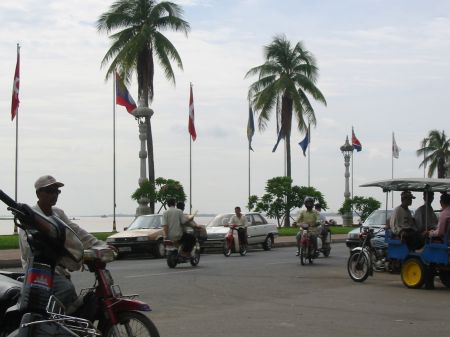 I have extensive breakfast. Then I take the moto dop to 'Lucky! Lucky!', my preferred moto rental service. The manager is not here today and I get to speak to his sister, which happens frequently. Usually he tries to give me the smaller bikes. However, she is very friendly and not as concerned about the bikes. Typically she is happy to give me whatever I ask for.
I came with the intention to get one of the lower (and cheaper) 250 ccm bikes. However, the lady tried to persuade me to take one of the bigger bikes. This is getting me into the area of the $8 bikes, which is still a fair price. Since I am choosing among the bigger bikes now I go for the biggest one available among them. After all, this is my last weekend in Cambodia.
The lady is still ok with giving me the bike. However, she informs me that it is $10 instead of $8 when the bike is driven outside Phnom Penh. I though this is still an ok price and I do not want to spend more time with negotiations. So I decide to take the bike and finalize the paper work. I bought some strong stripes the other day and take some time to fix my bag well to the moto. Then I leave to the north, to reach the road to Kompong Cham.
I have been traveling on this road before and thought this is one of the best roads I have been traveling on in Cambodia. I presume it is national road number seven, but are not exactly sure about the numbers.
As long as I am still close to Phnom Penh there is dense traffic which allows only for very low speed. Shortly after one crosses the Japanese bridge in the north of Phnom Penh it takes about 12 km until one reaches the first point where national police is monitoring the traffic. This usually means for the involved officers to collect bribes from bus and truck drivers. I have heard that tourists on big motos are easy targets for underpaid police men to extract some money. One of my guide books advises not to see the police in the first place, since it is too late after eye contact is established.
Since I am riding with a helmet with dark visor there is not much eye contact anyway. However, when I pass the spot two of the police men use their pipes, apparently to stop me. I am pretty sure that this was aimed at me but by that time I had almost passed them. So I just kept driving with the traffic without moving my head or reacting in any way to those signals. Only for a short time I am concerned they might be following me.
Going to Siem Reap it is important to leave this road at the traffic circle in Skun. This is about 50 km before one reaches Kompong Cham town. One has to turn left to get on national road six to Kompong Thom and Siem Reap.
Few km after I passed Skun I stop to have some food. I see this sort of restaurant, which does not look particularly charming.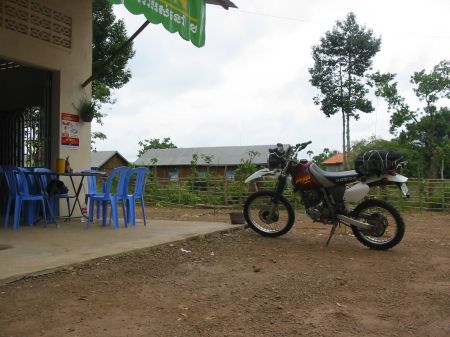 I order some fried noodles and a soft drink. A Khmer guy comes over to sit on my table. We start a conversation and it turns out quickly that he had spent some time in Germany. Eastern Germany. He went to Rostock to study mechanical engineering. And he speaks fair German with this funny accent they have up there. This guy is working as an assistant to a German physician who is practicing here in town.
An animal transport arrives some time later. A good number of pigs are tight to a rack and to each other in two layers on this truck. This is a good number of pigs. Those pigs are tight well to the truck, so that they cannot move. But they make a lot of noise, indicating that they are not exactly comfortable.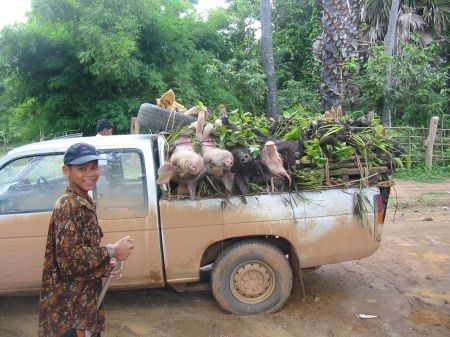 It is a hot day around here and the pigs are getting a shower.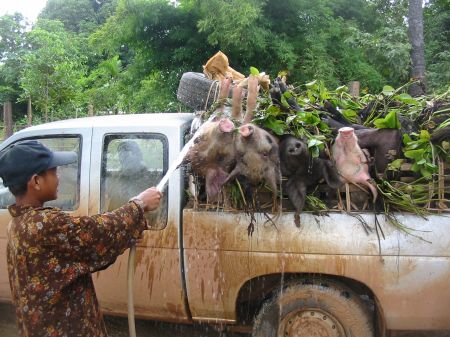 After some time, when the driver wants to leave again, the car get stuck. This does not come as surprise, since the truck is badly overloaded with all those pigs. People try reluctantly to free the car, but do not have much success.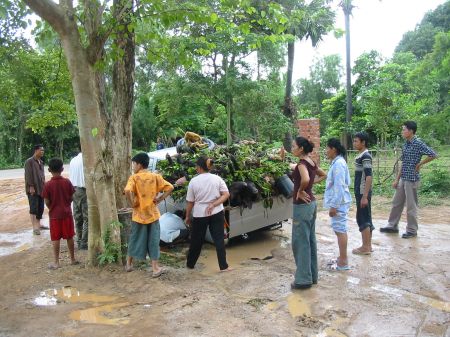 However, I have still a long way to go and leave without waiting for the final result of those endeavors.
The road from here is not as plain as the road through Kompong Cham. After only 20 km from Skun one reaches the border of Kompong Thom province. Not only is the road not plain, but on a high number of relatively short stretches it is not paved and very bumpy. There are not as many cars on this road as there are on national road 7. Together this makes riding the motor bike an enjoyable affair. Whereas cars have to reduce the speed significantly to pass the bumpy distances with the moto one can travel with more steady and relatively high speed. And I know that I still have a long way of about 170 km to go.
I stop only few kilometers before I reach Kompong Thom. This is how the road looks like around here. This is what is called dust road and is comfortable in the current condition, when it is not too wet.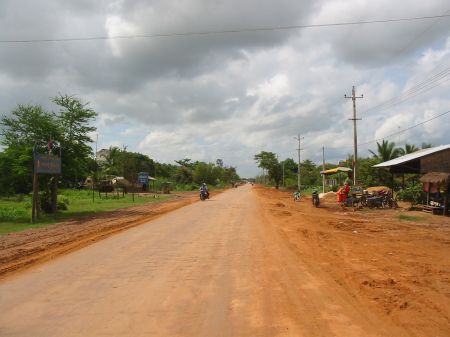 This is the moto, when it is still fairly clean.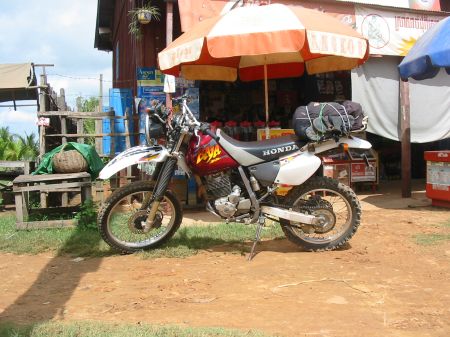 I keep driving and pass Kompong Thom provincial capital. Shortly after passing the town one has to turn slightly left in order to stay on the road to Siem Reap. The road is getting better. It is mostly paved and pretty even, partly without any potholes. Moreover, there are only few vehicles on the road. So I can travel with fairly high speed.
Maybe about 30 km later it looks increasingly like it will start raining soon. When it starts raining I am getting wet a bit but manage to make it to this small restaurant like business at the road. People are very friendly and provide me with some plastic to cover my bag on the bike.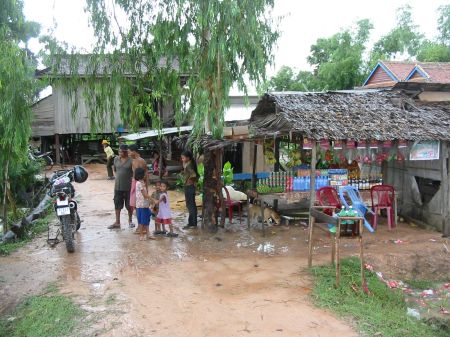 This is how the road looks like most of the time on this stretch.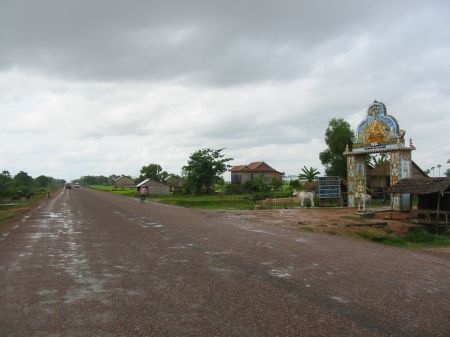 This is how it looks like behind the shop at the road. I though this place is pretty cute.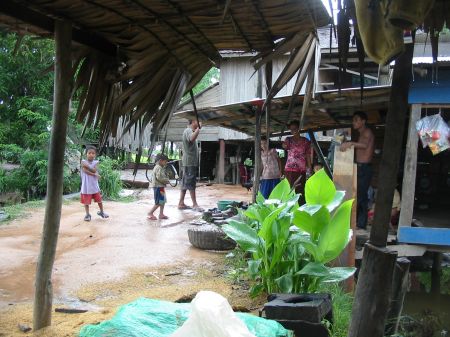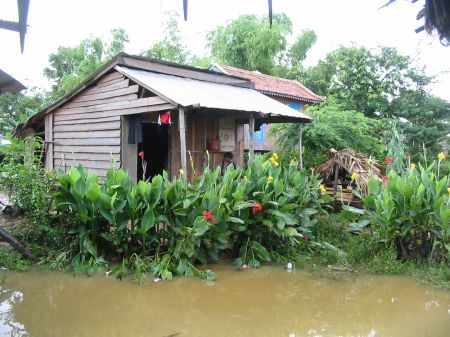 Rain is getting stronger.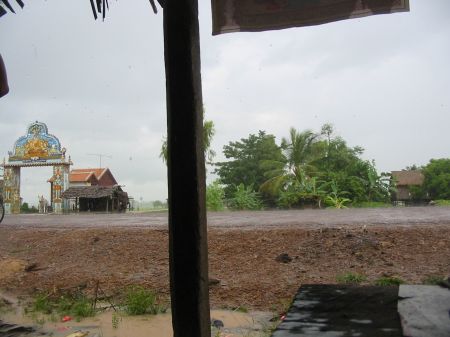 Only after I have spent about 45 minutes the rain starts getting weaker and finally stops entirely. I get on the bike again and keep driving. It is still very cloudy. The paved parts of the road are increasingly interrupted by unpaved and partly bumpy stretches.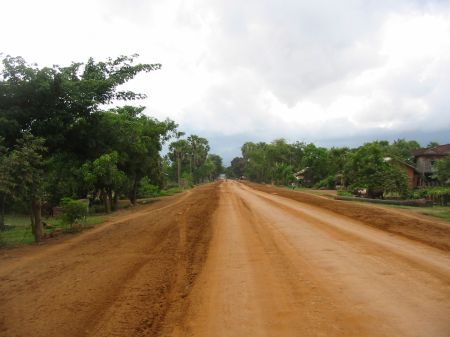 This is what I see when I look down on me. The bike would have been the first one I see in Cambodia with a functioning tachometer.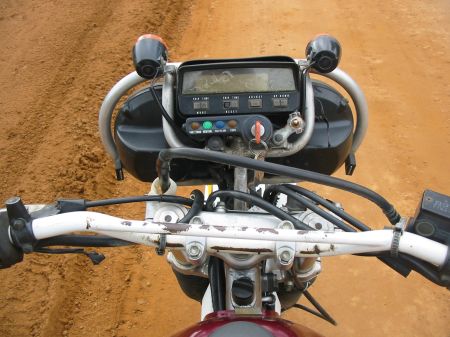 More and more it looks like it is about to rain.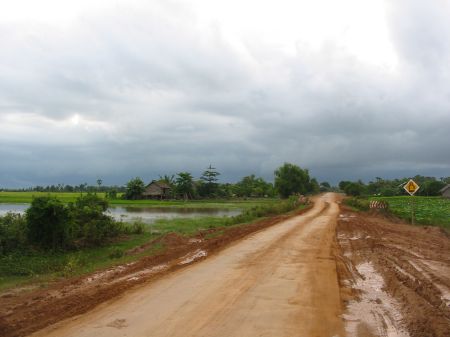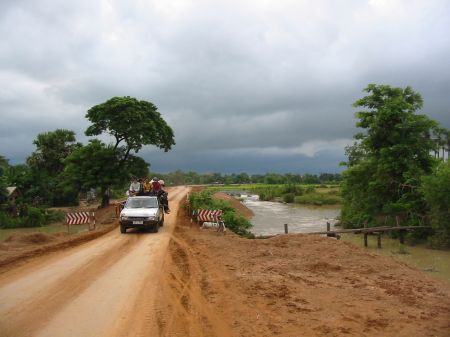 It starts raining after I pass one of the view towns. I am looking for a place where I can wait without getting wet. However, I cannot see something suitable. The rain is getting stronger and I decide to stop at one of those small huts, which provides a bit of cover from the rain. Given that there are quite strong winds and the fact that the roof is not exactly tight the hut does not prevent anything from getting wet.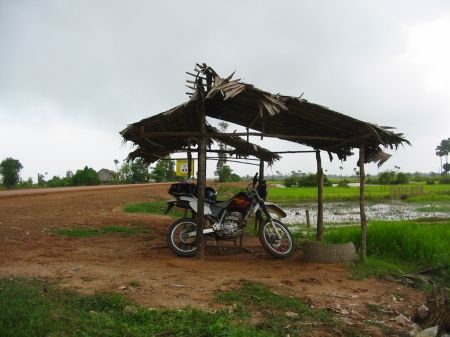 I am lucky enough to have my complete rain gear with me. However, deep down in my bag. So it takes me some time to get on those pants and the jacket. After I made it I feel much better prepared to cope with the weather. But I decide to wait since the rain is very strong.
Although it keeps raining for about one hour, vehicles and people with animals keep passing this place.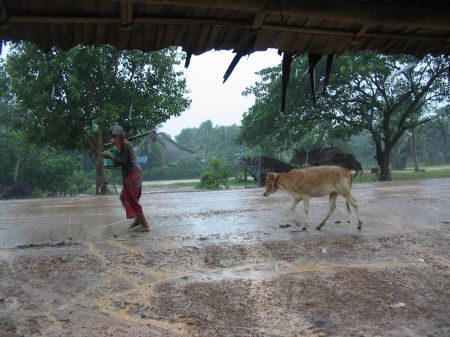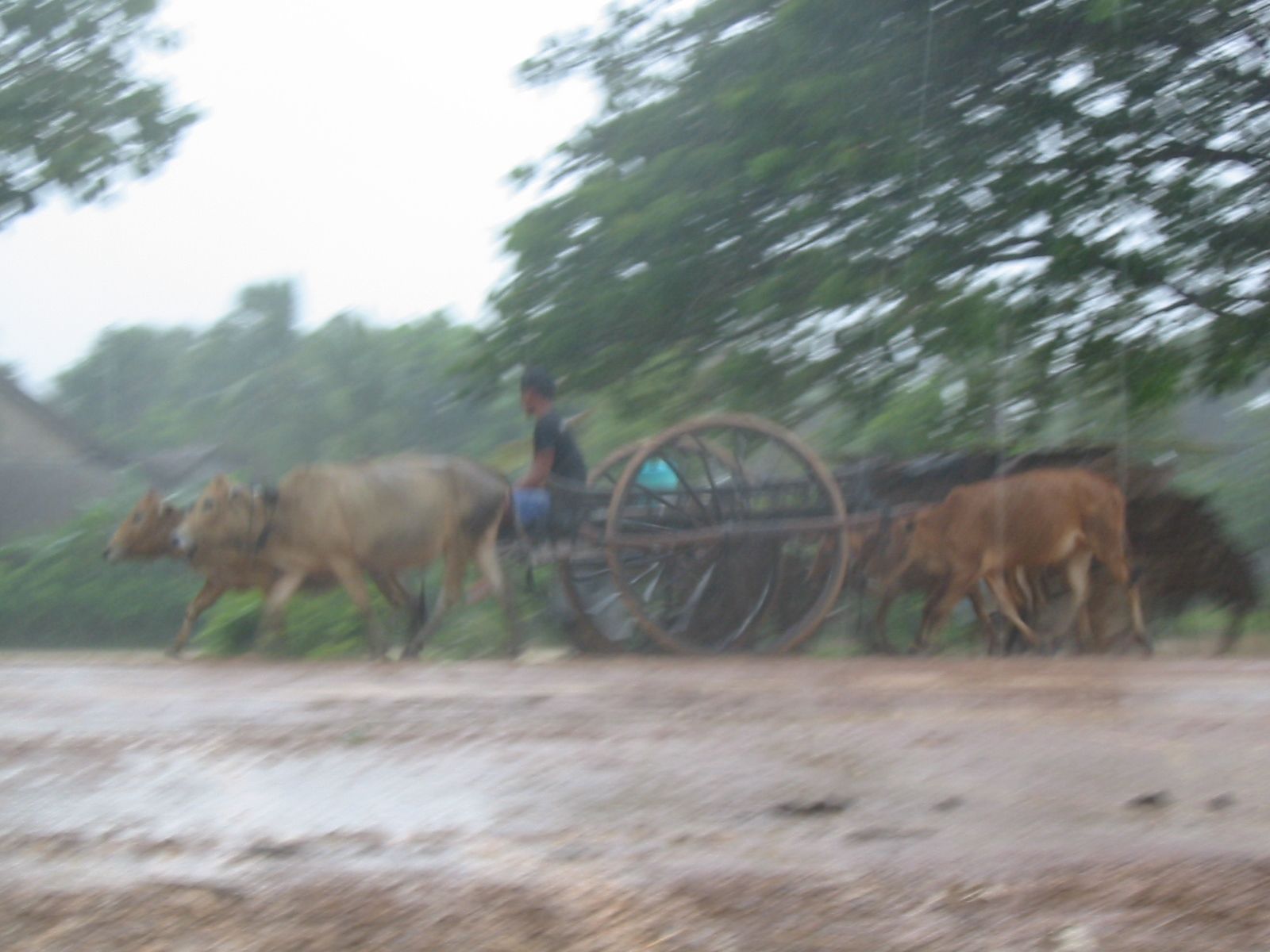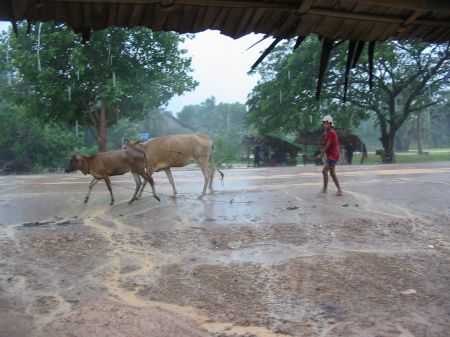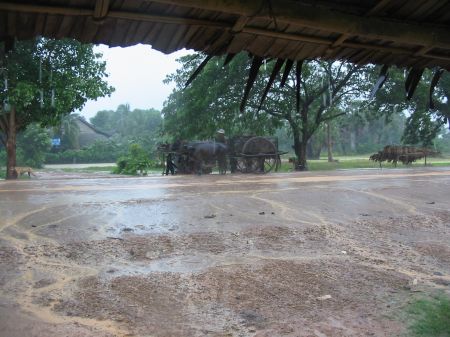 The rain does not really stop but is getting somewhat weaker. It is still raining heavily when I decide to continue the trip. I am kind of concerned that it gets dark long before I reach Siem Reap, which is not a pleasing prospect. I do not know the area and I do not have time to spend the night somewhere else then in Siem Reap town.
The strong rain makes it difficult to recognize potholes or other obstacles on the road. So I cannot ride as fast anymore. Passing cars, predominantly trucks, splash big amounts of mud and dirty water all over the road. When those splashes hit my helmet it is difficult to see anything at all. Open the visor does not make it easier, since the stuff is flying straight into my face.
I presume that the road is most of the time not paved, since there is so much mud around. Even if parts of this road would be paved it would not make much of a difference given the thick layer of mud.
The rain is sometimes getting weaker or stronger but does not stop entirely. I continue driving without knowing how far it is from here to Phnom Penh. At some point I check the petrol and decide to get some fuel on the road. Even that turns out to be difficult since I cannot recognize those small shops along the street anymore through the thick layer of mud on my helmet. Finally I manage to get it.
It is getting dark while I am still riding on this road with relatively low speed. Only when it is almost entirely dark the road becomes better rapidly and the traffic increases. Shortly later I find myself in the dense traffic of Siem Reap provincial capital. This town turns out to be much more urban than I expected. I checked both of my guide books earlier and hat decided to go to the Popular Guesthouse, which is said to be cheap.
It took me some time to find the place. I kept getting contradicting advice in poor English and continued to drive around. Only after about half an hour I managed to find the guest house. This is in the court yard of the guest house together with the owner and one of the employees who is trying my helmet and glasses. At this point the moto is not clean anymore and neither am I.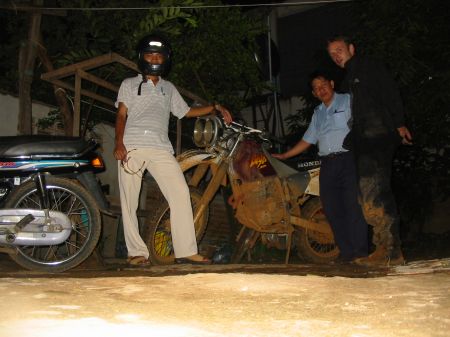 Most of the rooms are occupied and what I get is a room with two beds for the price of a room with one bed which is $5. This is acceptable, given that prices in Siem Reap are generally higher than in Phnom Penh.
I feel very tired. So I decide to have a shower and some diner. I talk to the owner of the guesthouse in order to find a guide for tomorrow who is capable but not too expensive. He introduces me to Mr. Kim, who is 24 years old and supposedly studies ancient history of the temples. Mr. Kim appears with a book about the temples in his hand which makes me confident. I thought it would be a good idea to go on a ride through the town to get accommodated. What I get to see is a number of roads and markets which present a strong contrast to the rural areas I was passing on the way here. There are dozens of expensive hotels, restaurants, bars and a high proportion of tourists among those walking on the streets.
Mr. Kim turned out to be only moderately helpful, since he did not know too much about history and his English was fairly poor. However, at this point it would have been impolite to tell him I won't need him tomorrow and I decide to explore the temples with him tomorrow.
In order to see Angkor Wat during the sun set we have to start at 5 am. This is quite early for me, particularly after this exhausting day. So at about 10 am we ride back to the hotel to get enough sleep.