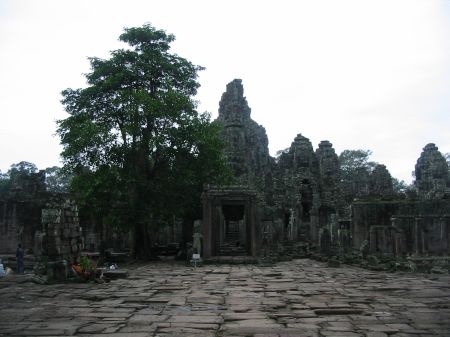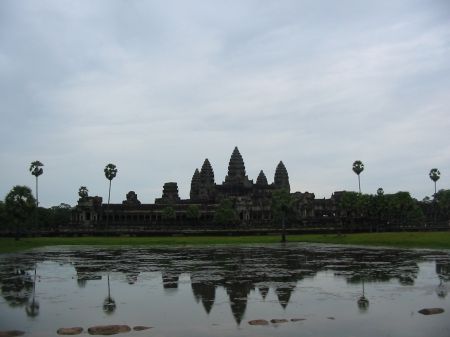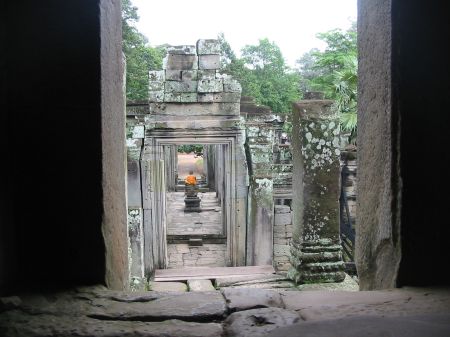 What follows is my report about just one day I spend in Siem Reap exploring the temples. I am sure there is plenty of information out there, since this is the tourist destination number one in Cambodia. So I do not try to give long explanations about history which would only expose my ignorance. What I think I can deliver is my personal and unscientific account and a number of pictures which reflect my personal encounter with the temples.

It is about 5 am when Mr. Kim knocks on my door. I wake up and realize that I did not hear my alarm clock. So I hurry to get ready in only about 10 minutes. We leave without any breakfast. The idea is to arrive at Angkor Wat early enough to experience the sun rise. This is what many tourists do. The way from Siem Reap to Angkor Wat is about 15 km long and we join what is a significant number of tourists on motos with obviously the same intentions.
By the time we reach inculcation and the outer gallery of Angkor Wat it is still entirely dark. There are a number people trying aggressively to sell all sorts of things, predominantly rolls and batteries for cameras, in addition to the standard blend of soft drinks and snacks.
While one of those sellers is approaching me to persuade me to buy his stuff two other men surprisingly ran in out direction, catch the guy and grab his back. So I do not have the chance to by something. Mr. Kim explains to me that those people are doing their business without the required permission. The other two guys are police men, likely to extract a bribe before they give back those goods.
We pass the men made pond around the temple via the huge bridge while it is still dark. There are a number of other people as well. We pass the outer gallery and at this point it is difficult to recognize details or assess the dimensions of the complex.
This is outside the inculculation, facing the gate through the outer gallery with the bridge to the left and the water to the right. It is still dark at this time and I took the picture with long exposure.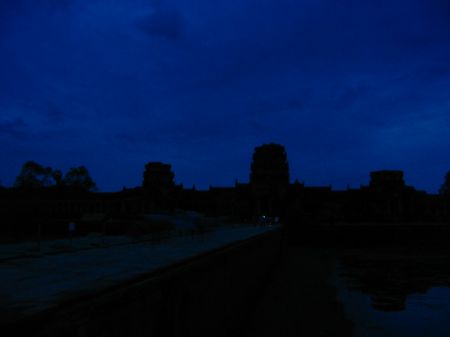 This is after we pass the outer gallery with Angkor Wat in the background. It is still dark and I set a long exposure.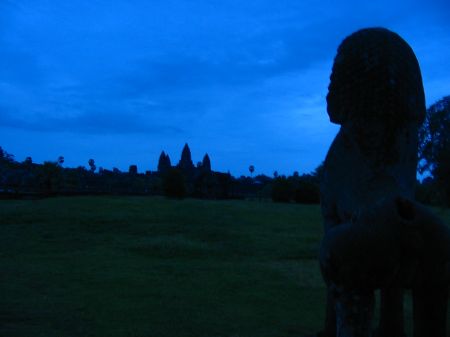 A fair number of tourists are waiting with us.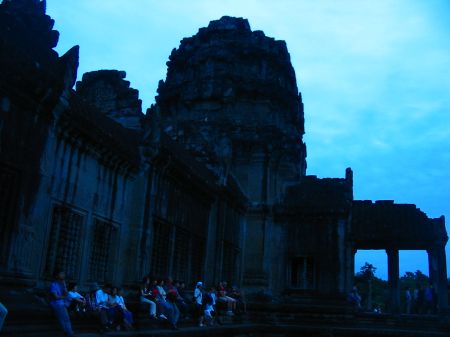 It is getting increasingly clear that there won't be any sun rise, since the sky is mostly covered with clouds.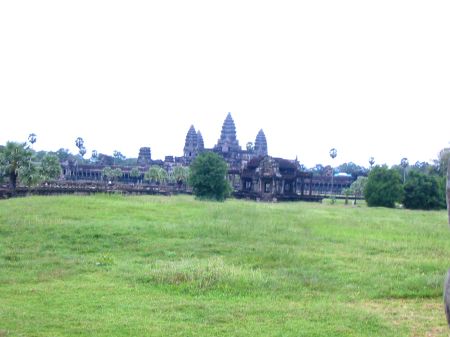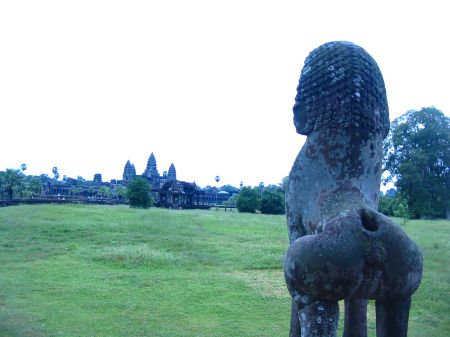 So we get started again and follow the major road to the gate of the central sanctum.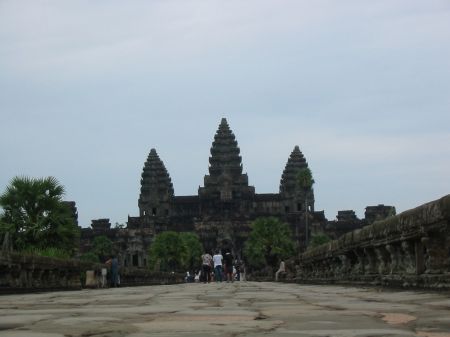 Mr. Kim and me.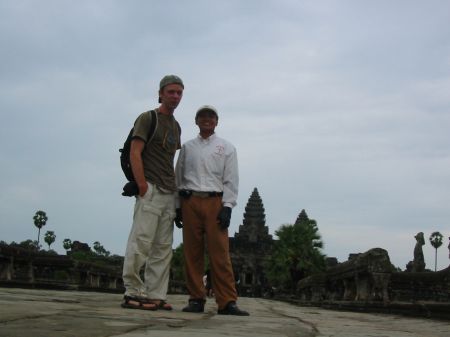 We decide not to visit Angkor Wat right now as it is still dark inside. Instead we want to visit a number of other sides and come back here in the early evening. We turn left to have some breakfast at a close by stand.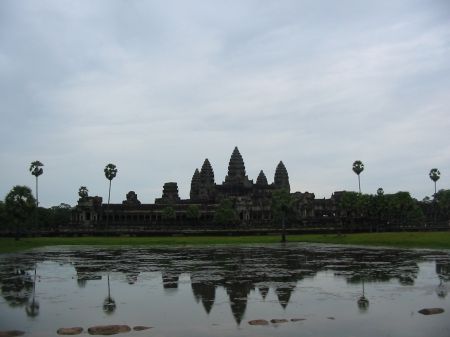 Those are modern style temples close to the place where we have breakfast. What we get is café with sweet milk and white bread with cheese. There is a Buddhist holiday those days but unfortunately I do not recall the name and did not understand the meaning. However, most pagodas are busy. This one is no exemption and we hear music in the background and see carefully dressed people.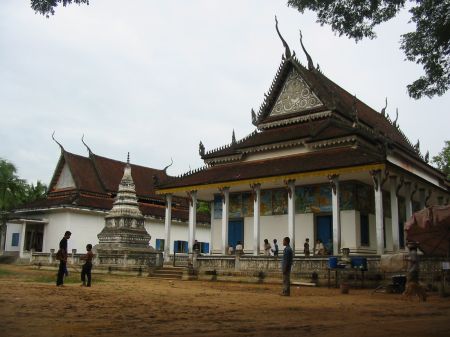 After we have breakfast we go all the way back to the moto outside the Angkor Wat complex and continue our tour.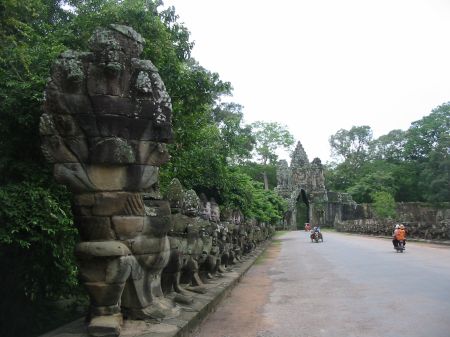 Bayon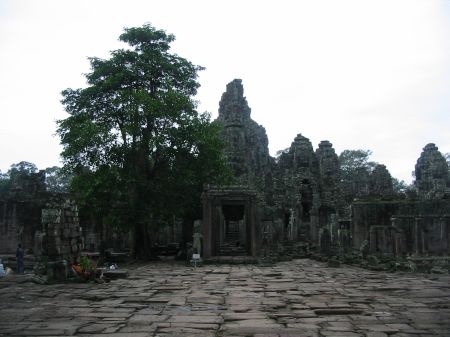 Walls are covered with sophisticated carvings.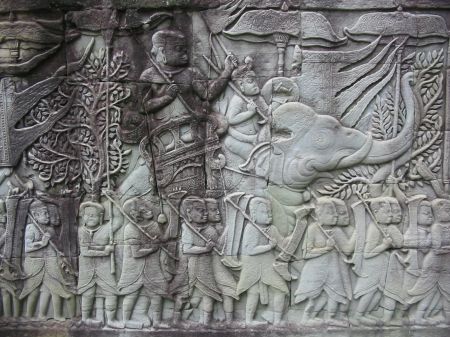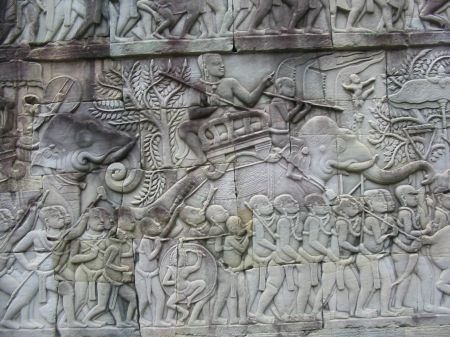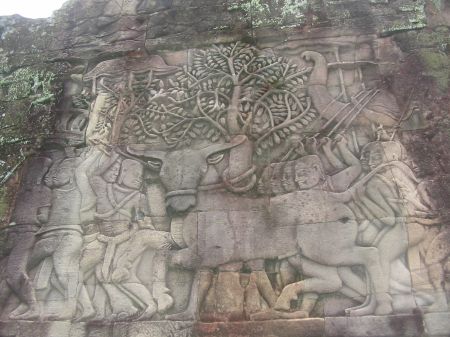 Much could be said about this temple and I leave it to more knowledgeable sources.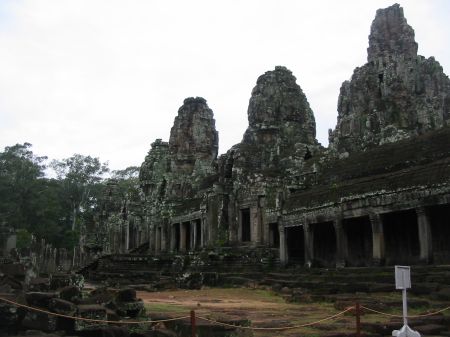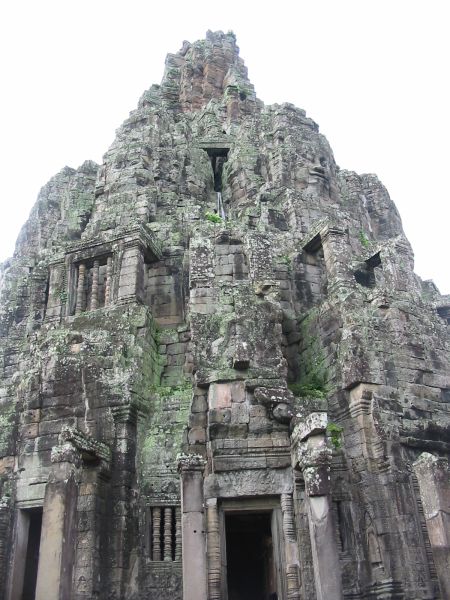 I hear there are about 200 of those big faces, with several types of expressions.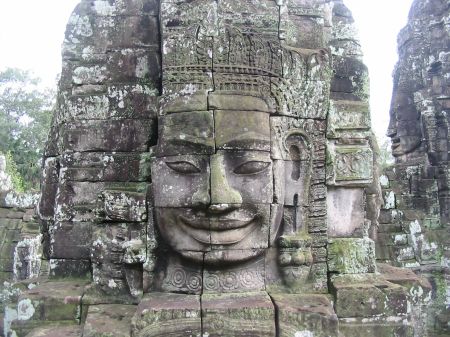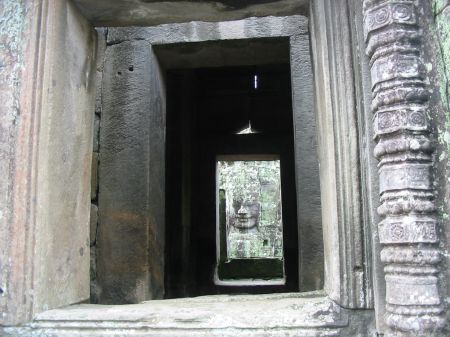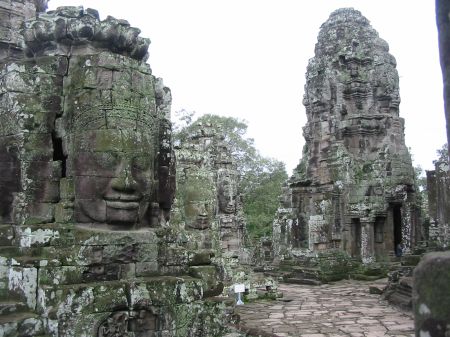 There are a number of statues and local people who take care of them.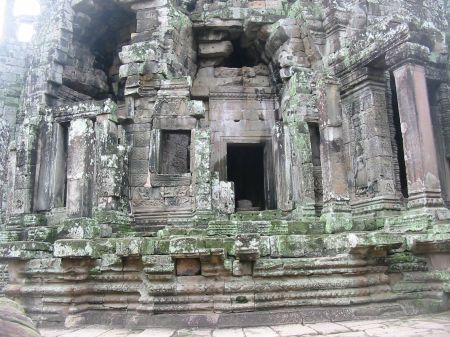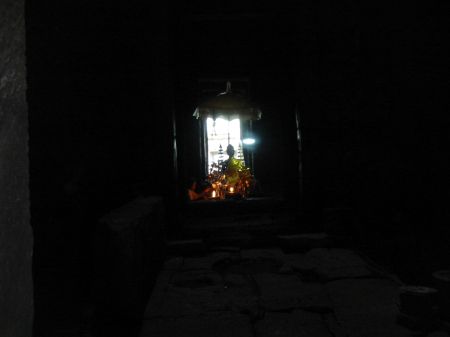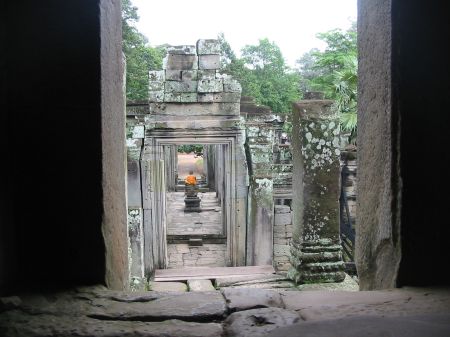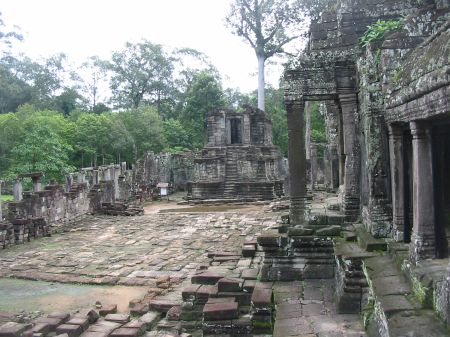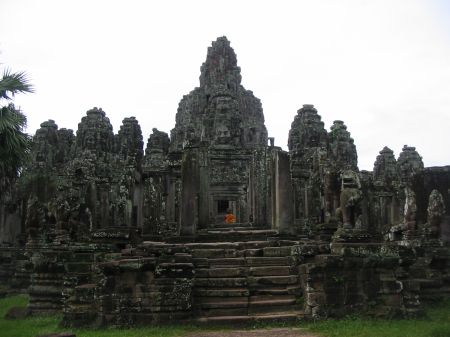 This is a sign in one of the (fairly clean) toilets. However, this one is in important ways different from the ones I have seen at home.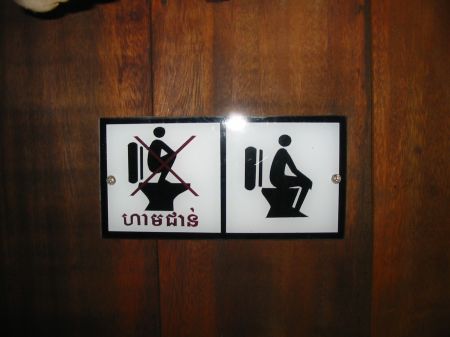 Those towers are called Prasat Suor Prat and might have served as jails.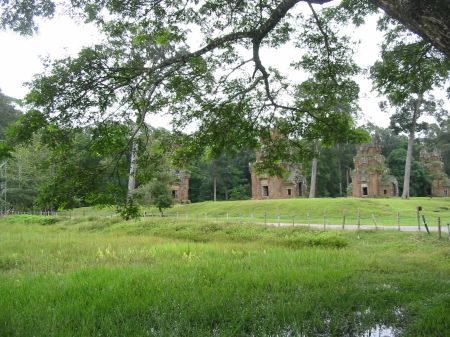 Terrace of Elephants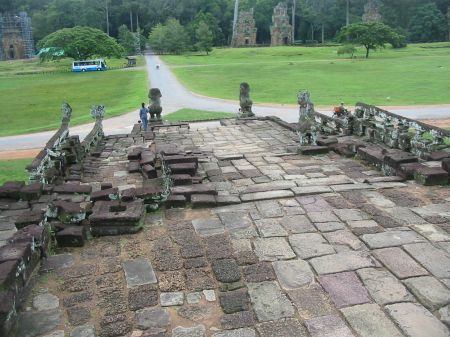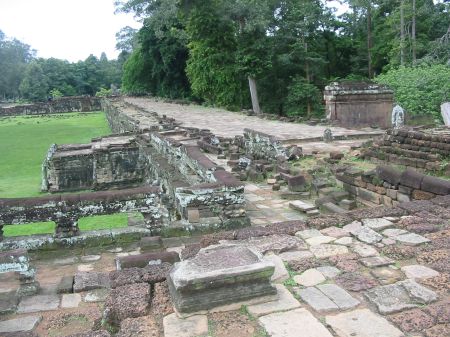 This is on the back side.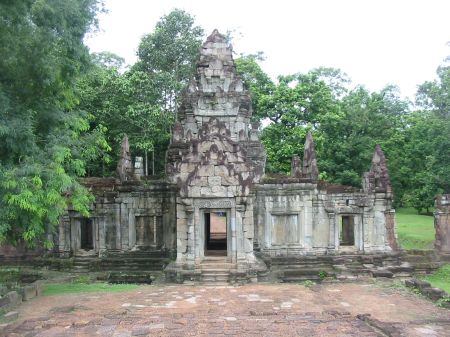 Phimeanakas: this part of Angkor Thom which was build about 1200 by Jayavarman VII. It is on the compound of the ancient Royal Palace.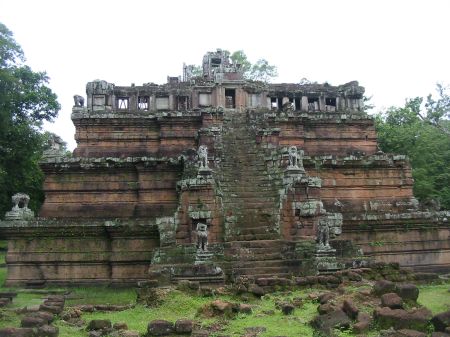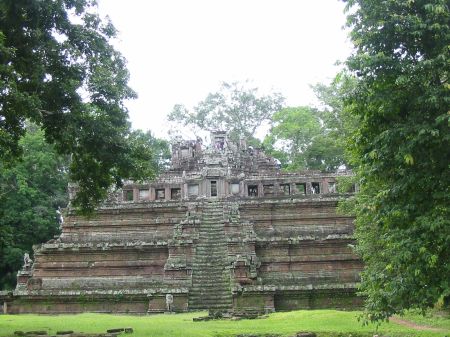 This is the former Royal swimming pool.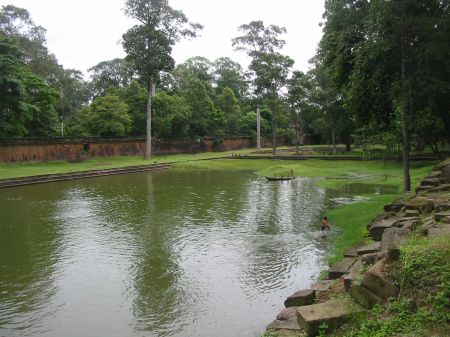 Children are playing with this boat, on occasion sinking it.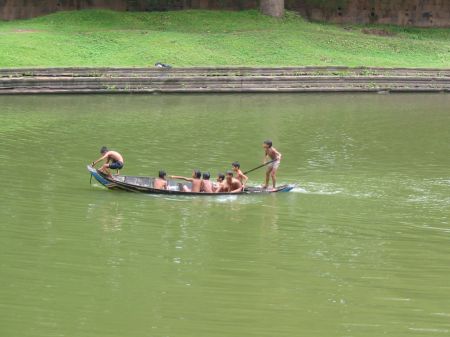 This is when they sink it.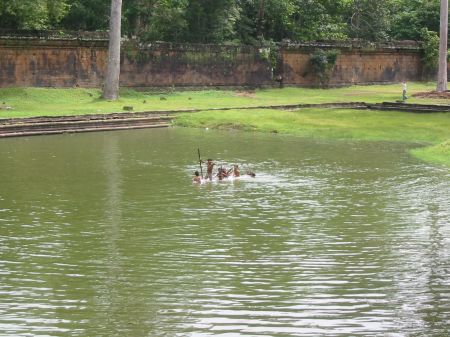 This temple is close by and called Baphuon and was built by Udayadityavarman II in1060. It is under reconstruction.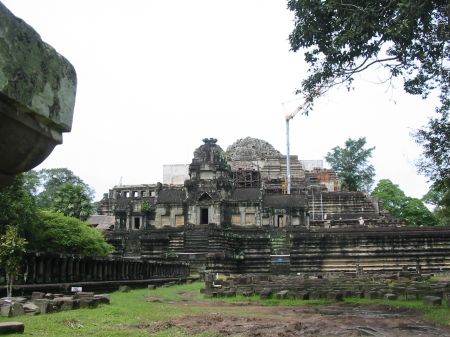 There is a bridge that is leading to this temple, with a pond to the left and another pond to the right. This bridge is carried by countless small pillars.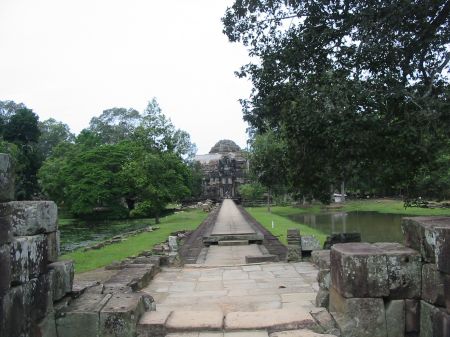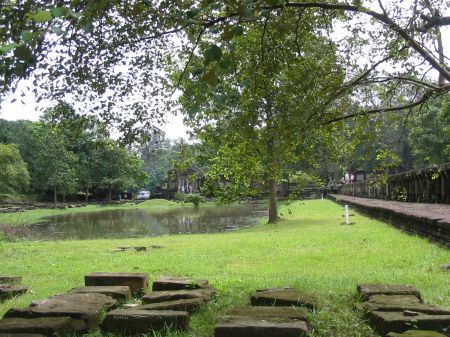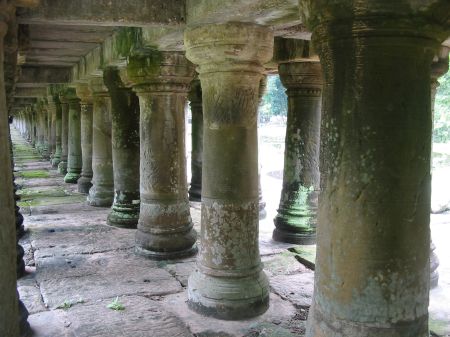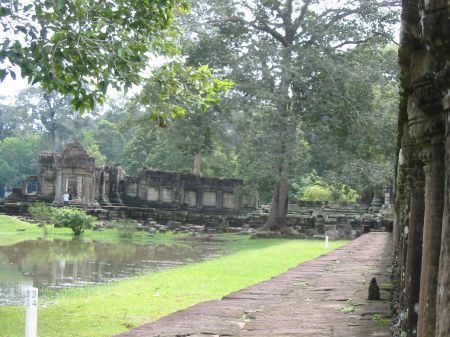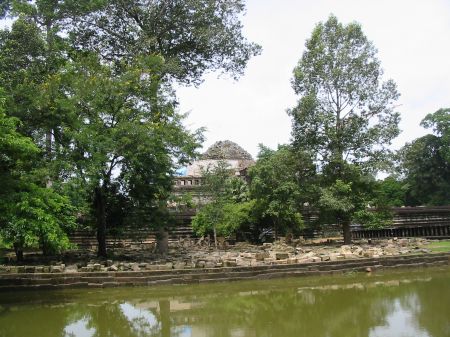 Again at the Terrace of Elephants.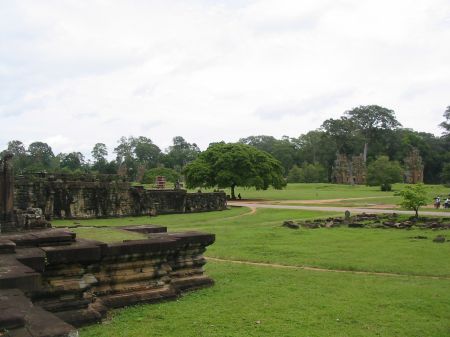 Those guys in grey uniforms are in charge of security. They are all over the place. And they work for Sokimex, one of the best connected businesses in Cambodia. Supposedly Sokimex is controlled by Vietnam. They run every other gas station in the country and collect entrance fees at Angkor Wat. For this privilege they pay the government about $1 mill per year. However, this deal has come under intense criticism not least during the election campaign.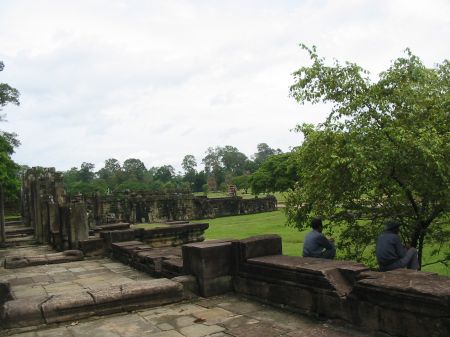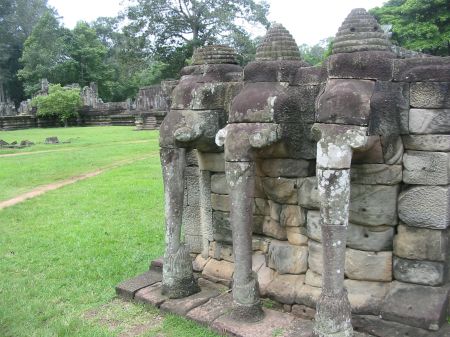 Those walls are covered with sophisticated carvings.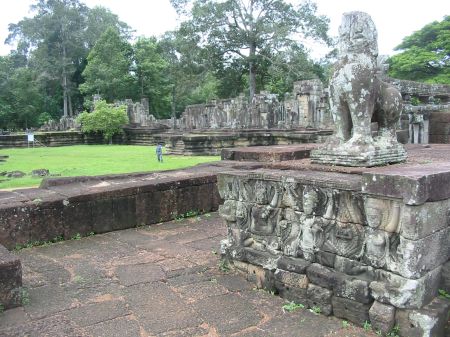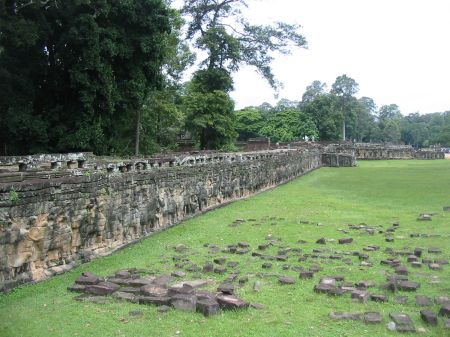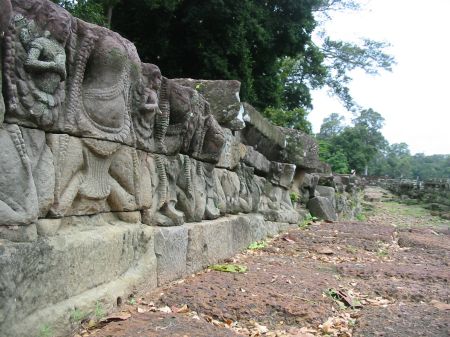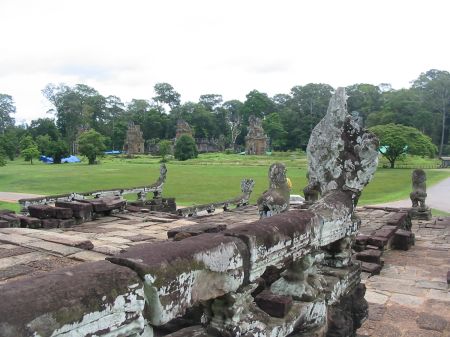 This is at the southern gate of the Great City. Some scenes for the Laura Craft movie where produced here.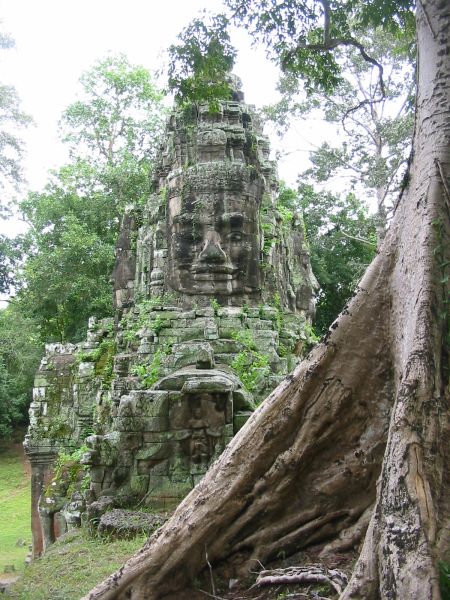 The wall is about 8 m high and many kilometers long.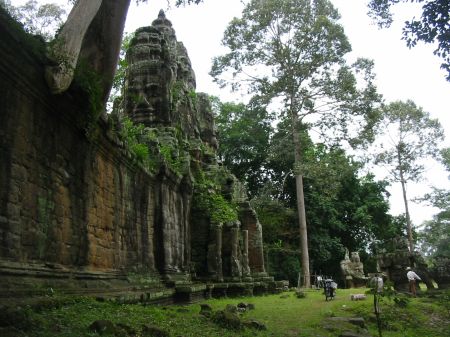 Then we arrive at those smaller temples.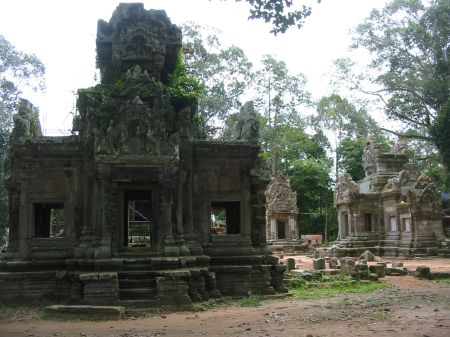 Yet other temples just on the opposite side of the road.