Again, the travel to Cambodia is sort of exhausting and affects the sleep (or the lack thereof) of three nights. Although it was more chaotic too, I was happy to have the chance to spend one day in the vibrant city state of Singapore.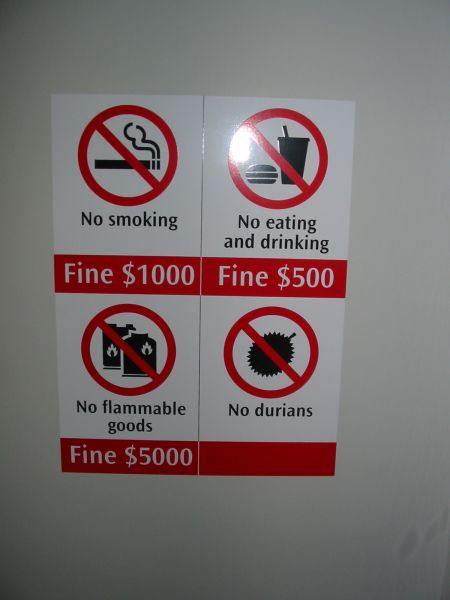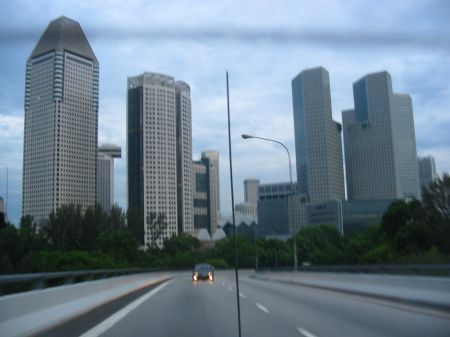 I got up at 5 am and left at about 6 with my parents to the airport in Berlin. The departure was late but the pilot confident to catch up and arrive on schedule in Frankfurt, where I had a connection flight to Singapore which was not exactly tight. However, when we approached Frankfurt we learned that there is traffic jam in the sky due to a radar failure earlier that day. We arrived about 1 hour late. However, after the airplane came to a stand in front of the gate another 20 minutes pass by and the passengers are still waiting to leave the airplane. The pilot explained that the ground crew does not manage to attach the bridge properly to the airplane. But he was confident that guests would be able to leave the airplane soon. He was wrong and after another 10 minutes he suggested passengers should leave the airplane via a gangway in the back. It took another 10 before the door was actually open and passengers passed the runway to arrive at the gate. Funnily, people in the business class who are used to leave the airplane first had the longest way to the very back of the plane and where the last ones to arrive at the airport building. In the background is the gangway, still not attached to the body of the airplane. Stepping down are the busy people from the business class, slightly frustrated.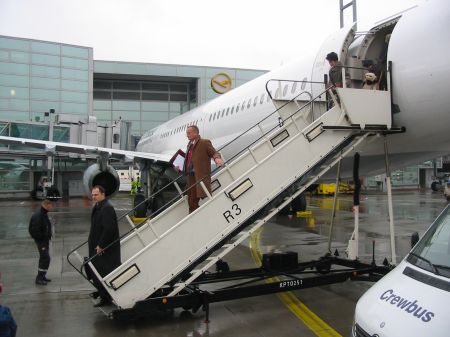 .
My flight to Singapore was scheduled 12 am and I felt I have to hurry very bad to get to the gate in time. After some initial irritation I made it there in less than 10 minutes. However, the stewardesses explained, smiling, that the airplane is still in Cologne waiting to departure to Frankfurt. What made the affair much more pleasant was that Singapore Airline was willing to sponsor a good lunch at one of the expensive restaurants in the airport. So I got to sit together with a guy from Jakarta and a guy from Dresden (in Eastern Germany, he actually had moved during the 80ies to Bavaria, which is very much in Western Germany) having a light conversation. The guy from Dresden was very communicative and not at all shy. He started to unpack one of about 8 bottles of beer in his back and opened it in the restaurant. Unfortunately he did not speak any English, while the guy from Jakarta did not speak German. This did not prevent the German guy from sending a continues stream of trivial stories about his live and opinions. This was not meant to be impolite but I thought quite insensitive to the fact that the guy from Jakarta was not able to participate. After we had food he left. The German guy told me that he had been to many countries. He joins groups of German tourists who travel remote countries together, this time in Vietnam.
We learnt that the airplane was still in Cologne and a realistic departure time was 3 pm. That the airplane was not available in Frankfurt was due to the radar failure, which caused the plane to land in Cologne. Time passed by and the German guy kept opening one bottle after the other. Even when we arrived at the gate prepared to get on board he was opening a fresh bottle, drinking it from a recycled cup of pudding. When we finally got on board he had finished 5 or 6 bottles and smelled strongly. Luckily, his seat was far away from mine.
I got to sit not at the window but at the gang. A girl in my age was sitting at the window while the seat in between remained empty. I was a bit concerned I would not get the connection flight to Phnom Penh and I did not expect that there would be another one the same day. Yet initially I wanted to spend a couple of hours in Singapore, before arriving at my final destination. However, I did not manage to book the flight accordingly. So I started to hope that Singapore Airlines would finally pay my stay in Singapore.
Since I was not sitting at the window there was not much to take pictures of. I spend the first hours watching "Bad Boys" from the selection of movies available on the small monitor in front of me, reading the newspaper and some dozen pages of a novel.
The German guy had told me that airlines usually serve unlimited amounts of beer and liquor which I did not know before. So I though it would be good idea to have one or two shots of whiskey in order to have a decent night. So I ordered two generously filled glasses. Later, the German guy, who was already drunk, stopped by and ordered another set of shots. Once in a while I slept some minutes. However, my increasingly irritated stomach made me feel those shots were not a good idea. This feeling continued pretty much throughout the flight. When the long night was over and breakfast was served I felt very disgusted by having to watch everybody having food, while I did not eat any.
On very few occasions I talked briefly to the girl next to me. Only few minutes before we arrive in Singapore I learn that she is actually from Austria and just finished her university degree in political science. In addition, she is number 12 in women's wind surfing world cup. I though this is very impressive. Moreover, I study political science, too and like windsurfing on a non-professional level. After Claudia is done with her graduation she is on the way to Australia for three month of windsurfing. She had decided to give it a try for one year and than decide whether to go into professional windsurfing entirely. With about three hours late we learned already prior to landing that we missed our connection flights.
Those ones where taken by Claudia a couple of minutes before landing in Singapore.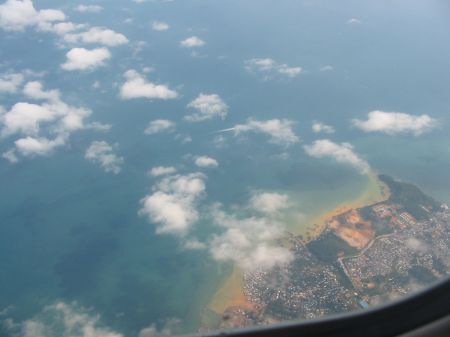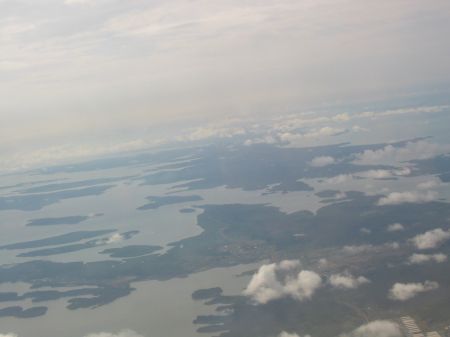 Singapore Airlines separated guests according to their final destination and everybody spend considerable time rearranging and booking their flights. I had the option to travel in the late afternoon to Phnom Penh via Bangkok or Ho Chi Min City. Since I was not averse to spending time in Singapore I asked whether I could fly tomorrow morning and spend the night in Singapore. This was possible and luckily Singapore Airlines was willing to pay for accommodation and meals in the hotel and arrange for the transportation.
I was the only person traveling to Phnom Penh in this flight and it took some time to finalize the arrangement. Meanwhile I had the chance to check my email at one of the terminals for free. This allowed me to inform my project and arrange my accommodation for the next day in Phnom Penh. When I finally stepped out of the airport and walked to the bus I found that Claudia was among a number of passengers who made use of the Airlines offer to enjoy accommodation in the hotel. However, one of her windsurfing colleagues was waiting for her at the airport in Perth. As it was not possible to contact him directly she decided to take a flight in the early evening.
After some time we leave to the hotel, which is a ride of about 30 minutes to the breathtakingly modern and urban city state of Singapore. The airport – although not at all crowded at this point, conveys a feeling of perfection and cleanliness. Everything appears to be new and shining, is made of glass and steel, there is modern electronically equipment all over the place and everything appears to be operating in a very stable, organized and predictable ways. Outside, there are plenty of modern roads with bridges and expensive cars traveling not faster than the speed limit allows.
This is on the way to the hotel.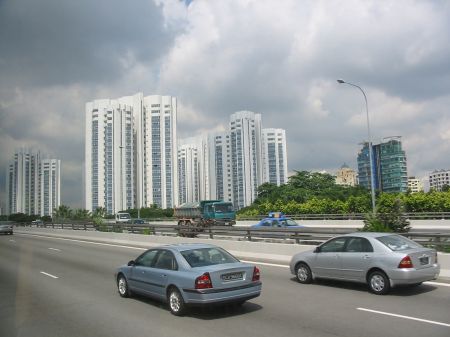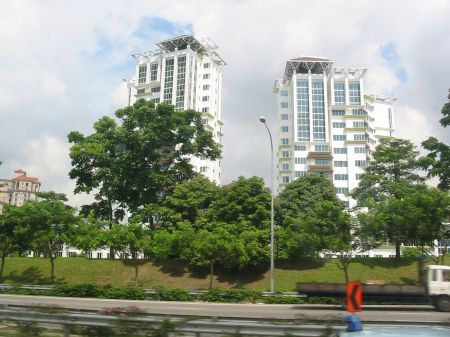 In the background on the other side of the river is the business center.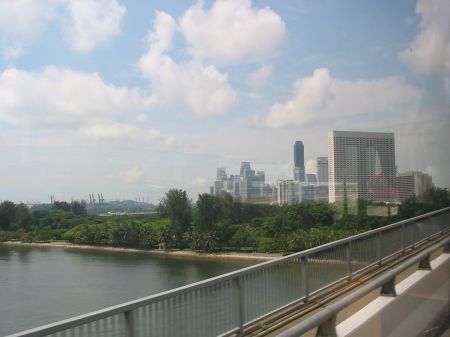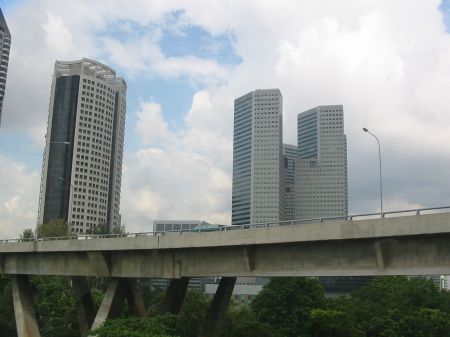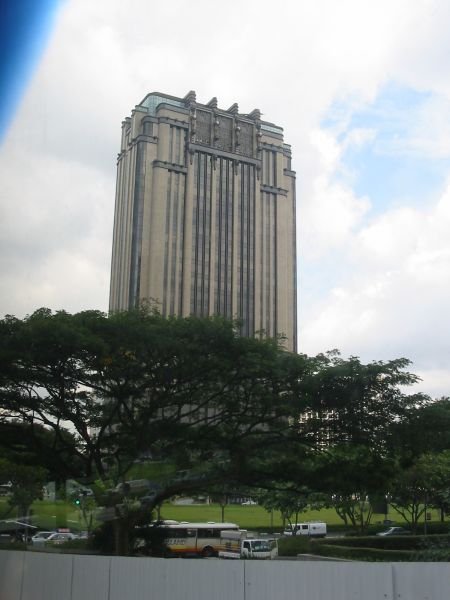 We arrive at the hotel, which makes the impression of a comfortable and rather expensive accommodation. However, as there are many people arriving at the same time it takes again more than half an hour until I get the key.
I agree with Claudia to spend only some minutes and then go and see the city. We have a hard time deciding where to go. After asking a number of people we end up in a taxi. Most people we asked suggested shopping as almost the only way to experience Singapore. However, as neither of us was very interested in shopping at this point we talk to the driver. He advises us to go to the district where the (Muslim) Malay population is preparing one of the major religious festivals.
The spot where we get off appears to be some sort of huge urban market, consisting of smaller businesses operating in buildings and around them. All sorts of things are offered and we walk around for a bit. After only a few minutes it starts raining heavily. After we have been walking for some time we stop at a local snack place and have what we believe are typical drinks. Both of us take only few pictures.
One of the major roads in the area.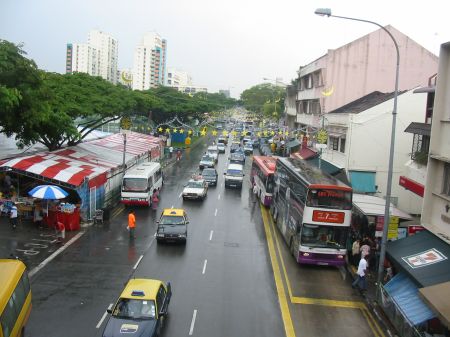 Backside of some houses at the main road.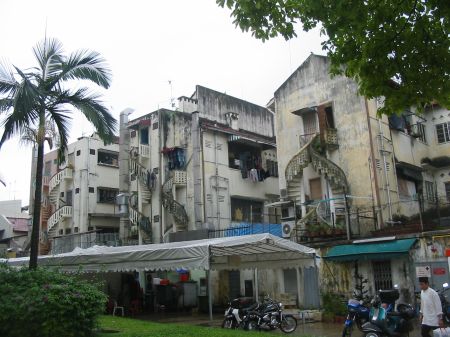 Local man selling all sorts of fish in the market.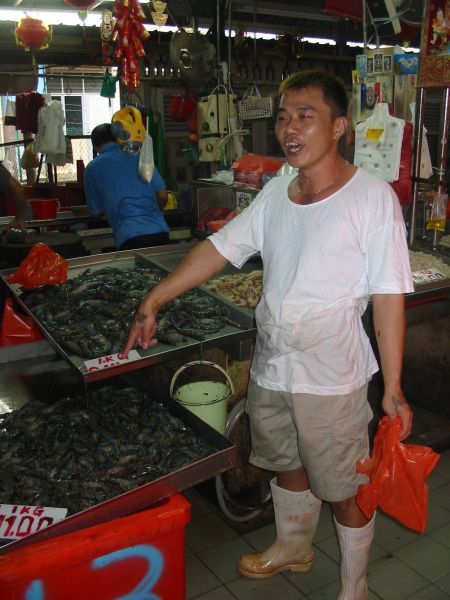 In the foreground workers are setting up the tents for the religious festival. The impressive building in the background houses the national post agency. In between runs the bridge on which the train rides on various routes through the island.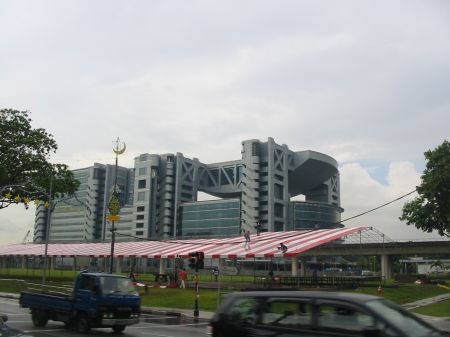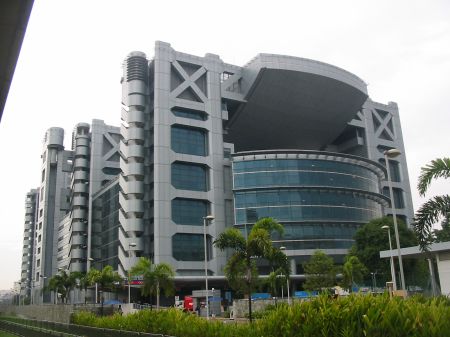 From here we take the train to get back to the hotel. Everything here is very clean and sort of sterile. Particularly public transportation. When we arrive at the hotel we are happy enough to get a warm meal on a Singapore Airlines vouchers. After we have food Claudia heads of to the airport. I go to my room to have a shower.
This is taken from the window.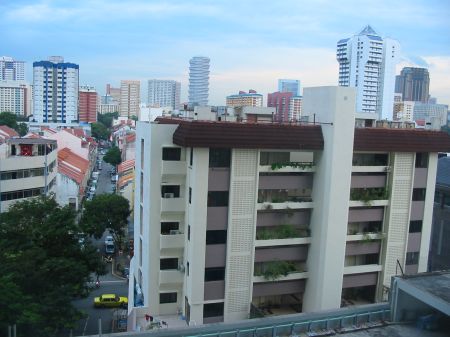 At about 8 pm I head of to see the town. I get stuck close to the hotel in a Muslim Mega market (Muhamed). What I find is a diverse collection of all sorts of goods, in many instances in bulk. I spend about one hour here, and get myself a new pair of teva sandals and a new watch.
From here I take the subway again to head downtown.
This is in the subway.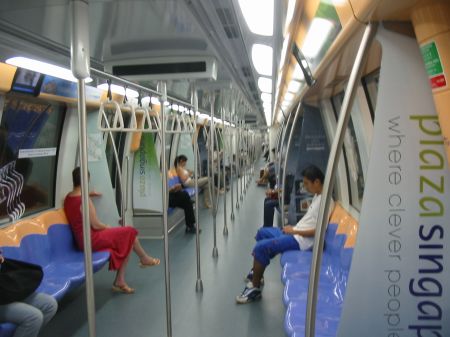 Most people seem to listen to music or are engaged with their cell phones.
Looks rather restrictive to me. I believe what is on the forth picture (without attached fine) is a stink fruit. I am not sure how they are called but they are common and popular in Cambodia and in fact have a very intense smell.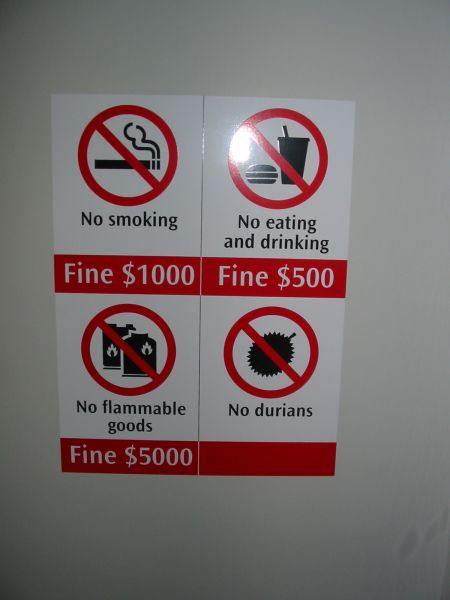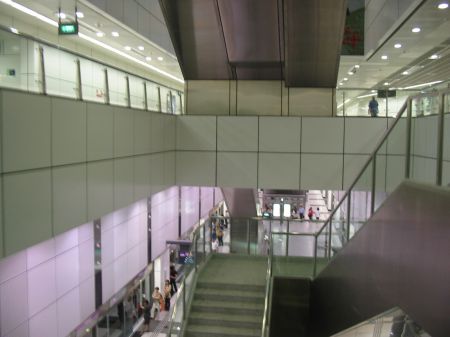 This is Orchid, where I get out of the subway. The place appears to be very busy and breathtakingly urban.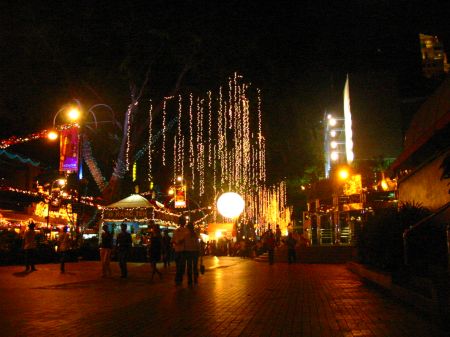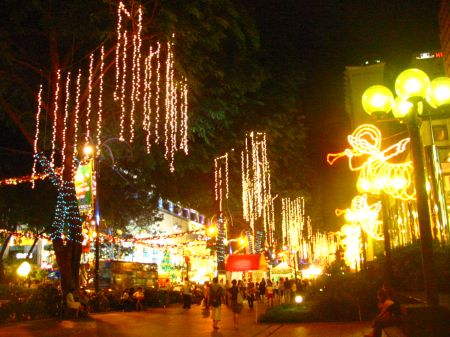 For some reasons I still feel like shopping. However, although the entire place appears to be one big mall most shops are already closed. I spend some time in those multi story buildings which house many small businesses but only bars are still open and look very boring. Everything is extremely clean and orderly. It takes me some time to figure that to cross the street I have to use a tube which is accessible only from inside the buildings. Just crossing the road is presumably very illegal and I make sure I stick to the rules.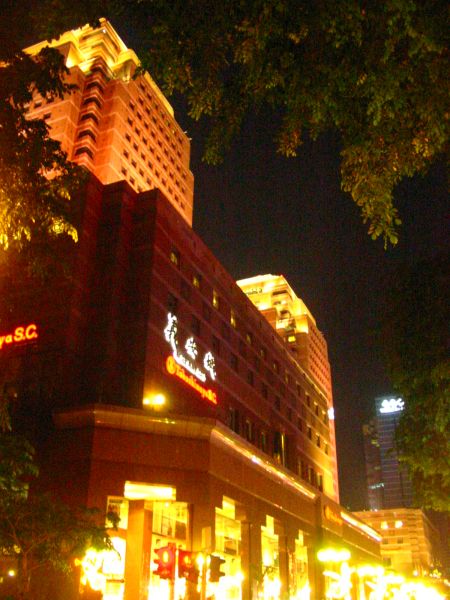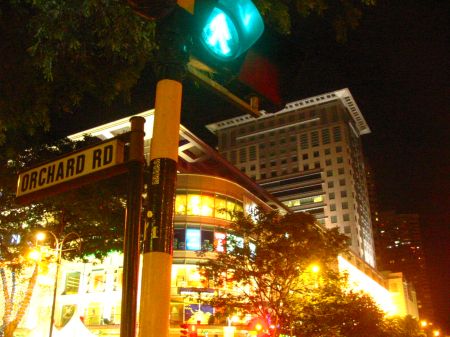 Everything is very big. Looks somewhat like Las Vegas. Note the small size of the people behind this buildings' glass front, above the Cartier logo. Yet this seems to be only the entrance hall of the bigger complex, including two high rising buildings to its left and right.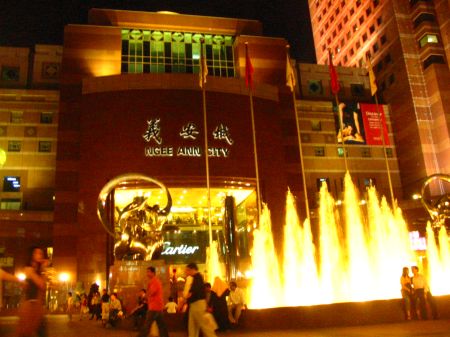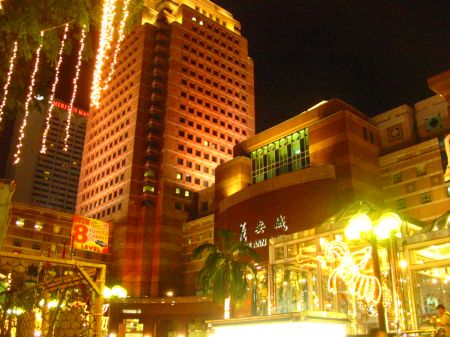 I spend about two hours. It is very fascinating to move with the crowd through this vibrant district. However, now my interest is exhausted and I feel like getting some sleep. After all, I have to get up early tomorrow.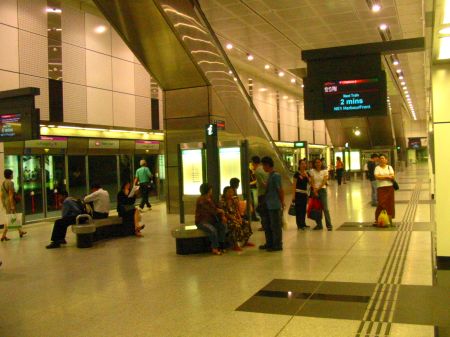 This is the subway station. More precisely: the platform. What looks like showcases to the right and left are glass walls which presumably prevent people from suicide attempts. Only when the car stops the doors of this wall open synchronously and the passenger can enter smoothly.
The ticket system is sophisticated, too. There are machines where one touches on the screen the final destination. The machine calculates the price and after inserting the money one gets the ticket with a magnetic field. There is one dollar deposit on the ticket and at the final destination one can insert the ticket in the machine and gets the buck back.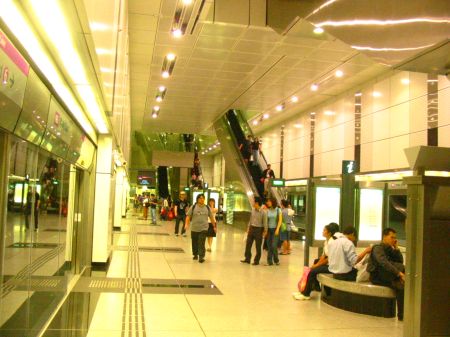 In the background is 'my' hotel. When I arrive it is about 11 pm. Again I am lucky enough to get some food for free. When I arrive at my room and check my stuff I cannot find the cell phone which I had recently acquired in Germany. I get the uncomfortable feeling that I lost it, and I have no idea where. Ironically, it was a tri band phone, supposedly working in any or most given countries. However, I did not even make it to my final destination. Later I have an extensive bath and go to bed.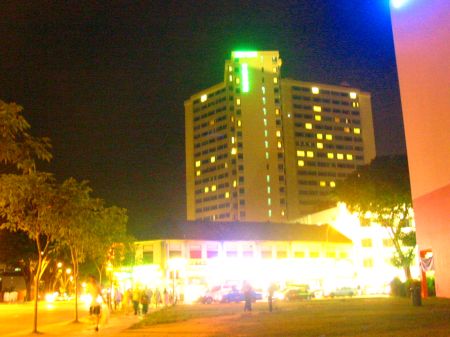 When I get up at 6 am the next morning it is still dark. This one is taken from the window with long exposure.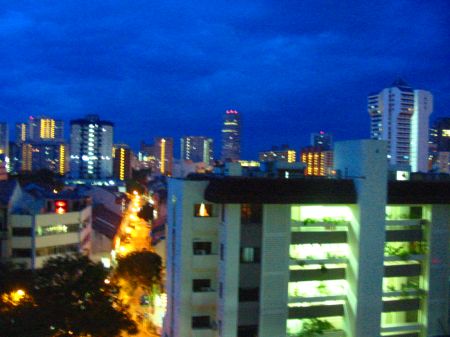 I head down to the restaurant, where I get some good breakfast. Later I check out and leave the hotel, looking for a taxi. As there is no taxi available I have a smoke, however a bit nervous because of this sign. I can not exactly determine whether or not I am beyond the point with this scary price tag.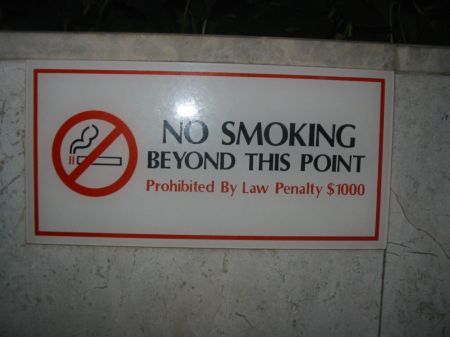 Not much traffic at this early time. The taxi again is on Singapore Airlines voucher.
When I arrive at the airport it is not very crowded. I am early enough to check whether somebody found my cell phone and gave it back but in vain. Later I get on board the airplane, which goes to Phnom Penh via Siam Reap. I am lucky enough to get a seat at the window to see Cambodia from above.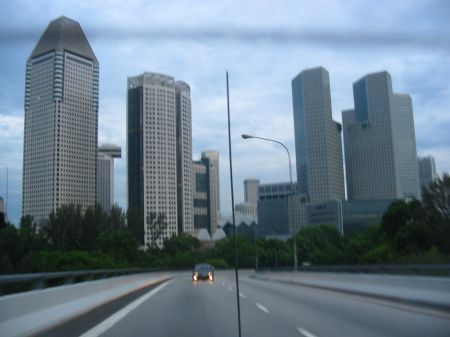 This is after we departure from Singapore.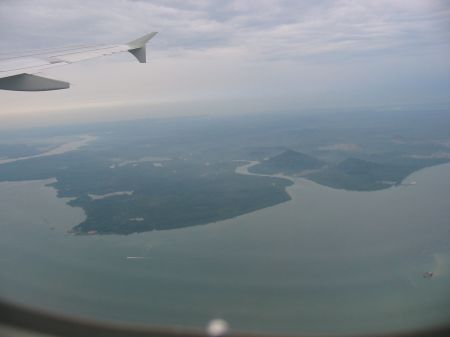 This is after about one hour and I believe this is Cambodia's coastline.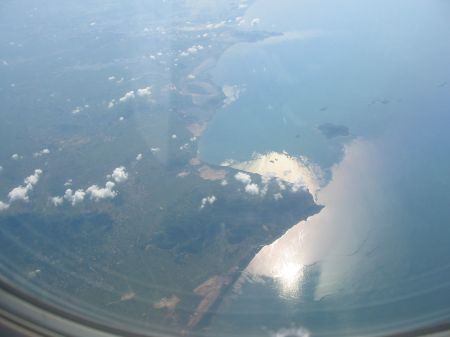 This is when we pass Phnom Penh.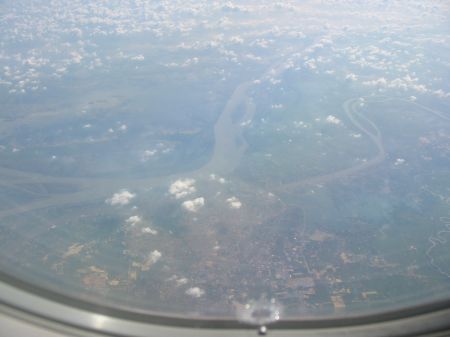 This is part of Tonle Sap Lake.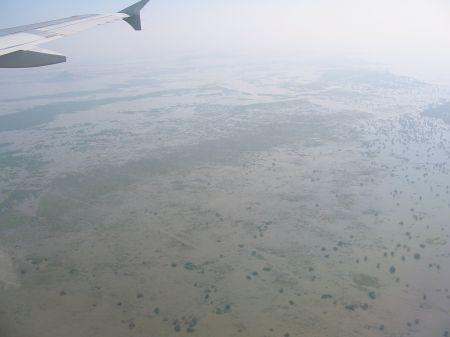 Presumably flooded rice fields.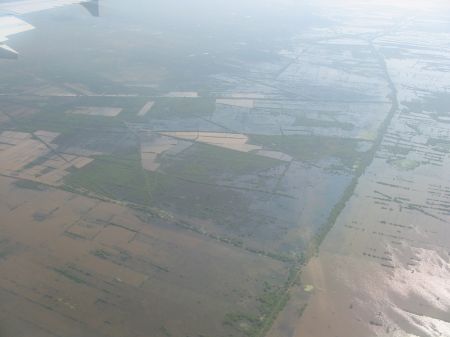 Shortly before we arrive in Siem Reap. We spend about one hour during which we have to leave the airplane. I very much enjoy having the priviledge to be back in Cambodia. I spend the time with newspaper, milkshake and an Ara cigarette.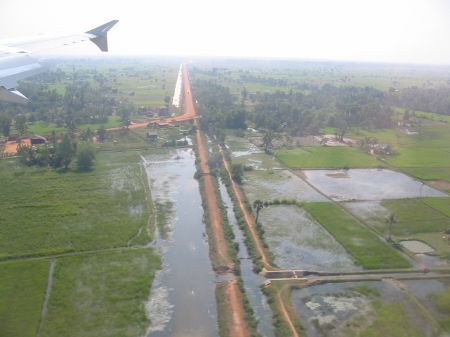 This is after we departure again. I know that Angkor Wat is not far away and watch out to find it. However, it is sort of dusty and I cannot see it. What I recognize is the balloon, which tourist use in Siem Reap town to see Angkor from above. The balloon is close to the center of the picture.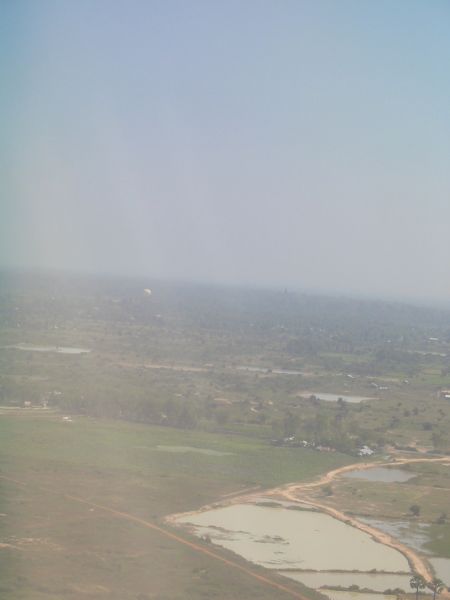 When I arrive at home I try to find Angkor Wat and in fact it is in the picture.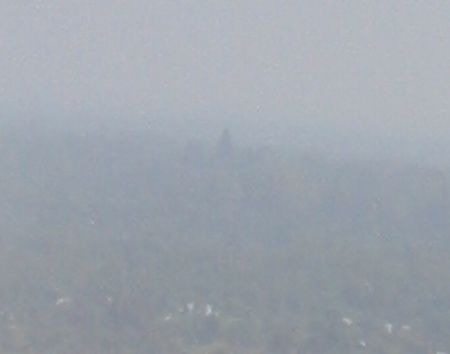 This is before we arrive in Phnom Penh. In the center of the picture is the Japanese bridge, passing the Mekong River in the north of the city, seen from the north.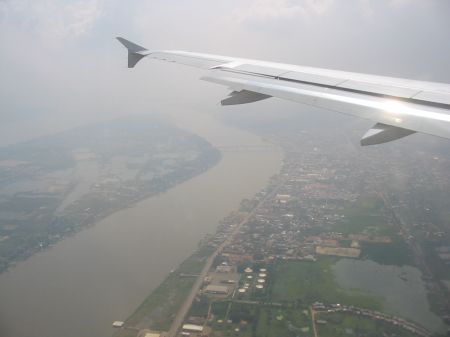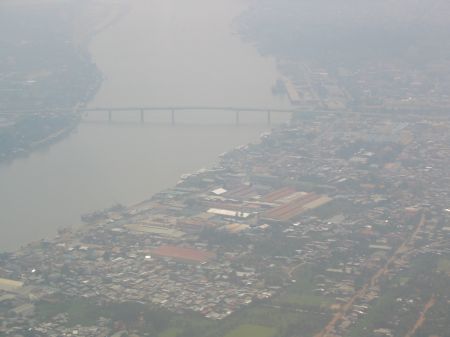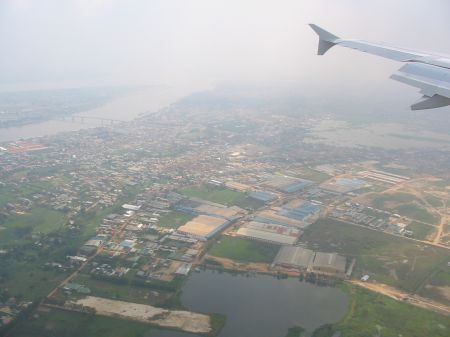 Boeng Kak Lake in the north of Phnom Penh, too. This is where many cheap guesthouses and brothels are.
When we arrive I feel sort of tired. Yet I know I have to pass a number of slow processes, since I do not have a visa yet. It takes me almost another 90 minutes until I have my bags and the visa. I take a taxi to get to my guesthouse, knowing that a room is already reserved.
Not much more happens this day. I just try to manage my jet lag.