Today was Saturday and I though after this exhausting week I should have a lazy day. However, I have serious difficulties determining what activity would fit this intention. So I sleep long and go at about 10 am to the Java Café, which is one of my favorites at Hun Sen Park, close to the Monument of Independence. Great food, not even overpriced. One can sit on the veranda and look at the busy street. Or read the newspaper. I do both extensively.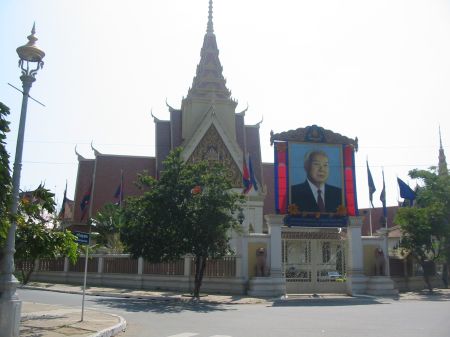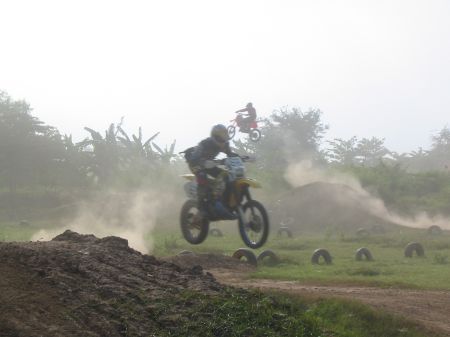 After about one hour I think it is a shame I have never seen the compound of the Royal Palace from inside and today would be a great day to close this gap. So I go the few hundred meters by moto.
This is where Sihanouk Boulevard meets Sothearos Boulevard. The construction in the background is Naga II. Naga I is a Casino on a big luxury ship at the bank of the Mekong at Riverside. To my knowledge gambling is illegal in Cambodia and only good connections allow Naga to continue operations. I recently read in the newspaper that Naga Corp. wanted to be listed I am not sure anymore at which international stock exchange. However, the application was rejected.
Hun Sen Park.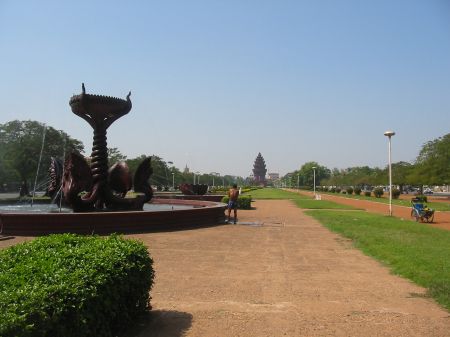 Monument in Hun Sen Park. Looks somewhat socialist to me.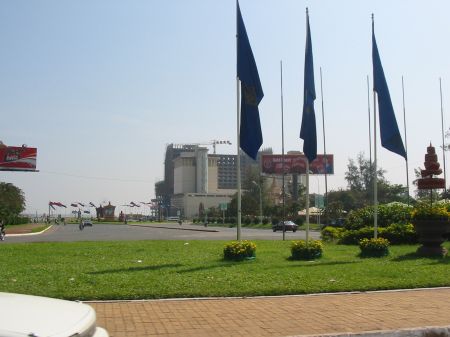 Unfortunately I missed a number of important public events. There was actually the Water festival, which attracted about 2 million visitors from all provinces to Phnom Penh. There was King Sihanouk's birthday. The greatest loss: I missed the celebration for 50 years of independence.
Because of those events there are pictures of Sihanouk all over the public place. Like here at the National Assembly. Worth noting that Cambodia still does not have a constitutional government or parliament.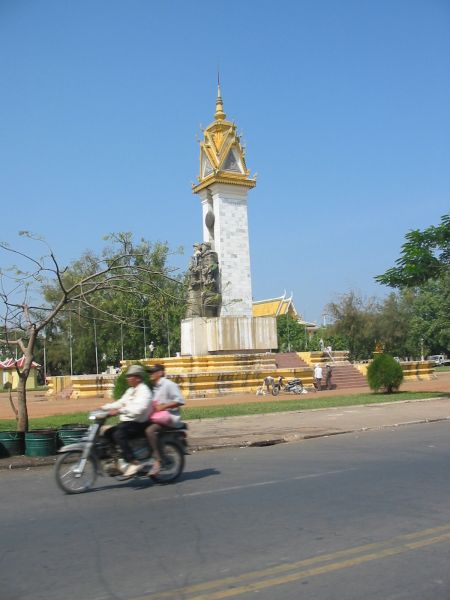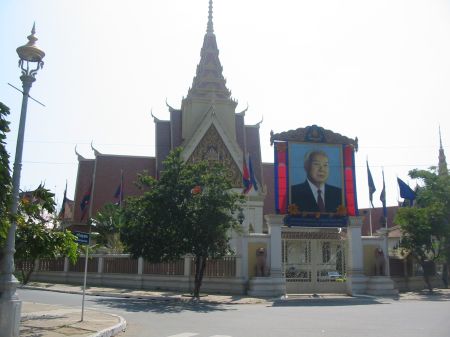 When I arrive at the Royal Palace I learn that it is open only from 2 pm. Before I think of something better I ask the moto driver to keep going and we go around for some time.
Royal Palace and Silver Pagoda.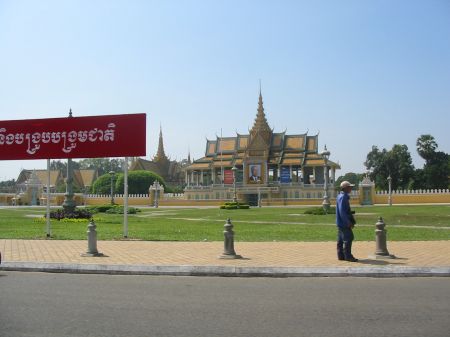 Next we pass riverside and the port. Then I think why not going to the Central Market. I have been here before a number of times but only looking for specific things and not with enough time to look around more carefully. So this time I spend about one hour. I still find it confusing but very enjoyable to walk inside and outside the building through the dense chaos of small business selling everything imaginable. Once in a while I look here and there but cannot decide to buy anything. Most likely because I cannot think of something I need.
So I hop on a moto and drive home again. Next thing is I try to call one of the drivers, who I know from a web forum has a dirt bike. He told me by email he is available for guided tours throughout Cambodia. However, in Friday's Cambodia Daily I find a note that Dara Bike Shop has moto trips going out on Sunday's. So I call Dara Bike Shop first.
I cannot understand the guy on the phone properly but after some time we manage to agree to meet in ten minutes at the railway station. So I go there. Before we arrive I actually see the shop and when I cannot find the guy in front of the railway station I walk there straight. What I find is a bunch of Khmer youngsters working on their cross bikes.
This is Dara Bike Shop, apparently specialized on moto cross. The picture is actually taken the next day.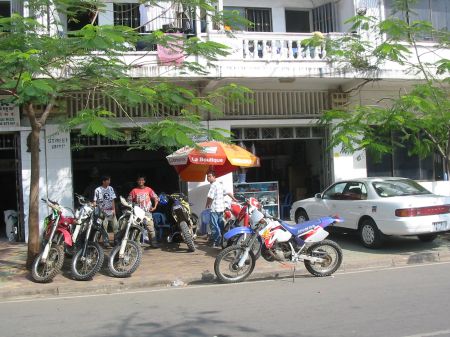 I find Dara, who was not the guy on the phone. He actually is 23 years old and not particularly tall or strong. However he has a good deal of assuredness. I learn that this is his shop. Before we even start talking about possible trips I am told a lot about different types of moto bikes. However, this is a garage and they do not rent moto bikes. This means I have to get a moto elsewhere but of course somebody is easily available to rent a suitable one. In Cambodia you find helpful people everywhere.
For the time being I am told they are going out to the moto cross track 20 km outside town and whether I want to join. I actually did not even properly understand where they wanted to go but thought this would be a good opportunity to make this day a bit more exciting.
One of Dara's friends who has not been exposed to moto cross rides on the back of Dara's bike. The other guy going is Vuth, who is 23, too and I have the opportunity to ride on the back of his bike.
Very soon I get the impression that Dara wants to prove something here. The road is rather crowded and he is traveling with quite high speed. And so does Vuth. However, I do have the impression he knows what he is doing. I am very glad that I had asked for a helmet. Vuth and Dara ride with full protection.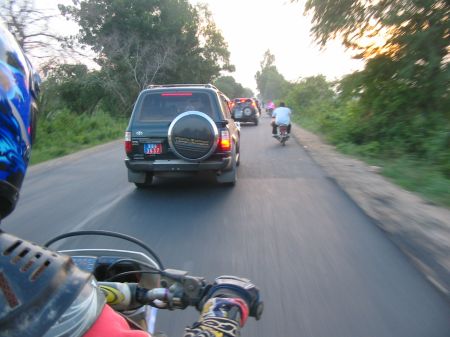 It does not take us very long to arrive at this moto course. I am rather surprised to find a good number of mostly Khmer people with sophisticated skills and technology riding moto cross out here.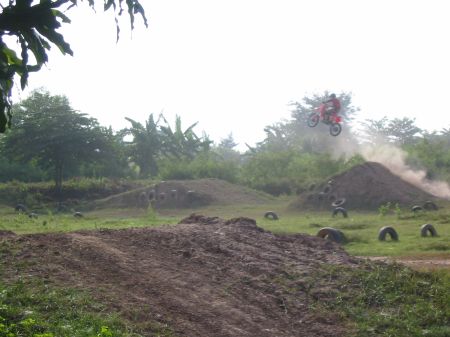 I make myself comfortable and keep watching the performance of a dozen people riding the course.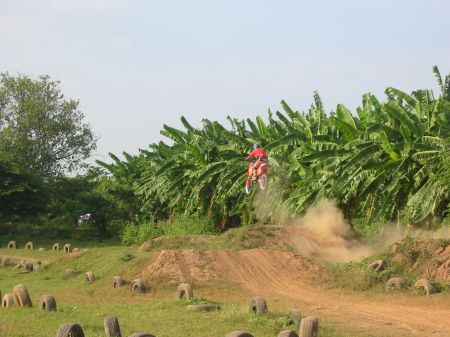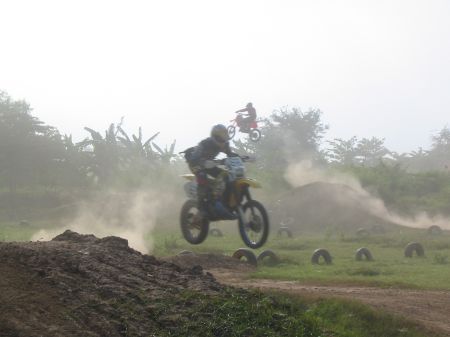 A number of Khmer youngsters are watching, too.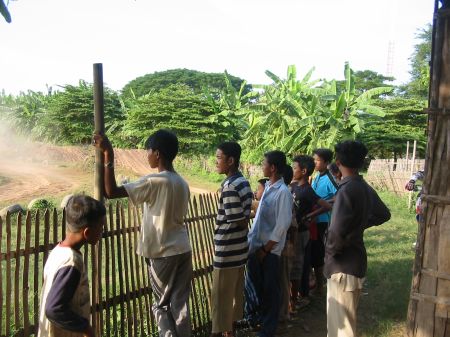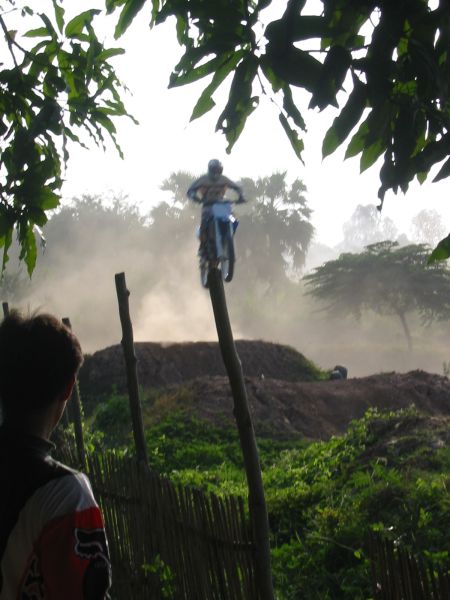 I get to talk to a number of people and learn that there is a scene of at least 30 people who are very enthusiastic about moto cross. A Frenchman who is riding professional races has somewhat donated this spot and many fanatics come here on the weekend, including a few tourists, mostly from France and the US.
I learn that Vuth just finished his bachelor in management at one of Phnom Penh's more prestigious educational institutions (National Institute for Management). He is actually born in Rattanakiri and has been living there for many years. Interestingly, his mother is working for Seila, which is the Royal Government's decentralization programme. She is deputy in the provincial department of education, where I actually have been for an interview, talking to her boss. After finishing his bachelor Vuth has nothing to do right now. However, he is very enthusiastic about moto cross.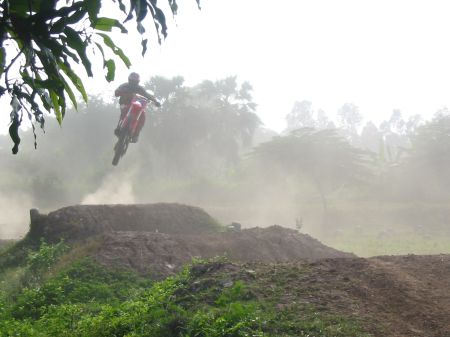 This is on the way back. Riding this bike is Dara's friend, rather carefully. On the back is Dara. The ride back is pretty late back.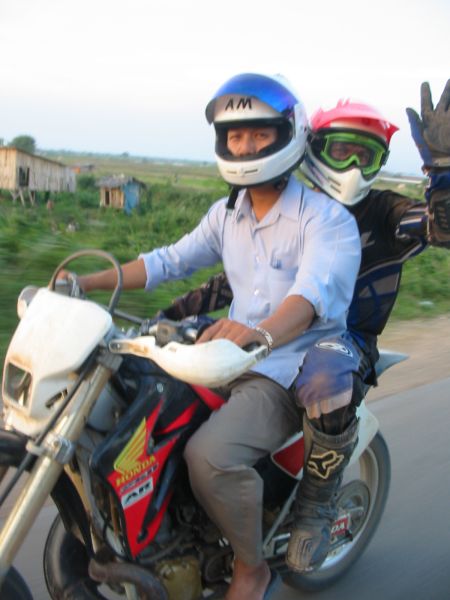 When we arrive in Phnom Penh it is getting dark. I hang out for some time in Dara's shop to figure whether I should join tomorrow's trip. I learn that so far just two people are going, Vuth and John, who is an American which I met briefly on the cross course. I try to figure whether it is a good idea and decide after some time I should go.
I learn that what I need is a 2 stroke moto, preferably a Honda CRM. There are only very few for rent in Phnom Penh, as they are very expensive and need a lot of maintenance. As it happens, one of Dara's friends has another bike shop and can make one available. So Vuth is kind enough to give me a lift to this shop. I talk for some time for the people and we agree that I come here tomorrow at 8 am to pick up the bike and protection.
Later in the evening I read for a bit and try to catch up with my blog.