This is Sunday and in the morning I go at about 8:40 am to the Phnom Penh Moto Shop to rent a decent cross bike (Honda CRM two stroke), as well as suitable protection, glasses, and gloves. Next thing is I ride the bike to Dara's Bike Shop, where I arranged to meet with Vuth and John to go on a moto cross trip. Vuth is already here but we are still waiting for John. So I hang out for some time.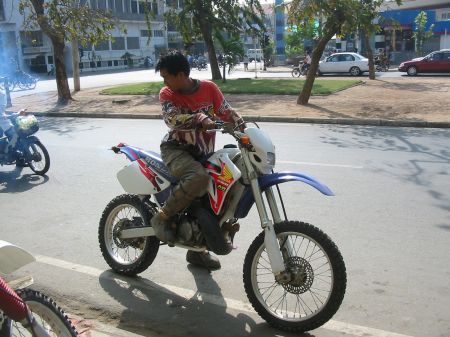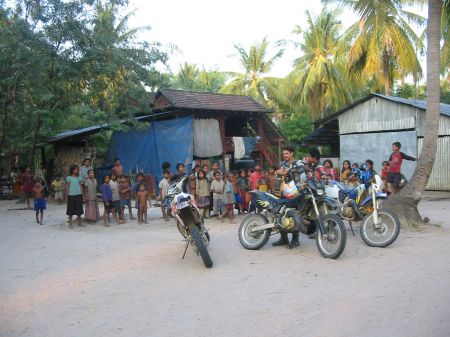 This is me on the moto I have just gotten.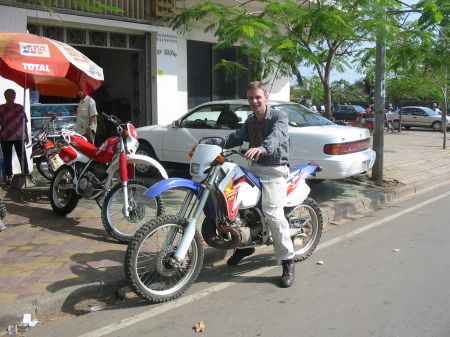 This is Dara on his first moto bike, which he started riding when he was eight. Dara is always up for entertainment and rides on this bike on its back wheel down this busy road for some time.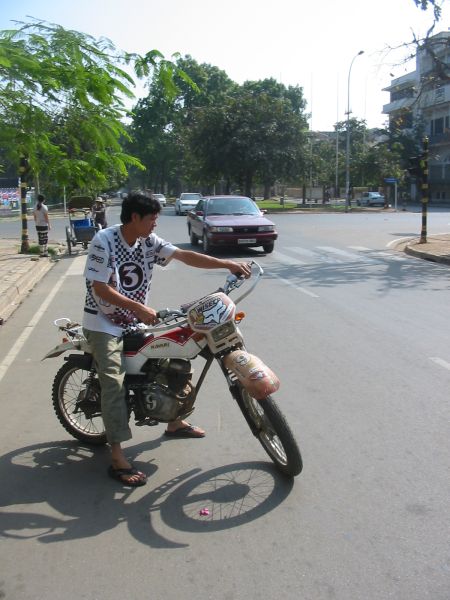 This is Vuth testing 'my' bike.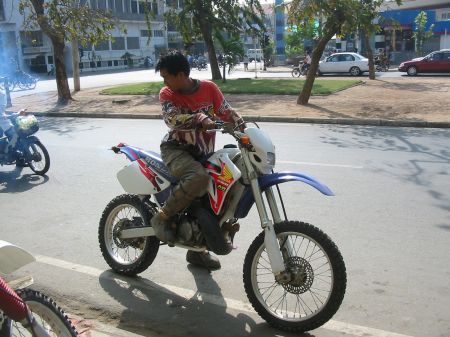 After some time John shows up. He is 46 years old and has been living in Cambodia for 5 years. Before he was living in Laos, Thailand and Vietnam. John is from the US and married to a 21 years old Khmer lady, with who he has a kid. He has studied health but is working as musician (he plays guitar in a local rock band) and sells antiques via the internet. He is a late back guy and turns out to be ok.
After some time the three of us leave. We go north and after only a few kilometer leave the street and continue the trip off road. First we have some sort of dust road, which is easy to ride. However, after only a few kilometers there is not road and sometimes not even a path anymore. It is difficult for me to maneuver the moto on this very uneven ground.
This is when my moto is down the first time. Unfortunately, I lost balance next to this hole, which is about 1.5 meter deep. Accordingly, the moto falls straight into this hole, handle bar first, and it takes us some time to pull it out again, before we can continue the trip. At this point I have no idea how often I will have to lift and kickstart this moto again during the next hours.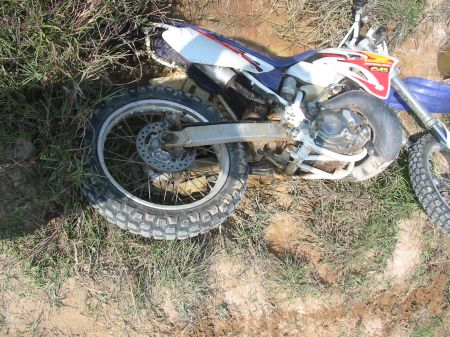 From here the terrain is getting ever more difficult. We have to cross all sorts of creeks, rice fields, wet land and so on. A number of times I ride the bike into the rice field and have difficulties pulling it out. And this is becoming a much more exhausting activity than I expected.
I do not have the opportunity to take pictures very often. Once in a while we are riding on dirt roads, which is very enjoyable compared to rice fields. Many times the path consists just of very fine, deep sand. This is difficult to ride. I learn that the only way to deal with the sand is actually speed. Over a certain speed, maybe about 40km/h, there is some sort of aquaplaning effect, which gets the bike into a stable position. Even if one moves the handle bar the bike continues to ride the same direction. Sometimes those sand stretches are fairly broad, so that it is easy and not to risky to ride them fast. However, on other stretches the sandy path is very narrow and has many turns. And this is where it is really difficult for me in the beginning, and sometimes my bike is down twice on just 20 meters.
We continue riding and given the relatively high speed we ride quite a distance. Most of the time I have no idea where we are, but assume it is somewhere in Kompong Spey Province.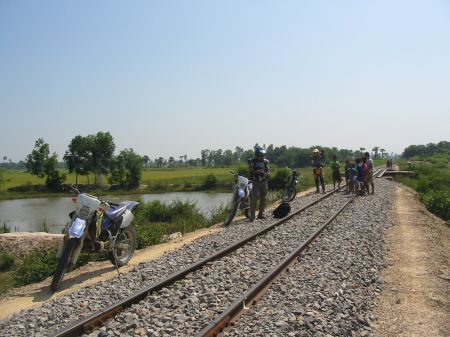 This is some hours later, when Vuth just fall with his bike and broke his mudguard. However, he is ok and we continue the trip.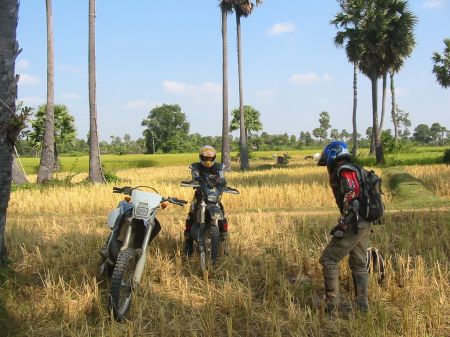 This is John.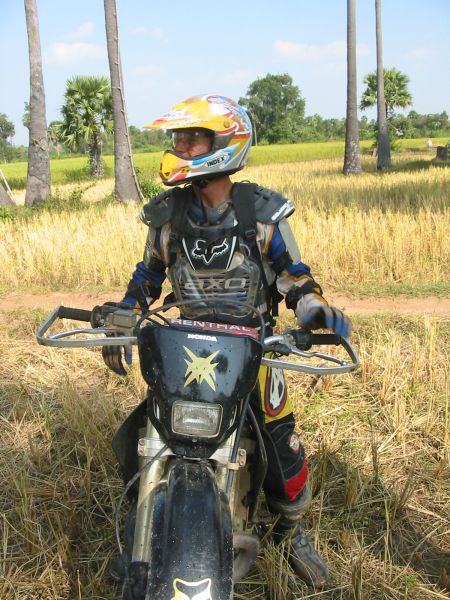 This is Vuth.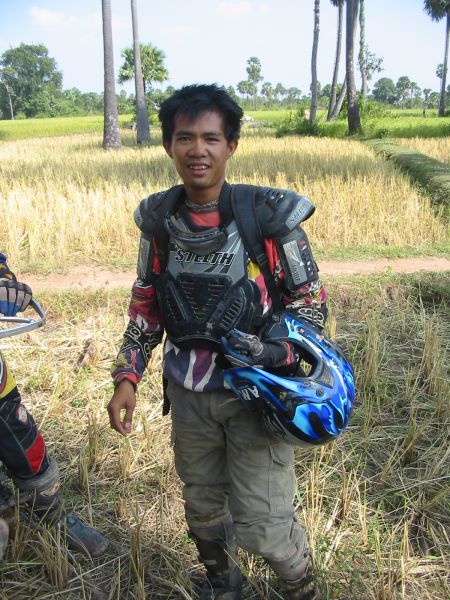 This is at one of those sandy stretches. Where the path is broad like here it really is not much of a problem to ride it fast. And it is fun. Oddly, all of us have the same sort of bike.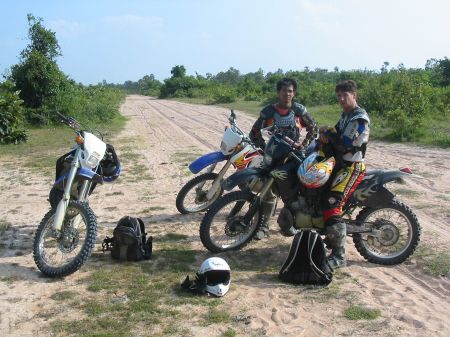 This is again some hours later, already later afternoon. Vuth has some problems getting his bike started but as he is a good mechanic he manages to fix it within minutes. From here we have still a long way to go and I feel already very tired. At this point my moto was down many times and accordingly I had lifted and kick started it so much that I am not very excited about the opportunity to continue doing it.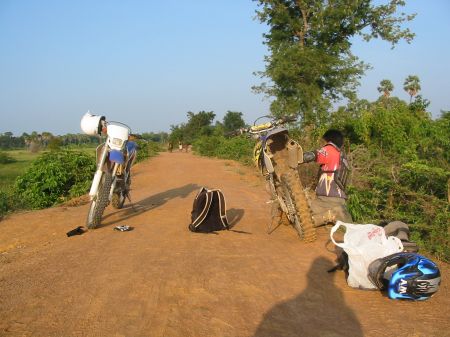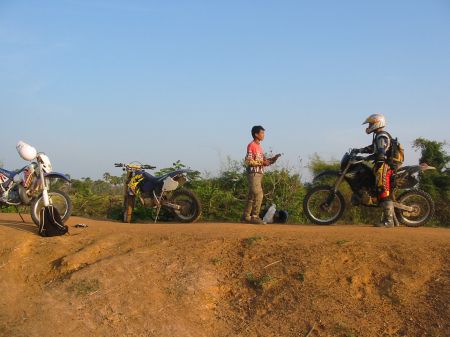 As it is dry season the land is extremely dusty. And as I am usually riding behind John and Vuth I am eating a lot of dust. When we pass villages I am sort of concerned I might hit a child, as I really cannot see very much. Moreover, sometimes I feel speeding through those villages is not particularly sensitive behavior. However, people do not seem to care much about it. Quite the opposite. Wherever we pass a village, people, particularly children will stand cheering along the road.
Wherever we stop we do not need to wait long to have numerous company, like in this village. Here the scenery is somewhat different with fine with sand all over the place.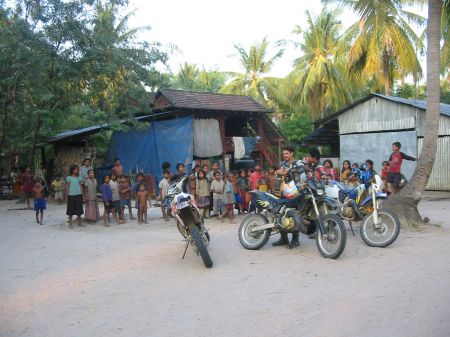 Here we enjoy some coconut milk before we continue our trip. It is already close to getting dark and we still have a long way to go. At this point my need for moto cross is more than satisfied and I am a bit concerned that it is getting more difficult as soon as it is dark.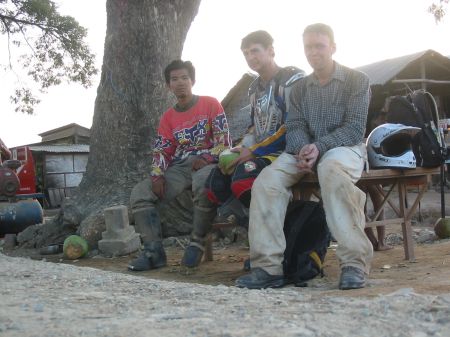 So we continue the journey. By now I am much more confident with the bike and do not fall as often anymore. However, the terrain is still challenging and it is getting dark rapidly.
We are still riding when it is entirely dark. Although I got light on my bike I cannot see anything. There is so much dusk that the light does not reach the ground. I just continue following those guys, as they know the area well. Once more I end up in the rice field when I am to fast to follow the turn of the road.
Again 30 minutes later we are back on some sort of road and from here riding is not a problem anymore. I bring the bike back to the shop and am glad that I can go home by moto taxi, without having to ride myself.
This is how I look like by the time I reach the guesthouse. Although it is not even 8 pm I feel very tired and go to bed early.