I had decided earlier this week that I would leave to Mondulkiri on Friday one way or the other. Yet as I wanted to avoid riding at night time in Mondulkiri I planned to go only the few kilometers to Kampong Cham provincial capital and continue the next day to Sen Monorom.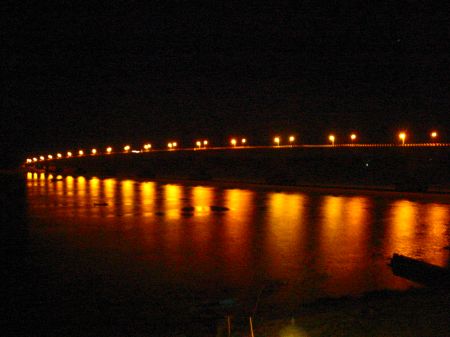 I was contemplating to go with a guide who is knowledgeable both about Mondulkiri and big motos. However, none of the few suitable persons I know had time or interest to go. On the other hand I was talking to Pongro who is one of the Khmer guys I hang out with on occasion. As he studies tourism he was very interesting in traveling to Mondulkiri and I might have raised his expectations that he could go with me. Yet I had decided to go rather alone for a number of reasons. Pongro has never been to Mondulkiri and has almost no experience with big motos. So I though his company might be rather an additional source of uncertainty. In addition nowhere in Cambodia it is a problem to find guides locally. And finally I cannot easily afford and would not usually consider paying other people's holidays.
The day before I actually join a party at my project manager's house and leave there only by 4:30 am. So I do not get to sleep much the night before Friday and am happy that I only have to make the few kilometers to Kampong Cham. Already a few days ago I talked to the Phnom Penh Bike Shop to make sure that a decent bike is available on Friday. So after I packed my stuff and I pay the guesthouse and want to leave to have lunch. In front of the guesthouse I meet Pongro, who is apparently waiting for me for some reasons. I cannot but invite him for lunch, as I do frequently. While we are sitting and having lunch I feel bad about having the chance to go to Mondulkiri while Pongro cannot afford it but would like to go, too. So I decide spontaneously to offer him to join and of course he agrees. While he goes home to get his stuff I go to the moto place to make sure we get another bike in time and have tool sets and spare parts.
We manage to departure at about 4 pm, which is good enough since we don't want to go further than to Kampong Cham today, which is just about 129 km excellent road from Phnom Penh. As usually traffic is dense and slow close to Phnom Penh and we ride carefully. After we have passed the Japanese bridge and all the night clubs, brothels and beer gardens along national road 6 we can travel more quickly. The road to Kampong Cham is about the best quality I have seen in Cambodia. I have been traveling this way many times and feel very comfortable riding it. And it is good exercise for Pongro, who had less opportunity to become familiar with big motos.
I cannot but mention the following observation: people on mopeds in Phnom Penh tend to arrive at the top gear of their moto long before the vehicle actually reaches 15 km per hour. Pongro is no exception in this regard. This maybe makes perfect sense in the slow traffic in Phnom Penh, where everybody is riding very carefully to avoid abrupt movements. Yet Pongro does the very same with the big moto wherever he is riding it. That is even in very slow traffic he travels in the fifth gear. Maybe it is no coincidence that his moto happens to turn off many times, while it takes him a long time to find neutral and restart the engine. Yet he is resistant to my suggestion to use other gears once in a while.
This is maybe half way between Phnom Penh and Kampong Cham. Some people appear to shoot a movie and are doing a stunt scene with a sports car. We have a short break. When we want to continue it takes a long time to start my moto, which does not have an electrical starter.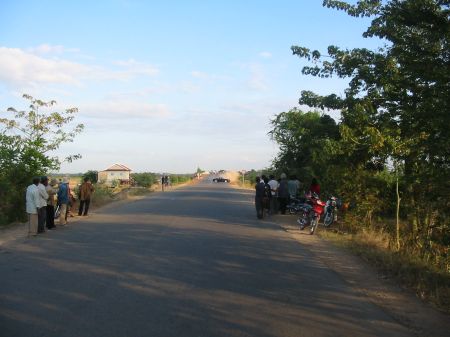 We continue riding while it is getting dark. Riding in the dark is not a pleasant thing to do because there are people, animals and all sorts of vehicles moving on the road. In addition, the dark visor of our helmets force the choice between even worse vision with closed visor or the continues stream of insects flying into the face with open visor, which does not make you a safer rider either.
We ride another 30 minutes in the dark before we reach Kampong Cham. We have a short break at a shop and ask our way to the Kim Srun Guesthouse which is said to be clean and friendly. When we want to continue I do not manage to kick start my bike. Other people give it a try but it does not work out. We agree to leave the bike here and get rooms first. So we go both on Pongro's moto (in the fifth gear) the few hundred meters to the guesthouse at riverside, occasionally turning the engine off. We manage to get decent rooms for $3. After we check in we agree to look for a mechanic. I find a moto taxi and after Pongro's bike does not start for a longer time I suggest I leave first to find a mechanic. After all, locations are only a few hundred meters away. As garages are closed by this time I go with the moto driver to the house of one of his friends who is mechanic. However, he is not at home. We go back to my bike, trying again to restart it for some time. Some people who are sitting nearby offer their help. One of them tries for a while and suggests that the sparking plug is broken. There is in fact a sparking plug among the spare parts I brought and the guy tries to replace the broken one. However, after some time we find that it is not the same model and does not fit. In some ways this is good news since a new sparking plug won't be difficult to find in Kampong Cham.
While we keep trying a guy comes and talks to the taxi driver, who tells me that Pongro and a guy from the guesthouse had an accident. I don't get much more information and of course we hurry back to the guesthouse. On the way we find Pongro's moto on the ground with a number of people surrounding it about 50 meter from the guesthouse. A lady gives me the key. It is difficult to get consistent information but I understand the guesthouse guy was riding with Pongro on the back of the moto when they bumped into a car got hurt. Later they went to the hospital. People indicate that a guy standing close by is actually a military police officer who knows the driver of the car and will follow up on this case. I go with the moto driver to the hospital, which turns out to be more like a two room health center with about three dozen people surrounding the few people laying in beds. We find Pongro and the other guy together with a number of people in the second room.
I manage to understand the following: Pongro agreed to let the other guy ride the bike, who is maybe about 18. Just a few meters from the guesthouse they wanted to overtake a car. Without a signal the car turned to the left. While trying to avoid crashing into the car they fall with the moto. Pongro actually hits the ground with his head and his ear gets torn. The other guy has hurt his food as well as knee and shoulder. The guy with the car left to Phnom Penh. However, the military police guy saw the accident and will take measures, whatever that means. Both have gotten their wounds cleaned and bandaged. The guesthouse guy had to pay about $10 for the treatment, which they ensure me he will get back from the car driver. Pongro says he is ok but has a headache. I suggest to rest and decide later what to do. After some twenty minutes we leave and I collect two broken motos and push them to the guesthouse.
This is when we hang out in front of the guesthouse, to discuss how to proceed.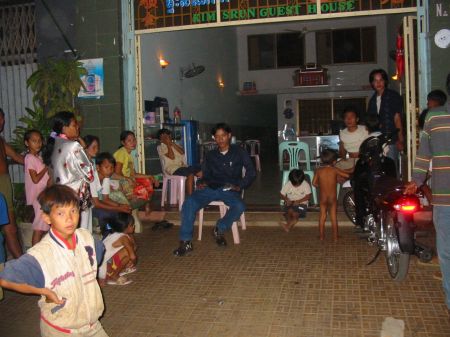 Pongro's ear.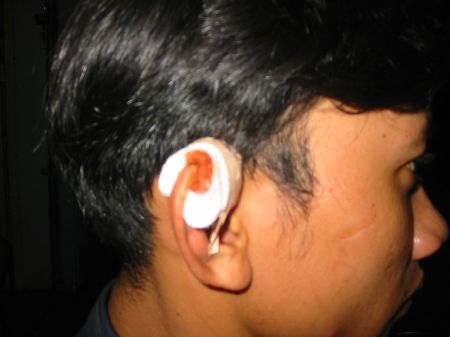 The guest house guy's foot …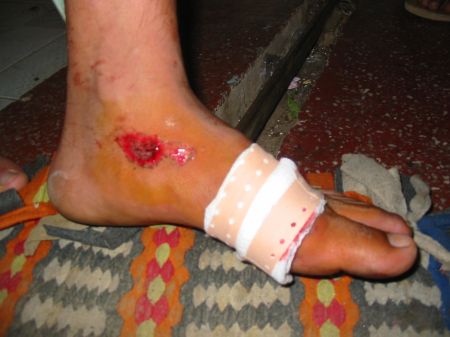 … and shoulder.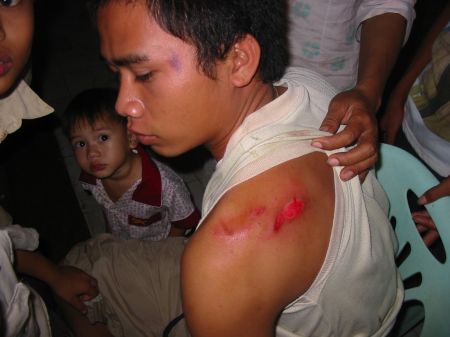 Later I go with Pongro to a nearby restaurant to have some food. He is not very talkative. However, he ensures me that the headache is getting better. Later we go to the guesthouse and hang out on the terrace for some time. We do not hear from the military police guy again.
Japanese Bridge at night.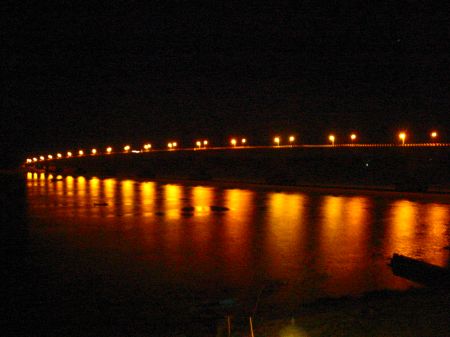 We decide to wait for tomorrow to make the decision whether or not to continue the trip.