I wake up the next day when Pongro is knocking on my door. It is already bright daylight. Pongro tells me he is alright. And it looks like we will proceed with the trip.
Japanese Bridge in the morning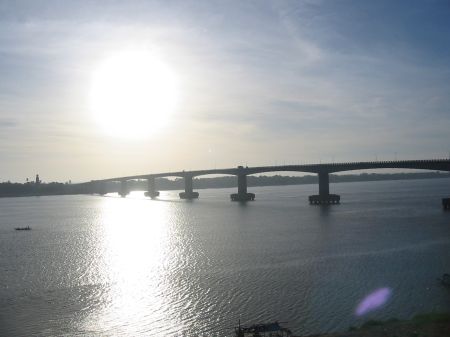 So I go with the same moto taxi driver who was helpful yesterday to find a mechanic. After asking in a few shops we find a mechanic who is willing to take care of our bikes and claims to be familiar with big motos. So we go back to the guesthouse and later we push the motos the few hundred meters to the shop and go to a food place close by to have breakfast.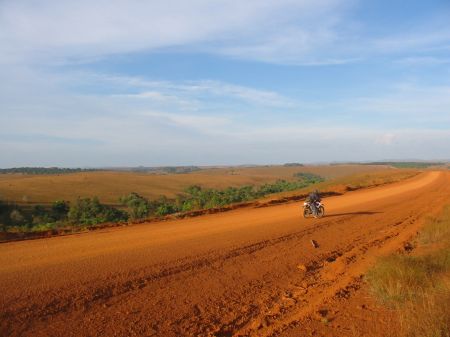 This is the street where all the mechanics are.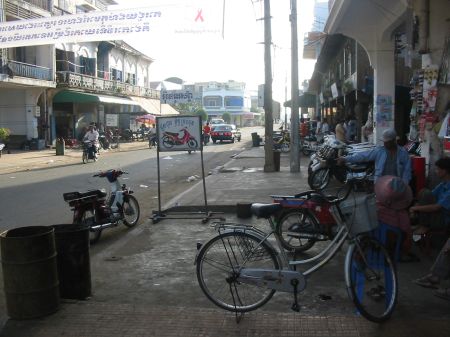 Later we learn that in fact the sparking plug is broken in my moto and can easily be replaced. The battery does not work on the other moto and one of the blinker is broken. Other than that the bike got a number of new scratches, which we don't care much about. We ask them to fix the motos. Later we go to the market to buy appropriate clothing for the cooler temperatures of the highlands of Mondulkiri.
This is at the market.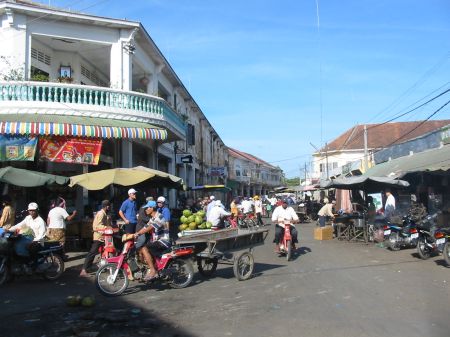 When we get back after half an hour we still have to wait some time before the bikes are ready.
Mechanics working on my bike.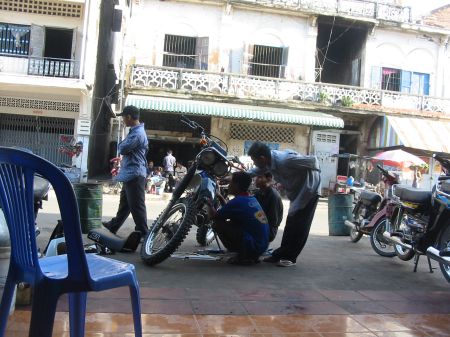 Then we leave to the guesthouse, collect our stuff, fill up the tanks at the gas station and continue the trip to Sen Monorom, which is about 263 km from here. We are traveling on national road 7 which is mostly in excellent conditions, like here.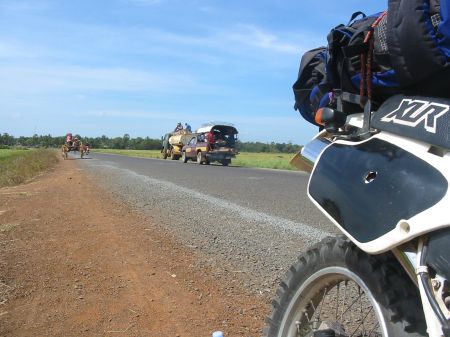 Other stretches of the road, closer to Kratie province, are being paved right now, like here.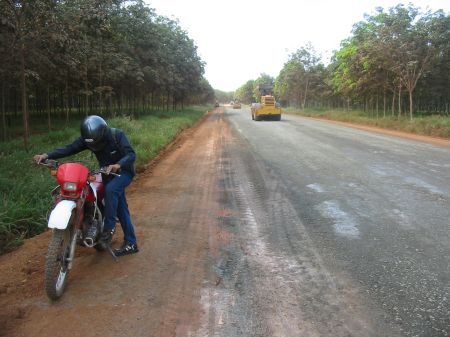 At lunch time we reach Snuol in Kratie province, which is about 168 km from Kampong Cham. From here it is still 118 km to Sen Monorom.
I have been to Snuol before, doing interviews with indigenous villagers. We stop at the market and have food and café at a restaurant. Before we leave we fill up the motos.
Immediately behind Snuol the paved road ends and what follows is called 'other national road' in the register of my map. The road is unpaved but very broad and in good conditions. There are only few potholes and with those bikes it is an easy ride. However, very dusty. Riding behind the other moto or other vehicles on the road makes it effectively impossible to spot potholes in time. The helmet of the visor needs to be cleaned many times.
About ten minutes behind Snuol we reach a junction where we turn left (whereas the map actually suggests a turn to the right, which is irritating). We see only very few settlements along the road. Mostly it is dry forest, yet open and in many places cleared. Sometimes there are clear indications of logging.
After about one hour behind Snuol we stop at this building to ask for the way. We meet a guy in shorts and without t-shirt. We learn that this is an army base. The guy kindly offers tea and provides information. He actually has never been to Sen Monorom himself (like most people we met on the way) but beliefs that we have to keep going to reach there before it is dark.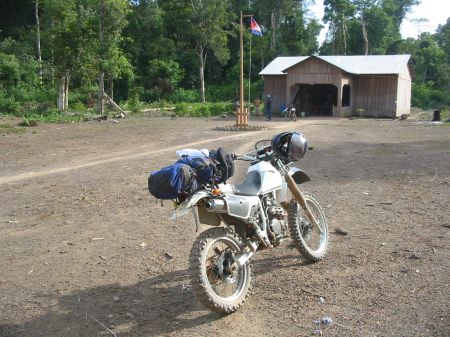 This is in one of the few settlements we pass.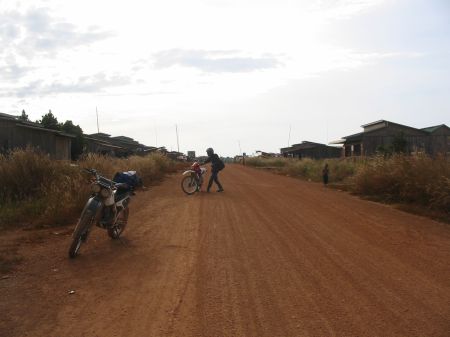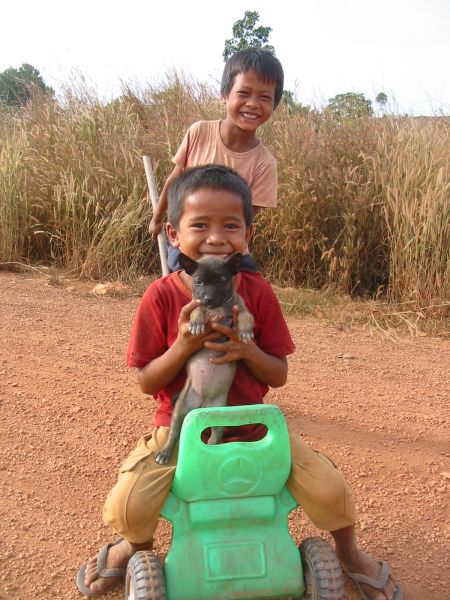 The landscape still does not look like highland to me.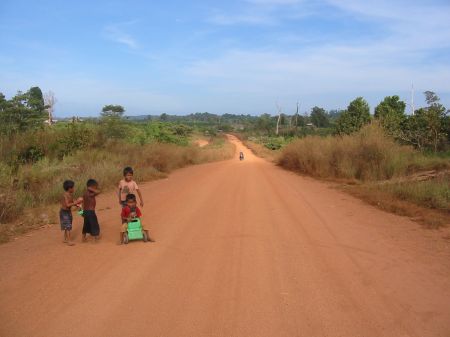 Wherever we stop we do not need to wait long for company.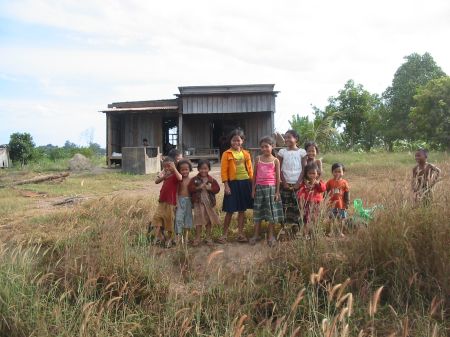 We keep going with relatively high speed. Only significantly later the landscape changes. The forest is getting denser and the road has many bents and turns, and ups and downs. I realize that Pongro still sticks to the fifth gear, which makes him very slow when it comes to riding uphill. In contrast he reaches dangerously high speeds when he is riding downhill. I follow his bike closely and in this particular turn downhill I cannot but reduce the speed while Pongro keeps going way too fast to get through the turn. When he starts applying the brake he is almost off the road and has still significant speed when he looses control and disappears in a cloud of dust. It still takes me some time until I manage to stop my bike on the way downhill and I hurry back to Pongro, believing that this one is serious. However, when I reach him he is already standing again, still wondering what happened. Yet he beliefs he and the bike are ok and we can continue.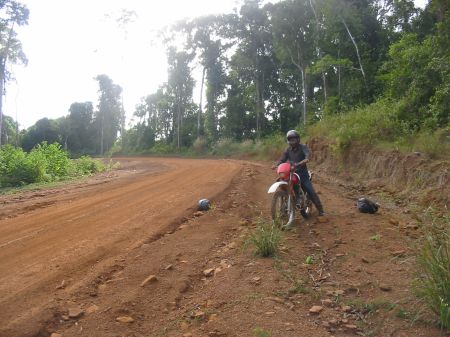 Downhill: it is actually steeper than it appears on both pictures.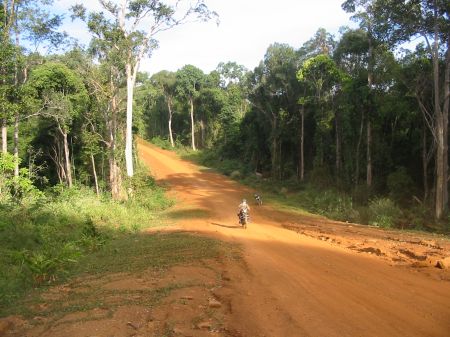 We keep traveling through the jungle. The road continues to be in good condition and easy to ride. However, as the hills are getting steeper Pongro is getting slower when traveling upwards. At one point he complains to me that his bike 'does not climb' because it is so much weaker. I ask him which gear he is using and he innocently says five. Frustrated I repeat my suggestion to use lower gears once in a while but without much impact.
Only shortly before we reach Sen Monorom we leave the jungle behind. What follows is an open landscape with long grass and smaller groups of trees. This is about 1000 m above sea level and about as high as it gets in Mondulkiri. Shadows are getting longer and longer and it is getting cooler than it would get in the lowlands.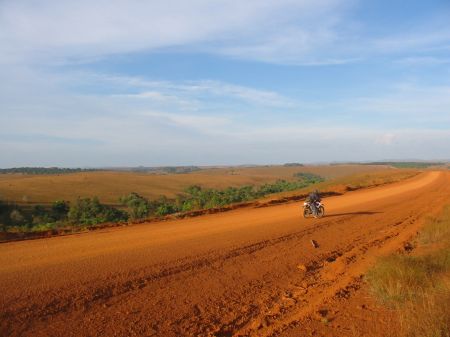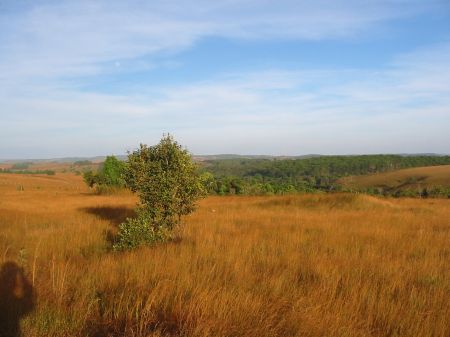 We reach Sen Monorom when it is about to get dark. It does not take us long to find our way to the Long Vibol Guesthouse, which is a recommendation of my guide book. It is situated next to the old airport north to the market. It consists of a number of small buildings on a piece of land which is nicely decorated with all sorts of flowers. The rooms are nice and clean and we manage to push the price to $4 per room.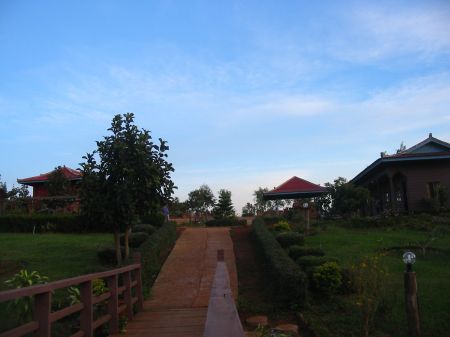 In front of my room.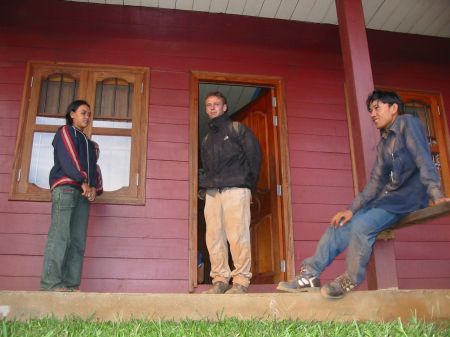 As it is not entirely dark yet we go on a short ride through the town.
This is the old airport, looking from the south to the north. The market is to the left almost outside the picture. The hill to the left in the background is called Doh Kromom, which actually means bosom.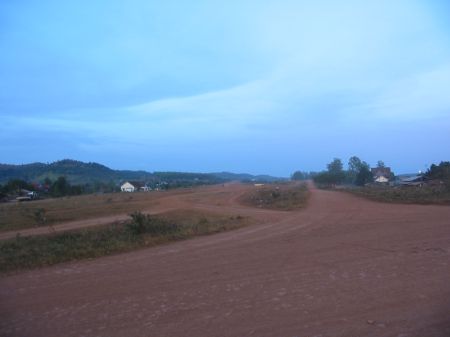 Of course there is a pagoda, too.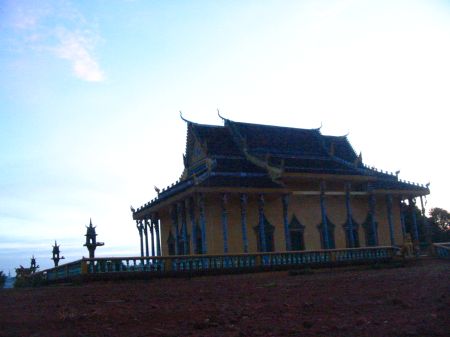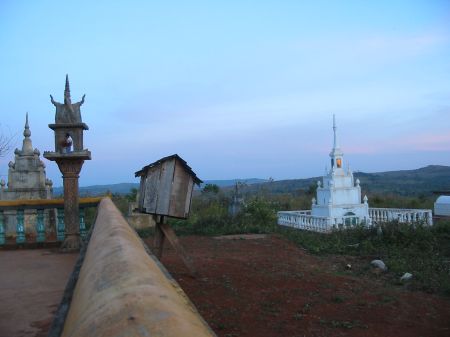 We go back to the guesthouse and rest for some time. Later we have diner and discuss what to do during the next days, without much input from Pongro. We manage to find a guide for the next day and agree to meet at 7:30 am to go to the Bou Sraa waterfalls, which actually is what appeals to most tourists in Mondulkiri.
Later in the evening I have a short discussion with Pongro suggesting that he takes some part in the preparation, too, since he studies tourism and knows Khmer.