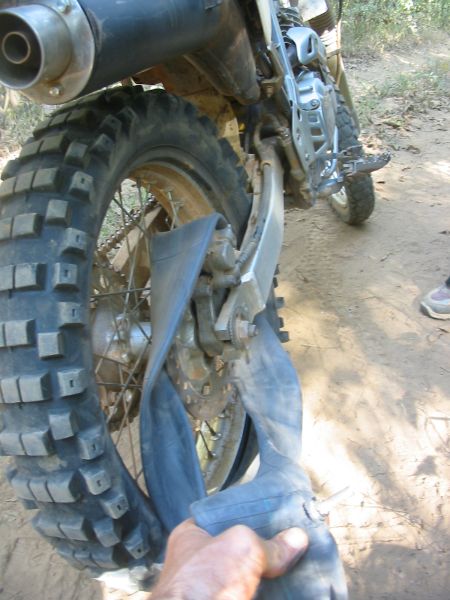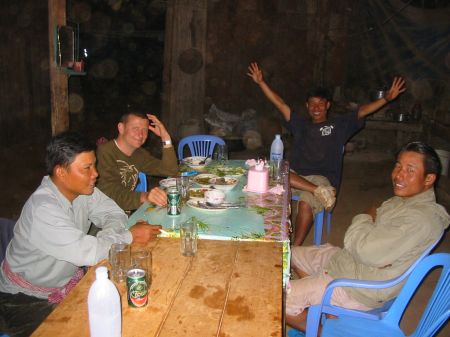 We get up at about 7 am and following some breakfast we head of. Vothear is convinced we can make it all the way to Choam Khsant but I remain skeptical. As soon as we leave Khvav to the north the dirt road turns into oxcart trails again.
We continue riding those trails. First we pass sandy stretches through open landscape. Later we ride through dense forest forcing us to duck from the branches of trees and follow the tight turns of the trail. We do not think of having breaks, as we want to catch up with the initial schedule.

It is getting somewhat chilly at night. When I look out of my window in the morning I see a number of children trying to get warm at this fire.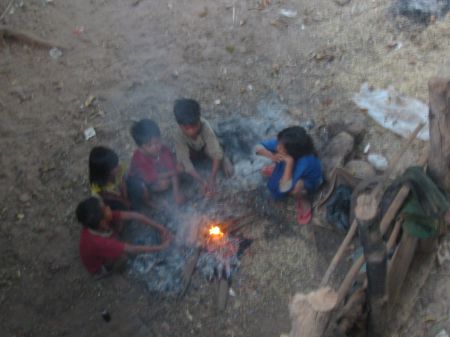 After about two hours riding I realize that my rear tyre is flat. This is not even half the way to Sraryang Village (Moreal is what the map says, but people on the ground do not know this name), which is about 68 km from Khvav and not so far from the temples of Prasat Kaoh Ker.
Luckily we have tools with us. So we open the tyre. We find a puncture in the tube caused by a nail in the tyre. More seriously, the tube is broken directly at the valve and I doubt we can fix it. And the next location where a tube might be available is Anlong Veng, which I intended to see only three days from today.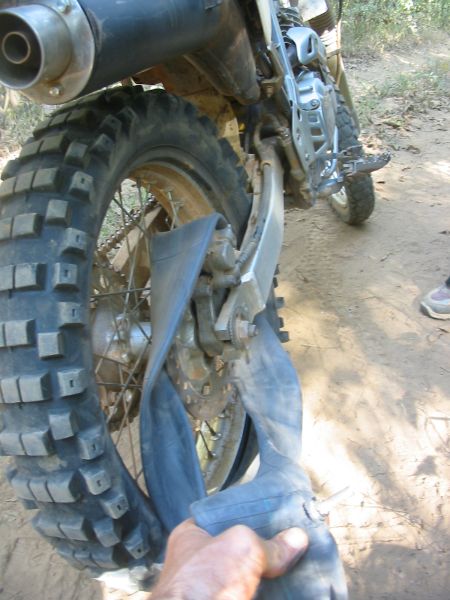 Vothear is still confident he can fix it. So what he does is he takes the valve out entirely and fixes the hole. Then he attaches the valve in another place. It is hard for me to imagine this will hold. And even if it does for some time it is unlikely to survive the next three days until I have the chance to purchase a new tyre.
The entire exercise takes us about one hour. Two Khmer guys pass on a moto and stop to find out what we are doing. They join for some time and help to fix the tyre. One of them carries glasses, which I did not see in the countryside before and which give him a somewhat intellectual appearance.
However, when we inflate the tyre it seems to be capable of surviving the pressure. I feel relieved a lot and we continue the ride through tough terrain. I try to treat the bike carefully, still concerned the tyre will break again. However, it does not.
The 'road' does not get any better.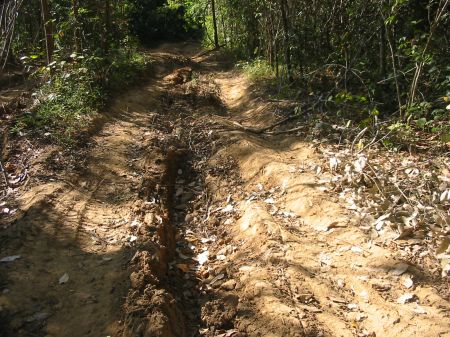 We reach Sraryang Village only after another two hours and my tube breaks again only shortly before we reach it. Instead of attempting to fix it here we ride the last few kilometers to the village to have it fixed properly.
We reach the village and go to the mechanic. As usual he is confident he will fix it. We spend some time talking to him and later sit down in a food place at the roadside, to have some refreshments and observe life on the street. We talk to a number of people and later have food. The bike is not yet ready and we decide to go with Vothear's bike the about 20 km to the Kaoh Ker temples.
So we get on Vothear's bike and continue. Predominantly we ride on tough road covered with deep sand. I am amazed how easily Vothear manages to ride this small and weak bike through the sand without loosing control or much speed. And I feel good about not having to ride my bike, which turns out to be more fragile than I expected. Not so long ago I was concerned the bike would break me. However, I feel confident about riding dirt bikes by now and my major concern is that I might break the bike.
Those 20 km take us almost one hour. Then we arrive at the gate of Kaoh Ker's main temple, Prasat Thom (Prasat Kompeng). There are more than 50 smaller sacred buildings in the surrounding. We enter and walk through the various towers and temples. Much of the structures are not intact anymore. Yet high towers are still standing and the ruins clearly give an idea of how this was supposed to look like.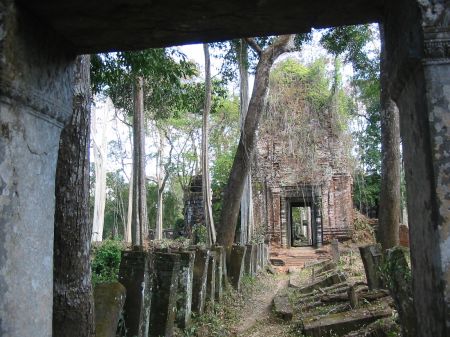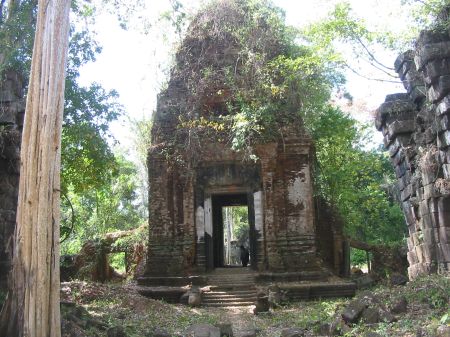 "Koh Ker, a former 10th century capital of the Angkorian Empire, is one of the most remote and inaccessible temple sites in Cambodia, long abandoned to the forests of northern Cambodia." This is how the current Lonely Planet introduces this destination, and goes on: "Koh Ker is one of the least-studied temple areas from the Angkorian period. Louis Delaporte visited in 1880 during his extensive investigations into Angkorian temples. It was surveyed in 1921 by the great Henri Parmentier for an article in the Bulletin de l"Ecole D'Extreme Orient, but no restoration work was ever undertaken here. Archaeological surveys were carried out by Cambodian teams in the 1950s and 1960s, but all records vanished during the destruction of the 1970s, helping to preserve this complex as something of an enigma".
The later is in fact the impression those ruins convey. After we pass the gates we step out of the forest and the view opens up and we see the impressive 40 meter high temple pyramid. There is nothing around here as high as this temple. We walk over and start climbing up the steep stairs of this fragile ladder. This is an exhausting task in the sun of midday and I am happy to find a fresh breeze when I reach the summit.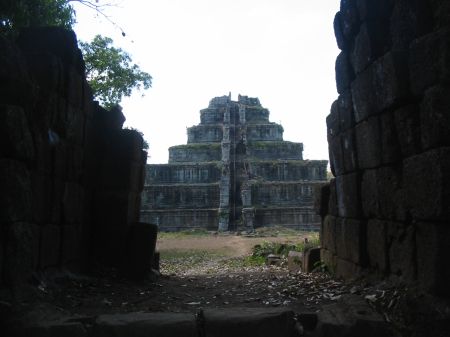 From up here the view is open and through the clear air we can oversee the flat landscape. Only the mountains at the very horizon are higher than this temple. This mountain range marks the border to Thailand.
We have a smoke and hang out. We did not see a single tourist so far. The only indication of human settlement seems to be a small village some hundred meters to the north and the smoke of some spots where the grass is burning at the horizon.
Over there are a village and some rice field.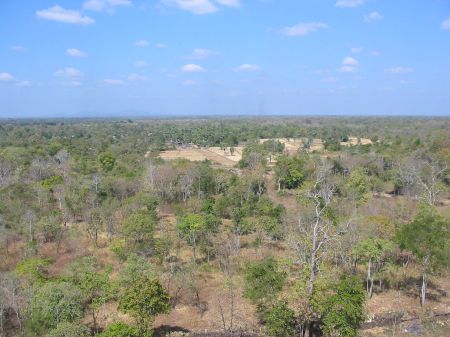 This is the direction towards the entrance gates.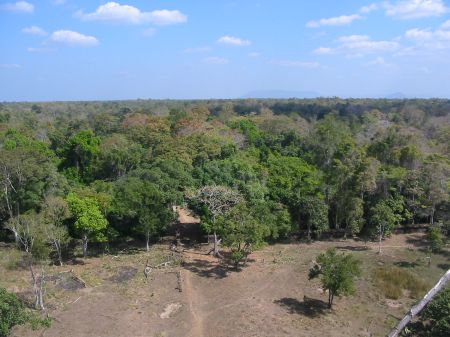 After some time a group of children emerges from the forest and starts climbing up the pyramid. It takes them some time until they arrive at the summit. We hang out for some time, silently appreciating the fascination and history of this sight.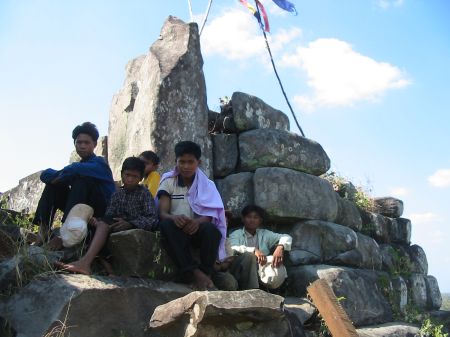 After maybe one hour we climb down again and walk around the temple. I learn the surroundings have been cleared from vegetation only some weeks ago by a government program. We walk back through the gates and to the moto and continue.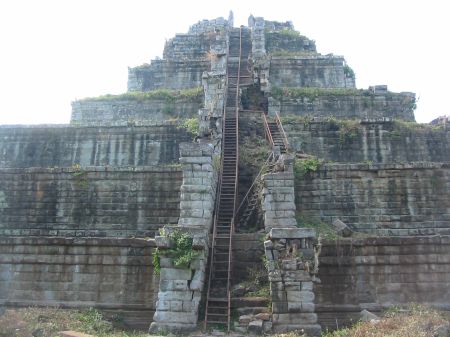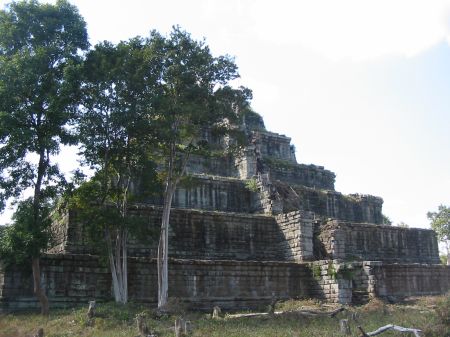 There are a number of smaller buildings around and we visit a number of temples which look rather similar to me. Inside each there is a linga (phallus symbol devoted to Shiva), mostly buried in the ground. We stop at two of those temples and than continue the trip to the next spot.
Small temple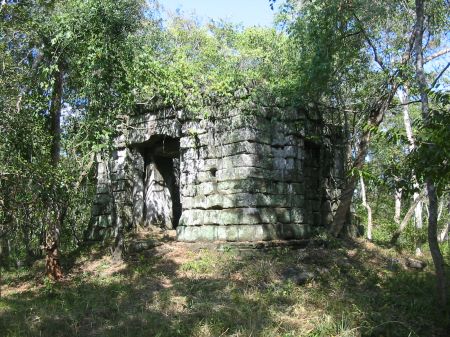 Linga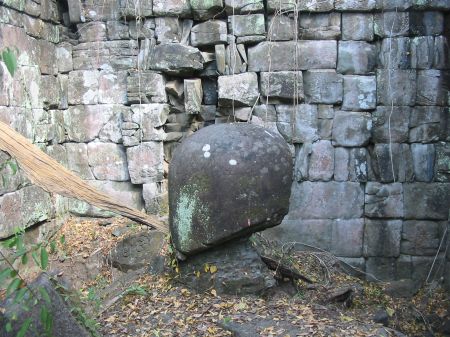 We passed this temple when we came here and at this time locals where working hard to clear this structure from vegetation. After I saw a good number of temples today I do not have much appreciation left for this one, although I think it is cute.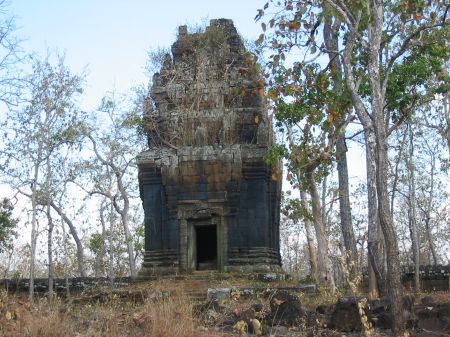 We continue and at a junction turn and follow a road which's' sides are marked with red signs signaling that the surroundings are mined. However, the road has been cleared recently.
We reach the temples and I learn they are cleared as well. There are about five or six smaller temples which are still standing. We walk around for some time. Multiple rock plates covering the ground inside the temples are opened or broken by looters with heavy tools.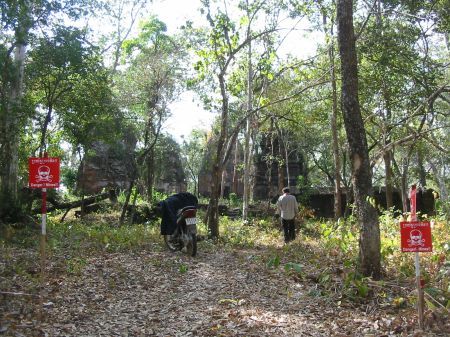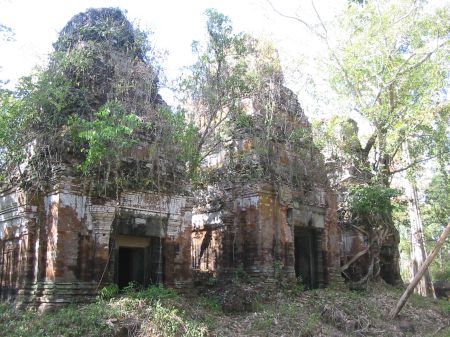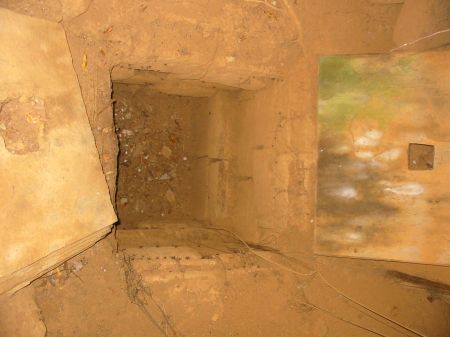 Scenery somewhere between the village and the temples.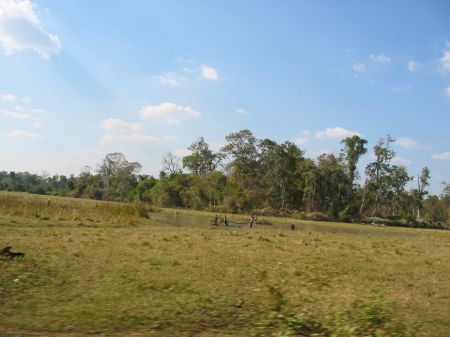 It is already afternoon when we ride back to the village. When we arrive my bike is not ready. But the mechanics say they will manage to fix it. So we have some refreshment. Those guys really fix the tube again and we continue our trip.
We intend to travel to Choam Khsant via Kulen. From Kulen there are already roads marked in my map and I assume it is possible to travel those significant distances today given that we can ride faster.
This is before we reach Kulen. Bridges on this stretch are in poor conditions and the road is rather sandy.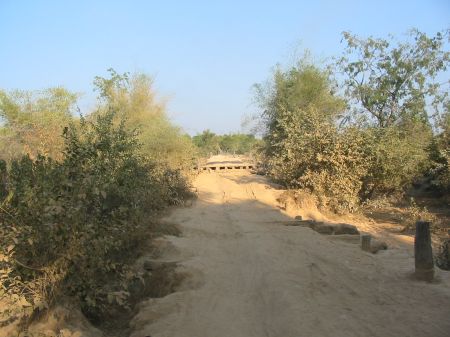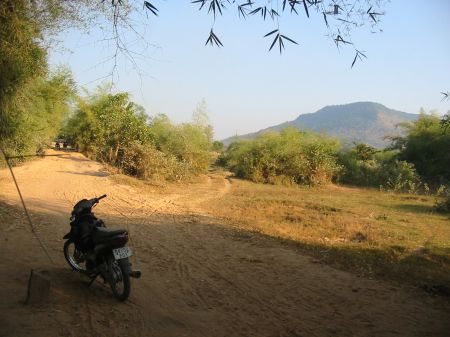 To Kulen the road is in fact not too bad. In Kulen we reach a road which looks decent and find petrol to fill up the bikes.
This is in Kulen.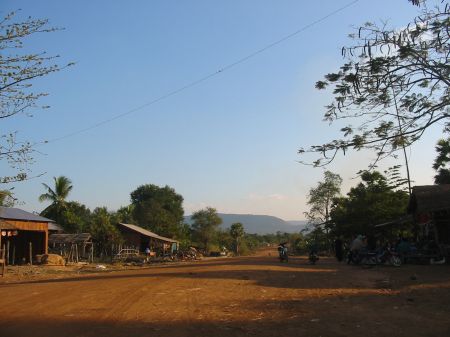 We continue traveling on this road but soon it turns into something that looks like it was cluster bombed recently. I learn this road has been constructed just one year ago which really is hard to imagine. There are deep wholes in the ground and sometimes the difference to the level of the initial road is more than one meter. Riding this road involves constant ups and downs and permanent choices which way to go. However, this sand offers better grip than it looks like and we manage to travel with significant speed. Sometimes we find smoother stretches where we can speed up but generally this road is in a very bad shape. Moreover, it is getting dark and I am riding behind Vothear's bike, which produces a lot of dust and makes it hard for me to recognize what remains of the road.
Rarely do we come across vehicles and if so it is mostly military trucks and police on big bikes and with automatic weapons. After some time it is dark. At some point we turn and continue on an excellent dirt road, which really looks like recently constructed. Nothing in the map suggests this road exists.
It is still a long way to go and we travel with relatively high speed in the dark. We pass a number of modern iron bridges before we finally reach the guesthouse in Choam Khsant.
We see two dirt bikes in front. After we get rooms we walk to the main table, where we meet the other travelers. We get to know Paul Hay as well as Gerry and Paul's brother 'Mr. Slim'. I actually have heard a lot about Paul Hay before and was in contact with him. I found recommendations and his contact in Andy Brouwers Cambodia Forum and contacted him prior to traveling to Cambodia. I had a number of email exchanges with Paul and his wife Sheila. However, after I learned about the prices I felt it might be worth it but I certainly cannot afford it. And I am introduced to Gerry, who is Australian and here to take pictures of temples which are not yet published.
From left to right: Vothear, Gerry, Paul, and Mr. Slim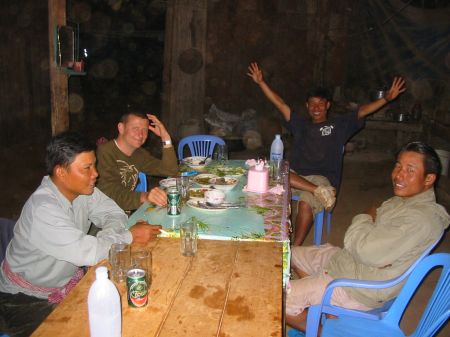 We order food and start talking about all sorts of issues. Mr. Slim tells me I have problems with my exhaust pipe. I expect something inside the sophisticated machinery which I would not be able to determine. It does not surprise me, though. However, the screw which attaches the exhaust to the frame is simply broken and the pipe is hanging down. This does not seem to be a major problem.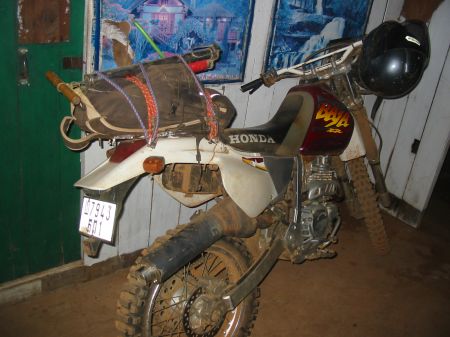 Later Gerry disappears with Mr. Slim and one of the prostitutes. Later we learn more about the threesome experience they just had. For some time I was hoping that we could reach Preah Vihear by Christmas Eve, which is today. However, I would not have expected hanging out in a brothel like guesthouse having this sort of conversation at night. I talk to Gerry and learn a lot about the temples, the impossibility to 'discover' temples and the difference between discovering and publishing temples. Gerry is freelance photographer. He has booked Paul and his brother for a number of days and they travel through the north to take pictures of temples which are not yet well known. Interestingly, Gerry is in touch with Andy Brouwer whose Cambodia Forum I visit regularly. And he has met Nick Ray, who is the author of the Lonely Planet on Cambodia. Gerry travels on the back of Paul's bike, while his 35 km of cameras and equipment are on Mr. Slim's bike. Later I spend a lot of time talking with Paul. This is very interesting and I learn a lot about Cambodia, the temples and dirt bikes.
It is late when we decide to go to bed.