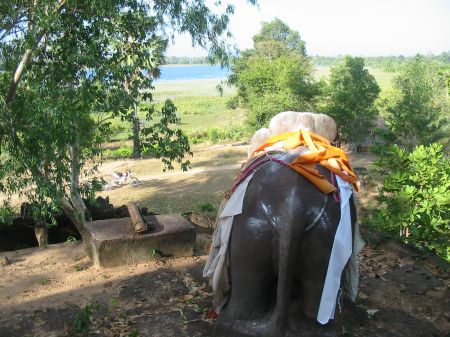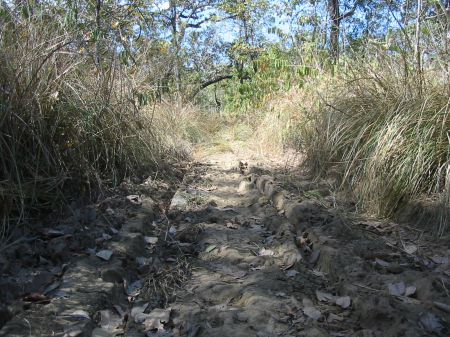 It is at about 4 am when cocks start their noisy business. The village is getting busy when it is still dark. We get up at about 7 am and have breakfast, fish and rice, which is tasty.
Later we head out to see another temple of the Prasat Bakan complex, Prasat Domrei (temple of the elephants). Vanna and his friend give us company and the four of us ride on two motos. Vanna is traveling with Vothear and it is actually the first time I am not alone on my moto. I felt I do not want to risk other people's health or live. However, it turns out not to be too difficult, although the road is pretty rough and sandy. After about 20 minutes we arrive at the temple, which is located at a beautiful lake. This is the first pyramid shaped temple I see.

Children in the morning.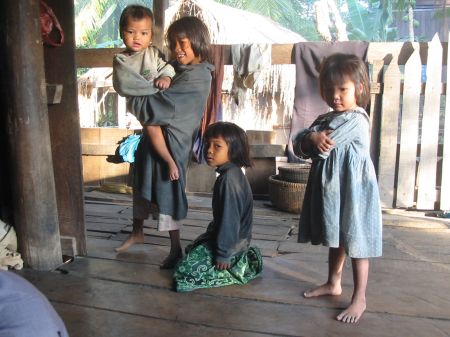 View from the house at the road.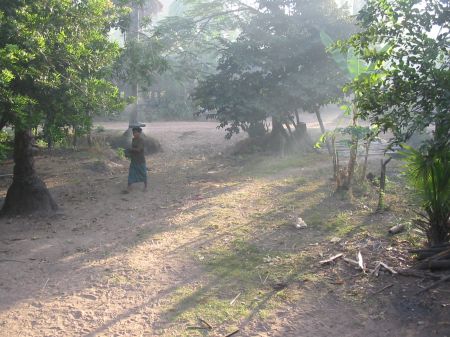 This is one of the gates, covered with nicely carved apsara figures.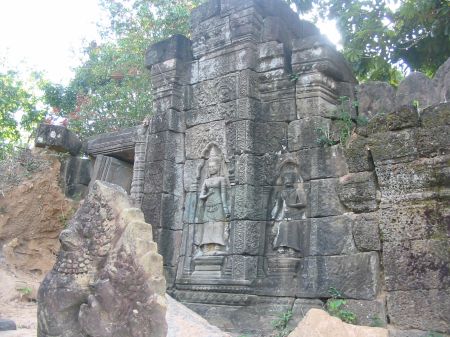 Carved stones are buried in the ground, too.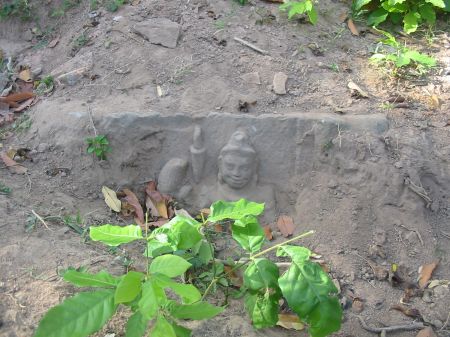 There was a shrine on top of this temple, guarded by four nicely carved stone elephants. Only two of those elephants remain here. Another one is in the National Museum in Phnom Penh and still another one in the Musee Guimet in Paris.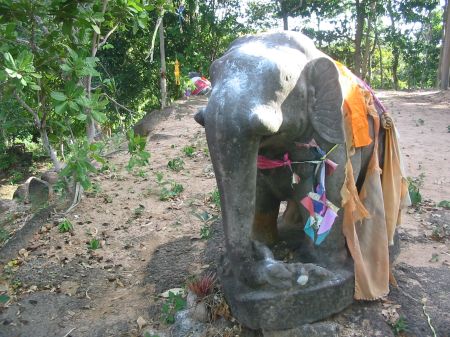 The lake in the background is said to be home to a number of crocodiles.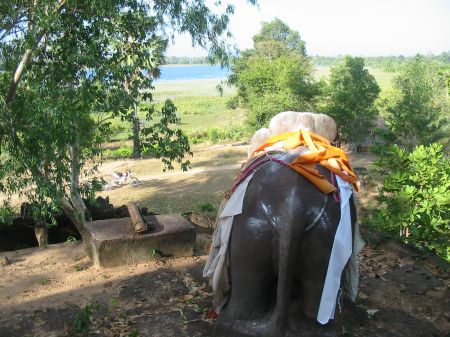 Later we travel back to the village, pack our stuff, fill up the tanks and leave, heading to Khvav village. This is about 45 km tough terrain. I learn that we are traveling partly on the ancient road which used to connect Sambor Prei Kuk in Kampong Thom and Angkor Wat in Siem Reap. Nothing in my map suggests that there is a road or anything to travel on. And in fact what it is is another ox cart trail. There are stretches of sand and of solid soil. Sometimes we pass fields, at times even travel on them because there is nothing else.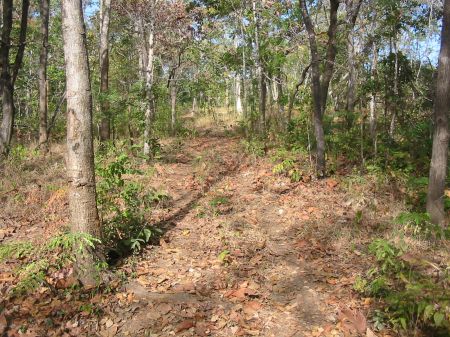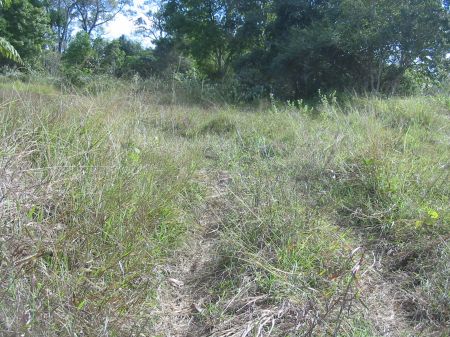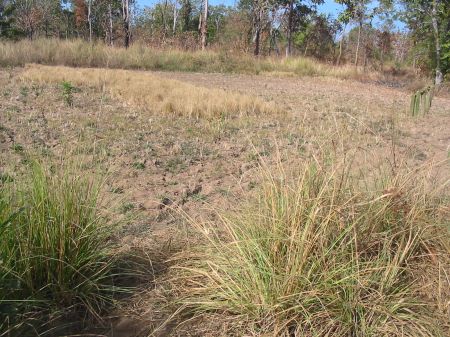 Mostly we pass through landscape dominated by high, resistant grass and small numbers of trees. Everything is pretty dry and sometimes the grass is burning. Sometimes there are bigger groups of trees or bamboo. The way is sometimes covered with leaves or grass, providing some traction for the tires but no certainty whether there is sand, rocks or the deep, narrow print of the oxcart underneath.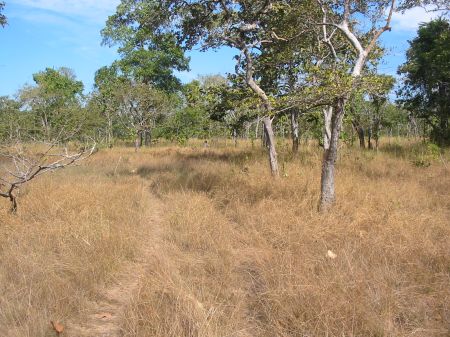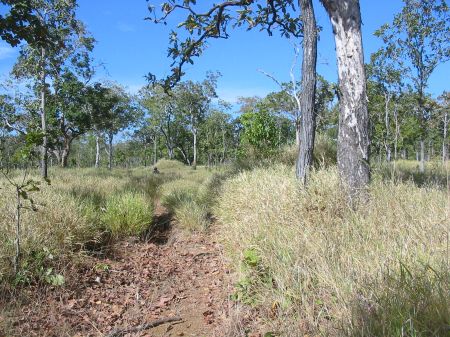 Sometimes the roots of trees put obstacles in the way, more so for Vothear's moto than for me. A number of times he has to lift the moto or gets stuck. On one occasion he hits a rock with the brake pedal, so that it bents down and backwards. We do not manage to push it back, and now it is more difficult to ride this bike. Particularly as the front brake does not work either. However, Vothear is relaxed about it and we continue.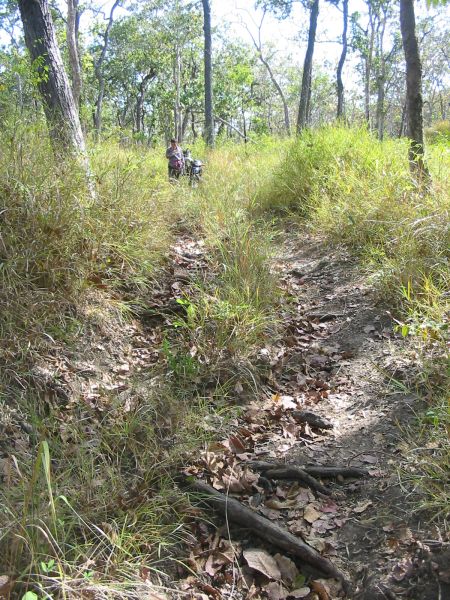 Vothear's brake pedal is bend down and backwards.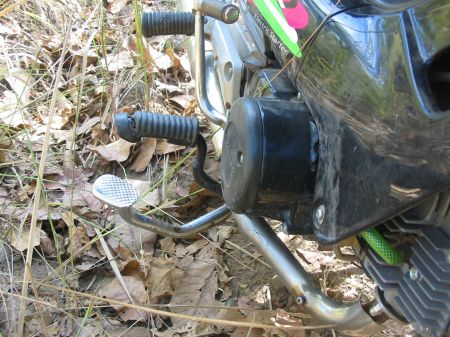 We come across some people who are cutting bamboo.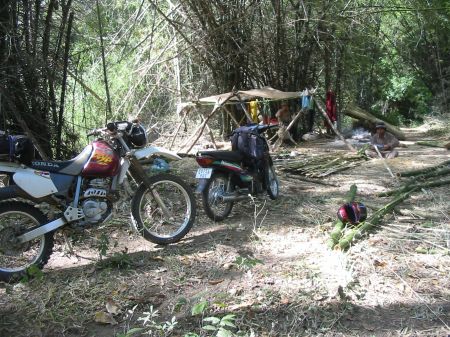 We talk to them and they tell us they have seen many parts of the ancient 'highway' to Angkor in the jungle. We continue the journey, but not for long. Vothear's rear tyre is flat and we stop to fix it. Vothea seems to have a lot of routine in doing that. After maybe 40 min. we continue. The road is not getting any better.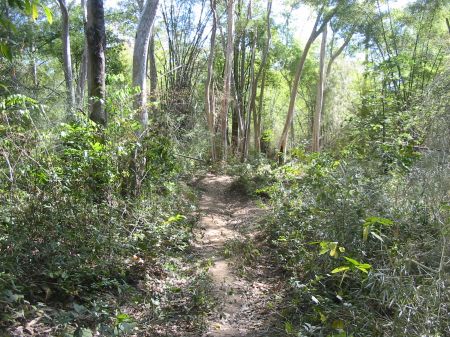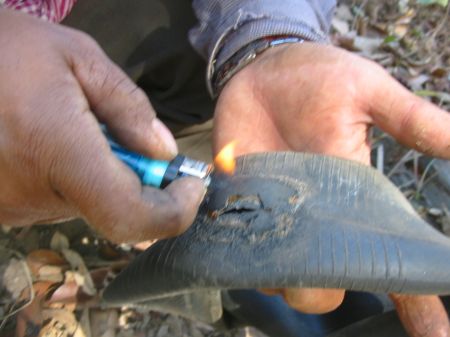 Initially we wanted to spend the night close to Kaoh Ker, in Sraryang Village, about 68 km north of Khvav. Traveling to Kaoh Ker makes for a challenging day trip and involves many hours of riding through difficult terrain. Given this plan the state of our bikes is frustrating. Vothear does not really have a brake anymore. In addition, he hits everything higher than few cm on the right of his moto. I fixed my headlight module transitionally with a rubber band, which makes it almost useless in the dark. And I am concerned the hydraulic tubes of my brake or the eclectics might suffer.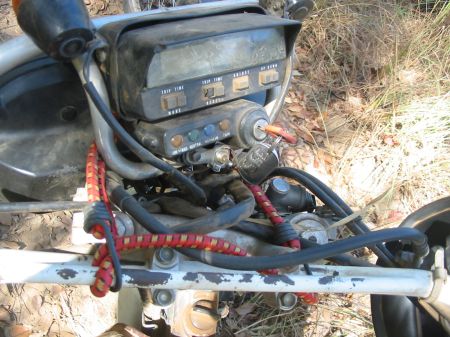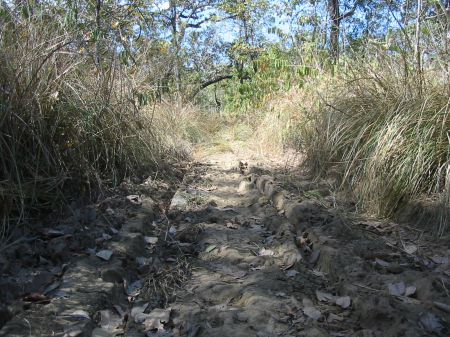 While we continue on rough terrain Vothear's brake keeps hitting rocks and roots. I think he is taking quite some risk, but he ensures me we should continue like this. No question, it is much easier for me to ride this bike, and those obstacles mostly are insignificant to the suspension of my moto. Still later we are traveling in denser forest, and occasionally branches of trees hit our helmets.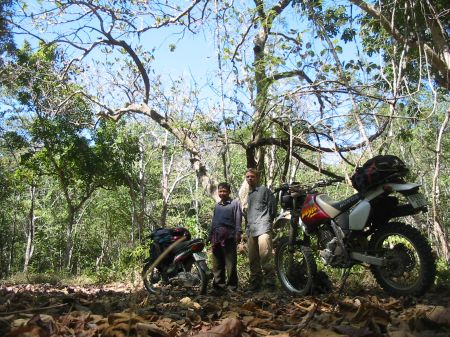 After we have been traveling for about three hours we have a break again. I learn we are standing on a small bridge, part of what remains from the ancient highway to Angkor. This is in the middle of the jungle and we did not come across people for hours.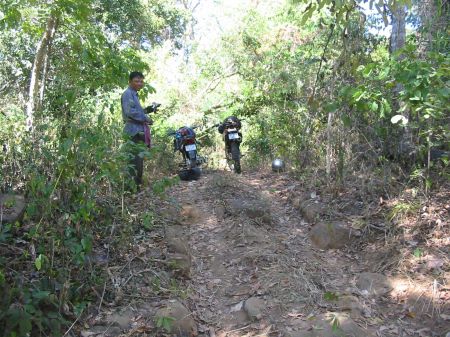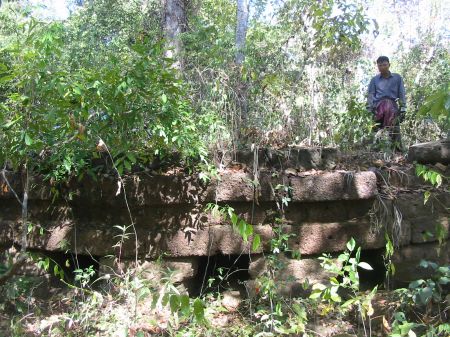 Vothear mentions his bike has many problems. This is very true. Not only has the brake moved about 120 degree towards the back tire and is almost touching the ground. In addition, the pedals to the left have taken serious blows and are deformed. Yet Vothear insists we continue.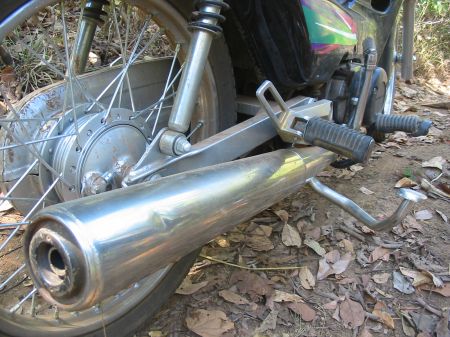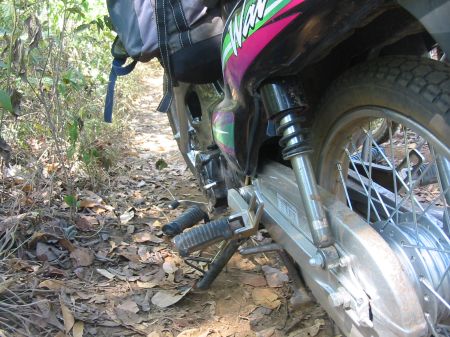 After some time the road is getting easier and we can travel faster. Still later we reach another village. It takes us some time to find the way through the confusing system of very bad 'roads'.
After another 30 min. we reach Khvav. This is a more significant village and I am surprised that a new dirt road passes through it. We learn that the mechanic has left the village to join a wedding. It seems we are not so lucky today.
This is in the village.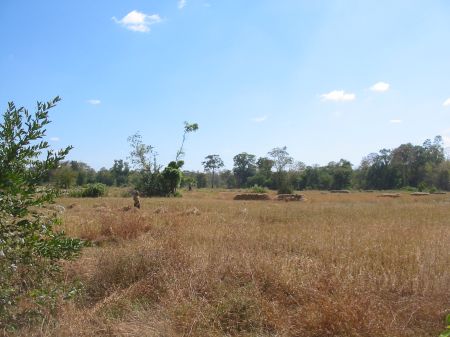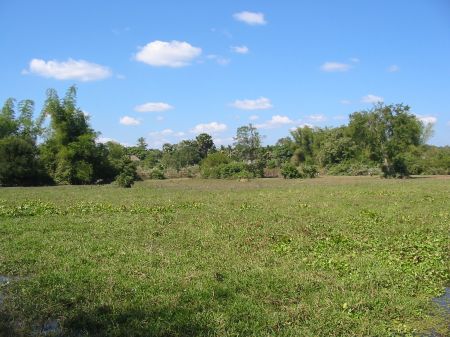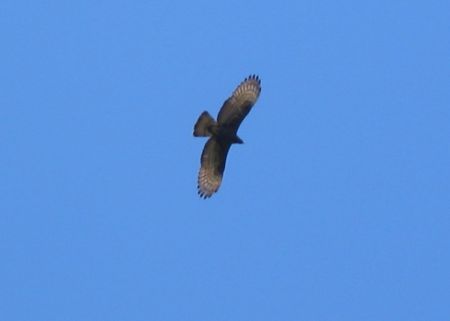 We have food and chat with the charming lady who prepared it. We discuss our situation and agree on the following. We better not try to travel to Kaoh Ker like this. Instead of traveling north from here, we travel south on this amazing new dirt road all the way to Kampong Kdei, which is a town on National Road 6. We attempt to fix both bikes there properly and travel back here to Khvav to spend the night. Tomorrow we continue to Kaoh Ker. Vothear is confident we can make it all the way to Preah Vihear Temple, or at least Choam Khsant, both at the Thai Border, roughly 120 km from here.
This is in Khvav.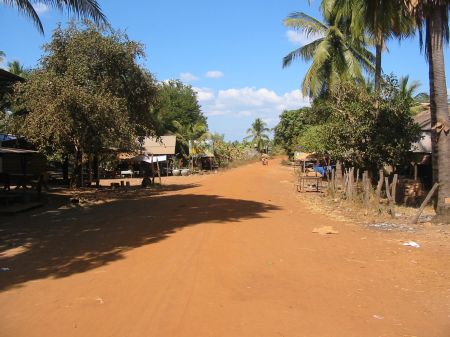 This is where we have food.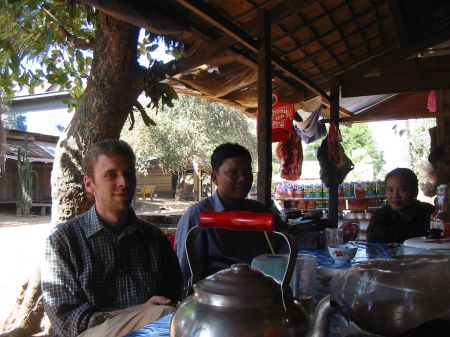 So we follow this excellent road south. Initially it is a bit broken but later it is very alright.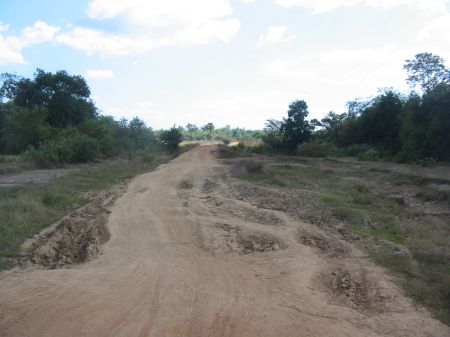 I have the chance to take pictures once in a while, because I can easily catch up with Vothear's moto. Many stretches along the toad are settled and we see countless rice fields. And a number of vehicles on the road. I am a bit disappointed about a road as busy and comfortable as this one next to where I am doing my adventure trip.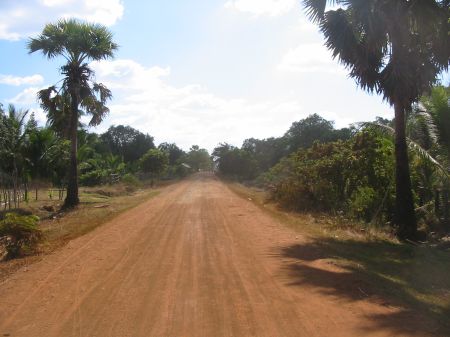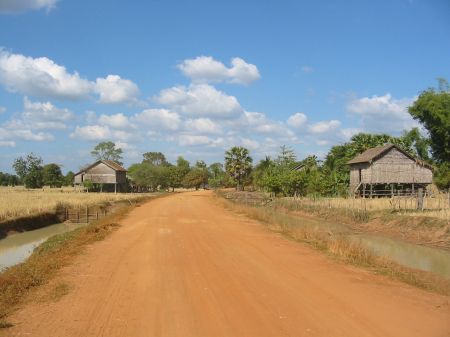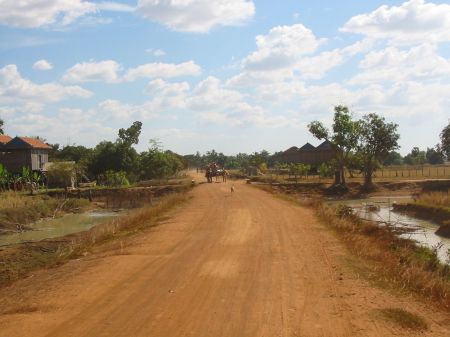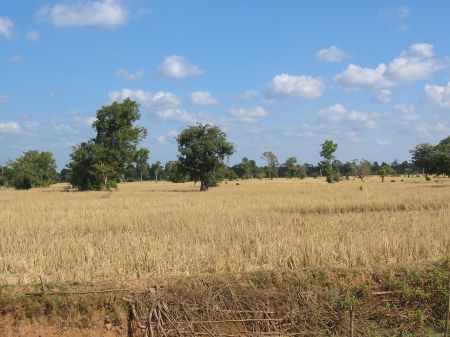 After maybe 90 minutes we reach Kampong Kdei and find the mechanic directly at the main road. There is a lot of traffic, including huge trucks carrying soil for construction of road elsewhere. The mechanic is confident he can solve our problems. Luckily, he has new spare parts for those pedals which are broken on Vothear's bike.
This is how Vothear's brake pedal looks by now.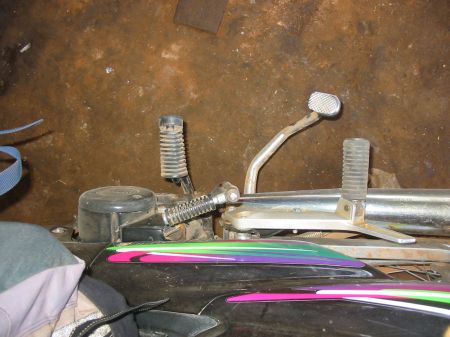 This is Kampong Kdei, with National Road 6 running right through it.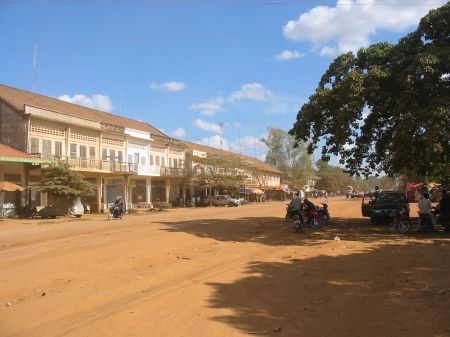 We hang out for some time. Later I walk through the town. I passed this town twice in the rainy season on my way to Siem Reap and back to Phnom Penh. However, there is not much to see. Still later I go to a food place and have coffee and study my guide books. Later Vothea comes over; we have discussion with some locals and food. After two hours our bikes are far from being ready. We ride over to the famous ancient bridge about 500 m from here.
Two women are polishing those wooden pillars, which are used for decoration.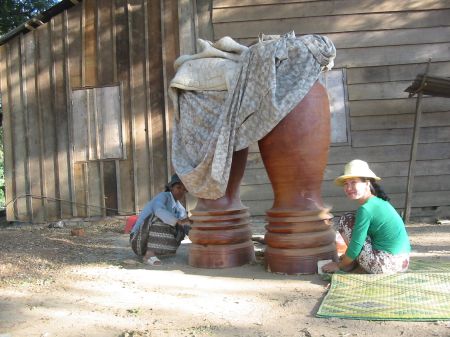 This is how those pillars look like when they are finished.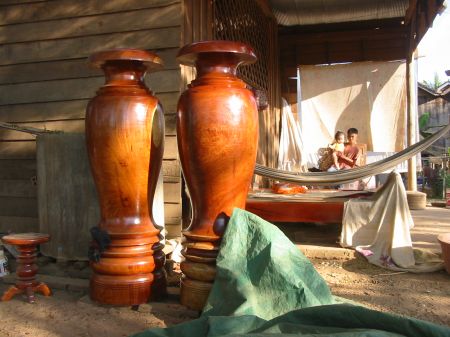 I am surprised this bridge not only is still able to carry its own weight, but the massive traffic between Phnom Penh and Siem Reap, too, including those heavy trucks.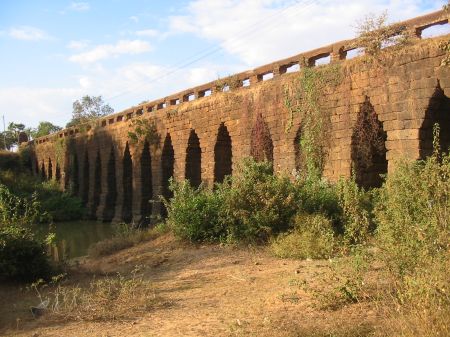 We wait about 20 min. to get a pictures of one of those trucks but apparently it is too late and no trucks are coming anymore. We ride back but the repair of our bikes is still going on.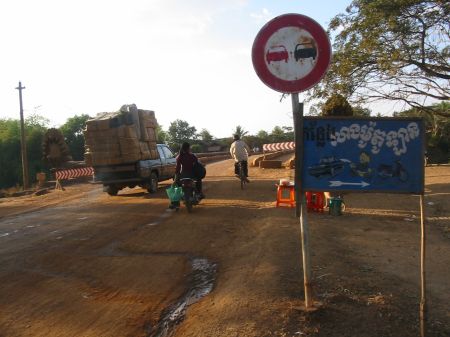 We wait another hour before the headlights of my bike are properly attached to the frame again. It is almost dark when we start the trip back to Khvav. After few minutes we are riding in the dark. I realize that the headlights are welded firmly to the frame, yet they point upwards and significantly to the right. I can recognize the trees along the road but not easily obstacles on it. Moreover, I am blinding people coming the opposite direction and feel bad about it.
Once in a while we come across people, walking along the road, traveling on bicycles, motos or oxcarts.
After about one hour we reach Khvav and find some sort of guesthouse. We hang out for some time in front of the house and talk to the owner. On the opposite side of the street is a noisy karaoke event going on.
I have been riding all day behind Vothear on dusty terrain and my clothes and myself are covered with dust. I am happy to have the opportunity to take an extended shower. Later we go to bed. Rooms are simple and clean and mosquito nets are provided.
The noise from the karaoke place continues for some time. In this regard those villages do not match my expectation. For some reasons I though villages in those remoter parts would be quite places at night.