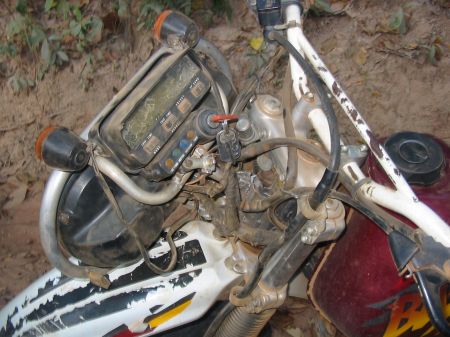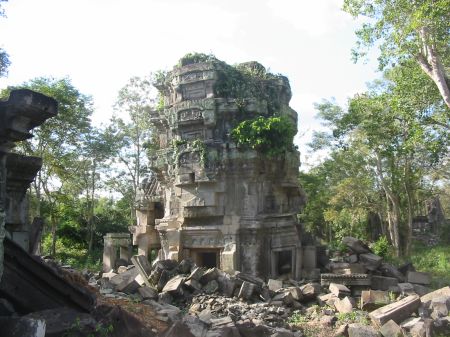 I met Vothea at 8 am in front of the guesthouse. This is the plan for the next three days. We follow National Road 64 to the north, until we reach Phnom Dek (a village which is not in my map). This is about 75 km from Kampong Thom. From here we turn east, following the oxcart trail to Ta Seng Village and Prasat Bakan (both places are in my map). After we spend the night in Ta Seng we continue north to Kulen and then to Prasat Kaoh Ker. After spending the night in Kulen we attempt to go further north to Prasat Preah Vihear, the best known temple in the province with the same name, next to the Thai border. I should mention other than road 64 there are no roads in my map. I was told the other day this way is adventurous and many people failed to make it with a big moto. I am advised to go on somebody else's moto scooters' back. And none of my guidebooks indicates that it is possible to go to those places on a road other than 64, or without hitting Tbaeng Mean Chey. Rather, most books suggest getting to those destinations on one or multiple day trips from the provincial capital. Yet Vothear and his friend Sokhom seem to be trustworthy and experienced. So I decide to try it.

The other choice is between going with one or two motos. I am told it is easier with the scooter. However, as I am paying for the big moto, and because I need a means of transportation in Preah Vihear, and not least because I enjoy biking I choose to go by the dirt bike. From Preah Vihear, I want to continue on better roads on my own to Anlong Veng (the last Khmer Rough stronghold, in Otdar Mean Chey Province) the next day and to Siem Reap and back to Phnom Penh on the following days.
We ride a few km roads to hit Vothear's house and pick up his stuff. And we go to the mechanic to get spare parts. On occasion I try to figure out what we can do when something important at one of those bikes breaks. We carry a number of tools but almost no spare parts. Yet they ensure me those spare parts are not available in Kampong Thom anyway. And Vothea keeps telling me we will be lucky. Sometimes I am a bit frustrated about this sort of contingency planning.
This is still in Kampong Thom, opposite from the mechanic, where an accident has just taken place. This is actually the first accident I seen Cambodia and it is not too bad. Everybody is alright and only the motos need to be fixed.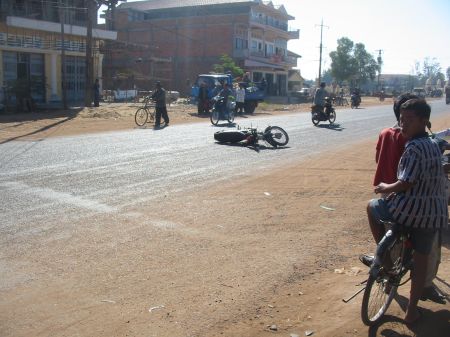 Then we continue, leaving the national road, following Road 64 with direction to Tbaeng Mean Chey, which is to the north. I offer Vothea to ride my bike, to get him in a good mood and find out what he knows about it. What we are riding is a decent dirt road, with not too many potholes. I find that the front brake of Vothear's Honda Wave does not work. I try to maneuver the small bike around all those potholes and find that Vothear does well on the dirt bike.
This is still close to the provincial capital.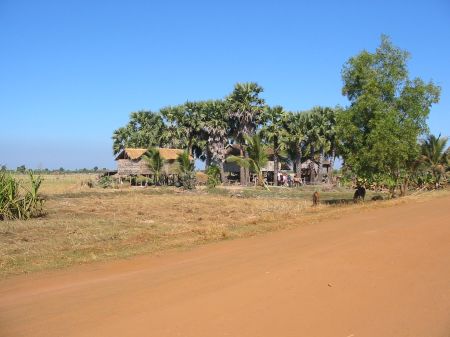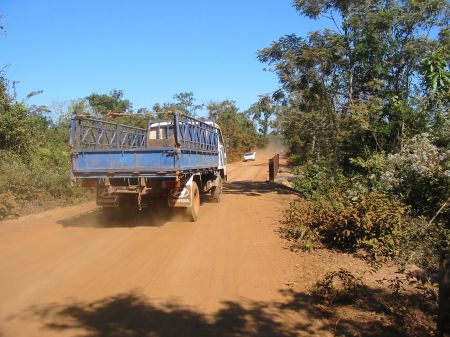 After some time we see only few people or vehicles. There are only few settlements and the jungle along the road is dense. And heavily mined. Vothear tells me one of his brothers died on a landmine some years ago in this area. More and more potholes together with the pattern of shadows necessitate some attention, to spot the nastiest ones holes and continue riding with significant speed.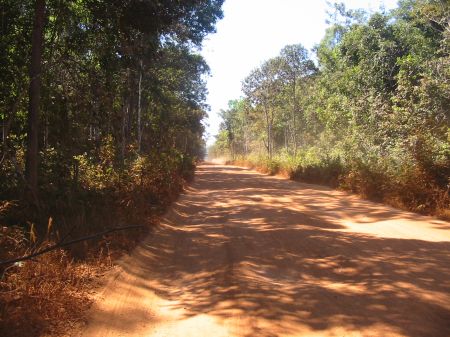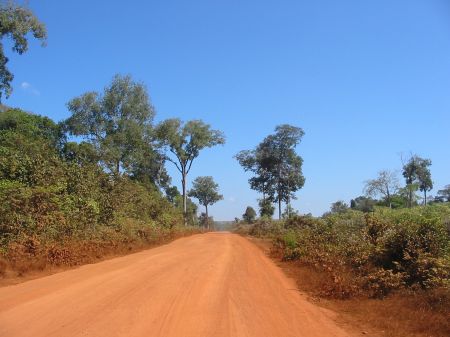 We see few cars, but where we meet them they create too much dust. This one belongs to UNDP.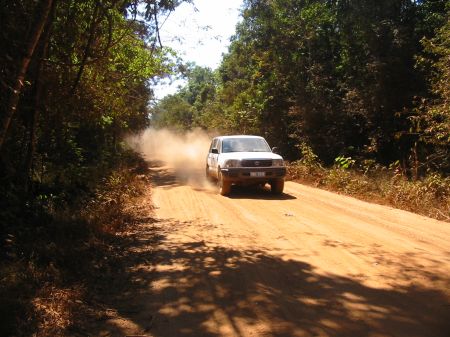 We reach Phnom Dek village, where we fill up the motos and get excellent lunch.
This is at the petrol station.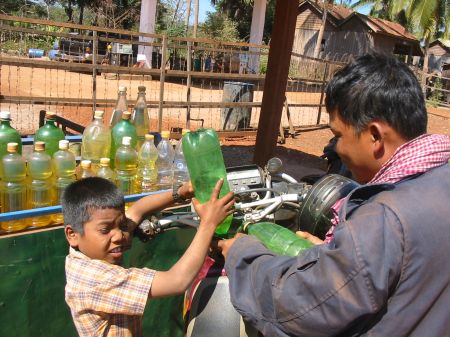 This is where we have lunch.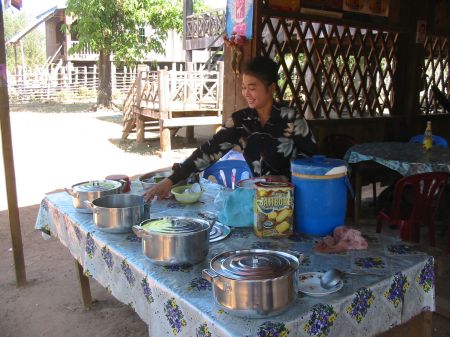 Then we leave, not on the main road but on a small and very sandy track. And it is here where traveling turns into moto cross. There is no road or path but numerous prints from oxcarts. With deep sand. We have changed motos again. Riding this terrain involves many sharp turns and quick decisions which way to go. It appears to be easier for Vothear on the small bike, which is low and easy to balance. In contrast, my bike is strong and tall, which does not help me much as we are riding pretty slow. Mostly we are passing light forest. Everything is pretty dry and in some places the grass is burning.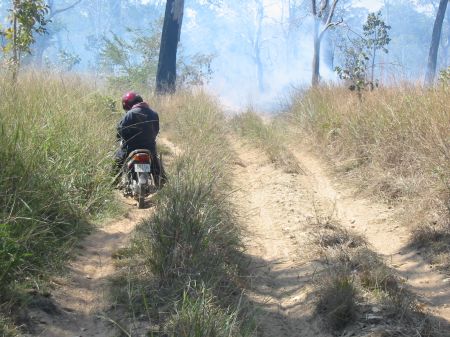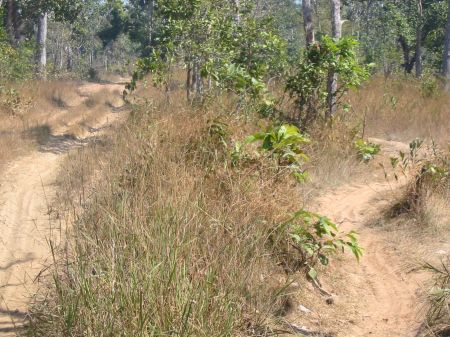 Once in a while we have a break. I think this is more exhausting than I would have expected. And for some reasons I am afraid of dropping the bike and braking it. Yet I manage not to drop it and only once I have to restart. I think it would be easier to ride quickly through the sand, since speed provides some stability. Yet I am following an 100 cc bike and speed is not an option.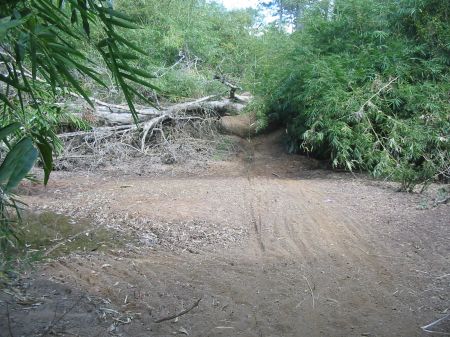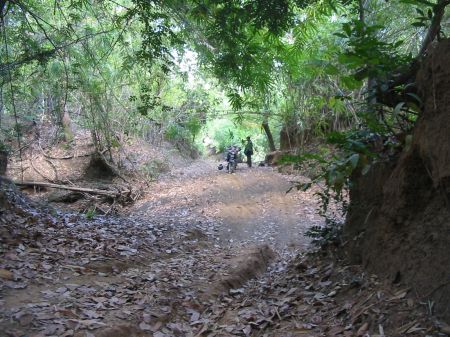 When we almost reach Ta Seng, there are long, sandy stretches. And it is here where I drop the bike the first time, gently in the sand. However, the headlight breaks off again, much to my frustration. It does not fell off entirely but is only loosely attached to the bike.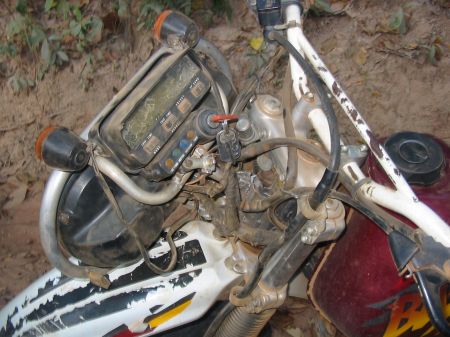 We continue, arrive in the village and pass through it. Few hundred meters later we come along the first ruins of Prasat Bakan Temple (Preah Khan). This is quite a unexpected thing to see after the trip through the middle of nowhere.
Moreover, we come across a helicopter. I learn that wealthy tourists can fly from Siem Reap to this place, to visit the temples. The helicopter comes once in two days. However, I do not see the people who came with this machine.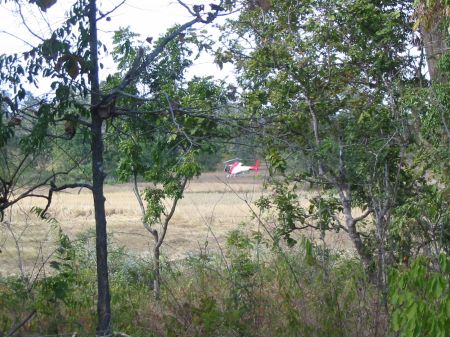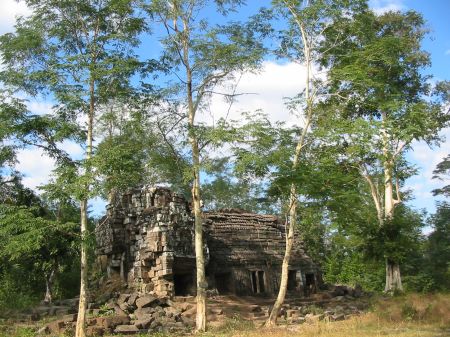 We park the bikes and have a break close to some ruins, where two local women hang out. Later another guy joins us, who is Vothear's friend. Vanna has a job associated with the conservation of this temple complex. Then we start visiting the first temple.
Prasat Bakan is the largest temple enclosure constructed during the Angkor Period. Some of the structures are as old as from the 9th century. This place is said to have been the second city during those times, and the most important kings of Cambodia have lived here in times. The temple complex covers 5sq km.
We start with the central structure. It was badly looted as late as in the middle of the 90s, not least by members of the army, with hammers, pneumatic drills and mechanic diggers, looking for treasures. Most of the buildings collapsed and the ground is covered with rocks.
We walk around and later climb up the central tower to sit on top, have a smoke and appreciate the scenery.
This is the entrance.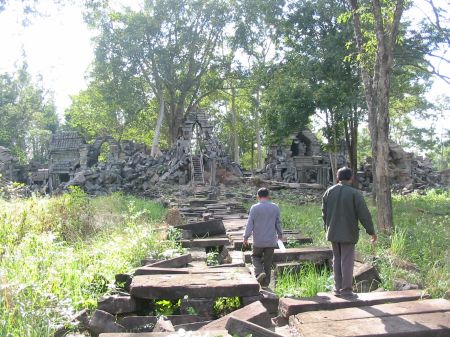 Most of the gate is collapsed already.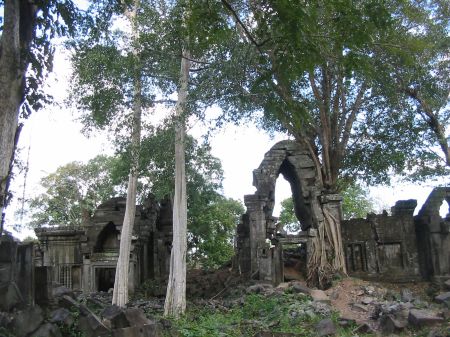 This is inside. In the center is one of the few towers which are still standing.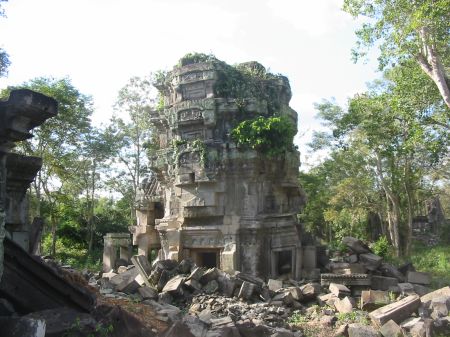 This is the inner gate, picture taken from the top of the central tower.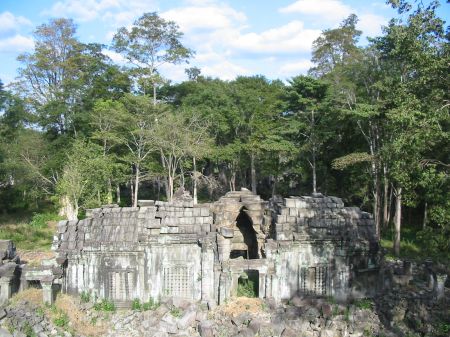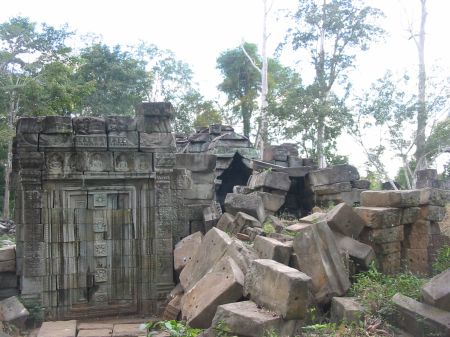 Later we walk back to the motos and ride a few hundred meters. On the way we have a look at this ancient bridge, still in use but partly about to collapse.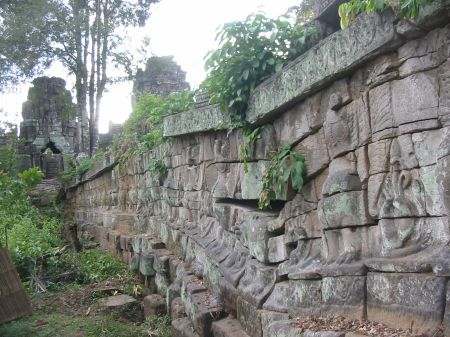 We pass another temple but do not stop to explore it.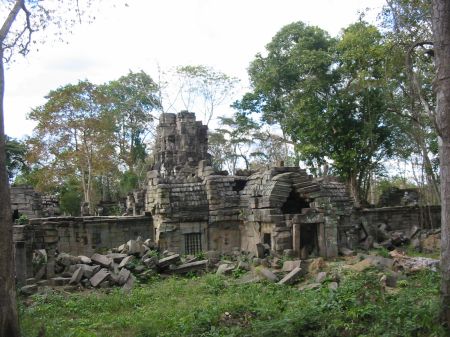 After about 20 minutes we reach this temple.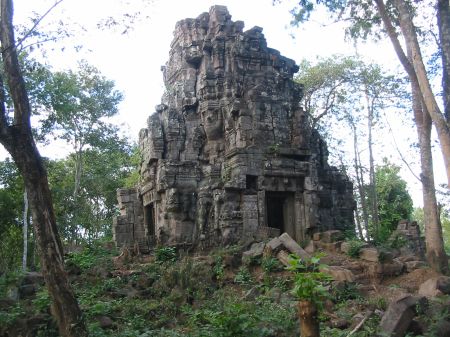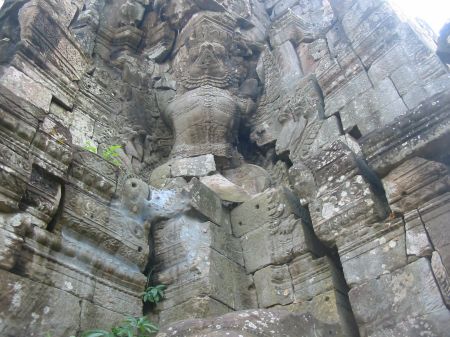 Like most of the temples I see here it looks like it could use some efforts aiming at its conservation.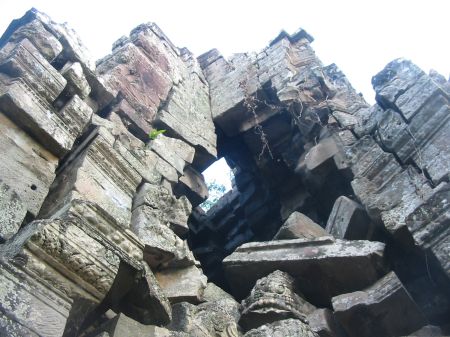 Then we ride back to the village, with Vanna. We arrive at his house and rest for a bit, while it is rapidly getting dark. Like most rural Khmer house, this one is open and has just one room. However, it is relatively wealthy, built on stilts and made of costly timber and with a modern roof made of corrugated iron. The idea is to spend the night here. As anywhere, kids are curious and after some minutes a number of them hang out at the door to watch us.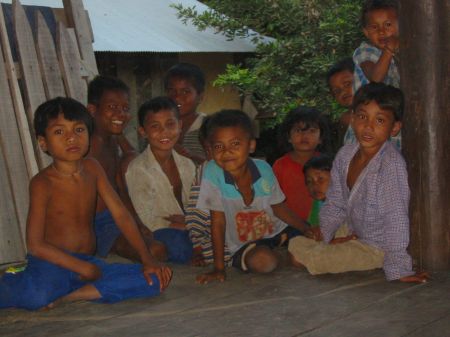 Most villagers here are relatively poor and there is no electricity. Yet it is not very quite in the village, as there are countless noisy animals. We have conversations, partly involving Vanna's charming wife. I learn that most people around here are farmers and sell rice, pigs, or chicken in the market about 45 km from here. There are some motos, of course. Gasoline is brought in with the oxcart and costs about 3000 Riel a liter. There is a school, but only a minority of the children attends classes, because there are only two teachers. Later we have food, which is excellent.
Food is served first for man while women and children are waiting.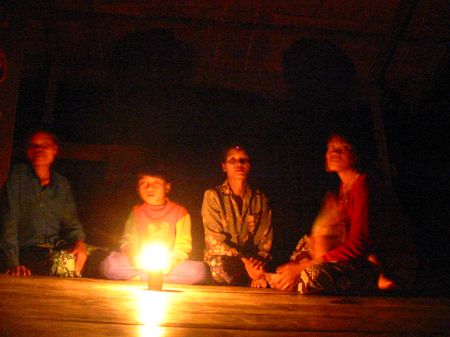 Still later we continue discussion. I am taught some new words Khmer and suggest in turn questions and phrases to guide tourist in English through the temples. It has been dark for many hours and the village has gotten pretty quite. At about ten we go to bed. The family has accumulated a number of mats and pillows in one corner of the room and attached a mosquito net. They leave the room to us, more than I would have asked for. Vothea prefers to sleep in a hammock.