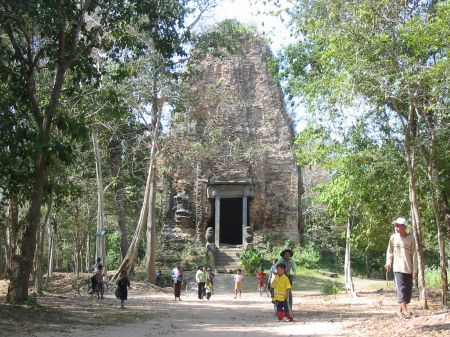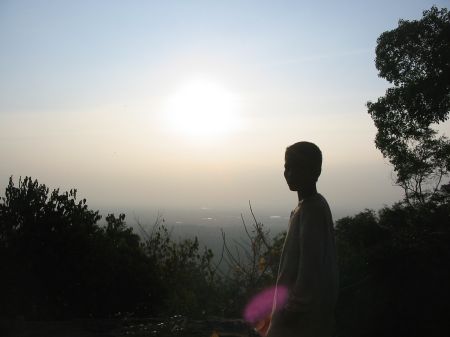 Next day is Sunday and I get up at 7:30 am, and have a shower and breakfast in the guesthouse. I ask one of the waiters whether he knows a good guide and of course he does. So I wait ten minutes and get introduced to Vothea. He is 30 years old, friendly and speaks reasonable English. While having breakfast we agree to visit the temple city of Sambor Prei Kuk and later in the afternoon travel to Phnom Santuk.
We kick of at about 9 pm, fill up the motos and ride north on a recently constructed dust road, which is in good condition. We turn left immediately after we pass the bridge. Our way leads us through fertile lowland with rice fields and a number of villages. Many people are harvesting in the field, in many cases children. Most of the time we see only the bicycles at the roadside, while people are working fare away, deep in the rice field. Sambor Pre Kuk is only about 35 km from Kampong Thom. We are riding with two bikes and moderate speed. So I have the chance to pay attention to the environment.

This is Vothea on his moto.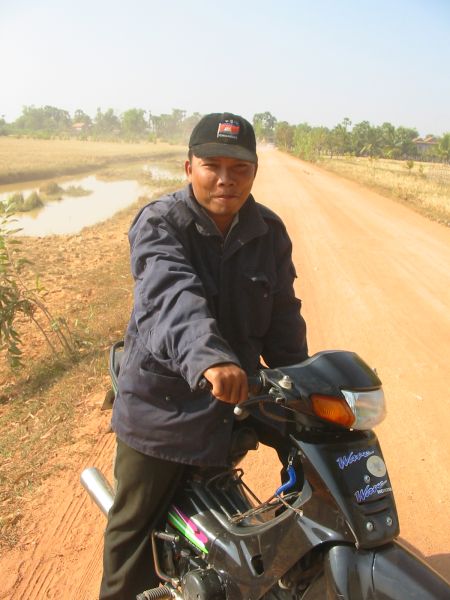 Once in a while I stop and take pictures. With my bike on this road I can easily catch up with Vothea. The scenery is pretty idyllic.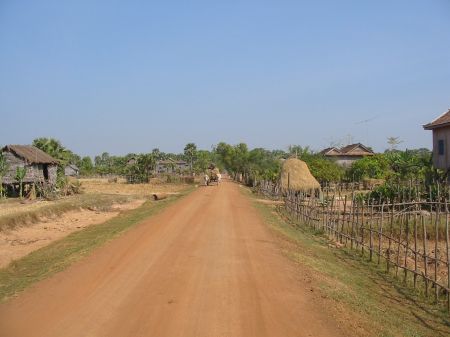 People are harvesting all over the place. This is hard work, compounded by the hot sun and the fact that there is no shadow.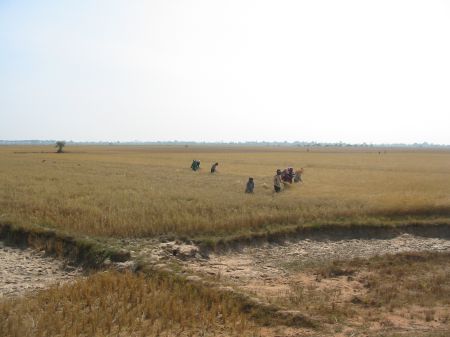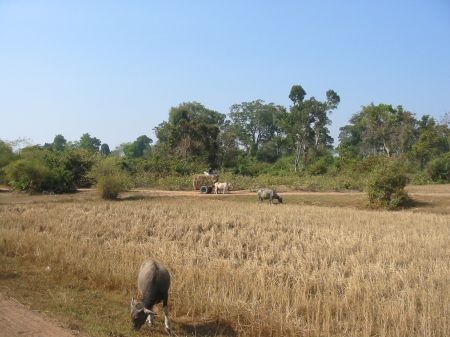 As the road is dry and sandy, riding on it creates a lot of dust. Yet we are happy that there is a strong breeze, taking away clouds of dust quickly. Before we reach the temples we pass a tourist information. There is no ticket or entrance fee, but I am requested to give a contribution ("Could you please pay some money"), which I do.
The 'Tourist Information'.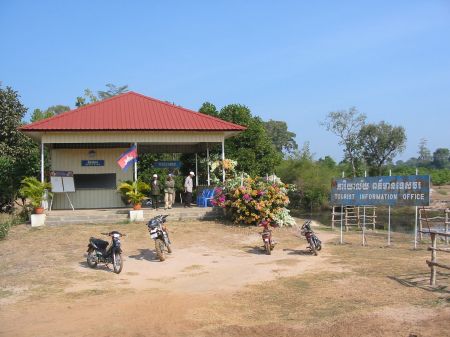 It is impossible for me to keep the names of all those temples in mind. So I provide this map and mention that we visit the Prasat Sambor complex first, and then see Prasat Tor and Prasat Yeay Puon next. With less than one day time it is impossible to see every temple around here.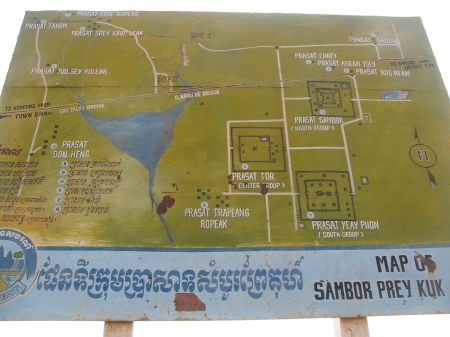 We reach some huts with basic Khmer restaurants. Ruins of ancient temples are close by. Those structures are Preangkorian and served as the capital of the Isunapura Empire between the 6th and 8th century. At this time those temples where the highest buildings in South East Asia. This is said to be the oldest side within today's Cambodia. More than 1300 years old.
This is the first temple we see. A number of carvings can still be recognized on its walls.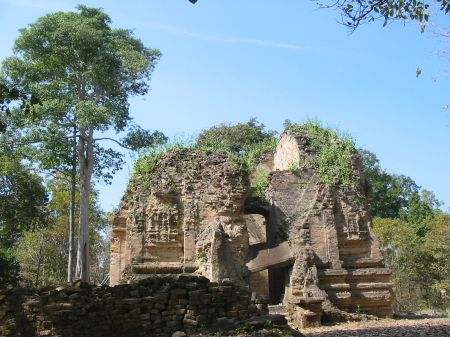 This one is octagonal, for a change.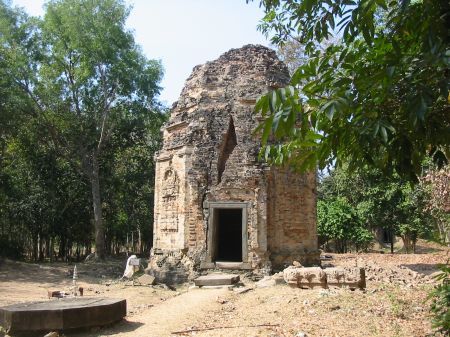 It is made of bricks.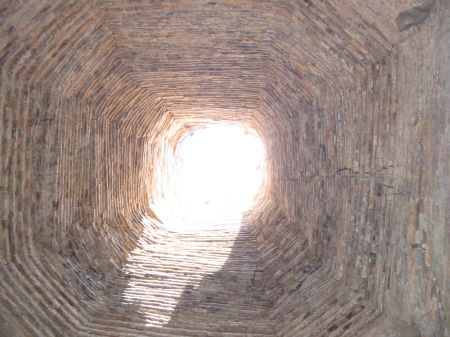 This one is almost closed at the top and because it is dark inside a number of bats inhabits it.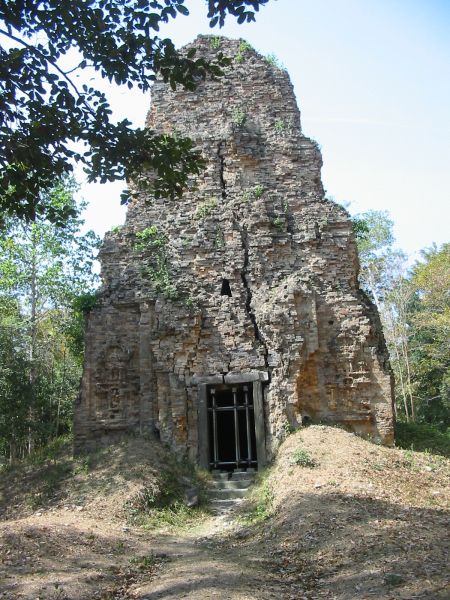 The bottoms of those temples consist of huge and heavy, flat rock. In any cases those rocks are broken or removed, mostly by looters looking for valuable ancient objects.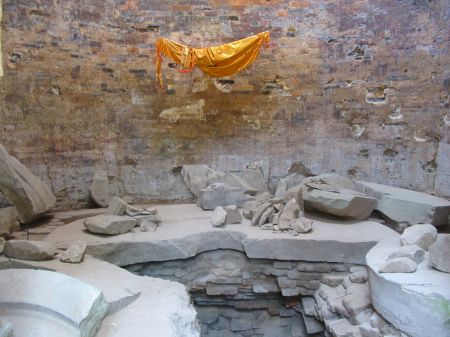 Most people we see are local Khmer.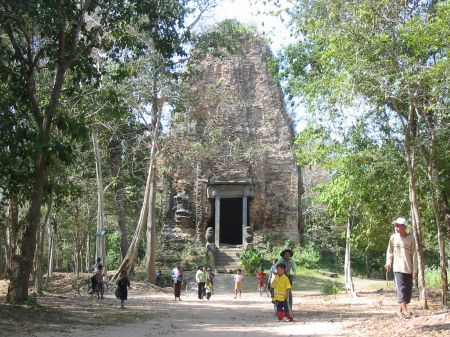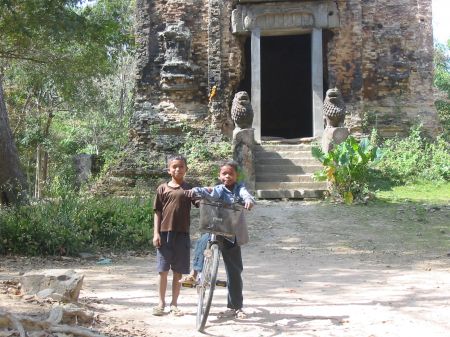 Yet another temple. There are so many of them, too many to stand all of them.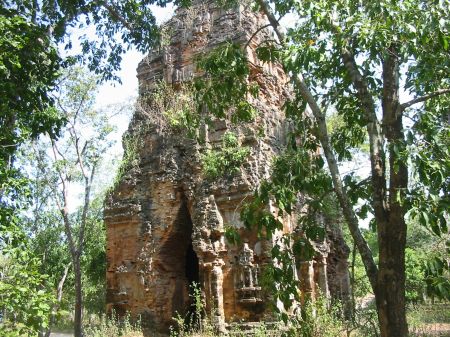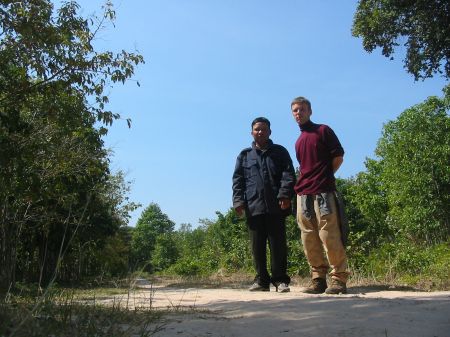 In between I ran out of battery and we go back to our motos where I have another set and stop at the food place to have chicken with rice for lunch. We see a number of tourists, mostly Khmer from Phnom Pen.
This temple looks very different from the others, almost like made from concrete.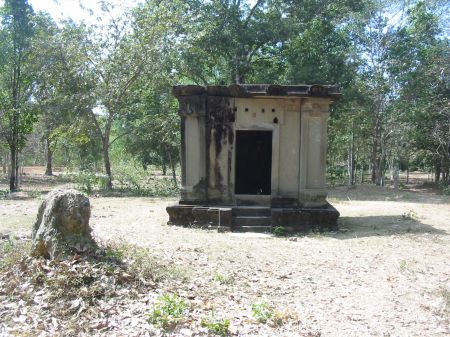 However, it is sandstone with some nice carvings. And the impacts of bullets from I do not know which recent armed confrontation.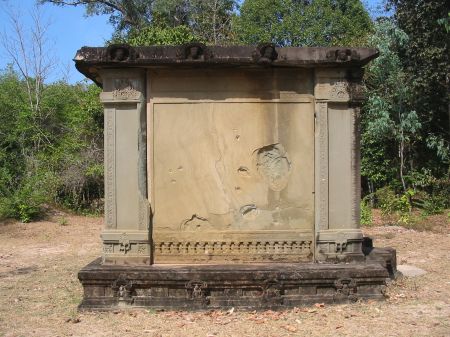 This is a bomb crater, created by American air forces.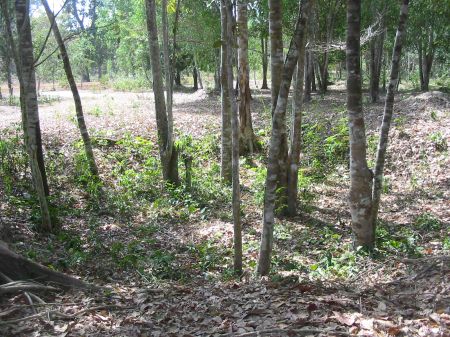 This temple is a fascinating one, with a tree growing out of and all over it.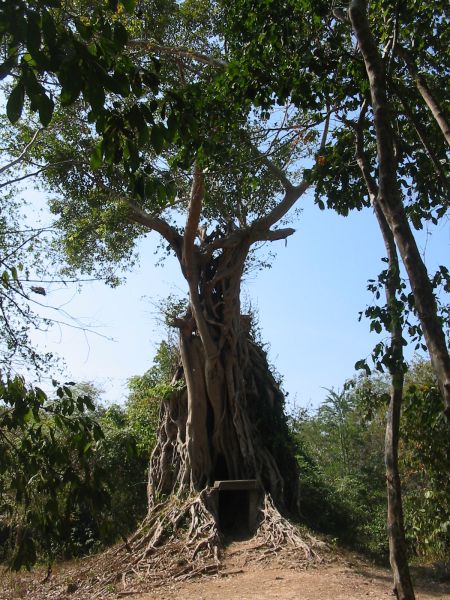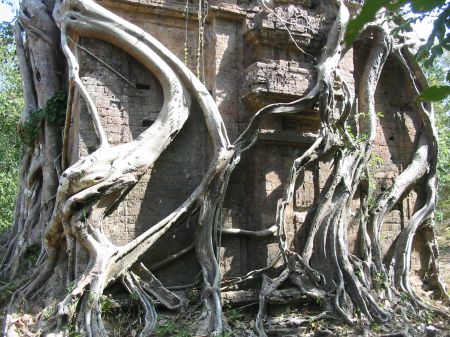 Khmer family taking pictures in front of this nice carving.
Temples are all over the place.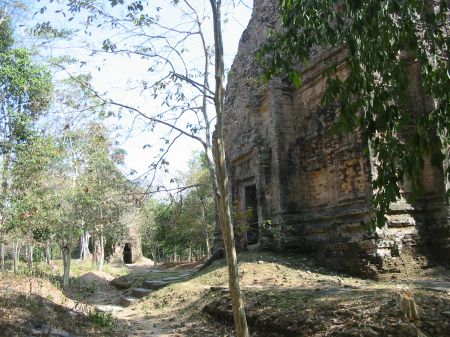 Japanese scientists, taking a three dimensional picture with a laser camera.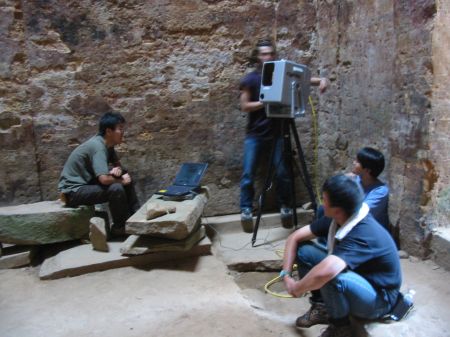 This is where the local conservation project is located. This picture is somewhat symptomatically. This building was erected by the French and suffered badly during armed confrontations. So it seems the conservation projects' building itself is in need of conservation.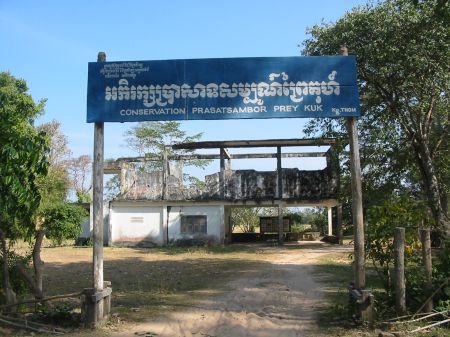 At one point I get to talk to another guide (Sokhom) about my plans to travel to Preah Vihear temple. Initially I was planning to go tomorrow via Tbaeng Mean Chey on road 84 on my own. Guide books mention this road is tough but colleagues told me it is in good condition and easy to ride by now. From Tbaeng Mean Chey, which is the provincial capital of Preah Vihear province, I was planning to see Kaoh Ker on a day trip and continue north to Preah Vihear Temple the next day. The last stretch is said to be particularly challenging.
However, Sokhom and Sothear keep telling me about an alternative route, which is more adventurous. This route would pass Prasat Bakan on the first day, Kaoh Ker on the second and finally Preah Vihear Temple on the third day, while nights would be spend in villages. This route does not touch on Tbaeng Mean Chey at all. They suggest going on Road 84 only for a short distance and then following oxcart trails.
There is nothing in my map that would suggest that it is possible to do what those guys describe. Interestingly, none of my guidebooks indicates that there is a route like that either. Instead, most of them suggest visiting the locations in daytrips from Tbaeng Mean Chey.
Although this route would take three days to Preah Vihear temple it seems a promising thing to do. After all, it would touch on the most fascinating spots in Preah Vihear province, which would otherwise necessitate a day trip from the provincial capital each, with only few hours left to explore the temples. Sokhom and Vothea tell me they are the only guides in town who know the route and take maybe one or two persons on this trip per month. They say it is difficult and some people failed and came back quickly. Sokhom tells me that a dirt bike tends to be more difficult to ride in this terrain.
I see only very few tourists in or around those temples, most of them Khmer. There are two other dirt bikes and locals tell me it is Germans who came on them. I talk briefly to those guys but they have no intention to go to Preah Vihear.
It is already about 3:30 pm when we leave Sambor Prey Kuk the same way we came. I keep thinking about my travel plans for the next days while we move to Phnom Santuk. In order to get there we ride all the way back to Kampong Thom, pass it and travel on National Road 6 towards Phnom Penh, maybe about 20km on bad, bad road. However, it is daylight and we are riding slowly. Vothea travels on a Honda Wave with 100 ccm and we cannot go very fast anyway. It is an easy ride and I enjoy the exercise of riding slalom around potholes which are actually not very significant for my bike. Then we leave the national road to the north and travel for about two kilometers on a dirt road towards a huge mountain, which dominates the otherwise flat landscape.
Peasant, raising ducks.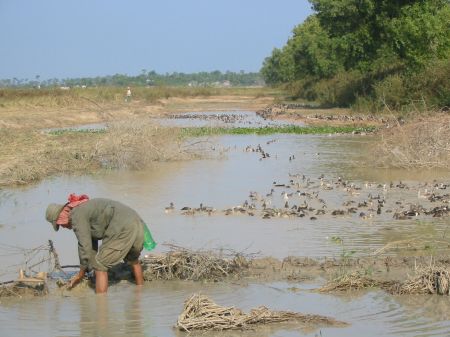 We leave the bikes and start climbing up the 809 stairs leading up to the top. There is a number of old people who are begging and some children. A boy gives us company and I learn that he is deaf and dumb. However, he seems to be smart. And he is used to explain meaning in gestures. As I do not speak Khmer anyway I can communicate much easier with him than with his monolingual peers.
The handrail to the left depicts a Naga being hold by women, while it is man holding the handrail to the right.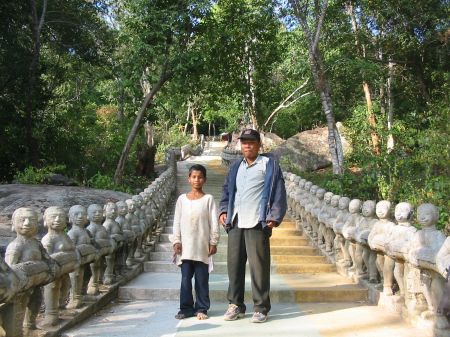 Those staircases are actually pretty cute. The way involves many turns and stairs are sometimes very high and sometimes fairly flat. When we reach the top we see a number of monkeys. Later we meet Phillip, who is from southern Germany. He is 28 years old and studied economics and engineering. He works now as international manager for a German company and has vacation. Phillip travels on his own. He joins us and we talk a lot in German. We visit a number of spots on the top of the mountain. Later we sit down on a rock, talk and observe the sun setting down.
This is inside the concrete temple on top. To the right is a piece of laterite in an aquarium with water to demonstrate that this laterite has a lower density than water, I guess.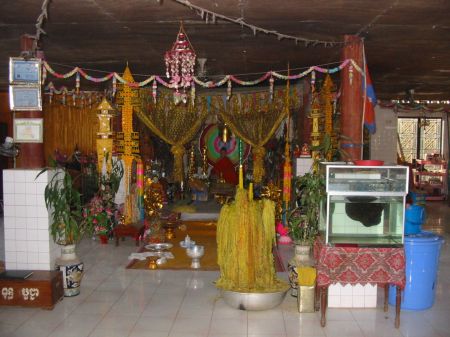 There are a number of Chinese temples, made of concrete, too.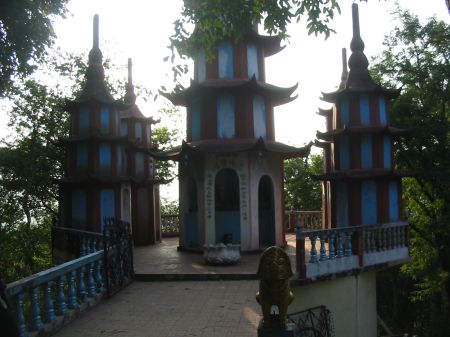 We come across a number of Buddha, partly lying. They are said to be as old as from the 9th century, but there is no way for me to verify this information. Those Buddha are huge.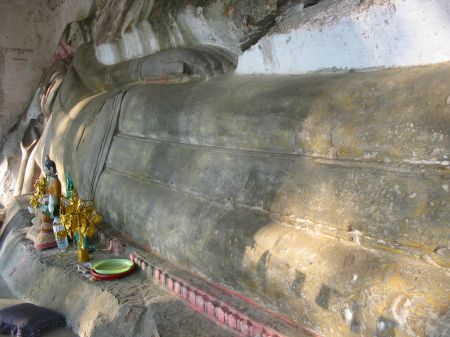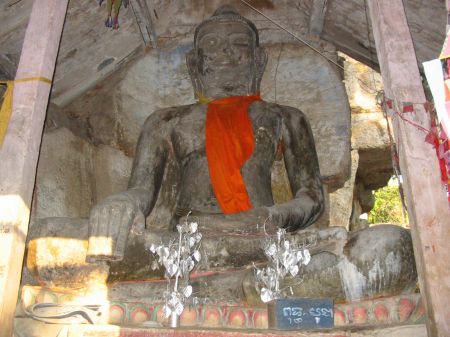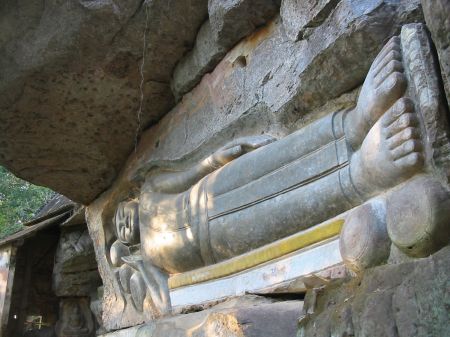 This is when we sit on the rock watching sunset.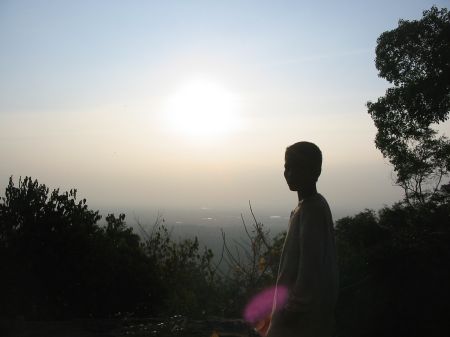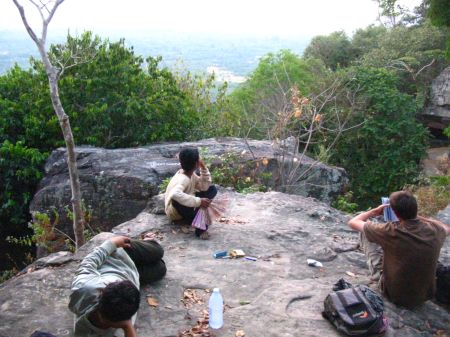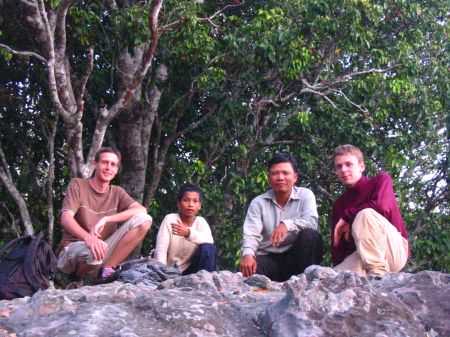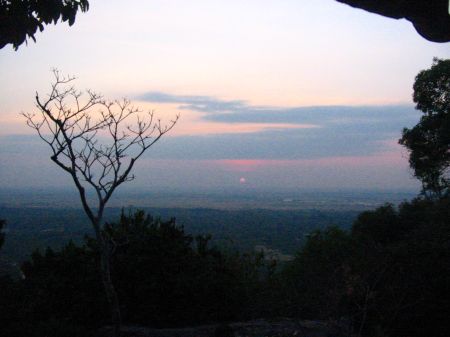 It is almost dark when we leave the place. The ride back is somewhat more difficult. Later we meet Phillip for diner at the guesthouse. We talk a lot. I have still to make up my mind where I want to go tomorrow and which way to choose to get to Preah Vihear temples. For the time being I agree with Vothea to meet tomorrow at 8 pm. For the time being we assume we take the adventurous route through the jungle he suggested.