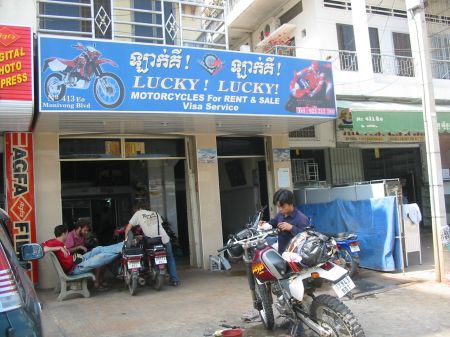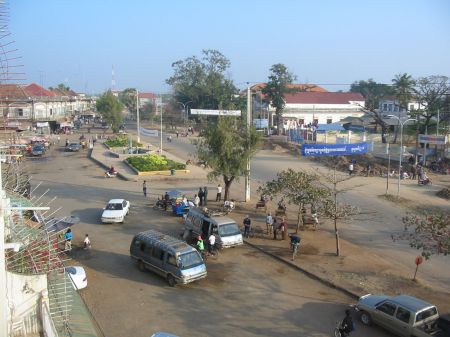 I get up at 7:30 am. The plan is to have breakfast at riverside and buy some stuff in the market before heading to Preah Vihear.

This is where I have breakfast at riverside.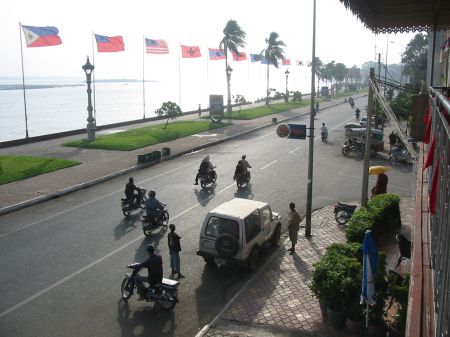 People ensured me that it is possible to reach Tbaeng Mean Chey, the provincial capital of Preah Vihear province, in only one day from Phnom Penh. Yet it is the second half of the distance where the road is said to be adventurous. At the same time not many people live along this stretch of the road. So it is here where I do not want to get stuck or ride at night. I am planning to go just the 165 km to Kampong Thom, which is more than half the total distance, but on national roads. Actually, as I have been traveling to Kompong Thom by moto before I expect this to be a two hours' ride.
After I return from the market I pack my stuff and tight it carefully to the moto. Learning from past experience I have reduced the weight of my luggage significantly.
I have gotten the moto yesterday evening at lucky! lucky! As usual this is not a smooth process. I talk to the managers' sister and she promises me one of the best bikes for just $8, as I am a frequent customer. However, I learn that a group of five people will have the first choice in the afternoon, as they pay $14 per day.
When I get back in the evening there are only few bikes left. Among those, a Honda Baja seems to the best choice. I talk to the manager and he insists on $9, because I go to the countryside and he is concerned about his moto. As usual, he keeps telling me how good and well maintained his bikes are.
I decided to ride the Bike to the Phnom Penh Bike Shop and have those guys check it. After all, lucky is their competitor. After a short ride and a critical check they say the bike is ok but the front brake needs new lining. So I ride back to lucky. After some discussion the owner agrees to replace the lining and one of the employees starts taking care of that, not very enthusiastically, though. I am prepared to wait for a bit. However, it takes a long time to readjust the brake. It is taken apart and reassembled several times but still does not work properly.
This is busy Monivong Boulevard, at lunchtime on Saturday.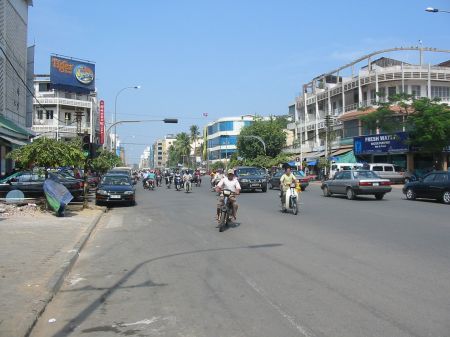 This is lucky in the background, with this man taking care of my brake in the foreground.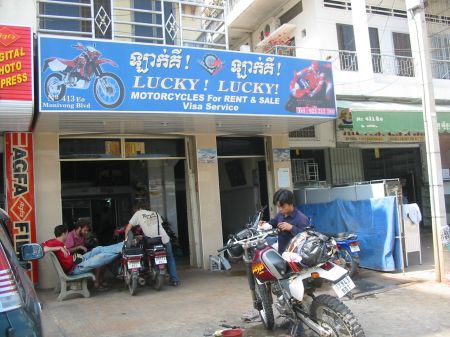 Meanwhile I try to convince the manager that he should provide me with spare parts and tools. He does not like the idea and all I get is a clutch cable. In particular, he says I don't need a clutch lever or a tube. One after the other, various mechanics work on my bike. I wonder how much they charge the stand, after I broke the stand of one bike various times on another trip. On one occasion the bike drops and falls down with my luggage, in a lot of noise. The owner has been reading the newspaper and looks pretty upset. Ironically, the clutch lever is broken and he has to replace it. Watching those guys managing their bikes does not exactly help me to thrust this company and the way they maintain their bikes.
I actually spend almost three hours before I can kick of. There is not much to do and I get bored and inpatient. I kick off only at about 2:30 pm, still assuming to reach Kampong Thom after two hours and having the chance to see the temples there (Sambor Prei Kuk).
The first 84 km from Phnom Penh I travel towards Kampong Cham. I have been riding this road half a dozen times and travel with good speed. I reach Skun after about one hour and turn left to remain on National Road 6 to Siem Reap. The road is still good and there is not too much traffic. Once in a while there are short but bumpy unpaved stretches, forcing cars to reduce their speed. Like the one in the background.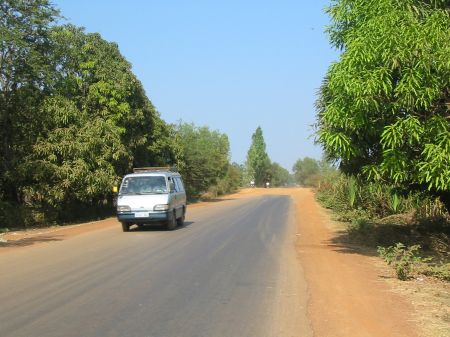 No problems with the bike so far.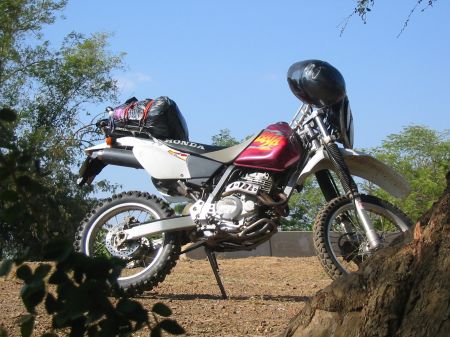 Overall, the road is pretty ok.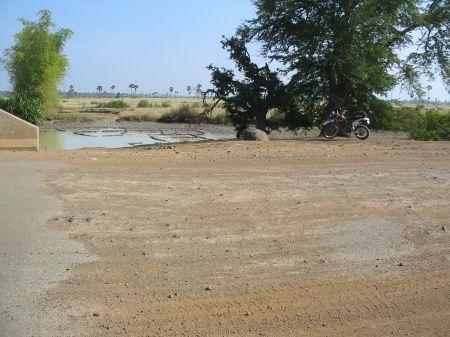 Last time I was traveling this road in the rainy season. Compared to that, it is a very dusty affair this time whenever unpaved road is involved. Only later on the road is getting more bumpy, about 50 km before Kampong Thom capital. However, after only few hundred meters of bumps my headlights brake off all of a sudden. Those headlights are big and this is one of the advantages of this bike. Furthermore, the starter and mountings are attached to the headlights. It takes me some time to belief that those two big headlights are hanging down the handle bar, kept from falling only be electrical and hydraulic cables. And this after not even two hours of traveling on national road. Only few hours ago the owner told me all about the virtues of his bikes.
Bumpy road.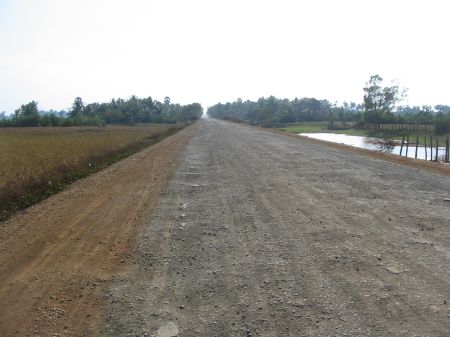 Broken headlight.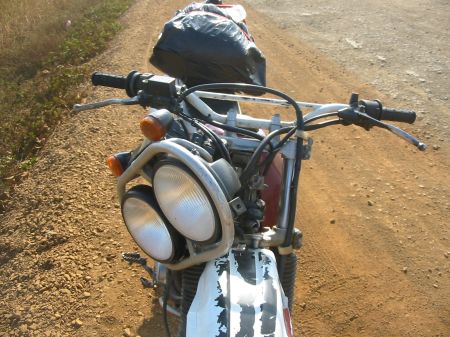 There is significant traffic, involving a lot of dust.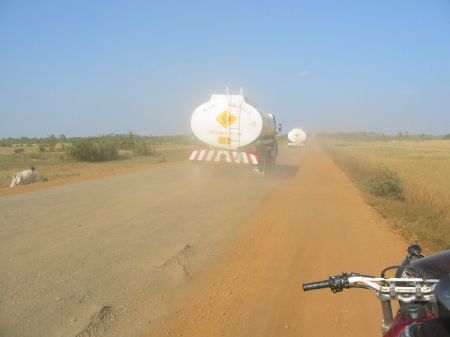 I stop for some time to think what I do next. I take some pictures and than continue slowly on the bumpy road, watching out for a mechanic. After about five km I find some sort of garage. It is obvious what the problem is and they agree to fix it. People are really nice and appear to be trustworthy. So I leave my stuff here and look for a restaurant, to make efficient use of the few hours that remain today.
This is where I find the mechanic.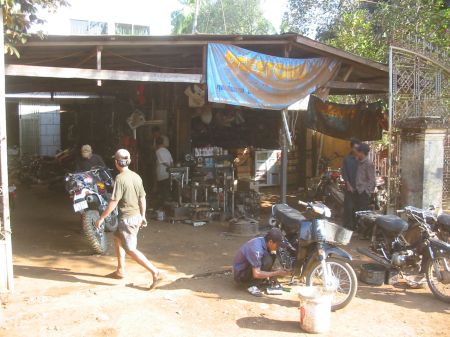 I find a place which looks like a restaurant, without customers. I ask for food and agree on soup with beef and noodles. What I get after few minutes is a cooker with a pot and boiling water. One of the ladies adds vegetables and spices. And she brings more spices, various noodles, beef, eggs and vegetables. I learn that she usually sells shoes in the market. This restaurant serves as karaoke place at night. It takes time to prepare the food, which turns out to be very tasty.
This is the food I am having for just about $1.50.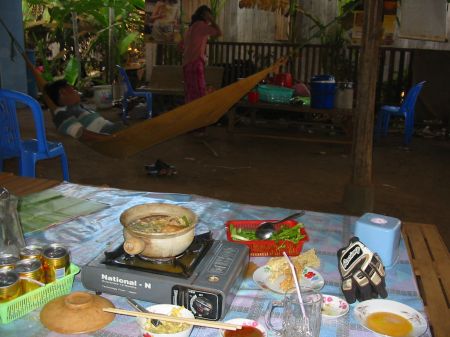 I spend about one hour before I leave, confident that my bike might be fixed already. Yet when I arrive everything is till very disassembled.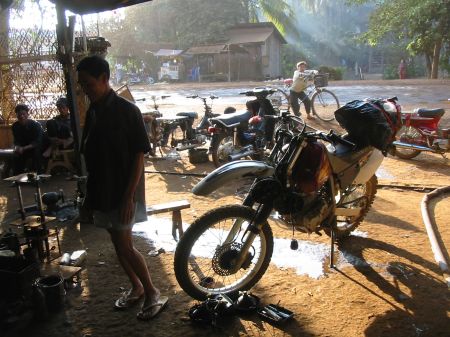 Obviously, this will take at least another hour. Yet people seem to be competently working on it. I sit down and start talking to a man. He looks like he is 45 but tells me he is 61 and has five children. He has been a teacher for more than 16 years. This is his home village and he studied in Kampong Cham. I think this is a god chance to work on my Khmer. So I ask many words and write down, practice counting and so on. He is a good and patient teacher and a nice person. However, I am slightly frustrated that it would be too late for anything in Kampong Thom by the time I arrive. Shadows are getting longer and there is still not much progress.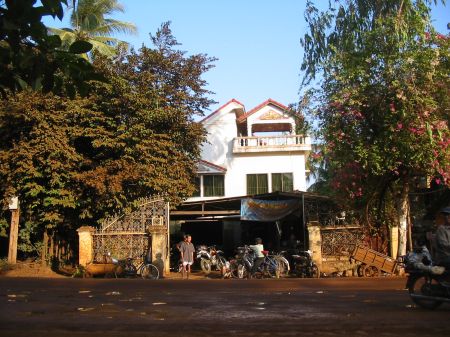 Many vehicles pass on the road outside.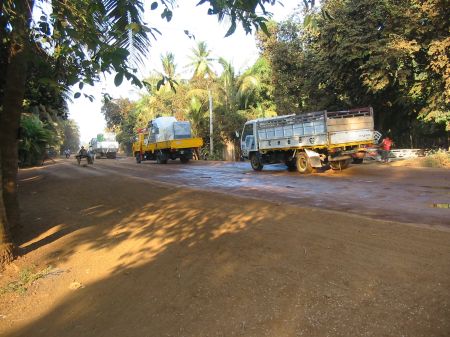 Finally, everything works out. They ask for modest $5 and I give six before I leave to Kampong Thom, which is only about 40 km from here. The road is getting worse. I feel it has been much better just three months ago. And it is getting dark rapidly. Closer to town there are more vehicles on the road, creating a lot of dust. It is impossible to evade all of the potholes. There are long, unpaved stretches and sometimes I cannot see anything. Moreover, cars coming the other direction are blinding me constantly, forcing me to go significantly slower until I can see again. On one occasion I do not see a construction side in time and ride into a heap of sand, almost loosing control. On another occasion, an insect get stuck in my helmet and bites me really bad.
Finally I reach Kampong Thom. The Arun Rea guesthouse is said to be cheap and clean and I find it easily at the main road, next to the market. I check in and get a clean room with bathroom, TV and fan for just $3. I have a shower, watch a bit TV and spend some time sitting on the terrace watching the social interaction in the street below me.
Main road in Kampong Thom provincial capital.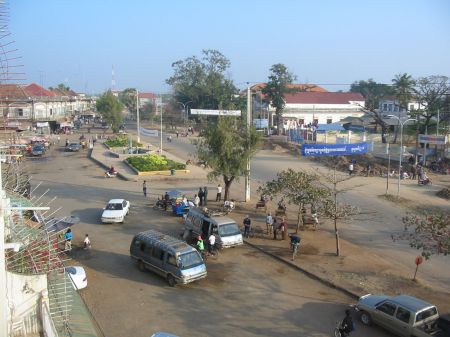 Still later I go to bed.