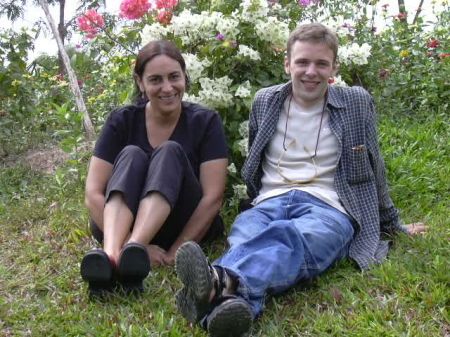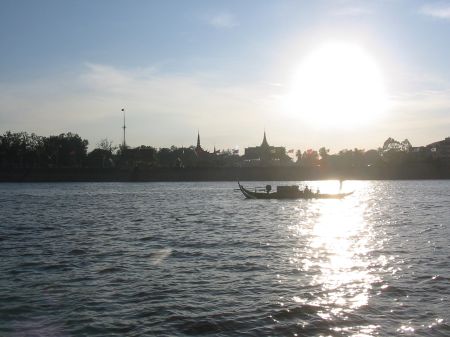 Today is Sunday. I had agreed with my colleague and friend Shelley to go on a trip into the countryside with her and her Cambodian partner Long. At about 9 am I go to the riverside and have breakfast. At 10 am I meet Shelley at her house. We spend some time and than kick of, crossing the river in the south of Phnom Penh, riding on two motos. We are heading southeast on National Road 1. And we are not in a hurry.

After about one hour we reach a place where I have been with Pongro before. I do not know the name of the place but I believe it is not far away from Koki Beach. It is a garden like place. The compound includes a number of ponds, with huts build close to them. Food is being served and people come to hang out in those huts, eat, talk, fish and flirt. The compound is very attractive in terms of landscape architecture, very green with countless, diverse plants and animals. In this regard it is far away from Phnom Penh, more than the 25 kilometer of physical distance that separates those places.
Shelley and me in front of a tree with blossoms in different colors, referred to as paper tree. This is a Khmer picture taken by Long.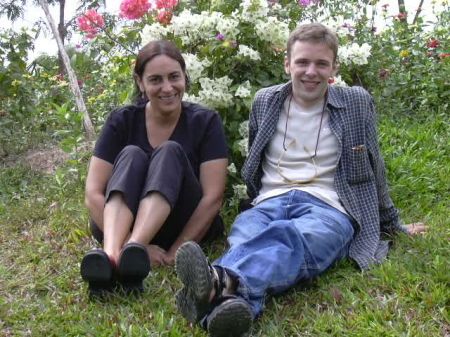 We hang out for some time, have some food and talk. Long does not talk too much and does not seem very confident with English, while my Khmer is still inexistent. Yet we manage to have a meaningful conversation, partly facilitated by Shelley. After about 1 hour we leave, get back on the main road, and later follow a smaller road further south along the Mekong. At one point we stop at a weaving mill and it is interesting to learn how traditional kromas are being made.
Still later we reach the river where a ferry is waiting. We have a short break and then go on board. There is fresh wind and it is a delightful experience. It takes about 25 minutes to reach the other bank, giving Shelley and Long the chance to beg. Shelley wins, predicting almost accurately the duration of the crossing. In addition, it is interesting to observe social interaction among passengers.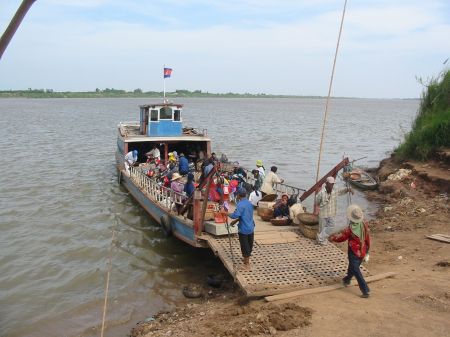 From here we are heading roughly the direction towards Phnom Penh, right through the countryside. I am rather surprised to find that there are settlements almost all the way along the unpaved and rather poor road.
The plan for today is to buy a duck (alive), carry it to Phnom Penh, kill it and have it for diner. Long is prepared to take care of the actual cooking and he has even invited a friend for support. We continue riding the rough road with moderate speed, giving us the chance to observe what is going on along the road, which is quite a bit on a Sunday afternoon.
This one is taken by Shelley. It is a pond on the compound of a rural pagoda, covered with plants. A stairway is leading straight into the water. This arrangement can be found in many pagodas and has most likely religious significance.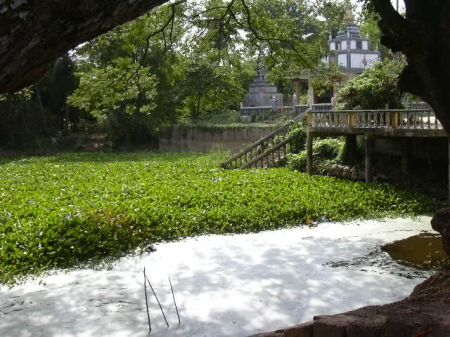 This is Long when he buys the duck in one of the villages. The duck costs actually about $4, which is significantly more expensive compared to chicken. We put the traumatized duck in a plastic bag with some holes in it and place it in the basket at the bow of Long's moto. Than we continue our journey on the bumpy road.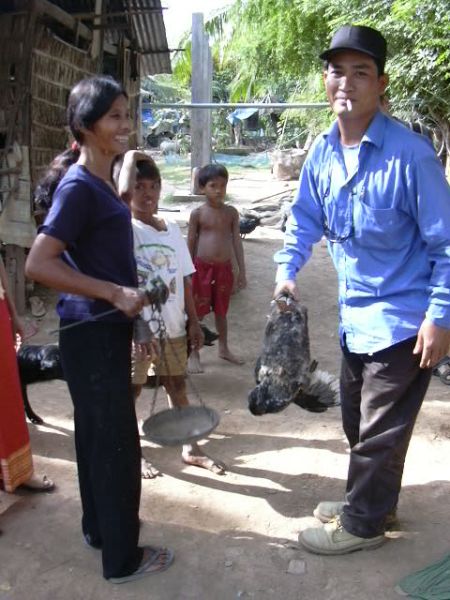 We stop on another occasion, which is less enjoyable. Shelley and Long have been doing this trip before and found an exceptionally poor family. A young mother lives with two children in a small hut which is about to break apart. The mother has a bicycle which is about to break apart to. This is what she uses to go to work in the field, where she makes about 3000 Riel a day, which is 75 US Cent. Meanwhile those underage kids are alone at home. We spend some time, Long talking to the kids, on occasion chatting with neighbors. They try to call her husband, who is not in the area.
Long and the kids, picture taken by Shelley.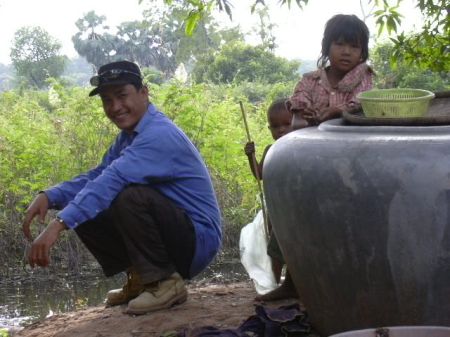 This is where they live.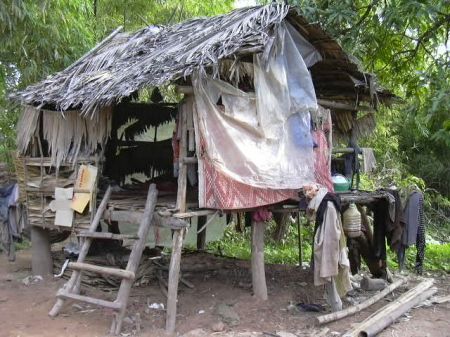 Long goes and buys some food which we leave with them, before we continue our trip. We are riding along and not far from the Mekong. Still there are houses along the way most of the time. The landscape behind is dominated by rice fields and water. We continue until we reach the area of the bank opposite to riverside in Phnom Penh, where another ferry is waiting.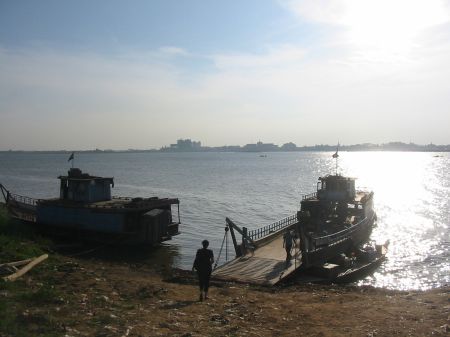 We have a break and hang out for some time. This gives us time and opportunity to see what people are doing. In two small food places Khmer boxing is on TV and a number of people are following closely and audibly. Meanwhile, all sorts of goods and vehicles are loaded on board the ferry. The mid aged guy in the center of this picture actually cares many of those apparently very heavy baskets all the way down to the ferry.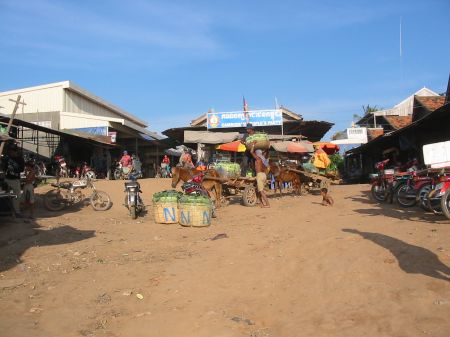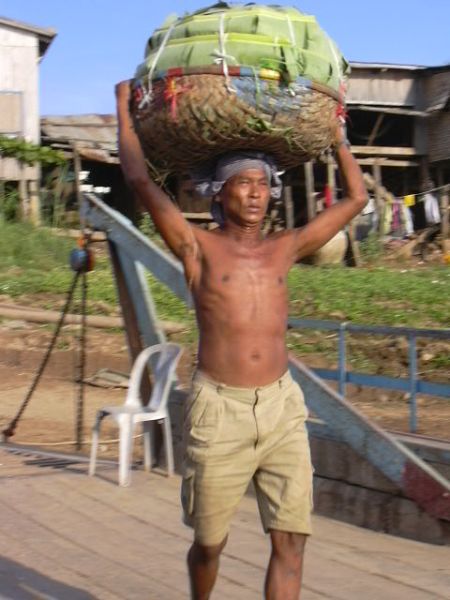 Phnom Penh's sky line, from left to right: Naga I Casino on the luxury liner, Naga II, a casino in the process of construction. To my knowledge the highest building in town. Cambodiana, one of the top hotels in Phnom Penh, where many 'poverty reduction' conferences take place.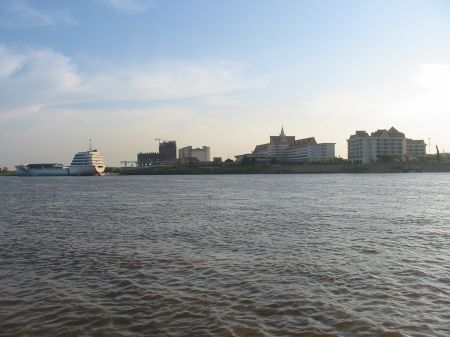 This is when we pass another ferry.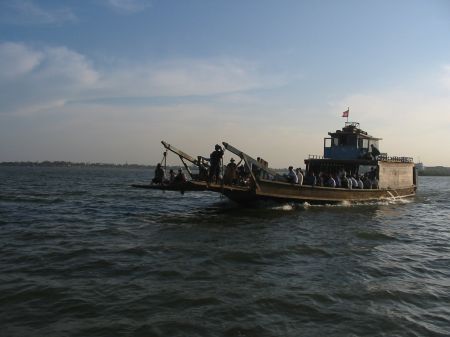 Opposite of the compound of the Royal Palace.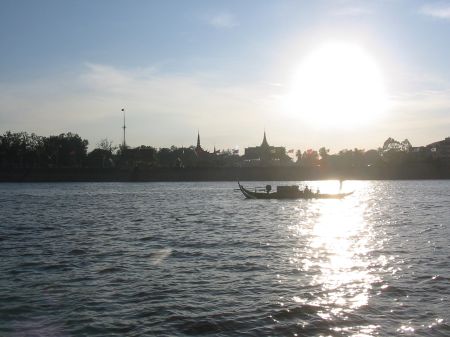 The ferry approaches Phnom Penh close to the Japanese Bridge in the north of the city. From here we ride back to Shelley's house on motos. When we arrive it is about to get dark. Little later Long and his friend kill the duck, while Shelley and I try not to be witness. Long and his friend start preparing the duck. Once in a while we offer our help but proof that we are not very effective in dealing with the duck. So most of the time we discuss and mortar spices.
It is a long process. First we are sitting outside. Later we move inside, because of mosquitos. Another of Long's friends arrives and together they put a lot of effort into the duck. Among others, they collect the blood and drink it with whiskey, in order to become stronger. I decide I can manage without doping.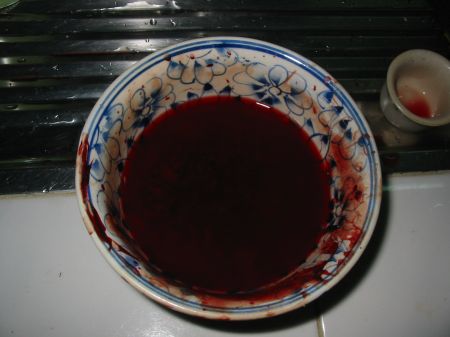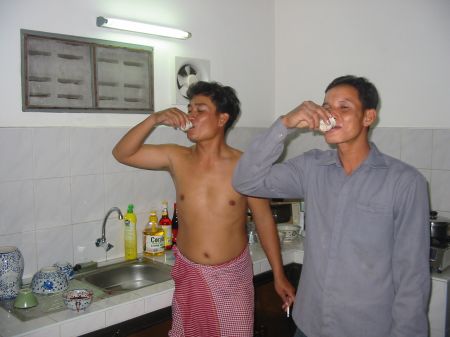 Then we have food, which is good and abounding. In addition we drink wine and beer and have some conversations, partly culturally segregated. Overall, I really like hanging out with those fellows, getting more insights into various facets of Khmer life and culture.
It is maybe 10 pm when I leave and only few motos are still on the road. I ride my moto home with high speed and bring it to the secured parking spot close to my place, before I go home.