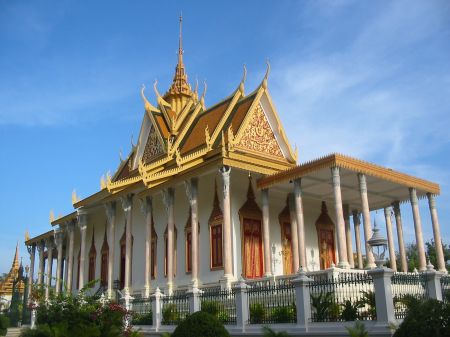 This is Saturday. I get up relatively late and ride to the riverside to have breakfast. Later I go to the Central Market, to buy some stuff, including clothes and a CF card reader for easier transfer of pictures from my camera to the computer. There is some sort of shopping center next to the Market, located in one of the highest and most modern buildings in town. I spend more than two hours here and actually take some nice pictures from the roof. However, due to malfunctions of the card reader I mentioned earlier I loose those pictures, which is a shame. Moreover, the card reader seems to have disabled two of my flashcards, which is particularly pitiful in the case of my only 256 MB card.
I have fast food for lunch, which is actually the first time in Cambodia I eat burger. Later I go home and still later decide to visit the Royal Palace today. I read in my guidebook that entrance and camera fee is $5 and an official guide between $2 and $4. I reach at about 4 pm. After I pay five bucks I am told by the only available guide that the costs of his service are actually $5. He studies at Norton University's Faculty of Law. So I tell him I am a student myself and cannot afford so much money. It takes me some time to negotiate $4.

This is Tevea Vinichhay, the hall in which Cambodia's kings are inaugurated. Visitors are allowed to enter but not to take pictures. The inside is designed convivially, featuring the thrown and a number of objects of pure gold.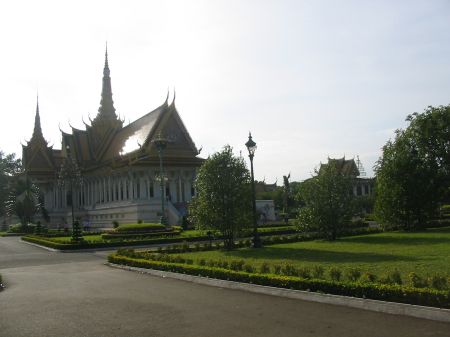 This is the kings' residence. Visitors are not allowed to enter.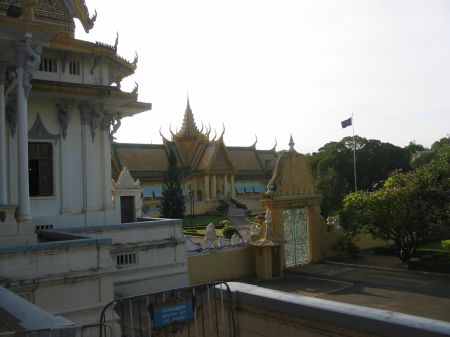 The smaller building is used as waiting room as well as by the king to get on his elephants. The building in the background is Chan Chhaya Pavilion. It was used for traditional dance performances. Today, the king speaks to crowds of citizens outside the compound on national holidays from here. My guide tells me that those masses are mostly composed or rural folks. Until recently I was under the wrong impression that this is actually the Silver Pagoda.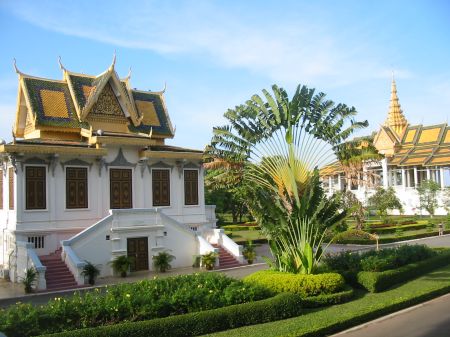 The Inauguration Hall from the south.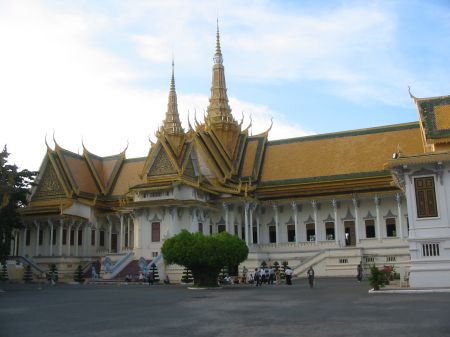 This villa in front of the administration building is a present from France. It served Empress Eugenie as accommodation for the opening of the Suez Channel and was then recycled as a gift to Cambodia's King, shipped to Phnom Penh and reassembled.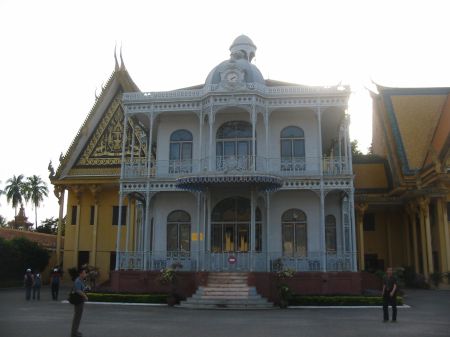 This is Silver Pagoda. The pillars and stairs are made of marble from Italy.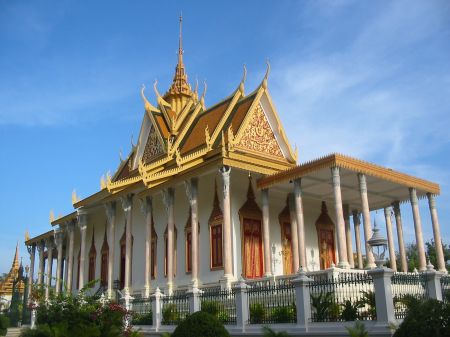 There is a nice model of Angkor Wat in front of it.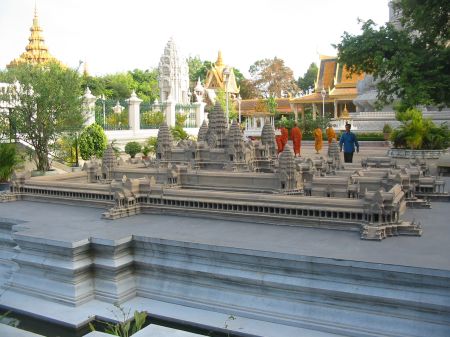 We enter the pagoda. However, it is not allowed to take pictures. The ground consists of 5281 plates of pure silver, each of them weights more than one kilo. There are countless objects made of pure gold, among them a Buddha of about 90 kilogram. There is another huge Buddha made of smaragd. Many objects are presents of various heads of states to Cambodia's kings.
Outside again: This is called paper tree. The blossoms of this tree have different colors.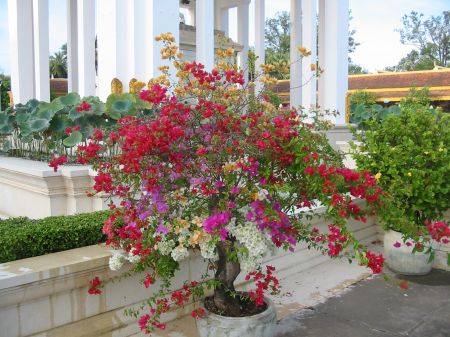 In addition there is a colorful butterfly.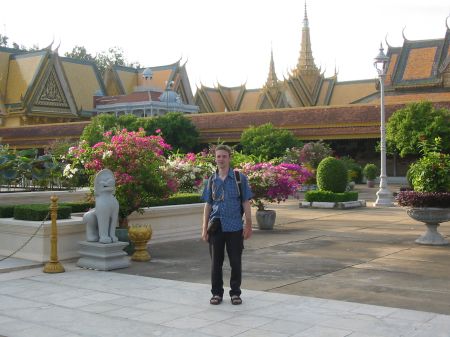 By now it is about 5 pm and my guide has to go to attend his classes. I give him $5 and he generously forgets that we agreed upon 4. I go and see the elephant place on my own, which is not very spectacular. Generally, despite a number of objects of gold and silver, the possessions of the monarchy appear rather humble. Moreover, many objects do not seem to be in a good shape and the way they are presented is in many instances not as glamorous as one might expect.
From the Royal Palace I ride to Lucky! Lucky! at Monivong Boulevard to get me a 100 ccm Honda over the weekend. From here I leave to one of my favorite Khmer food places. Still later I go home and continue writing my blog.