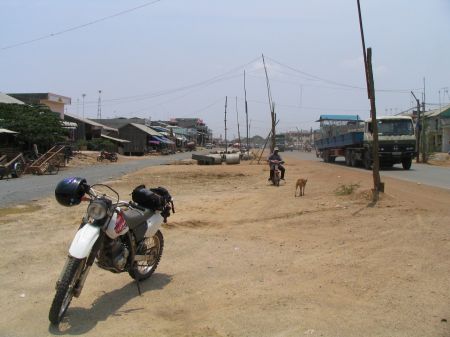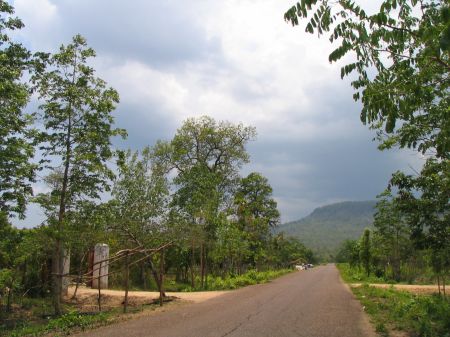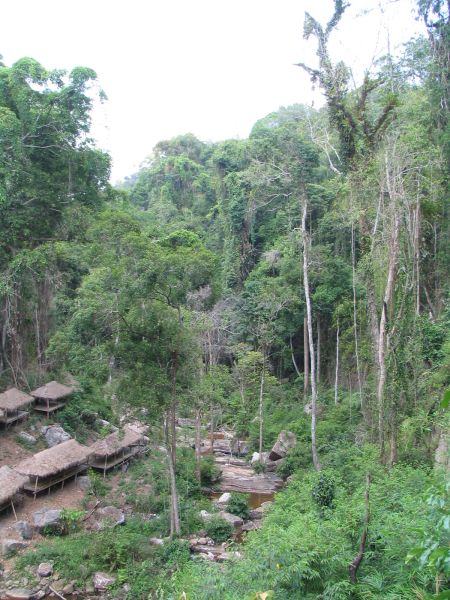 Today is Sunday. I have spent a busy week in the office. The schedule does not look like workload will be lower next week, so I use the chance for a bike trip to Kampong Speu (Kampong Spueu). Yesterday I took it easy, met some colleagues in private and some Cambodian friends in the evening. I go to find the Phnom Penh Bike Shop but find that it is no longer. I find the previous owner in his brother Darah's bike repair shop and talk to both for some time. Good to meet those guys again, after more than one year.
The plan for today is to get a motorbike from Lucky Lucky and go on a trip to Kirirom National Park in Kampong Speu province. Oddly, none of my guide books has a section on Kampong Speu. Only the Lonely Planet has a paragraph on Kirirom. It says that Kirirom Mountain is 675m above sea level and about 112 km southwest of Phnom Penh. It also says that Kirirom "is not the most interesting of Cambodia's national parks, but it is the most accessible from the capital and the scenery is notably different from the flat agricultural land that surrounds Phnom Penh, and the climate is also noticeably cooler". While this does not sound particularly promising, at least the 'noticeably cooler' appeals to me. It is very hot in Phnom Penh these days, which makes working and sleeping a major problem in times.
After I have some breakfast I go to Lucky Lucky, as I did many times before. The manager and owner recognize me and I get a Honda XR without objections. I check the bike they propose and find that neither of the front blinker works. Noting my dissatisfaction, one of the employees starts reluctantly working on the bike. He spends about ten minutes doing that and then proposes another bike. This time the back light and the back blinker don't work. I get the point and I don't want to be small-minded. Neither do I want to burn my time. So I get the bike, fill it up at the next gas station and head to Kirirom.
In front of Lucky Lucky. I wonder if there is a word for 'maintenance' in Khmer.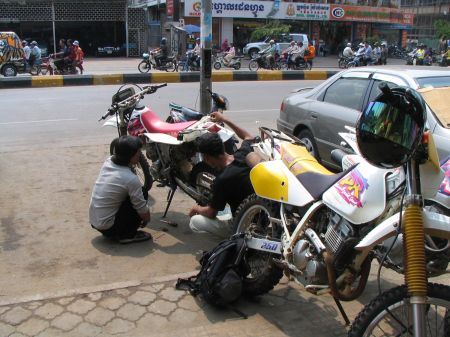 It takes me some time to get used to Phnom Penh traffic and driving behavior. In fact I find a concrete guardrail in the middle of the road all along Monivong Boulevard. Because I cannot cross the road I have to ride to the south and loose my way and ride in circles until I find myself on Sihanouk Boulevard. From here I ride to the Russian Federation Boulevard, where many ministries are located, and head towards the airport. There is massive traffic and I travel relatively slow. Traffic remains dense after I have passed the airport. The road is very wide after I turn right in Phnom Krang Dontey.
They way to Kirirom is mostly along National Road 4, which is supposed to be in excellent condition. After some times I reach a tolling point, which looks a bit like a border checkpoint to me. Occasionally I read in the newspaper that people and parties complain that a company is taking user fees along the road. I see a number of people in uniform stopping some of the cars but they do seem to stop motorbikes so I keep going.
I ride for about an hour. It is almost lunch time and I want to be back in Phnom Penh before it gets dark, not least because this moto's backlight does not work. After I have passed the industrial outskirts of Phnom Penh I reach the countryside. It is very hot and very dry. Not surprisingly, as it is dry season. The landscape looks very different from when I was in Cambodia last time. There seems to be only dry land where I used to see green rice fields all over the place.
There is not so much traffic anymore and only occasionally I see trucks so I can ride fairly fast. There are no indications in the guide book on how to recognize the spot where one has to leave National Road 4 to the west, in order to reach Kirirom. Increasingly I am concerned that I might have missed it.
I stop in a small town, where I have some water and ask for the way. I learn that I am on the right way.
Yesterday I bought a new crash helmet for US$ 16.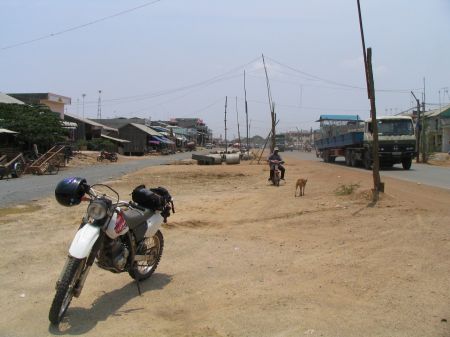 This kind of place can be found everywhere along the road.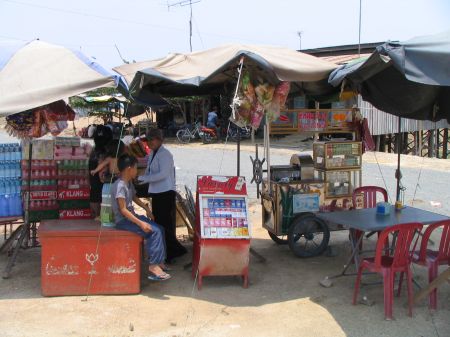 Increasingly I see hills in the otherwise very flat landscape, which makes me think I am close to Kirirom, which is a mountain. I ride for another 30 minutes. By now there are surprisingly few cars on the road and I ride frequently at top speed, yet try to watch out for signs.
Finally I see a sign. On my way back I take a photo to share it here. This is what you want to look out for if you come from Phnom Penh and want to visit Kirirom. I do not see any other sign.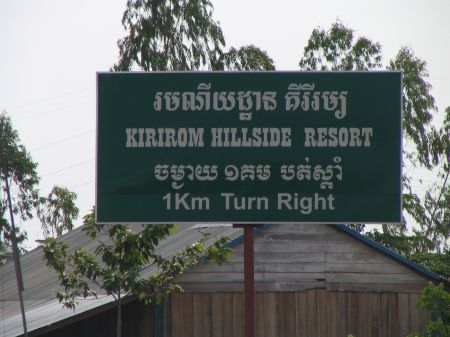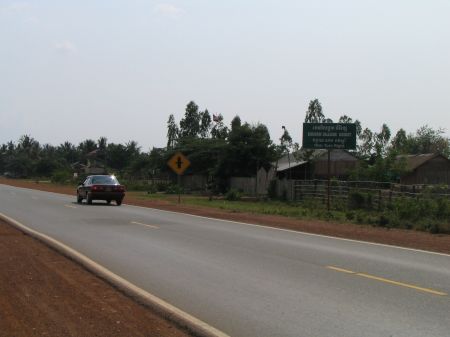 This is where you actually leave National Road 4, following the other road straight ahead.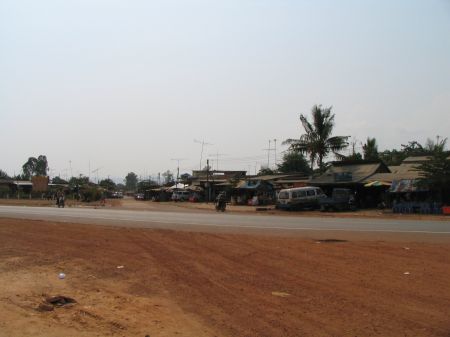 This tall antenna can help to identify the place. From here it is still about 20 km on a narrow but paved road before you enter the National Park. The road is actually nice to ride, few potwholes but many turns.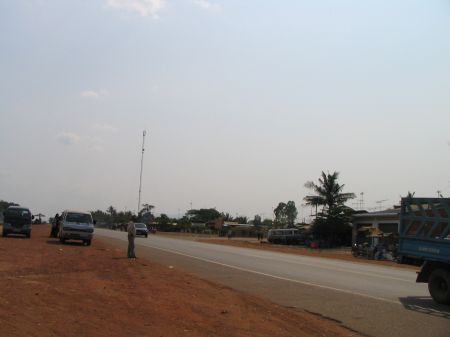 This is how it looks like along the road. There are some clouds along those hills, which help to make the temperature more bearable.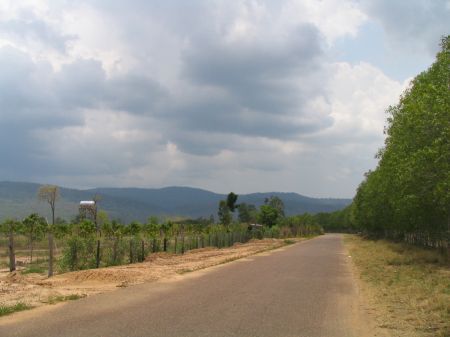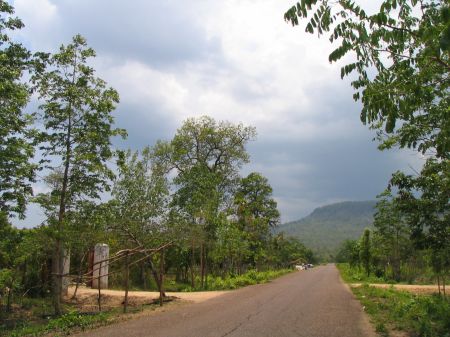 This is only a few hundred meters before I enter the park. The Pepsi sign to the right reads "You have arrived at Kirirom Hill Side Resort'.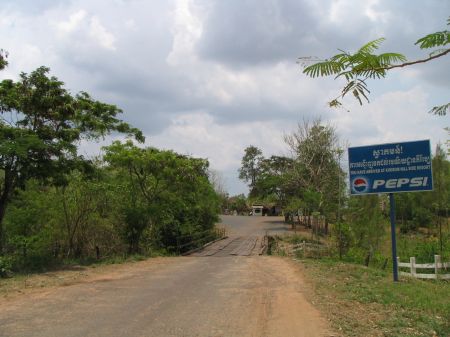 I turn right behind the bridge and find the gate of this resort. I learned before that wealthy people like to spend some days out here in this institution for relaxation. This resort includes a wide range of facilities offering hotel and restaurant, shopping, playgrounds, a waterfall, a zoo, fishing, canoeing, horse riding, sauna and tennis, among other things.
This is in front of the gate to the resort.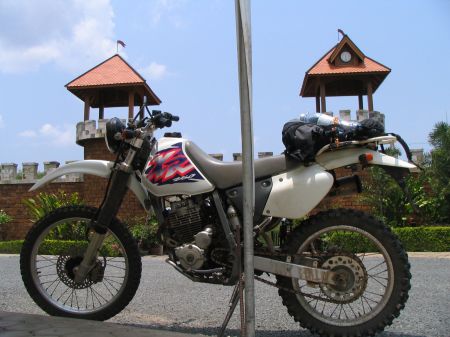 However, this is not what I am looking for and after talking briefly with hotel staff I decide to head to the park.
This is the check point where I enter the park. Khmers pay 2500 Riel of entrance fee per car. Foreigners are charged 20.000 Riel (US$ 4). Prices are written on the sign to the right. At first, these guys try to persuade me that I do not need a ticket, after I have paid for it. I insist and finally they give me one, maybe because I have taken a picture of them before, but maybe not.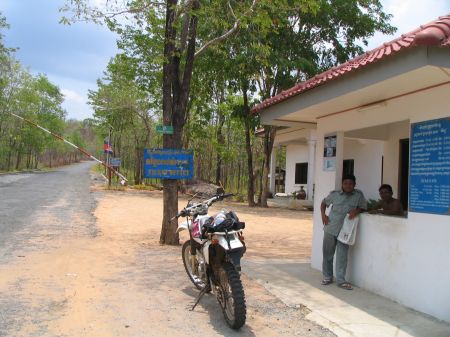 From here the road leads uphill, not steeply but continuously. The temperature seems to fall a bit. The road is mostly in good condition. It has many turns, too, which makes riding it a pleasant affair, in contrast to the national road. There is forest along the road.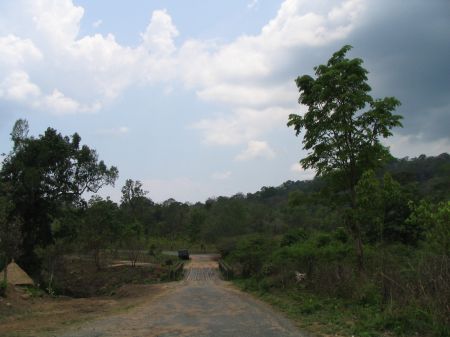 These steps lead to a temple. I talk to these tourists, who are Cambodian Americans and cannot advise me on where to go around here. After some time I continue until I come across this sign which indicates that there is a water fall to the right.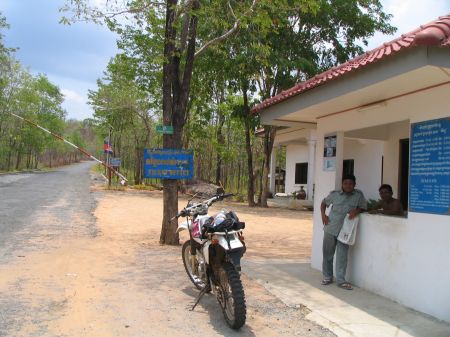 After a few hundred meters I meet another official who charges me another 1000 Riel, not sure what for but maybe for the bike. At least paying this fee makes me confident that I found one of the places worth visiting. After few minutes I reach some sort of parking lot, with a number of food stalls.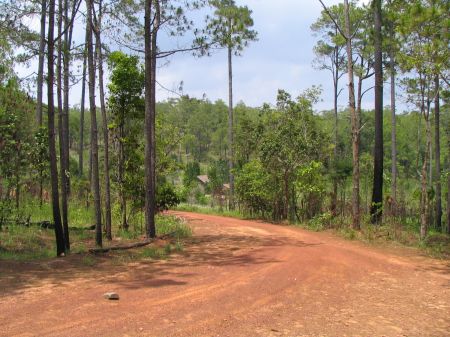 Down there is the parking spot.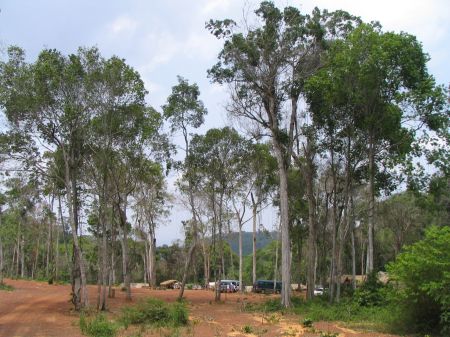 There are only few people and 3 or 4 cars. I am asked if I want to have food and decline. Instead I head to the waterfall, going down some stairs between a number of huts that have been constructed for mostly local tourists who come here to picknick.
Huts.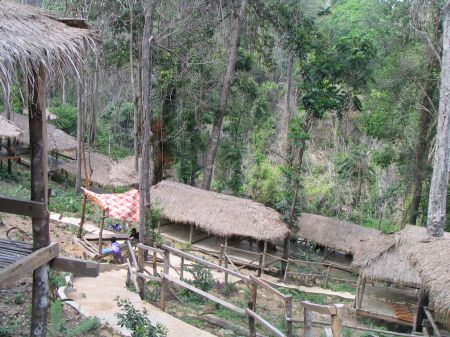 As it is dry season there is hardly any water in the river and also the waterfall is not very impressive.
Down there is the waterfall. A bunch of people is enjoying themselves under the little water that is actually falling down. I was told before that few people come here at this time of the year, as it is too hot, because there is not much water and because the surroundings are much more attractive when everything is green during the rainy season.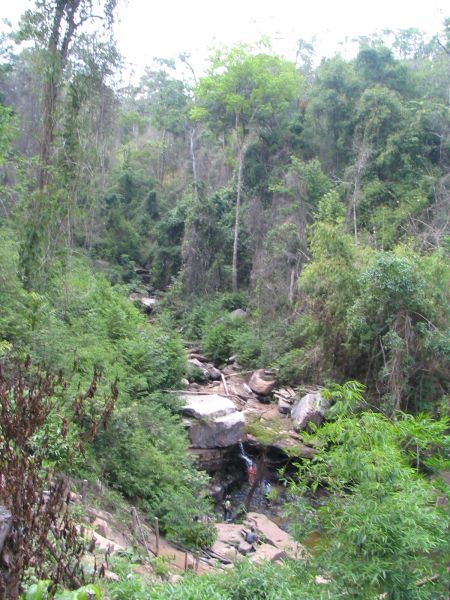 Downstream, to the left some of the huts that are all over the place.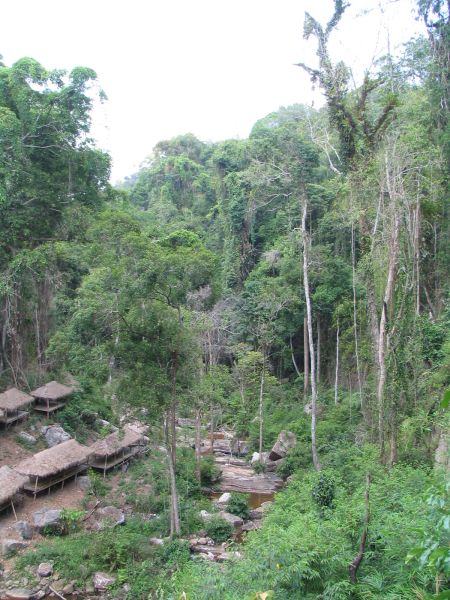 I walk back to the parking lot, talking to one of the girls who are serving food on my way.
Scenery close to the waterfall.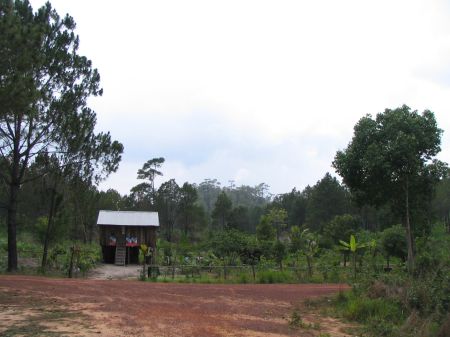 Since the waterfall did not give me much satisfaction I watch out for other spots. Trying to find a good overview I ride up some sort of mountain (in the background of the above picture) on a narrow trail. I find that there are many paths and sort of dirt roads but none of them leading to a particular interesting spot.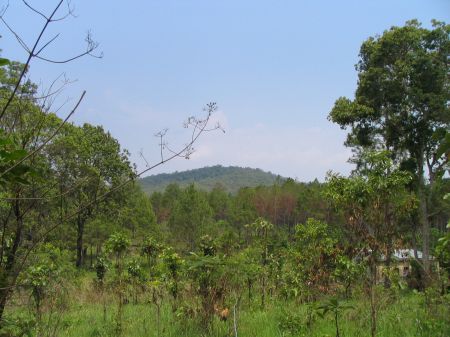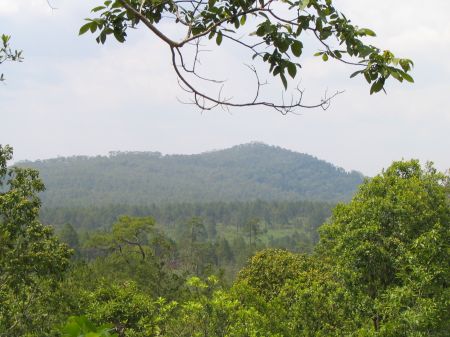 By the way, this is the handle bar of the bike. Does not look particularly trustworthy to me.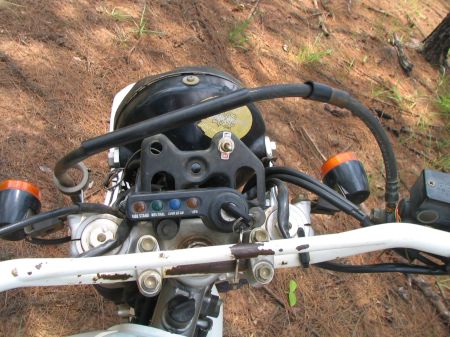 After some time I find my way to the main road in the national park. Following it I reach some sort of monument with a Buddha statue in its center and surrounded by a small garden.
Those are some Khmer tourists at the statue's back. The girl to the rights takes a picture of me so I take one her, too.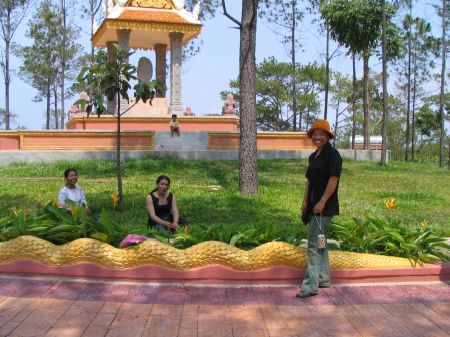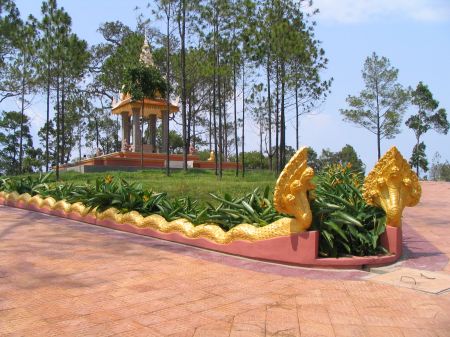 This is the front side.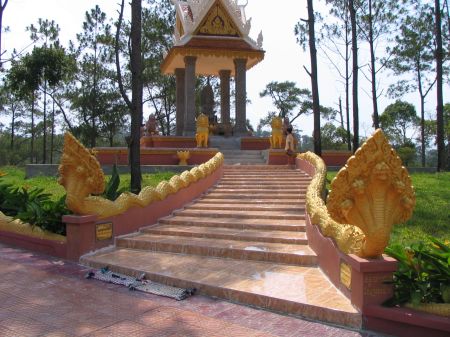 Downstairs.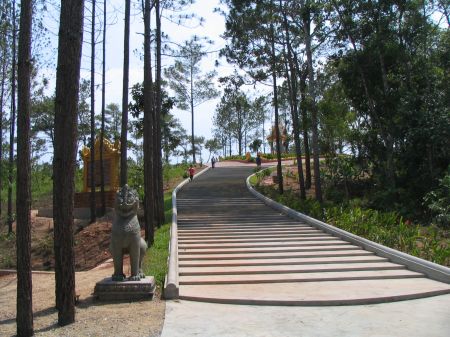 On my way back to the moto I meet a Khmer guy with two young women. He tells me that they came here all the way from Phnom Penh on just one moto scooter. He also tells me that Kirirom Mountain is not far from here and worth seeing.
After riding for about 5 minutes I reach a huge sign next to the road saying that this is Kirirom Mountain. The sign also says that this is the way to the guesthouse. The 'road' is quite bumpy and I wonder if this is really the way to this park's main attraction.
At the top of the mountain I find a guesthouse and a restaurant. Both are nicely located and one can sit on the roof of the restaurant which sits on the highest point of this hill. Nobody is here except the waiter. He looses interest when he finds that I am looking for neither food nor accommodation. I go upstairs and take some pictures, a bit disappointed that there is no free view in any direction.
Restaurant on hill top with waiter.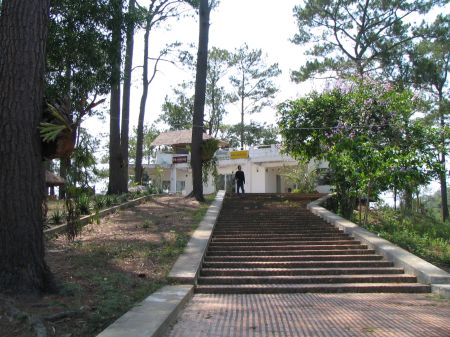 It is already afternoon and increasingly I realize that I have not enough time to enjoy and appreciate this park. What I see makes me think that this would be a good place for hiking when it is cooler. This guesthouse would then be a nice place to spend the night.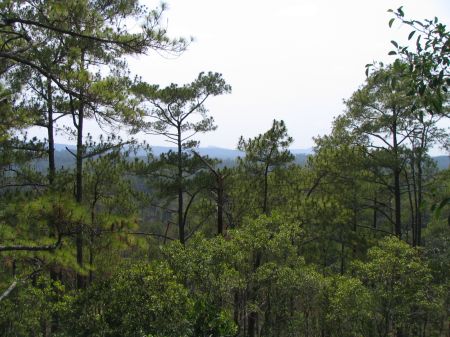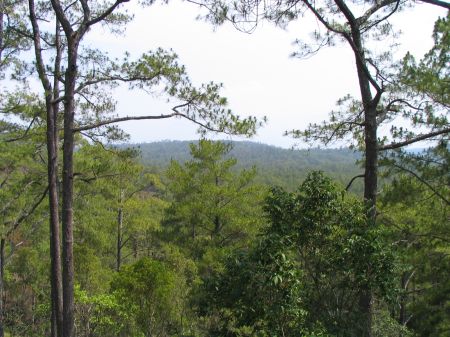 Back on the road I realize that there are a significant number of cars. I ride for some time, following other cars without seeing any more signs. I come across a number of junctions and finally this gate which looks like it might lead to an interesting spot. There are other cars and I follow the road for some time. However, it does not seem to lead anywhere.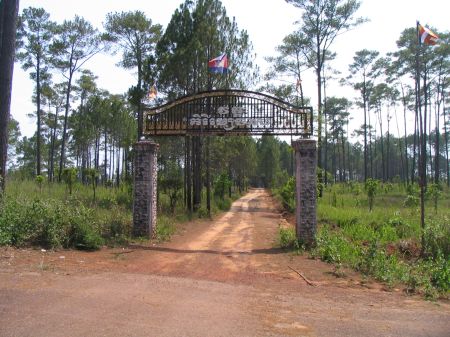 At this point I decide to turn back and head back to Phnom Penh and to come here again with more time. I enjoy riding the sharp bends and take a picture once in a while.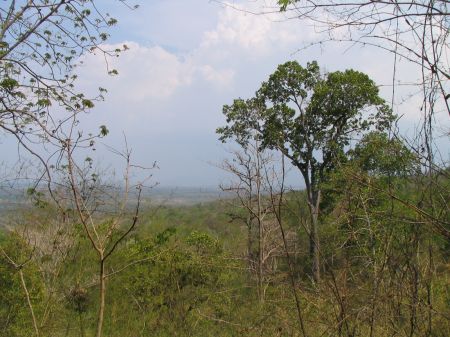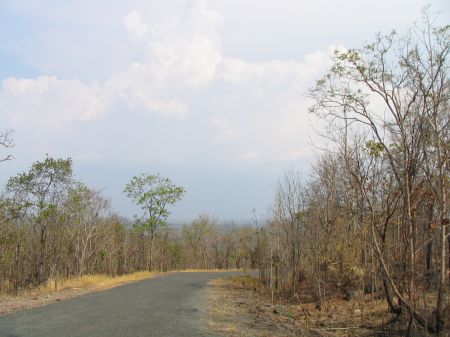 I am concerned that there might be dense traffic on the road which might make it impossible to reach Phnom Penh before dark. Many people travel to Sihanoukville, the seaside city to which national road 4 connects Phnom Penh, over the weekend. The weekend is almost over, but there are still not many cars on the road, which is nice.
Dry landscape all along the way.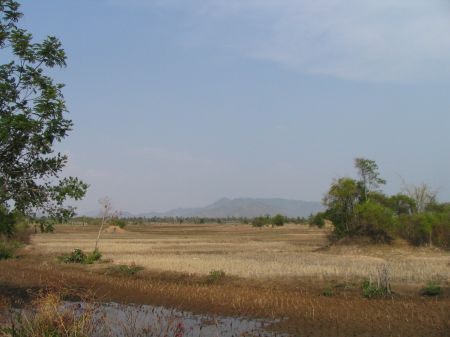 On my way to Phnom Penh I stop only twice. The first time is to get petrol, the second for a short rest and some cold water at a shop in a town whose name I do not know.
This is where I have rest.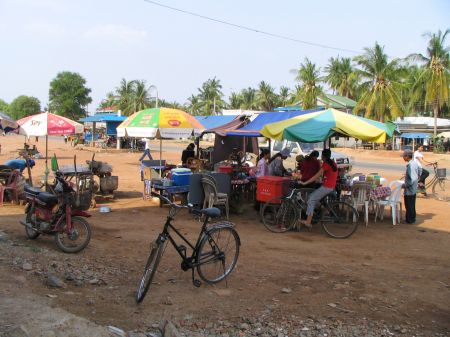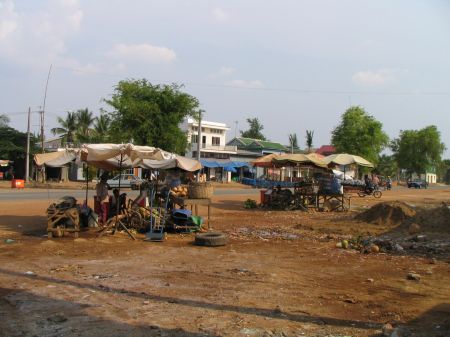 Much of the time I travel at top speed, which does not mean much anyway. Not surprisingly, the traffic gets denser when I get closer to Phnom Penh, until I am finally back on the city's roads. I am riding with much more confidence now and faster than when I started in the morning. Since there is no point in riding this bike at night in Phnom Penh I return it to Lucky Lucky. With a moto taxi I ride back to the guesthouse, have a shower and some rest and then have lunch on the veranda with a newspaper.
Place where I have lunch.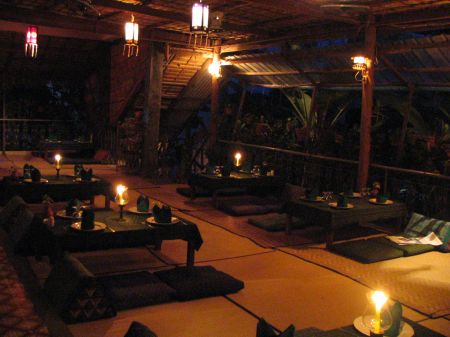 Later in the evening I meet Dara and some of his foreign friends in a pub at the riverside. They have been on a multiple day motor cross trip over Khmer New Year, which involved Mondulkiri, Rattanakiri, Stung Treng and Preah Vihear provinces, among others. They also have a comprehensive slide show of pictures and videos they took during the trip. While this is not my preferred way of traveling I find the idea very appealing to go on more moderate bike trips to these places during the coming weeks and months.