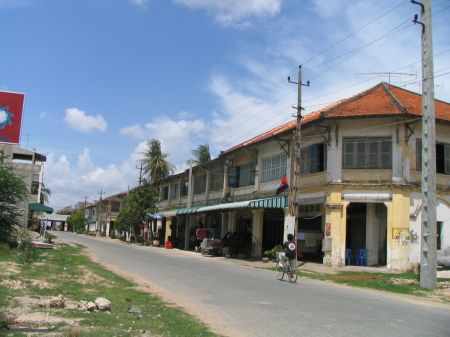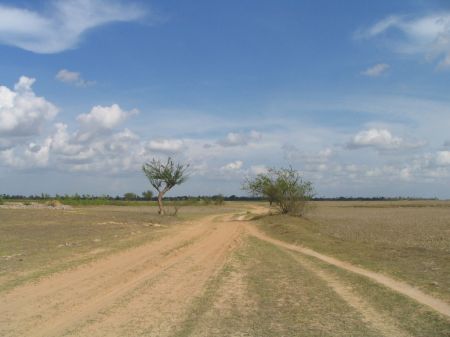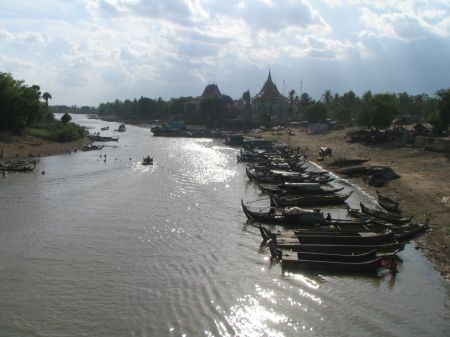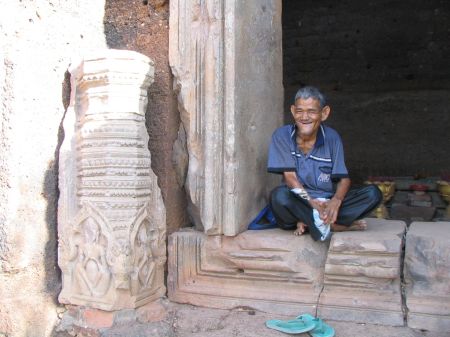 Today is Sunday. I have recently moved and live now in the Apartment of Toby and Katrin, the second time that I have this privilege. In addition, Toby was kind enough to let me ride his motor bike. This has boosted my quality of live enormously and in particular my mobility. I greatly enjoy riding to work and all around in Phnom Penh.
After I was unwell yesterday I want to make up today. The plan is to travel to Takeo (Takaev) Province. All three of my guide books recommend visiting Phnom Da (Phnum Dai), Angkor Borei and the – partly ancient – 'water canal highways'. The 'Adventure Cambodia' guide book in particular praises this trip and recommends visiting Angkor Borei by fast boat from Takeo town. It also says that Angkor Borei town (which is connected by water to Takeo town) may have been the heart of the Funan empire, which is called the "Cradle of Khmer Civilization" by Cambodians. The Funan empire is much older than Angkor and had its heyday between the 1st and 6th centuries and stretched across South Vietnam through Thailand, down through Malaysia and into Indonesia. This sounds all very interesting and I want to give it a try.
After an extensive breakfast with Toby in the FCC I get started and head down south Norodom Boulevard and on national road 2 after I have passed the traffic circle at Monivong Bridge. As usual, it is already fairly late to start an extensive day trip. The road is in decent conditions in most of its parts. After I have passed the pretty dense traffic in the outskirts of Phnom Penh there are fewer cars, which increasingly allows for speedy travelling. After about one hour I have a short break.
This is how it looks like for much of the time.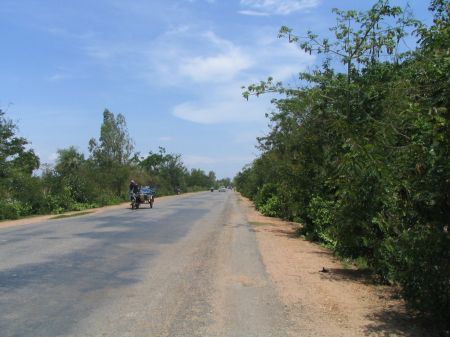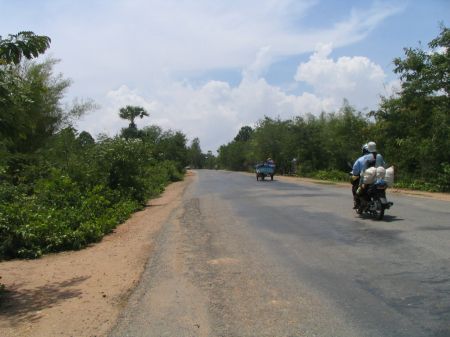 I continue the journey for about half an hour. Increasingly I suspect to be very close to Takeo town and I wonder if I can possibly have missed it. After all, the town is only 85 km away from Phnom Penh. But then I arrive at what looks like the end of the road, a fork opposite of which I see a sign saying 'Welcome to Takeo'.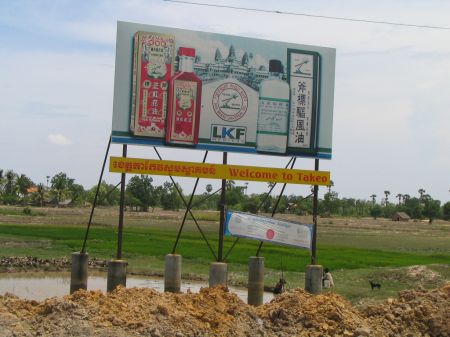 The guide book advises to head straight to the canal waterfront, to the place where the fast boats are located.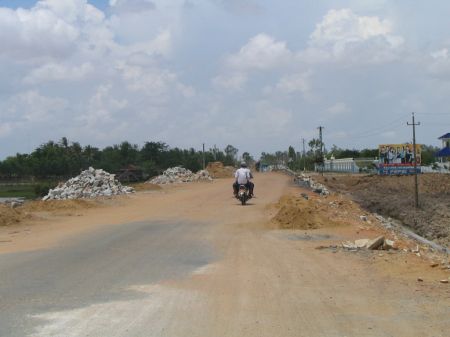 I follow the road to the right, which is pretty bumpy, until I reach another fork, in the middle of which there is a Sokimex gas station. I follow the road to the left and after a short while I pass this tree-lined promenade. I see only very few people and the town appears to be pretty sleepy.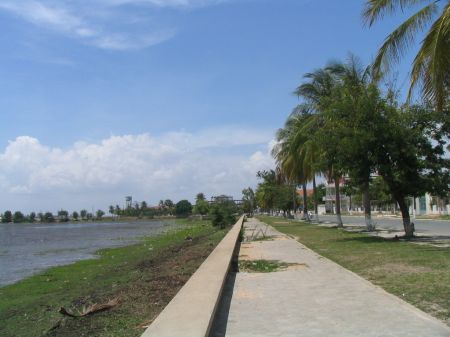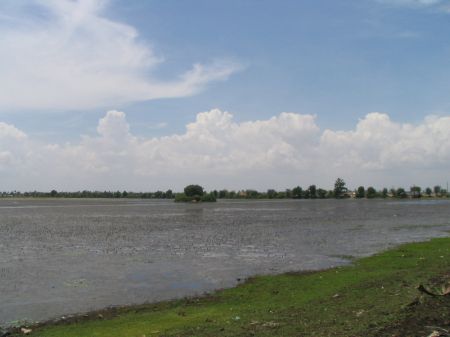 Behind the promenade is some sort of lake marshland. The guide books indicate that much of this land is spectacularly flooded during the rainy season.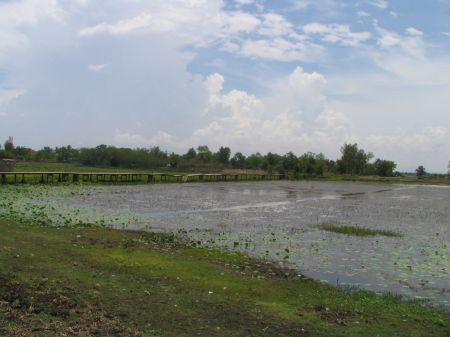 I follow the road until I reach a small market building, ride around it and find myself at the canal waterfront where the fast boats are. I ride the waterfront up and down, it is only like 200 m long, there are a few food and snack stands but very few people, given that much of the local trade with Vietnam and some travel to the border is supposed to take place by boat through a system of canals. A rather narrow moat opposite the waterfront is supposed to by one of the 'water highways'. Angkor Borei and Phnom Da are very close to the Vietnamese border and this border check point is regarded one of the most adventurous, because it is used rarely.
I take a seat at one of the shops, by some water and observe what is going on. Nothing much really.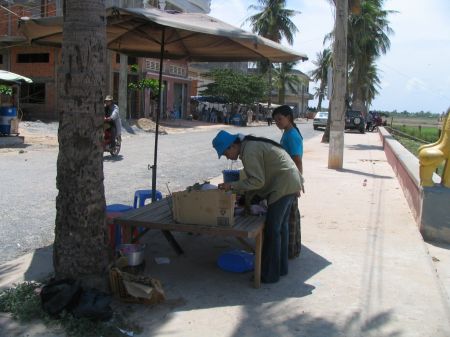 Down there are the 'fast boats' and over there one of the water highways. Not very impressing.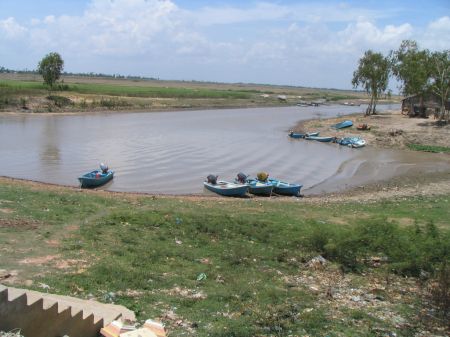 Over there is one of the fast boats leaving on the 'highway', just when I arrive.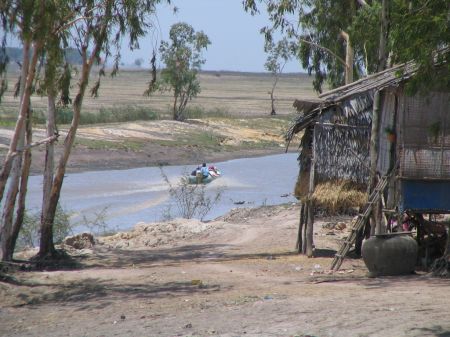 I note that there are a number of people sitting in some restaurant like places at the road side. The guide books indicate that doing the round trip involving Angkor Borei Museum and Phnom Da is about 15-20 $ no matter how many people go because most of it covers the gasoline. I am reluctant to go and pay by myself so I wait and see if some people turn up who want to go, too, so that we can share costs.
I wait for some time. At one point a group of people walks over and gets into one of the boats. They appear to carry a lot of goods so I think they are not going for pleasure and most likely not to visit temples or museums. Moreover, with 9 people the boat looks pretty crowded already.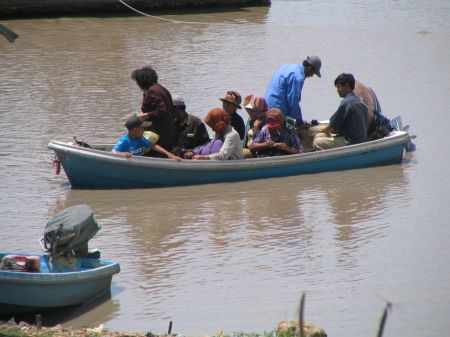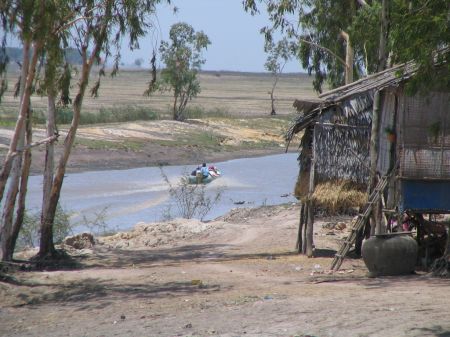 The place has a provincial flair quite different from Phnom Penh, and also the people behave differently. In public places in Phnom Penh there are always people trying to sell stuff or otherwise interacting with others and as a foreigner, you are being approached sometimes more than you like. Here, people do not seem to pay much attention, I can sit quietly, read in the guidebook and look at the scenery. Rarely a motorbike passes the promenade, and some men are playing board games some meters away.
It is past lunch time already, I see only few people and no travellers. After almost one hour, I talk to the guys next to me. I learn that it is possible during the dry season to reach Angkor Borei and Phnom Da by motor bike. So I decide to try this option and come back here and do the boat trip in the rainy season, when the place is flooded. People indicate to me that I have to go back on national road 2 and turn right at Phnom Chissor (Phnom Chiso, Phnom Chi Sou).
This is what I do. Phnom Chissor is about 26 km from here.
I stop briefly at the promenade and the lake marshland.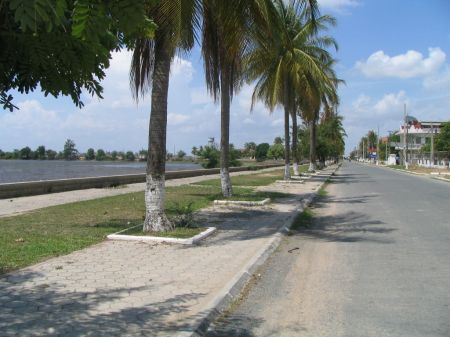 At the end of this road is the market building and behind it the canal waterfront with the fast boats.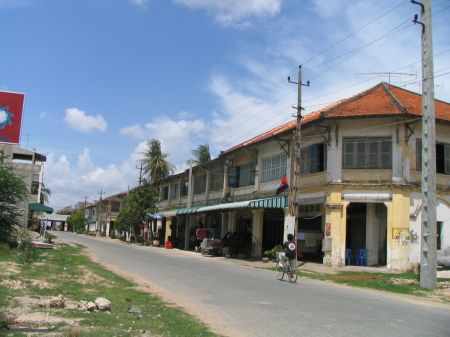 This is Toby's bike, at this point still pretty clean. I was stopped by policy the other day because there is no number plate.
I stop at the Sokimex gas station and fill up the tank. I had filled it before when I left Phnom Penh and I am surprised that only fuel for 2$ fits into the tank after the ride here. Then I ride back to the national road and north towards Phnom Chissor.
I have been to Phnom Chissor before and I recall having difficulties finding the place where I have to leave the national road. The same happens to me again. I ask a number of times. Then I reach the place.
Look out for this sign on your left if you come from Phnom Penh and want to visit Phnom Chissor. It pictures the temple on the top of the mountain.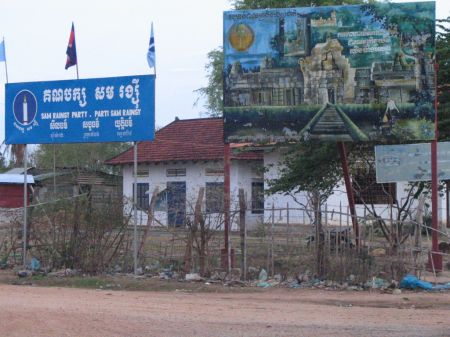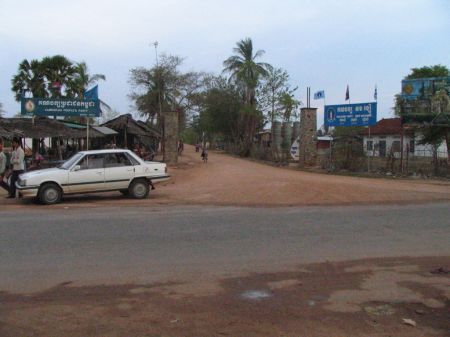 You then follow the dirt road over there, for about 4 km until you reach the bottom of the mountain.
Along the dirt road. The land on both sides seems to be very dry.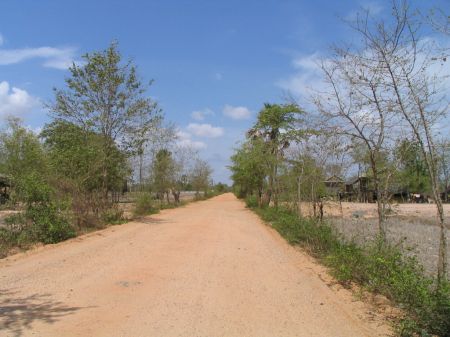 Straight ahead is Phnom Chissor, on top of it is an ancient temple.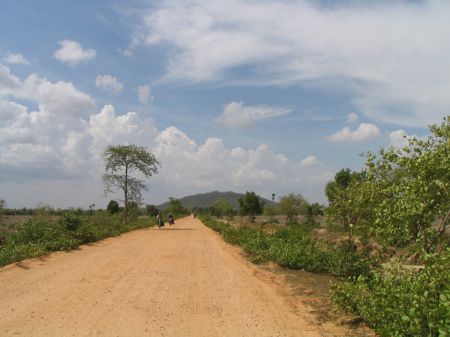 This is the hill top, but the ancient temple is on the opposite site.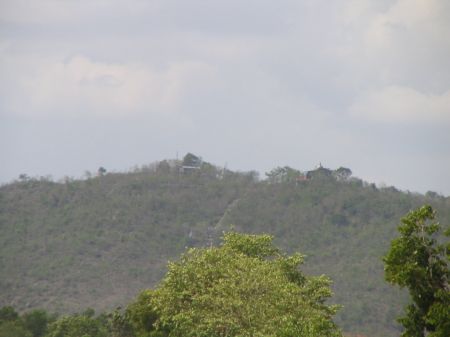 There are some rural homes along the road.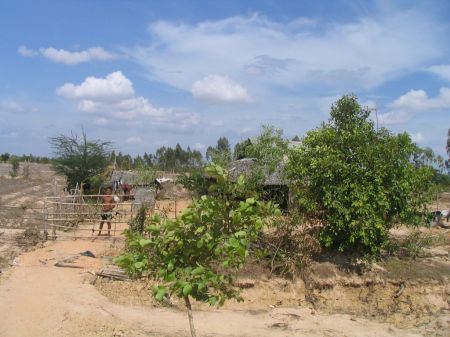 There are some food stalls at the bottom of the mountain. I park the moto in the shadow, take a seat and have a drink. There are few people, but a bunch of kids is surrounding me as soon as I arrive. I meet some people from Phnom Penh who are visiting the temple. While I know that it is possible to visit Angkor Borei, I have no idea how I can get there. I talk for some time to the people from Phnom Penh and ask them to inquire if one of the people around would be willing to give me company and show the way. They find a person who does however not speak English. I learn that it takes about one hour to reach Angkor Borei.
I decide to go with the guy. It is already about 2:30 pm. We follow one of the dirt roads, take a number of turns and quickly find ourselves in a very rural setting. After we travel for some kilometres we reach an area that seems only sparsely populated. My companion asks a number of times for they way. I am glad I went with him, not so much because he knows the way, but because he can ask.
In the beginning we ride on a fairly bumpy dirt road. Increasingly, this road is getting narrower and there are fewer people travelling on it.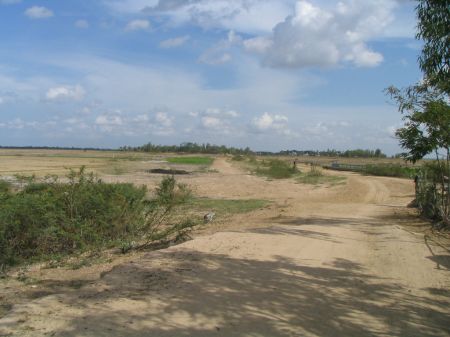 At some point we reach open and seemingly uncultivated land. The road is very sandy and sometimes it is difficult to determine its course.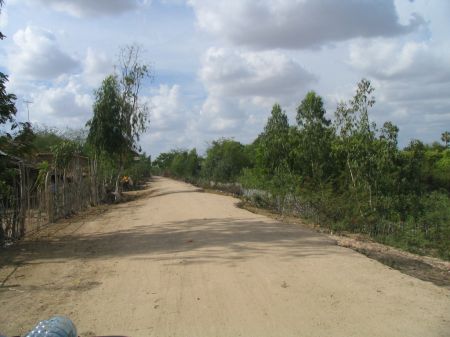 The guide indicates to me that this mountain is Phnom Da, or at least somewhat close to it. It may appear close, but the picture is taken with 10x zoom.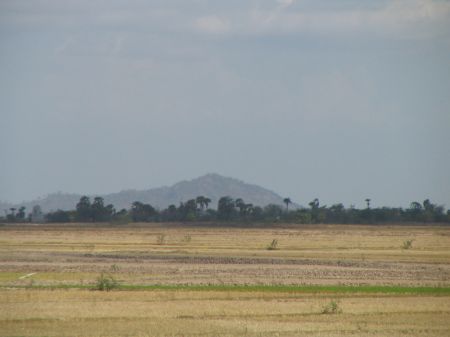 The road is very sandy around here and increasingly I find it strenuous to manoeuvre the bike with two people on it.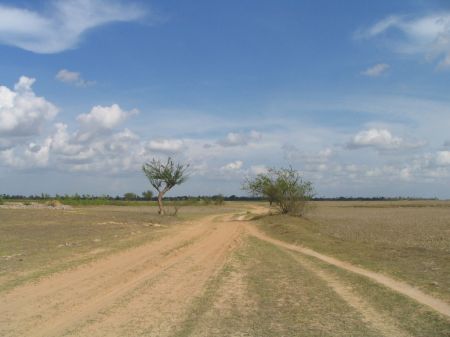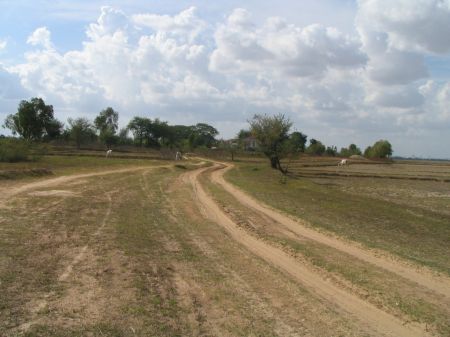 We are travelling fairly fast, at least faster than any other vehicle we come across. Sometimes I sense that the guide may be a bit afraid of my driving. I note that we are never travelling straight towards the mountain, but follow many turns and detours, sometimes on narrow paths and sometimes on fairly decent dirt roads. However, we do not seem to come any closer for a long time.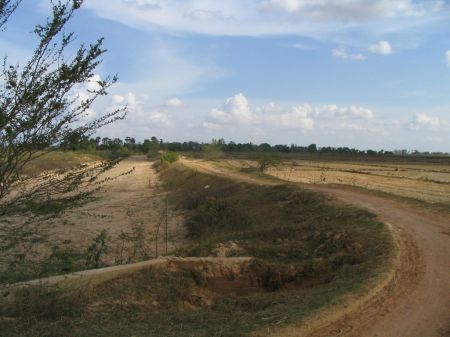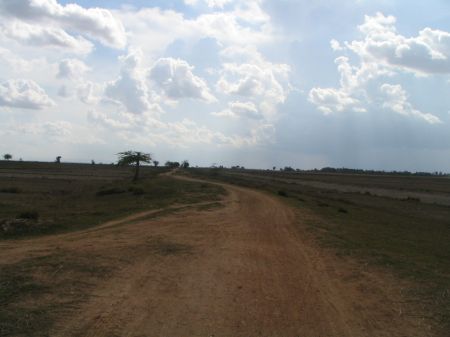 It is my sense that we are already travelling for more than one hour when we finally arrive at denser settlement with more traffic. Then we reach Angkor Borei town.
This is at the bridge. I read that the museum is close to the bridge and that the fast boat from Kampot town stops down there.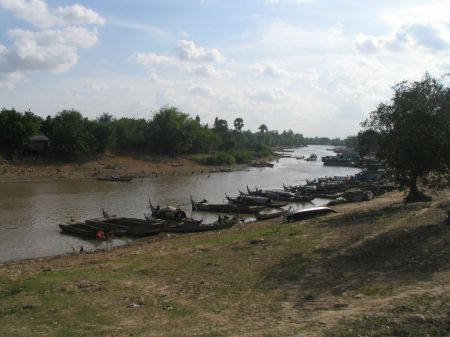 In the centre of the picture are two nicely located, seemingly modern temples. Down there is Angkor Borei River.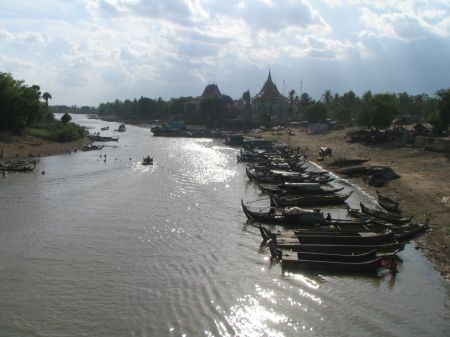 Some boats appear much overloaded.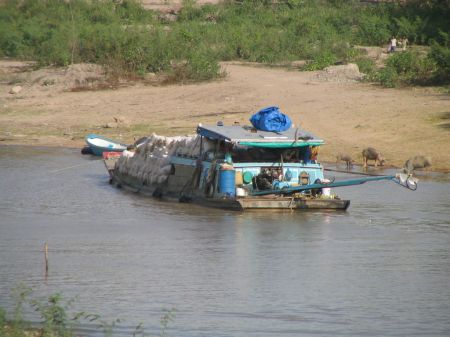 Not much is going on on the bridge.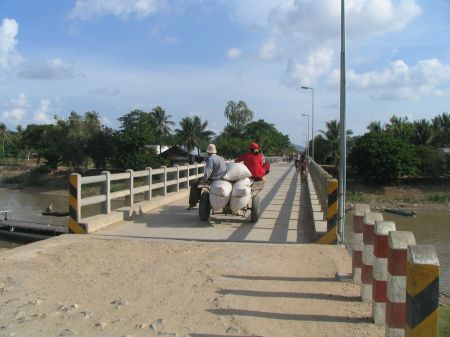 We continue the trip to Phnom Da, which is only few kilometres decent dirt road away. The hill top temple is on the hill to the left hand and easily recognizable from a distance.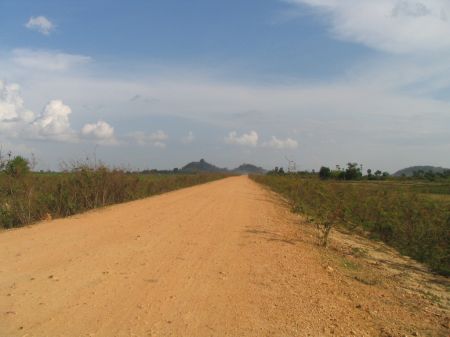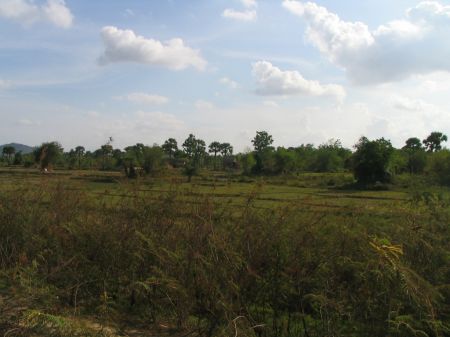 Some of the places along the road look very peaceful and idyllic.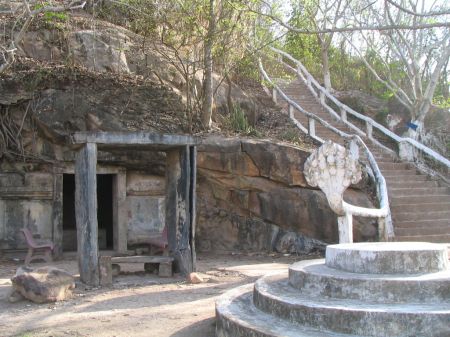 We park the bike at the bottom of the hill and start climbing up the stairs to the temple. This is at about halfway.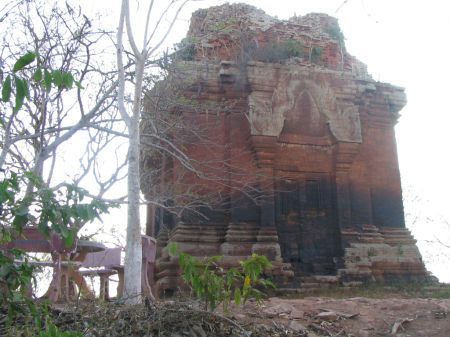 This is the temple, which is from the Angkor area but obviously not nearly as impressive as the temples that people come to admire in Siem Reap. Still, I like the way the temple is located on the hill top in this charming area. I imaging that this is at least equally delightful in the rainy season and plan to come back after some months, with the boat from Takeo.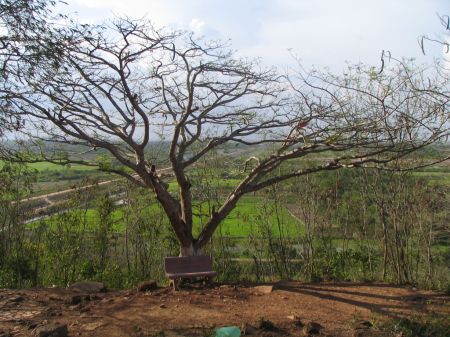 Nobody is here besides this fellow, the guide and myself.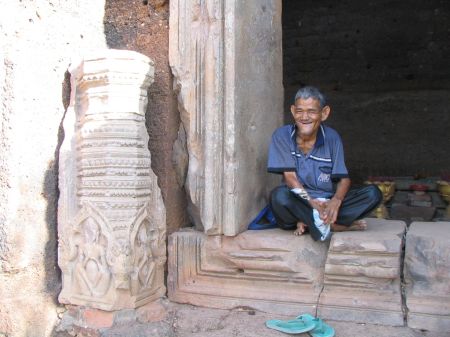 I imagine this temple used to be decorated with sophisticated carvings which may have felt victim to looting.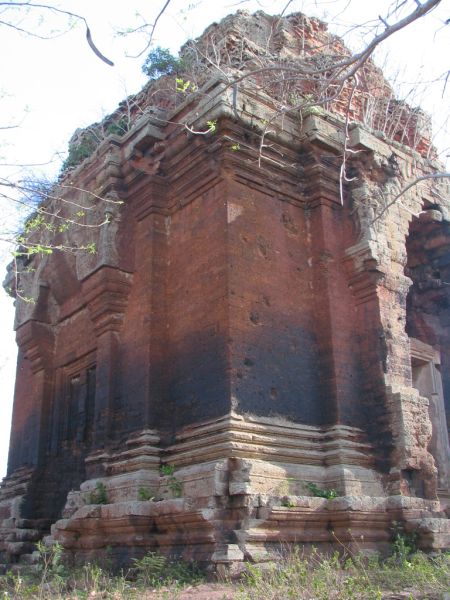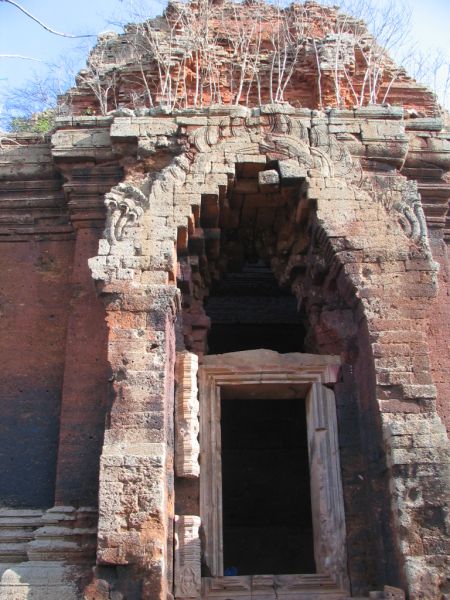 The roof of the temple collapsed.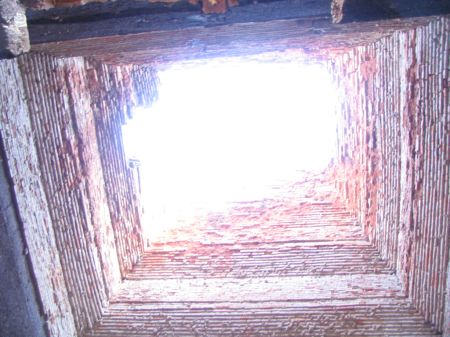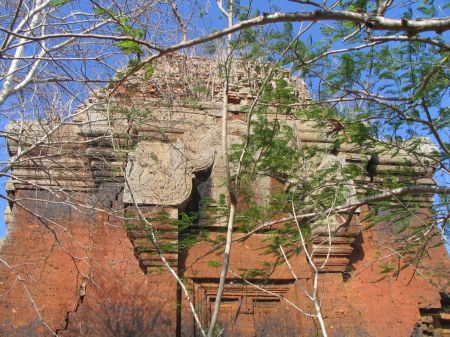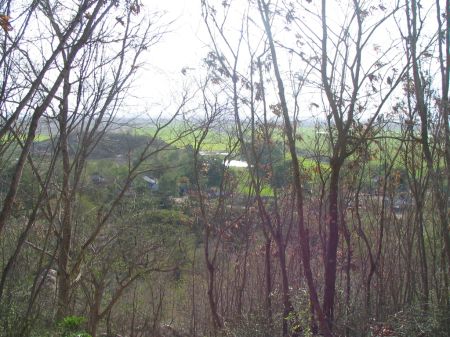 We have a short break and then start climbing down again.
This is some sort of settlement at the bottom of the hill.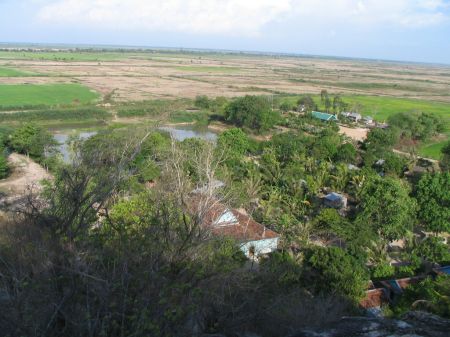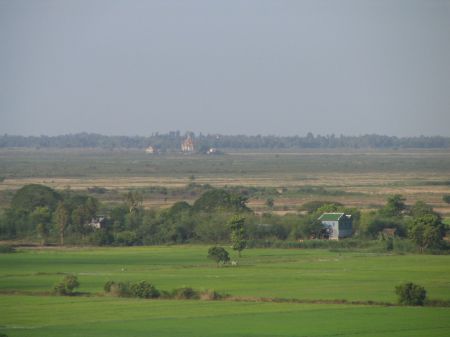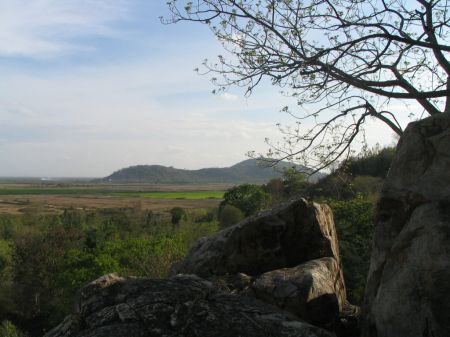 When we reach the bottom of the mountain, it looks very rainy in our direction.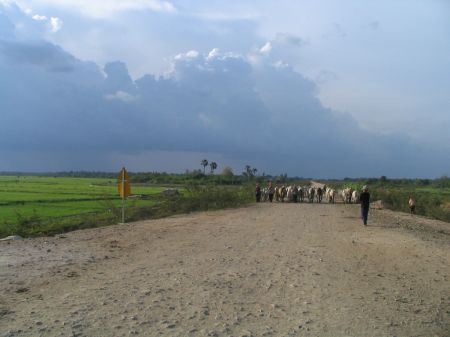 Phnom Da.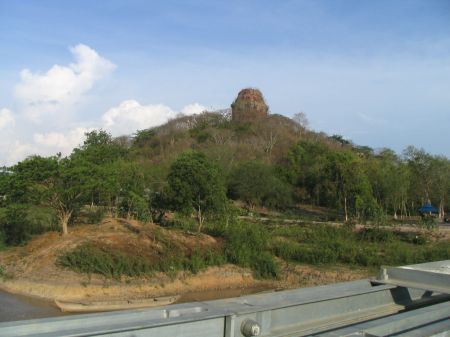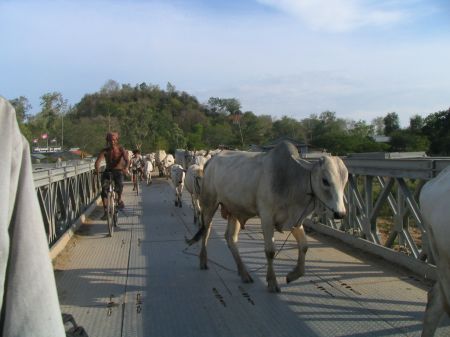 This is when we pass Angkor Borei again.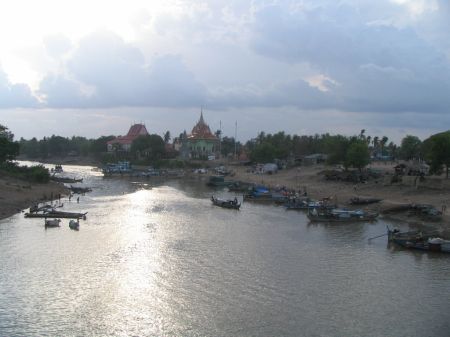 It is already advanced afternoon, the museum is closed and I am concerned that it will be dark by the time I reach Phnom Penh. For some reason I fail consistently to get started early enough to finish a day trip prior to sun set. At this point I am not exactly looking forward to ride all the way back first to Phnom Chissor and then to Phnom Penh.
However, I am lucky and the guide leads a way different from the one on which we came. I am sure the road distance is longer than on the other way, but we travel almost exclusively on decent dirt roads, until we come close to Phnom Chissor. I think the ride takes close to one hour, but it is enjoyable and we can travel fairly fast. We come across stretches of land where it had rained recently and on the final stretches riding the now bumpy road becomes a muddy affair. However, we are lucky enough not to ride in the rain.
We reach the bottom of Phnom Chissor when it is getting darker. I give 5$ to the guide which seems to make him very happy. After a short break I leave to Phnom Penh and enjoy the ease of riding the bike on a paved road with no passenger.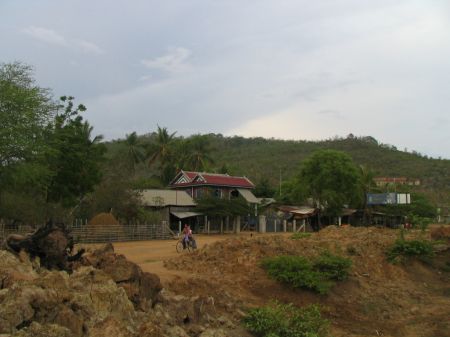 After some kilometres I come across an elephant, which I did not expect to see here. It does not seem to be a familiar sight for locals as well and many children run after it. From what I thought I knew, elephants are found mostly among hill tribes in Mondulkiri. I never came across one there, and the only other elephants I have seen in Cambodia are at Wat Phnom in Phnom Penh, and in the Ta Khmau Zoo, which is not far from here. Maybe this is where this fellow is coming from.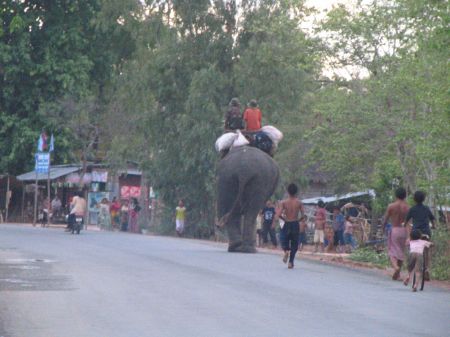 It is getting darker which does not make riding easier and I face dilemmas which I am already familiar with. When the helmet visor is closed I cannot see well because it is like wearing sun glasses. When I open the visor I cannot see well because of the airflow. However, I am lucky enough to have a bike with functioning light and blinkers and there is not too much traffic.
It is dark long before I reach Phnom Penh. The final kilometres are slow as usual due to dense traffic. I am happy to be back in the city and enjoy riding through its roads at night.