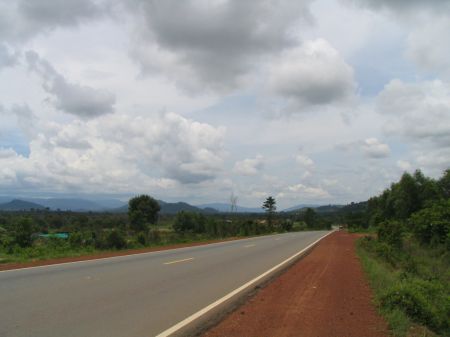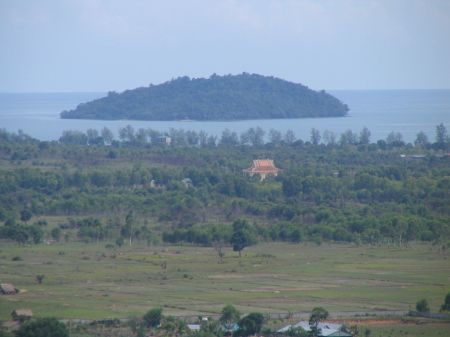 After the major part of my current assignment is done I decide to spend an extended holiday in Sihanoukville. Sihanoukville (Sihanouk Ville, Kampong Som) is where the white beaches and tropical islands are. Sihanoukville is also one of the few places in Cambodia with a high concentration of tourists and this has been among the major reason why I have never been there.
Sihanoukville is about 230km from Phnom Penh. My colleagues strongly advice me to go by bus. Yet I have been looking forward to do this trip by motor bike and decide not to take the bus. It may sound trivial, but during almost one year outside Cambodia, the idea of riding motorbikes in Cambodia became almost the essence of freedom to me. In practice I find it often tiring or boring, sometimes even painful, but in principle I still greatly enjoy riding the bike and opt for it whenever I can. I am also in the privileged situation of having Toby's bike, so it is not a difficult choice. However, riding the bike gives me also a sense of vulnerability.
There are basically two options to ride to Sihanoukville: on national road 4, which is supposed to be the best road in the country, and on national road 3 through Kampot. I choose the first option, as it is the most time efficient, and because I have been riding on national road 3 to Kampot before, but not on national road 4 beyond Kirirom National Park.
As usually, the journey starts later than planned, after an extended breakfast. After that, I fill up the moto and head towards Sihanoukville. The first part of the trip is familiar, as I have been to Kirirom just about three weeks ago.
I take these pictures after I have been riding for about one hour.
It has been raining almost daily for about two weeks, but the landscape looks still fairly dry. This is one of the few places where I note an accumulation of water.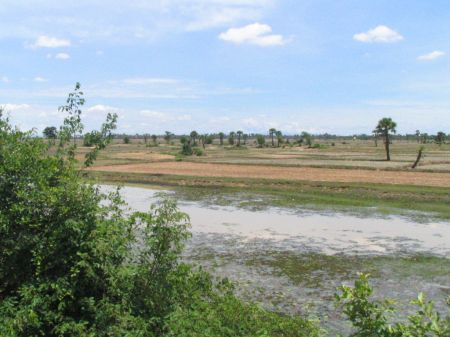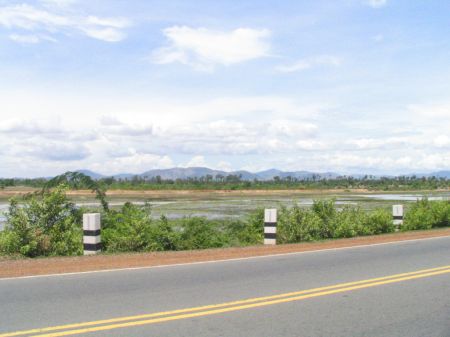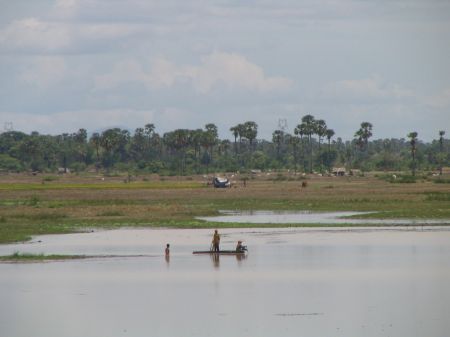 The road is really good.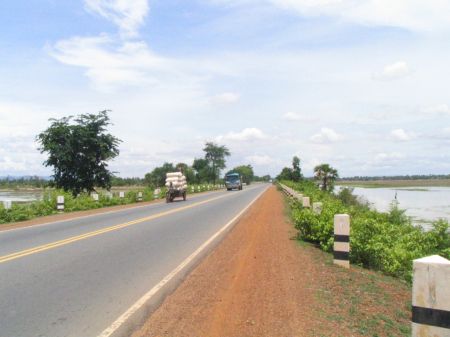 This is a few kilometers before I reach the road that leads to Kirirom National Park, which is located at about 110km distance from Phnom Penh to the south.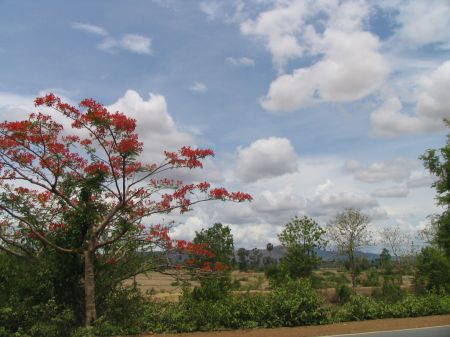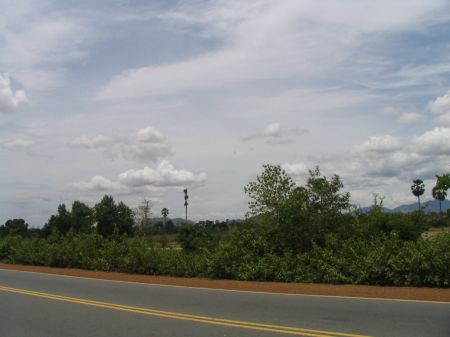 Sihanoukville has the only deep sea port in Cambodia and since there is no railway network to speak of, a lot of goods are transported on this road with trucks.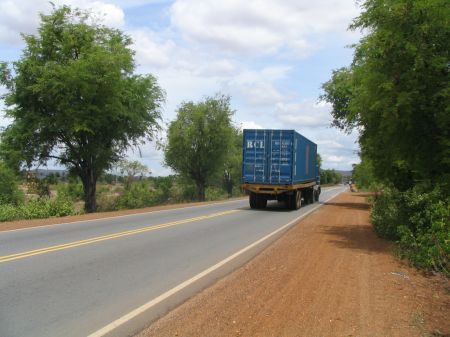 The landscape turns greener and hillier after I pass the road to Kirirom.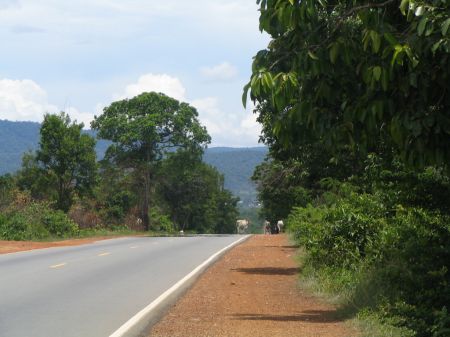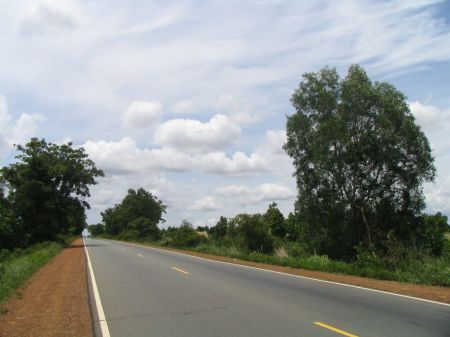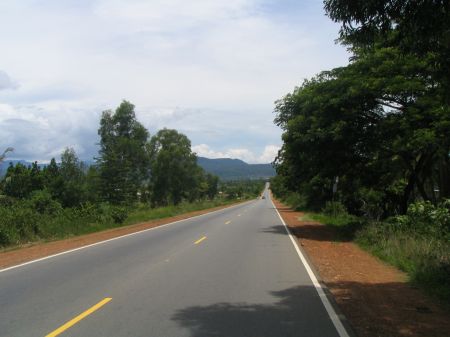 Clouds are accumulating along the mountains, reducing direct sunlight which makes riding the bike a more pleasant affair.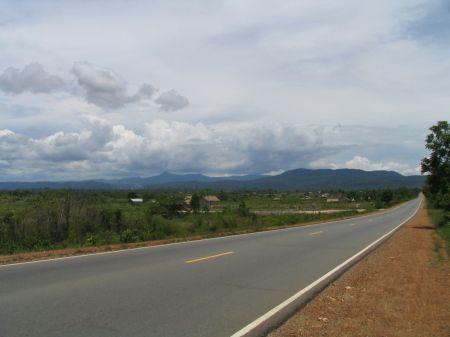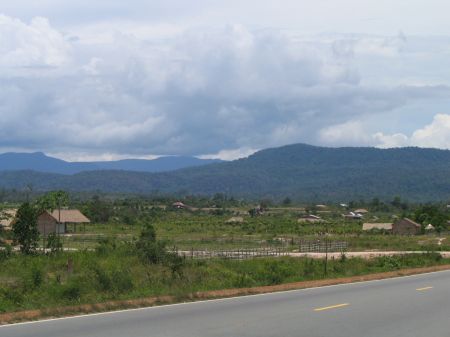 There is not much traffic. While many well-of Cambodians travel to Sihanoukville on weekends, they tend to start much earlier than I do. Increasingly, the road leads up and down and big trucks struggle to make their way up the hills.
The road continues to be in excellent conditions.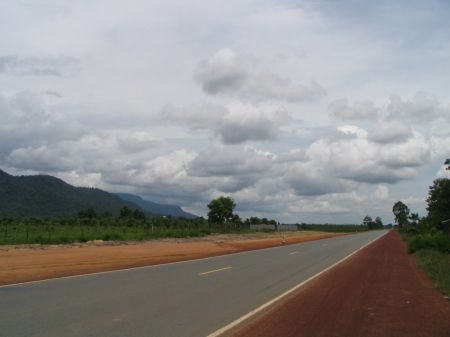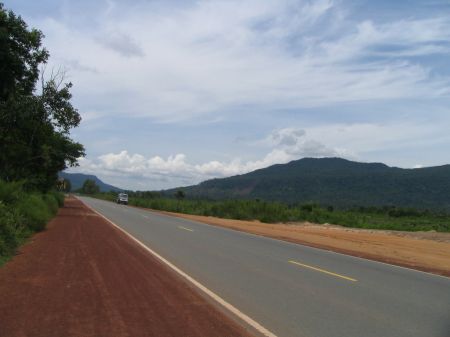 I ride for about another hour and than have a short break.
This is how it looks like around here.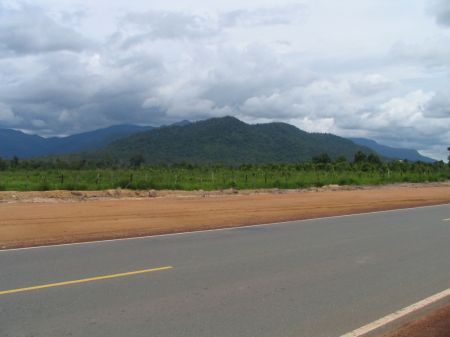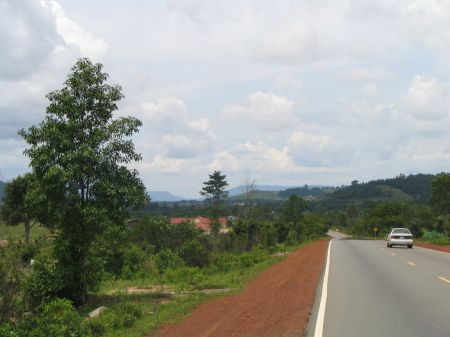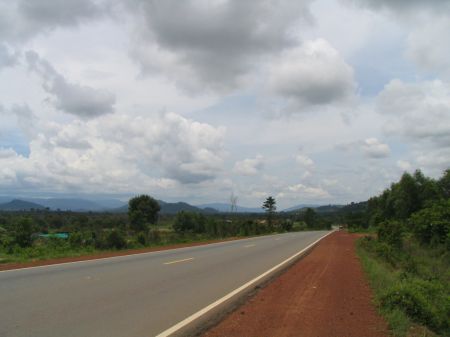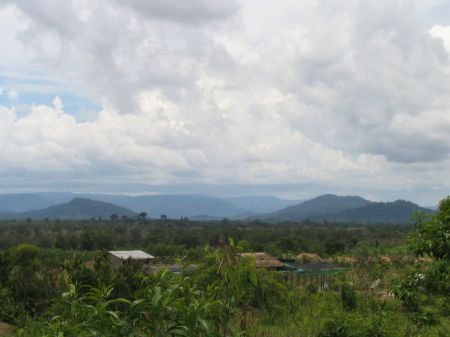 Shortly after I come across a junction with an accumulation of food and gas stands. I assume this is where road 48 to Koh Kong meets national road 4. I have a seat at one of the food stands and drink some water.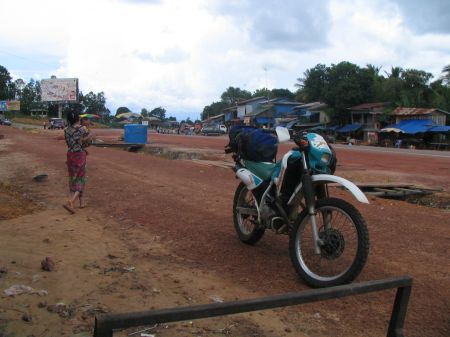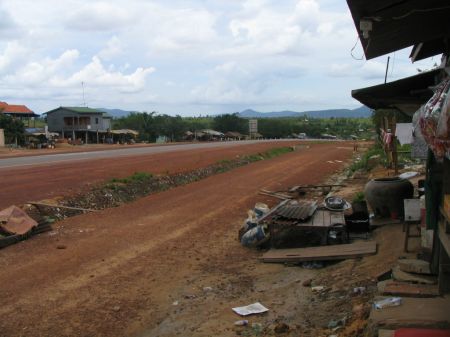 After a short break I continue my trip through green and hilly landscape.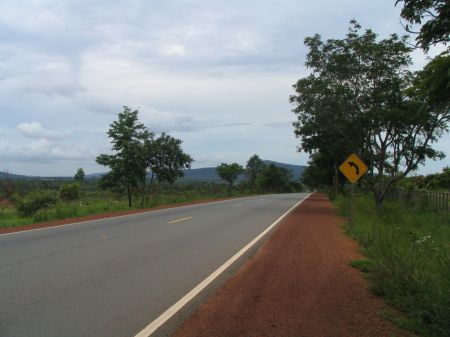 Increasingly it looks like it will rain soon but it does not.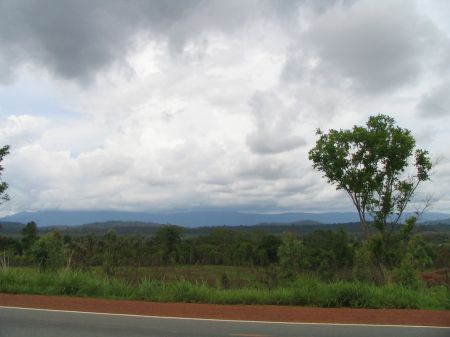 It is about 20km before I reach Sihanoukville that the engine turns off and for some reasons it does not start again. I use the unwanted break to study the map.
This is where the engine stops operating.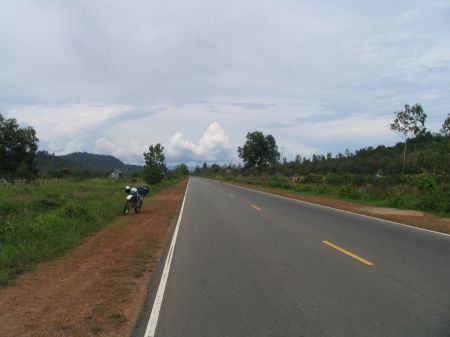 After very few minutes two cars crowded with Cambodians stop and ask what the problem is. I explain to them and they are extremely helpful. One of them removes one of the small pipes that lead from the tank to the engine. There is air in it and he lets it fill with petrol before he puts it in place again. After that we push the moto and he manages to start it. I am really grateful.
However, the engine stops working again after only very few kilometers. I repeat the procedure and manage to start without pushing. The same happens two or three times again until I come across the place of a moto mechanic. I point at the spot on the moto where the problem is according to my imagination and ask him to do something about it. There is a lever at the pipe from the tank to the engine which says 'on' and 'off'. He brings this lever into a position somewhere in between. I am not convinced but the problem does not occur again (I will find out only after my return that there is a third position, 'reserve').
This is only a few kilometers before I reach Sihanoukville. It is the first time that I get to see the sea, and some tiny islands in it.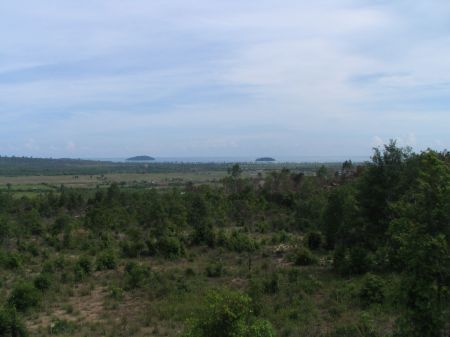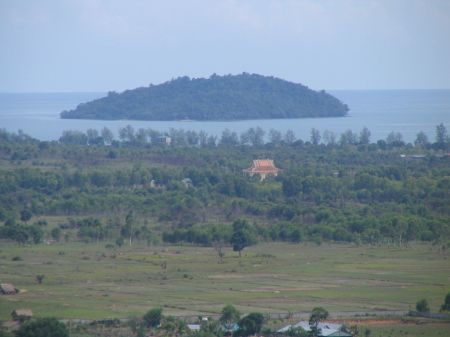 Down there is the port of Sihanoukville.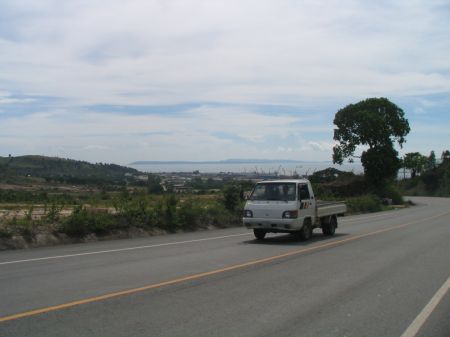 There are countless guesthouses and hotels in Sihanoukville. I checked the guide books before and opted for Sovannphoum guesthouse, a reasonably priced accommodation close to Ocheuteal (Occheuteal, Ocheateal, Ocheurteal) Beach. It takes me some time to find it. When I reach it, I get a decent room with Western bath, van and TV for $5. Later I see that there are rooms with TV starting at $3 but overall I am very satisfied with my guesthouse. It is a pretty late back location.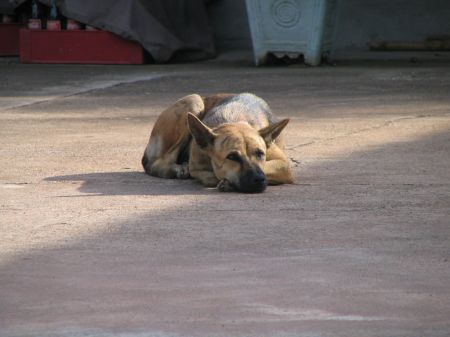 My back hurts from riding the moto all day and I decide to visit the local Seeing Hands massage place, where I get a very therapeutical 11/2 hour massage for reasonable 4.50$. It is dark when I leave. I ride back to the guesthouse, have some foot and later go and walk along the beach. There are many bars and guesthouses along a large stretch of the beach. Customers seem predominantly Cambodians, but I see some foreigners, too. Overall, most places are very empty. Later I come along a part of the beach where there are no bars and no people. Next to it, a new golf course is under construction. After some time I walk back to the guesthouse and go to bed.