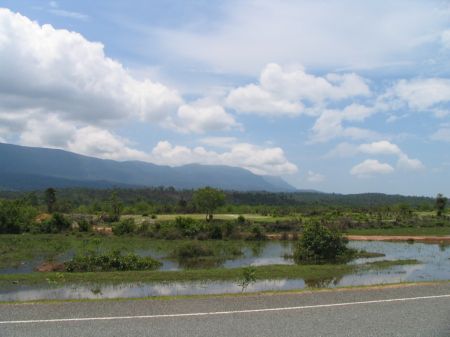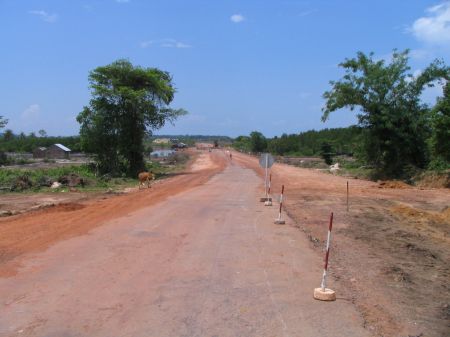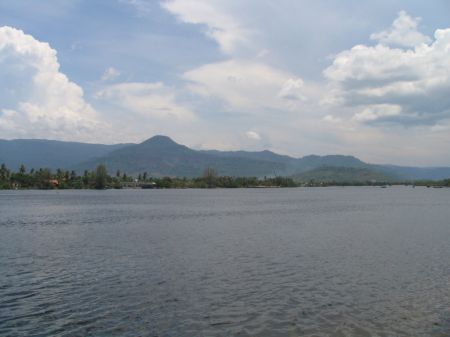 Today is Thursday and I want to ride back to Phnom Penh in the morning. In fact I want to be in the office in the afternoon. Now that I came to Sihanoukville on national road 4 I want to return via Kampot, which is along national road 3. The guide books suggest that this road is covered with bomb craters which make for a bumpy and time-consuming ride. However, people in the guesthouse told me that the road is ok, so I give it a try. It is the first time that I ride on national road 3 between Sihanoukville and Kampot.
I start at about 8 and by that time it looks clouded and rainy, after it has been raining all night. National roads 3 and 4 depart about 30 from Sihanoukville and I am familiar by now with the stretch of it between here and there. I am glad it does not start raining.
This is where I turn right to follow national road 3 to Kampot, along the coastline. It is raining over there along a chain of hills.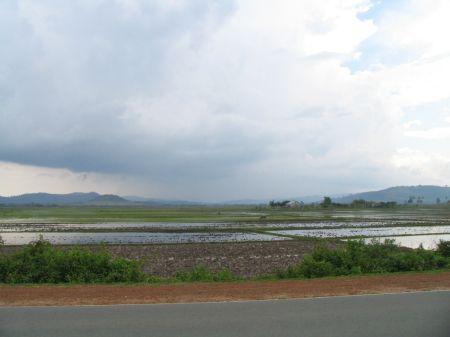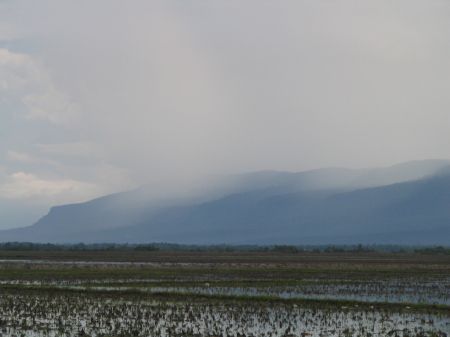 The road is indeed excellent.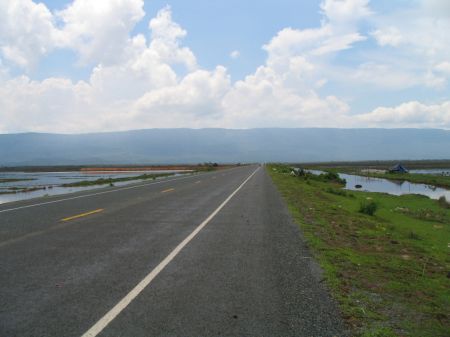 However, parts of it are flooded from the strong rains last night and covered with substantial amounts of water. However, most of the time I can ride fast.
The road continues to be very good for some time and there is not much traffic. The landscape on both sides of the road is truly beautiful, the mountains to the left and the sea to the right.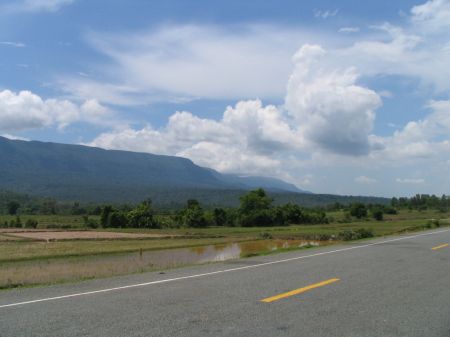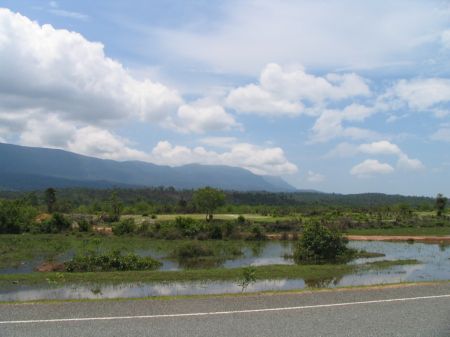 There are some rural homes along the road but not many and I see few villages.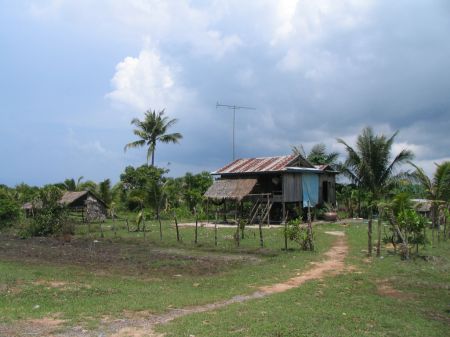 After I leave national road 4 I ride for just about 30 minutes when road conditions change dramatically. The wide lanes turn into a narrow secondary road which in many of its parts is not paved. Besides, there are indeed huge holes in the road once in a while.
I come across many construction sides, too, and assume that this road will be upgraded soon.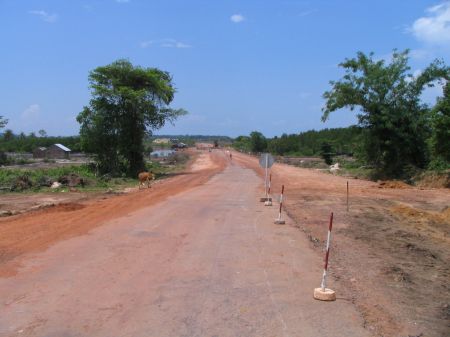 Obviously, the state of the road forces me to ride slower than I had anticipated. In addition, traffic increases and so does my concern that I won't make it to the office directly after lunch time.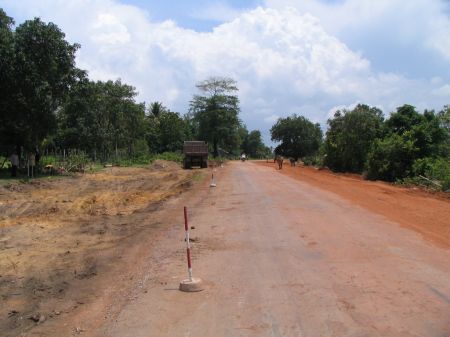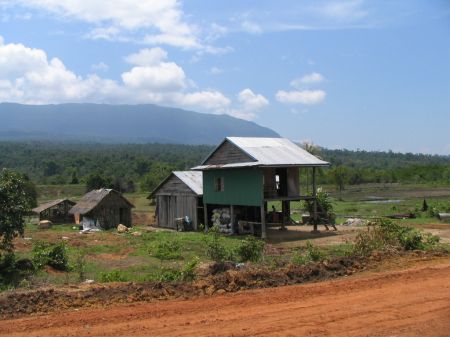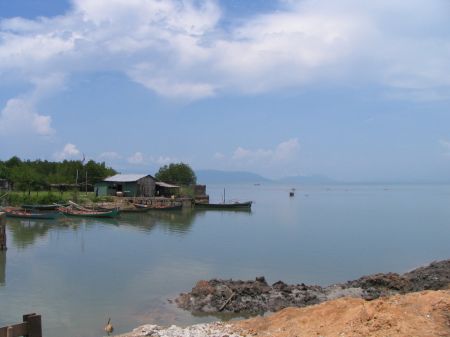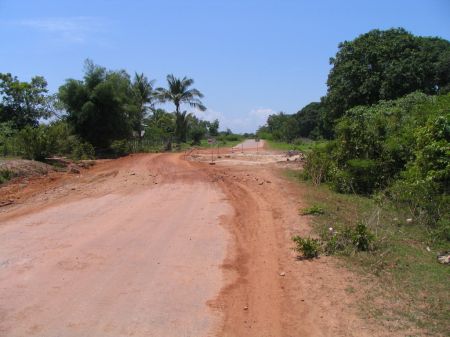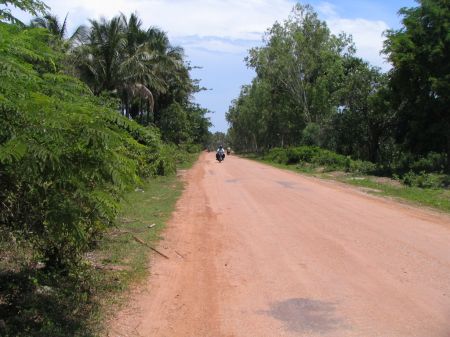 After some time I reach what looks like a town, assuming this must be somewhere between Sihanoukville and Kampot.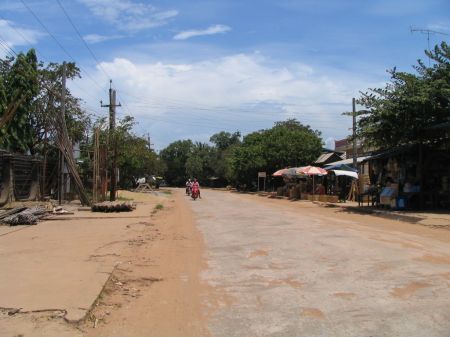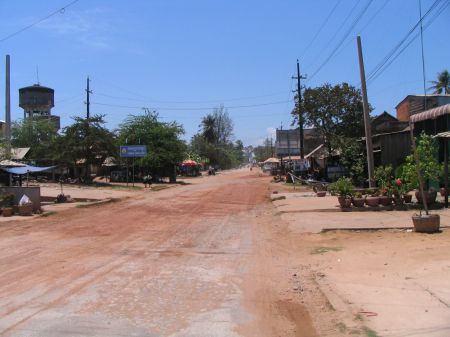 It is only when I see a bridge over a big river that I realize that I just arrived in Kampot. I stop at the river close to the bridge and drink some water.
Then I continue the trip. From now on I am familiar with the road, as I have been to Kampot with the motorbike twice. The surroundings of national road 3 are particularly appealing at this stretch of the road between Kampot and Phnom Penh, not least due to the hills on both sides of the road..
I stop once in a while to take a picture. The land around here is very dry. I keep reading in the newspaper that there is a shortage of water in the provinces closer to Phnom Penh and that the rainy season is late this year.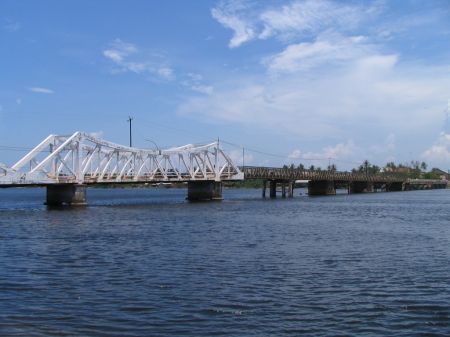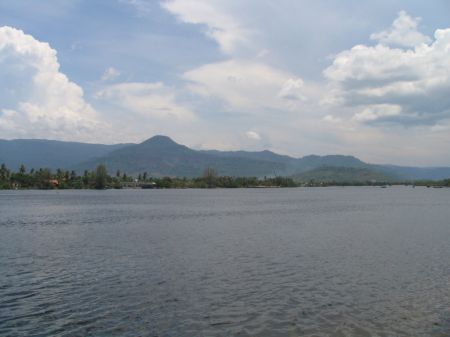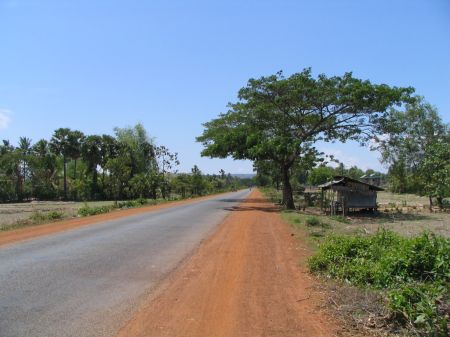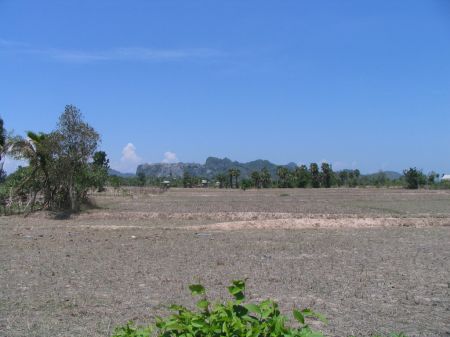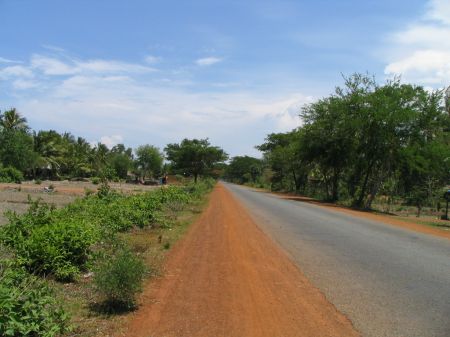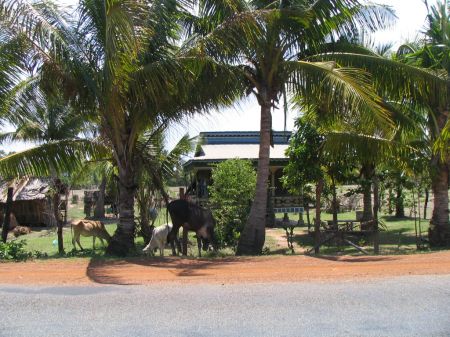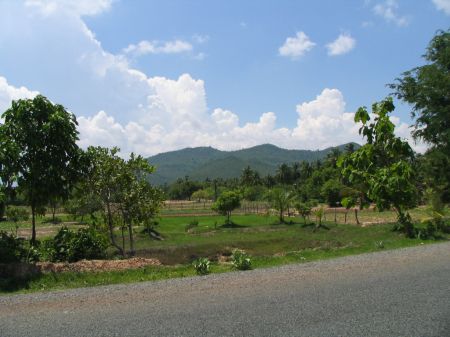 The road is fairly good most of the time, and increasingly so the closer I come to Phnom Penh.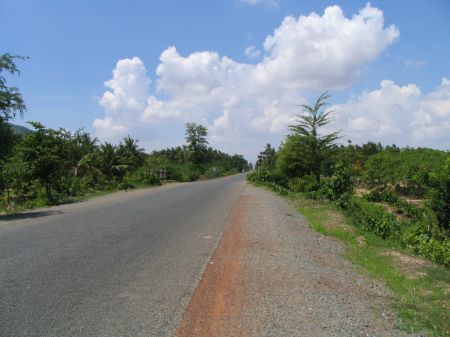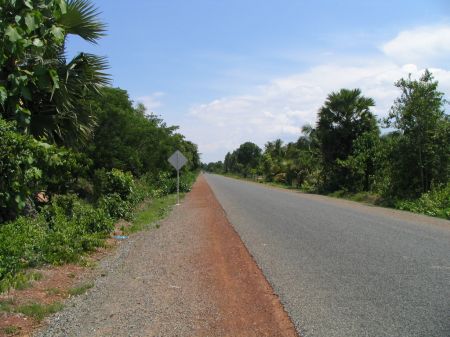 It is about 40km before I reach Phnom Penh that I have a break and drink some water in this town.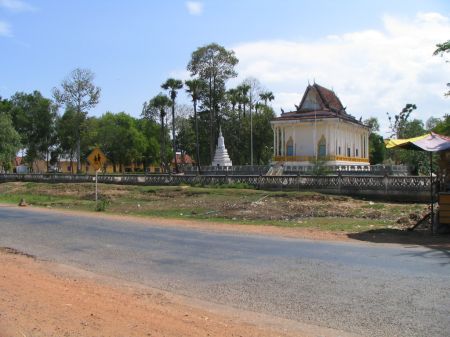 Then I ride to Phnom Penh. As usually, the last part of the journey is very slow and hectic, in the dense and chaotic traffic in the outskirts of Phnom Penh. I am very tiered when I reach the apartment.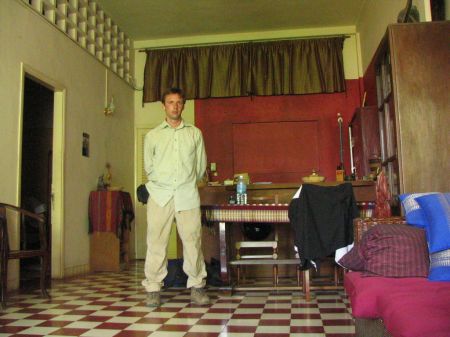 It turns out that I was lucky, as it starts raining heavily shortly after I arrive. It keeps raining for some time, which gives me the opportunity to rest before I leave for the office.