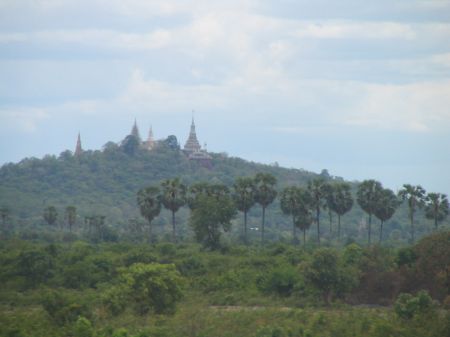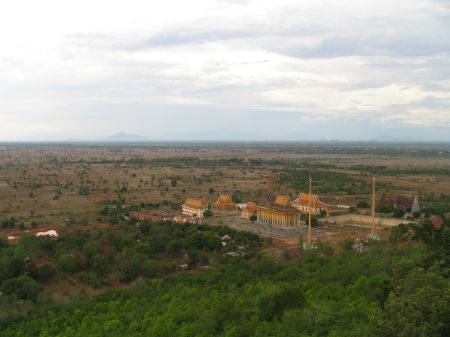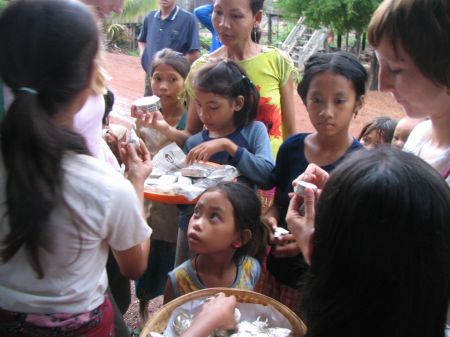 It is weekend again and I am planning to visit Phnom Udong (Phnum Odongk) with two of my colleagues, Maraille and Lydia. I have been to Udong before and will avoid repeating what I wrote in the other article and rather provide some more pictures.
We have an extensive and late breakfast in Phnom Penh before we leave. We arrange a car with a driver (a Toyota Camry with the steering wheel on the left hand) for $24 both ways. Then we start.
The road is quite busy at this time and there is a lot of traffic in the outskirts of Phnom Penh. It is getting better while we are coming closer to Udong.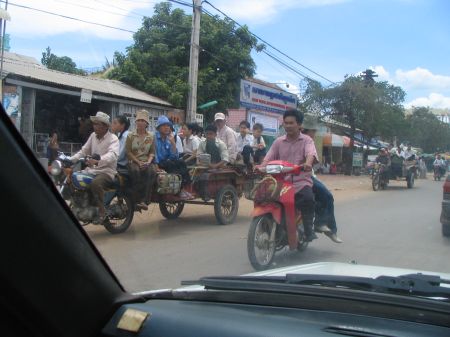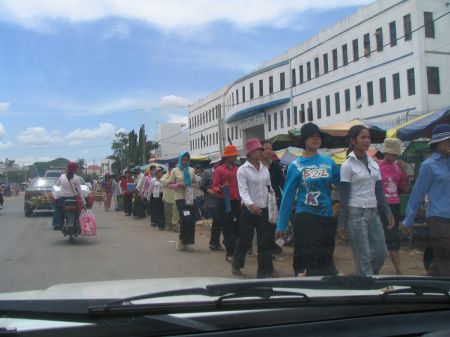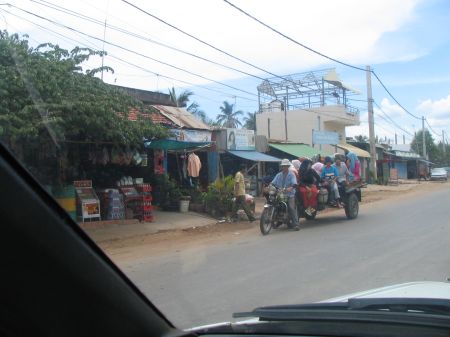 This is a view of Udong Mountain from national road 5.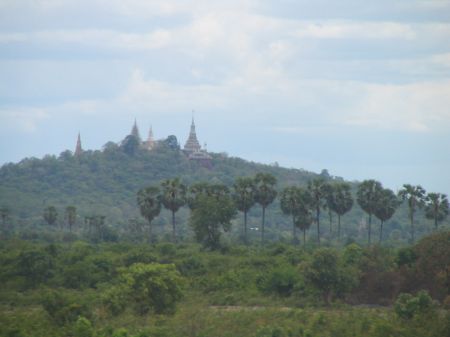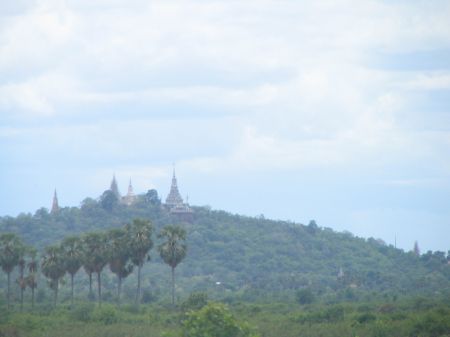 If you want to go to Udong you leave national road 5 when you see this sign on your left. Udong is very easy to find as it can be seen from far away along the national road.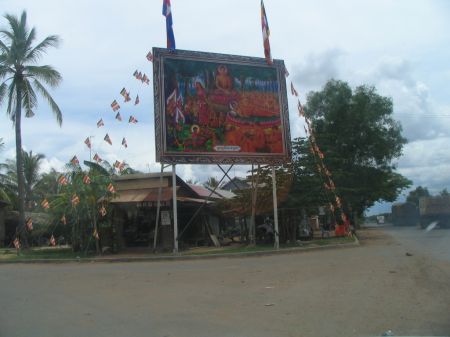 The mountain with the tops of various stupas is in the centre of this picture.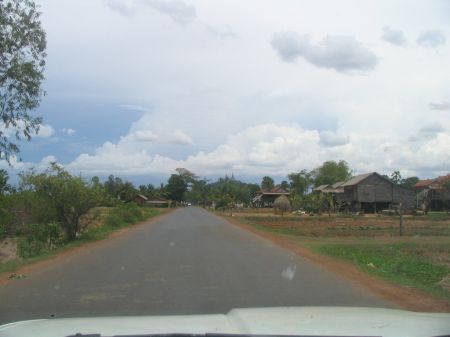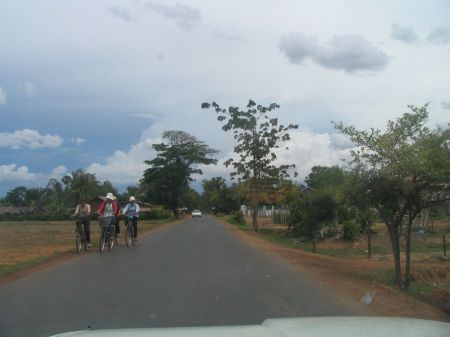 We start walking up the mountain on its southern side, where it is not very steep. First, we reach a smaller hill top.
This is the view. Pagodas can be seen all over the place in any direction from up here.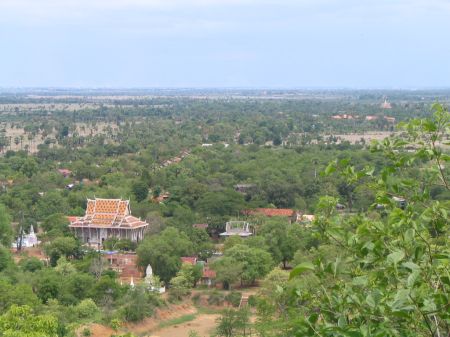 There are two separate buildings on this hill top. The one to the right looks like a temple, but it is a mosque. I remember reading an excellent text by William Collins about the Chams in Cambodia. Chams are a Muslim minority, successors of the Kingdom of Champa which used to exist on the territory of today's Vietnam. Among other things, Williams reports that Udong is a spiritual and religious centre where the language and culture of the Chams is maintained and preserved today.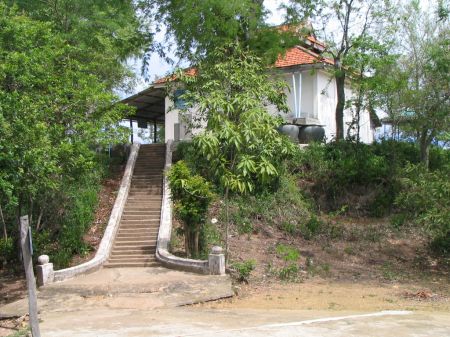 We meet three elderly men resting in hammocks. They are very friendly and point out to us that they are Cham and that the building is a mosque. When I indicate that I would like to take a picture they first get dressed carefully.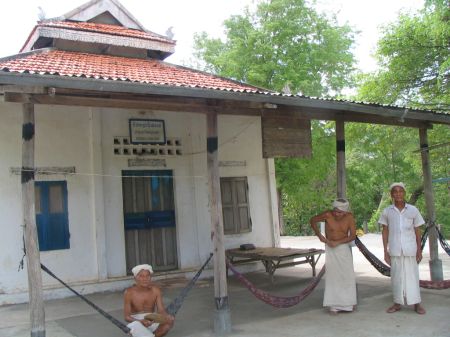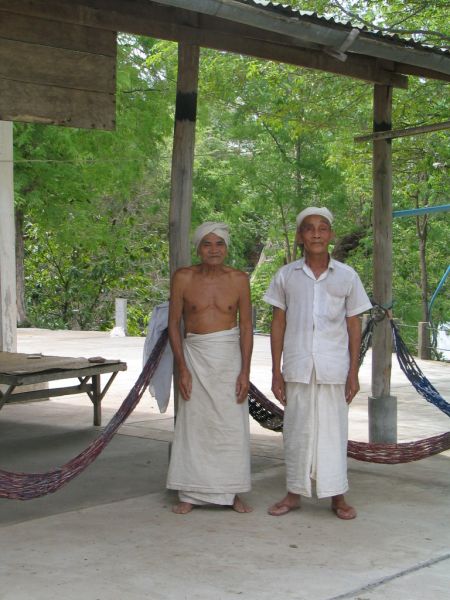 Then we visit the other part of the hill top. There is a stupa and some Buddha statues under a roof.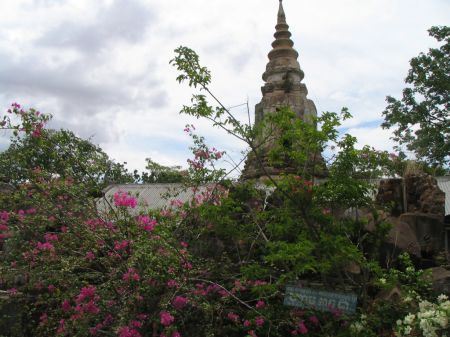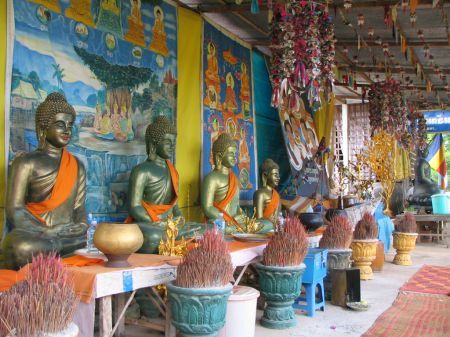 From here we walk down this hill and up another one to the ruins of a hill top temple next to it.
This is inside of what is left of the temple. In the background, in front of the last pair of pillars, there is a huge Buddha statue with the head and large part of the torso missing.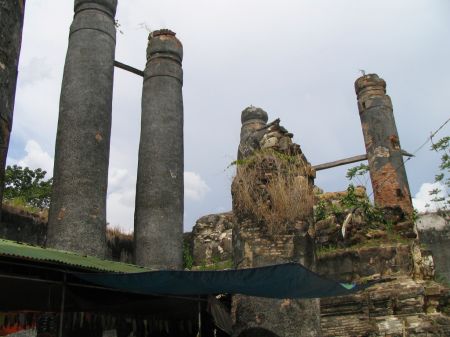 Parts of the statue are distributed everywhere between the walls of the building.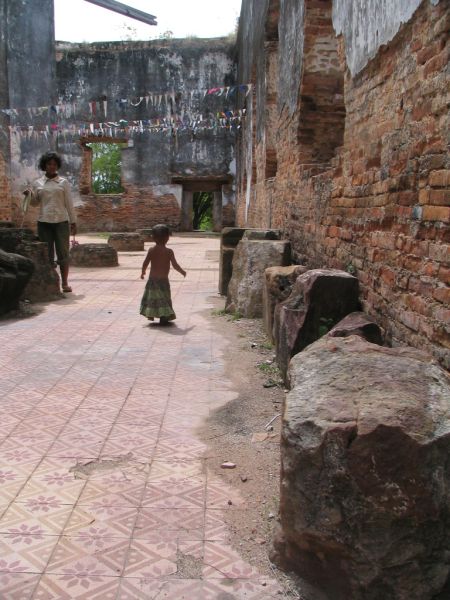 This is the nose.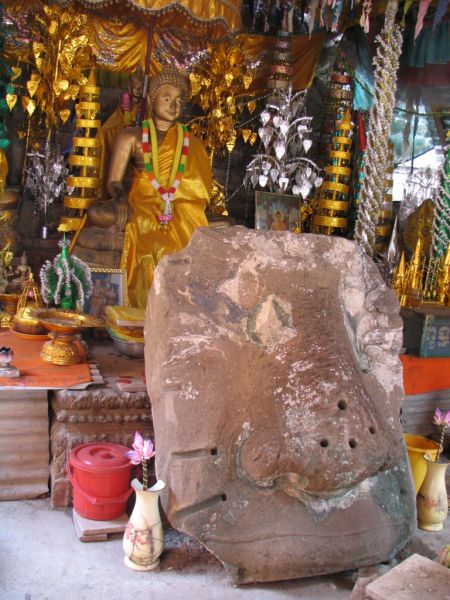 There is a nice view from up here.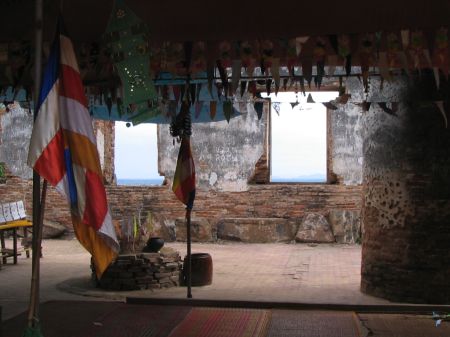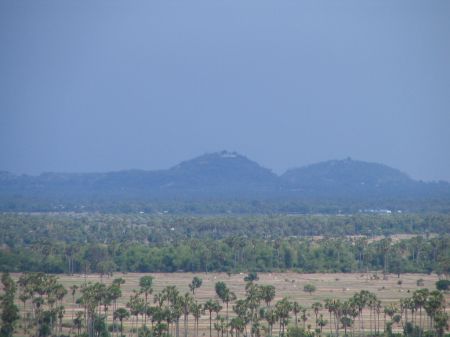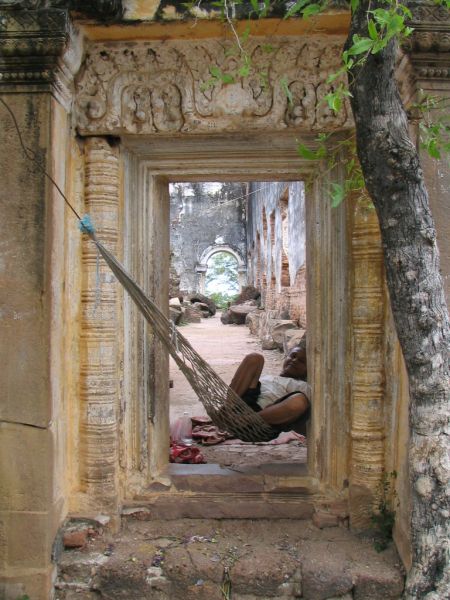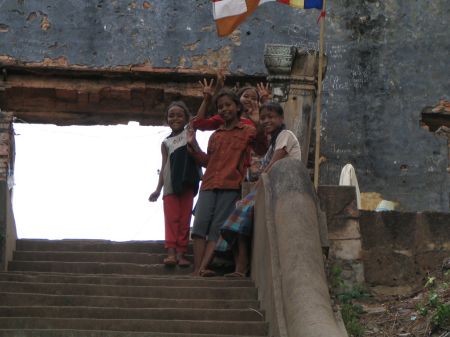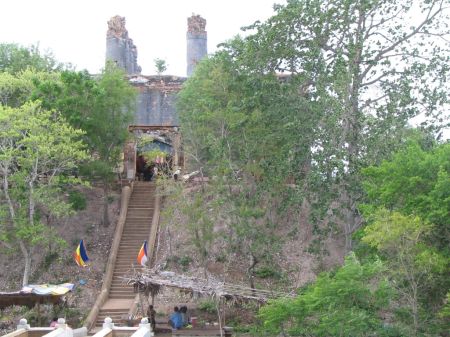 This is the view towards the stupas on yet another hill top.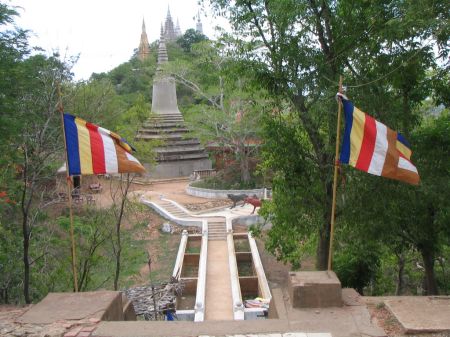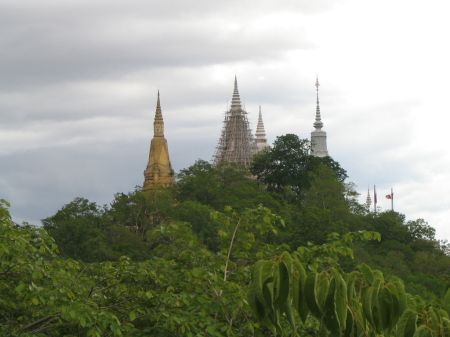 We have some rest and a soft drink here when it starts raining. We find cover under the roof next to the tree to the right.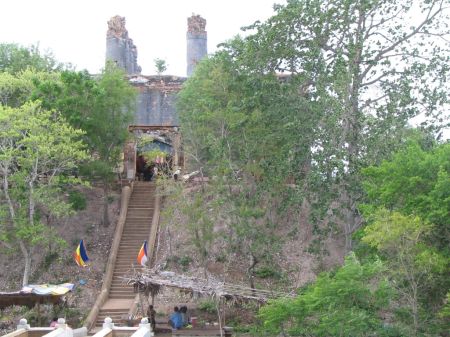 It rains for some time and we share the roof with some locals, or rather they share it with us.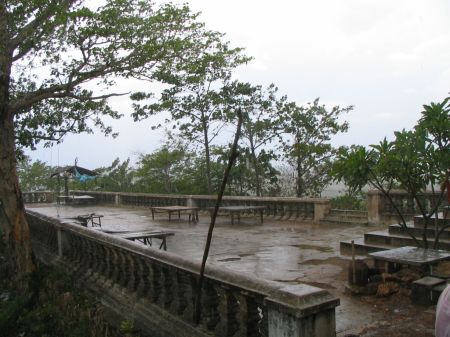 One of the stupas is under renovation.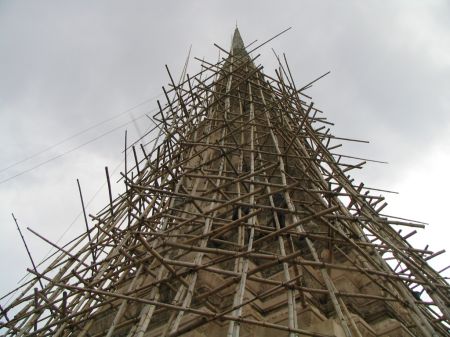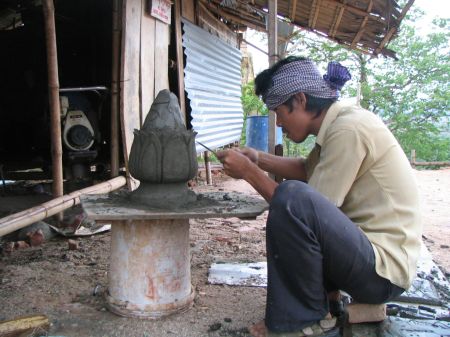 This is a pretty new stupa which is also the highest among those on this mountain. In it, there are some eyebrow hairs and a piece of bone from Buddha himself, which used to be kept in a monument close to the Railway Station in Phnom Penh until not so long ago.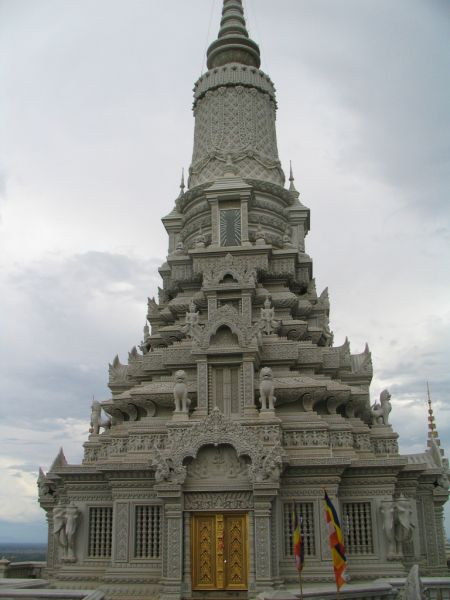 There are countless pagodas, close and far away, that can be seen in any direction from up here.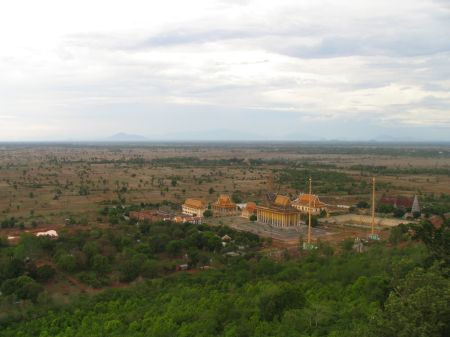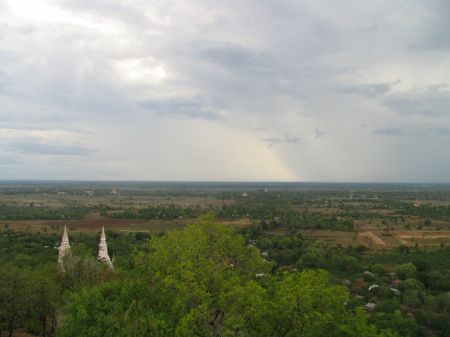 From left to right: Maraille, Lydia and myself.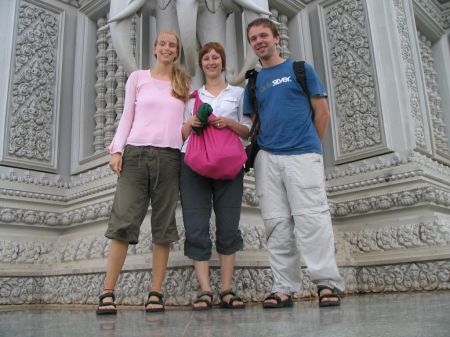 It is rare to be without company up here.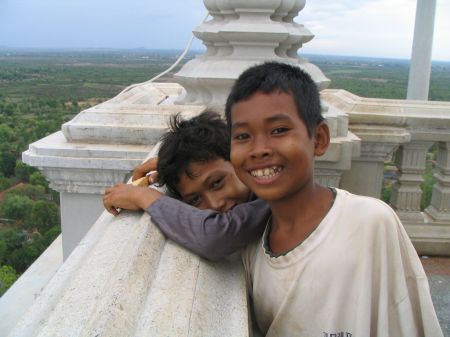 Then we climb down the mountain and enter the car. We read in the guide book that there are many silver smiths among the local Cham population and on the way back, and we visit one of the villages to have a look.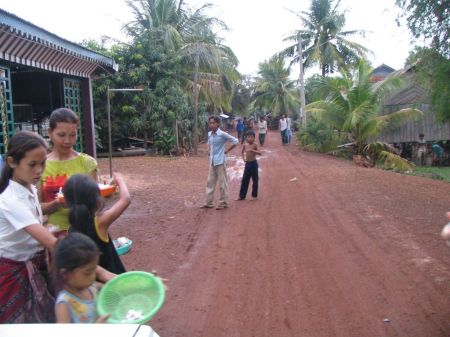 After we leave the car we don't have to wait long until we are surrounded by kids who offer all kinds of silver products. We spent some time investigating what they sell, but we don't buy anything. At least Maraille entertains those kids quite well with her digital camera.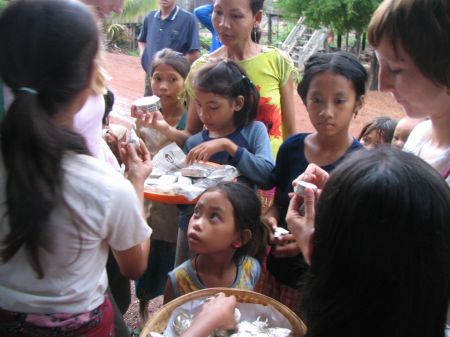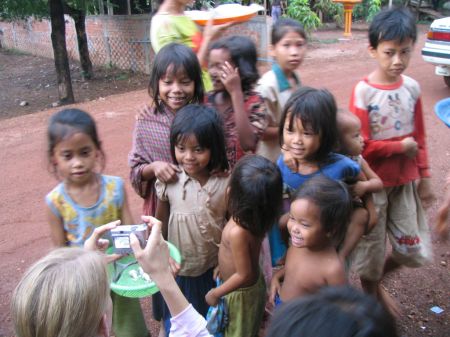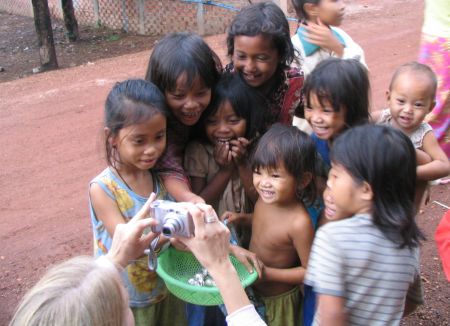 Then we drive back to Phnom Penh, where we have diner and later some cocktails.