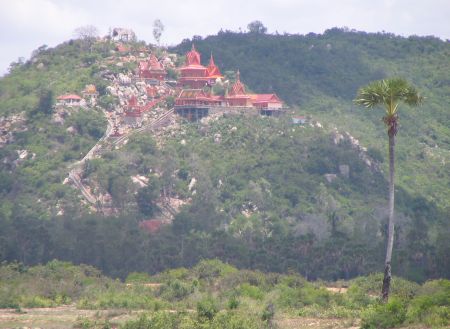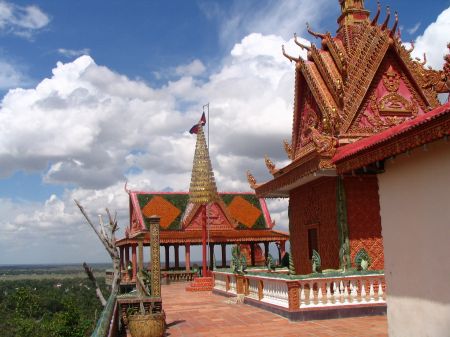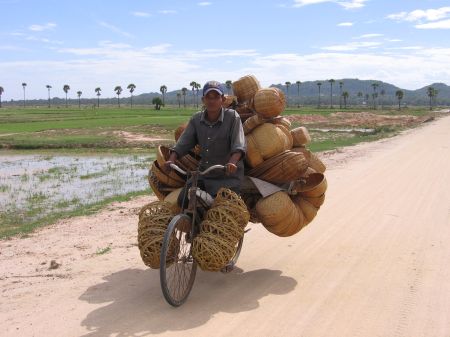 We have breakfast in the Mittapheap Restaurant before getting on the bike. We leave on road 11 towards Neak Luong. The plan is to follow this road only for about 10-12 kilometres and then a secondary road (317) for about 25-30km to Ba Phnom (Ba Phnum, Phnom Chi-gaht). According to the Lonely Planet, Ba Phnom is one of the earliest religious and cultural sites in the Kingdome of Cambodia, dating back to the 5th century and the time of the mysterious Funan. It remained an important place of pilgrimage for kings of the subsequent empires of Chenla and Angkor and continued to be a place of spiritual significance into the 19th century, but its past conceals a darker side of human sacrifice. According to French records, human sacrifices continued into the protectorate and were only finally stamped out in 1872. The guide book also says that "It is only really worth the detour for those who have a keen interest in early Cambodian history, as for the casual visitor there is unfortunately little to see".
This is the road in the morning.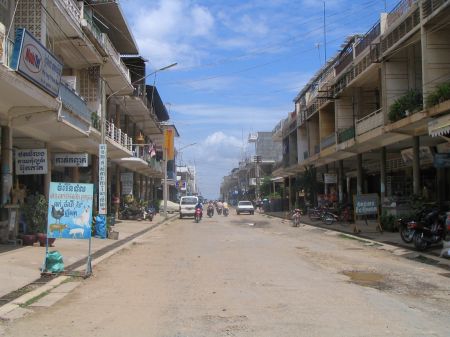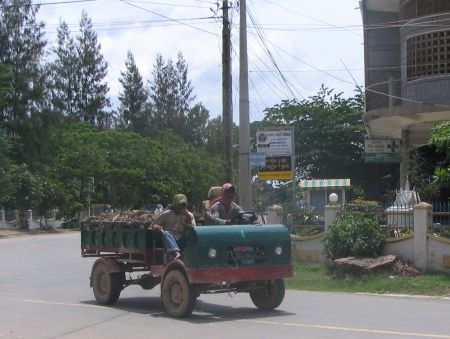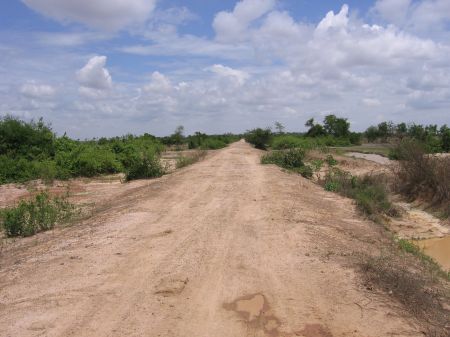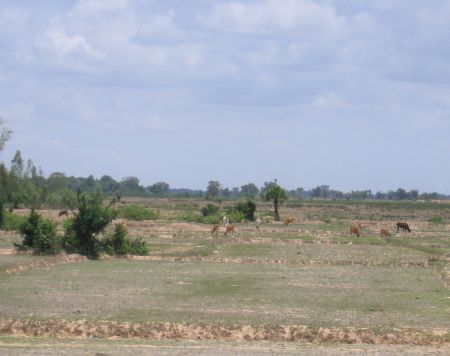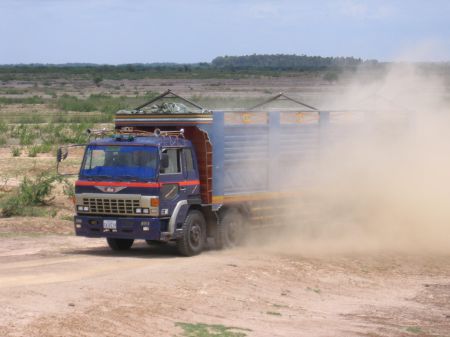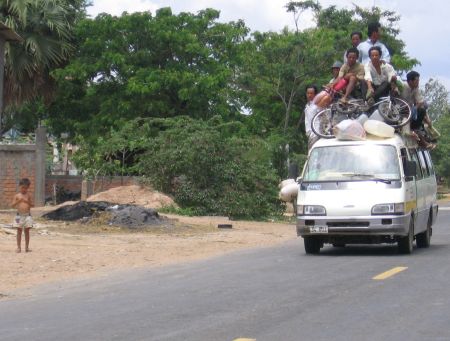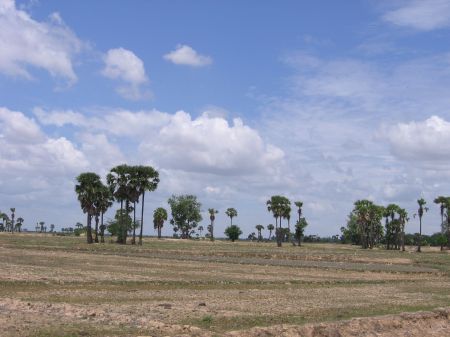 Initially we want to make another detour to a weaving village marked in the map. We try once to follow a smaller road to the east to find it but we fail and end up in a dead-end and ride back to the main road.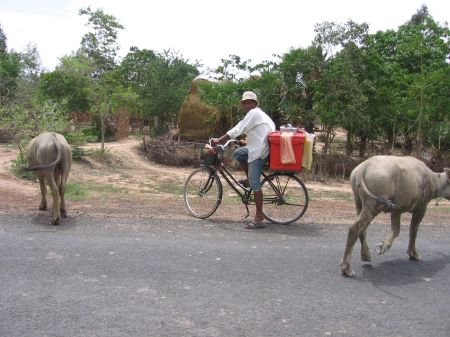 Dead-end.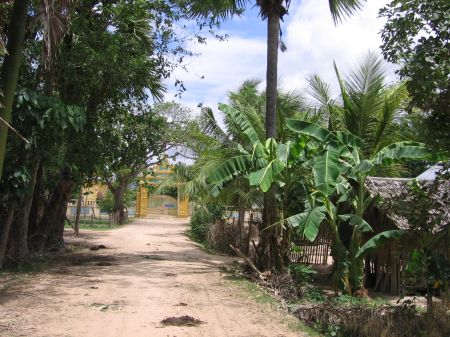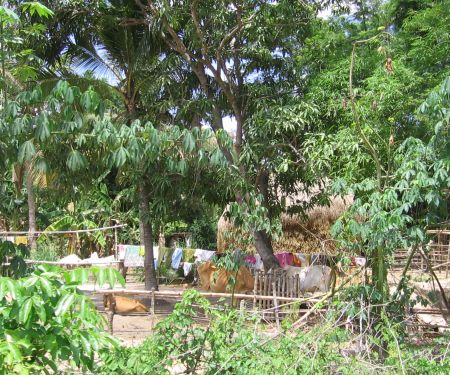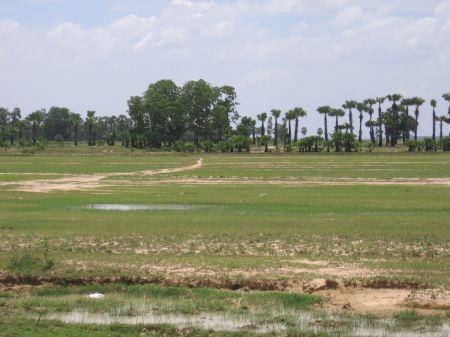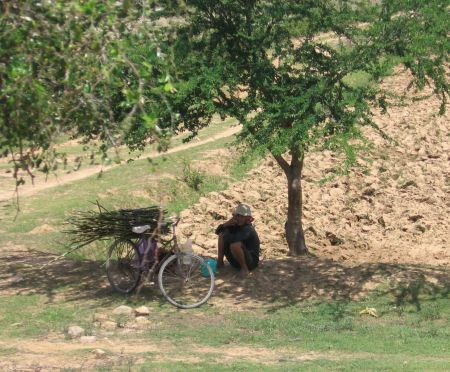 After a short while we leave road 11 and proceed on a dirt road which is in decent condition in most of its parts.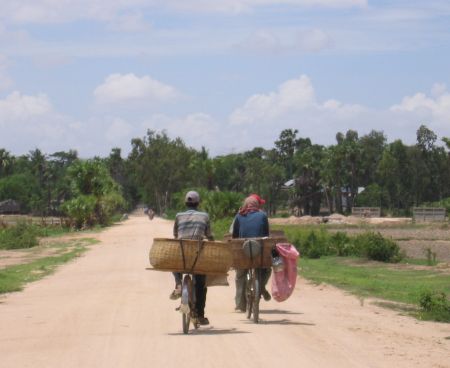 In a village along the way.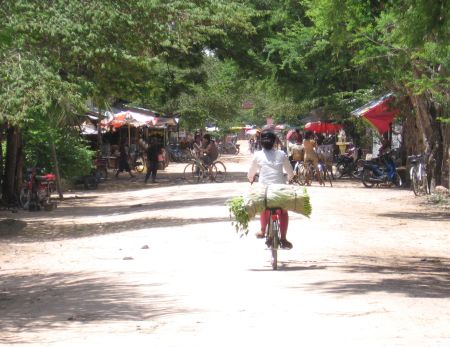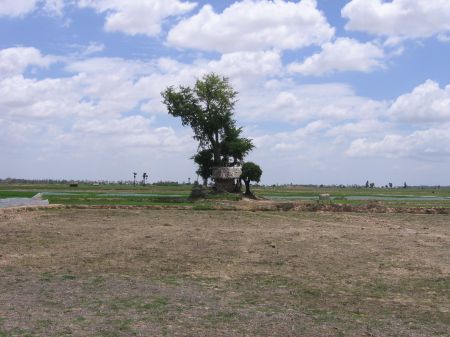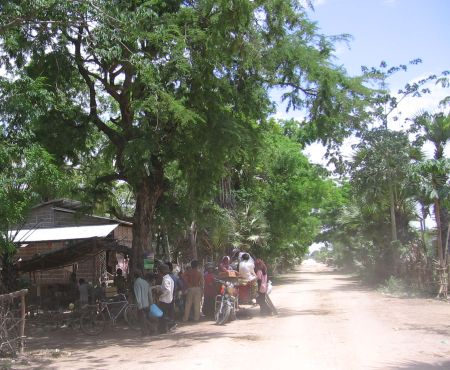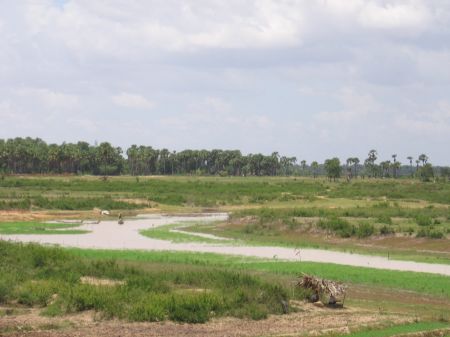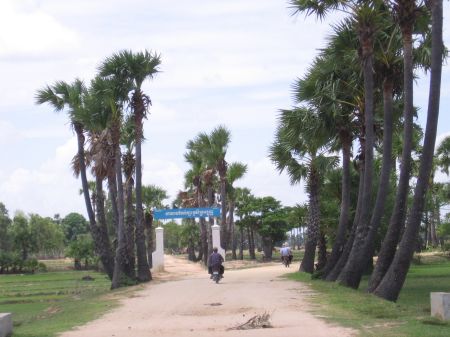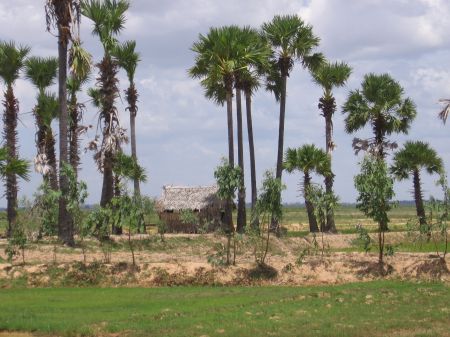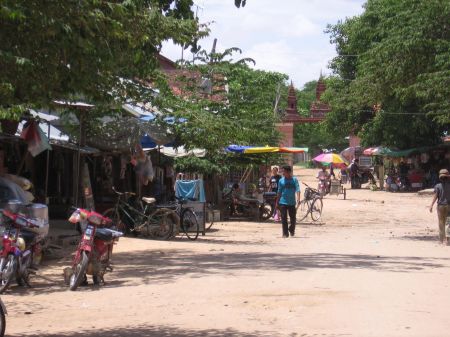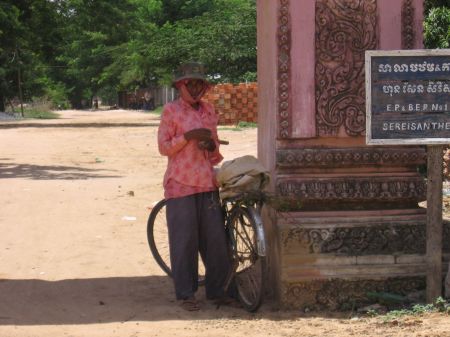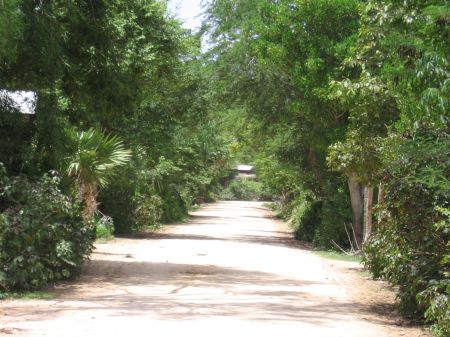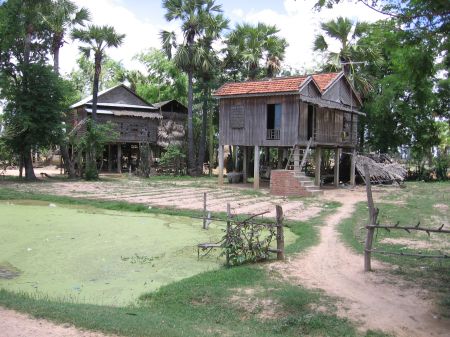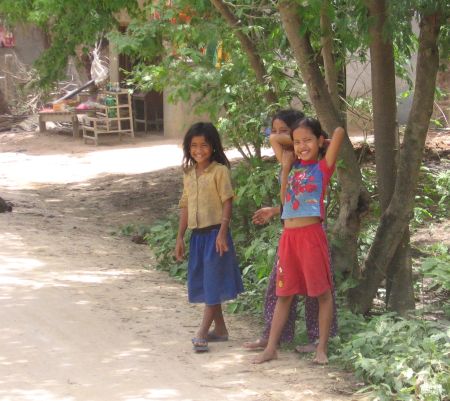 People are taking down a tree with a chainsaw.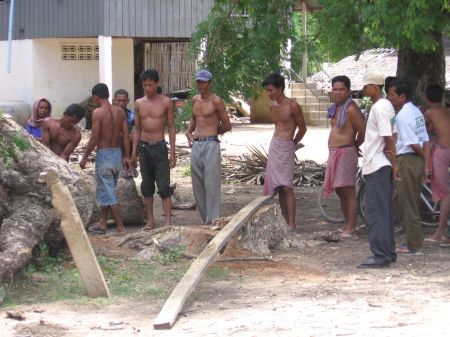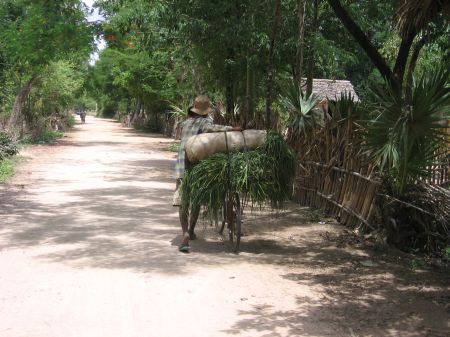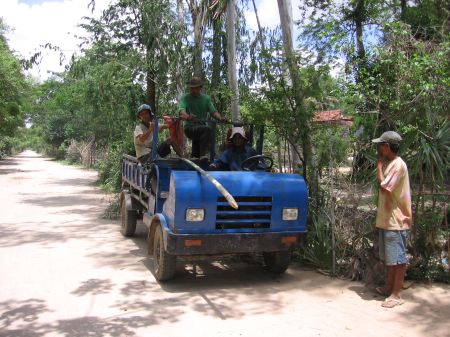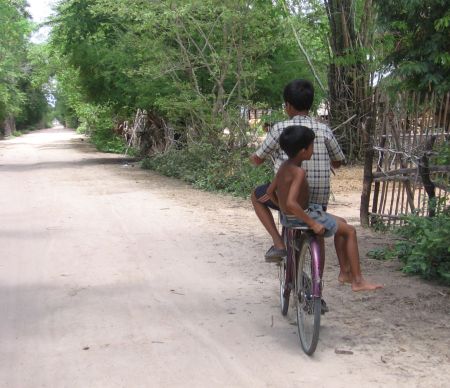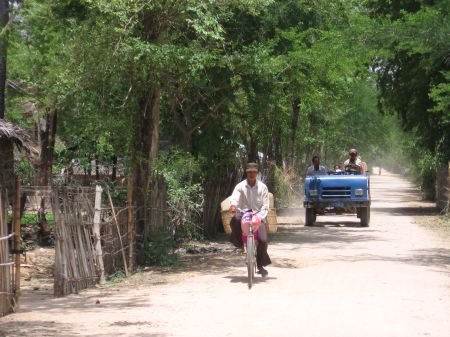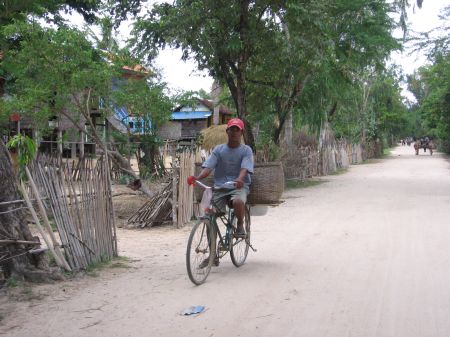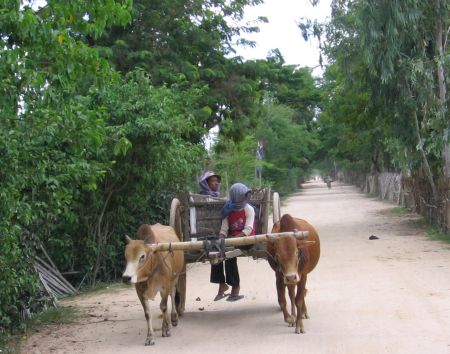 This is when we see Ba Phnom for the first time. The other day (July 1) there is a large article about Ba Phnom in the Phnom Penh Post, entitled "Jubilant crowds celebrate at hill of human sacrifice". The article examines the practice of human sacrifice, mostly based on transcripts of interviews undertaken in 1944. One quotation reads:
"When the prayers were finished, the crowd shouted yak oieu three times, and then the executioner … holding a sword, danced hesitantly around the victim and then cut off his head with one stroke." The last human sacrifices at Ba Phnom are thought to have taken place around 1877 and were bloody offerings to the powerful spirit of Me Sar. However, this year's loeng neak to festival, held June 17-19, believers offered only cooked chickens, whole roasted pigs, fruits and alcohol to the neak to, or ancestor spirits".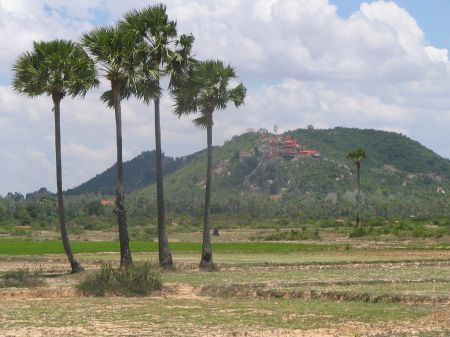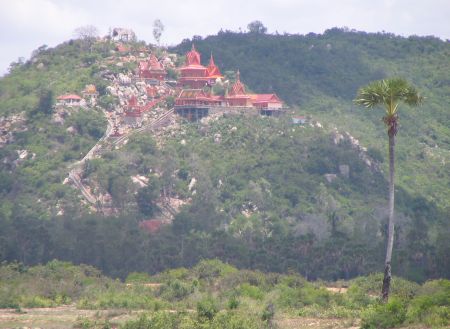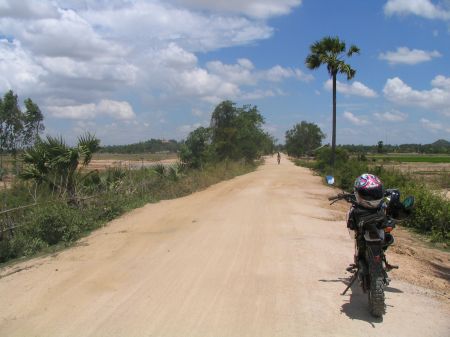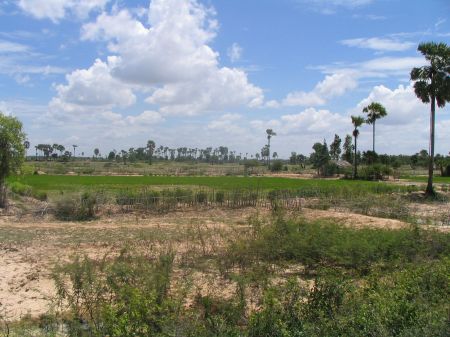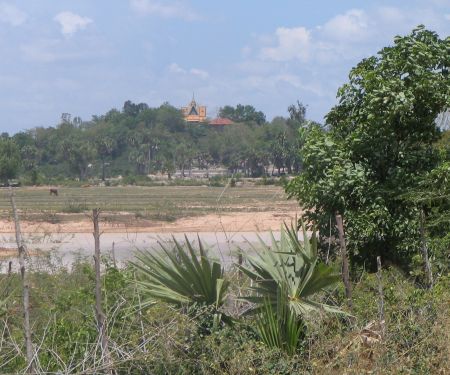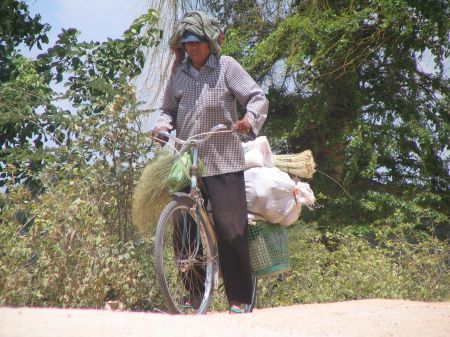 From here we ride just straight ahead, turn and follow another dirt road to the right and arrive at the bottom of the mountain. There is a food stand and a number of kids around. We ask them to look after the bike and start walking up the mountain.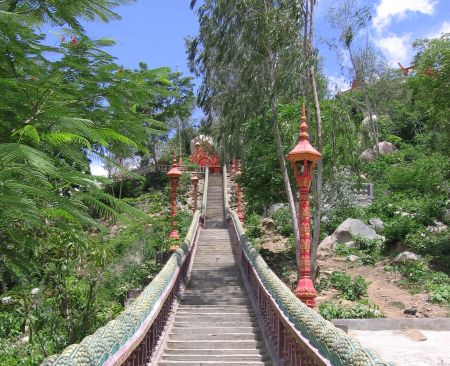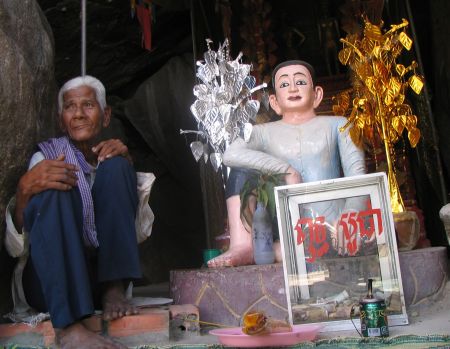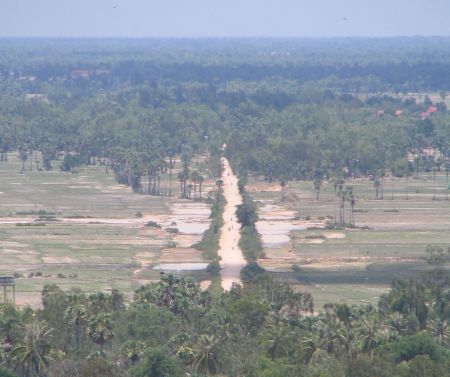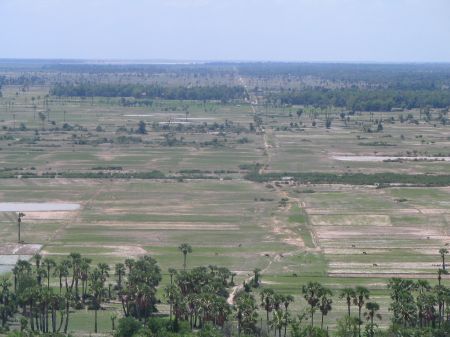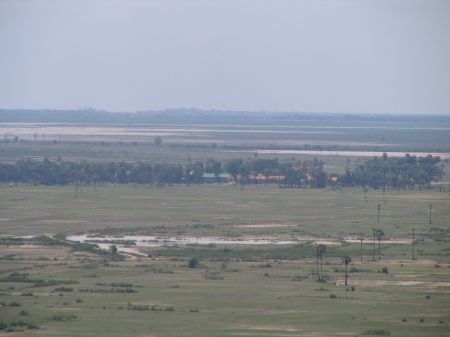 There are a good number of modern religious buildings and colourful statues up here. One of those small temples is under construction.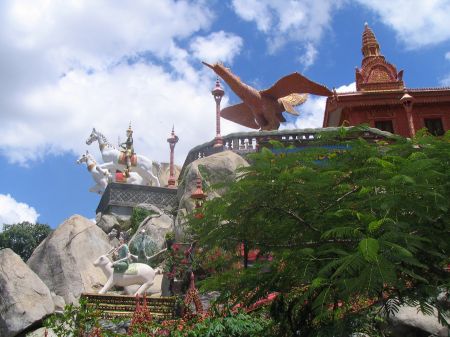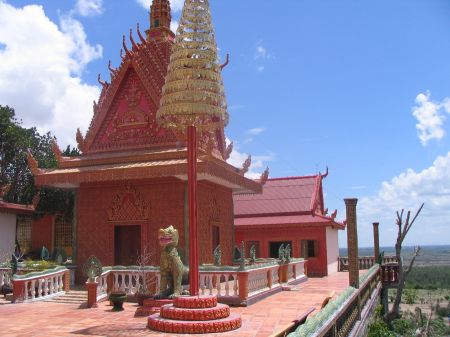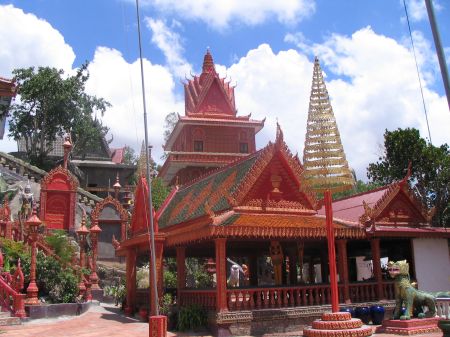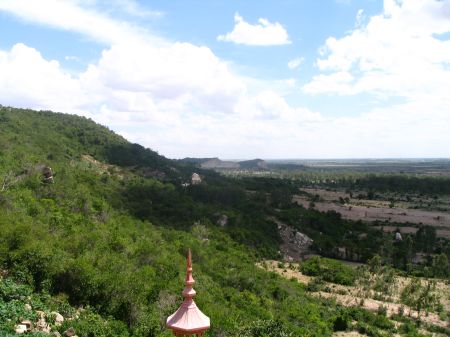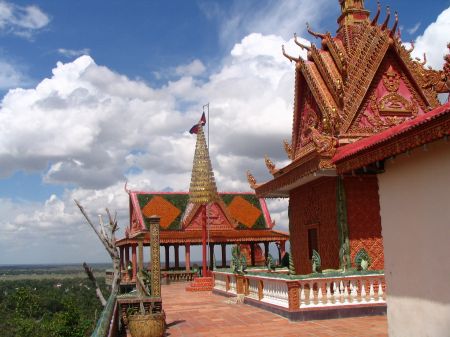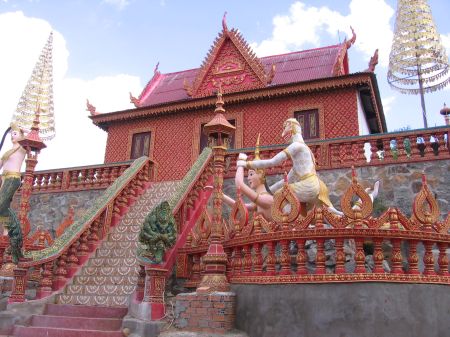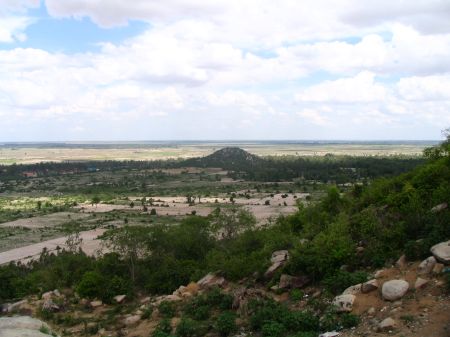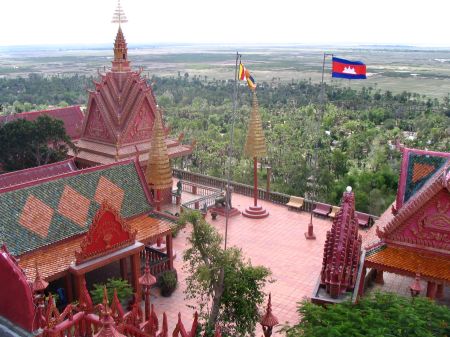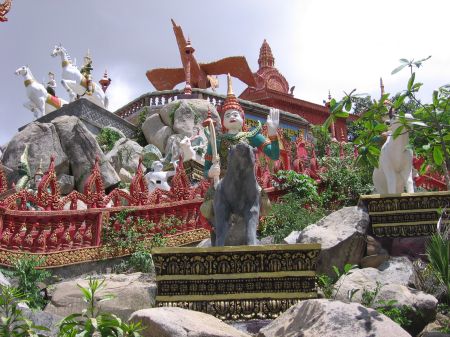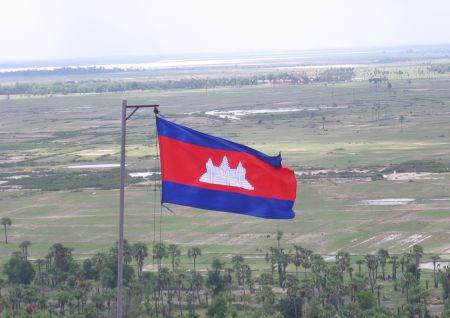 This is how the ornaments along the roof of the building are being produced from cement.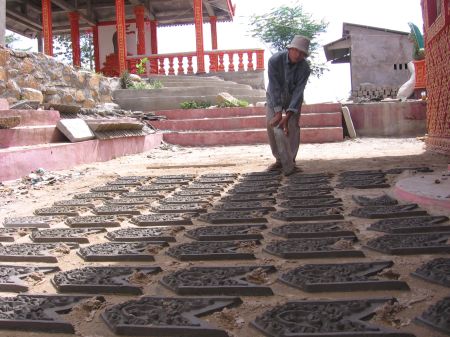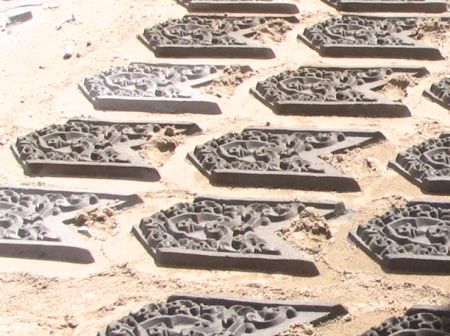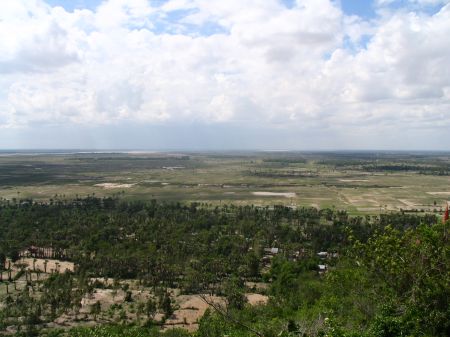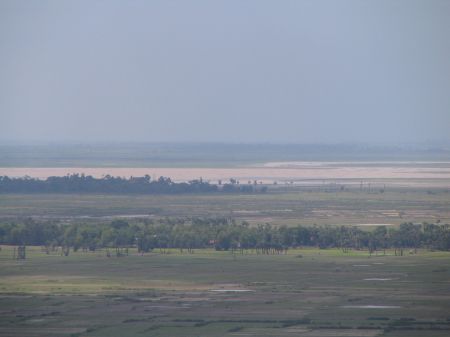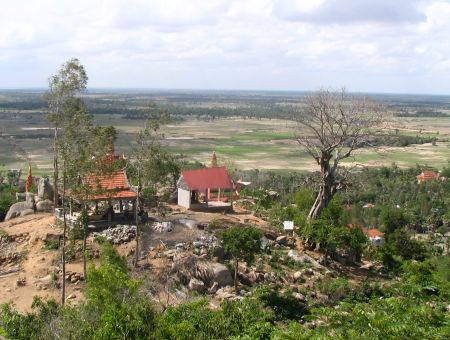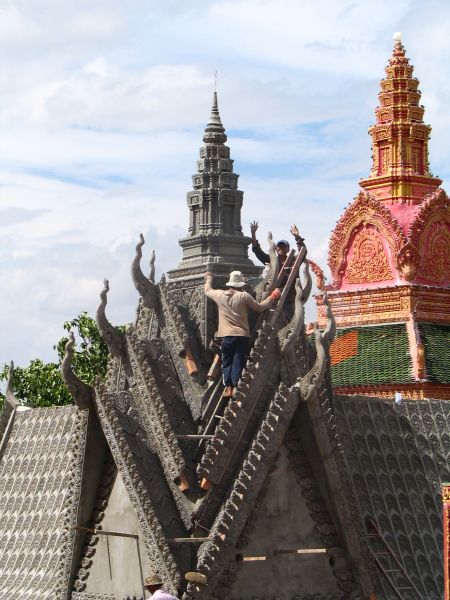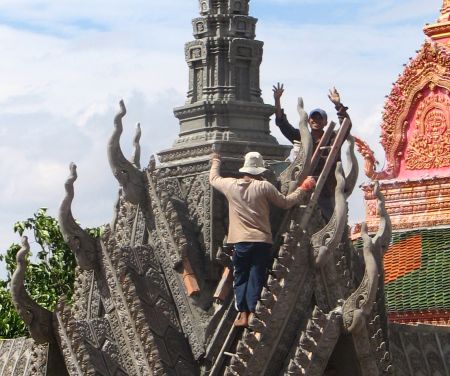 From here we walk back to the bottom of the hill. Close by are the ruins of an 11th century temple called Preah Vihear Chann, under a corrugated roof.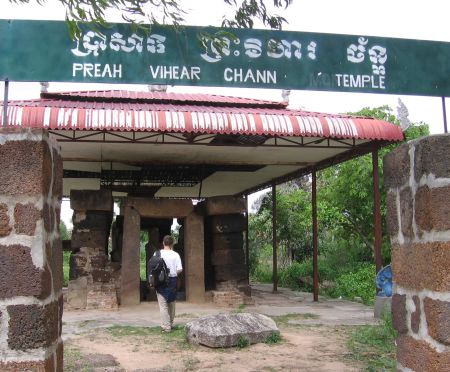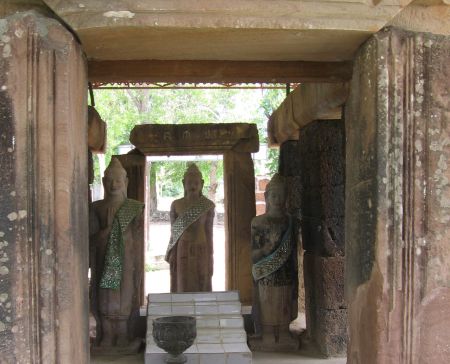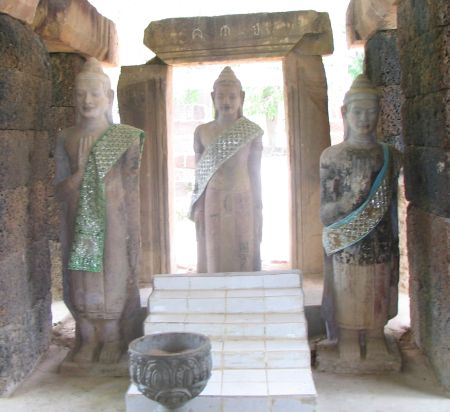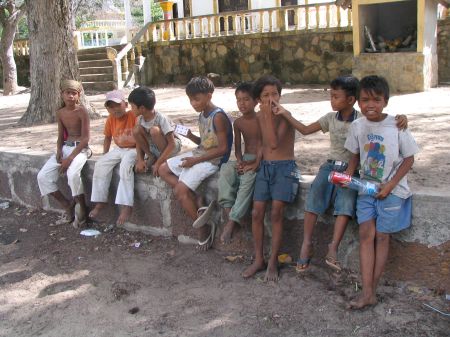 From here ride back through the nearby village and follow a very good dirt road, assuming that it will lead straight to national road 1, which is only very few kilometres from here. We keep riding.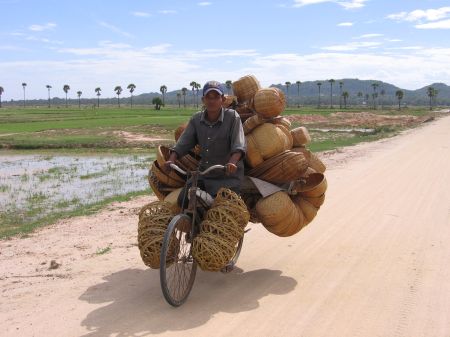 However, we do not arrive at any national road. To the contrary, while we keep going on this dirt road it turns into a narrow path with many bumps. At one point I realize too late a huge whole right in front of us and we ride straight into it. This whole is not easy to see from where we are coming. Riding through this whole is not as bad as I anticipated when I noticed it first, but from now I ride more carefully.
This shot is taken from where we came and the whole is right between the concrete blocks.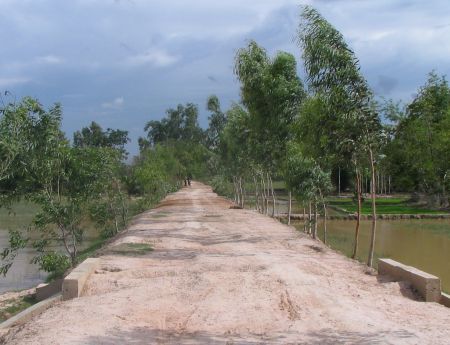 From the other side.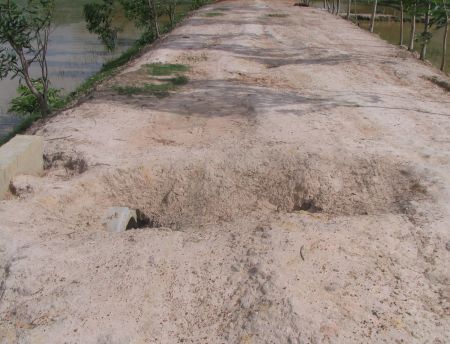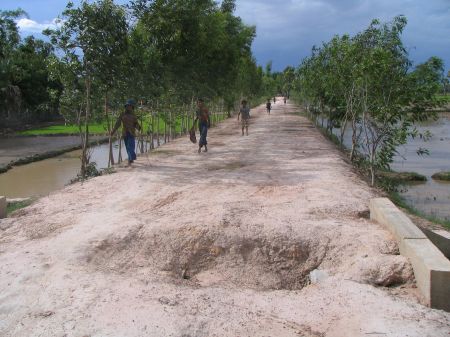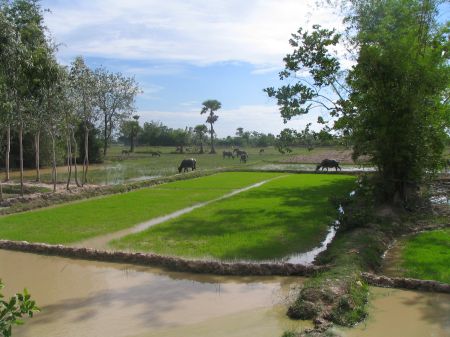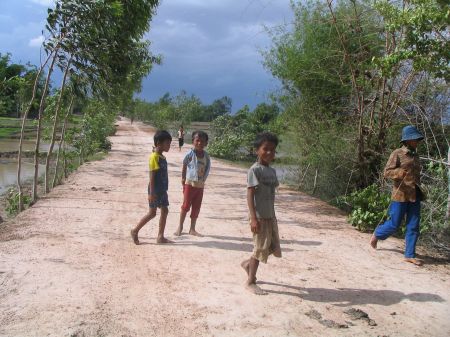 Myself taking pictures of wholes in roads.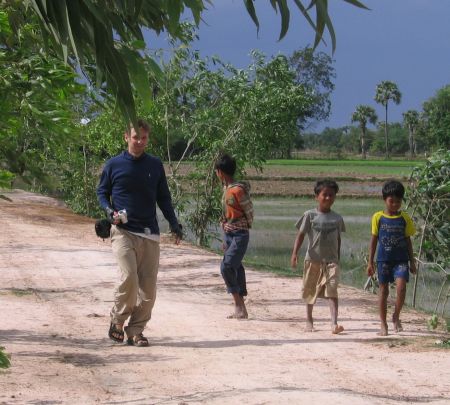 We continue riding for quite some time but we don't reach anywhere and the 'road' is getting worse.
We come across what appears to be a massive irrigation project.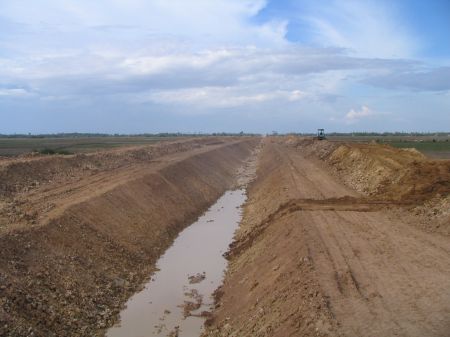 Finally we arrive at a village where our 'road' meets another 'road'. We ask some people how to get to the national road and Neak Luong and they show us the way.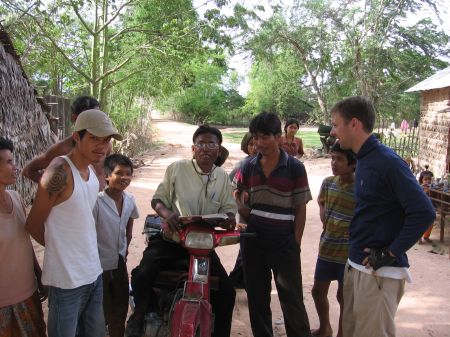 From here it is only few kilometres to the main road. When we arrive there I am glad to ride on a paved road again. I can see from the milestones along the road that we are more than 28km away from Neak Luong, possibly already in Svay Rieng Province.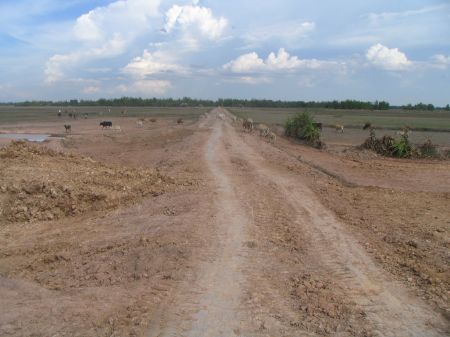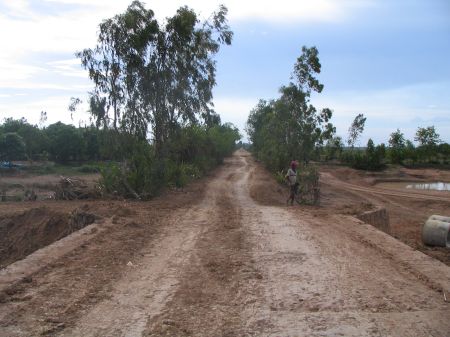 Along the national road.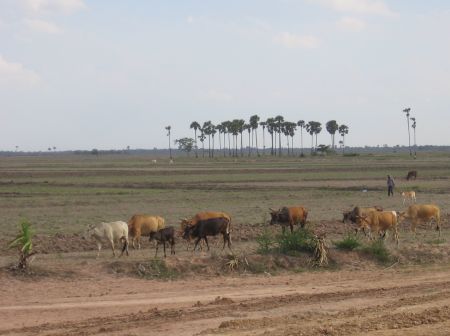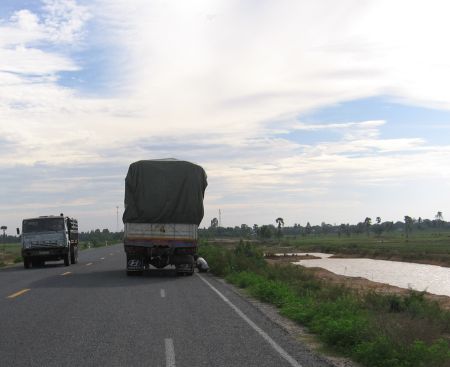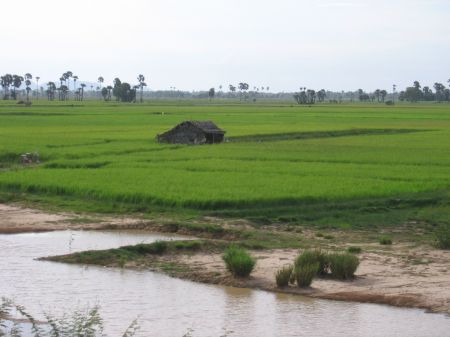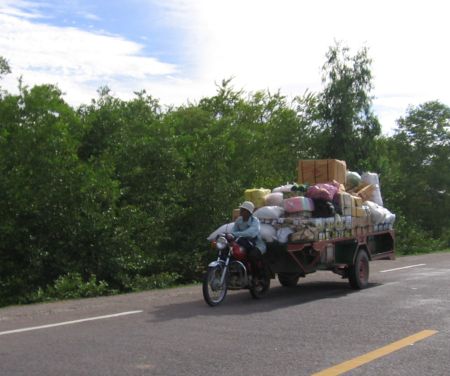 After some time we reach the ferry over the Mighty Mekong River at Neak Luong. There are actually two ferries which take turns crossing the river.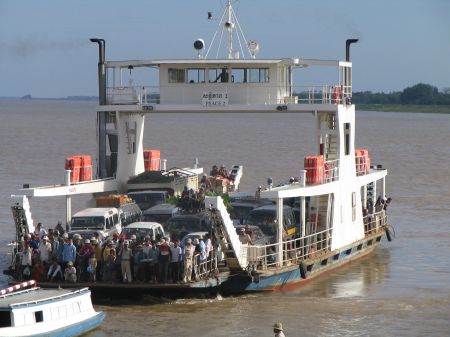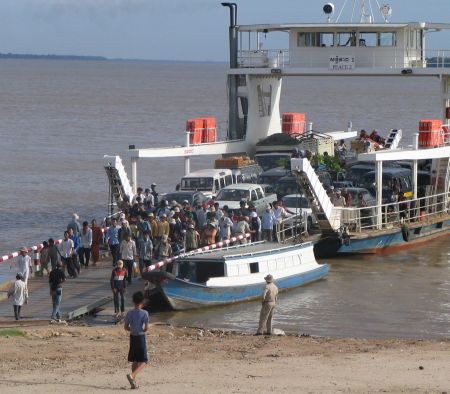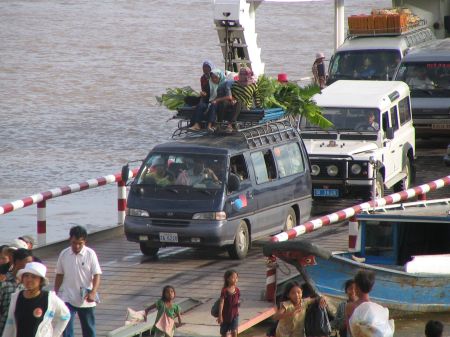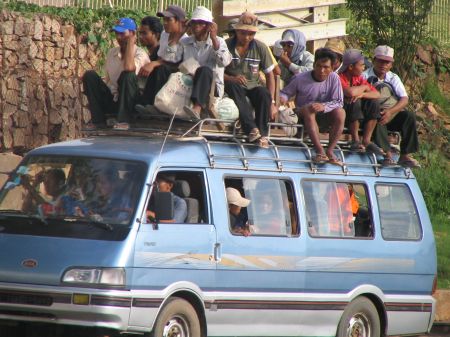 Some people sell a variety of fried insects as snacks which seem to be very popular.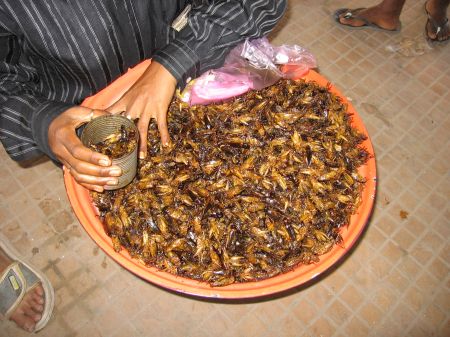 A blind man is playing a traditional string instrument while a young boy plays a drum (he does so very well) and collects money.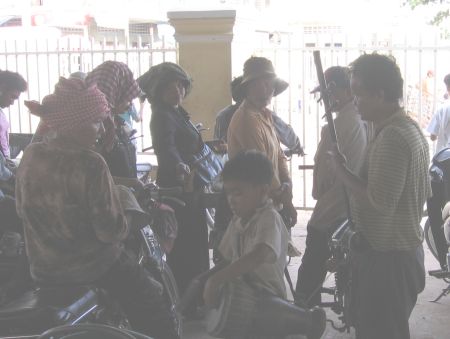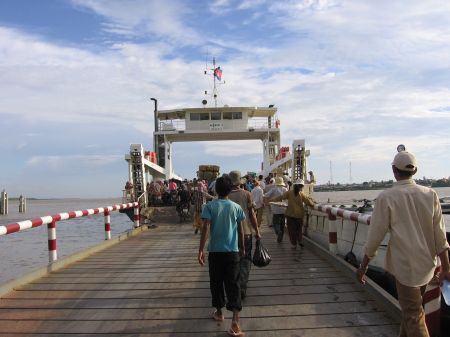 On the ferry.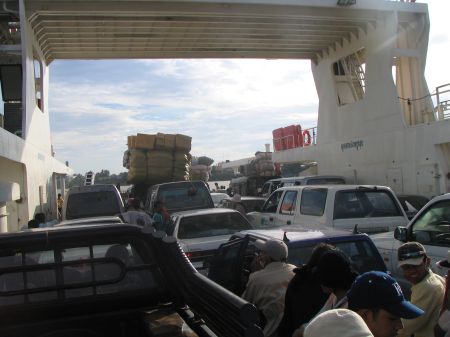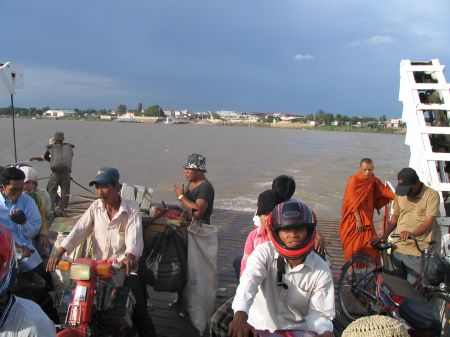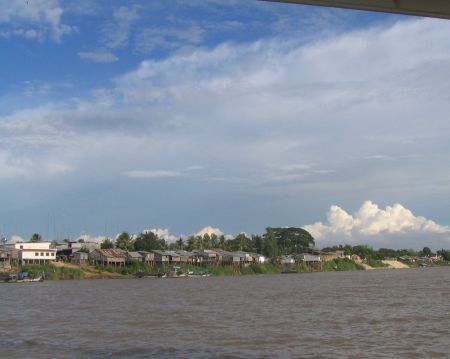 We reach the other side of the river. National road 1 is suddenly very narrow on this side of the Mekong and not in very good condition. At some point we run out of gas and by some litres along the roadside.
It is getting dark when we are coming closer to Phnom Penh. Traffic is getting increasingly dense and chaotic until we finally reach the capital. We ride to the Java Café to have diner, including some of those fruit smoothies.