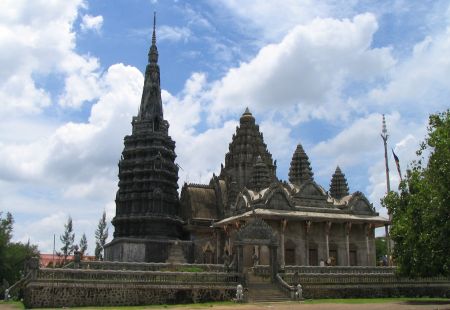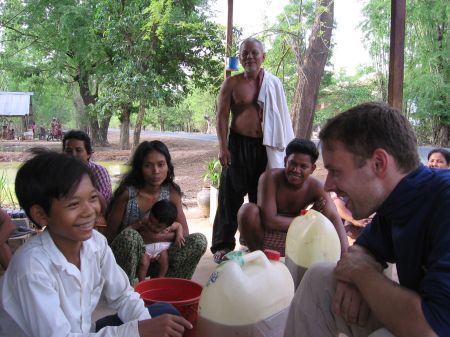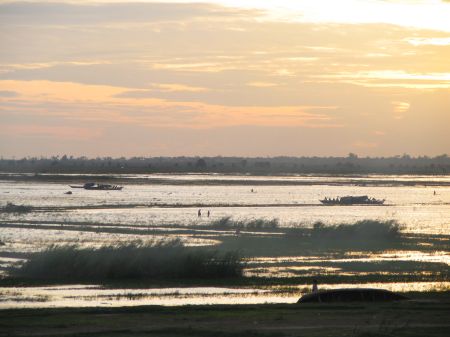 This weekend it is time to go on an overnight trip to the provinces. Maraile is ready to go and we plan to visit Prey Veng and to go there via Kampong Cham. Prey Veng is not so far from Phnom Penh but not connected to any national road. Accordingly, it is said to be a very provincial and sleepy town. The road distances are from Phnom Penh to Kampong Cham 129km and from Kampong Cham to Prey Veng 80km. Prey Veng to Phnom Penh is 90km.
We start at about 9 am and head north on national road 6A and later on national road 7 to Kampong Cham. We take it easy and have a break when we are not so far away from Kampong Cham anymore, at the national road, across a place where many big buses stop.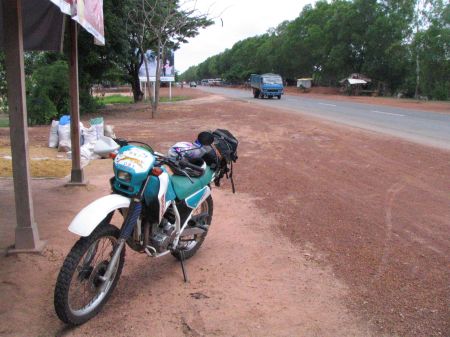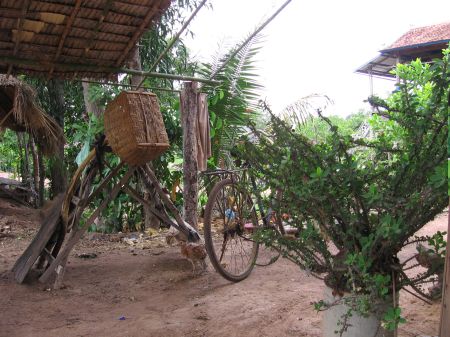 From here we ride another 20 minutes before we reach Phnom Pros& Phnom Srei (Phnom Bproh & Phnom Sray, Phnom Proh & Phnom Srey), which are two modern hill top temples located few hundred meters from the national road on the left hand, about 5km from Kampong Cham and rather easy to spot.
Phnom Pros & Phnom Srei means literally Man Hill and Women Hill. There is a story related to these temples which has a number of variations and is mentioned in any guide book. Essentially, a man and a woman wanted to marry and Khmer custom requires that the man must go to the woman's parents before going to his own and seek permission and blessings. The man challenges this tradition and they organize a competition on who can build a higher mountain before sunrise. The women outbuilt the men by lighting a fire at night that makes the men belief the sun is rising and they stop working while the women continue. That is why Phnom Srei is higher than Phnom Pros and also why Khmer men are still expected to ask the women's parents for permission.
We ride up Phnom Pros on a wide and not very steep road, passing two gates. This is one of them.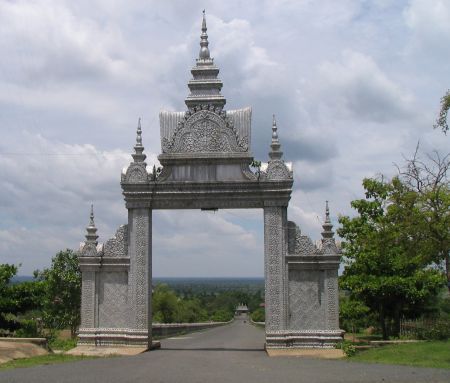 This is one of the temples on top of the hill.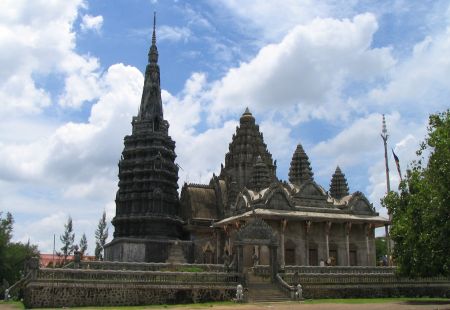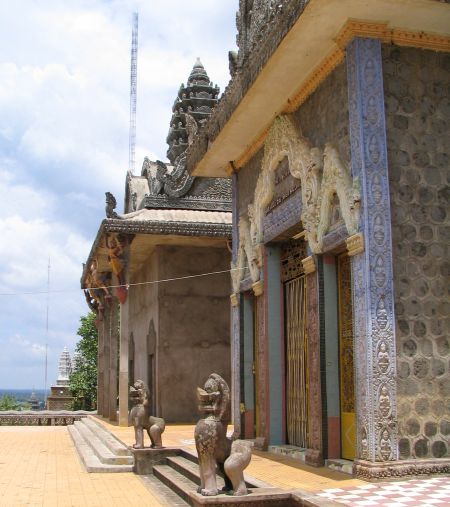 Over there is Phnom Srei.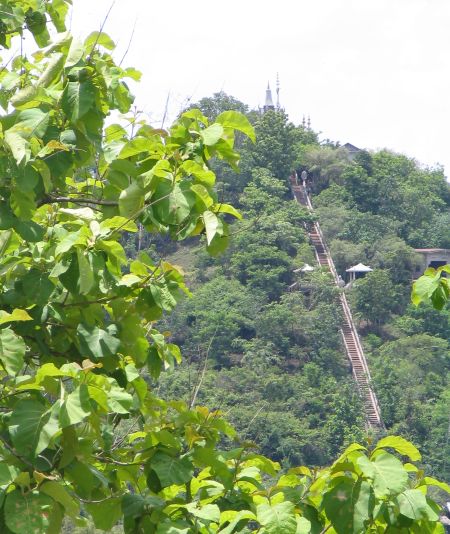 This is inside.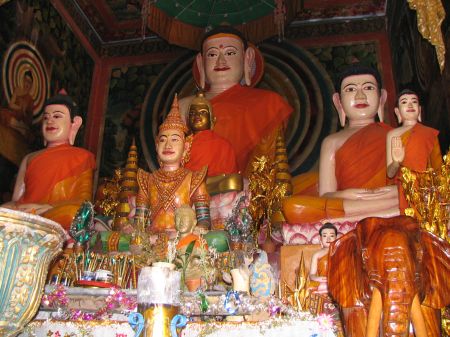 A wooden elephant.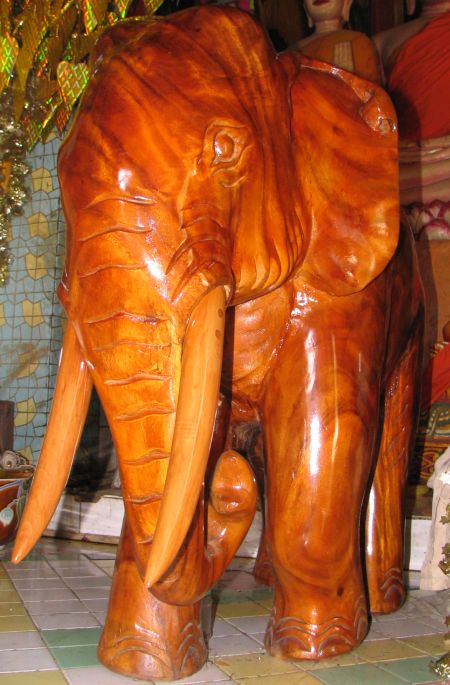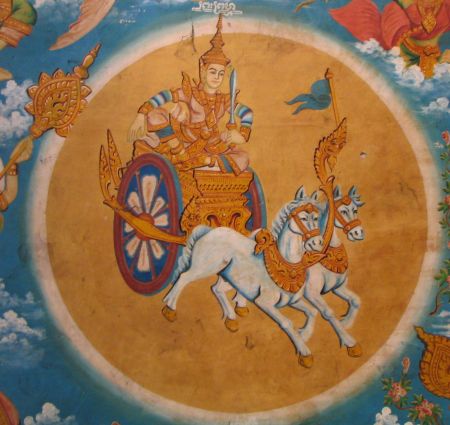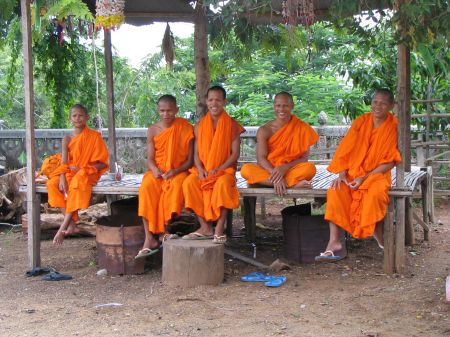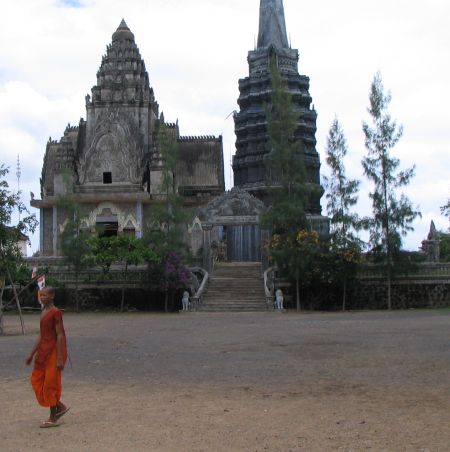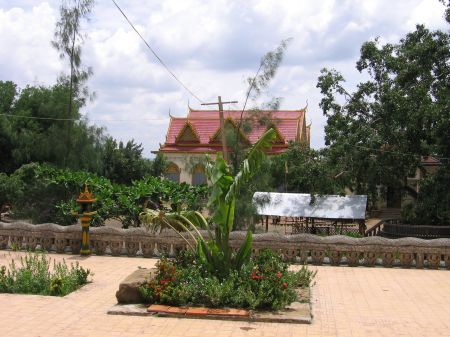 There are some food stalls close by and we have some rest.
The monk is feeding lotus seeds to the monkey.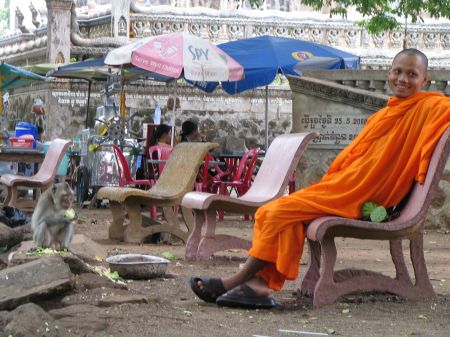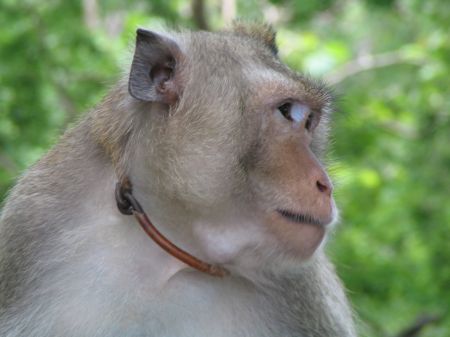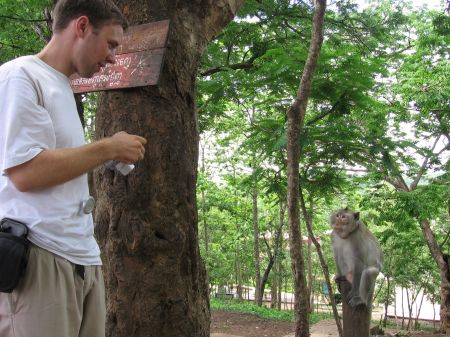 After some time we continue the trip to Kampong Cham, where we find a restaurant and have lunch and coffee. Then we continue the trip to Prey Veng, with short visits to a Mekong Island and a Rubber Plantation.
This is just outside the restaurant.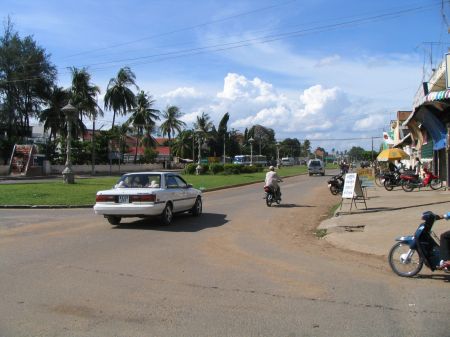 This is at the bridge. The water level is considerably higher than just a few weeks ago. Moreover, the tower on the opposite bank was under renovation last time and painted only white while it now has gotten also some red painting, which looks good.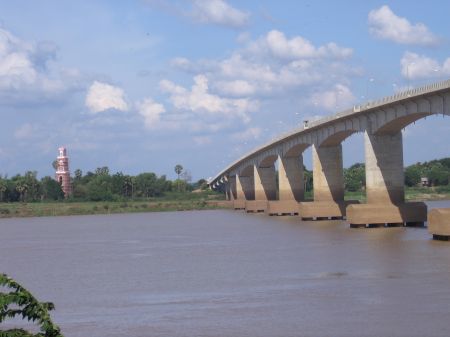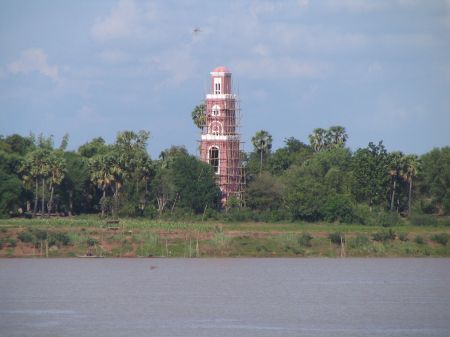 From here we ride a few kilometres along the river until we reach the place where there is a big island right in the river. Last time there was not much water but a provisional bridge from the mainland to the island. Now there is much more water and no bridge anymore.
This is where the bridge used to be.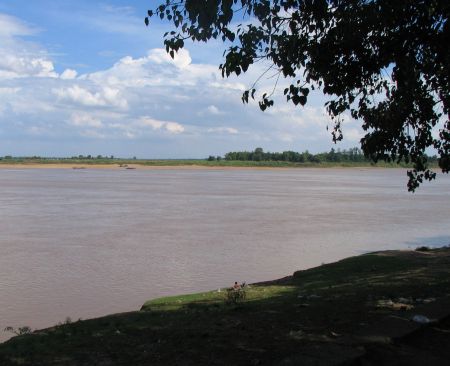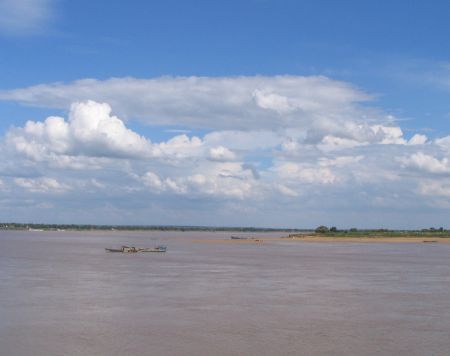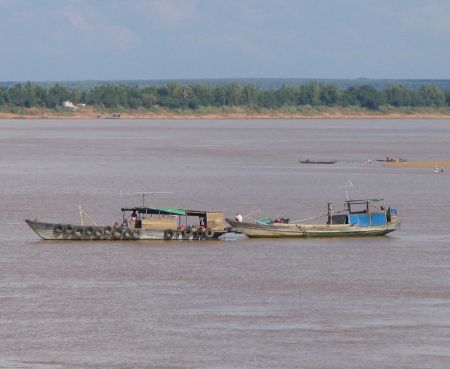 From here we head back to the bridge, cross it and follow the excellent and wide road. It is about 15 to 20km from here where one turns left to continue to Prey Veng on road 11. Opposite the junction is a rubber plantation. We first turn left and ride for some time on some sort of road into the plantation. There is not much to see so we ride back to the road and follow road 11 to Prey Veng.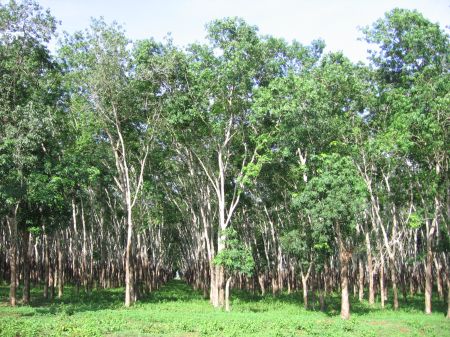 The road is in good conditions. There are plantations on both sides of the road for a long time.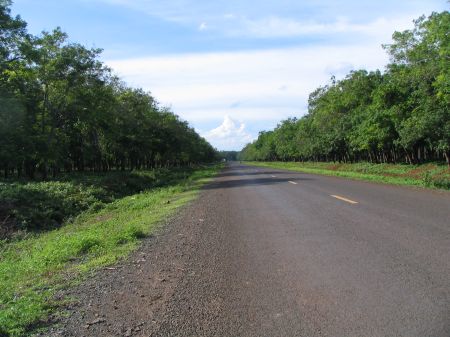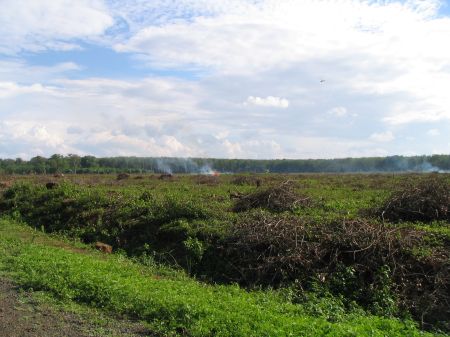 There are a number of vehicles but not many. Those there are tend to travel risky. This mini bus has containers filled with what I assume is petrol on its roof, on top of which some people are sitting.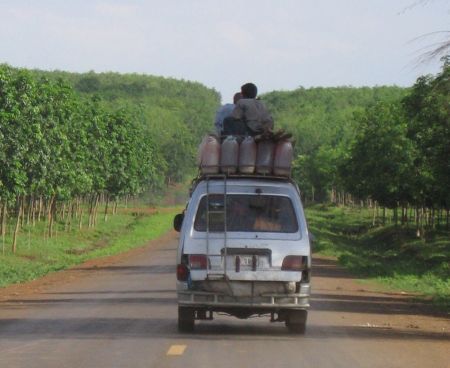 These guys do not seem to have fixed the heavy goods on their trucks at all but race each other and engage in overtaking manoeuvres that are quite risky.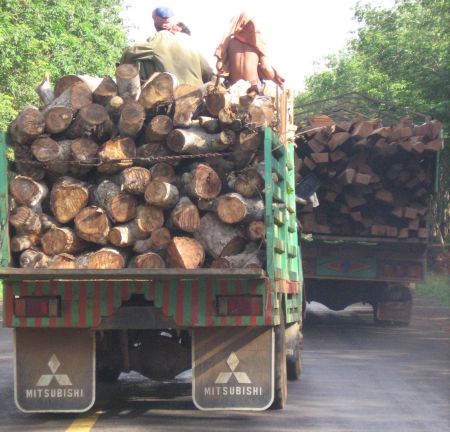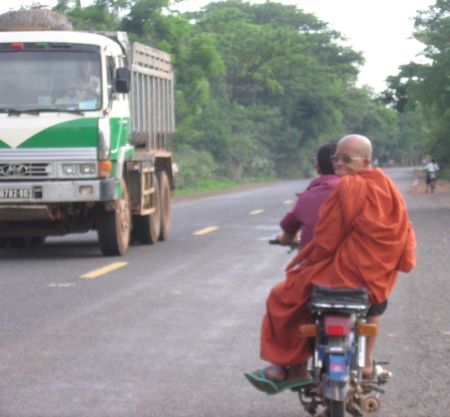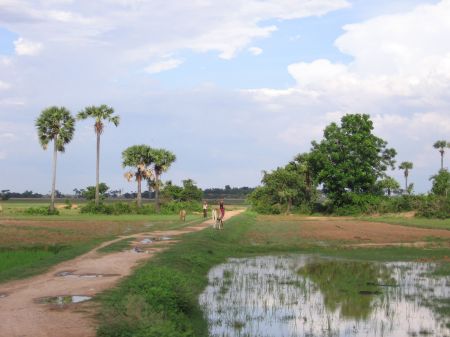 The scenery along the road is actually pretty; houses build in light forest with many ponds in front and behind them. It also seems that there was more rain here than closer to Phnom Penh.
At some point not so far away from Prey Veng we stop at the roadside to have a break. It does not take long until a number of villagers have gathered. Among them is a 14 years old boy who speaks excellent English and introduces us to all the other people around. It seems those people are as impressed with his English as we are and seem also proud. He claims that he has a car, and points out a car on the opposite side of the road, that he uses to go to school every day. Although this fellow is very young I tend to believe him.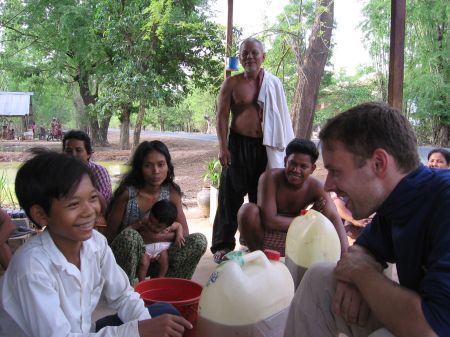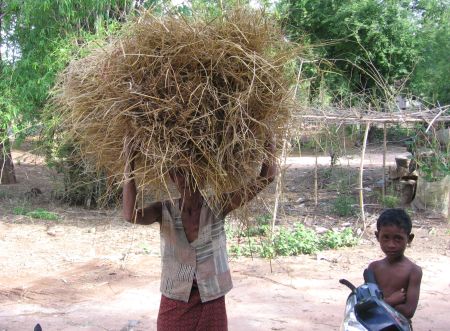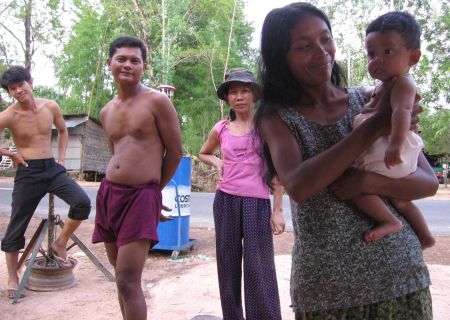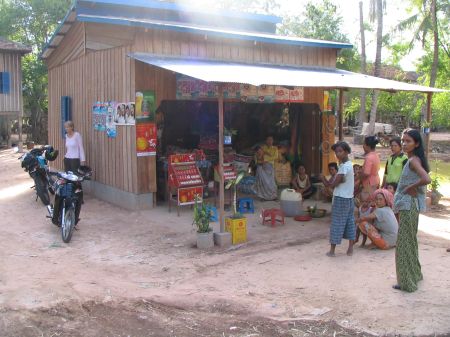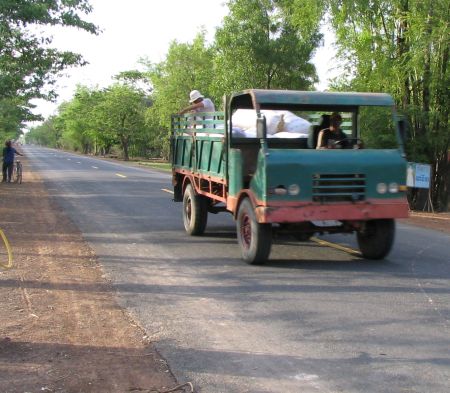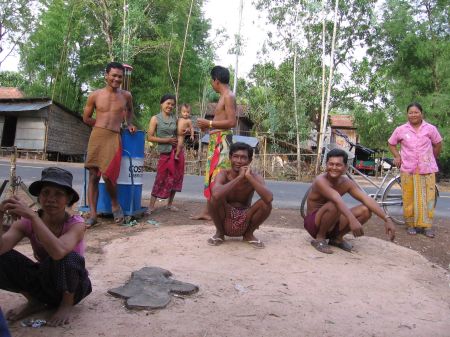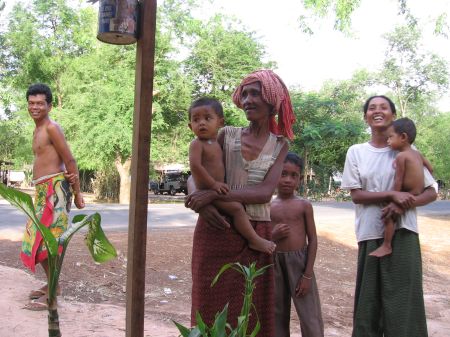 Prey Veng town is not far from here. We ride there in one go and aim for the Mittapheap Hotel based on a short review of the (short) list of hotels in the guide books. The Mittapheap Restaurant is right across the road and described in the Lonely Planet (which is old) as the "only one real restaurant in town". It is very easy to find and we make a short ride through the town to check if there is a place that strikes us as being more appealing. We do not find any and return to the Mittapheap, where we get two decently sized and cleaned rooms at modest $4 each.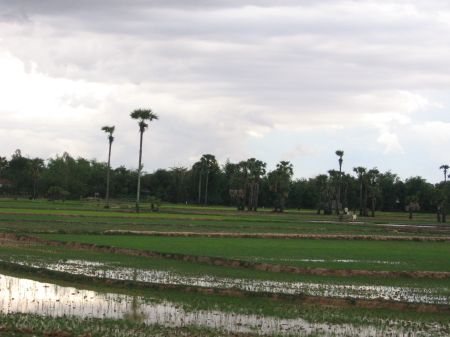 This is in front of the hotel and the road ahead leads straight to the riverside.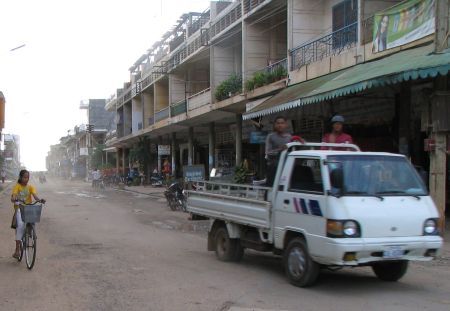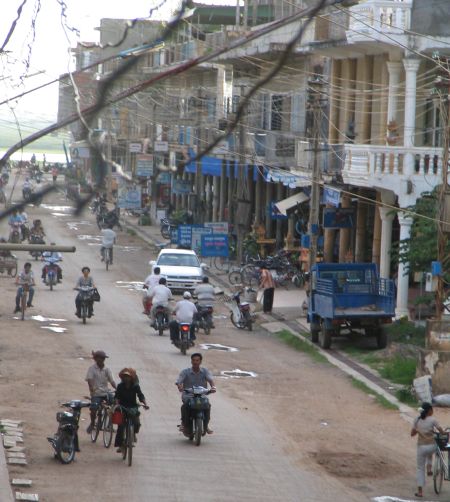 After only a short rest we go on a walk to the riverside.
This is road 11 and in this direction leads from here to national road 7 and Kampong Cham. In the other direction it leads to national road 1 which it meets at the Mekong River in Neak Luong (Neak Loeang, Neak Loeung), where the ferry is. Mittapheap Hotel is right at the turn of the road, next to the Tela gas station.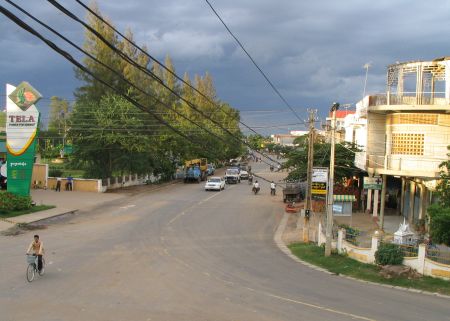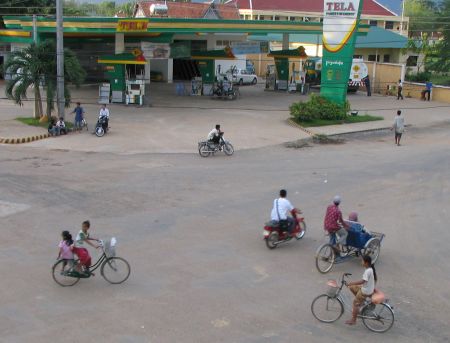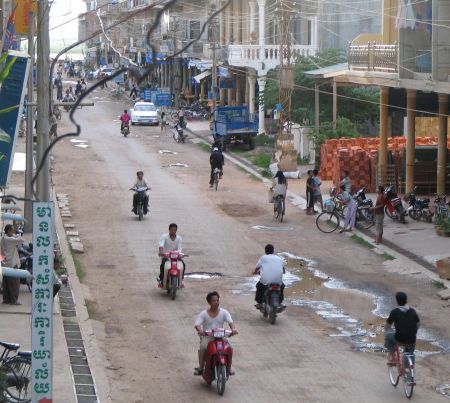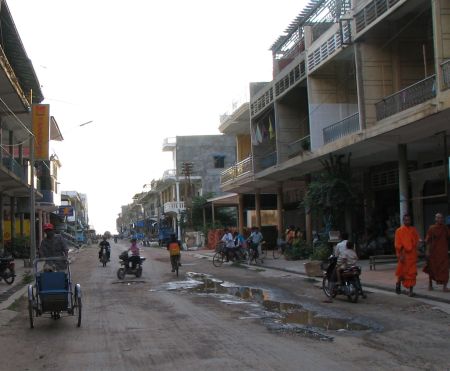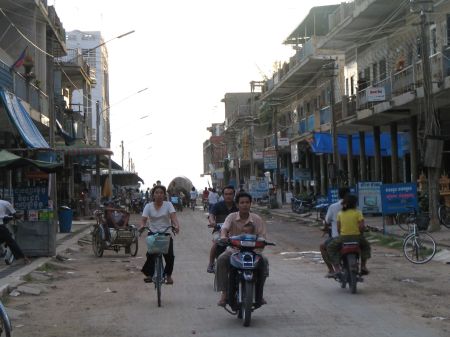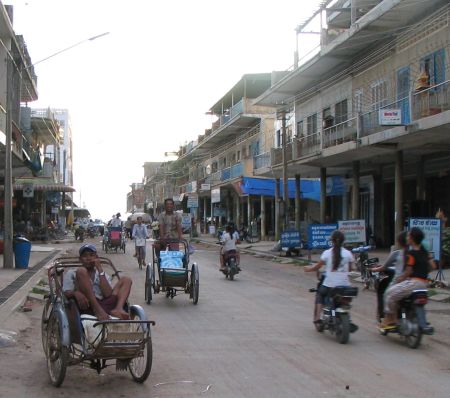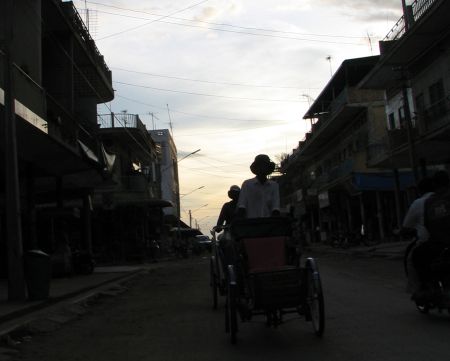 This is at the market.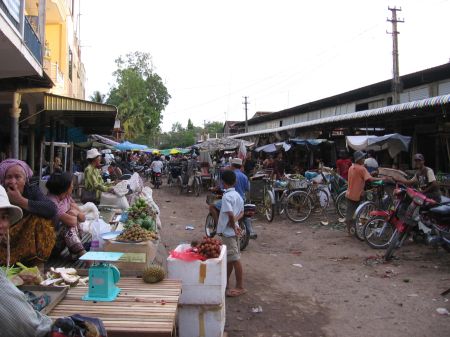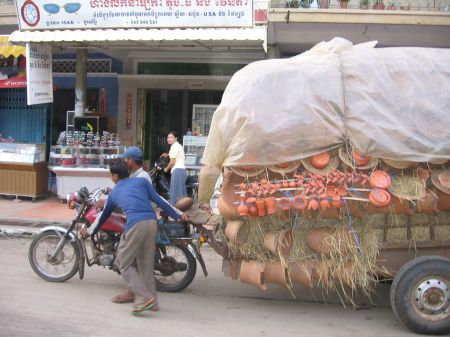 This is apparently the place where hair dressers do business.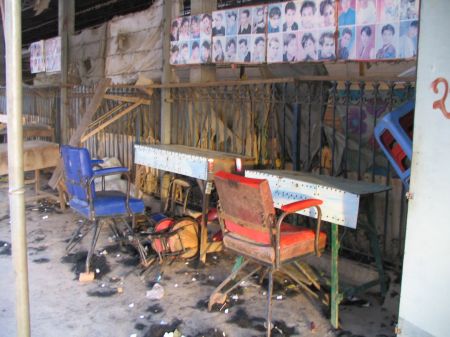 This is the road that parallels the riverside. I think it is very beautiful.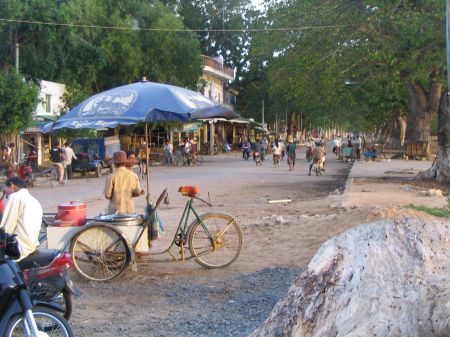 This is in front. It is possible to come here by boat so I assume this is a river. By now there is not much water in it. I assume the whole place is flooded later in the rainy season, and that those homes are temporary ones.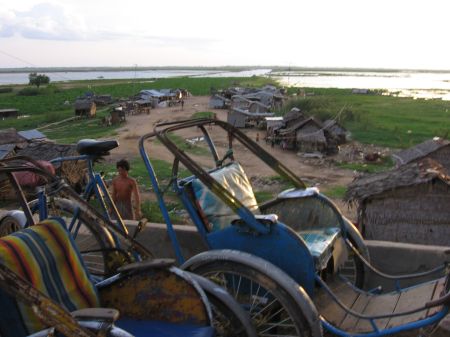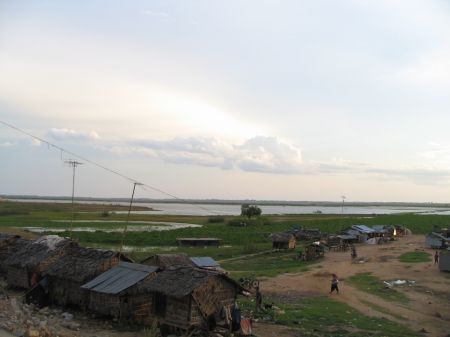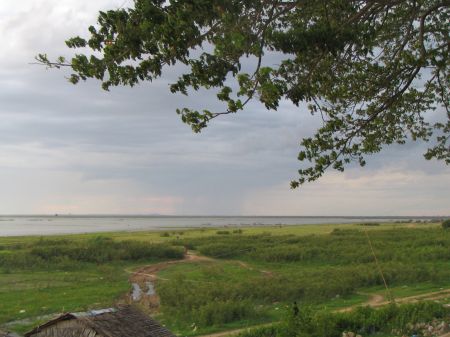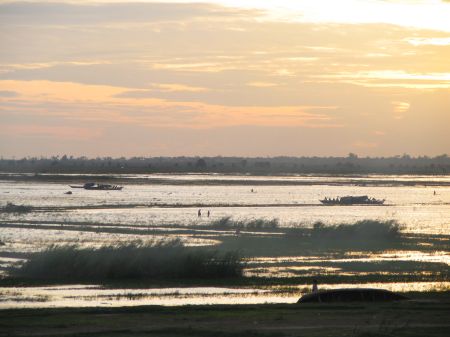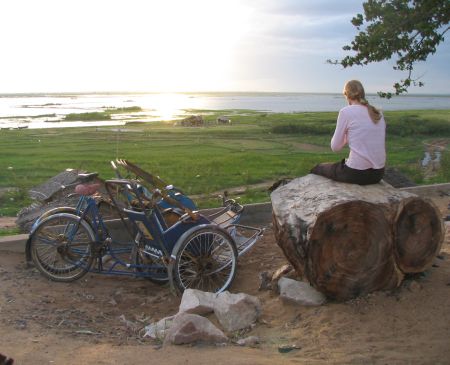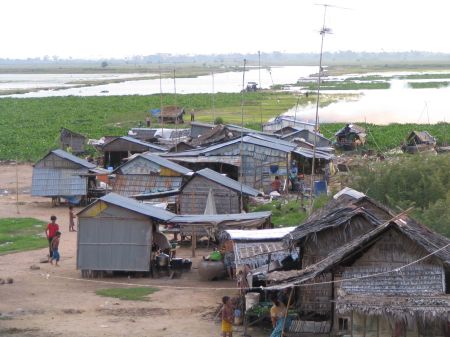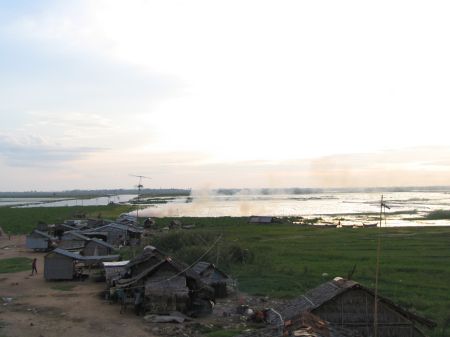 It does not take long until some children emerge from the settlement.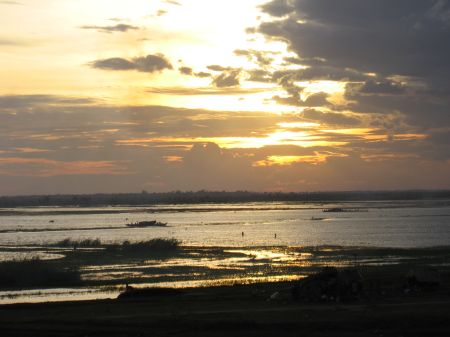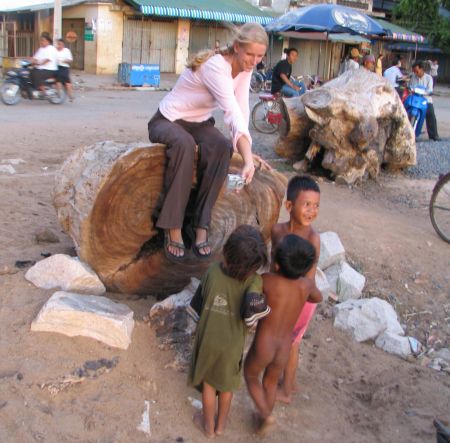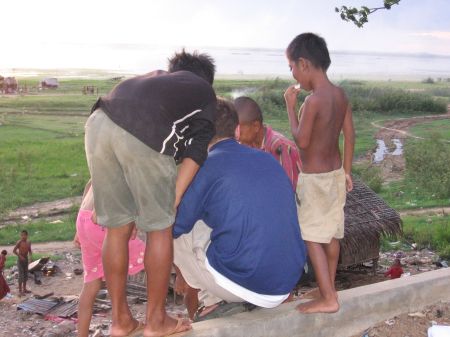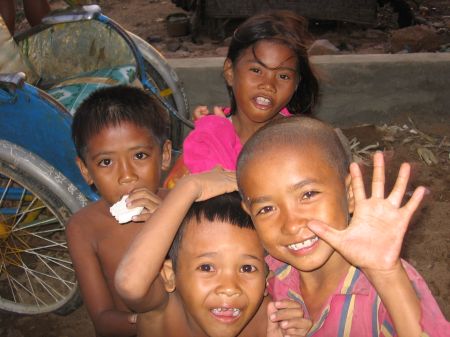 We hang out for some time. At some point I note that one of the kids is called by its parents for diner. It disappears in one of the huts but returns after very few minutes with a plate of rice and fish, to have diner right here.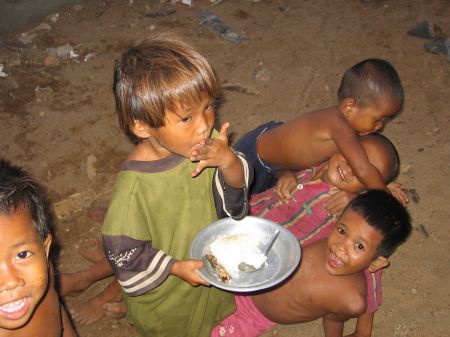 We continue walking along the riverside.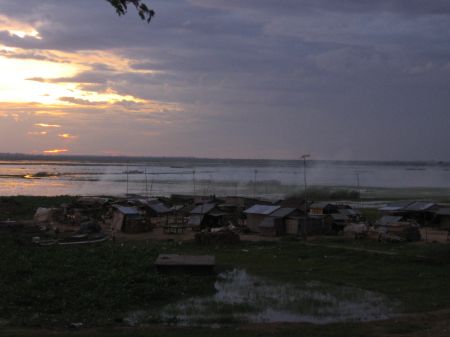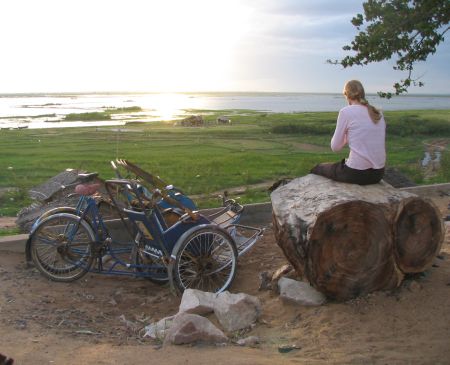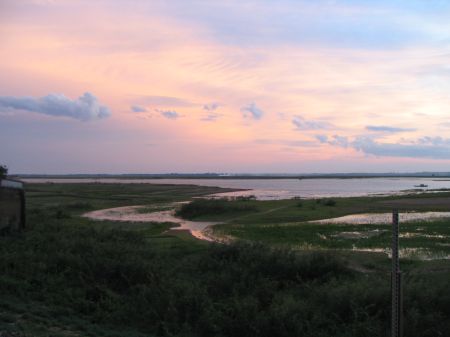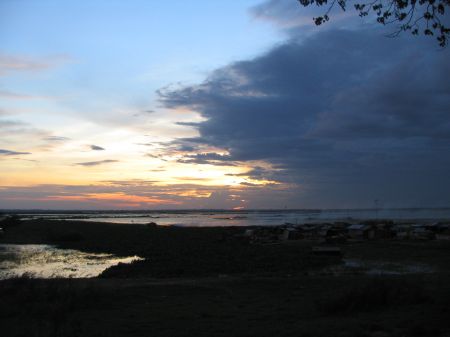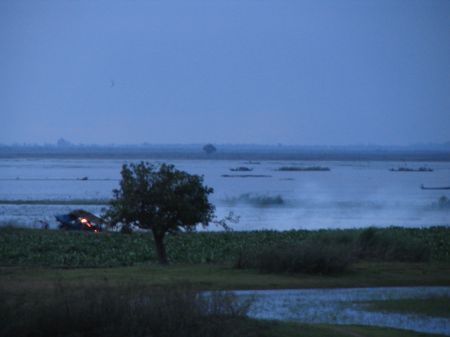 We arrive at some sort of bridge with a road on it that reaches about 100 meters into what is the river during the rainy season. It is almost dark now and there are many people hanging out here socializing. We hang out, too. For some time it seems to start raining very soon and we see lightening but it does not rain.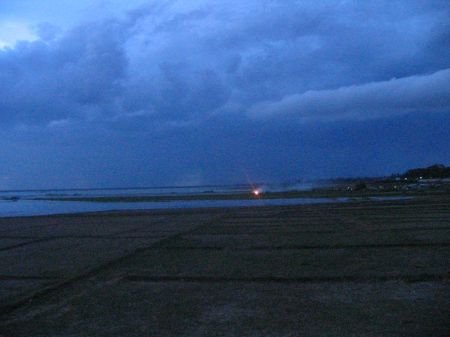 Later we go home and have diner at the Mittapheap Restaurant. The food is good. What is irritating is that there are a large number of insects, covering a wide range of species and sizes. Some of them are very big, it makes a loud bang when they fly or jump (depending on species) into various objects in the room. When they jump on your shoulder you can feel the weight.
Later we walk over to the hotel. There are many insects wherever there is light and presumably also where there is no light. We hang out on the veranda of the hotel for rest of the evening. The road is getting very calm quickly, there are no people on the road and besides some animals roaming around and a child screaming here or there it is very quite.