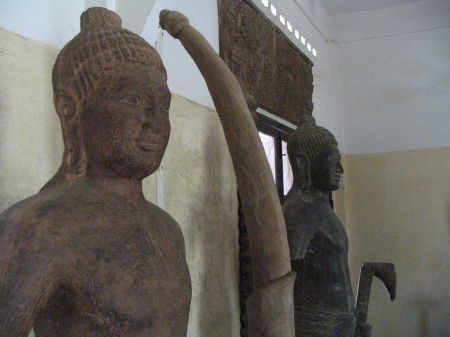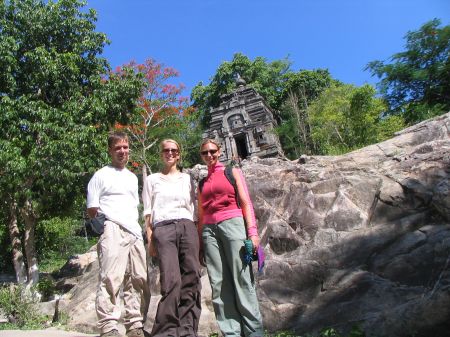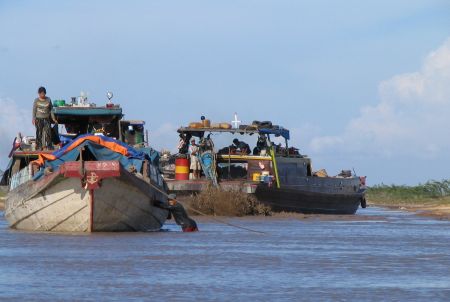 Today the plan is to go to Takeo (Takaev) again and to visit Angkor Borei and Phnom Da (Phnum Dai) with two friends: Maraile and Becky. Becky is a motorbike enthusiast while Maraile did not yet discover her passion for bikes. While I visited Angkor Borei by motorbike a few weeks ago, we want to do the trip from Takeo to Angkor Borei with the fast boat.
We go with two motos and take it easy. The ride to Takeo is pleasant, as the road is ok and there is not much traffic. It takes us about 2 hours to get to Takeo.
We ride straight to the waterfront. After only very few minutes some locals approach us inquiring whether we want to rent a boat. While the guide books suggest that the ride to Angkor Borei should be $15-20 these guys suggest a price of $25. We negotiate for quite some time but the captain does not give in at all. His main argument is that the engine of his boat is very big which is true (40PS). We ask if there is a boat with a smaller engine at a better price and there are many boats around but we learn that there is no other captain. After considerable time we agree to $25, park the bikes and get into the boat.
The boat is fast indeed and it is not by accident that those waterways are referred to as 'water canal highways'.
Leaving from Takeo. I mix Maraile's pictures with mine.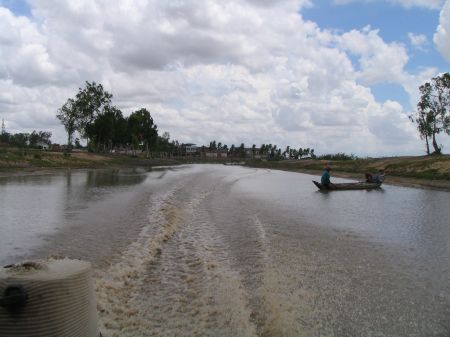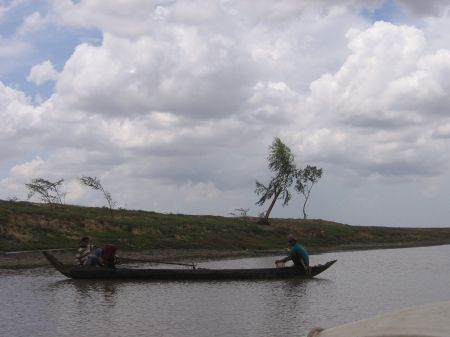 This is where two water highways meet.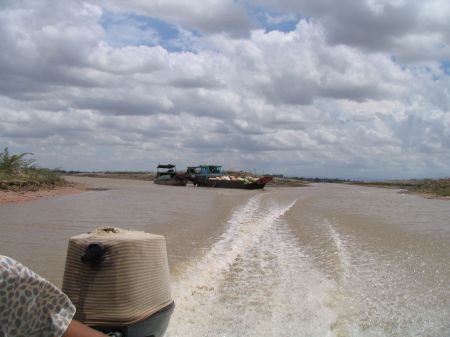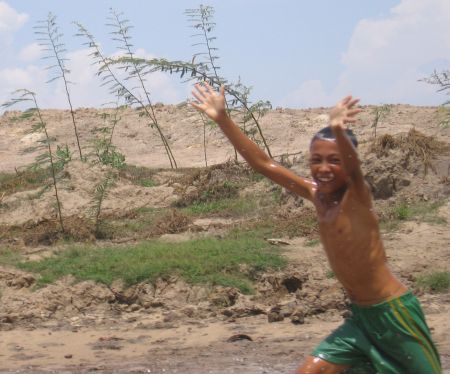 There is very little water in the 'highway' but many boats. In fact one of the reasons for coming here after I came here only very few weeks ago is that the area spectacularly flooded during the rainy season. The rainy season should have started long time ago but it did not. For this reason, water levels are very low and countless boats got stuck in the more shallow stretches of the water highway.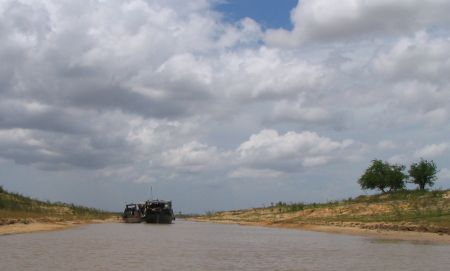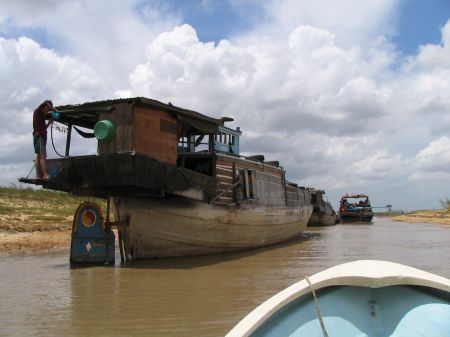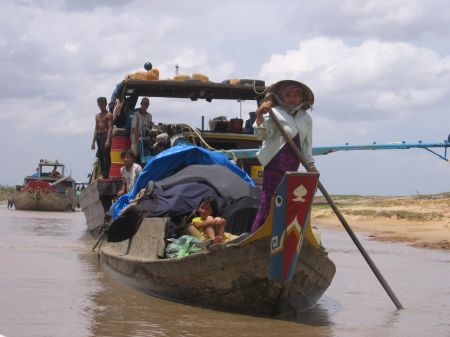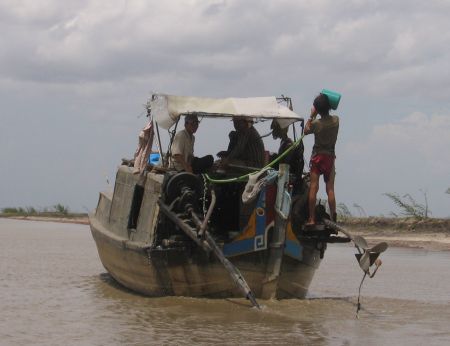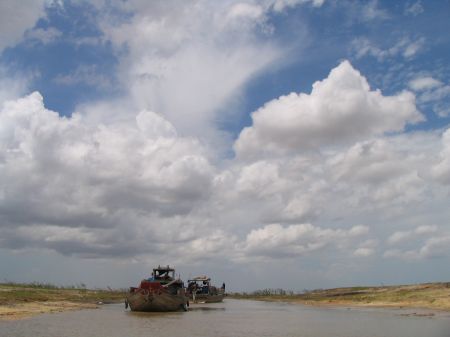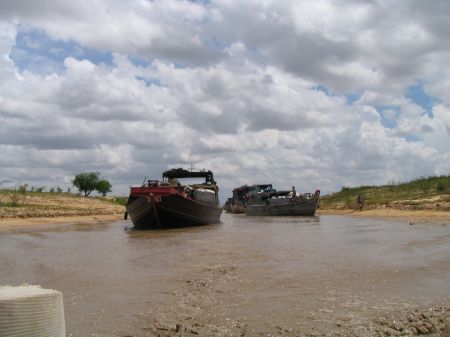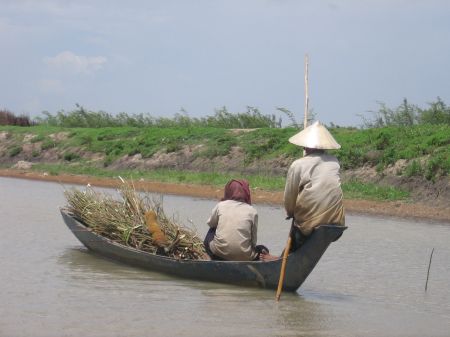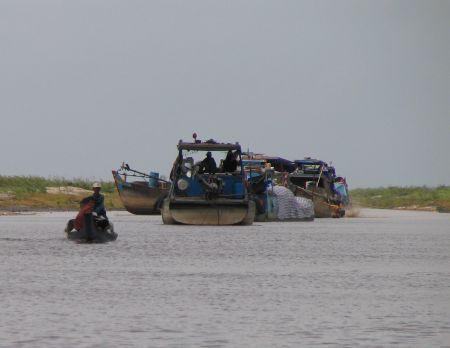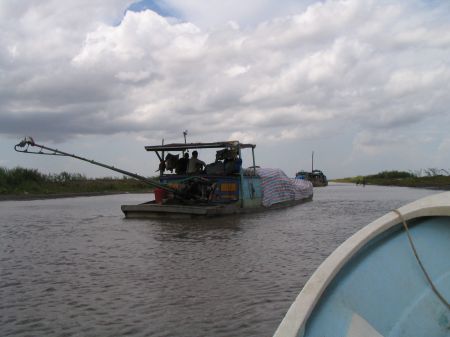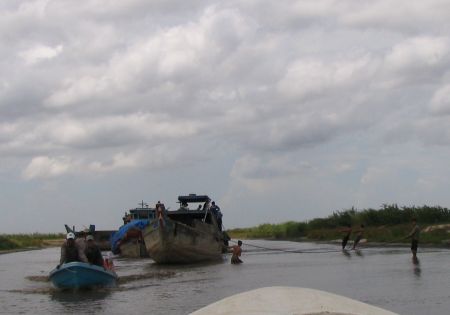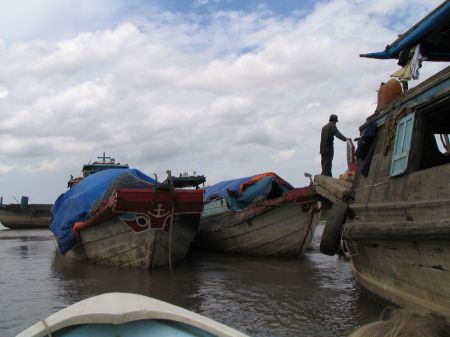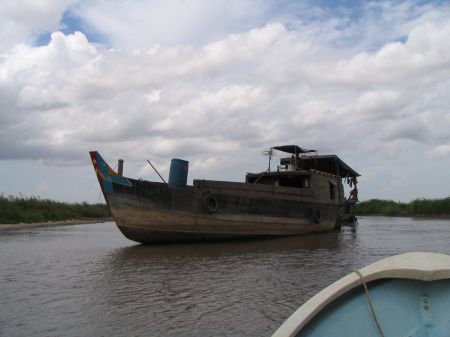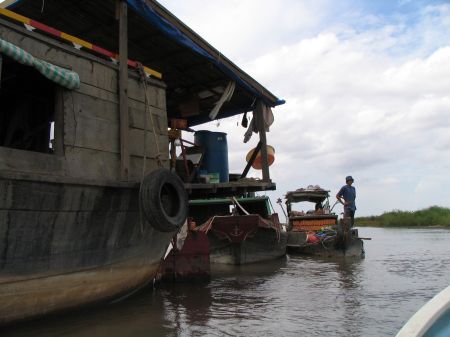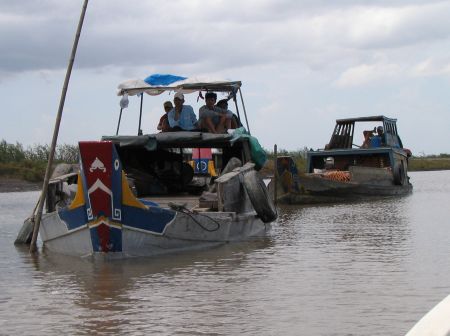 The water highway is very straight and much is going on its banks and in the water. People fish and children play, swim or look after all kind of cattle.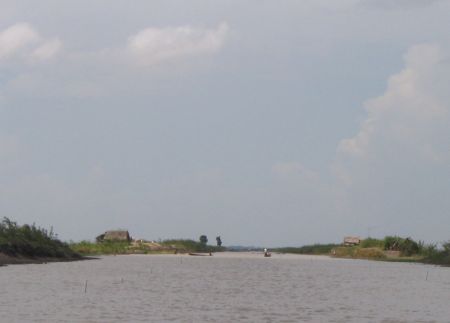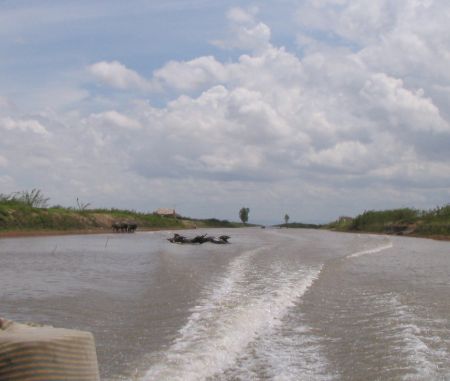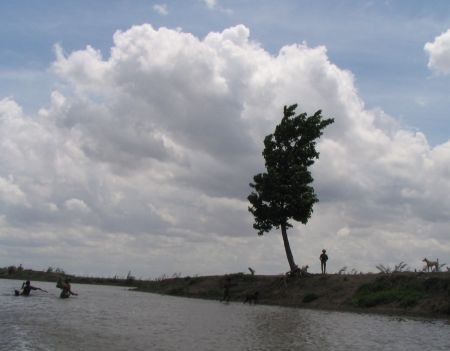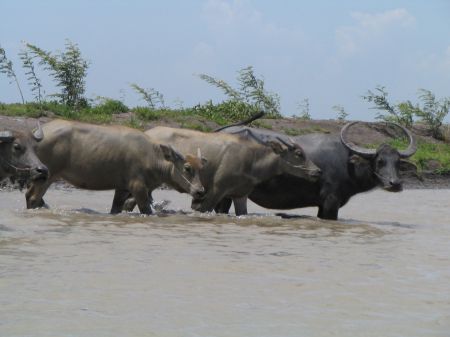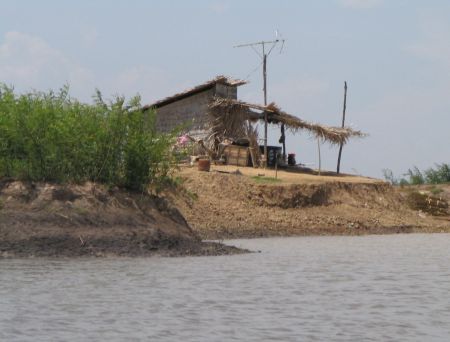 The last stretch of the river before reaching Angkor Borei is narrow and has many turns and we ride at very high speed.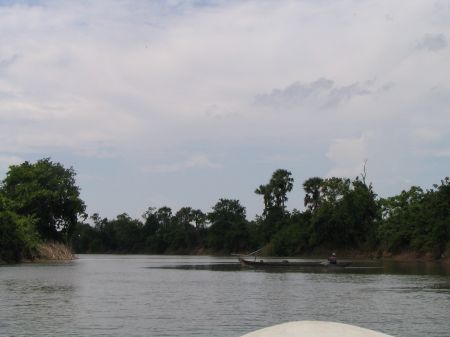 Then we reach Angkor Borei.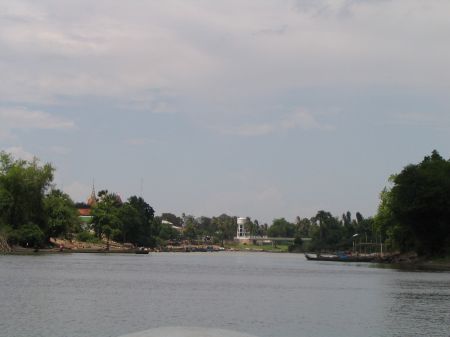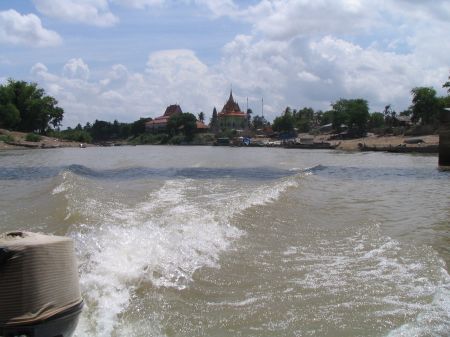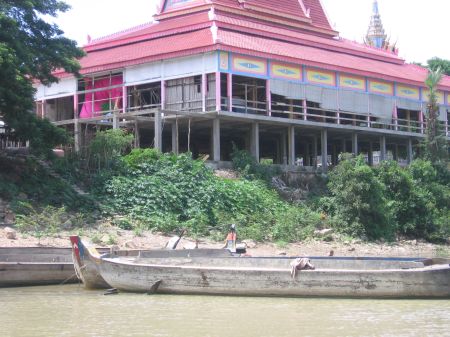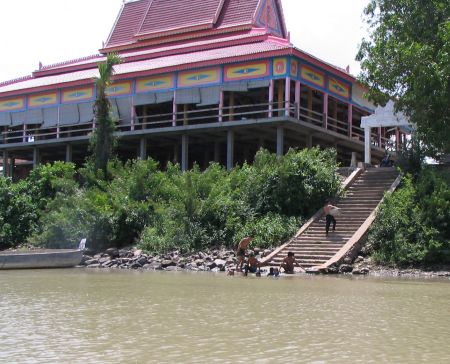 The boat stops on the left side of the river after we pass the main bridge. A museum is located here right next to the river. It seems to be noon break when we arrive but after a few minutes people open the door and we can enter the museum. The visitor's area consists of two rooms. We meet an archaeologist from the US and her husband who work here. They say that few tourists find their way here and provide us with some background information.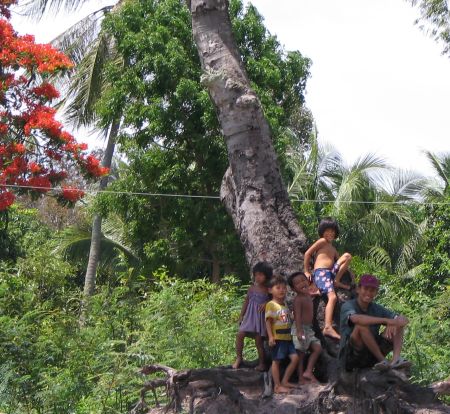 There is an air photograph showing clearly visible the town's well preserved massive city walls that are witness to its Funan past. These walls were built of brick some 6 meters high and had a defensive moat next to them. The massive size of the walls suggests that the town needed to be defended from attack by neighbouring states or rival factions and were built to protect a sizeable population.
Within the city walls more than 10 temples have been identified, but sadly, as with much of Cambodia's heritage, indiscriminate looting has already taken place of most of the artefacts at the archaeological sites. There are several canals originating from the Funan period.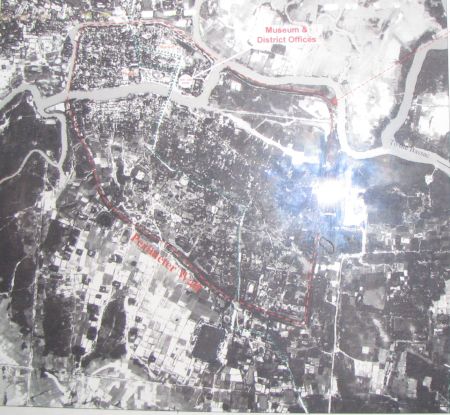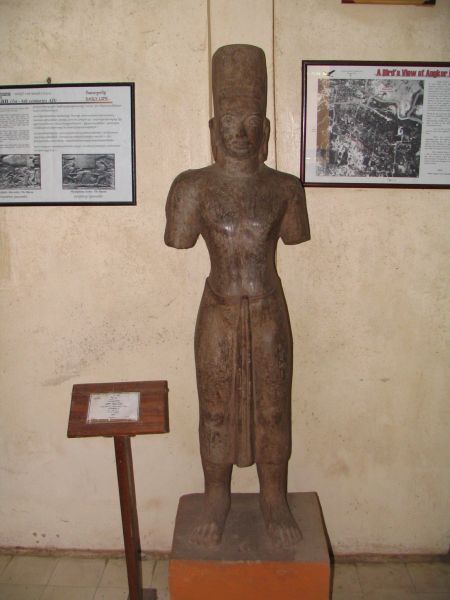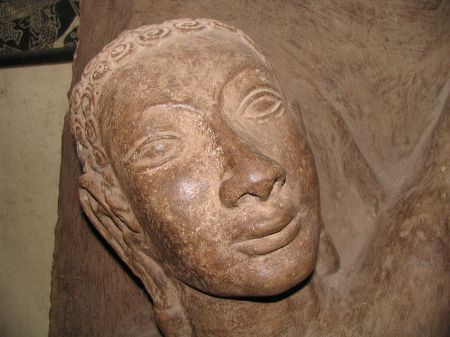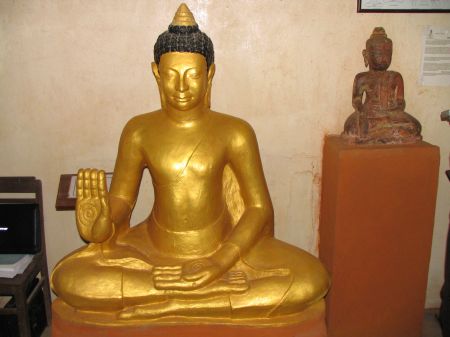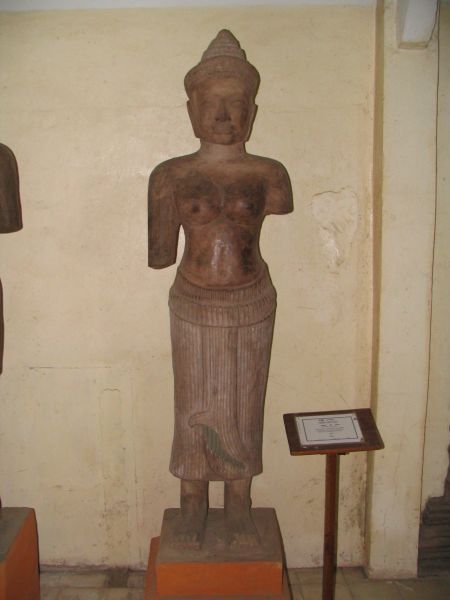 This is the second room. The carvings on the right hand are taken from Phnom Da. Oddly, there is a basket that contains bones, without any explanation.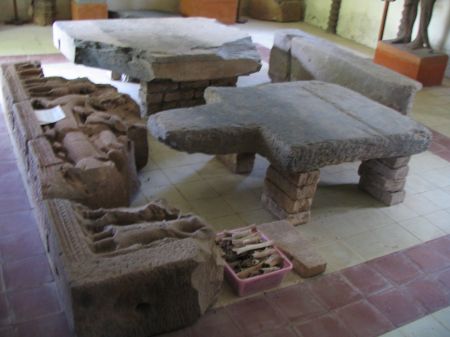 Most statues are from between the 6th and 12th century, meaning that the civilization which built them far predated the Angkor period. One of the archaeologists suggests that this is one of the very first urban centres in Southeast Asia. Little is known about this period. I ask whether the inhabitants of this city were Khmers and he says that we do not even know that. They may have been Muslim Cham also.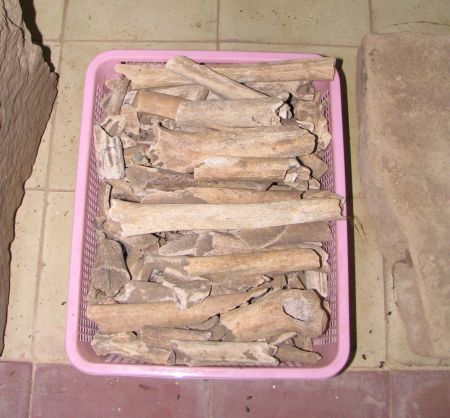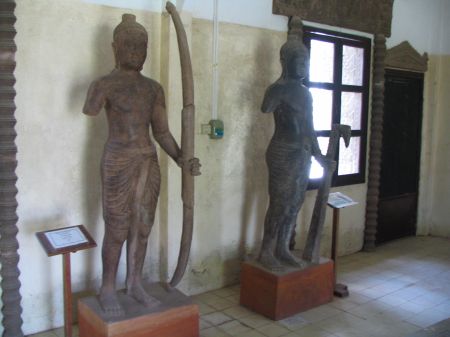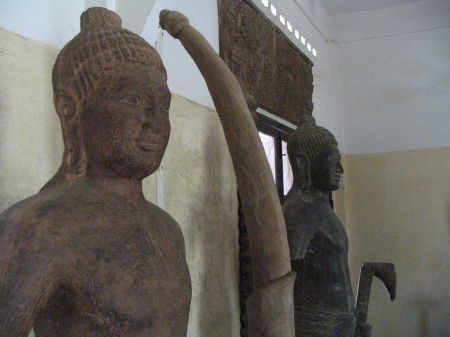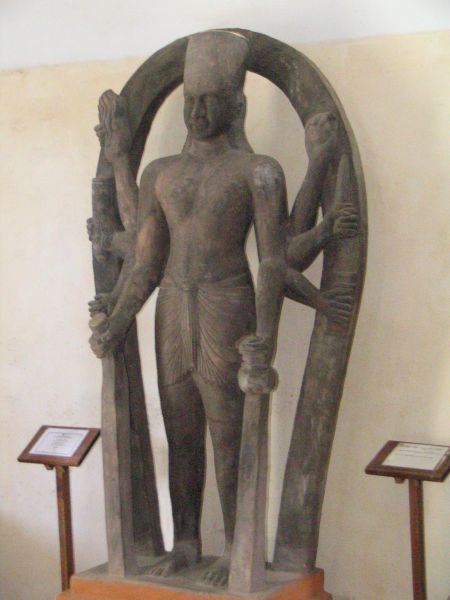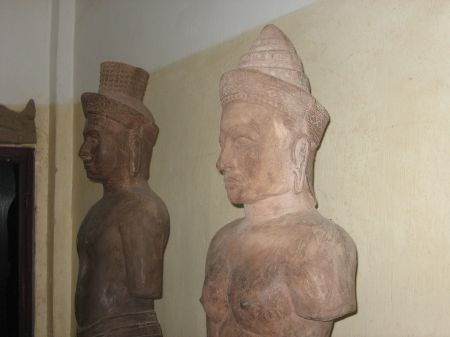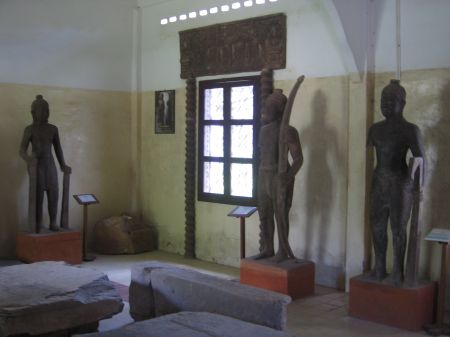 There is a statement written on the wall informing visitors about Cambodia's Vanishing Cultural Heritage. I think it is worth quoting in full here:
"All of the objects displayed in the Angkor Borei museum – architectural fragments, sculptures, ceramics, beads, amulets, and even human bones – are important parts of Cambodia's cultural heritage. Cambodia is losing its cultural heritage at an alarming rate today, as people saw, chip, haul, and dig artefacts and architectural elements out of archaeological sites. Despite the passage of strict laws to protect Cambodia's antiquities, goods are leaving sites by truck, cart, boat, and plane and find their way into private collections throughout the world.
The destruction of cultural heritage results from many activities that are common in rural Southeast Asia. Some of this damages the archaeological record. Other damage, however, results from intentional looting with picks, shovels, chainsaws, and bulldozers. Throughout the world today, looting is fuelled by an insatiable and international market of antiquities collectors.
Like many archaeological sites in Cambodia, the cultural heritage of Angkor Borei is also disappearing quickly. Pottery, sculptures, and beads from the site have appeared in the markets of Phnom Penh via the World Wide Web.
The rapid destruction of Cambodia's natural resources has become a source of international concern and so should the destruction of Cambodia's Cultural Heritage!"
We learn that some archaeological work is being carried out right now at one part of the wall where people are cutting into it in order to build a new house. Taking advantage of this opportunity, archaeologists measure and document the structure and age of the wall. We get three moto taxis and join them. The side is on our way to Phnom Da.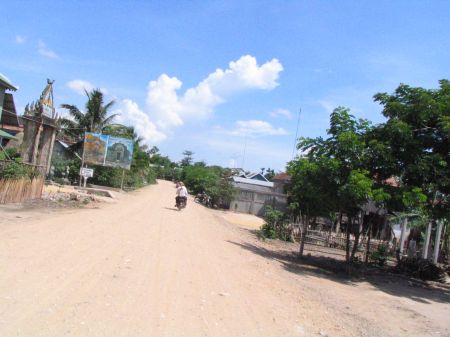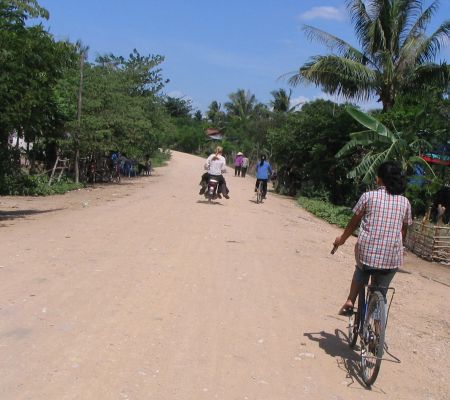 Maraile on the moto.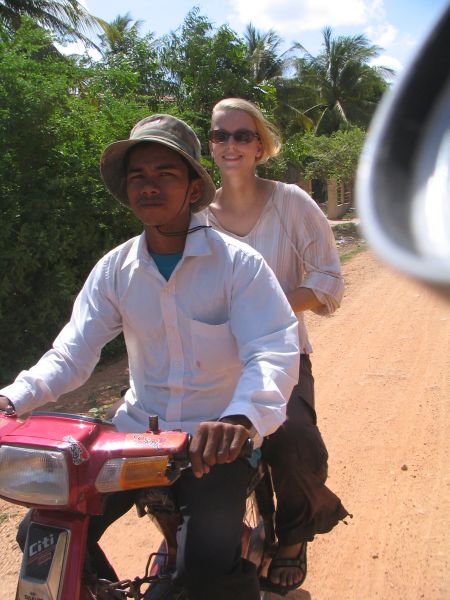 Parts of the ancient wall.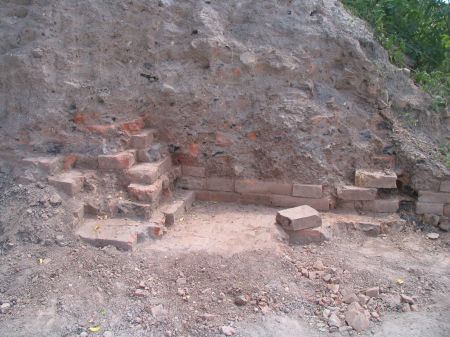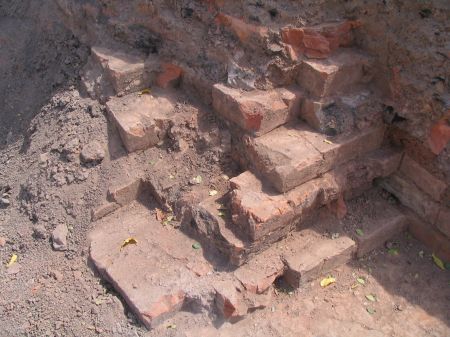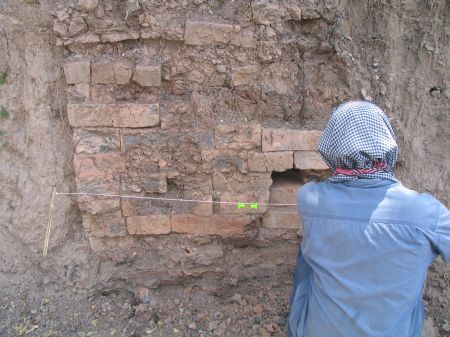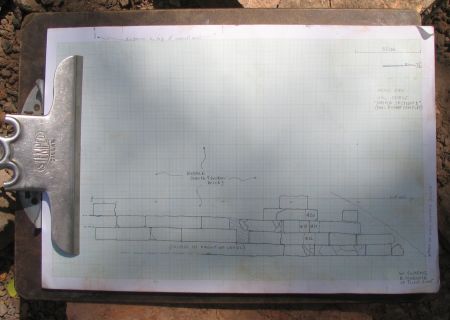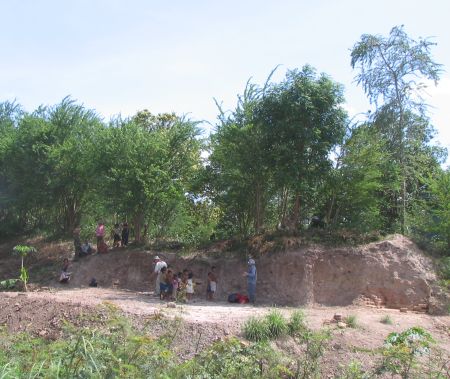 Then we head to Phnom Da.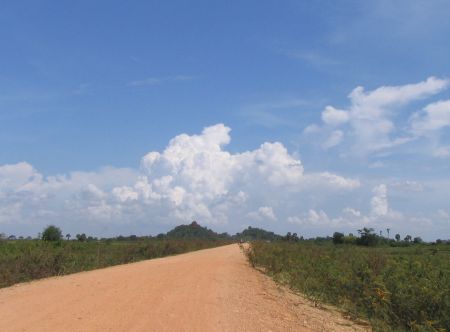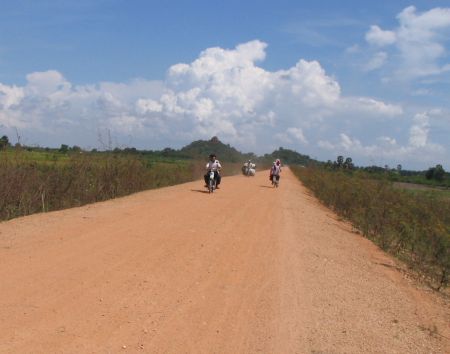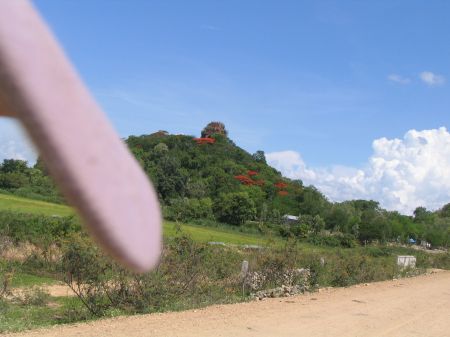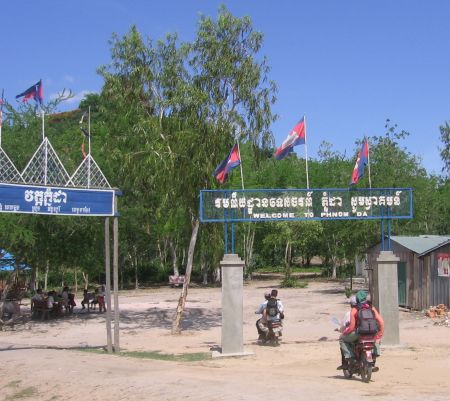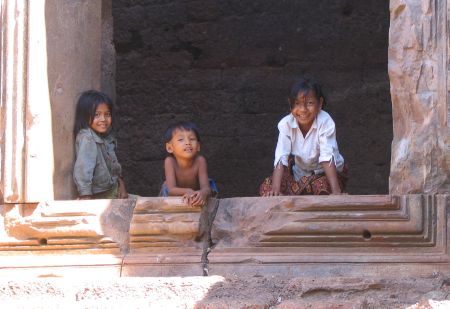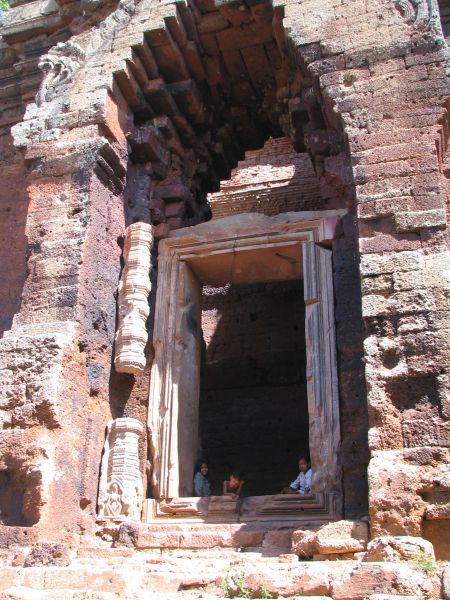 Unlike when I came here last time , there is a guard at the bottom of the mountain collecting $3 from visitors, which I find quite a price. We negotiate down to $2 and don't get tickets. Then we climb up the mountain.
Carving on the ground inside the temple.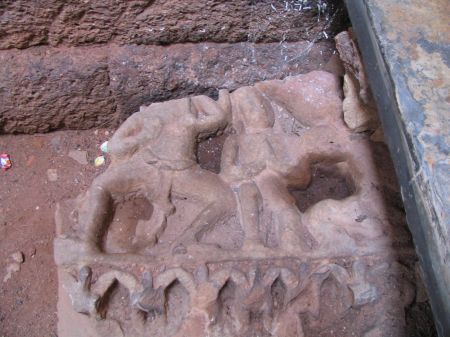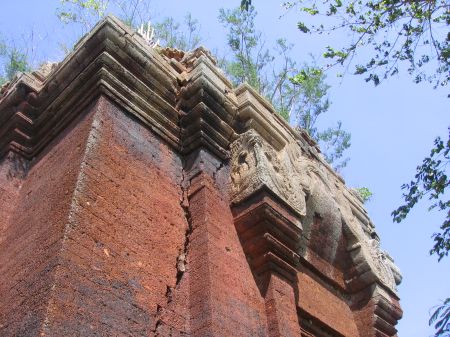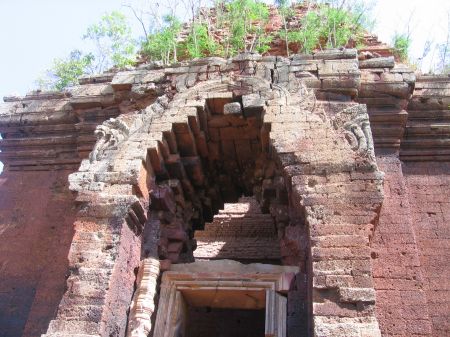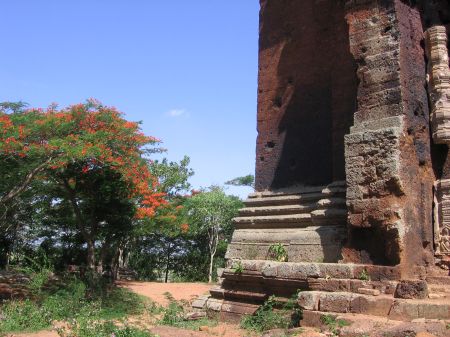 There is a nice view from up here all the way to Vietnam. People are working in the field.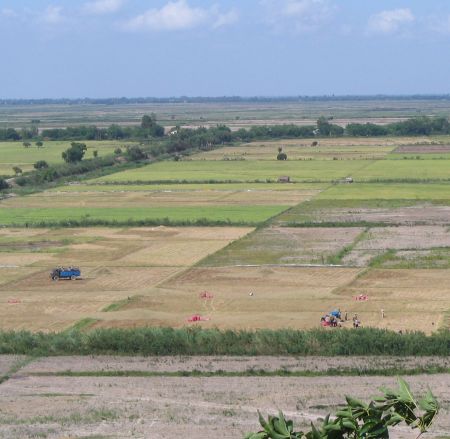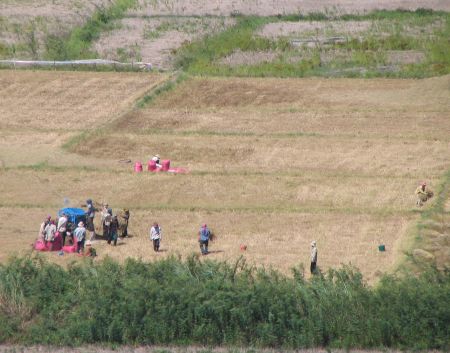 The collapsed roof of the temple.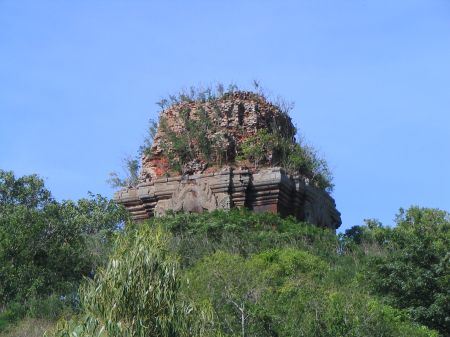 From here we walk down the hill and over to another one which is part of the same set of hills. I recall that one of the archaeologists said that one of the temples was rebuilt by a French architect and I assume it is this one.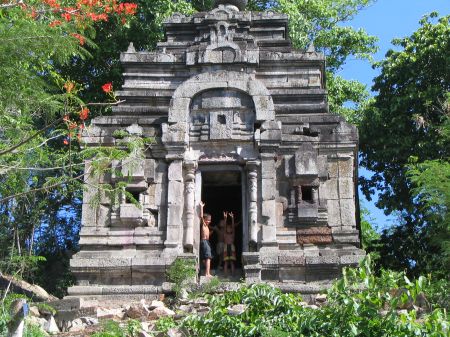 This temple is actually two buildings in one, as there is one inner room and another one around it, so you can walk all the way around the inner room without leaving the temple.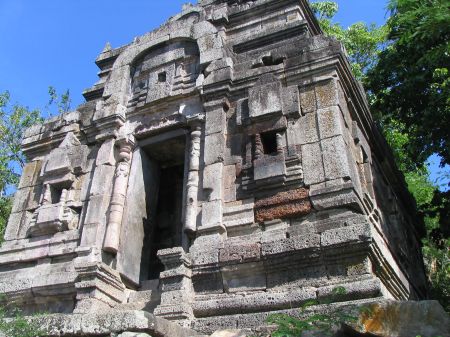 From right to left: Becky, Maraile and myself.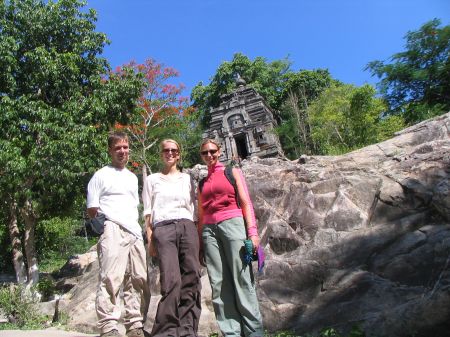 After a short break we head back to Angkor Borei. We ride to the market to get $ notes changed before we can pay the moto drivers.
Becky on the moto taxi.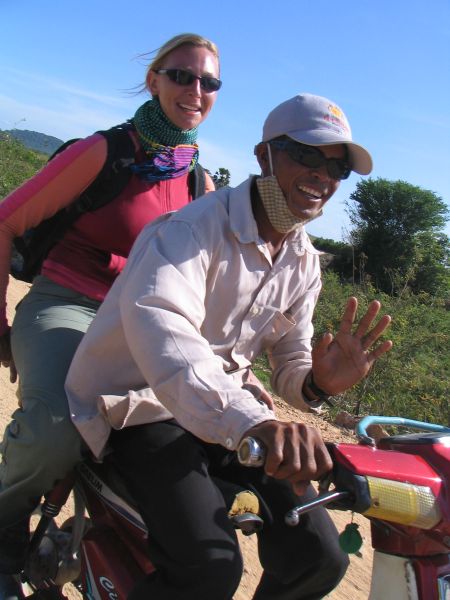 Maraile.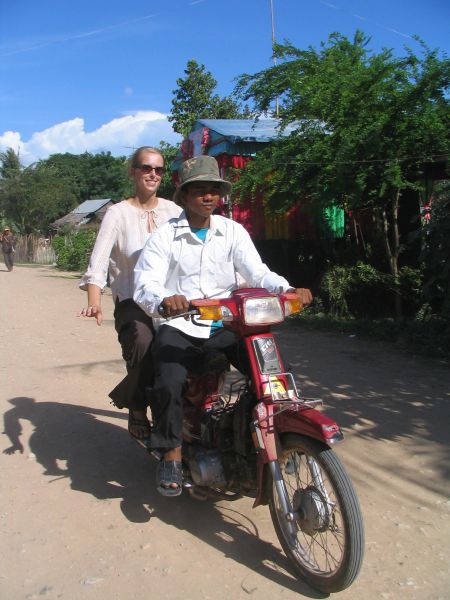 At the river.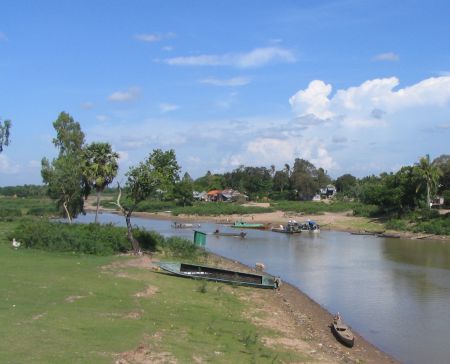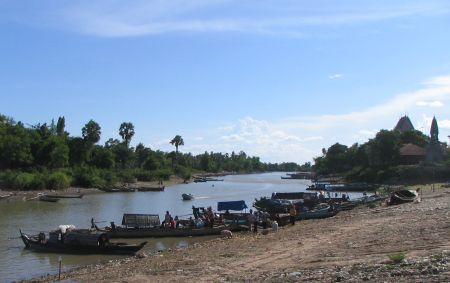 Angkor Borei is a rather rural place but there is a phone shop like everywhere else in Cambodia and there is network coverage throughout our stay.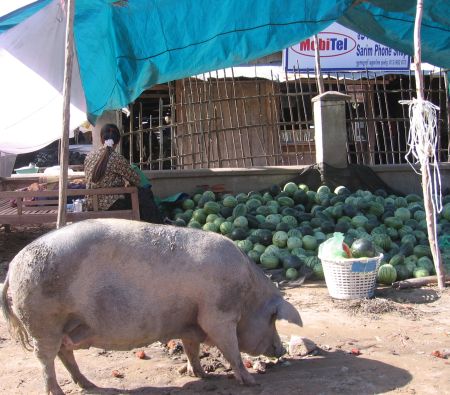 We get on the boat and head back to Takeo.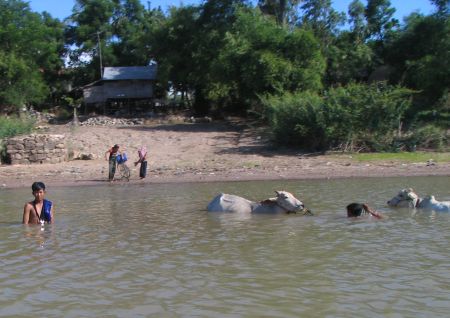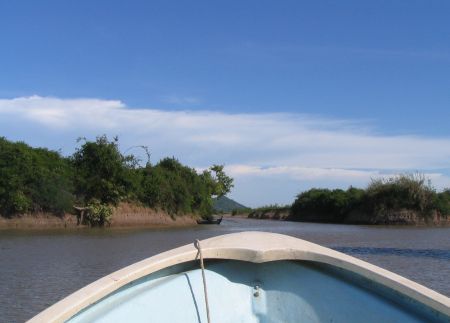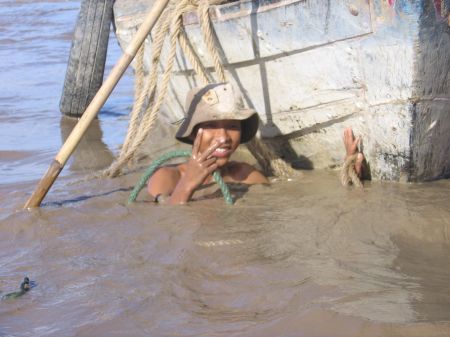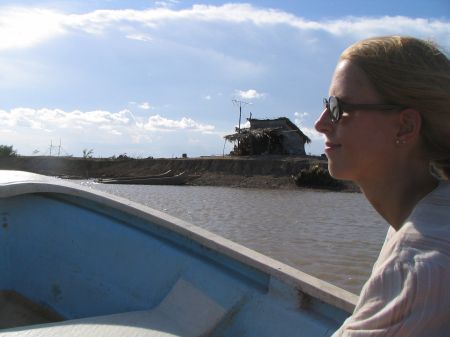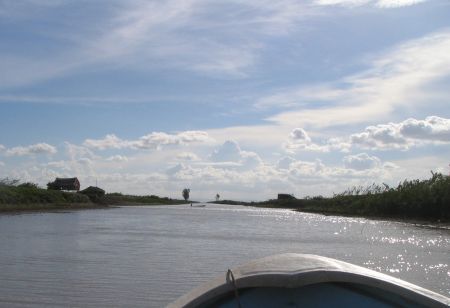 Again we come across many boats that got stuck. It is striking how those people and their daily lives are directly affected by the drought. While in Phnom Penh you read every day in the newspaper that the rain did not start yet, but the pictures one can see here are much more telling.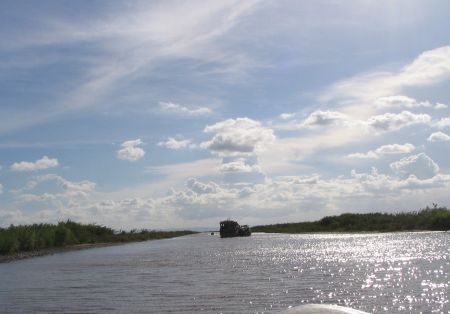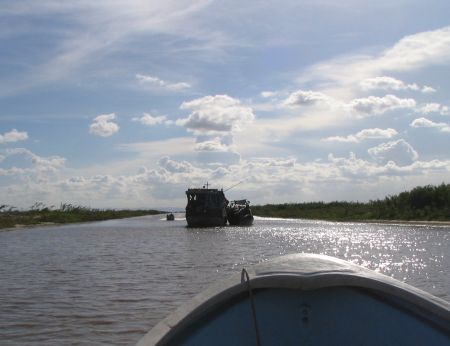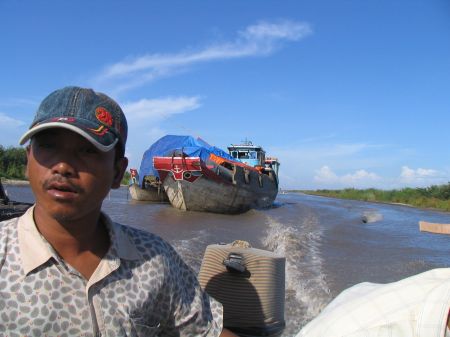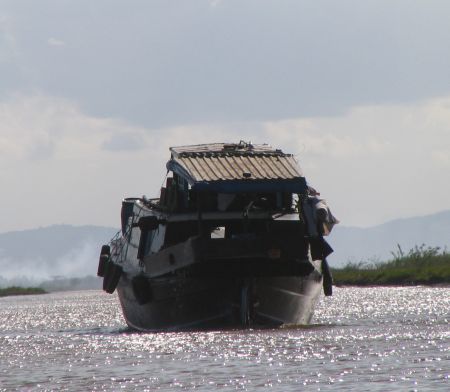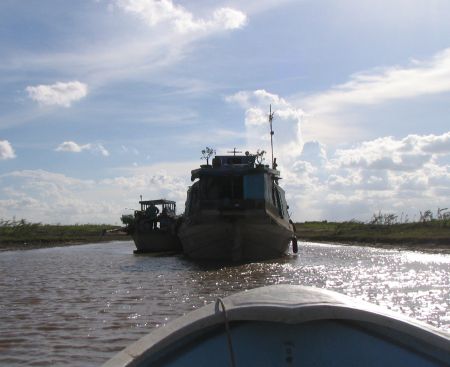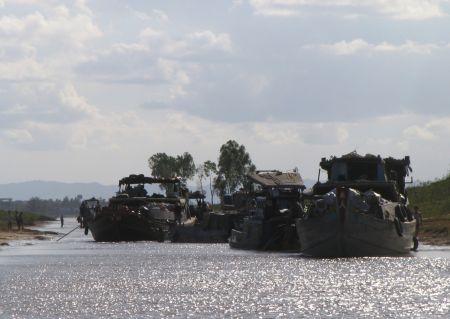 Bricks are moved from one boat to a smaller one by one through hard labour, presumably to free the bigger boat and move the goods to Takeo with the smaller one.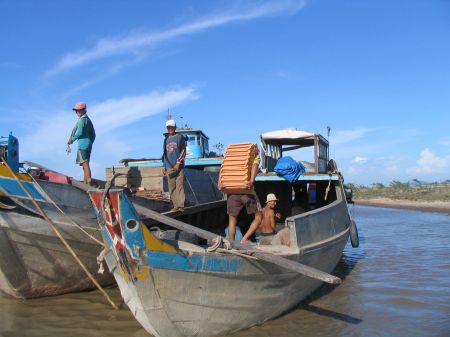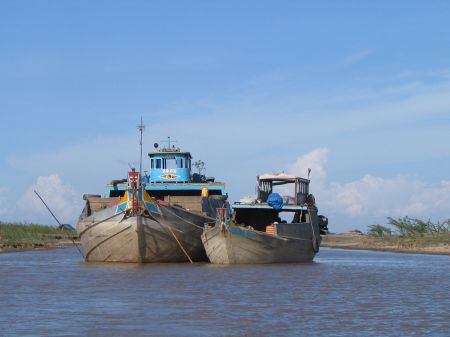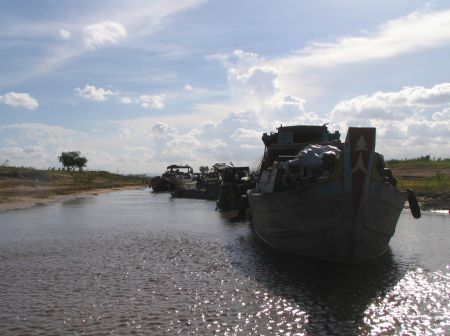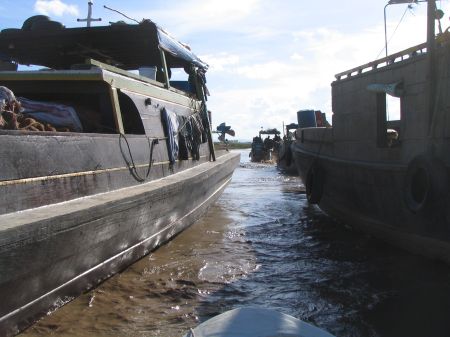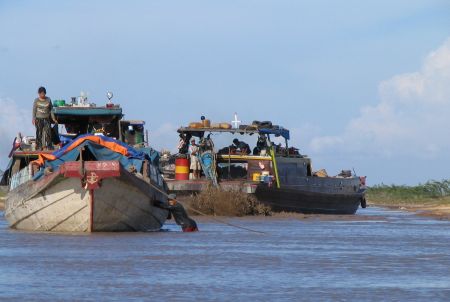 This guy is standing next to a machine that is as tall as he is and the propeller stirs in the mud but the boat does not move.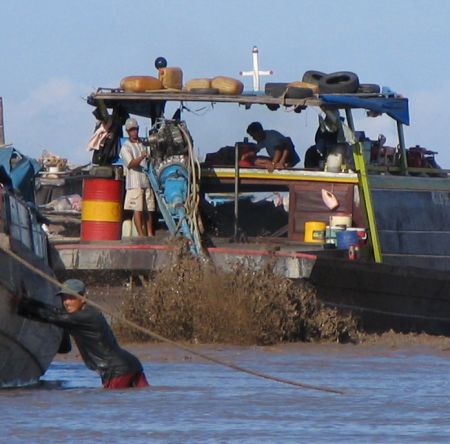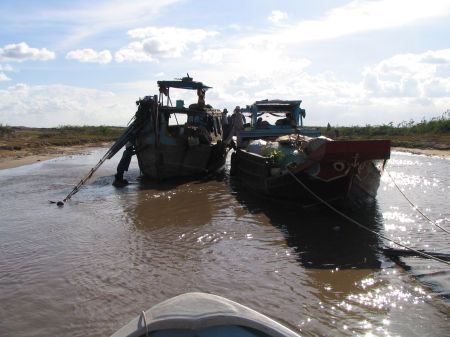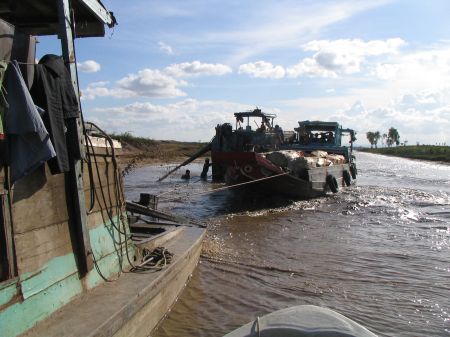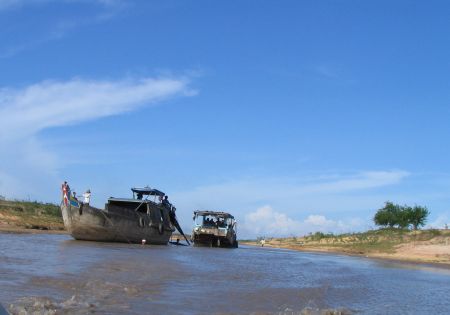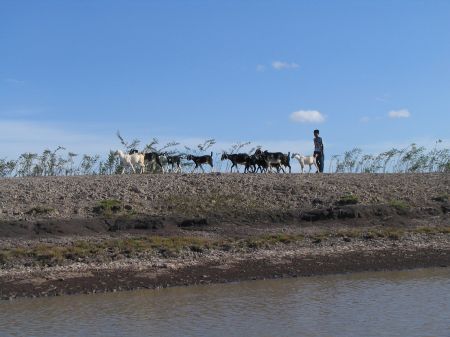 Back in Takeo.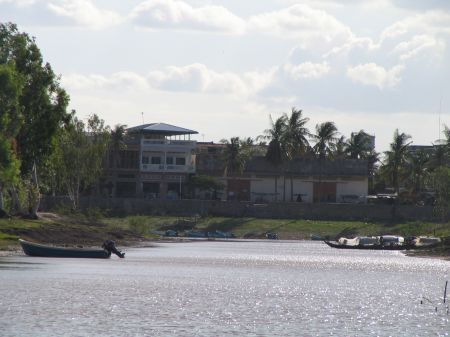 After a short break we get on the bikes and ride back to Phnom Penh.