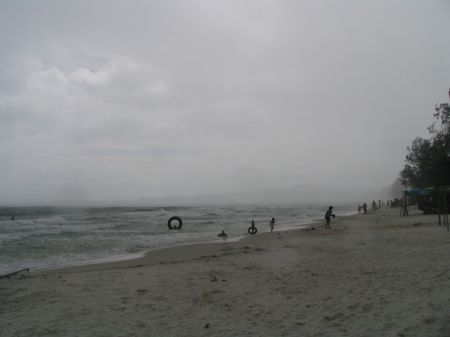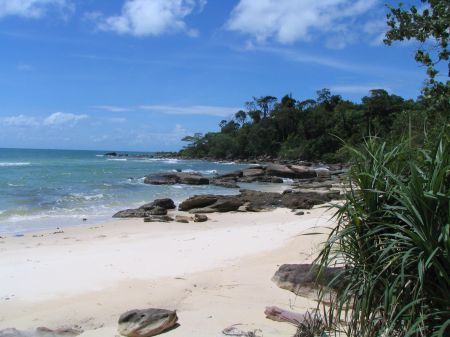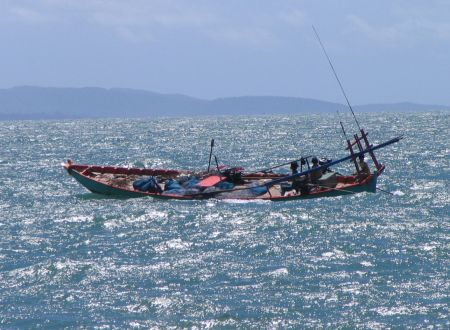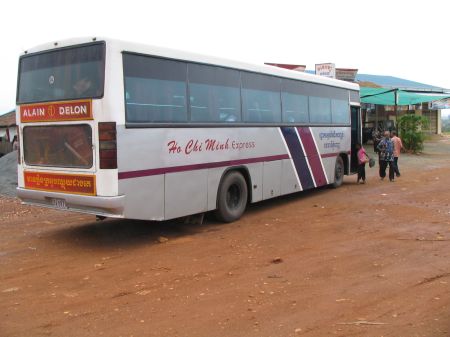 The plan for the next two days is to take it easy and then to go back to Phnom Penh by bus. There is not much to report here and I limit myself mostly to pictures.
After I have breakfast I take a moto taxi and ride down to the beach. The sea is sort of choppy and the sky is covered with clouds.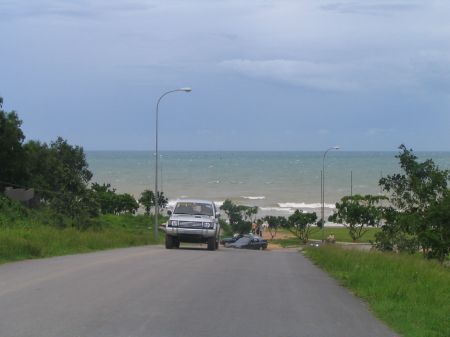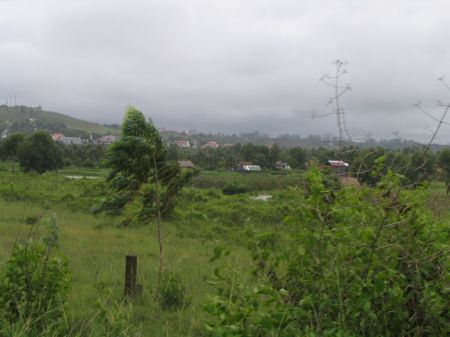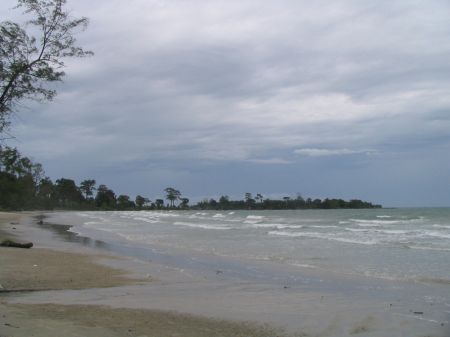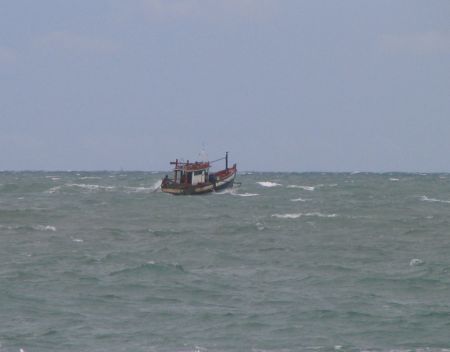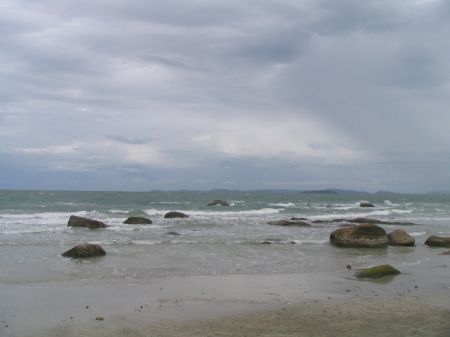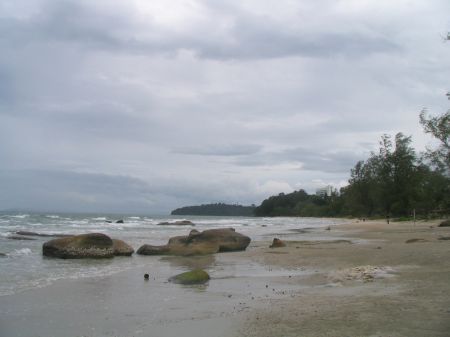 After I have only a short rest I leave again, to the Occheuteal Beach. I get myself a deckchair and spend the next hours mostly with reading and sleeping.
There are a number of Khmer families and a considerable number of people with cameras offering the service of taking pictures of other people enjoying themselves.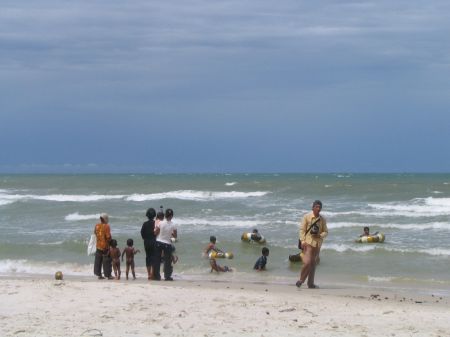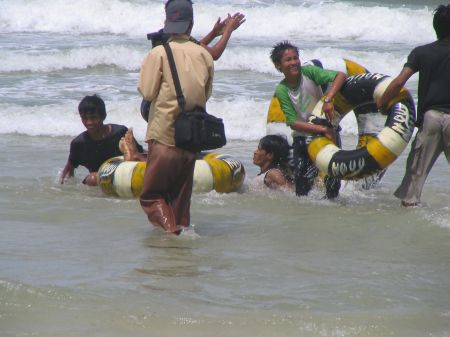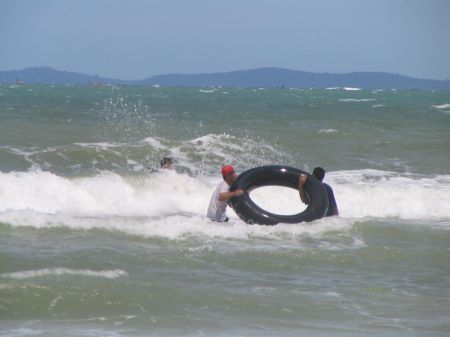 At some point I have lunch. Later dark clouds emerge and it starts raining and storming heavily, although for only a rather limited period of time.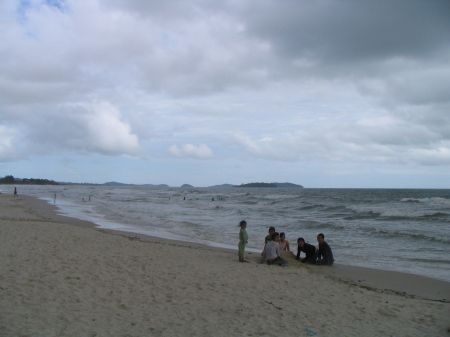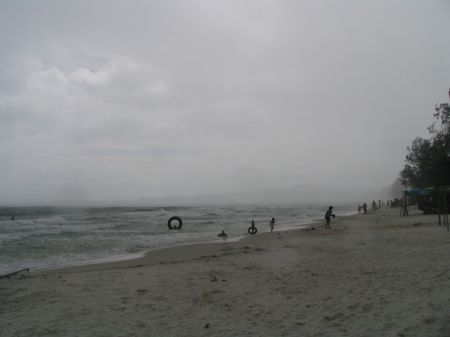 Later in the afternoon I leave to visit Snake Island. Unlike on the occasion of previous visits here I see a good number of monkeys.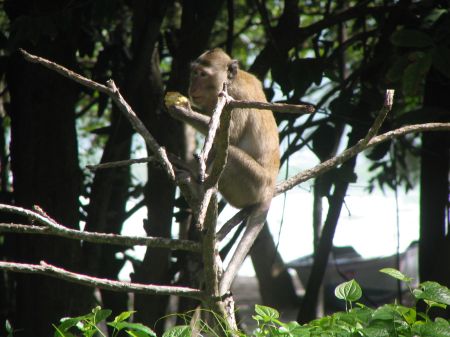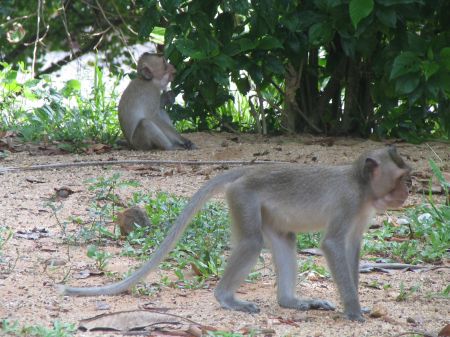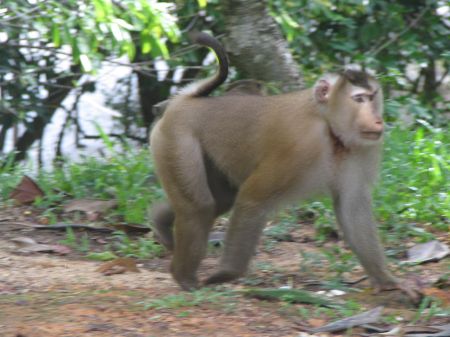 It is getting dark already when I leave, to the Chez Claude guesthouse. This guesthouse is rather mid to upper range at $20 per night. However, it is located on a hilltop opposite Sokha Beach and has a beautiful view in all directions. It is interesting in terms of architecture, too, as it assembles a number of bungalows from a wide range of styles. There are many stairs to climb.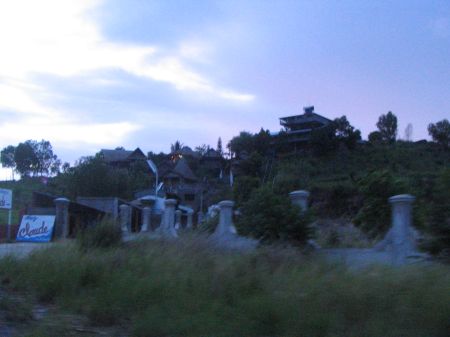 In the evening I talk to one of the guesthouse staff about the possibility to do a boat trip to a number of islands. He tells me that at this time of the year there are no such trips because there are strong winds and frequent storms.
The next day, weather is nice and sunny in the morning and I visit one of the places at Victory Beach where I have seen boats before. Indeed I find a boat and a captain who is willing to do a multiple hour trip to three islands for $25. The engine turns off a number of times after we start.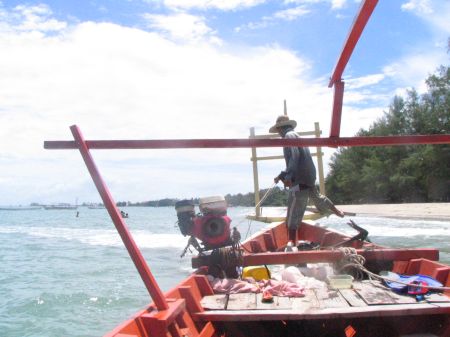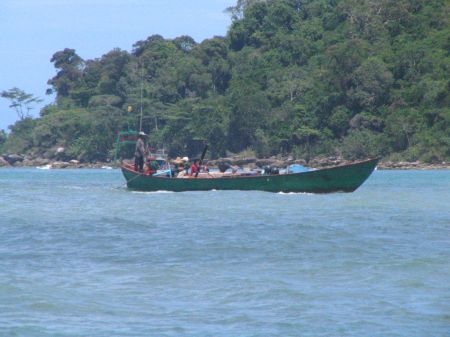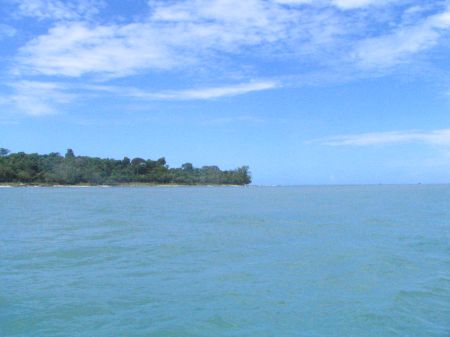 The first of the three islands is very close to the mainland and I assume it is Kaoh Pos (Koh Puh). We pass along its coastline and there is a nice beach in a park-like green setting in a bay, and nobody seems to be there. There are considerable waves and the rather small boat is moving up and down.
Sihanoukville.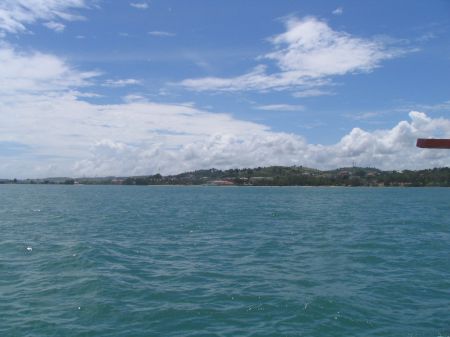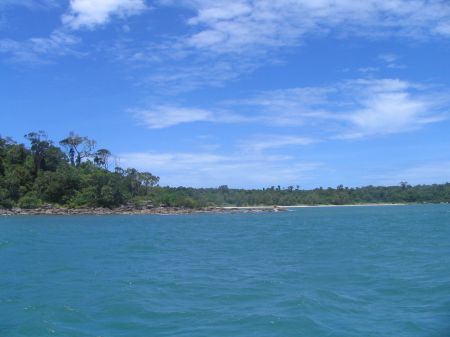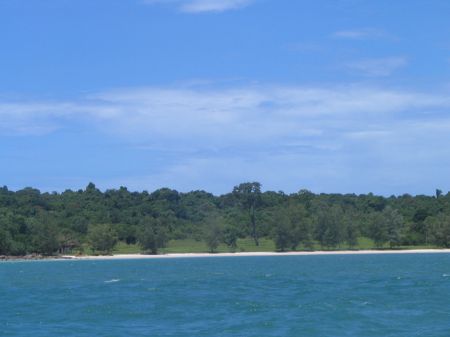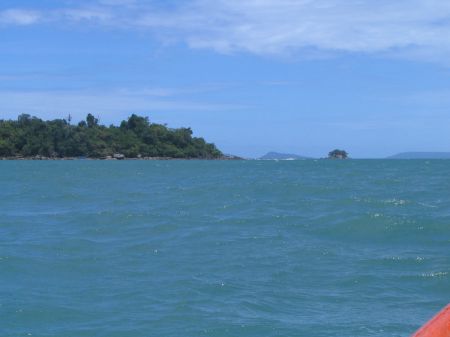 There are now very considerable waves. I can see that the next island we are going to visit is a couple of kilometres away, and that there do not seem to be many boats around.
We pass a small island where a concrete structure seems to be under construction.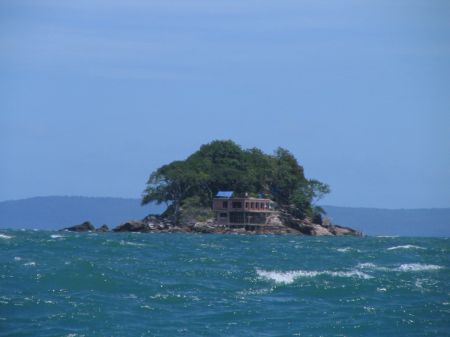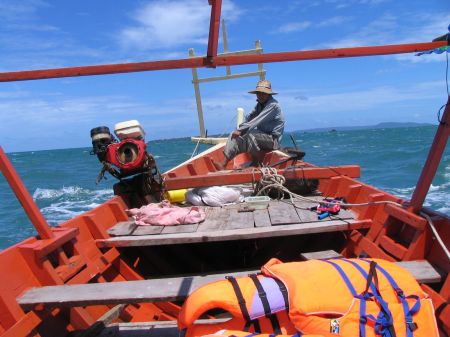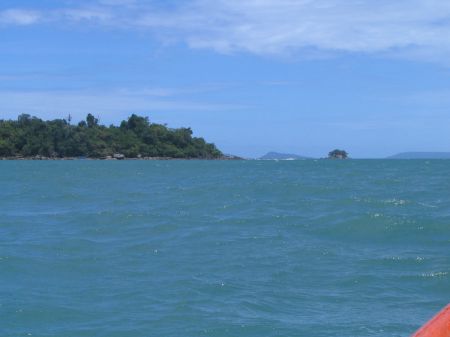 I find the sea is really rough and ask the captain whether he thinks it is a good idea to visit the other islands. He says it is 'difficult'. After some time we decide to turn around and go back to visit Kaoh Pos.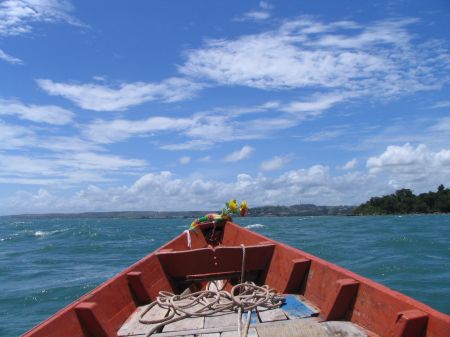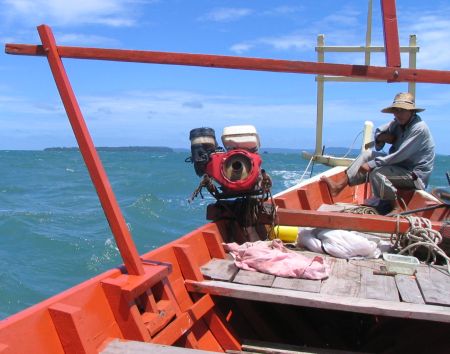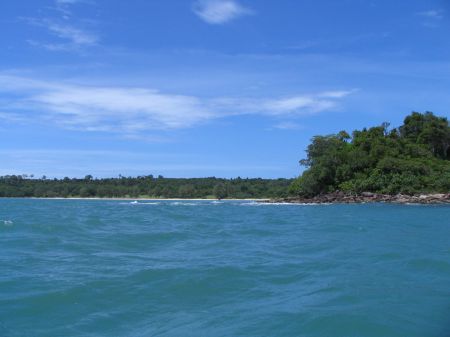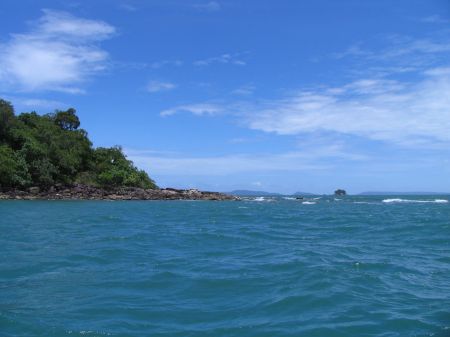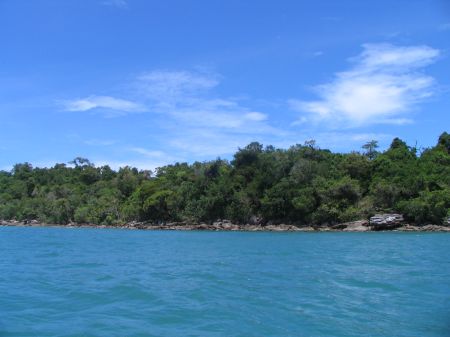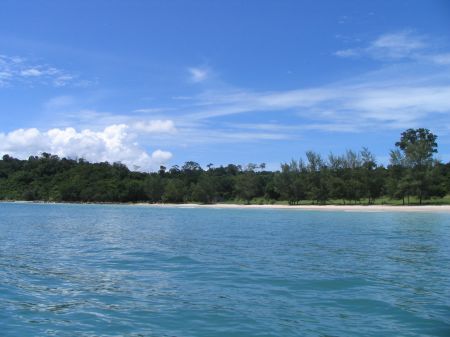 The captain offers a diving mask and fins and I go for an extended swim. Later I walk along the coastline for some time.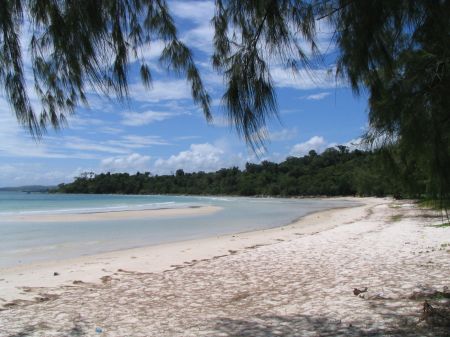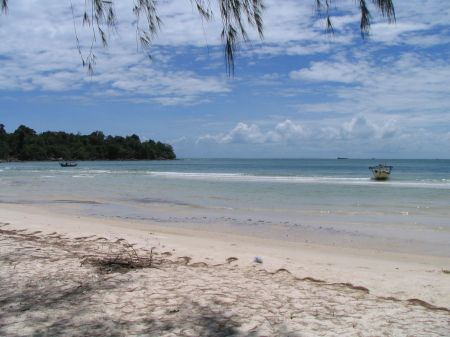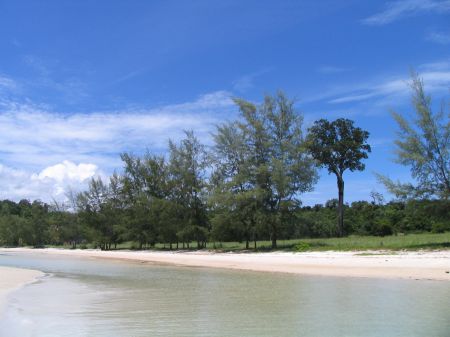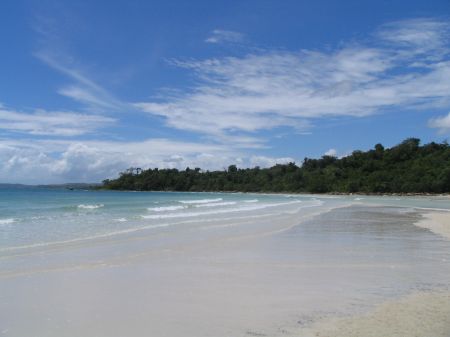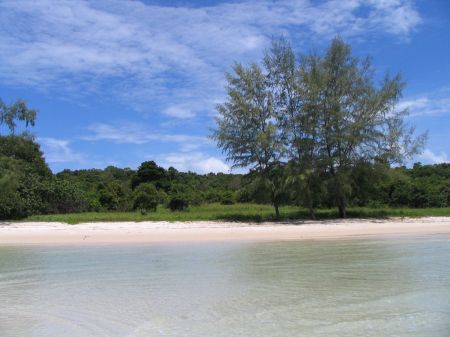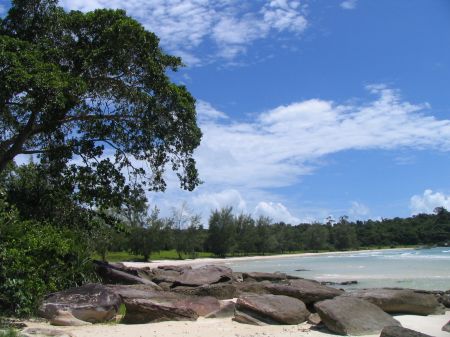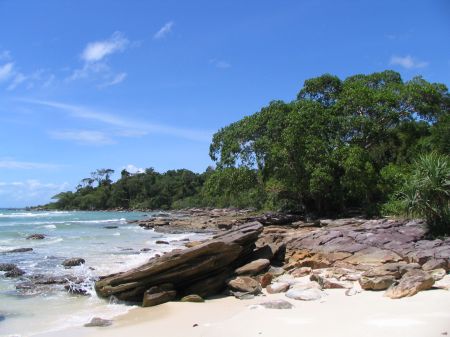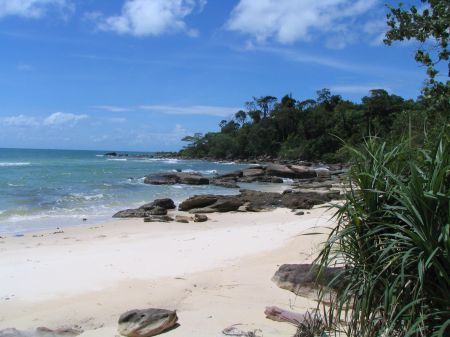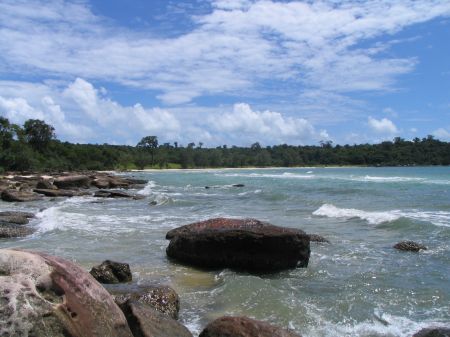 Our boat.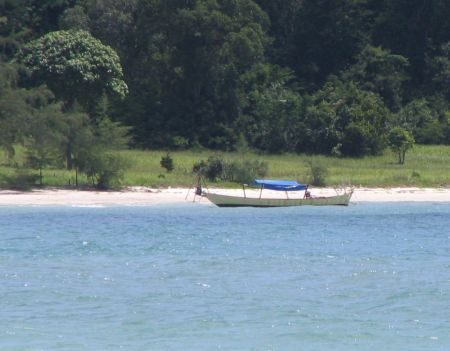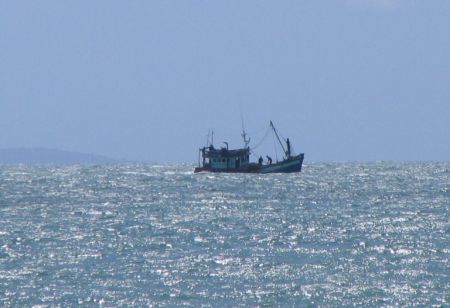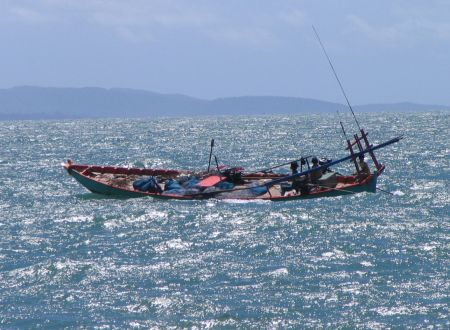 Then I walk back. On the way I come across a local police post. I imagine that it is nice being stationed here work wise, as it is an appealing place and there is not much to do.
Police post.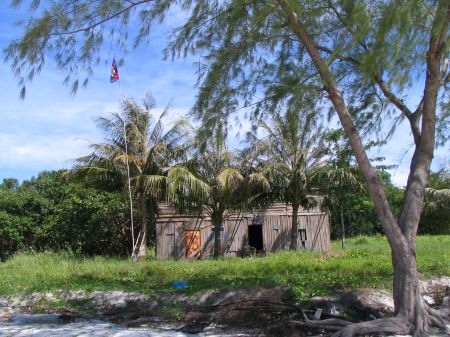 The engine seems unwilling to operate again when we leave the island.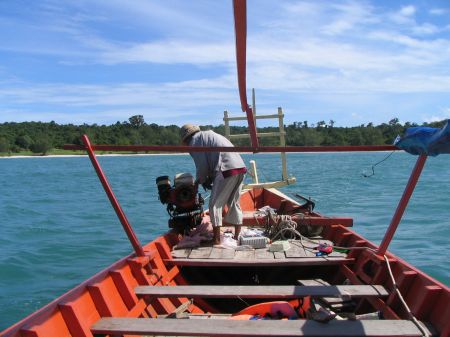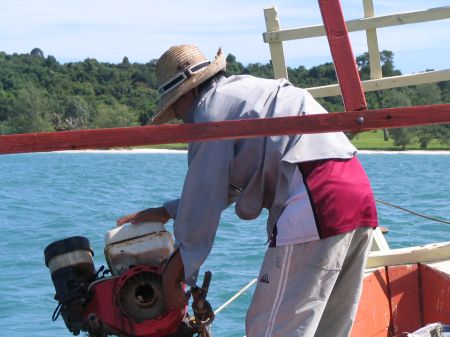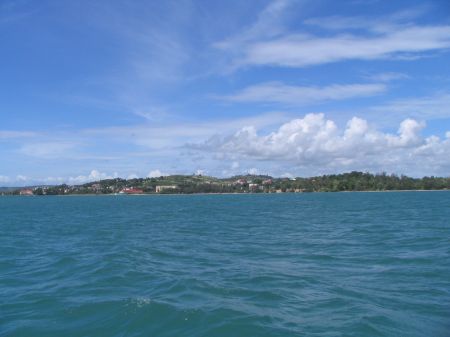 The captain agrees on $15 for the trip as the involved distance was pretty small. I have some food at the beach and hang out for a while. Later I take a moto taxi and go to the Snakehouse. This is a combination of a guesthouse, restaurant and zoon. Visitors can see various animals, most of them snakes.
Those are cobras.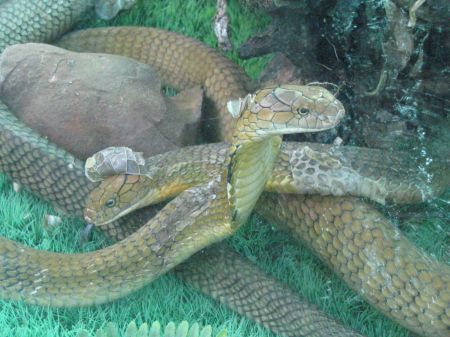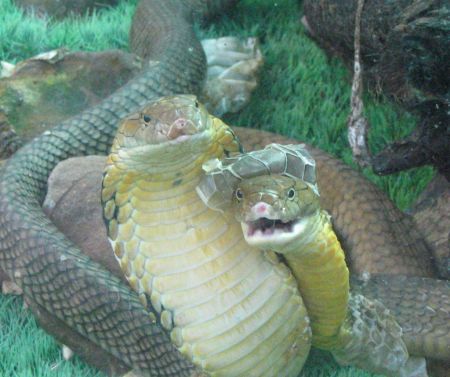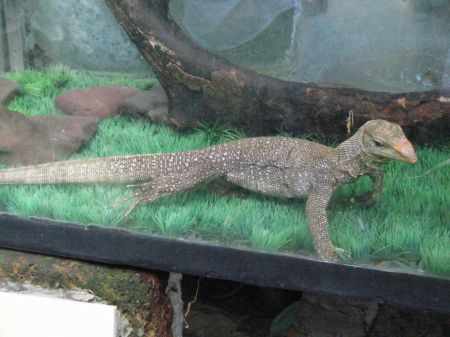 There is a restaurant which is nicely decorated, with some big jars covered with glass in which there are snakes. I find that the food is very good and prices are reasonable.
This crocodiles is right next to one of the tables.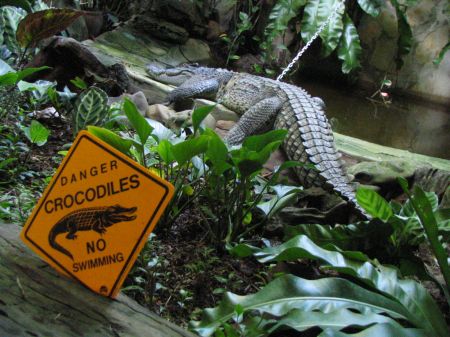 I stop once in a while on my way home to take a picture.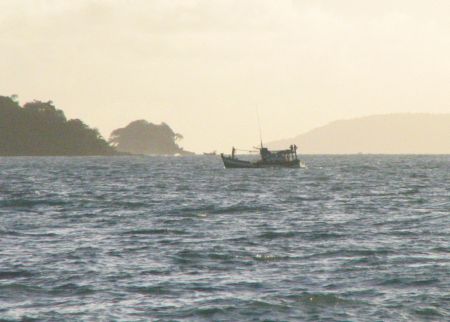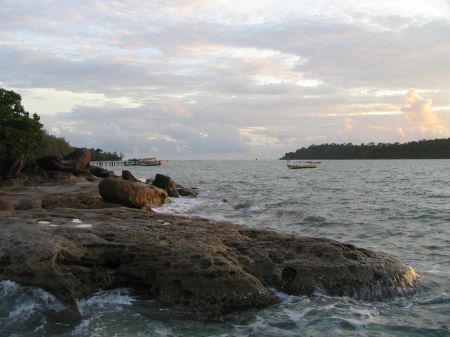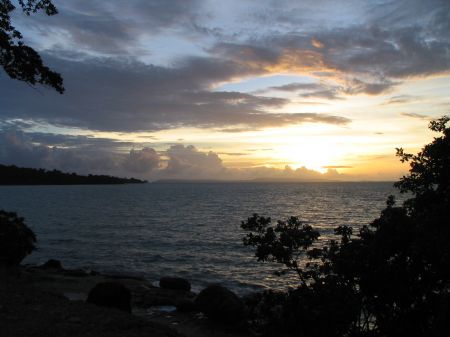 The other day I bought a ticket for the 'big bus' to Phnom Penh for just $3 in the guesthouse. This is good value, given that you have one seat just for you in an air conditioned bus that is considerably faster, and more comfortable than the minibus. It may even be safer and I hear that there is insurance covering damage to passengers injured due to an accident.
I pack my stuff, have breakfast early and go by moto taxi to the place where the bus leaves. I find a comfortable seat in the back of the bus which leaves not too much after schedule. I use the opportunity to sleep for a bit.
The bus stops exactly where the minibus stopped on my way to Sihanoukville. This is at about halve the distance between Phnom Penh and Sihanoukville.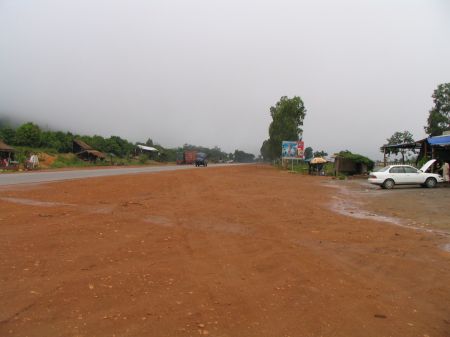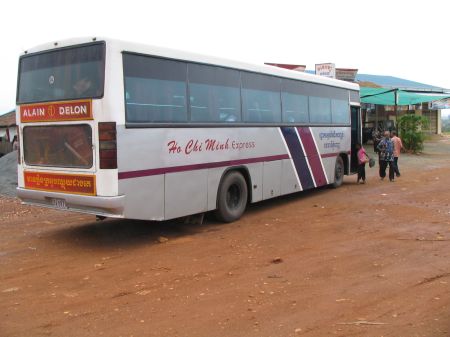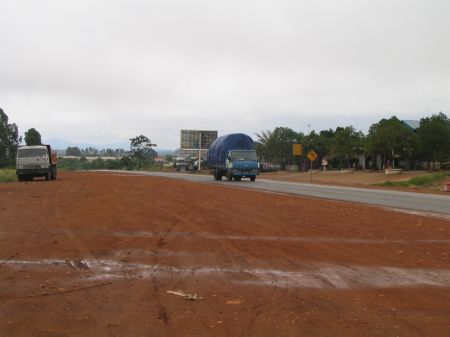 This is inside the bus.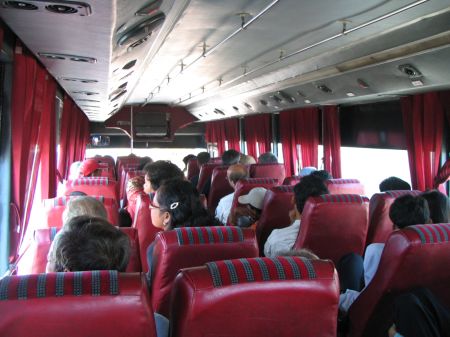 The landscape that passes by outside the window looks very dry for most of the time.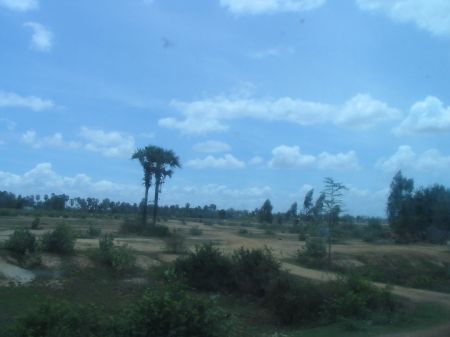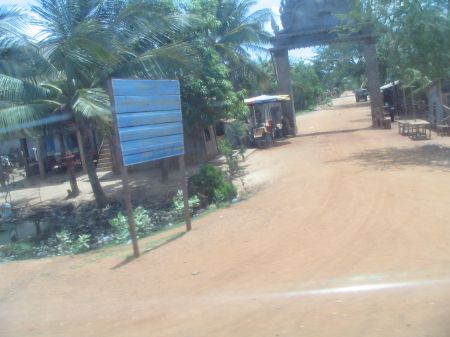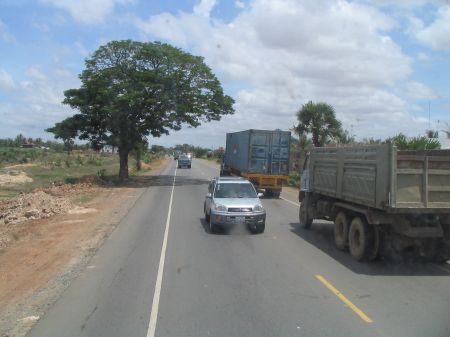 Gate of a factory along the road. During lunch time we come across a number of factories where break just started and masses of mostly female workers walk out of the gate. Due to the speed I fail to take a good picture.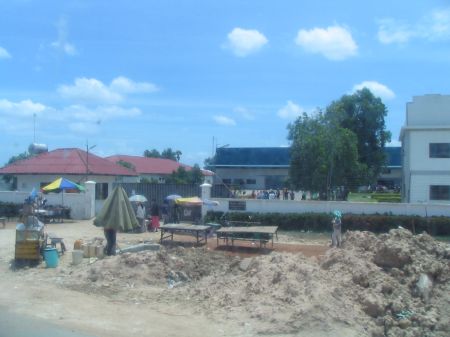 This is a checkpoint where fees are being collected for using the road. The existence of these checkpoints is subject to controversy among politicians of various parties.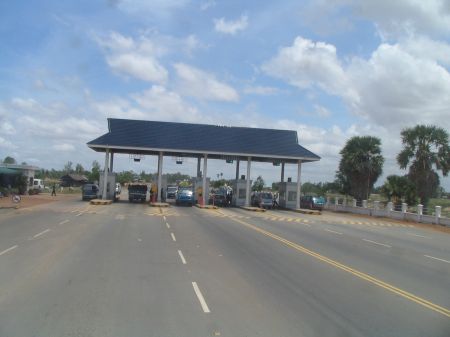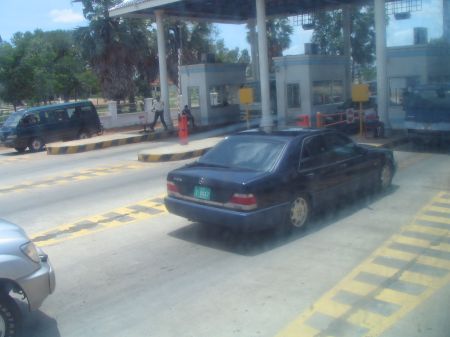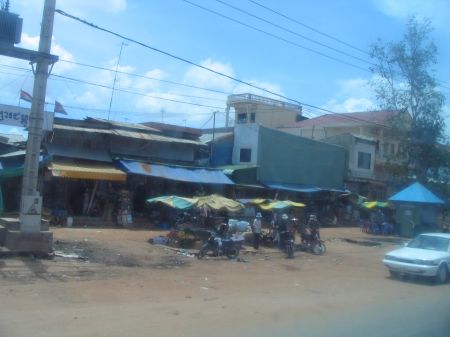 This is where national roads 3 and 4 depart some kilometres outside of Phnom Penh.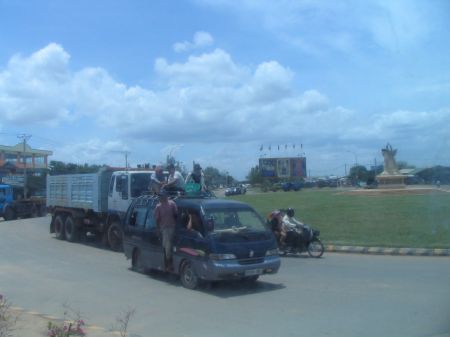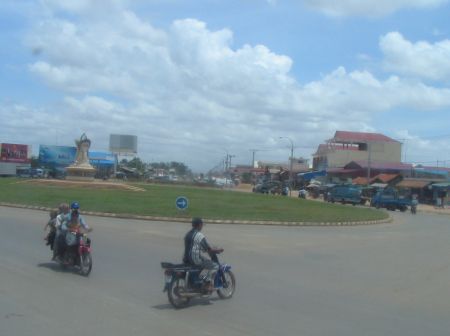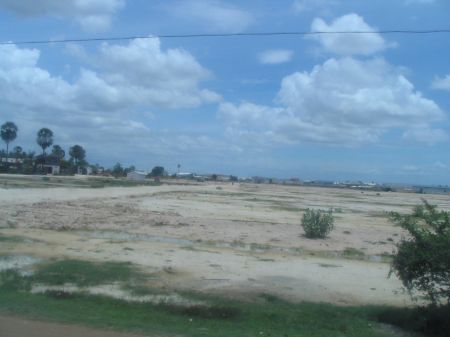 Pictures of King Sihamoni at the roadside.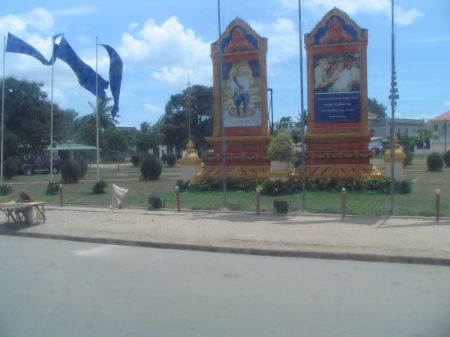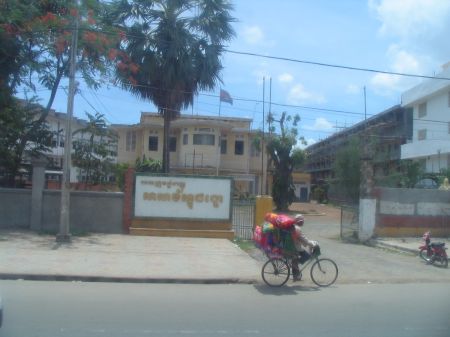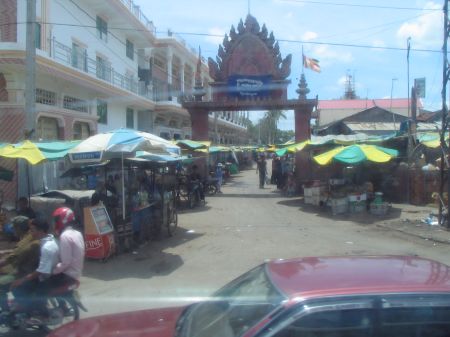 Car dealer just outside Phnom Penh. There are many of them around here.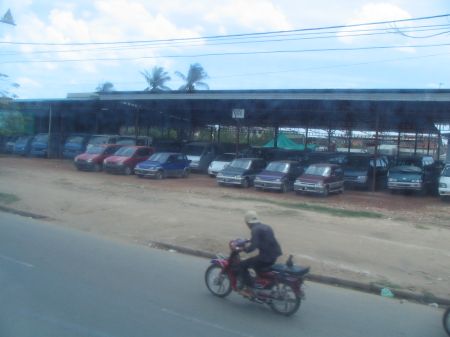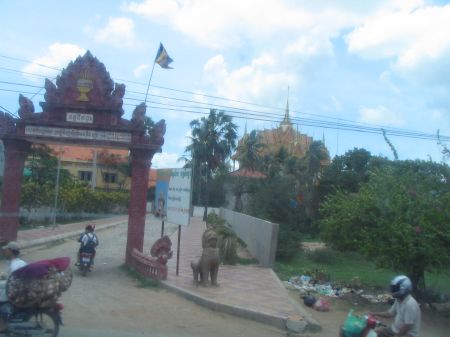 Phnom Penh Waterpark.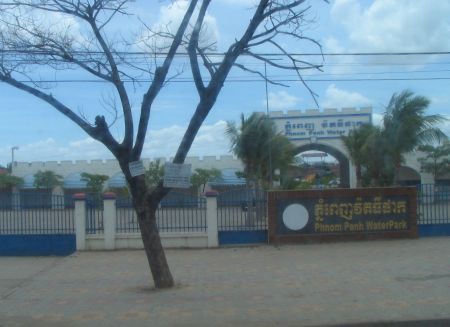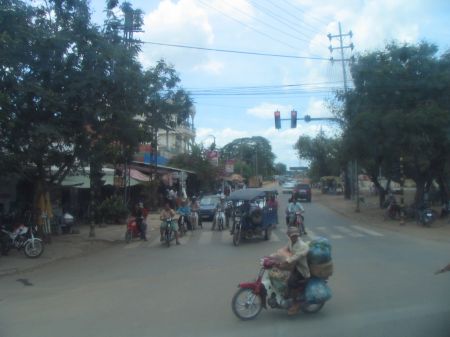 Back in Phnom Penh: Around Central Market.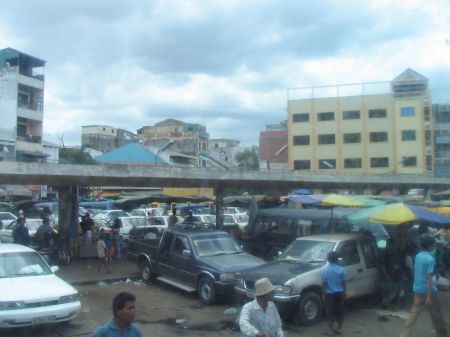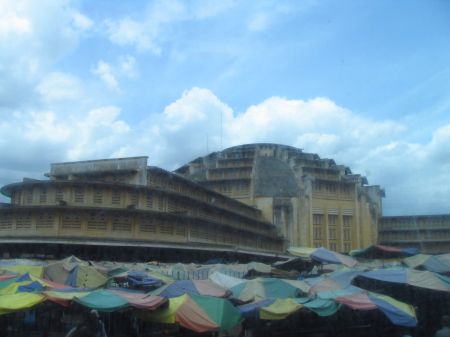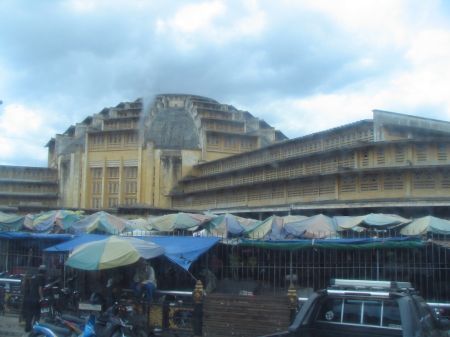 I ride home with a moto taxi.