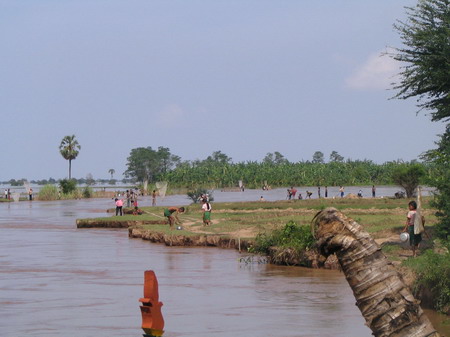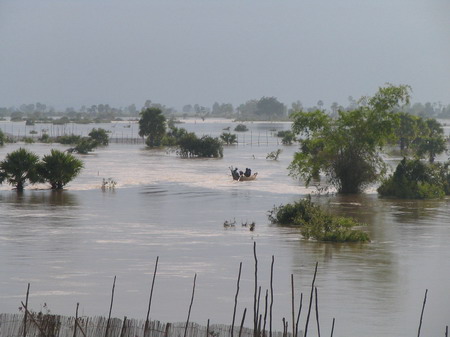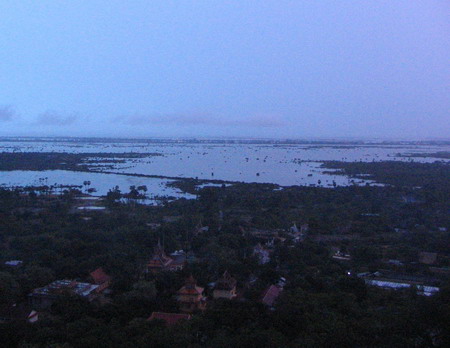 This weekend I find time for only a day trip. I want to use this opportunity to explore some of those parts of the more immediate souroundings of Phnom Penh that I am less familiar with than with, say, the National Roads.
The plan is to cross the Mekong right at Phnom Penh and follow its eastern bank north towards Kampong Cham, on what is marked as "other provincial road, unpaved" in the Gekko road map. Depending on road conditions or, rather: the existence of roads, the plan is to go all the way to Kampong Cham. If that is not possible I want to go as far as it gets, cross the Mekong with a ferry if there is one and decide on the flight how to proceed.
Many tourists crossing the Japanese bridge in Phnom Penh believe that they are actually crossing the Mekong River. What they are crossing is the Tonle Sap. There is as of now only one bridge in Cambodia that spans the Mekong, which is the Japanese bridge in Kampong Cham. Interestingly, a new Mekong bridge at Neak Luong (Neak Loeang) is planned and the Japan International Cooperation Agency has completed a feasibility study on the project. Japan is now expected to start soon building this bridge. There was an interesting article in the IHT recently on this and other infracture projects in Cambodia. I copy the text below this blog article.
If you want to cross the Mekong at Phnom Penh you need a boat. A ferry leaves about every half an hour during daytime, from a place between the port for persons and the port for goods, only a few hundred meters south of the Japanese bridge.
This is the place where the ferry leaves. Children are playing in the water and taxi drivers clean their bikes.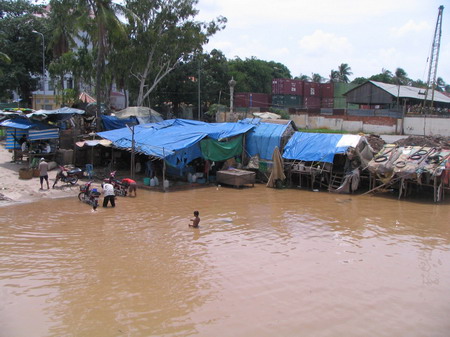 The building to the left with the Khmer roof is the Cambodiana hotel, one of the biggest and poshes venues in Phnom Penh. The building in front of it is the Himawara. To its right is the raw construction of a massive building, by far the tallest along Phnom Penh's river side, a dubious investment project. A building to its right houses the Naga Casino that previously had it's home on a ship in front of the Cambodiana.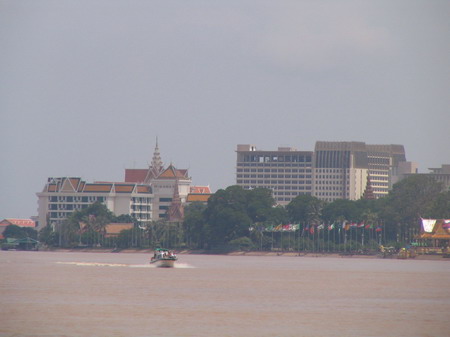 This is opposite the Royal Palace on the Bank of the Tonle Sap. Here as well, large scale construction works under way. However, I did not notice much progress towards the completion of these projects when I returned to Cambodia after more than one year.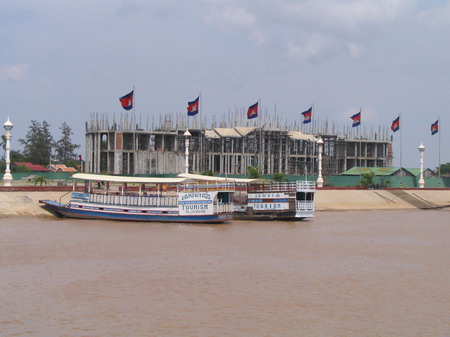 In the background various buildings that form part of the Royal Palace compound.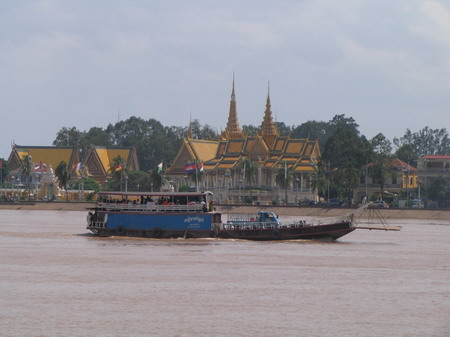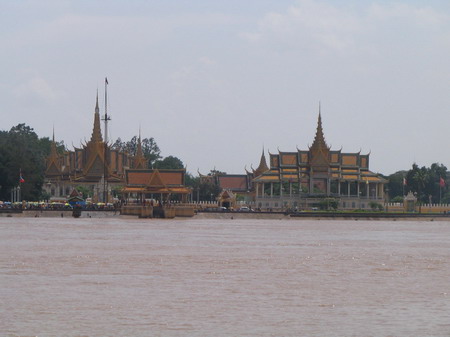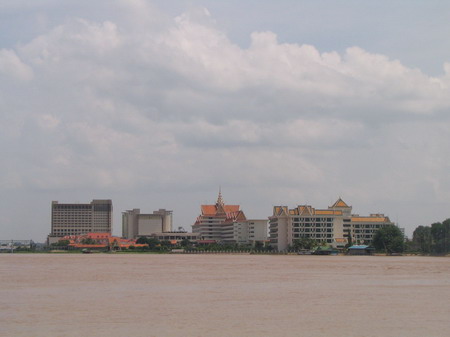 These are some settlements on the banks of the Mekong, pretty much at the place where Tonle Sap and Mekong Rivers meet.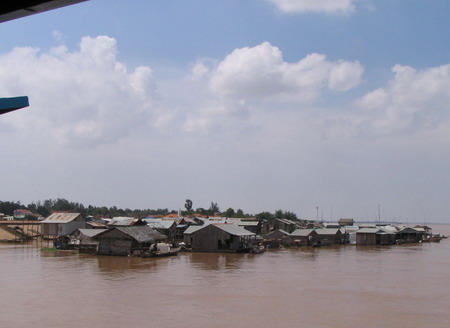 This time of the year has very high water levels, and flooding is a problem in a number of provinces right now but upstream from here. Also around Phnom Penh, it is obvious that the water is very high and much of the land is flooded.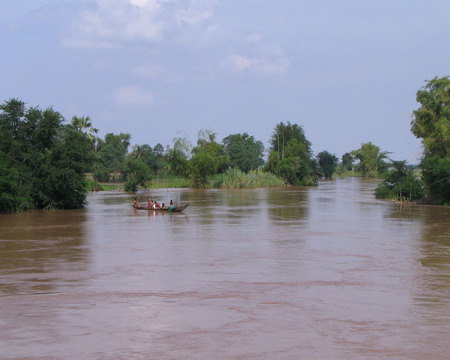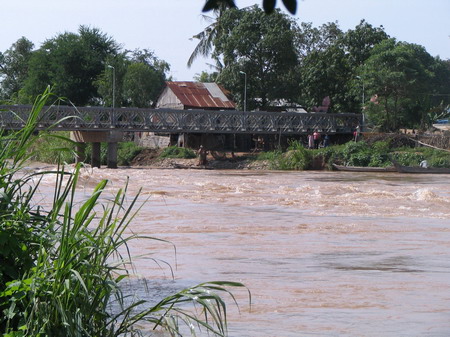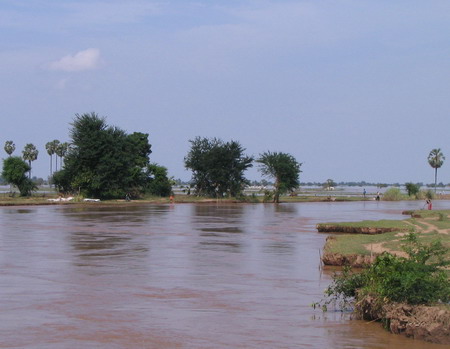 Those fellows have just capsized their boat. They are obviously good swimmers but in the strong current it requires a lot of effort to regain the boat.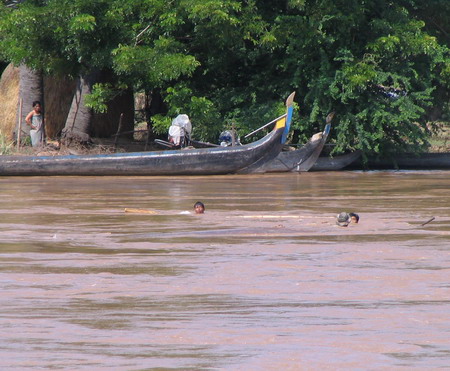 The flooding threatens the farmers but benefits the fishermen. Many people are engaged in fishing in this river and along its banks.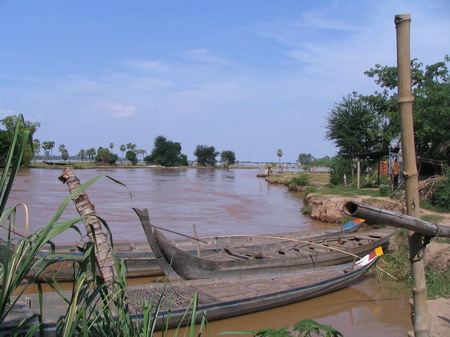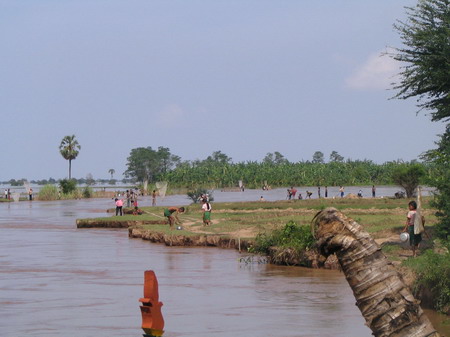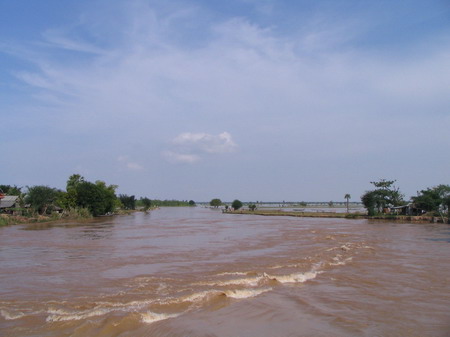 Most of the time I am riding on a decent dirt road that follows the course of the river. There are charming villages all along the road.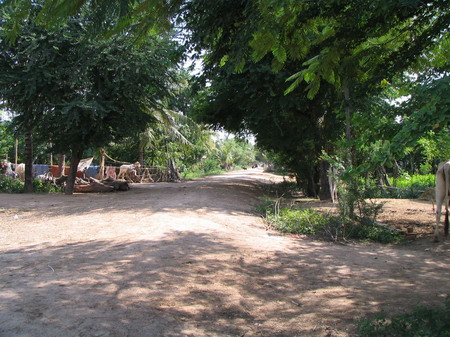 I keep riding but after about 2 hours reach a point where I face the river, with no road to continue on. Some people who live here tell me that there is no way I can follow the river here but that there is a ferry about 5 km south from here. This is from where I am coming.
Two of the major villages I passed through according to the map are Preah Ta Meak and Preah Prasab, and Kaoh Chouraam is the village next to here. This is pretty much opposite from Preaek Dambang on the other side of the Mekong, which is located at National Road 6.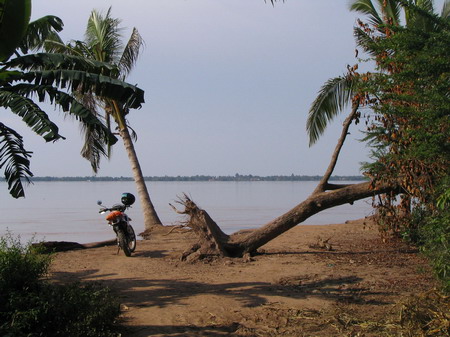 I don't have to wait long for the ferry.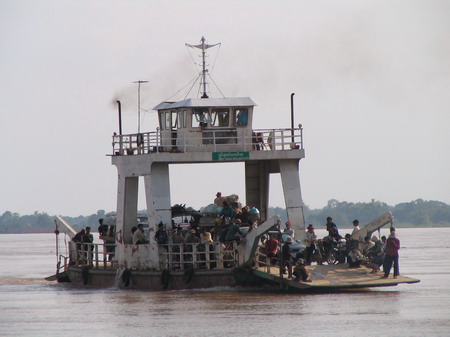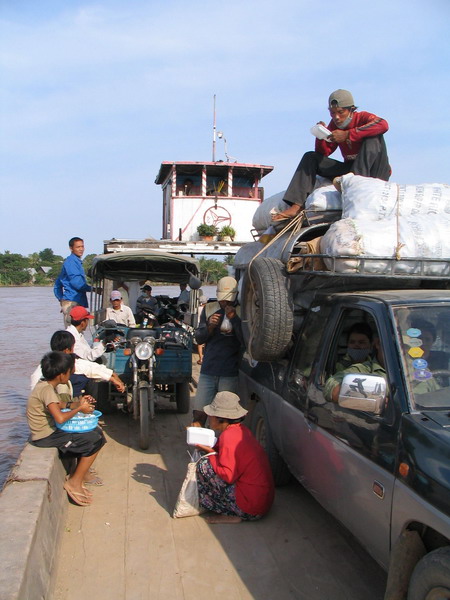 It is still early afternoon by the time I reach the other bank. Rather than returning to Phnom Penh, I decide to head north, leave National Road 6 on road 61, cross the Tonle Sap with another ferry and briefly visit Udong.
What looks like a big lake are mostly fields flooded by the Mekong River.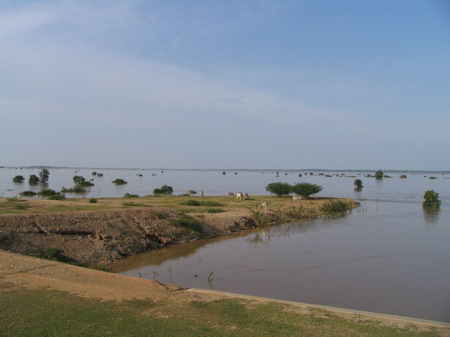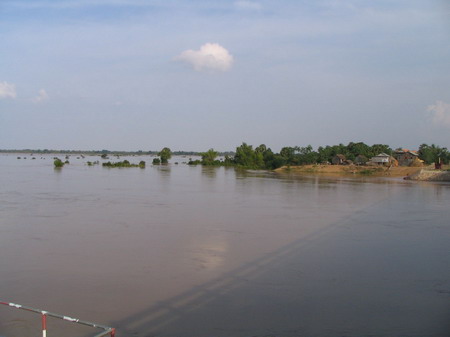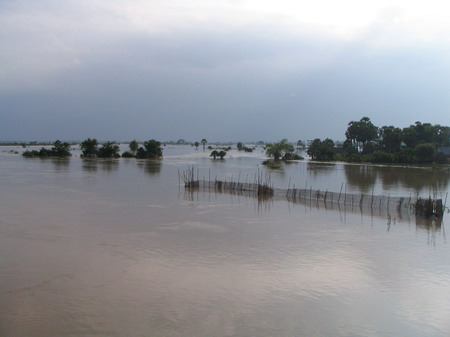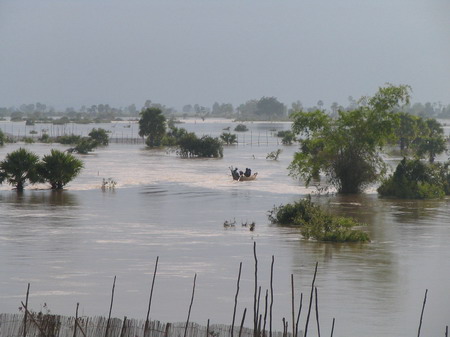 It looks as though some rain will be coming down soon and given my direction there does not seem to be a way to avoid it.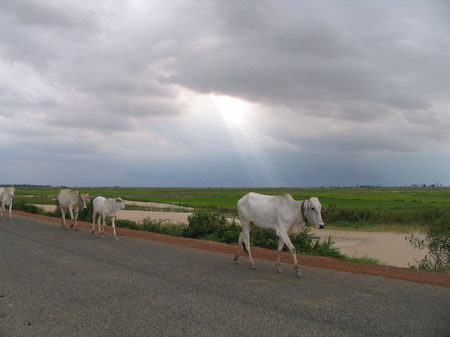 In fact it does start raining while I am riding on the road towards the ferry and hurry up to first make it there and then put on rain gear, hoping it will not be too late. I get lucky, cloths still only partly wet and I manage to get on the ferry right before it departs.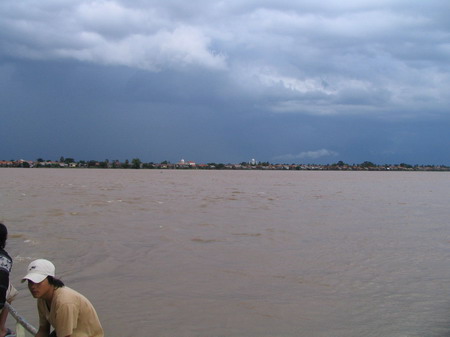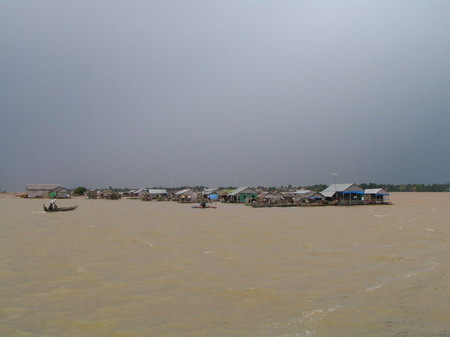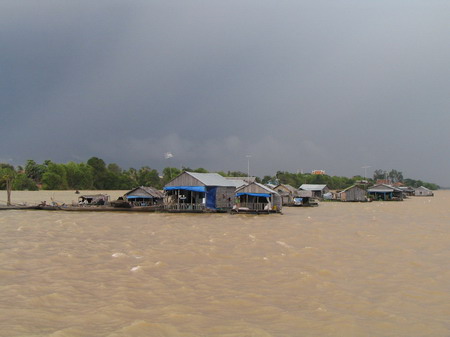 It does start raining stronger while I am riding to Udong Mountain, just a few kilometers northwest from here. It is still raining by the time I reach the bottom of the hill. Therefore, I decide to have some food at one of the countless stalls next to the mountain.
It is still raining by the time I finish my meal and I decide to climb up the stairs anyway. It will be dark soon so there is not point in waiting. It stops raining by the time I reach the top of the mountain but not much daylight is left.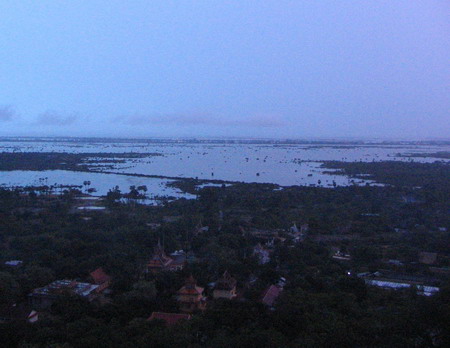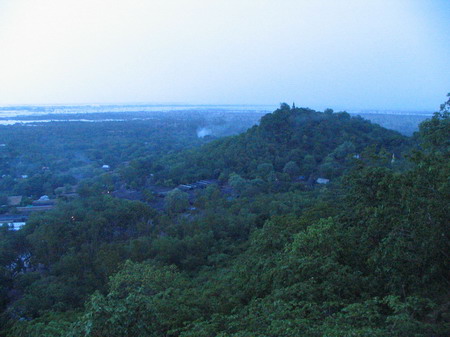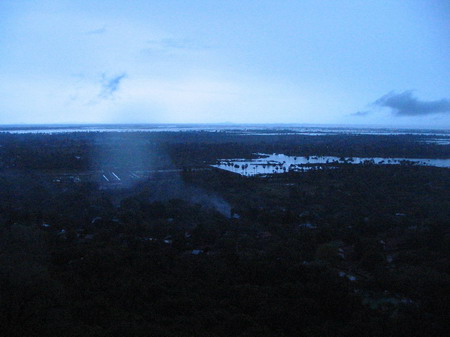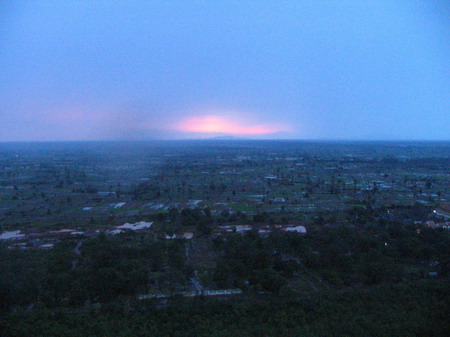 …………………………………………………….
Free Flow: Cambodia's quest to just get the basics
By Vaudine England
International Herald Tribune
THURSDAY, FEBRUARY 16, 2006
PHNOM PENH As much of the developed world gripes about the occasional pothole or late train, a look at Cambodia offers a sobering perspective. Cambodia's roads and railways have seen more than the usual wear and tear: U.S. bombing during the Vietnam War, enduring civil conflict and poverty as well as massive refugee flows across a ravaged landscape of land mines.
A national program of rebuilding and new construction of road and rail is now under way. The hitch, says Chanthol Sun, minister for public works and transport in Cambodia, is that he has no budget.
"The main issue for us now is to have enough funding to build the roads and bridges in Cambodia," Sun said in an interview. "We do have some through grants and soft loans, but we need a lot more in order to rebuild the efficient transport network."
Fluently rattling off the harsh facts of his country's parlous condition, Sun exudes confidence that it can all come about – one day.
"Infrastructure is like the blood vessel: it connects from your heart through all your arteries to other parts of the country," he said.
More than 30 years after the fall of the murderous Khmer Rouge regime, and 13 years since a UN intervention pronounced a successful election in Cambodia, the country lags behind all its counterparts in the Association of Southeast Asian Nations except for Myanmar and Laos. While richer neighbors are building high-technology urban railways, Sun is hoping for a few bridges and wider roads.
In a sign of what might be called progress, road accidents have now displaced land mines as the No. 2 cause of death, after AIDS.
A key bridge is planned at Neak Luong, on Route 1, about a third of the way from Phnom Penh to Ho Chi Minh City. Only a ferry crosses the Mekong here, and only in daytime, causing backlogs of traffic and severely limiting trade with thriving southern Vietnam.
The Japan International Cooperation Agency has completed a feasibility study, and everyone expects Japan to build the bridge – but an official decision whether to go ahead or not can still take a few months.
Also, Sun said, the roads need to be upgraded, as some were built in the 1960s, and some are only six or seven meters, or 20 to 23 feet, wide. "Now we enlarge to 11 meters wide, and we upgrade to gravel or asphalt," he said.
Heading north toward Laos and then to China is Route 7 through Stoeng Treng Province, across the Sekong River where it joins the Mekong.
Unsurprisingly, the Chinese have revamped that road and are building the crucial bridge, "probably one of the longest bridges in Cambodia also, around 1,057 meters," Sun said.
He is a firm supporter of Chinese road-building for its quality and speed and says Route 7 could be finished a year ahead of schedule. When it is done, he wants the Chinese to build eastward to link with roads to Vietnam.
Meanwhile, a soft loan with generous financing conditions from South Korea is helping to fix Route 3, from Kampot to Sihanoukville in the south, while another soft loan from Thailand is fixing up Route 48, through Koh Kong Province in the south and on to Route 4 to Sihanoukville.
The railway's missing link, a 50-kilometer, or 30-mile, stretch from Sisophon to Poipet near the Thai border town of Aranyaprathet, is a key task for Sun this year. Track for this part will be donated by Malaysia.
"That track is likely to be shipped to us in the second quarter," he said, "so we have the track, but we don't have the money to install, to buy the sleeper, to buy signal links and so on to get this connected. But we are determined, determined, to get the funding to start the reconstruction of that missing link this year."
E-mail: freeflow@iht.com