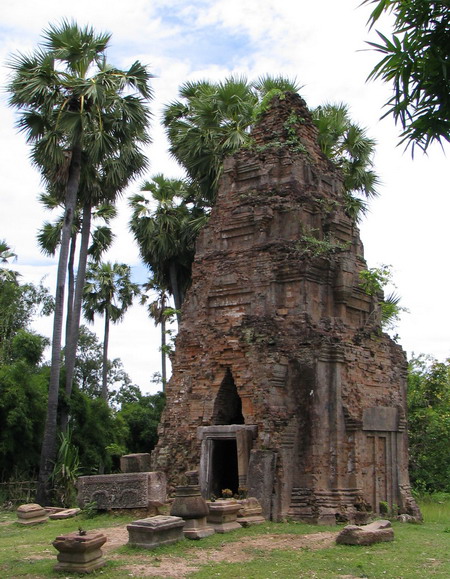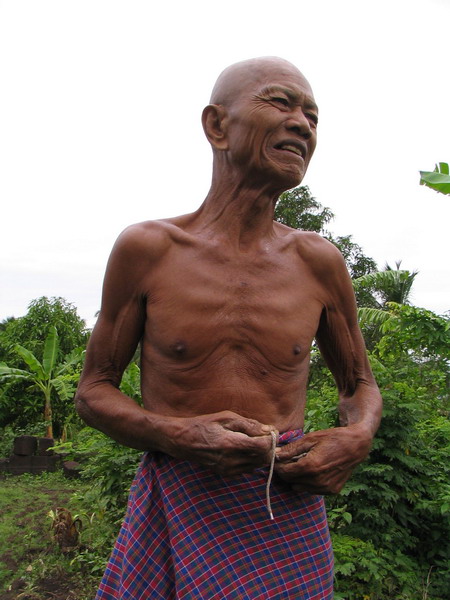 Many of my colleagues are in Kampong Thom (Kompong Thom) this weekend and I decide to go there and meet up. I have been to Kampong Thom many times but until recently was not aware that there are countless temples to visit along the way, in particular between Kampong Thom town and Skuon (Skon). The plan for this weekend is to meet my colleagues in Kampong Thom and also Vothear and Sokhom, two friends and guides of mine whom I have been exploring the surrounding provinces with on a number of occasions. I am sure these people are the best guides you can find in Kampong Thom with detailed knowledge of the surrounding provinces.
Kampong Thom does not see many visitors, despite the fact that the site of the ancient capital of the Pre-Angkor kingdom of Chenla is right next to the provincial capital. The ruins of Sambor Prei Kok (Sambor Prei Kuk) cover a vast area of mostly forested land in close proximity to Kampong Thom town which is an excellent starting point for journeys into neighboring provinces also. The complex contains countless structures that are nearly 1400 years old and easily accessible even by coach. If this place was in Vietnam or Thailand it would be a sensation attracting thousands of tourists daily. Tourists who make it to Cambodia pass through Kampong Thom on their way from Siem Reap to Phnom Penh or just bypass it by aircraft. While exploring the site you will meet few tourists, if any. I have been to Sambor Prei Kuk before and my interest this time is more in these lesser known temples along the way to Phnom Penh.
13.08.2005
Vothear offers to show the way to some of the temples and my colleague Lydia comes along. We visit a number of temples along National Road 6, almost all of them relatively close to the road yet with only one exception not that easy to find. There are no signs and even once you leave the main road in the right place the way to the temples are not obvious. Most likely you will require a local guide or some Khmer language skills to find these places.
We visit the following places in this order, in Vothear's spelling:
Prasat Rokha or Prateath
Prasat Tnotchum and Prasat Komboth
Prasat or Wat Prasat
Kukhaknokor or Prasat Kuha Nokor
Prasat Broteath
In all instances I provide a picture of the place where you want to leave the National Road in order to visit the site.
Lydia and Vothear in front of the gate through which you reach the following temple.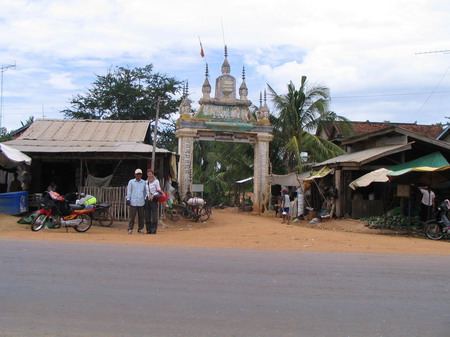 This temple is obviously leaning very much to one side, not unlike the Leaning Tower of Pisa. It is remarkable that this structure has not collapsed yet. Even more so given what has caused these heavy stones to shift: Only a few meters away from the temple is the crater of a massive bomb, that locals tell us has been dropped here as part of an American bombing campaign.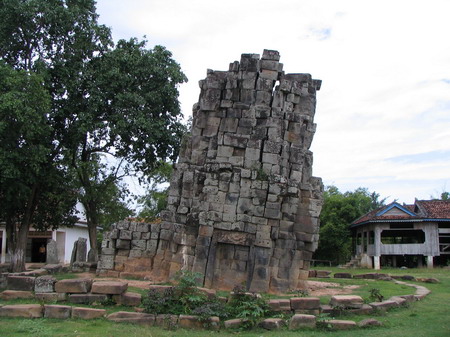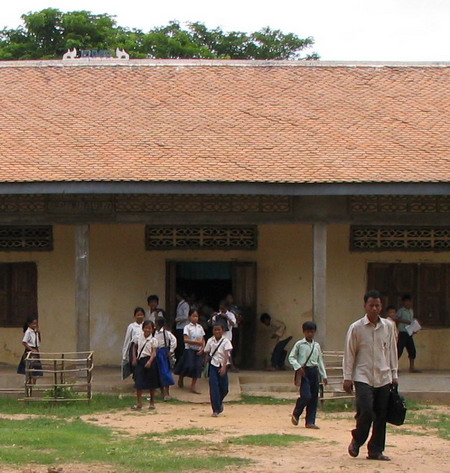 The crater is basically what is in the bottoms halve of this picture and is covered with grass. There are school buildings right next to it and students leave in all directions after end of class.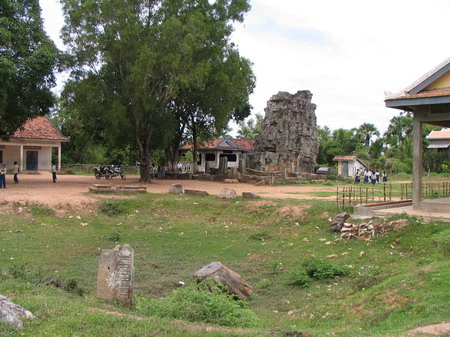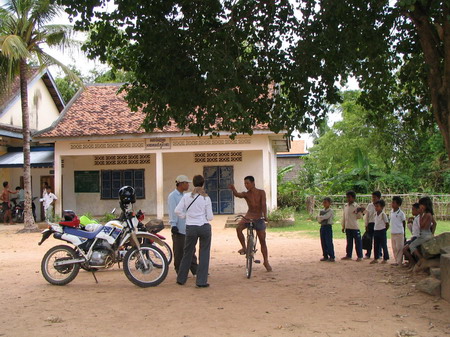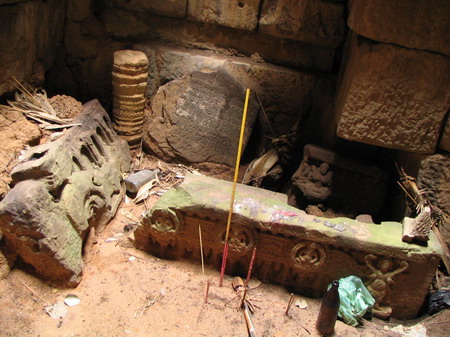 Inside the temple.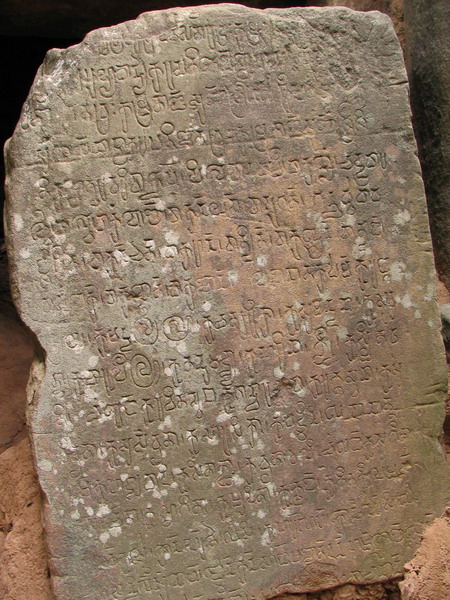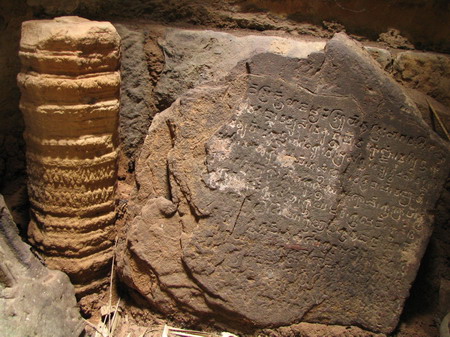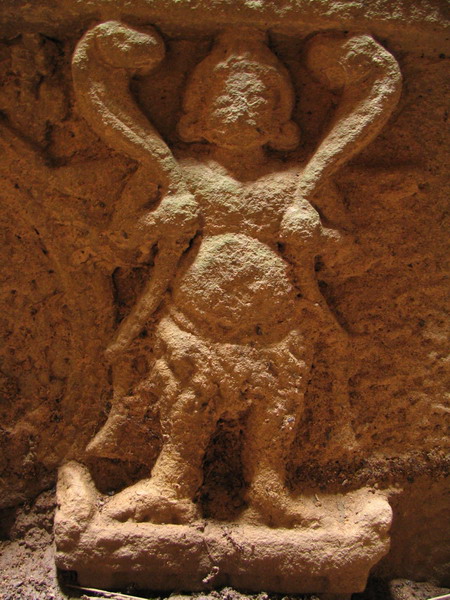 Outside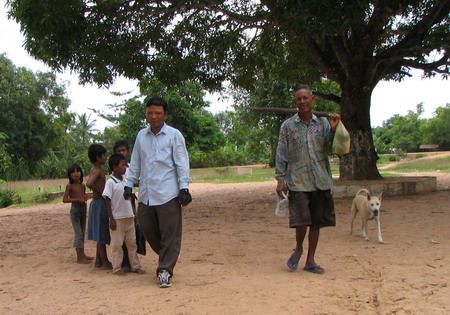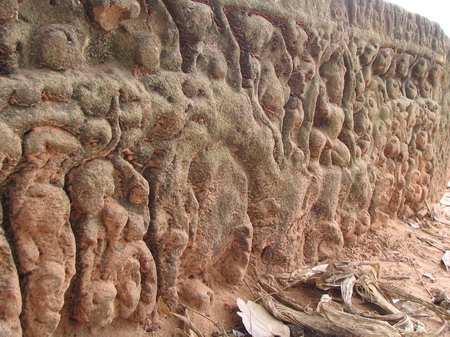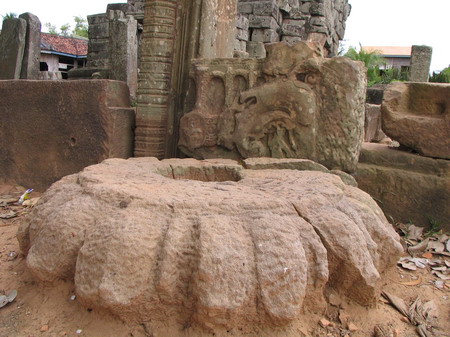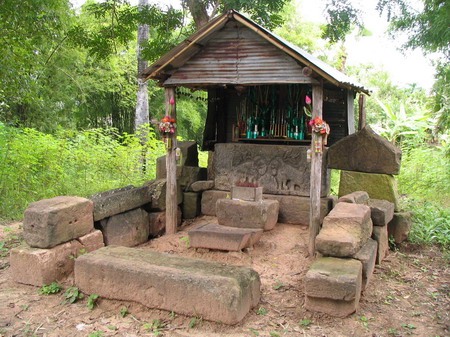 Only few hundred meters away there is the site of a smaller temple but all that remains are a few stones, the biggest one depicting two elephants.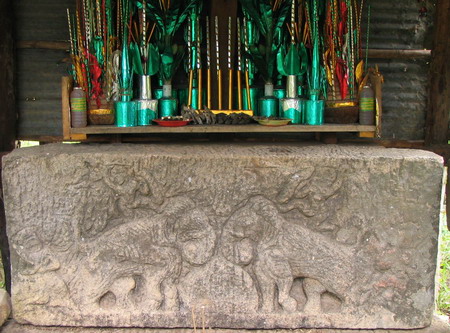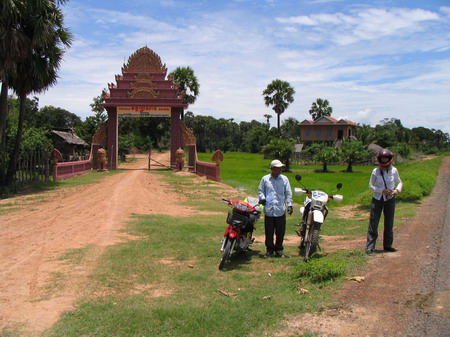 This is where you want to leave the main road to visit the following site.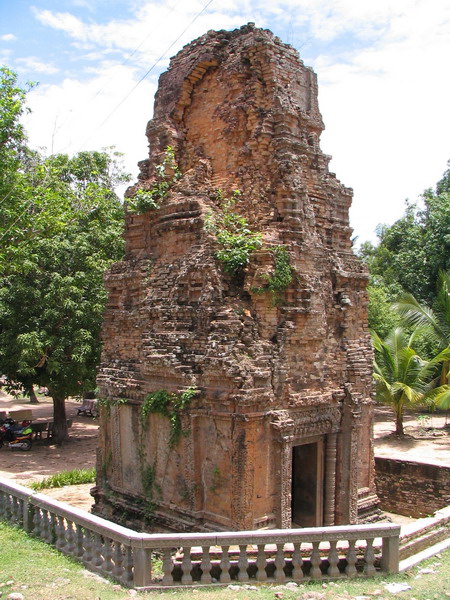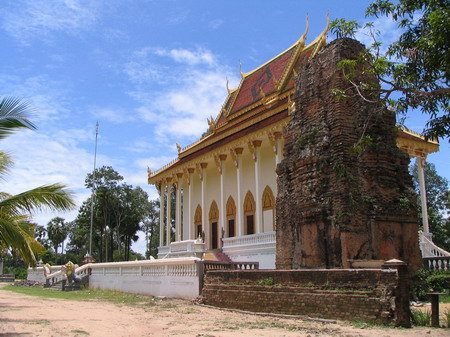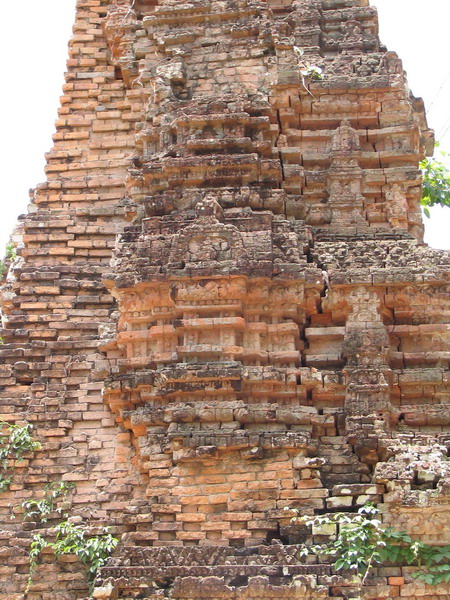 We spend some time talking with this old man who lives next to the temple.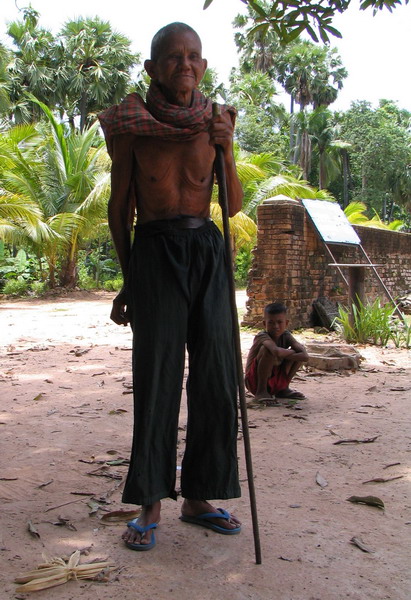 The next couple of places you can find by following the way through this gate, which is on your left when you are coming from Phnom Penh.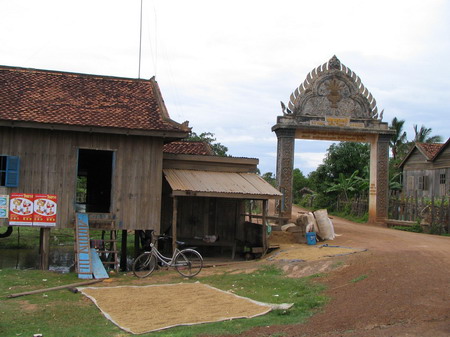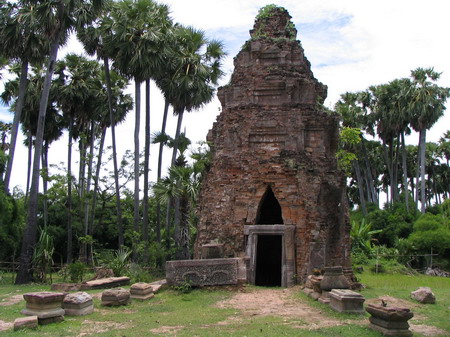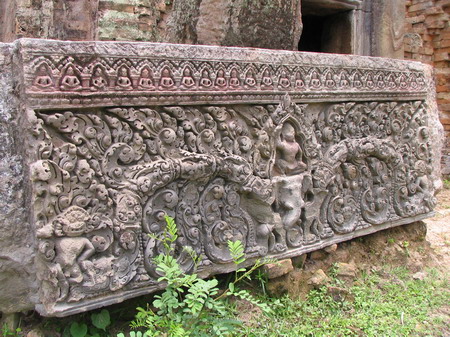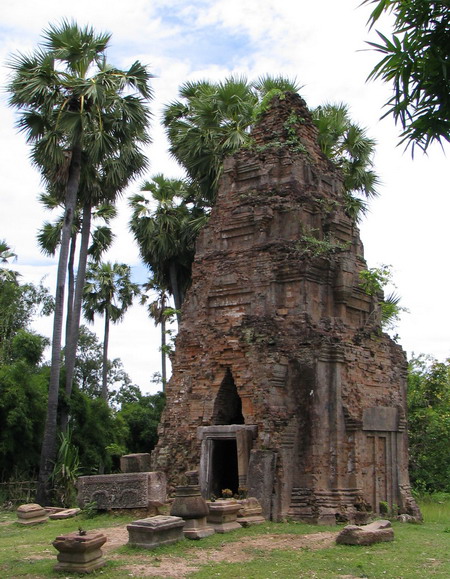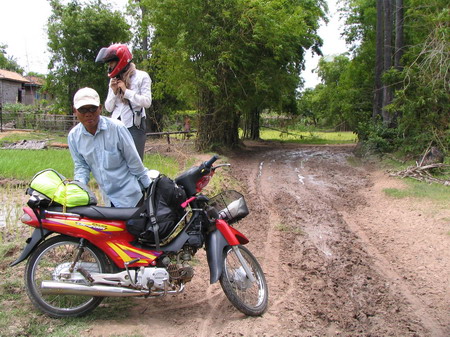 The road is somewhat muddy in some places.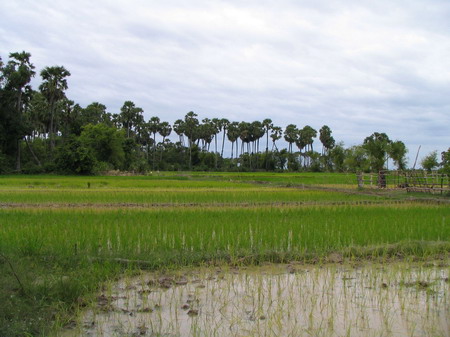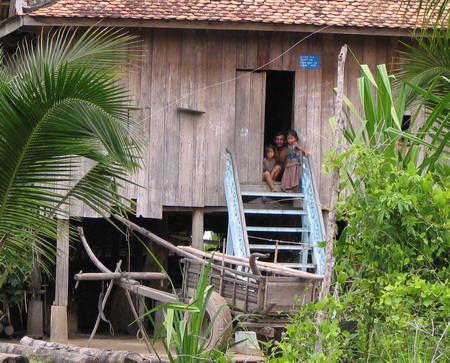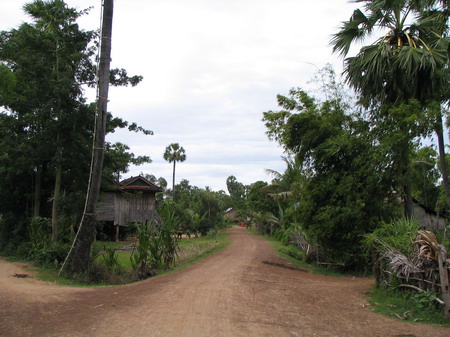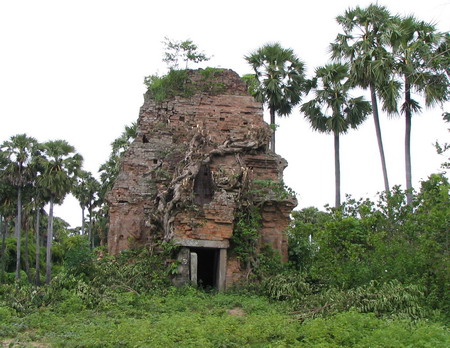 Yet another temple.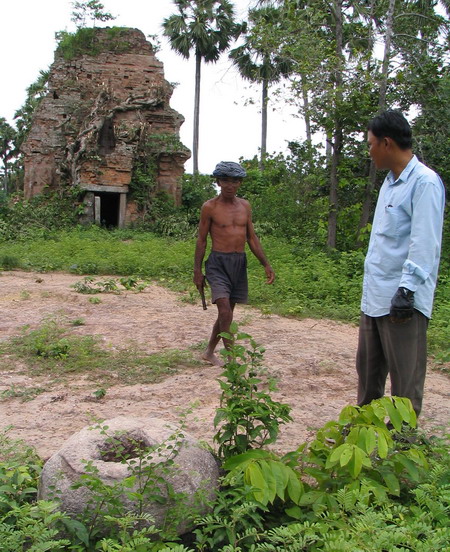 The big, round stone upfront used to be the top of this temple but one day a drunken villager climbed the temple and broke it off, or so the locals tell us.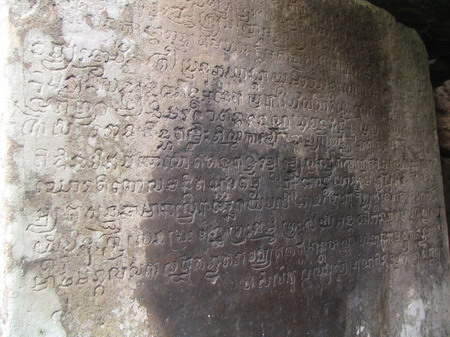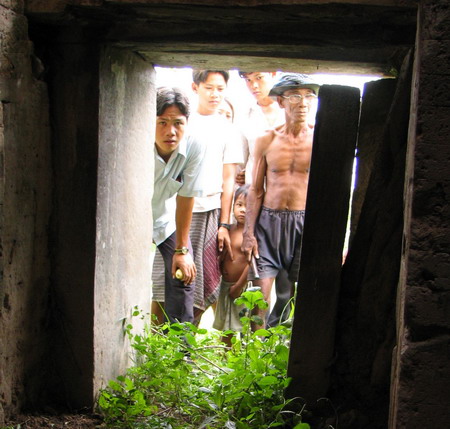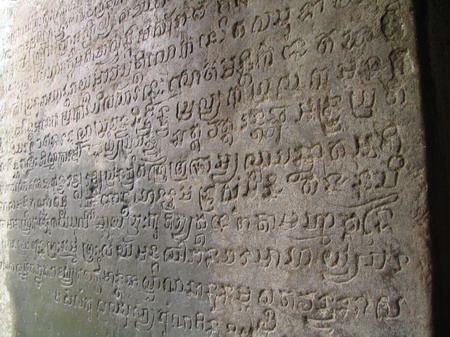 There used to be a statue on the backside of this temple and attached to it, something I did not see before. The shape of a standing person can still be recognized.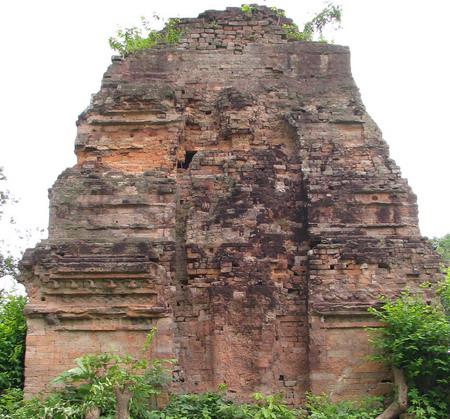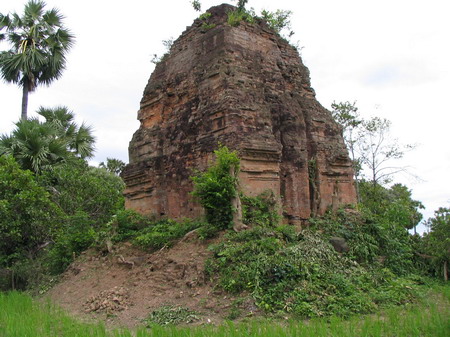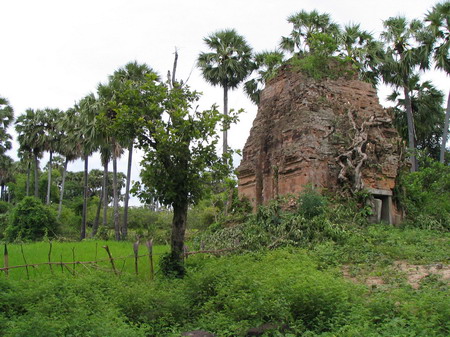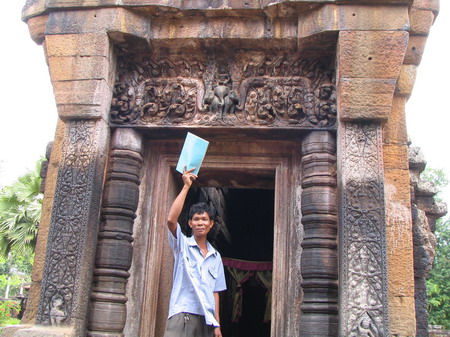 Kukhaknokor, or Prasat Kuha Nokor, is the one temple among those mentioned here that is listed in various guide books and easier to find due to a big sign at the main road. According to the Lonely Planet this 11th century temple was constructed during the reign of Suryavarman I and its good condition is due to lengthy renovation before the war. The book also says this place is 22km north of Skuon.
The ancient temple is on the ground of an active pagoda and there are some elderly man to look after it and nurture plants and flowers in the beautiful garden. There is even a guestbook. We are happy to leave a note. There are fewer entries than days in the guestbook.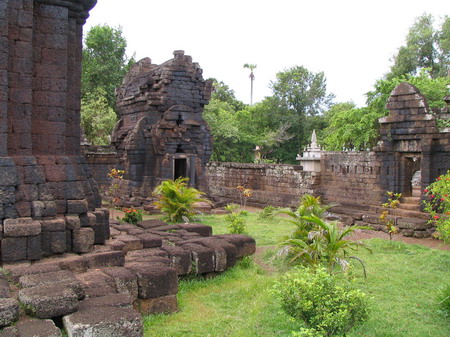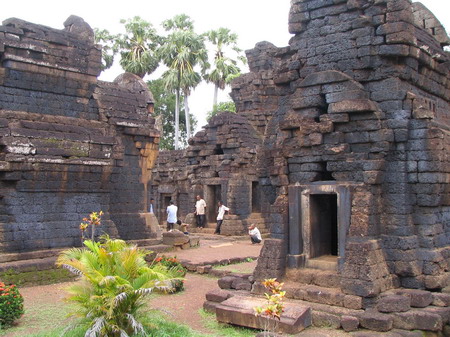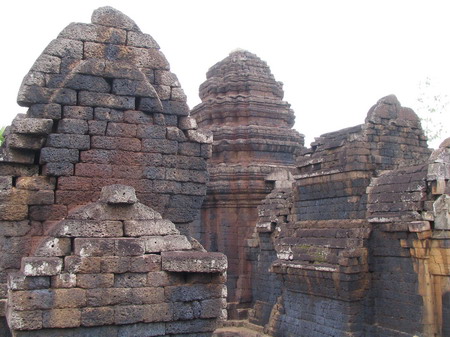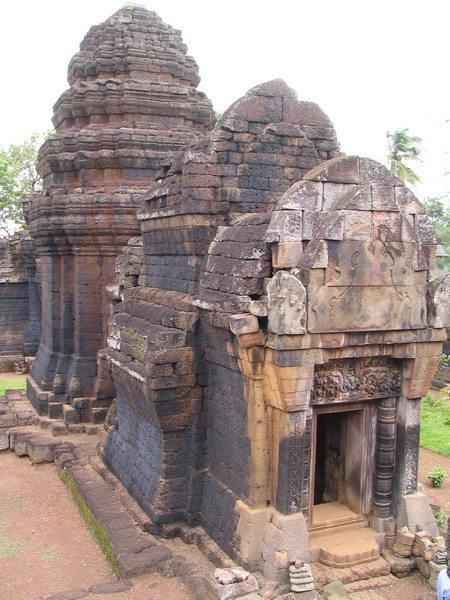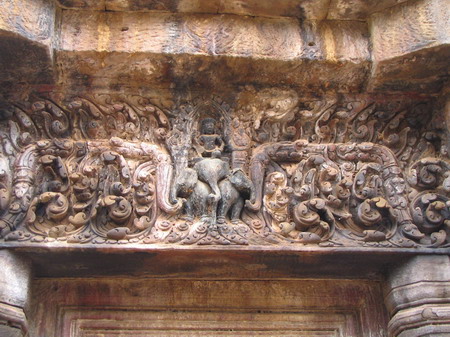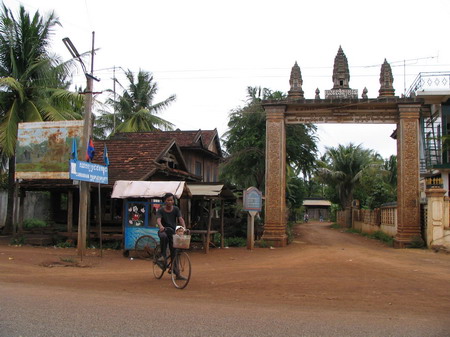 This is the way to get to the above temple.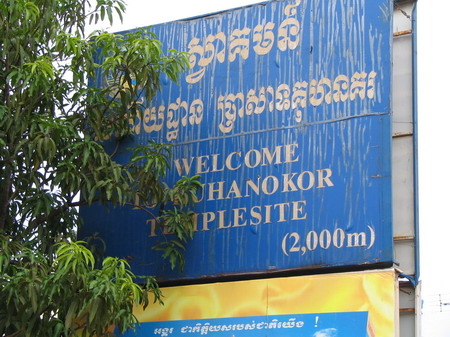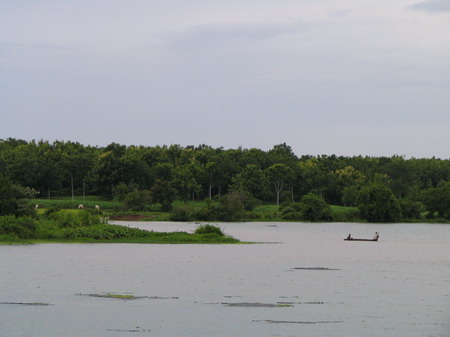 This is the last set of places we visit, pretty accessible by road.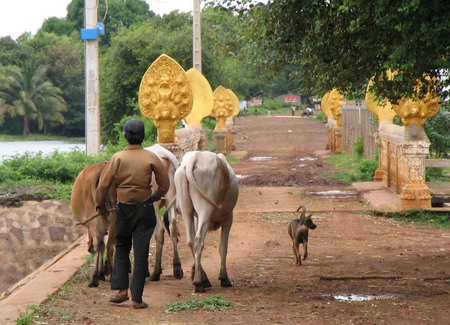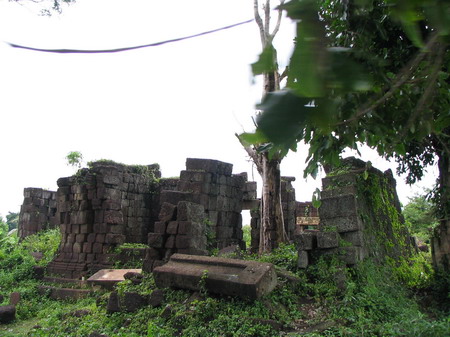 This temple has collapsed.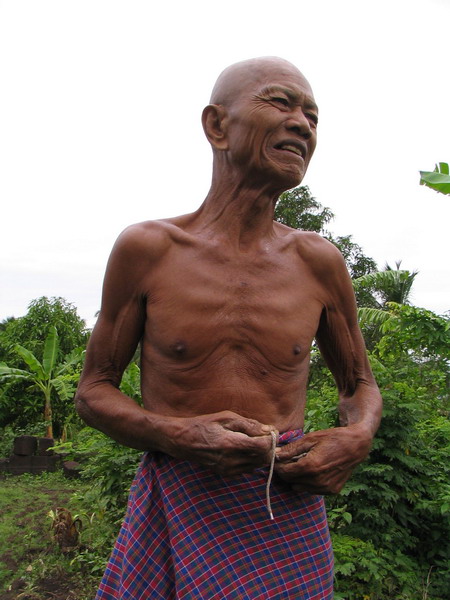 We talk to an old man who lives nearby. He tells us that there are dozens of temple ruins across a wide area around here. Most of them have collapsed due to air bombings. Few of them are accessible at this time of the year. He also tells us about the hardships of his live during those times.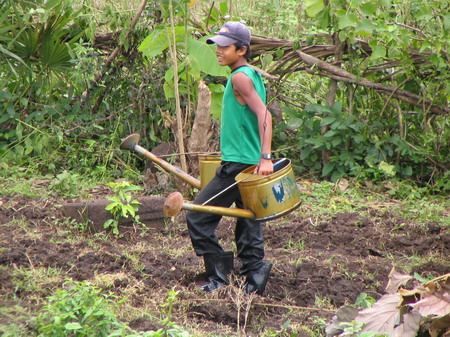 This is his adopted son watering the vegetables.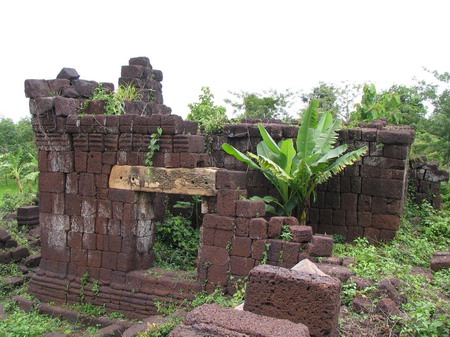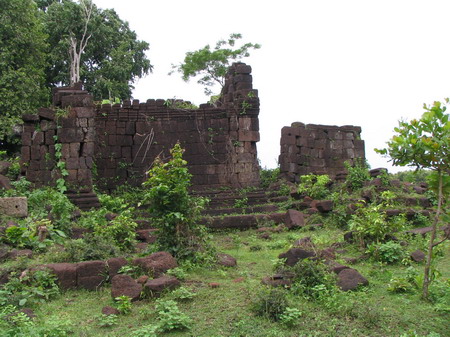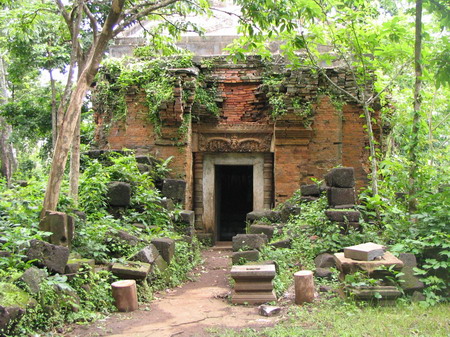 The following temple is close by and the last one we visit today. It appears to have collapsed partly but people have put it together again and given it a modern-style, concrete roof.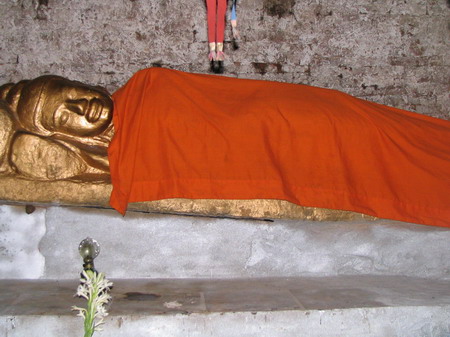 This is the access road.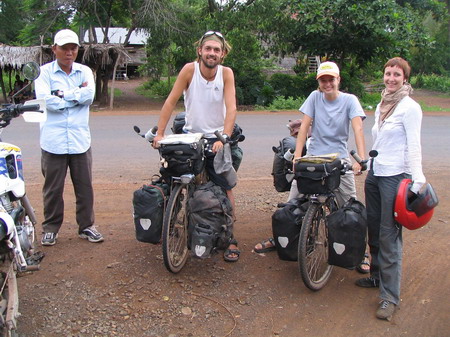 Interestingly, we meet two French people who came here by bicycle all the way from France, using the airplane only to bypass Iraq and Pakistan. It has taken them about 1 year to make it here.
We spent some time talking. The sun is about to set by the time we say good bye to Vothear and head to Phnom Penh.