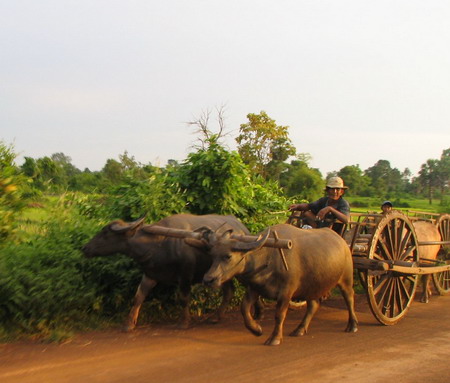 For this weekend Maraile and I have been planning to visit Kratie province, for a number of reasons among them the fact that much of the province is flooded right now. The plan for today is to leave in the afternoon and spent the night either in Kampong Cham, Kratie or Chhlong (Chloung) depending on how far we get. Saturday we want to spend in Kratie province and return at some point on Sunday to Phnom Penh.
We leave after lunch and travel the unavoidable National Road 6 northeast towards Kampong Cham. The good thing about this road is that it is in good condition; the bad part is that there is lots of traffic and cars are speeding precisely because the road is so good.
We don't have a break until we reach Kampong Cham and ride straight to the River Crossing restaurant run by Joe. Joe is a rich source of local information. There are at least three ways of going from Kampong Cham to Kratie.
1. The first is to follow a dirt road all the way along the eastern bank of the Mekong River. This option is unlikely to work out because the road along the river is likely to be flooded in many parts.
2. The second option is to proceed on the national road to east for another 30 km or so and continue from there on a dirt road to Kratie, via Chhlong. This option involves a stretch of the same road along the Mekong River between Chhlong and Kratie but otherwise is unlikely to be flooded.
3. The third option is to follow National Road through Snuol all the way to Kratie. This is the safest option but means a long detour. Joe encourages is to try option two.
We follow the national road and actually have some difficulties finding the place where we leave it and continue on the dirt road towards Chhlong. Finally we find it and proceed on the secondary road. This dirt road is in good condition and allows for reasonable speed most times of the year. It is commonly used by mini buses and taxis between Kratie and Kampong Cham. It makes for a pleasant ride also due to the beauty of the landscape along the road, passing through scenic wetlands, rice fields and charming villages, some of them inhabited by Muslim Cham.
I have been traveling on this road various times before, mostly by minibus or by taxi. On one of these occasions I took also some pictures.
At this point we still hope to make it all the way to Kratie today, although the sun is already setting down.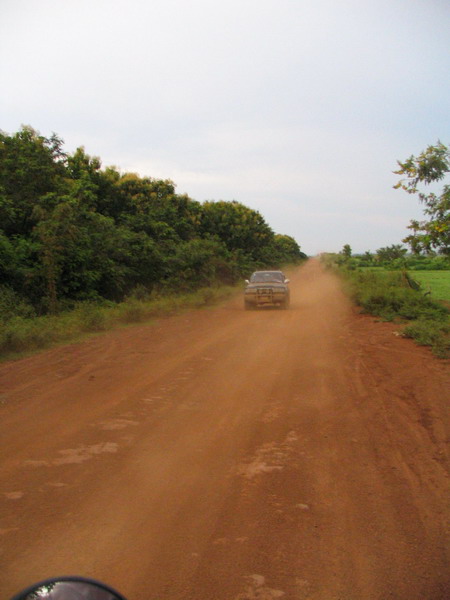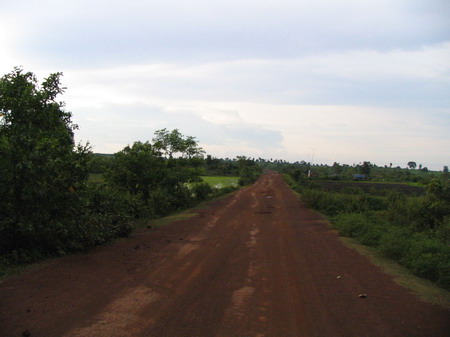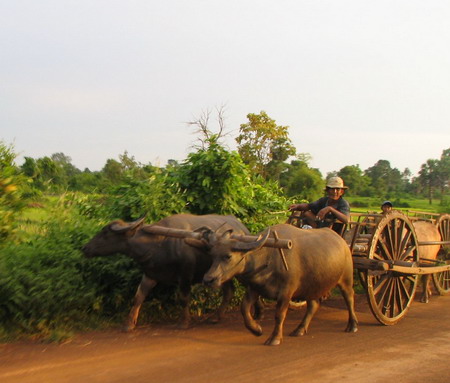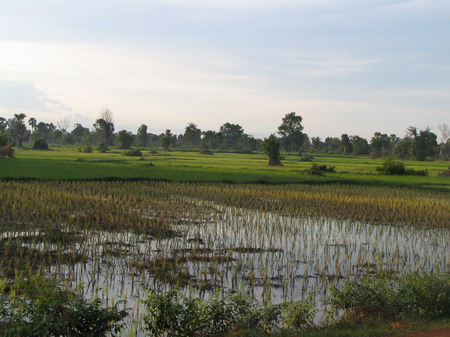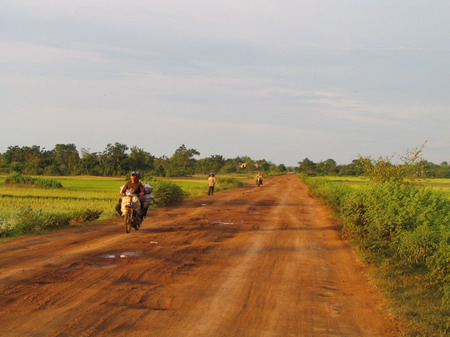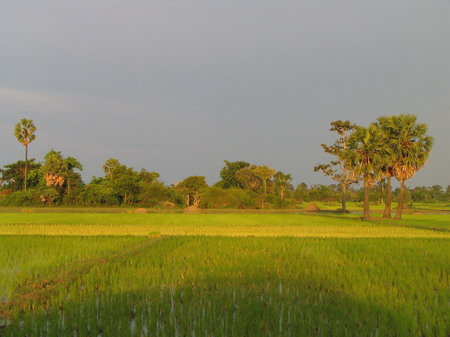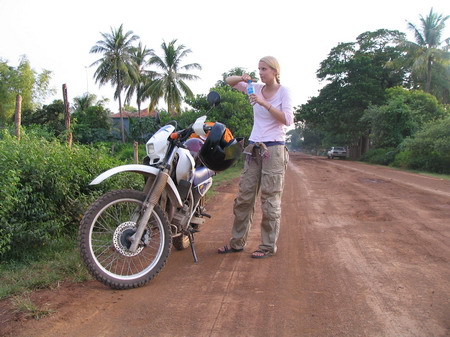 We keep riding but don't reach even Chhlong before dark. The road is getting worse while it keeps getting darker, finally we find ourselves riding very slowly around deep holes filed with water all over the street, with very little vision. At least it does not rain.
We decide to have a short break. Now it is dark anyway.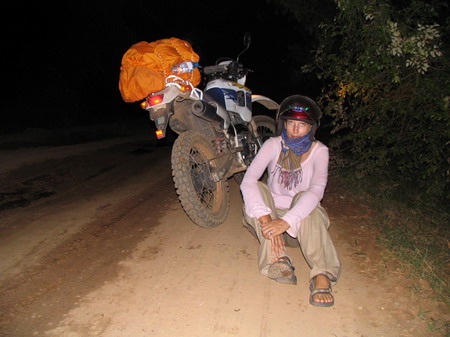 We reach the Mekong River and continue on the road along the river and pass through Chhlong few minutes later. However, only a few kilometers after we pass the center of the town, the road is getting narrower, with water closing in on both sides of it. Houses along the road are standing completely in the water and all the domestic animals are standing on the road.
When I was traveling this road by minibus in October 2003 we got stuck not far from here and it took hours until we could continue the trip.
Given this situation it does not seem likely that we make it to Kratie tonight. Indeed only a few minutes later we reach a point where the road in front of us leads seemingly straight into the water and is submerged as far as the eye can see, which is not far at this time of the day. However, people (in a boat) tell us that a number of long stretches of road are submerged. There is no way we can continue tonight and tomorrow only by using boats.
This is the road close to where it is submerged in water.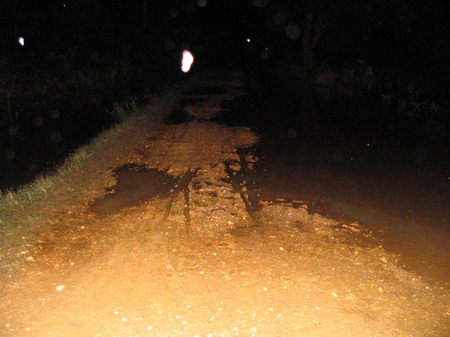 We ride back to Chhlong town, find a very simple guesthouse and book rooms, which are neither particularly clean nor very comfortable but serve the purpose. It is completely dark outside when we leave again to find a restaurant. Nothing indicates that anything would still be open. Dozens of dogs start barking in the dark while we walk down the street. Since nothing suggest that we will succeed in finding food we return to the guesthouse, chill out for some time on the charming balcony of the guesthouse and go to bed.
Hanging out on charming balcony