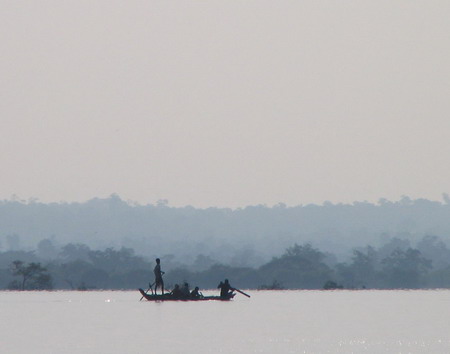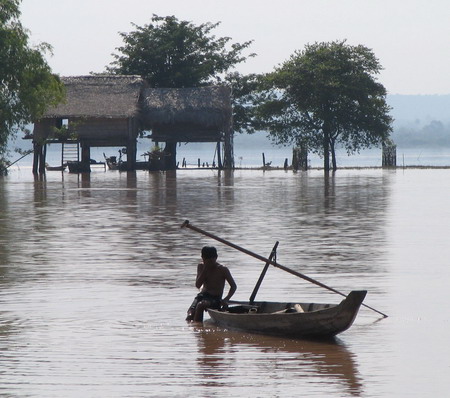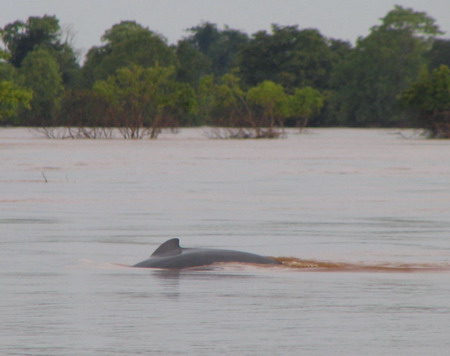 The plan for today is to get from Chhlong (Chloung) to Kratie town and later to visit the Irrawaddy-Dolphins north of Kratie in the Mekong River and some other local highlights depending on road conditions and time availability. We get up relatively early, check out, get on the bike and ride as far as we can get, which is only a few hundred meters. We find a man with a boat who is willing to give us a ride of 5 km or so towards Kratie until we can proceed on a solid road. The ride takes us in early daylight through spectacularly flooded landscape. I blend Maraile's and my own photos.
27.08.2005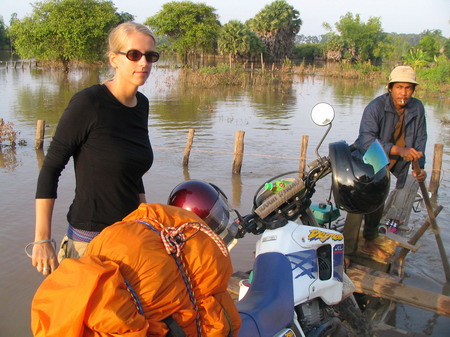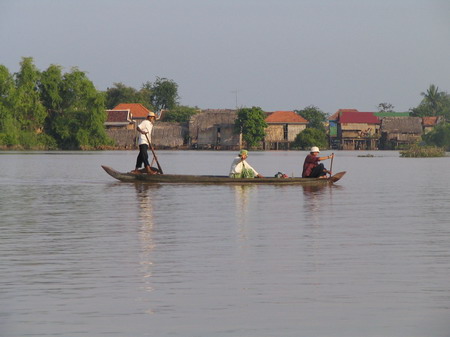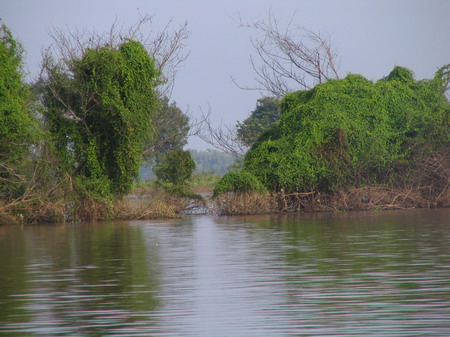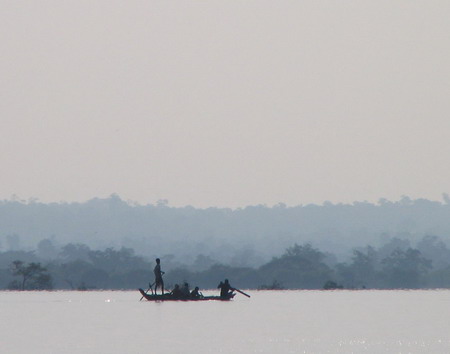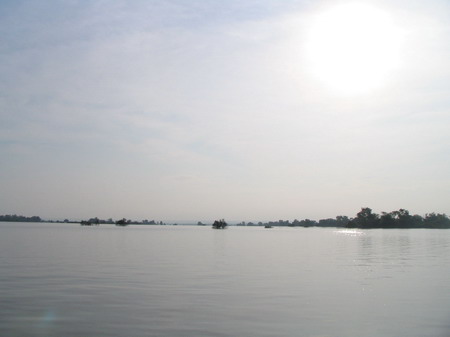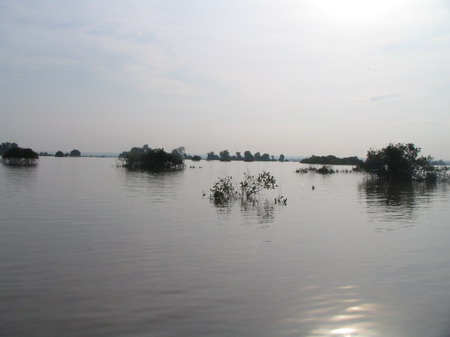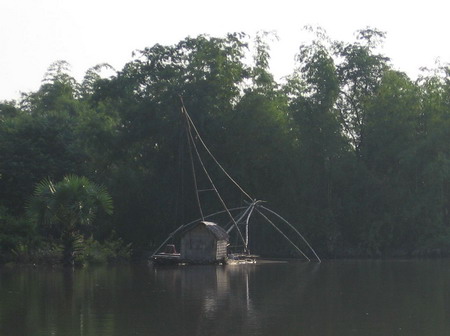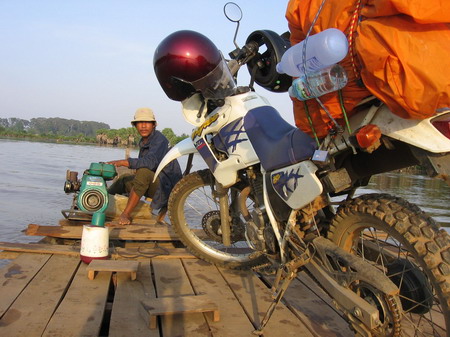 These constructions are used for fishing. Fishermen using them are oftentimes ethnic Vietnamese who in some instances live on their boats rather than on pieces of land.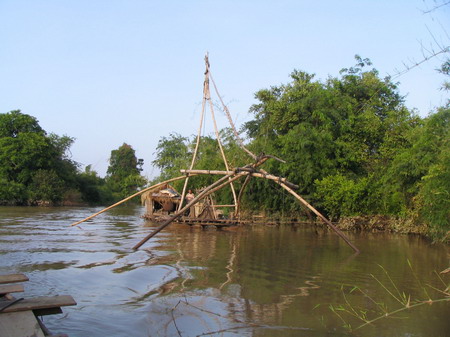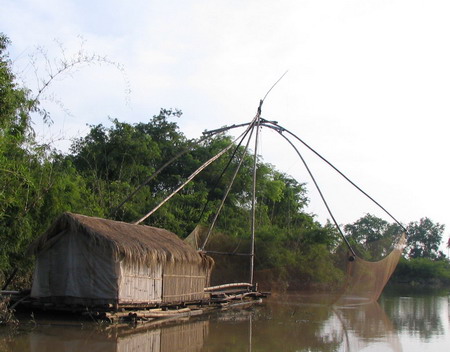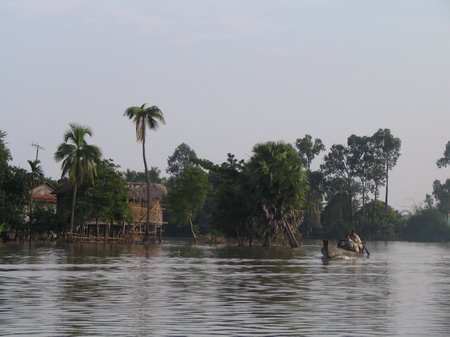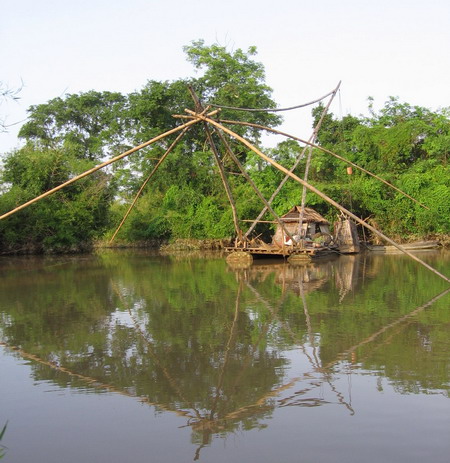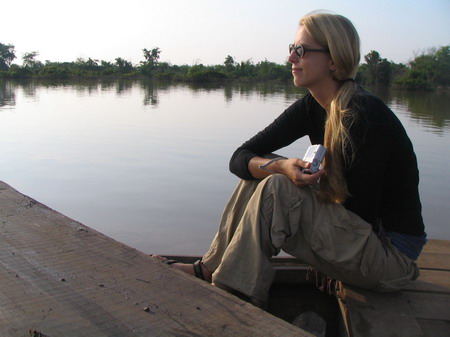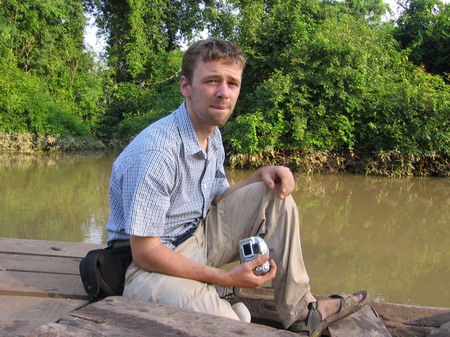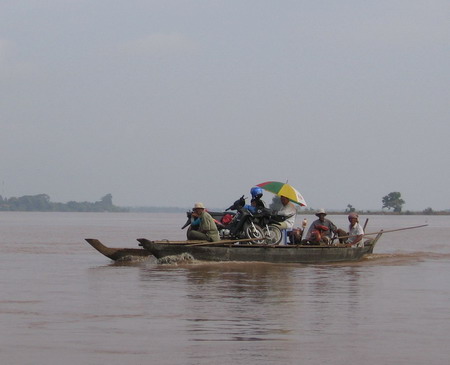 I am sure for many people around here this flooding situation is very inconvenient, to say the least. In many cases, houses are standing in the water and are accessible only by boat. Fields are submerged in deep water and I really wonder where people keep there domestic animals. I assume they were brought to safer places but getting them there by boat inevitably requires major efforts.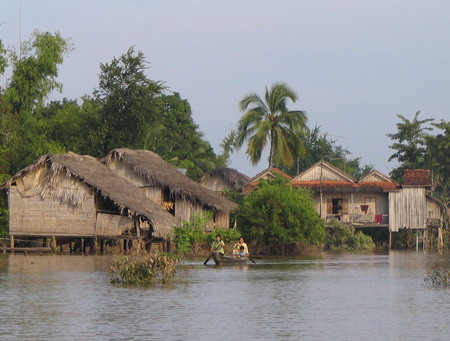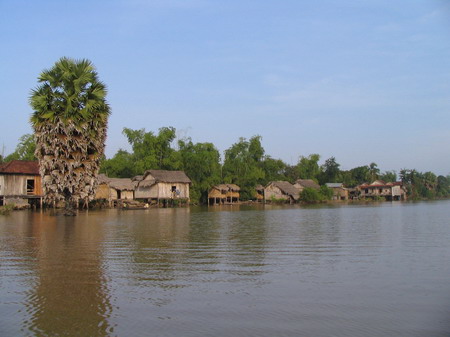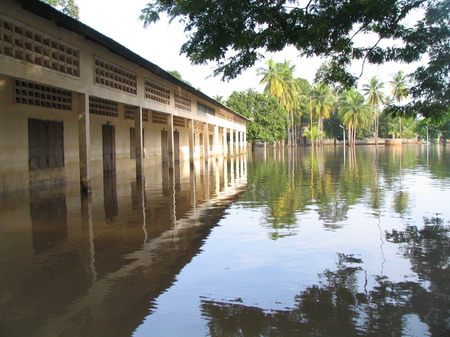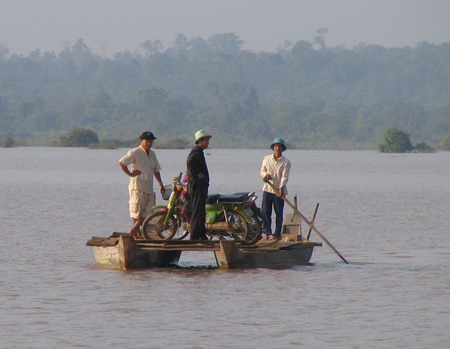 We pass the compound of a pagoda.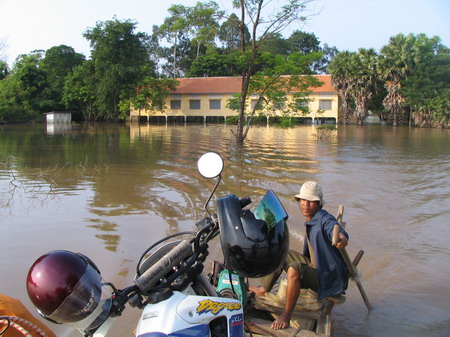 Khmer houses are built on stilts and this is obviously very fortunate in a flooding situation like the current one. However, flooding is not the main reason for Khmer houses to be built on stilts. The main reason is the protection against wild animals and together with the benefits of space under the house to keep farming implements and animals. Khmers build there houses carefully in places that are not affected by flooding. The current situation is extraordinary in that so many houses are standing in the water, and have been doing so for some time now.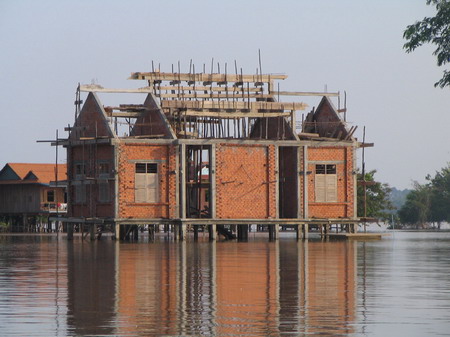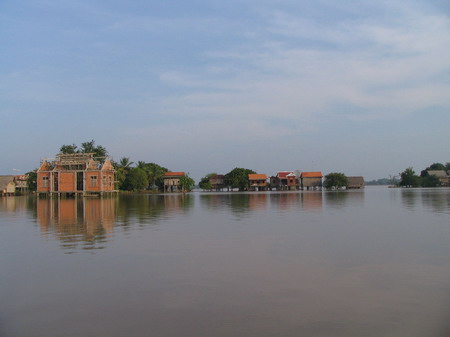 It should also be noted that there is a high variety of different rice. There are types of rice that grow with the raising water and can cope with it, provided it is not submerged for too long. It remains to be seen how this flooding will affect the rice harvest later on.
After about half an hour we reach a dry spot and get off the boat. The road is above the water around here. However, people warn us that we will have to use boats again before we reach Kratie town.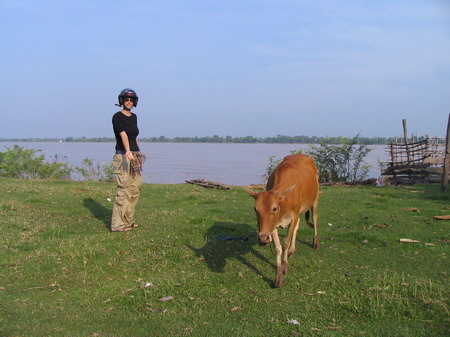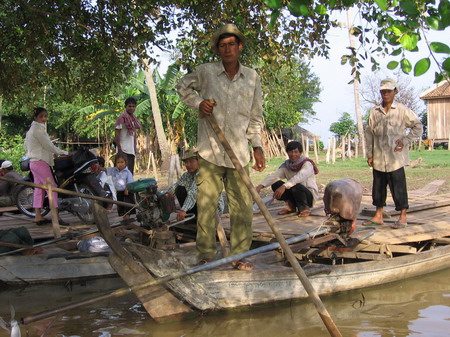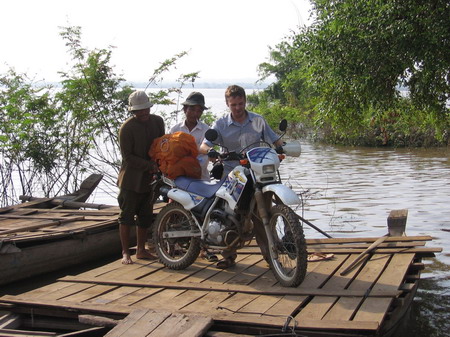 The road is decent where it is not under water but on a number of occasions we have to find a way around submerged parts of the road.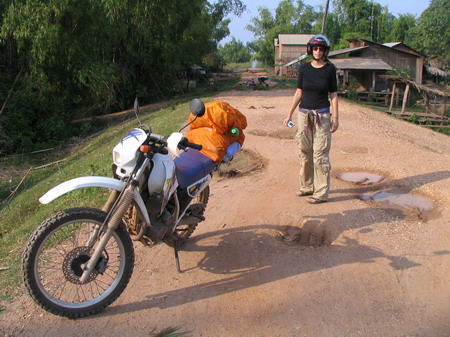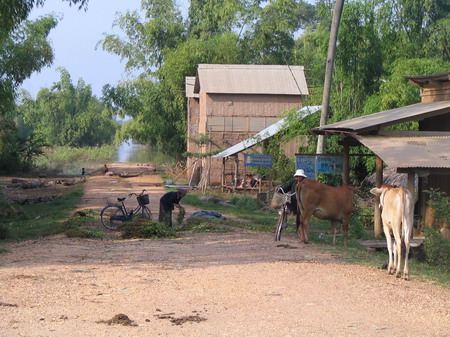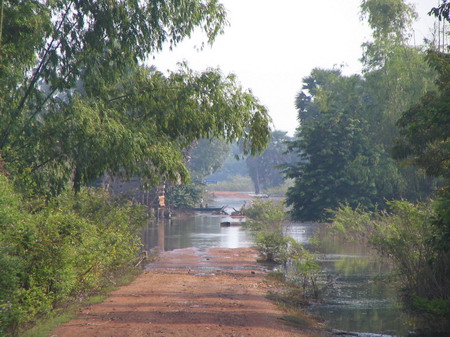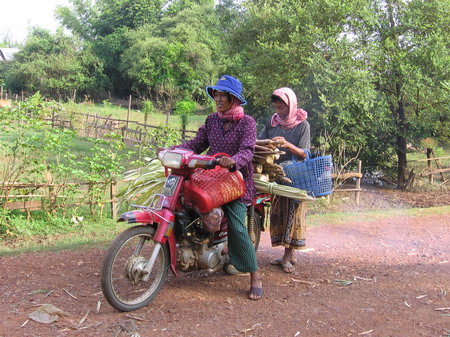 This is when we reach a place where there is no way around the submerged road. We backtrack a few hundred meters and find a boat. It is small but pretty crowded when it leaves. We go upstream for about 40 minutes, sometimes on the Mekong and sometimes off the river but still on its water that right now covers most of the land.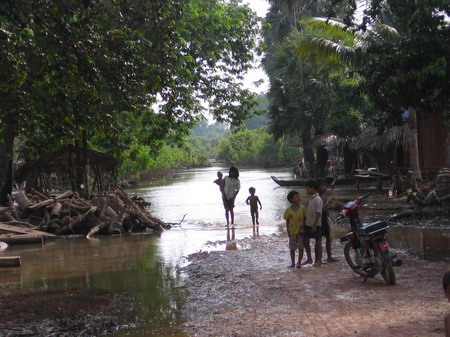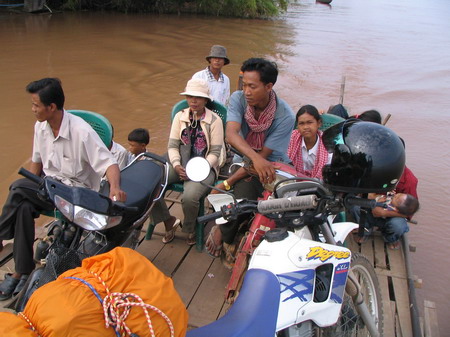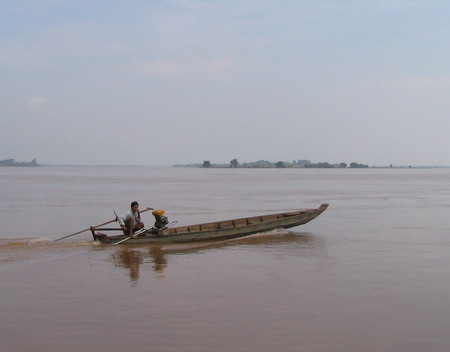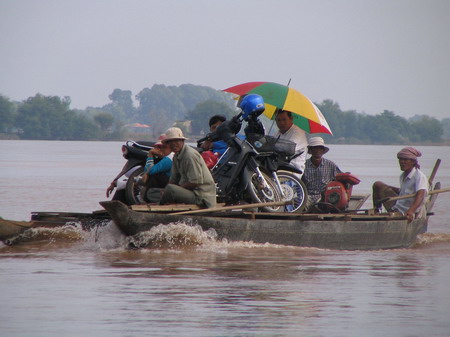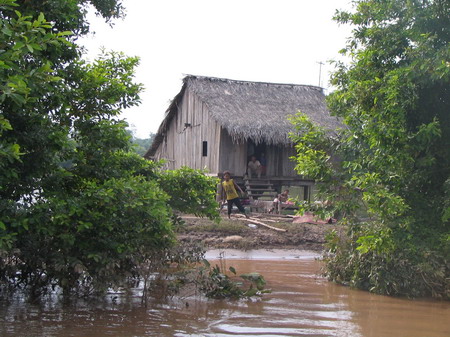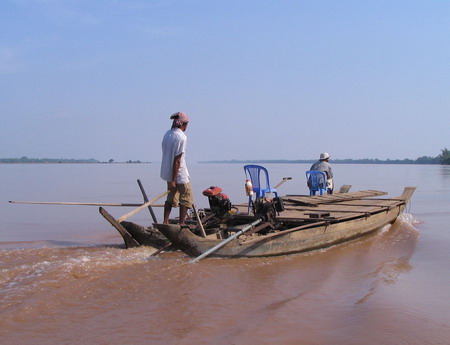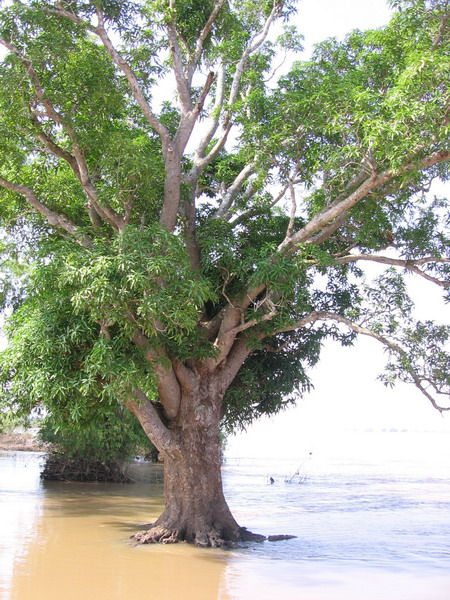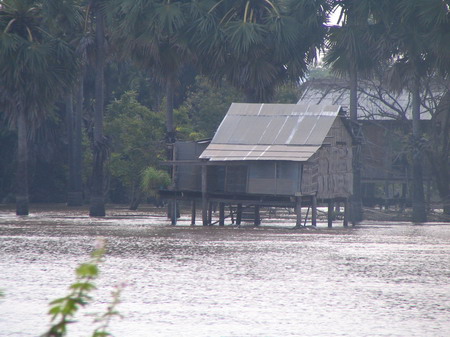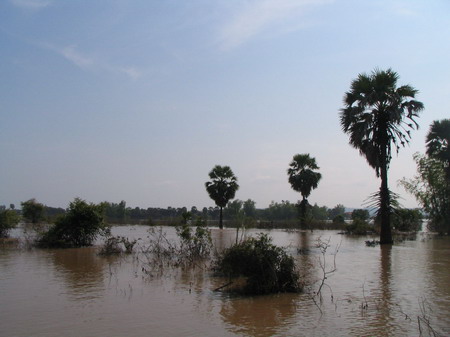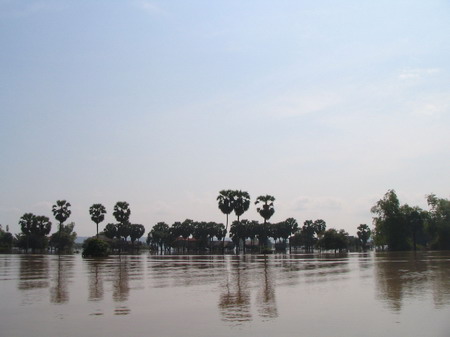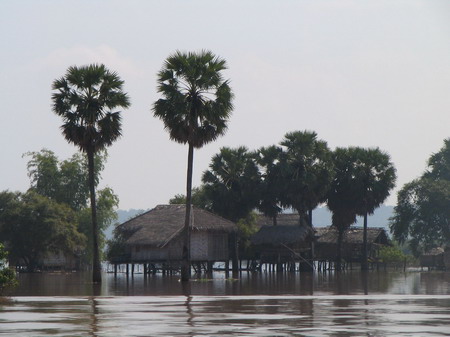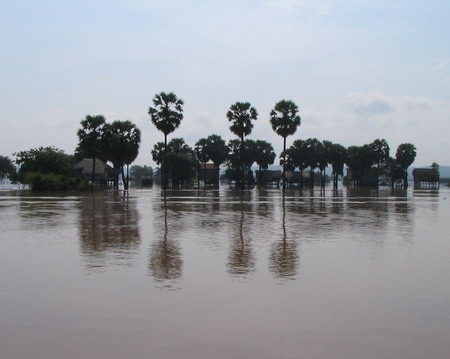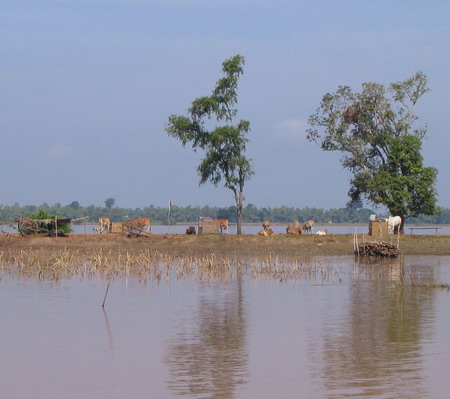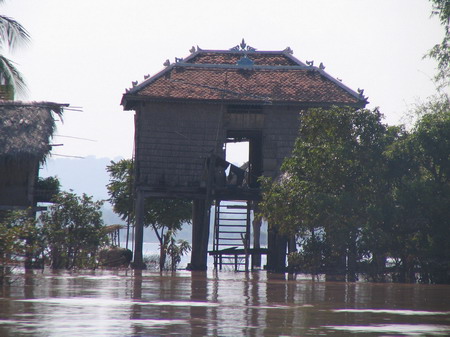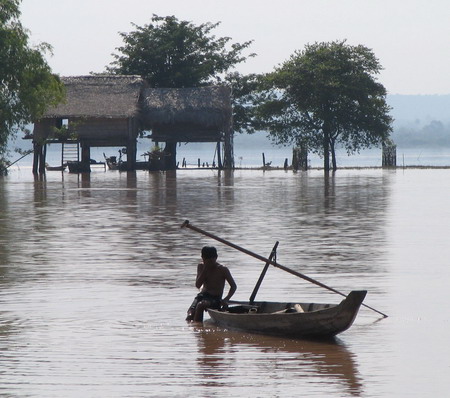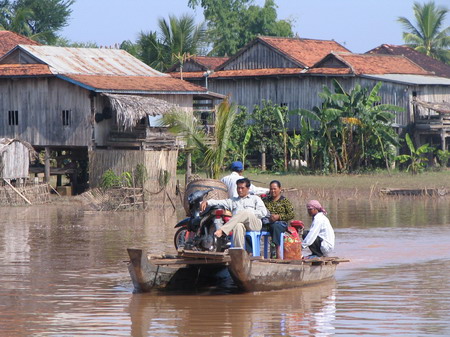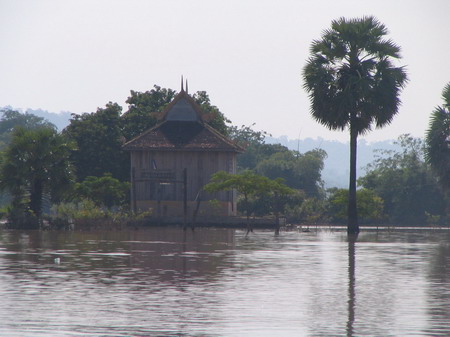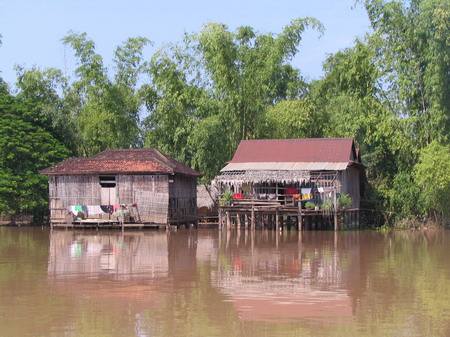 Then we get to a point where there is a solid road again, now all the way to Kratie. This is a nice stretch of roads that follows the course of the Mekong and leads right through some beautiful villages.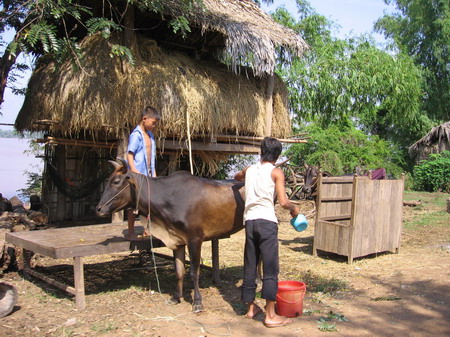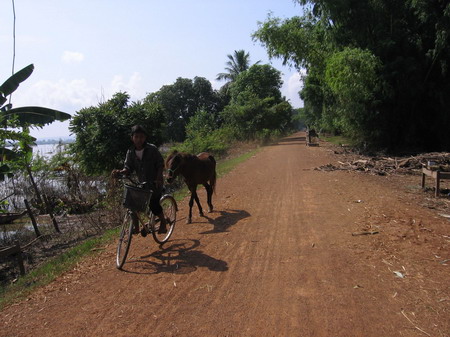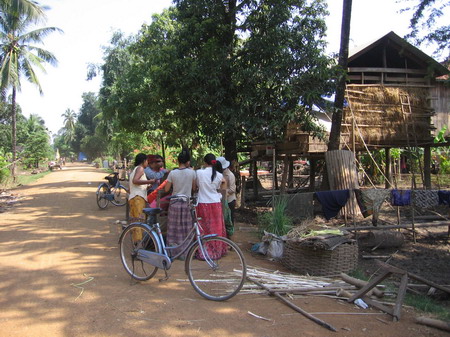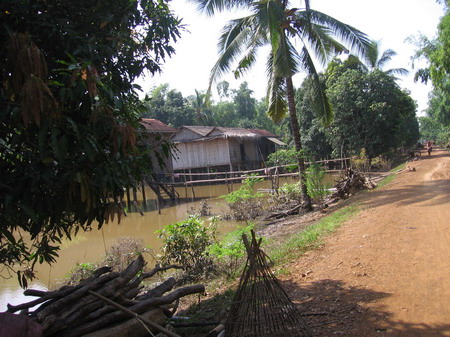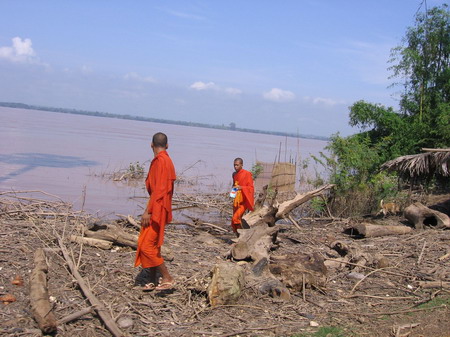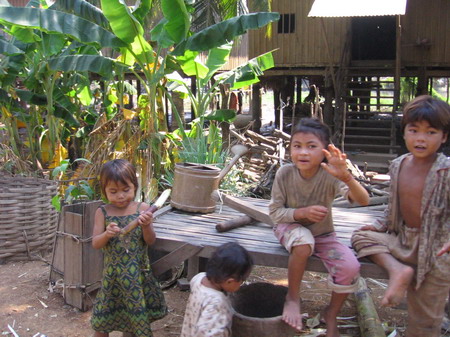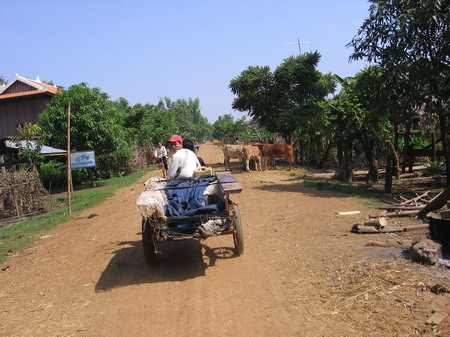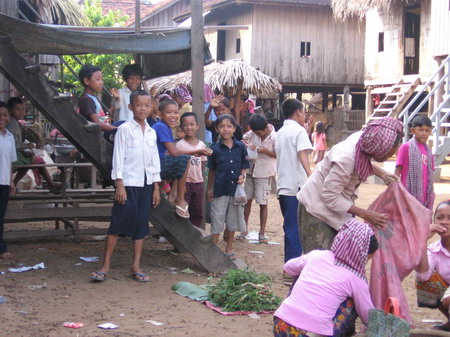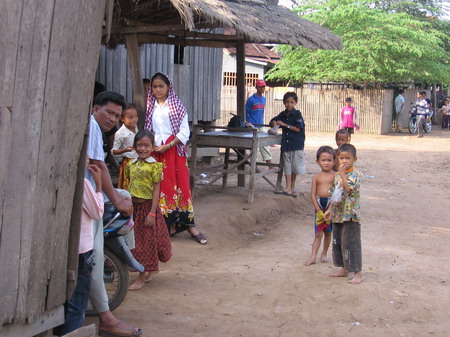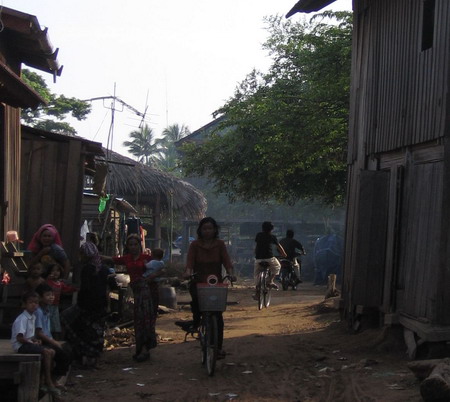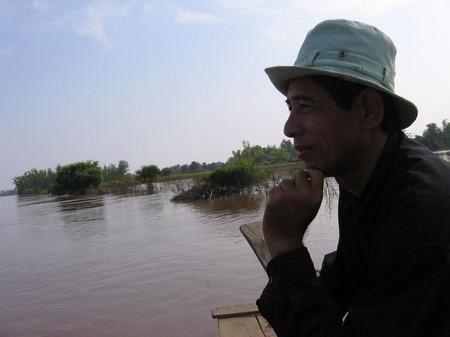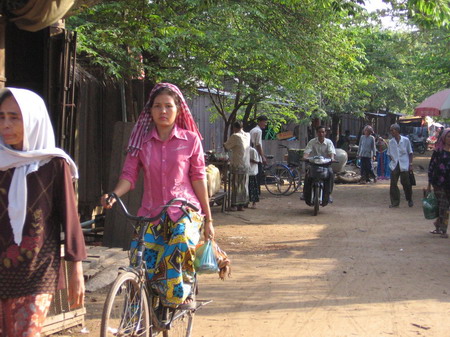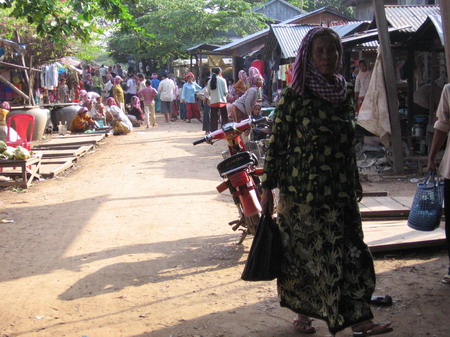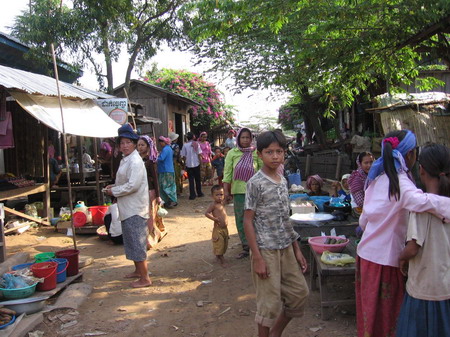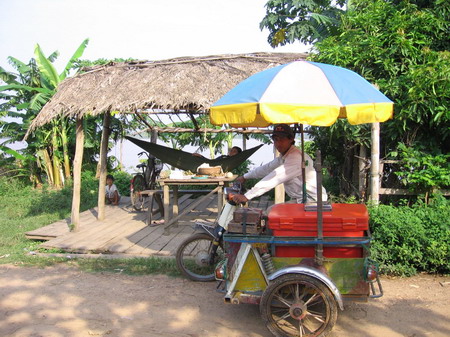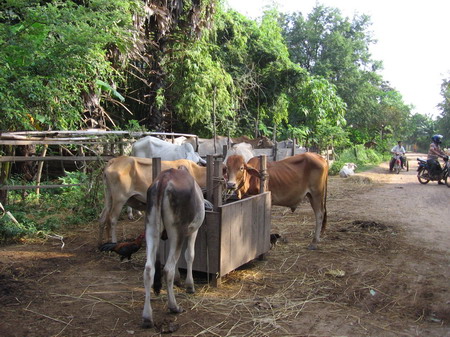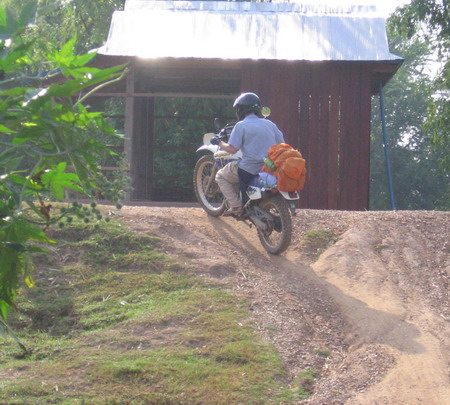 We reach Kratie and check into the Oudom Sambath Hotel, my favorite in this town. After a short break we proceed on the bike to the north, following the road along the Mekong. We plan to visit the following three places along the way:
1. Phnom Sambok (Phnom Sombok) Temples: The first place you come across from Kratie are some hills on your right hand after about ten kilometers. On top of those hills are some temples. This spot offers some beautiful views over the Mekong.
2. Irrawaddy Dolphins: After about 5 more kilometers there is a blue sign on the right hand indicating the place on the left side of the road right next to the river where you find boats to take you to see the dolphins. There are only very few of the rare freshwater dolphins left anywhere in the world and this is one of the very few places where you can see them. Just recently there were some newspaper articles about these animals, one of them reporting the death of 10 of these dolphins here in Cambodia. It also says that there are about 1000 of these animals left worldwide, 80-100 of them in this part of the Mekong.
Another article on a related subject from the Washington Post:
3. Sambor is a charming river bank town about 24 km north of Kratie and was the site of a thriving pre-Angkorian city during the Chenla Empire. Nothing is left of these high times but the place is known for its Wat (Preas Vihea Tom Wat) that boasts 108 columns.
I have been to all three places in September 2003.
It is about lunchtime now but the dolphins are most active in the morning and evening. Therefore, we decide to first ride all the way to Sambor town and visit the dolphins and the Phnom Sambok Temples on the way back to Kratie town.
This is on our way to Sambor. The first half of the road is pretty good, although rather narrow and with some major potholes. Small scale repair is underway in many places along the road. Presumably, this road will be upgraded very soon, as part of a Chinese funded project to complete the link from China through Laos to Phnom Penh. At this point, a major road has been almost completed starting only few kilometers north from here, all the way up to the Lao border, including major bridges. I will provide some pictures from another trip along this road later.
The following is a relevant quote from a recent IHT article on infrastructure in Cambodia, refereeing to an interview with Chanthol Sun, minister for public works and transport in Cambodia:
"Heading north toward Laos and then to China is Route 7 through Stoeng Treng Province, across the Sekong River where it joins the Mekong.
Unsurprisingly, the Chinese have revamped that road and are building the crucial bridge, "probably one of the longest bridges in Cambodia also, around 1,057 meters," Sun said.
He is a firm supporter of Chinese road-building for its quality and speed and says Route 7 could be finished a year ahead of schedule. When it is done, he wants the Chinese to build eastward to link with roads to Vietnam."
The article does not say when the road is actually scheduled for completion but it could be very soon, judging by the speed at which this project advances further north from here.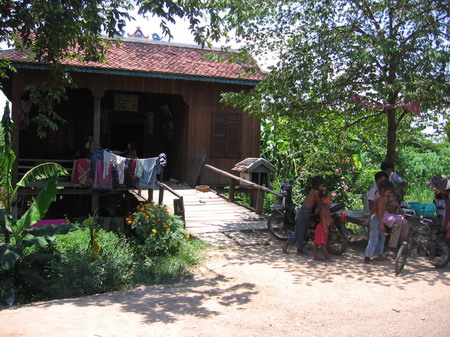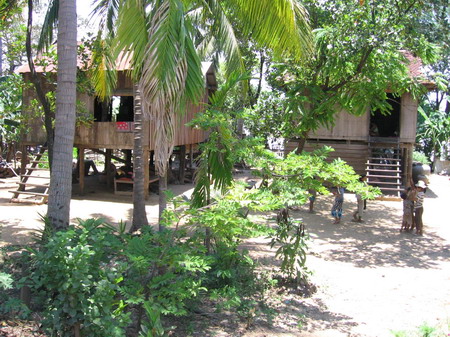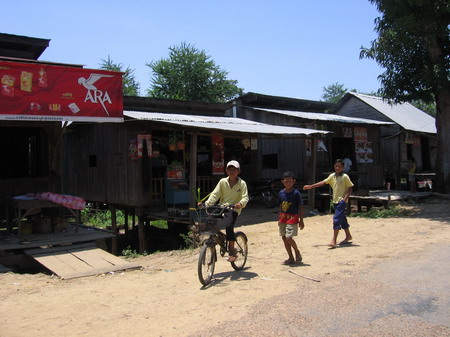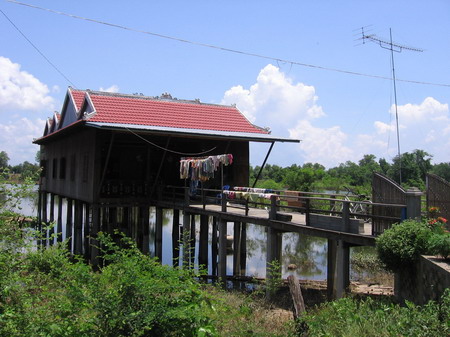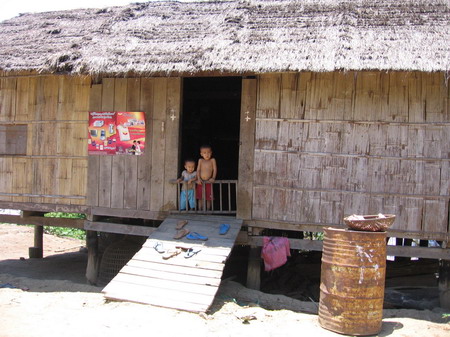 This temple is marked in the Gekko road map as ancient temple named Wat Sarsar Myoy Roy. I was here before but did not find ancient temples, and also the Adventure Cambodia guide book suggests that there is nothing left of these ruins. The authors write that there is a fairly new front temple with a one-hundred-year-old temple just behind it. I have never seen this old temple either. Last time I came here I found some wooden pillars on the ground which presumably were part of the older temple before.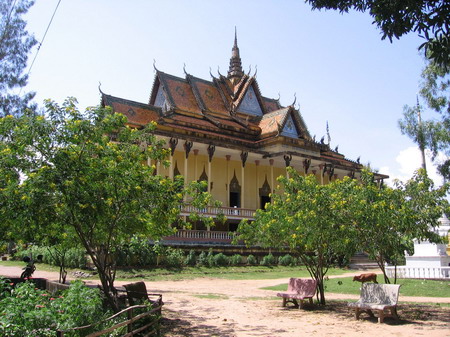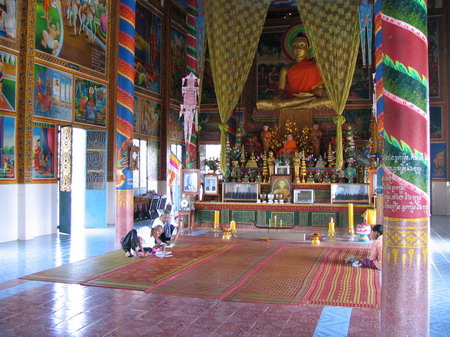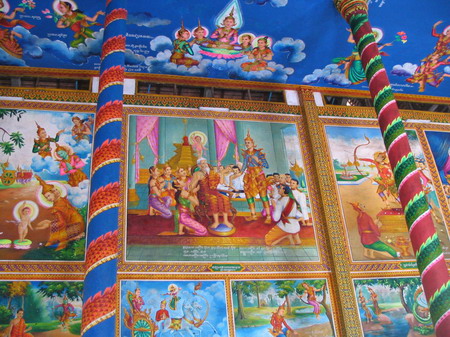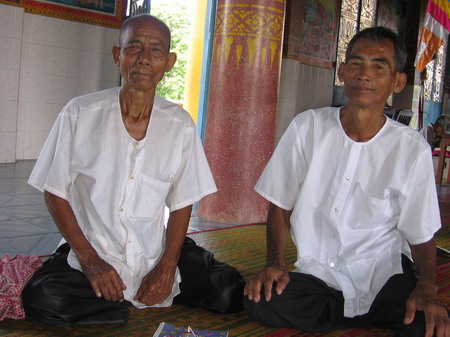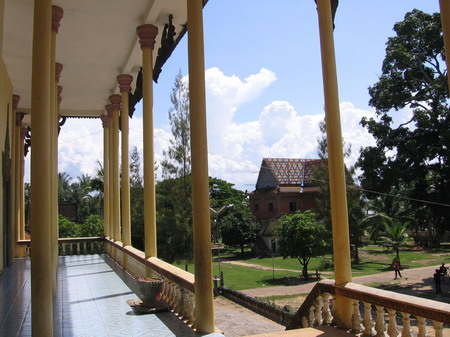 After visiting the temple we have lunch in Sambor town and head back to the dolphin place. Together with aother tourist we get on a boat and take a ride to the place where the dolphins are, which takes about 20 minutes.
The spot where you find the boat is very close to this bridge. I came here some years ago to conduct interviews in a village inhabited by Phnong people about 30 minutes by boat up this river.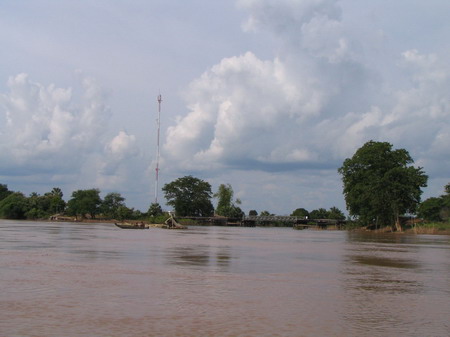 These dolphins do not seem to jump yet it is easy to spot them.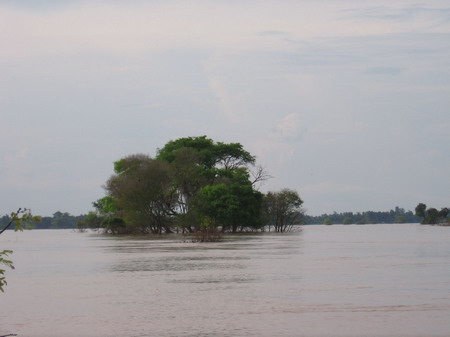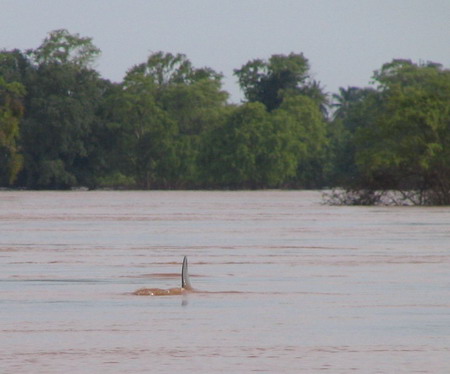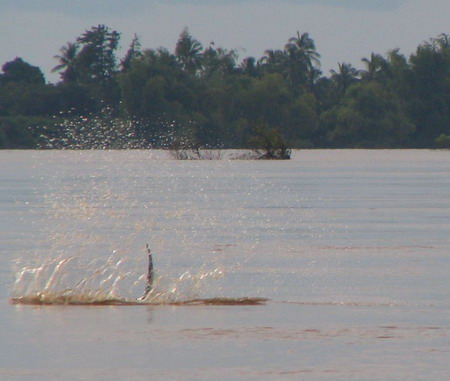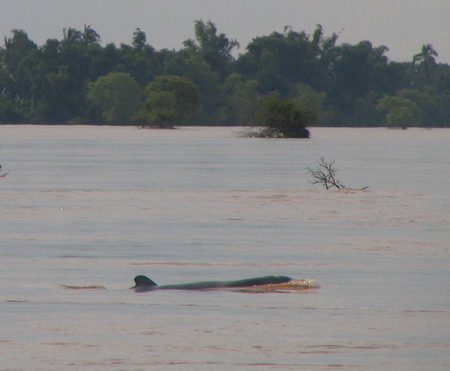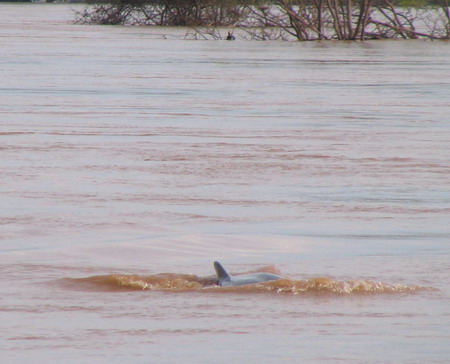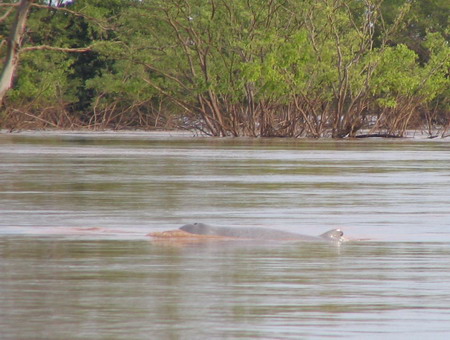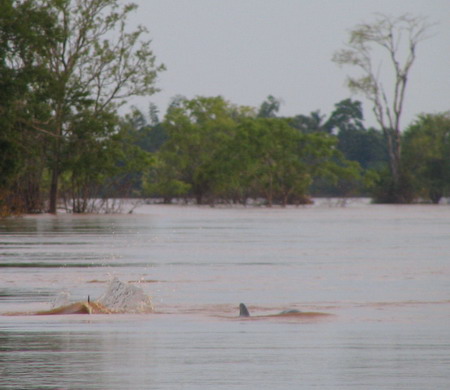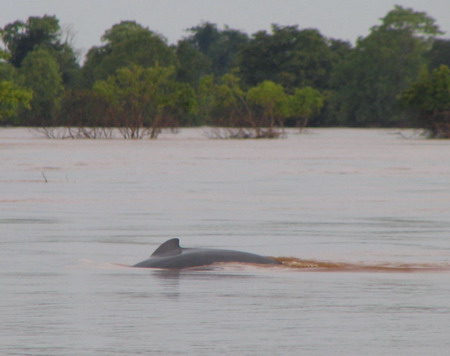 Our guide.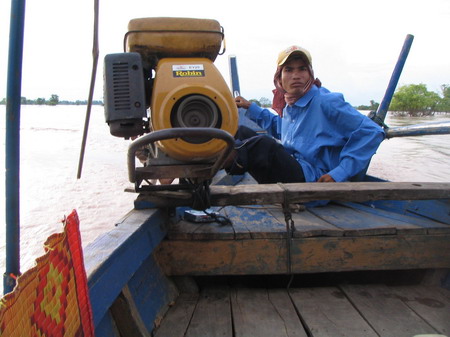 The last place we visit today is Phnom Sambok, which is located a few kilometers from here on the road back to Kratie, on top of those hills.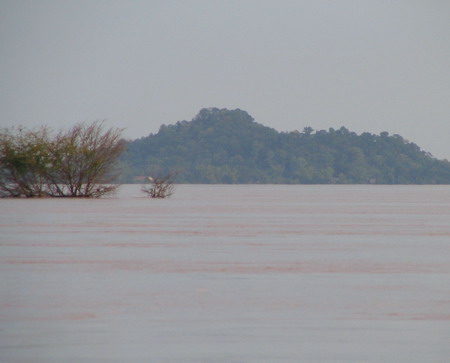 The views from up here will compensate for the effort of climbing the stairs.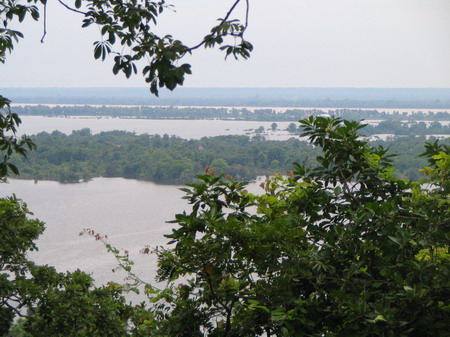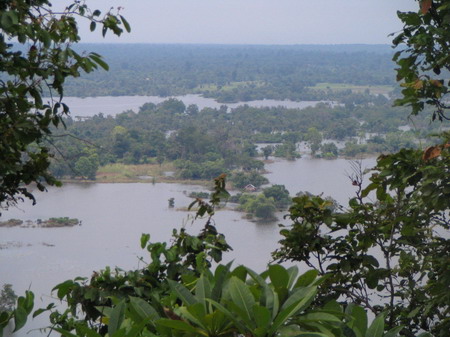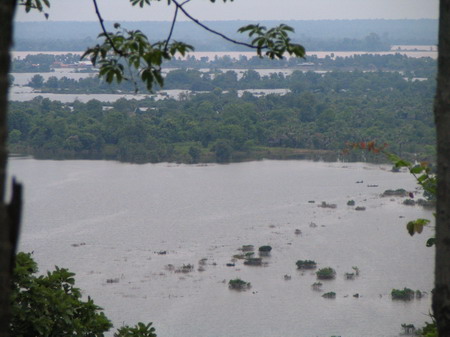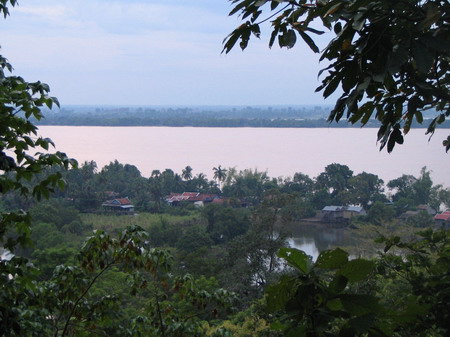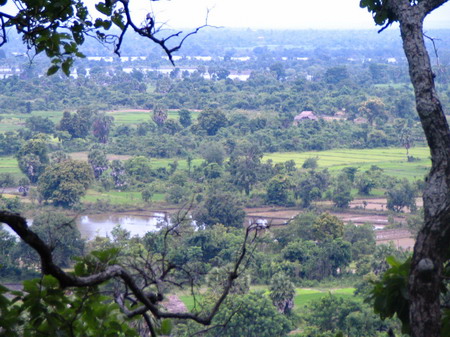 The sun is setting and we ride back to Kratie town.
View over the Mekong from the rooftop of the Oudom Sambath Hotel.