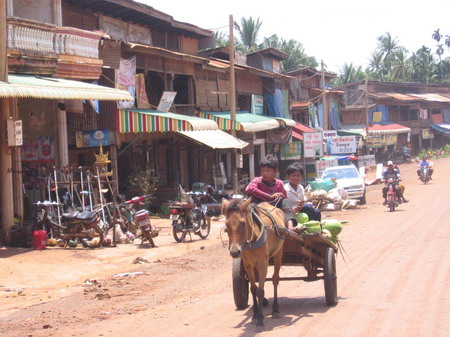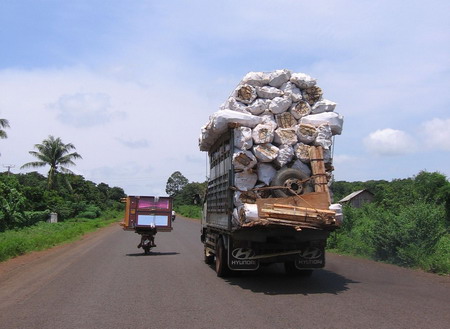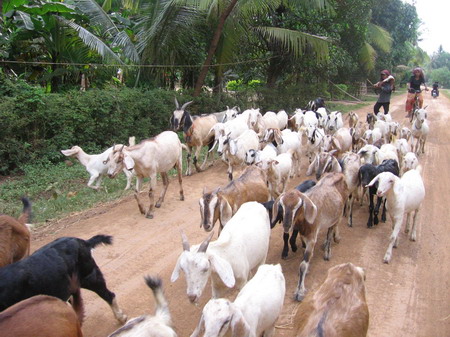 The plan for today is to ride from Kratie back to Phnom Penh. We decided to go follow the National Road 7 through Snuol, Memot (Memout), Suong and Chob to Kampong Cham. From Kampong Cham to Phnom Penh we want to give the dirt road along the Western bank of the Mekong a try.
The Adventure Cambodia guide book has a 'Phnom Penh to Kratie' motorcycle info section:
"If you are going to Kratie from Phnom Penh, the road to Kampong Cham is excellent, the road from Kampong Cham to the Snuol junction isn't that great, but it's definitely doable. The last section taking you to Kratie from Snuol has some huge bomb craters that fill up and look like lakes during the rainy season, but it's also doable; you're just going to get wet."
Well, it is definitely rainy season right now but times have changed, and not only recently.
The National Road 7 between Snuol and Kratie has just been upgraded a few weeks ago and accordingly, is in superb condition, very wide and without any pothole, presumably one of the nation's best roads at this point in time. I have been traveling on it road to conduct interviews among indigenous people a number of times in September 2003 (I, II, III) and on the way to Mondulkiri in December.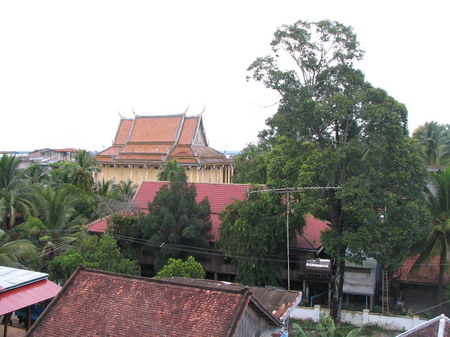 We ride fairly fast to Snuol, where we have a quick lunch and fill up the tanks.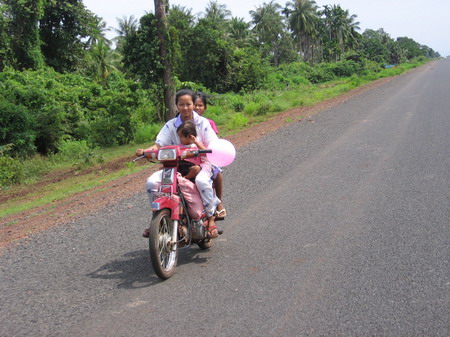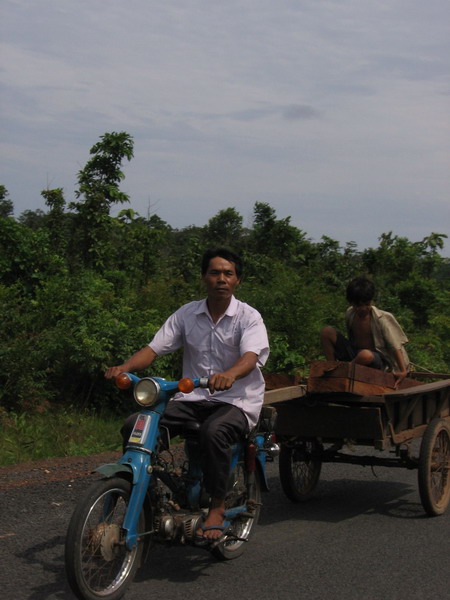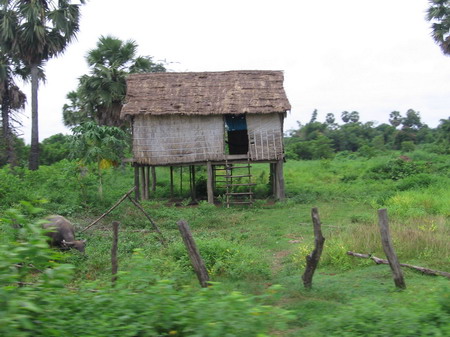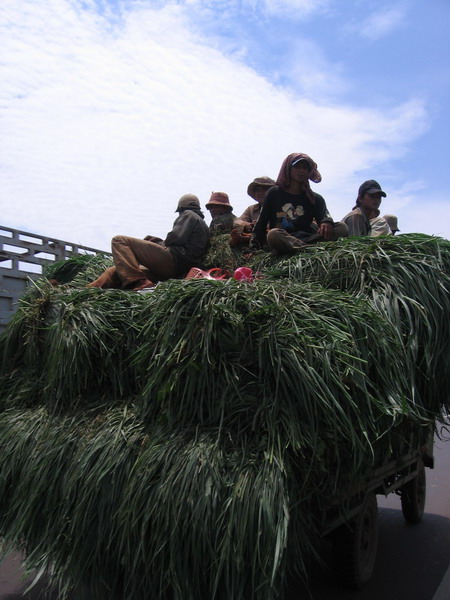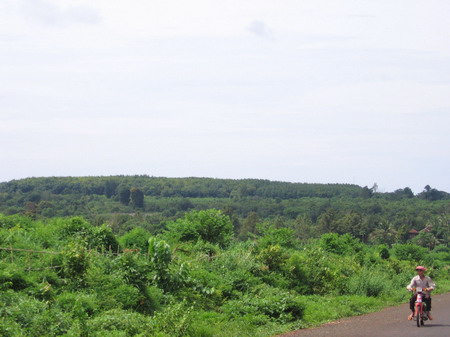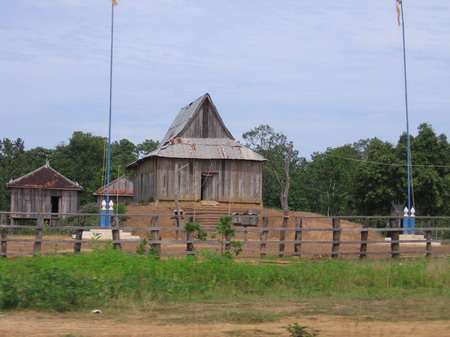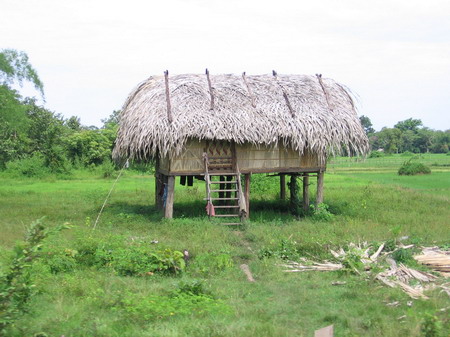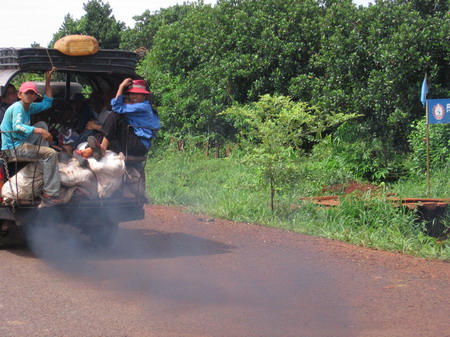 This is the market in Snuol town.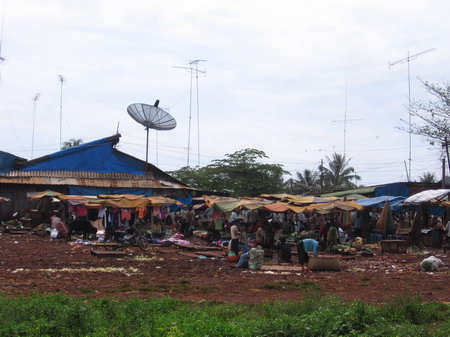 We proceed after only a short break, heading west towards Kamong Cham.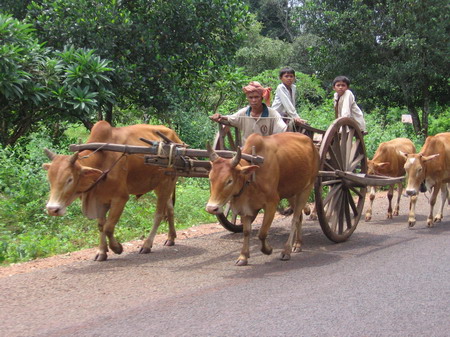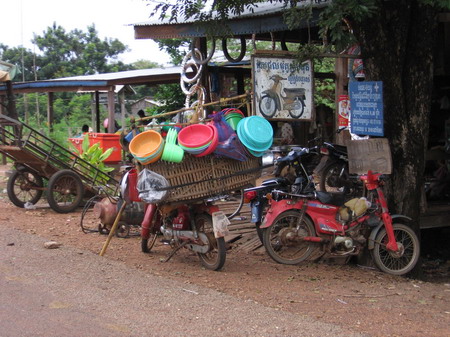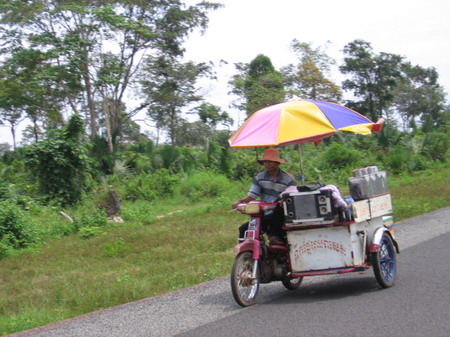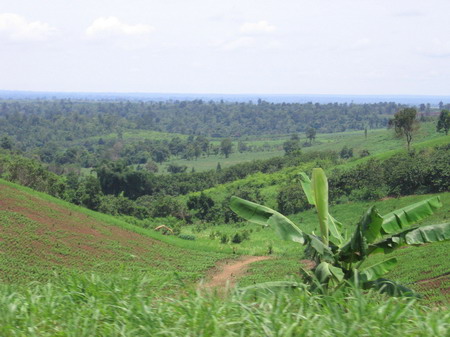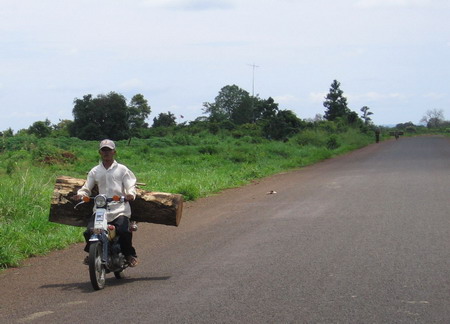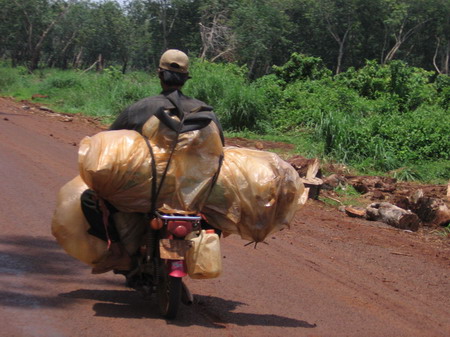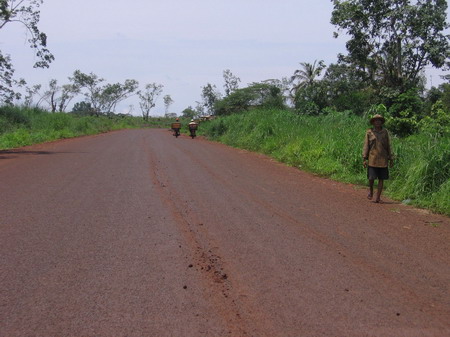 This is in Memot, if I am not mistaken. Memot has this distinct monument in the middle of the roundabout.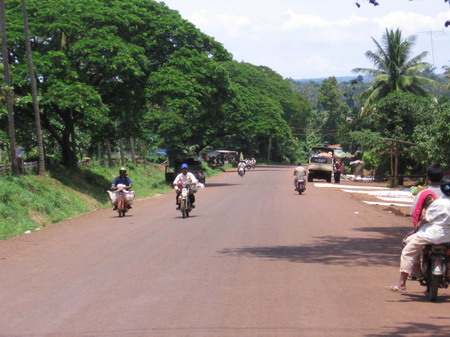 This is the roundabout with the monument. In the background is another landmark which also is hard to miss: a tall gate through which you drive when you enter Memot from the east.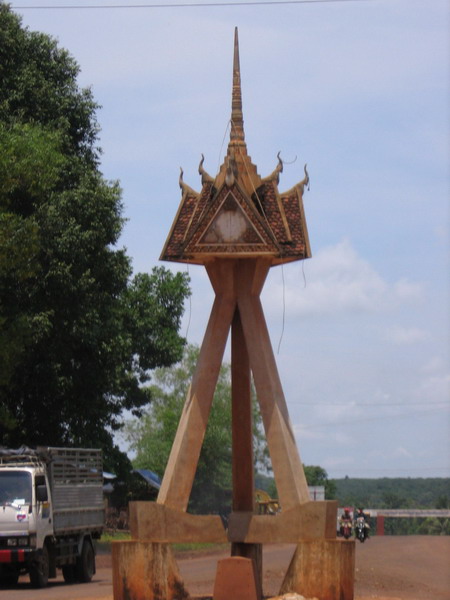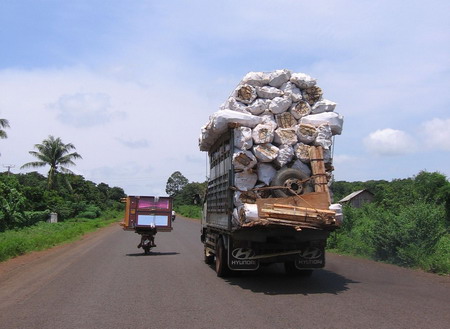 Clearly, many people take advantage of the good road, and in quite different ways.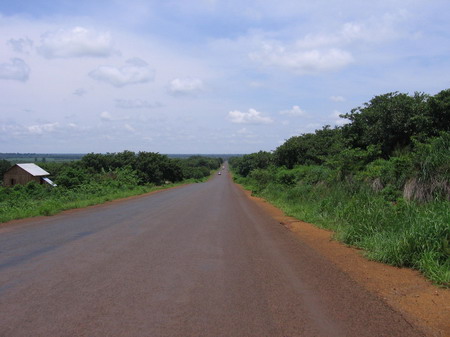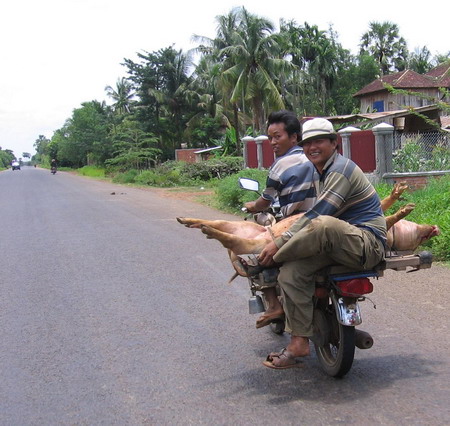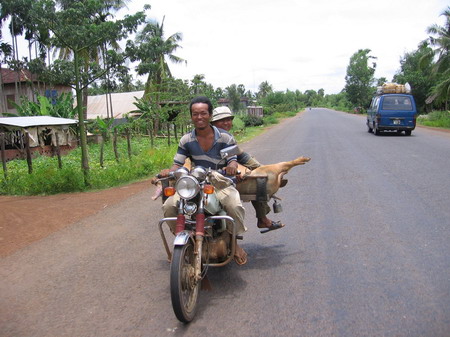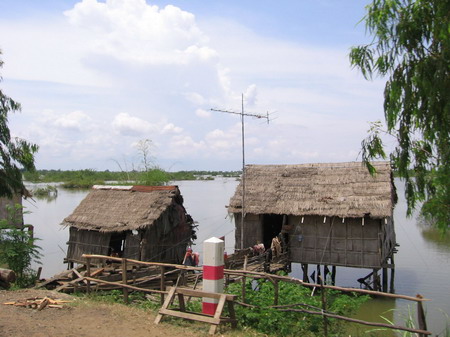 This is when we cross the Mekong in Kampong Cham on the Japanese Friendship Bridge. Also here it is visible that water levels are extraordinarily high.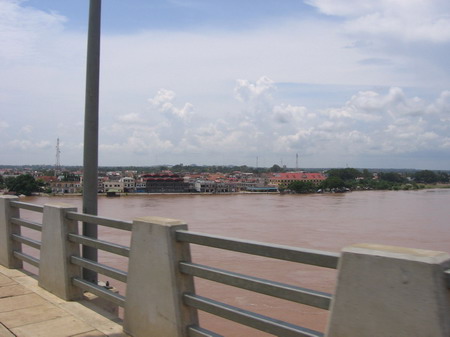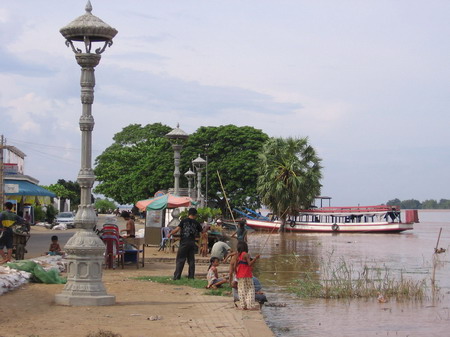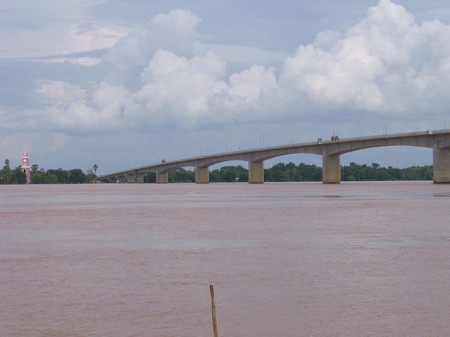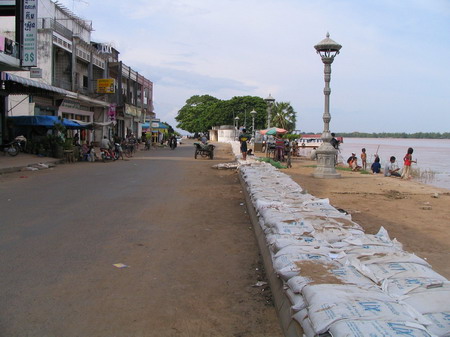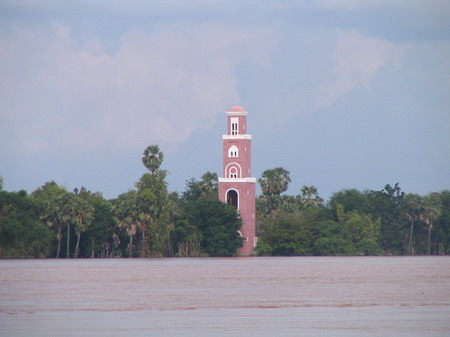 We stop at the Mekong Crossing restaurant to say hello to Joe and have a snack.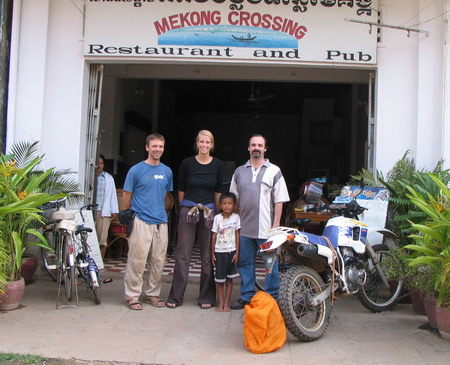 Then we head to Phnom Penh, on the dirt road along the Western bank of the Mekong River.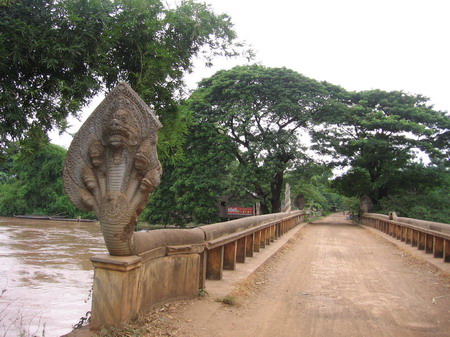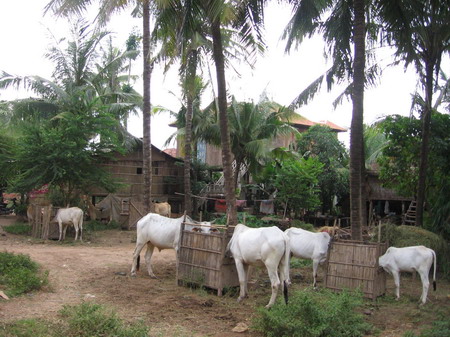 Here, too, it is obvious that water is standing very high.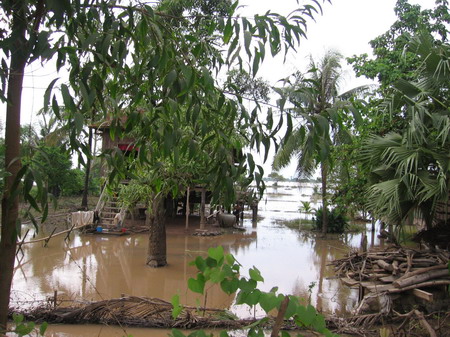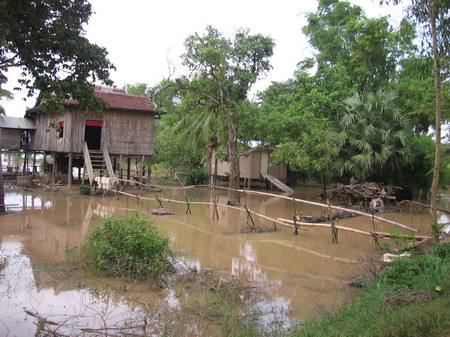 We come also through at least one villages inhabited by Muslim Cham.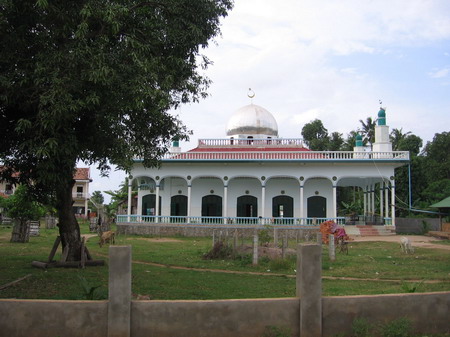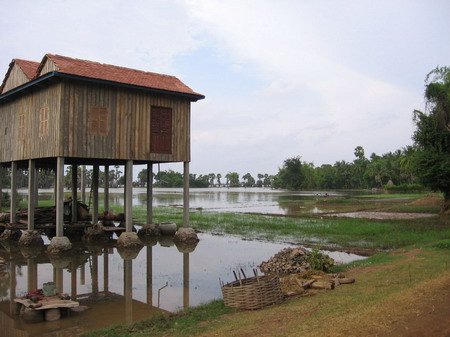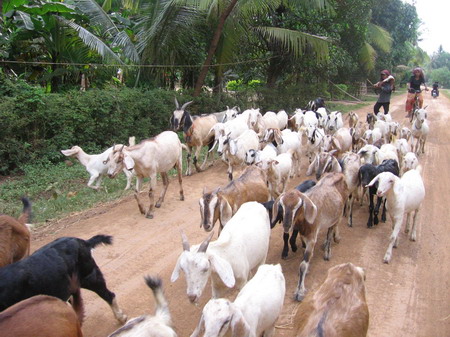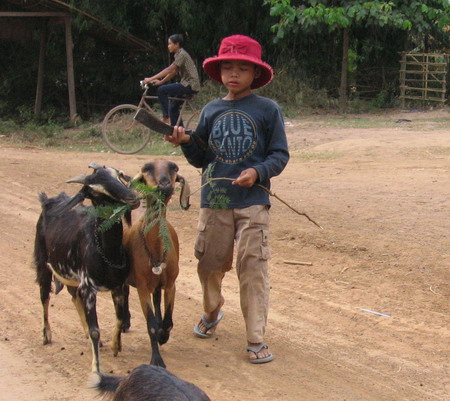 In the map, this place is called Peam Chi Kang, only about 15 km west of Kampong Cham. It has a ferry crossing the Mekong. It looks as it will start raining soon and we discuss whether to proceed on the dirt road or get back to the National Road. Some people join us while we check the map and kindly offer their advice. In the end we choose to give the dirt road a try.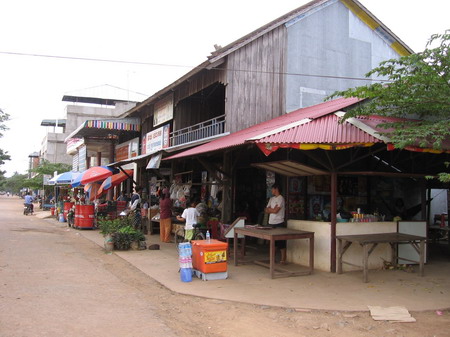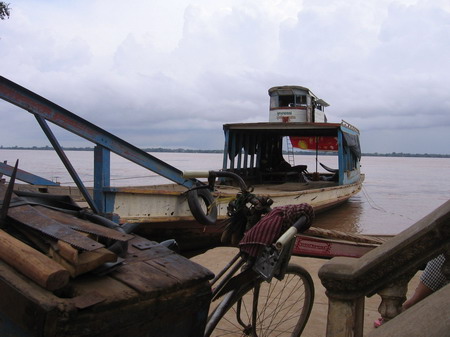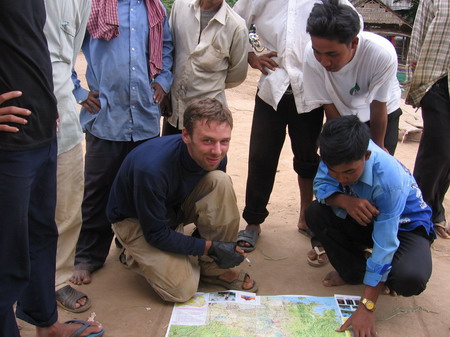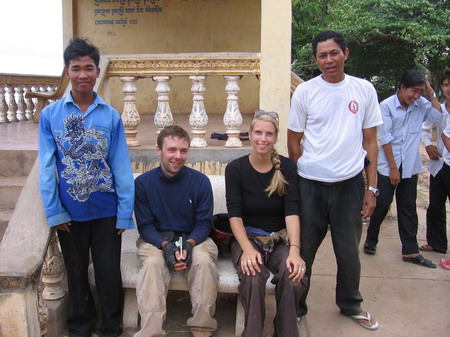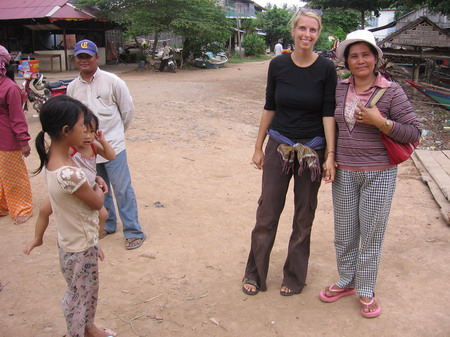 While we follow the many turns of dirt road through the villages along the river bank there is occasionally strong wind and a bit of rain but not much. However, it is getting darker, indicating that there is more rain to come.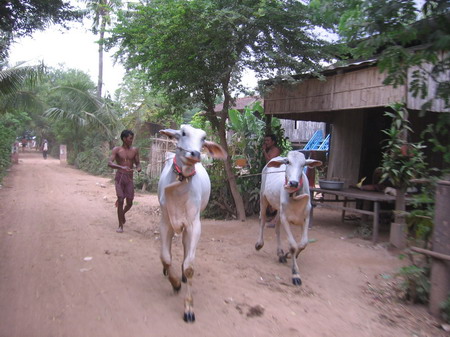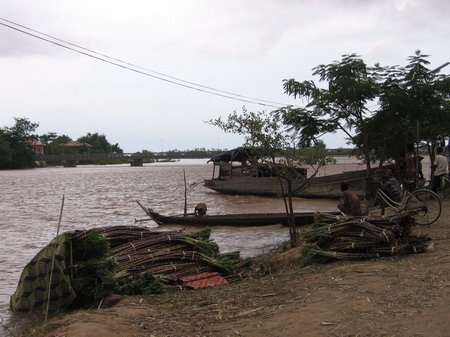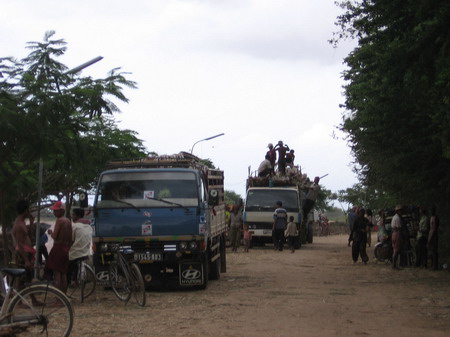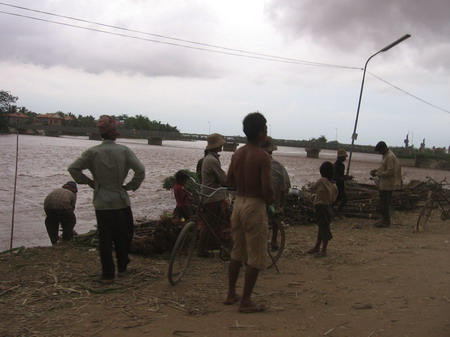 We keep riding until it is obvious that massive rain will come down any minute. We stop where we find some huts at the roadside. It starts raining while we put on rain gear. Hoping that it will not rain for long we decide to have a break and get into conversations with the friendly locals around here.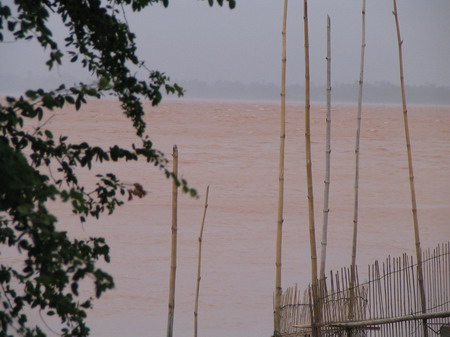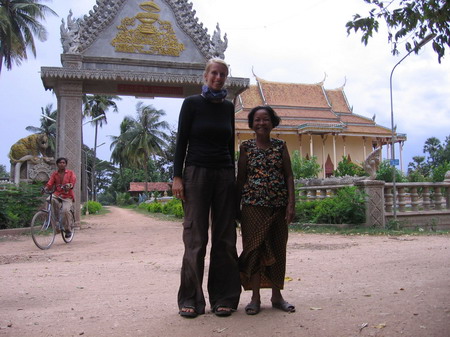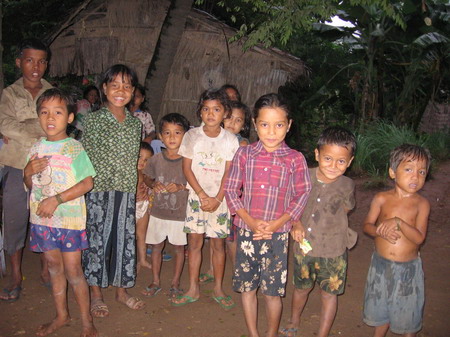 The rain continues and becomes weaker only slowly. We decide to leave at some point when it is already getting darker. We are not sure for how long we will follow this road until we reach the National Road about 50 km before Phnom Penh. This dirt road turns out to be difficult to ride once it is wet. Its many deep potholes are filled with dirty water and the fine sand on its surface has turned into slippery mud. This forces us to ride rather slowly and that it is getting darker quickly does not make the situation better. It is only after more than an hour that we reach the paved National Road, and by this time it is entirely dark and starts raining again.